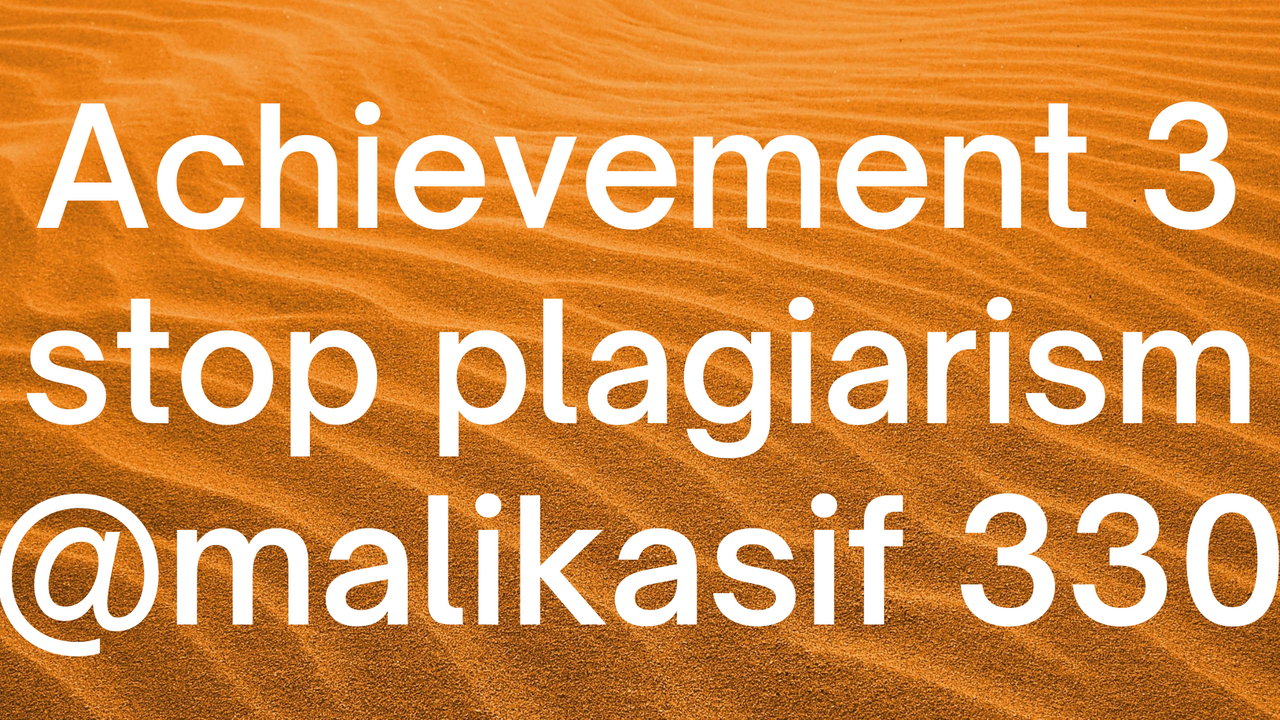 Assalam o Alaikum !
Hello everyone, how are you? I hope you are all fine .you live in our countries in very safe and happy . I live in Pakistan .Pakistan is a very beautiful country .Pakistani people is a very hardworking and honest Pakistan is very beautiful places like beautiful mountains old buildings are very popular in Pakistan ,by the way I have worked in this website this website is very good for earning and share your memories with other friends and peoples, today I write my achievement 3,Achievement 3 is about stop plagiarism so start without wasting of time.
What is Plagiarism ?
If you use someone else's written material for your own benefit without their permission, it is considered plagiarism. For example, you have to write an article on someone, this will be called plagiarism . You must first get permission or write your own content.
Types of plagiarism
There are so many types of plagiarism I will tell you in detail types of plagiarism in steemit plateform.
Direct plagiarism
Mosaic plagiarism
Complete plagiarism
Self or auto plagiarism
Accidental plagiarism
Complete plagiarism
complete plagiarism means you present someone's entire content as your own content. If you pick up someone else's post from this online platform or this website and add it to your post, then it is completely plagiarism.
Direct plagiarism
In this type of plagiarism we picked someone content for another person and it modify it slightly changed its words sentences and full stop and words and present its own content it is called direct plagiarism.
This plagiarism is not easily detected.
Mosaic Plagiarism
The author intends to pick up a few words or phrases from another author's material and use them in his research.
Accidental Plagiarism
This type of plagiarism is not the fault of the author. By mistake, verbal sentences of another author are added to the content. We will not be called a thief. We must avoid stealing it.
Self or auto plagiarism
In this type of theft, the author re-uses her pre-written material in his research.
Why plagiarism is wrong ?
Stealing is wrong. Stealing is not allowed in any country. No one is allowed by any religion. It is also wrong to think that if you pick up another author's material and use it to your advantage, your thinking ability will be reduced.
How we can Avoid Plagiarism?
We must avoid theft because it is wrong if we take someone's content or photo from an online website to get their permission or give their source.
Try to write your own content. This will increase your ability to think and understand. Writing something also prepares you for the work to come and also increases your knowledge. So instead of copying someone, you will Bringing the content of will make you self-sufficient.
Thanks to all for reading my post .
Special thanks to