Hello everyone! I'm back. Two weeks ago had been so hectic because of our finals. As I checked my account today, I was so happy seeing my Achievement task 1 approved by @julstamban. So, thank you so much, Sir.
This post is in response to the second achievement task in Newcomers' Community which is the Basic Security on Steem.
Let's go!
---
Introduction

Steemit.com is a blogging platform powered by Steem blockchain. Basically, you can post anything on this platform but I understand that there are also people who monitor and support users here to maintain quality posts. I was also told that you will earn money through this platform once your post will get upvoted (curated or liked).
Since it's a blogging platform like any other mainstream platform (e.g. facebook, instagram, youtube), users need to sign up for them to get an account.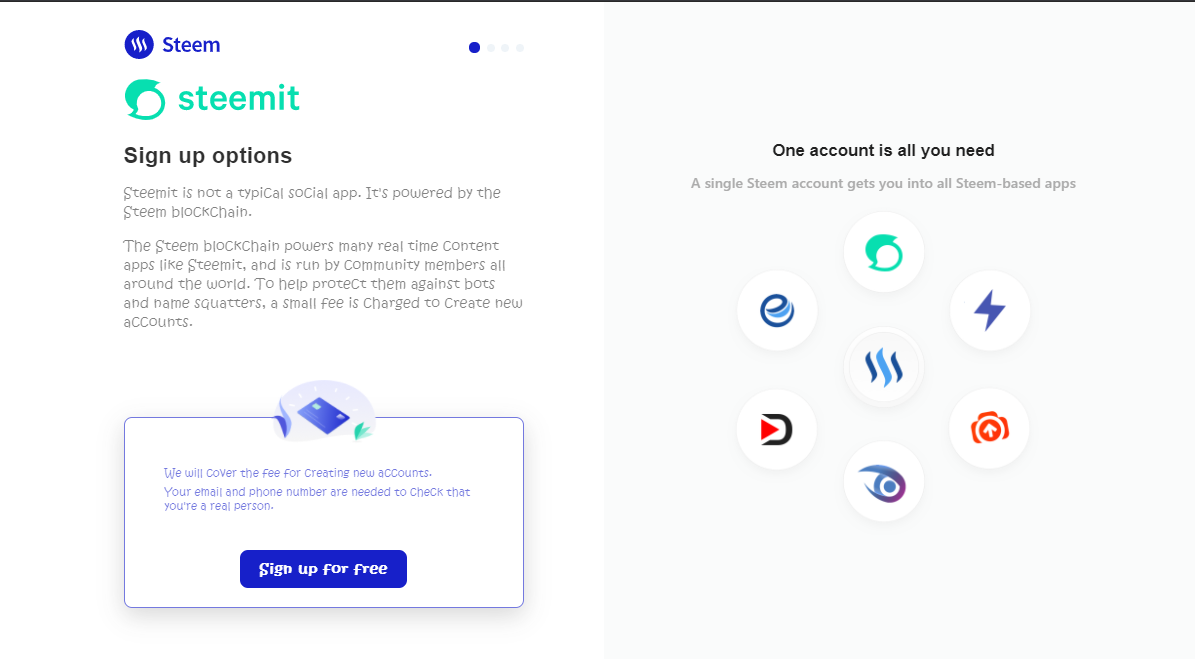 This is the very first face you will see once you click the sign up button for Steemit. I thought that I will have a hard time in signing up during that time because I am not familiar with the platform, but no --- it was just a piece of cake.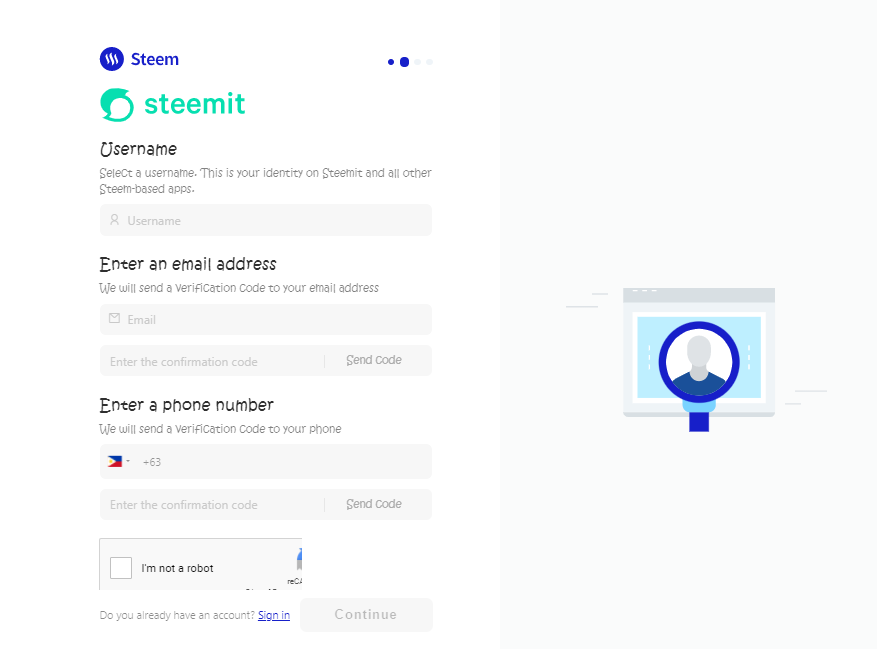 After clicking the "Sign Up for Free" button, I was redirected to this part where I will give my username, email address, and phone number. What I was thinking during that time was...
Where should I put my password? How should I log in when I don't have any password?
I was really doubtful that time if I did the right thing or if I clicked the right button.
But I just followed the process. I have received a text message to verify my account and also an email for my password. And so, here I am today.
---
Basic Security on Steem

I received an email containing the pdf file of this document. It contains all the passwords that I will be using in this account. Like any other platforms, we should not share our passwords to anyone. I have also read the post of Ms. @cryptokannon entitled "Achievement 2 mentor by @cryptokannon : Basic Security on Steem" at the Newcomer's Community to never share the file even if I have digitally drawn over them. And so, I just use the header of the file for this post
Steemit Keys are categorized by the following:
Tron Account
Steemit Private Keys
Steemit Public Keys
Based on that post too, I realized that as a user, I need to:
Keep all my private keys (for safety purposes and for easy retrieval);
Learn the functions and restrictions of these keys;
Plan to keep my master password;
Learn how to transfer my steem token to another steem user account; and
Learn how to power up my STEEM.
---
Keeping All My Private Keys including my Master Password
How do I keep all my private keys? Well, there are three ways on how I did it:
I kept it in a secret folder in my laptop and I also put a password in that folder for anyone not to easily open it;
I wrote everything in my notebook (yeah, everything) and asked my sister to print it; and
I saved the file in another secure platform/ online drive (which I believe is also safe to use).
This is really helpful to me because I am a forgetful person. In the past, I easily forgot my passwords and accounts. But, this time I have learned well through those experiences that's why I am more confident that I can securely access my private keys anytime.
Functions and Restrictions of Steemit Keys
If my understanding serve me right, there are five major keys (including the 1 most important password) that I will be using in this platform. For me to easily understand the differences of these keys I have made a table for its functions and restrictions.
| Steemit Keys | Functions and Restrictions |
| --- | --- |
| Posting Key | allows me to post, comment, edit, vote, resteem, and follow or mute other accounts |
| Active Key | allows me to transfer funds, power up/down transactions, convert Steem Dollars, vote for witnesses, update profile details and avatar, and place a market order |
| Owner Key | allows me to change any key of an account. I learned that it's ideally to be stored offline, and only used to recover a compromised account. |
| Memo key | can be used to encrypt and decrypt memos when I will transfer funds. |
| Master Password | allows me to generate all my other keys. It's important because it will help me retrieve all my other keys. |
I understood that I can never recover my account if I lose my password or my owner key that's why I need to be extra careful in keeping all my keys.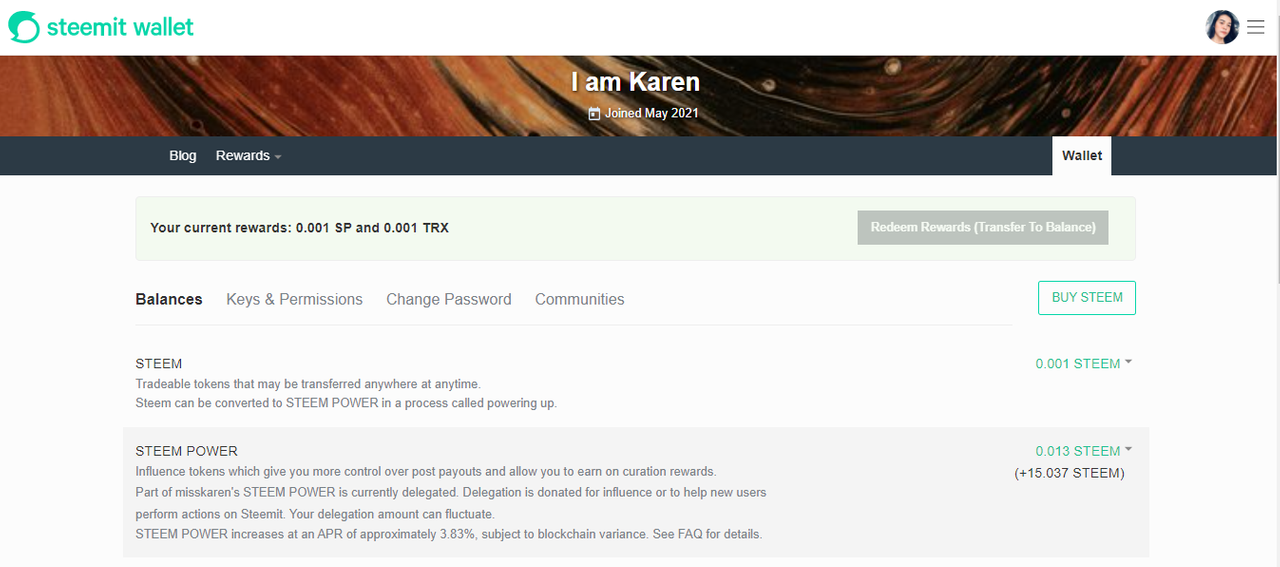 Through my private active key, I can log in to my wallet. Here I saw the four major Tabs, namely:
Balance
Keys and Permissions
Change Password
Communities
By accessing my wallet, I can now transfer my steem token to another steem user account and power up my steem.

I clicked the drop down button on the right side of STEEM category and there I saw five options that I can use. This is the only options I need to learn on how to transfer my steem token to another steem user account and to power up my steem.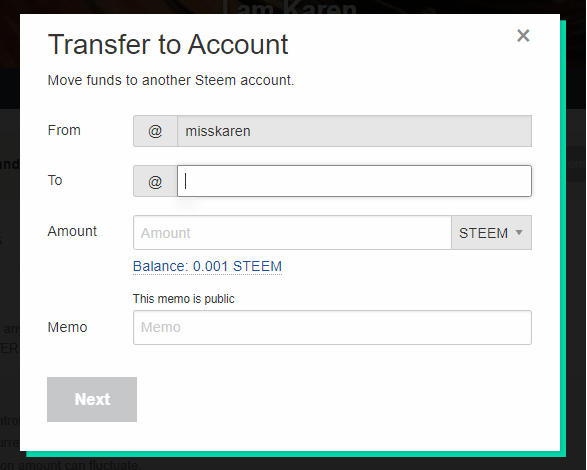 This message popped up, asking me to put the steem user account I will be transacting with, the amount of the steem that I will be transfering, and the memo. I asked my friend @kim24 about it, and she told me that it was just a message or so to the person you will be transacting with.
I ended my trial on this part since I do have a little steem as of the moment. XOXO.
Next, I tried clicking the Power Up button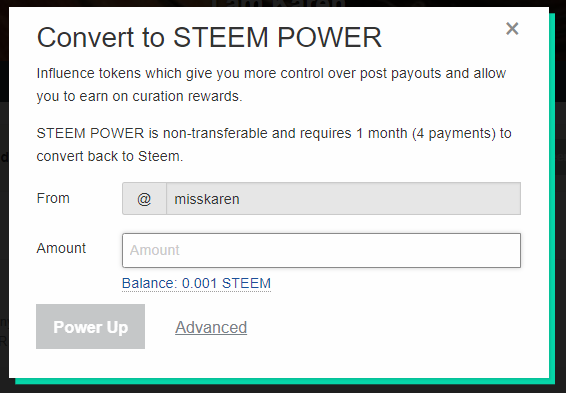 In here, I saw my username and I just need to provide the amount of steem that I want to power up.

After clicking the power up button and ok button on, the site loads for a minute and then it showed me the changes in my wallet specifically on my STEEM token and on my STEEM POWER.

I hope that the photo is clear, but you can really see that my steem went from 0.001 STEEM to 0.00 STEEM. Since I only had 0.001 STEEM as of the time I performed this function. Then, my STEEM Power went up from 0.013 to 0.015.
The only thing I understand about steem power is that it will help me boost my account or I will have a great power when I vote for a post if I have a bigger number of steem power.
This time, I only have limited steem power as of the moment that's why my voting power is not that big as of the moment (I guess). But I believe that soon, after working on here, it will grow big.
---
Conclusion
I hope that you've learned something new and enjoyed reading this post of mine.
I hope I have given all the information needed for me to get verified for this second achievement task.
Thank you for stopping by!
Lovelots!
---
If you want to know me, you can visit my introductory post here:
Miss Karen