Hello all, returned user here. My name is Fajar Maulana Ramadan, 22 years old, high school graduate working as office boy in healthcare facility, hobby is playing game.  I'm from Indonesia, Central Java precisely.

I know steemit long ago but didn't register until 2018, and then i leave because i got a job. Back then this account was used for bounty but because the crash, many bounty projects seems have low value and big chance to fail so i just focus with my rl job.
And now with bitcoin price soaring high i want to know if steemit still alive, because what i know is many crypto project rarely lives for years. I visited and this is indeed still alive, but i wonder why many koreans lol, I thought i visit the wrong website but i know it is not because i am familiar with the interface.

What makes me choose to become active again because there are lot of Indonesian actively using this site. and now i can also earn TRX :)
And lastly i want to thank you om @anroja for suggesting me to verify my account, by (re)introducing myself here.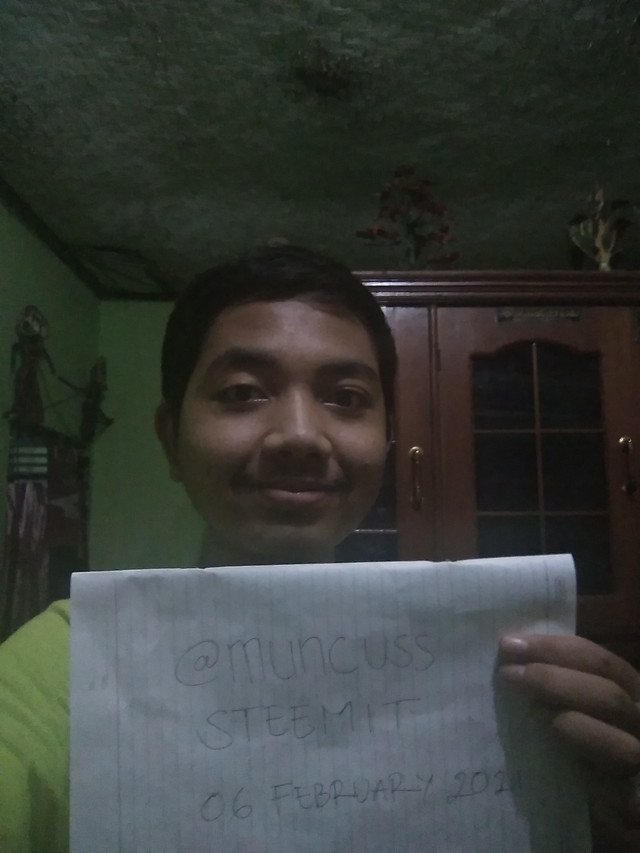 *yesterday pic
[ID]
Hallo kawan semua, perkenalkan nama saya Fajar Maulana Ramadan, umur 22 tahun, asal dari Jawa Tengah, dan hobi saya main game. Saat ini kerja sebagai OB di puskesmas.

Dulu sempat aktif juga disini tapi sebentar saja, mungkin 3-4 bulan, dipake cuma buat ngebounty jadi cuma seperti upvote sama resteem proyek ICO. Kemudian saat itu bitcoin crash turun dalem, banyak bounty yang scam atau ICOnya gak berhasil, akhirnya saya fokus kerja saja.
Nah kemarin pas tau bitcoin naik gila-gilaan, saya coba nengokin ini situs sama akun saya, barangkali bisa dimanfaatkan. Dan ternyata saya lihat banyak juga orang Indonesia yang aktif, terutama yang dari Aceh saya liat ada dimana-mana. Dan juga ada update TRX. Dan saya lihat di trending ternyata banyak orang korea rewardnya juta-juta. Wah lumayan juga kan, heheh

Ya setidaknya disini ada komunitas Indonesia yang aktif juga sudah membuat saya senang dan pengen aktif lagi, barangkali bisa kontribusi sesuatu.

Sekian saja kawan, dan terimakasih kepada om @anroja atas sarannya.