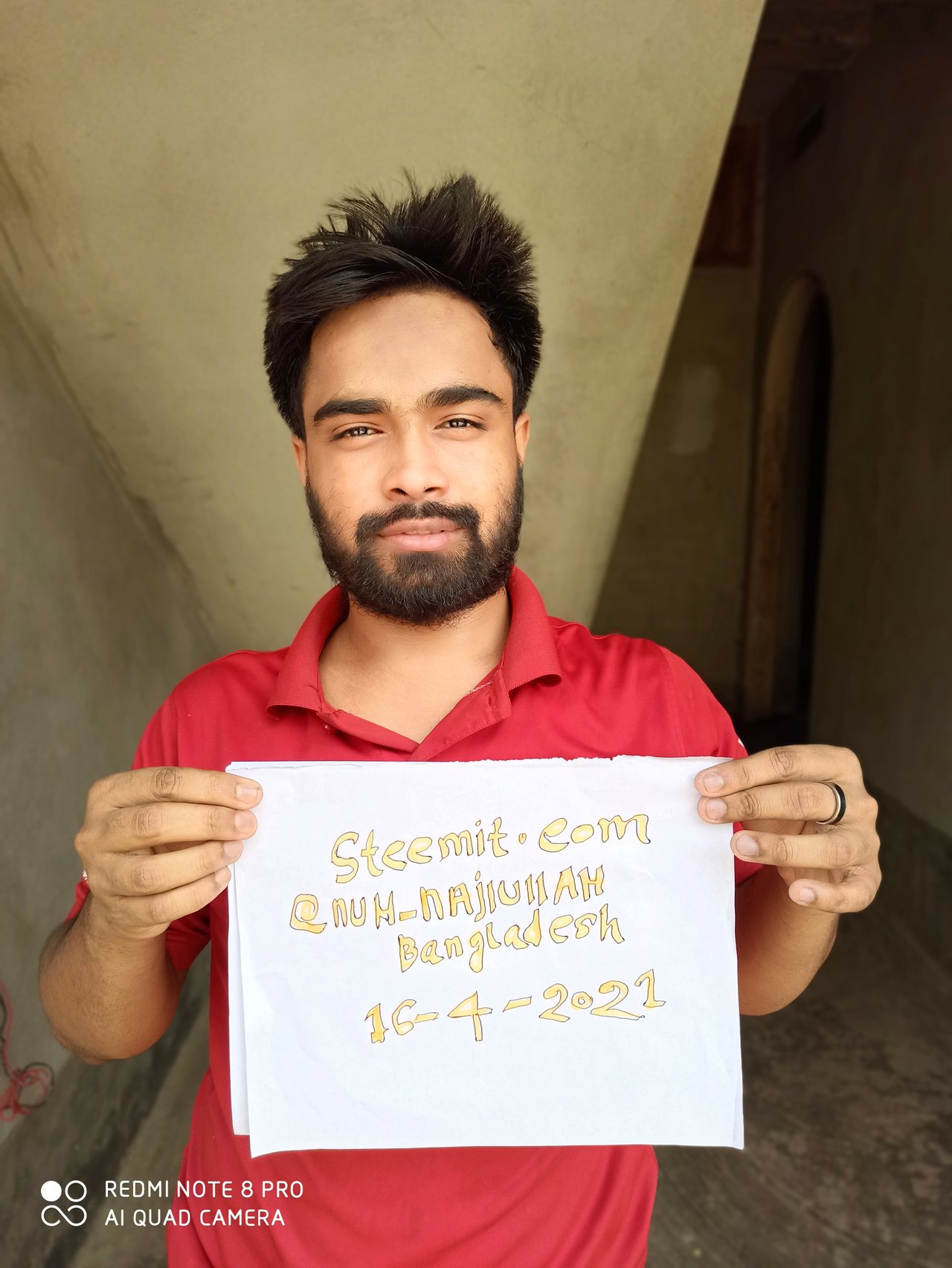 |Assalamu Alaikum,
|
Hope everybody is well. I'm fine too. Today is Saturday 18th April 2021. I have known about this platform since 2017. I worked here for some time, then stopped again. Now I'm starting to work as new again. A lot of people are asking me why am I here again. One of the special reasons is that I later explained that @safi01uncle to me again about this platform. That's how I can make a living economically by working here. So I've re-created the mentality of working as a @newcomers. On the advice of @safi01 uncle, I want to be a new member here, I hope you all accept me as one of this @community, here Give me a chance to work. Also help me with the work, so that I can work well with everyone here. Thanks
---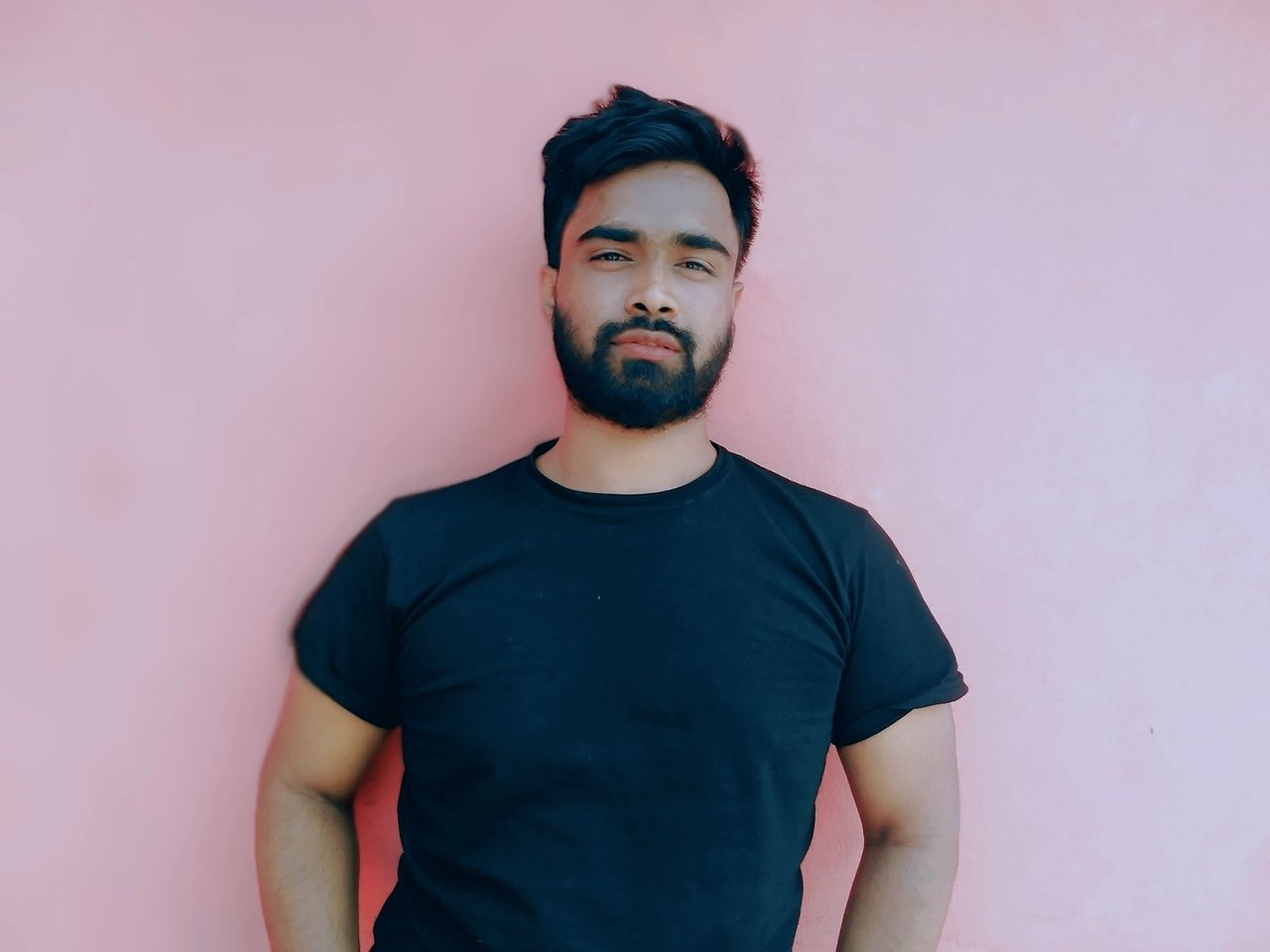 INTRODUCE OF MYSELF :-
My name is Md. Nuh Naziullah. I live in Jugirgofa village, Gangni thana, Meherpur district, I am 26 years old. I graduated from Kushtia Islamic University. My family consists of five members, father, mother, and we are three brothers. My father's name is Abdus Sattar Mia. He is 65 years old. He is a respected person in our area. He is much better as a man. My mother's name is Kamrunnahar. She is 45 years old. She is a housewife. He takes care of everything in our family. I love my father and mother very much. My brother name is Shafiullah Basar. He is 23 years old. He is currently working
as a textile engineer. And the younger brother's name is Waliullah Saban, he is 19 years old, he is studying in government college. I love my family very much, everyone will pray for my family. Lastly, I would like to say thank you again @safi01 uncle for giving me the opportunity to work on a platform like @Steemit.com thank you,,,,,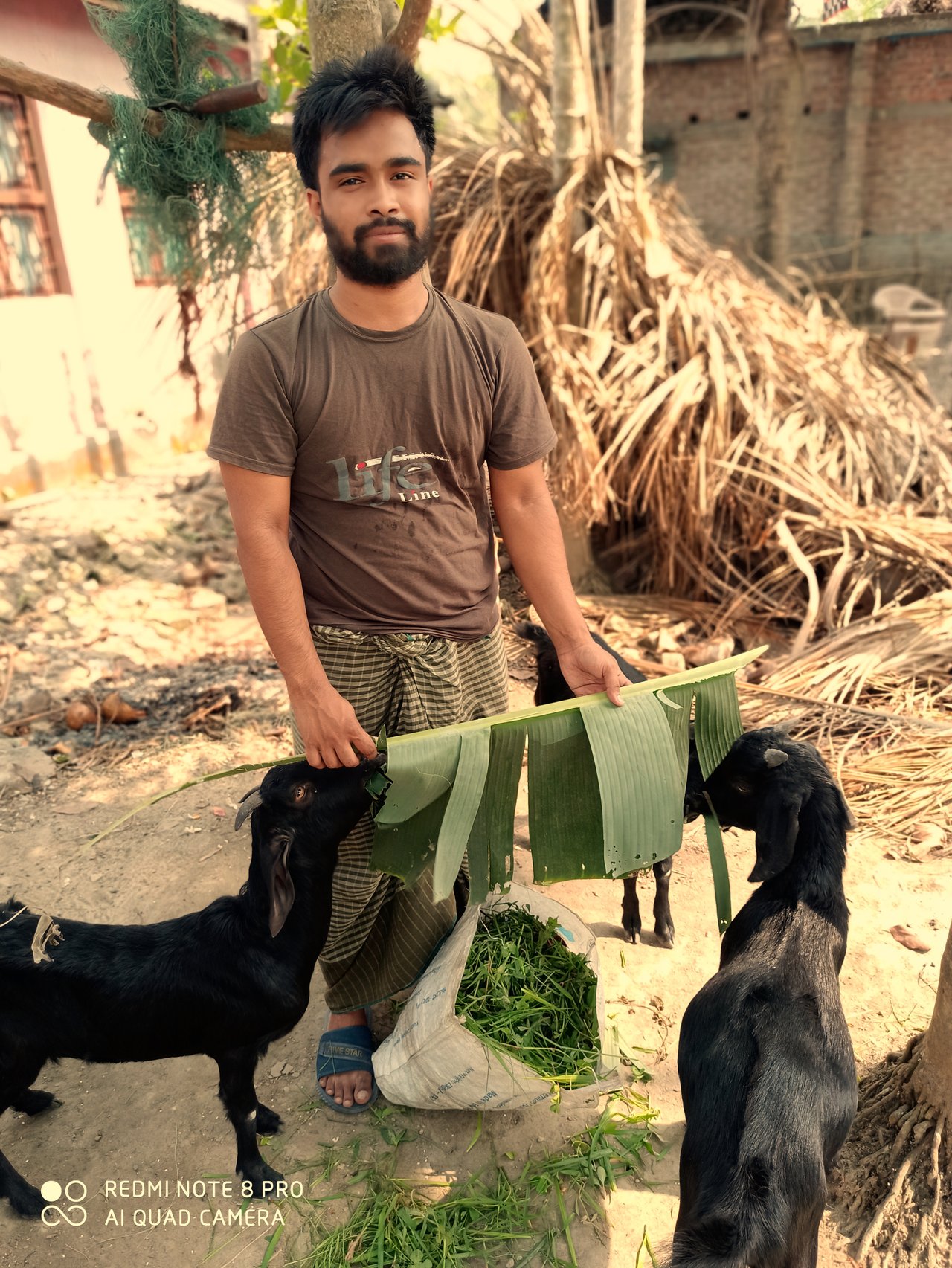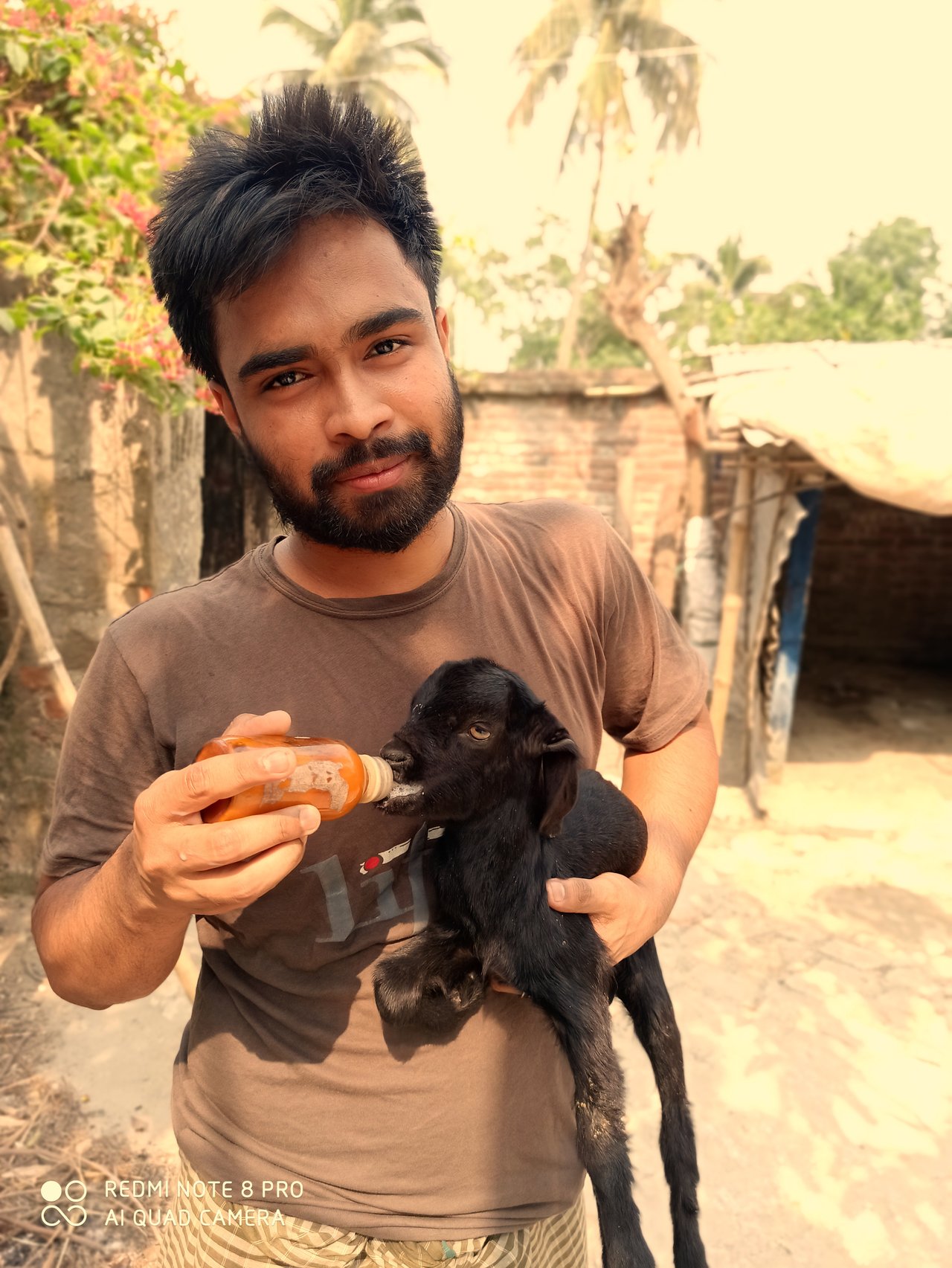 MY HOBBY:-
Every man has a hobby in his life. My life is no exception. My hobbies are raising goats, feeding them, taking care of them, I am very satisfied with the love they have for me.
. I feed them all the time. Looks like it's another family of mine.
It's a kid. Her mother died after birth. Then the baby was almost dying to eat. It hurts me a lot to see it, I think to myself, no matter how hard it is, I will save the baby, if the above help, he will survive. Since then, buying milk from the market and feeding it in the feeder has become so big. The baby eats 6 to 7 times a day, has to be feed many times a night. I stay up many nights to feed him. If you don't get food, it makes a lot of noise. I'm doing it the way a human being does. Going to raise the child, I realized the importance of the mother in childhood. Everyone in my family loves this baby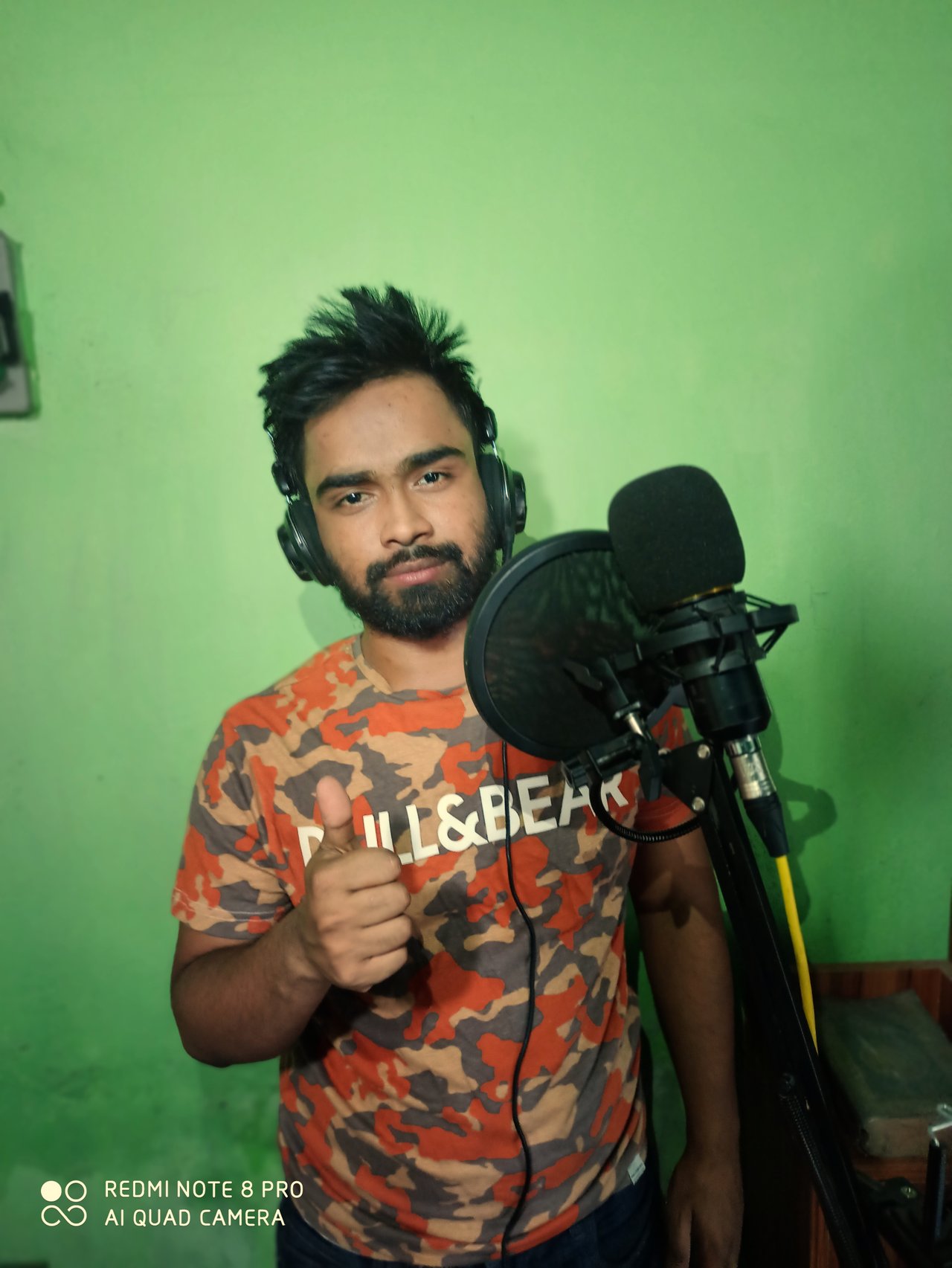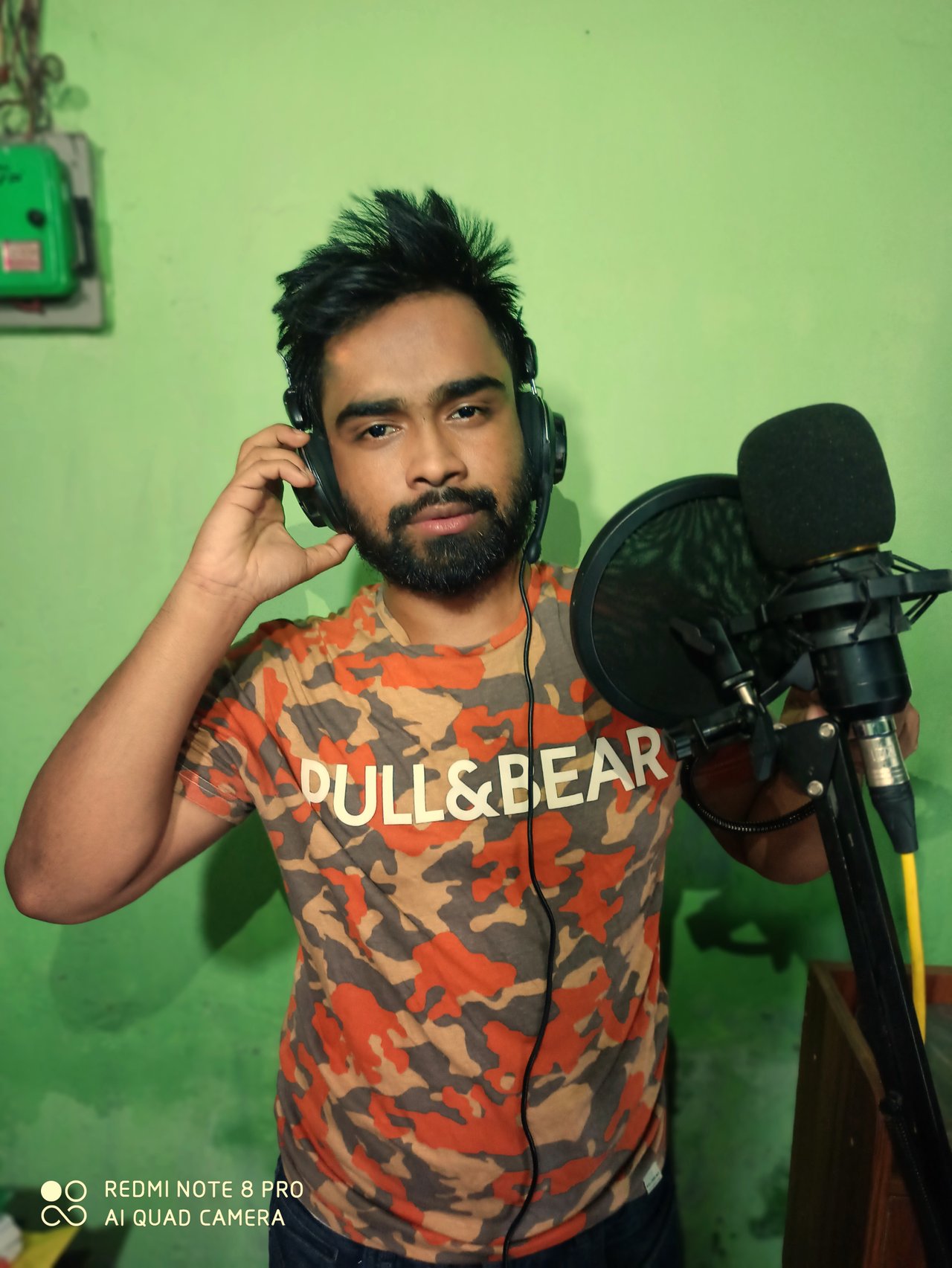 #MY DREAM :
Every human being in the world has dreams. We also have dreams in our lives but every human being has different dreams. Man dies from living on earth when his dreams are lost. There is no point in living on earth without dreams. So everyone dreams. And my dream is, I want to be a big singer. I want to live with music. I have been learning classical music for 4 years. I have a harmonium and I'm learning it. I want to be a Rabindra musician. I've sung on various occasions. Everyone says very well. I see music has a different power. With which many things can be done. There are many other things that make people happy, make them feel good. In fact, music is the feeling of a soul, I feel it all the time. So I want to be with music all my life and make my dream come true.
Many people give me courage in the way of fulfilling this dream, my friends are always around, because they are the ones who criticize my discussion. My strength to move forward. The family gives me a lot of hope. Sometimes it seems that I am the happiest person in the world
|
WHY DO I WANT TO WORKS HERE ?
|
It is a local area where folks from everywhere the world meet up to share their encounters.
Trying to experience childhood with steem
I additionally came here through that exertion so I can share my ability or experience here.
It's a local area here we've all come to cooperate to assemble an agreeable relationship.
We are on the whole like a family, we have all come to be close by.
Steemit is an awesome site. I think it is feasible to bring in cash from here like hand costs in understudy life.
I have come here to improve the experience of us all.
Thank you so much for reading this and i hope you you will consider it.
I am personally inviteing them to visit my post
Cc:@steemitblog
@steemcurator01
@steemcurator02
@steemcurator03
@boomning01
@boomning02
@boomning03
@boomning04
@tarpan
@cryptokannon
Invite by @safi01
From #Bangladesh
@nuh-najiullah
THANK YOU VERY MUCH