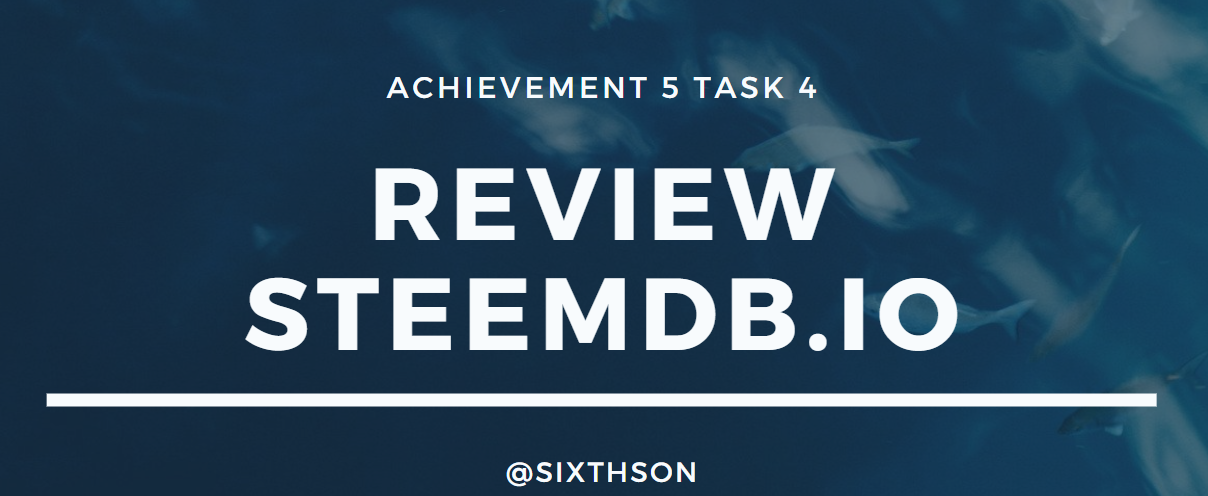 ---
INTRODUCTION
---
Hello Stemians,
I am here once more to share my experience with another great tool of the Steemit blockchain steemdb.io. I am sure you will find this tool as useful as I have.
---
WHAT IS STEEMDB?
---
SteemDB is a tool that allows you to know who reblogged your posts, who was your newest follower, and STEEM blockchain metrics
RECENT BLOCKCHAIN ACTIVITY
---
The "recent blockchain activity" block is located just below the 30-Day MVest Distribution block on the steemdb webpage. It shows you the recent blocks that are presently on the steem blockchain with time stamps. A block in a blockchain is simply a record of all blockchain transactions that have been recorded in a previous/prior block. As shown in the image below, it shows the height of the current block and the number of reversible blocks awaiting consensus.

In the table, The height of the various current blocks are shown as well as the number of transaction in each of those blocks. In the last column we see "operations". Operations here are carried out by witnesses who vote on these blocks to verify them.
---
ACCOUNTS
---
The "accounts" tab is the second tab after the "SteemDb" tab. It shows all the current accouts on the blockchain which is quite a lot actually. The accounts can be sorted based on accounts with most SP, SBD, STEEM and Power Down using the "Richlist" menu as shown on the left. The accounts can also be sorted based on the number of followers and the value of followers using the "Social" menu as shown on the right.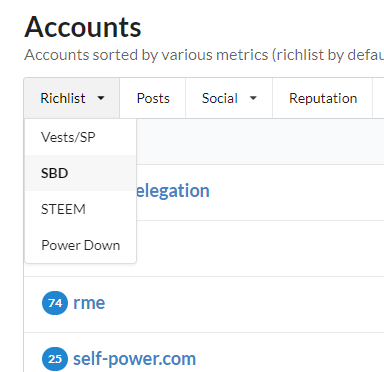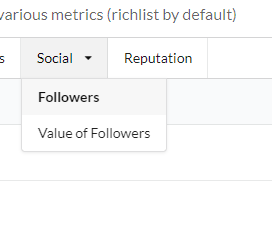 ---
POSTS
---
This section of the steemdb tool shows the most recent post made on the Steemit platform. These posts can also be sorted based on two categories: posts with Most votes and Top earning votes
see below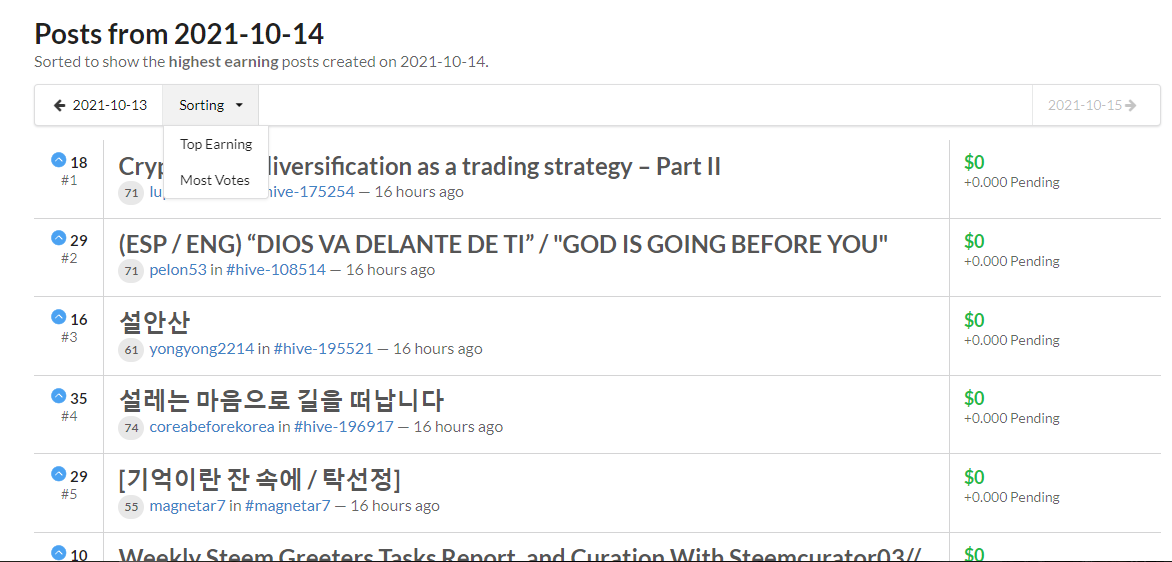 ---
WITNESSES
---
Witnesses are very important in any blockchain system including Steemit. Witnesses are responsible for creating blocks and are part of the governance body of the platform. The election of witnesses is provided by the Steem community, and they are elected through a voting system that is based on the stake of the voters. Every user on Steem can cast up to 30 witness votes, and through these votes, weighted by the stake of the users, is possible to form a ranking of the witness nodes. This ranking will be used to determine which witness will be able to add new blocks to the blockchain.
Under the "Witnsess" section in steemdb; three sub-sections witnesses, history and misses are created.
The witnesses are ranked based on the witness with most votes.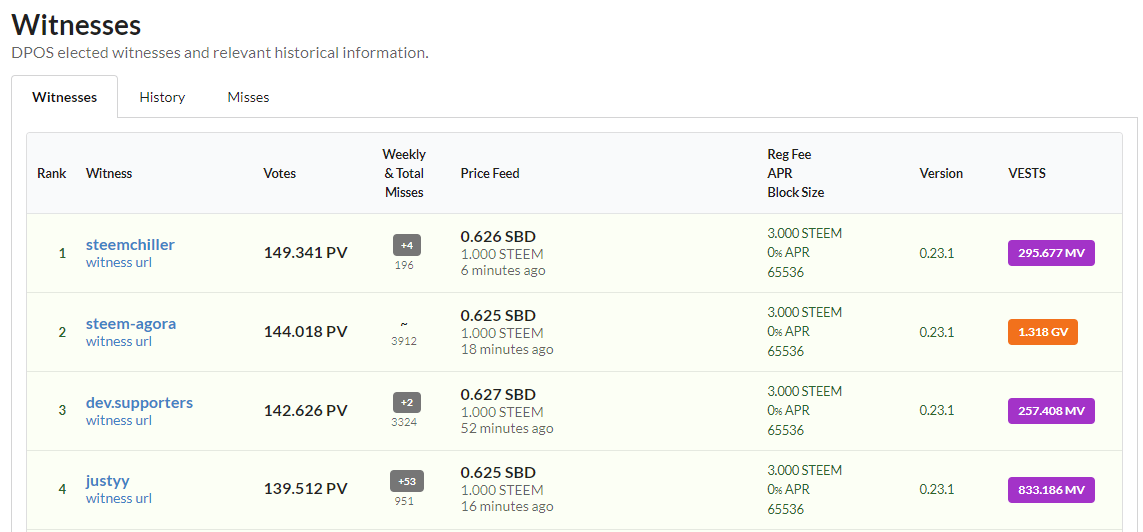 The History section shows the most recent votes cast by users on the witnesses.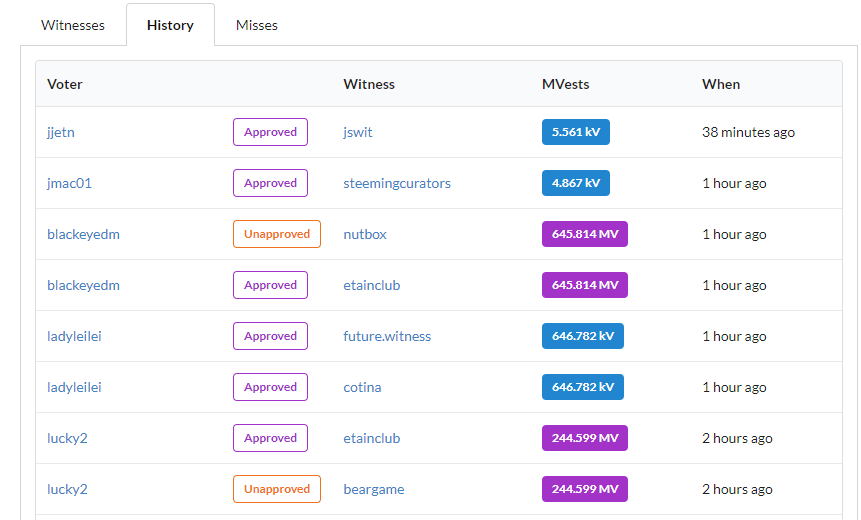 Thank you for reading this post. Special thanks to @cryptokannon and nattybongo for their guidance.