And here comes my achievement 4 task, after I read and understand the post by @cryptokannon, I'm writing about the language of my people.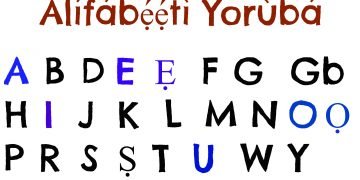 Yoruba language
Yoruba language is one of the most dominant languages in the western of the Africa continent and it is among the 3 most spoken languages in Nigeria.
Yoruba language, one of a small group of languages that comprise the Yoruboid cluster of the Defoid subbranch of the Benue-Congo branch of the Niger-Congo language family. The other Yoruboid languages include Igala and Itsekiri. Yoruba is spoken by more than 20 million people in southwestern Nigeria and parts of Benin and Togo. It is also used widely as a second language in this area. There are many Yoruba dialects, but the translation of the Bible by a Yoruba speaker, Bishop Samuel Crowther, in 1884 led to the development of a standard written Yoruba that has been widely adopted across the dialects. There is a substantial body of literature in the Yoruba language, including books, newspapers, and pamphlets. One of the best-known Yoruba writers is Amos Tutuola, whose work has been translated into many languages. Yoruba is used in radio and television broadcasting and is taught at primary, secondary, and university levels.
Source
History has it that the language was originated from a small town of Ile-Ife1, Osun state, Nigeria.
Yoruba is a language that is very easy to understand and many new people learn the language everyday.
Examples and the corresponding English translations are listed below:
English
Come
Father
Mother
House
| English | Yoruba |
| --- | --- |
| How are you ? | Bawò ni? |
| I'm fine | mò wá daa daa |
| What's your name? | Kini órukọ rẹ? |
In conclusion, Yoruba language is an interesting and easy to learn language and I guess, you'll love to learn the language, give it a try today!!!
Yoruba to the world.
Thanks.