Good day everyone, I feel good and happy everytime I see myself as a member of this ever growing, ever dynamic and ever proficient steemit platform where one can learn, widen his/her experience as well as earning for bringing out good contents. It's a pleasure to be here.
This is my achievement 5 task 1 post having completed the previous achievement 4 task; the review if steemworld.org
According to the task post by @crytokannon, steemworld.org was developed by @steemchiller,
It is a web page that was designed to enable users to effectively handle their steemit account.
When I entered the URL and it was required of me to enter my account details before I could access anything related to @therealtj of which I did and the page below appeared: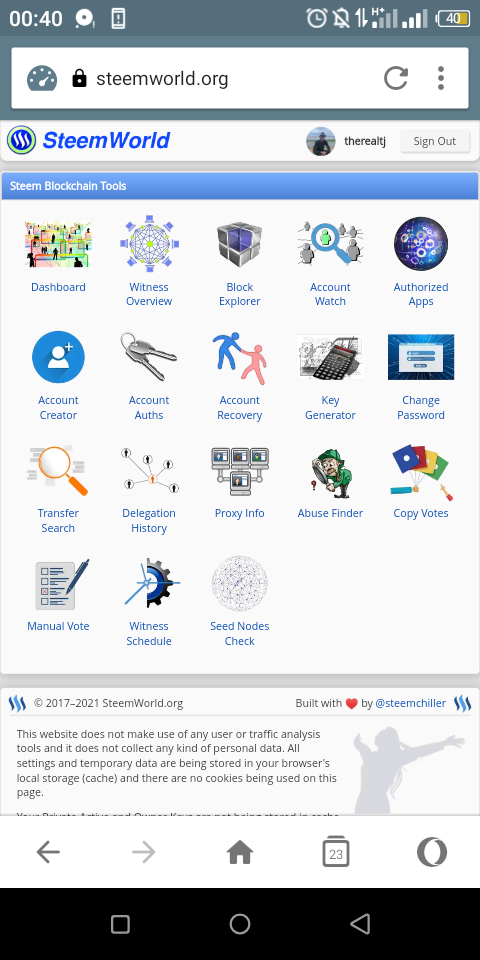 source
After which I clicked on dashboard and I was taken to my account where I could see a lot of interesting stuffs I can do with my account. Stuffs like:
1. The rewards summary tab which indicates the total amount I've earned on steemit since my first post.
To find this, scroll down and you'll find something like this: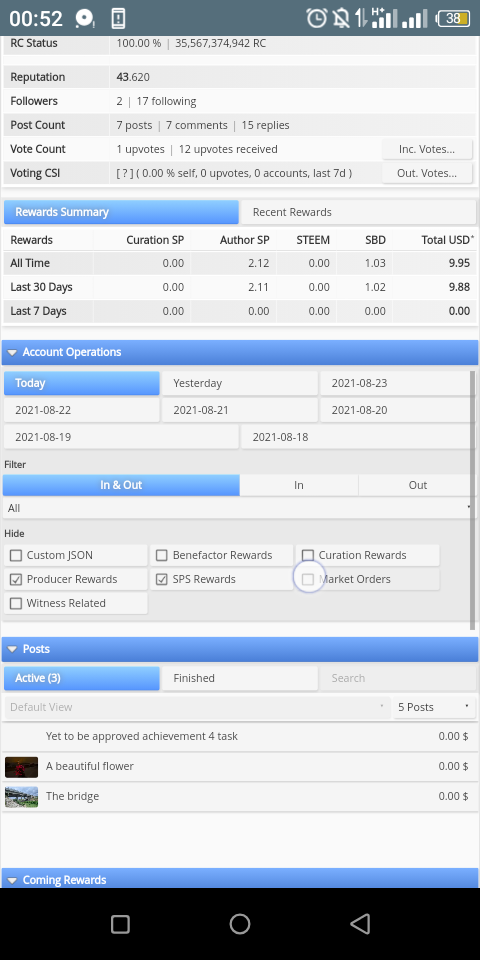 source
As it can be seen from the screenshot above, my reward :
for the last 7 days is equivalent to 0 USD,
For the last 30 is equivalent to 9.88 USD; and for my all time, it is totaled to be 9.95 USD.
2. Delegation:
This is process by which a steemit user gives another steemit user an amount of SP which would be returned back to the owner at a later time. But it is interesting to know that as a newcomer on steemit, a certain amount of SP will be delegated to you to perform some task e.g posting, comment and the likes on steemit.com, isn't that cool??
Types of delegations
There are 3 types of delegations which are: incoming, outgoing and expiring delegations as can be seen from the screenshot below: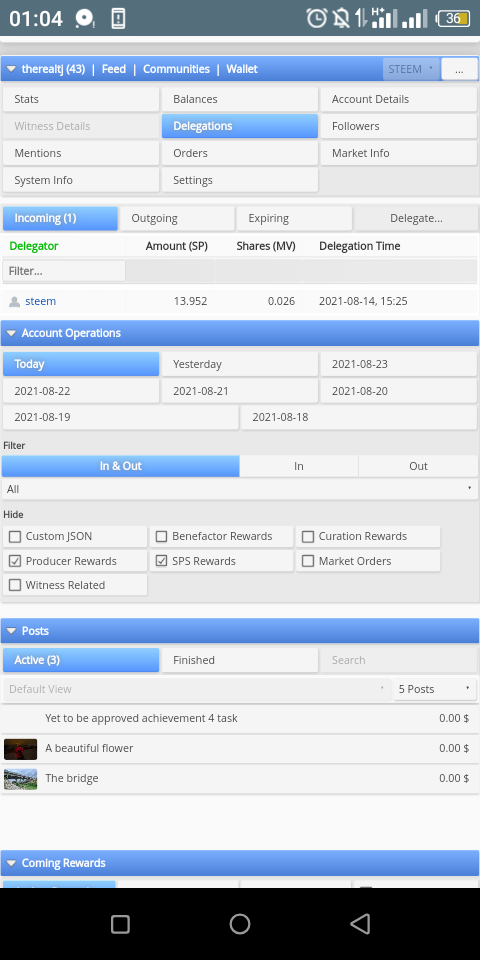 How to delegate SP
Click on the delegation tab as shown above.
Then the page below will be shown where you'll input the amount you are delegating and to whom you are delegating to.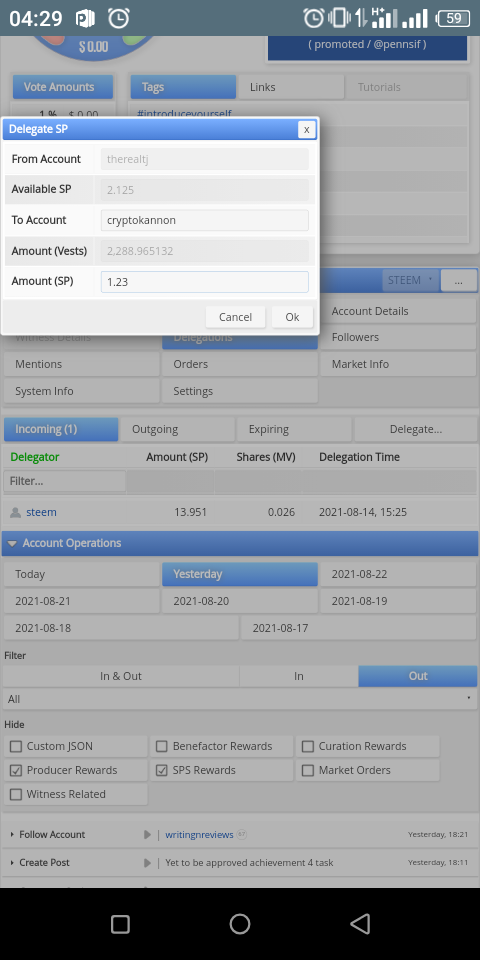 source
3. How to check incoming and outgoing votes
Click on the stats bar, and then both the incoming and the outgoing votes can be found at the bottom left as shown in the screenshot below: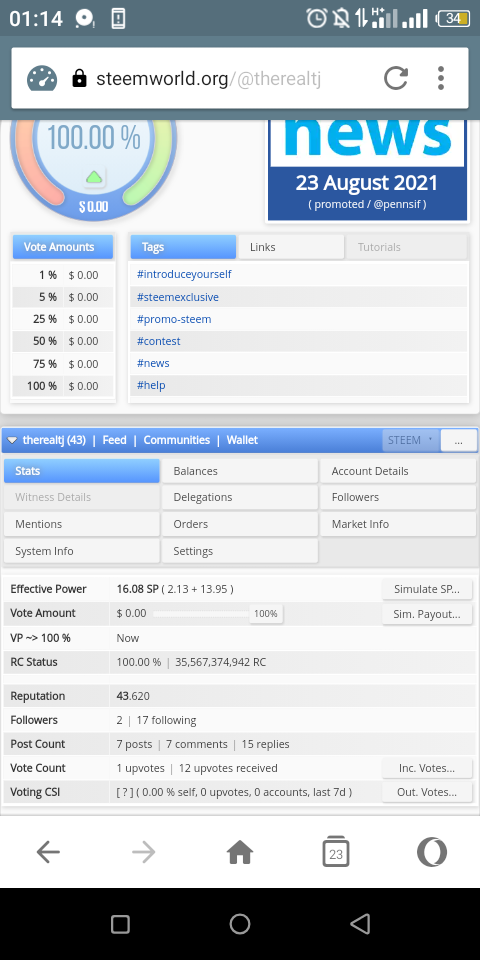 source
Click on the inc vote to see the number of incoming votes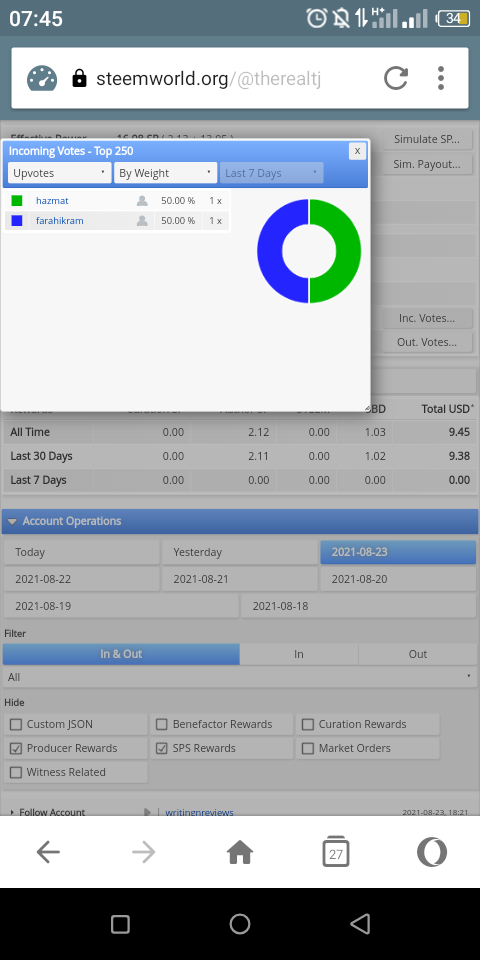 and also
The out votes reps the outgoing votes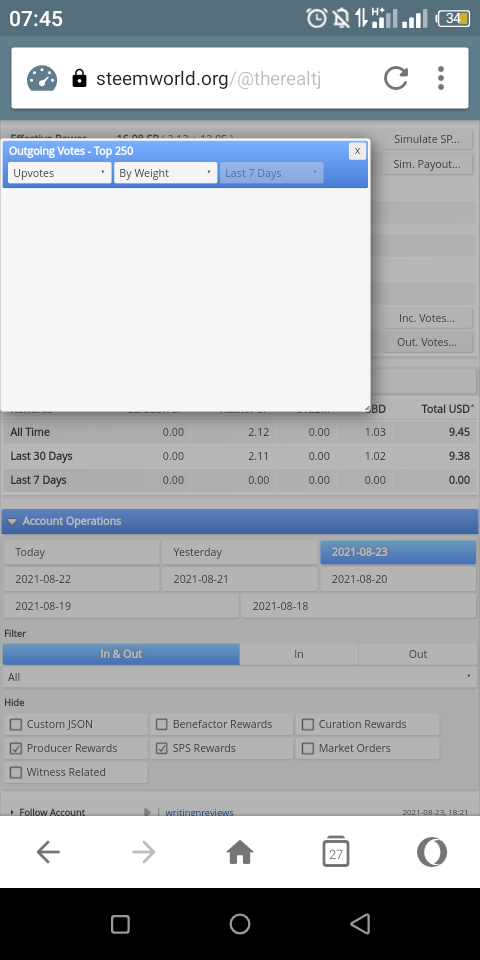 4. To check for the account operations for the past 7 days :
Click on the account operations tab as seen below after which 7 consecutive past days will be shown; and any of the date tab you click on, it'll display your activities in steemit for that day. Activities such as the people I followed, the comments and posts I made on that day are displayed, my replies and votes on post are also can be seen in this tab as well. See the screenshot below: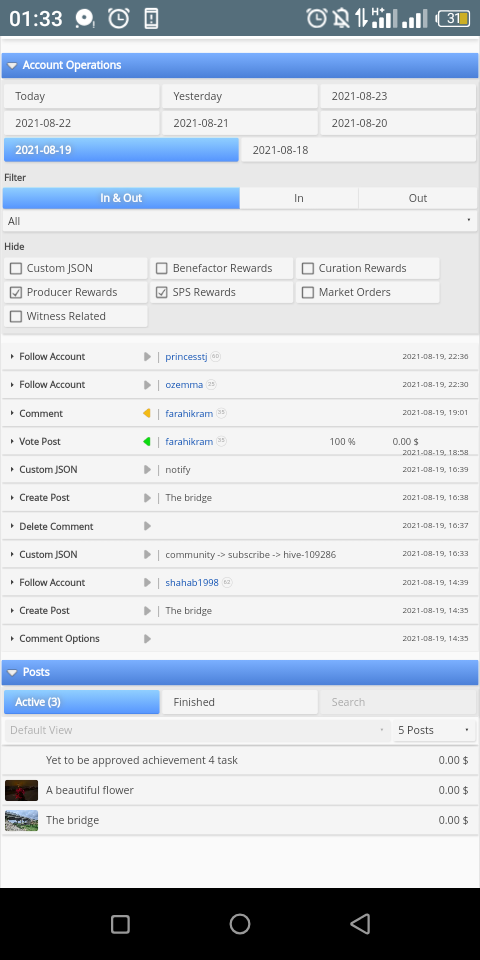 source
5. Author reward can be defined as the amount earned for creating a meaningful post, commenting and posting of replies.
Curation reward is a type of reward on steemit which is rewarded to a user who finds a good content.
Beneficiary reward is a type of reward given to a user who takes part in a contest or a given task, as a form of gift or bonus.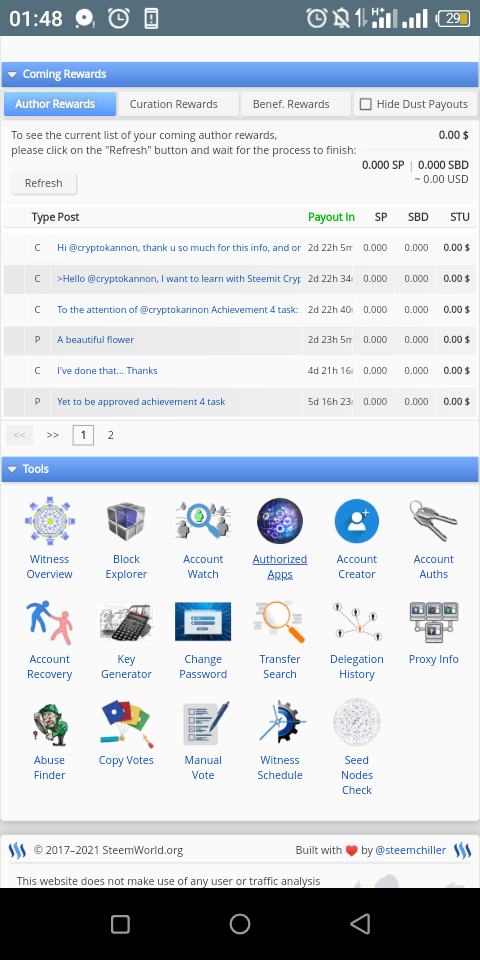 source
As far as my account is concerned and as it can be seen from the screenshot below, for the past 7 days, there haven't been any author reward on my posts, the curation reward is 0 as well as the beneficiary reward.( I guess, I've not been posting good posts recently, that's why the reward section reads zero)
6. How to check upvote value and at different voting weight
This feature can be found on the upper left part of the steemworld.org page. From the screenshot below my upvotes at different percentage reads zero(maybe because I'm a newbie)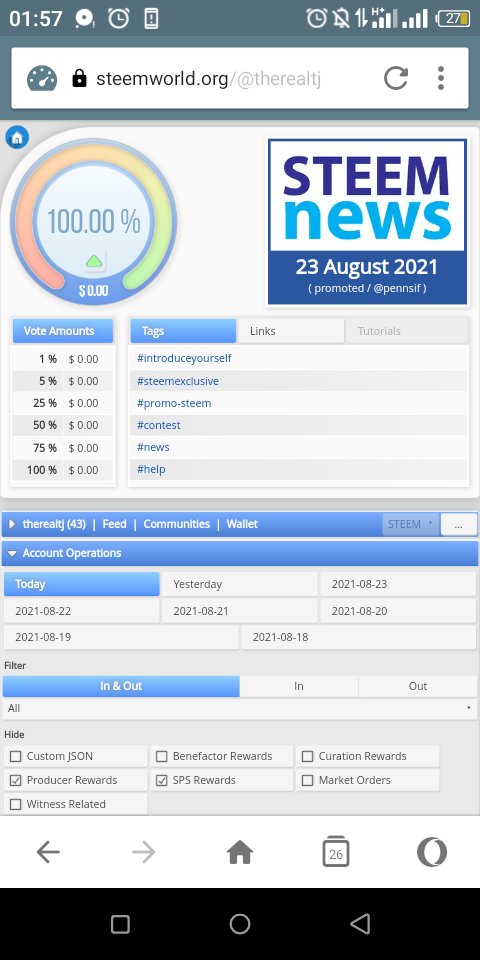 source
Thanks for reading...
A big kudos to @yohan2on whose review post on steemworld was also helpful.
With mentorship by @wilmer1988