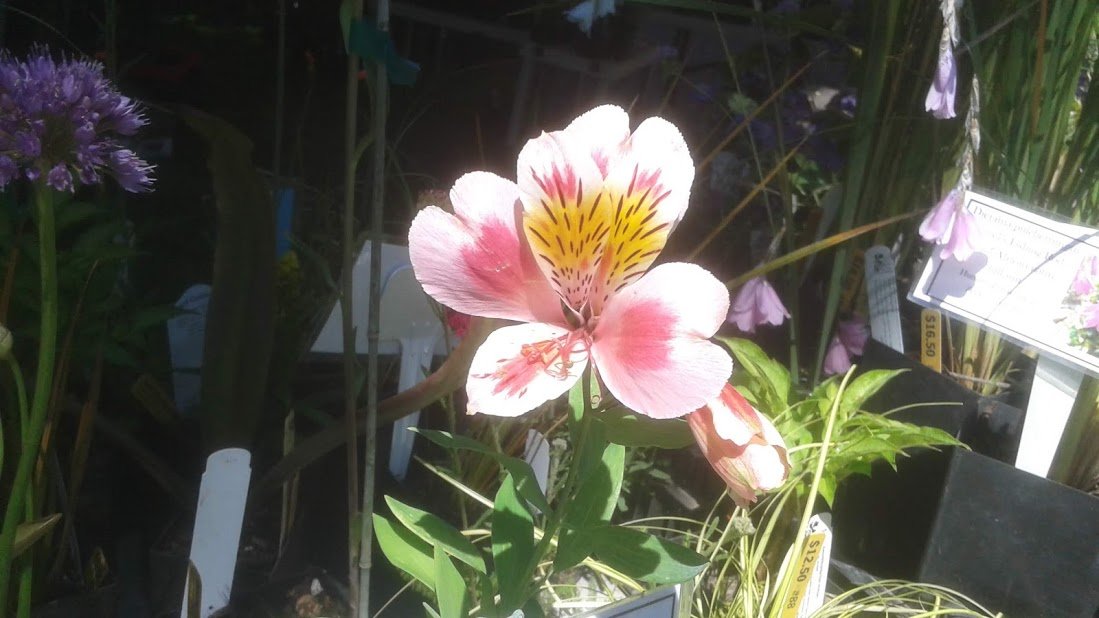 Drizzle over these dazzling doozies. Another fabulous flower photo album here to see.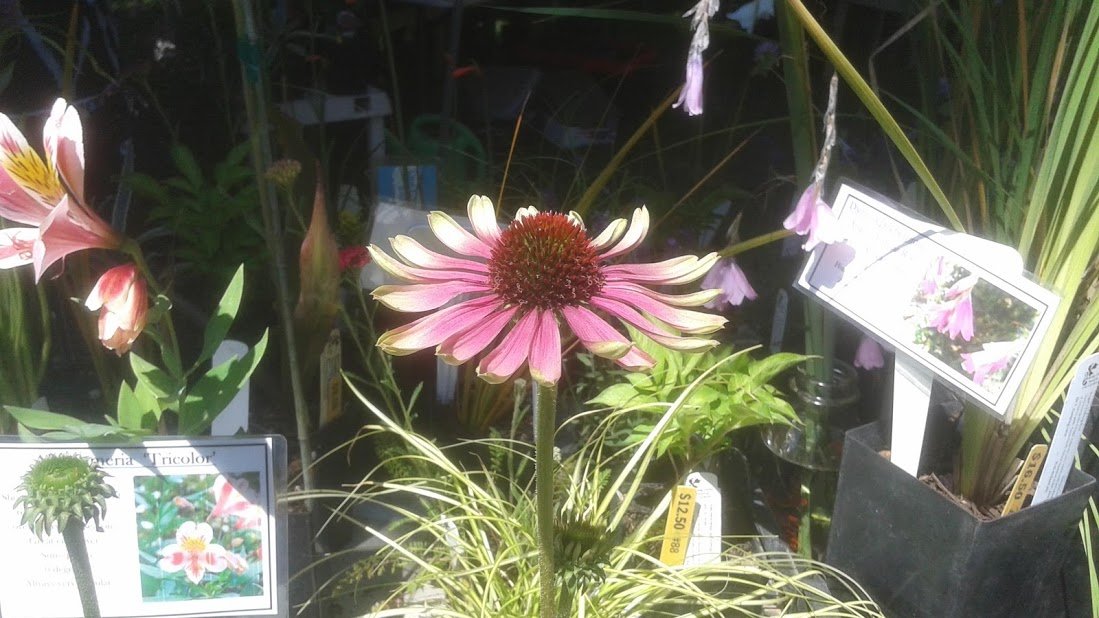 Plant Sale
This is the second set of my photos taken at the Bush Pasture Park Annual art in Salem, Oregon. Just outside the fair grounds near the gardens they also host a plant sale containing a wonderful array of blooming rarities.
Check out their website.
https://www.missionstreetparks.org/cool-plant-sale-to-beat-heat-of-summer/
They will probably host another plant sale in July 2020.
My photos pictured in this article are from the July 2019 plant sale.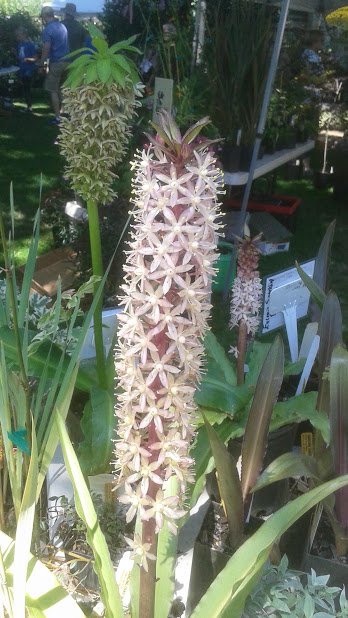 So many exotic flowers. This flower looked like a cattail stalk covered in dozens of flower pods.
The thing I appreciated most about his particular sale is that I was able to meet many specialty nursery and farm owners in the southern and central parts of the state, and some of them only share their prized plants at this one single event each year.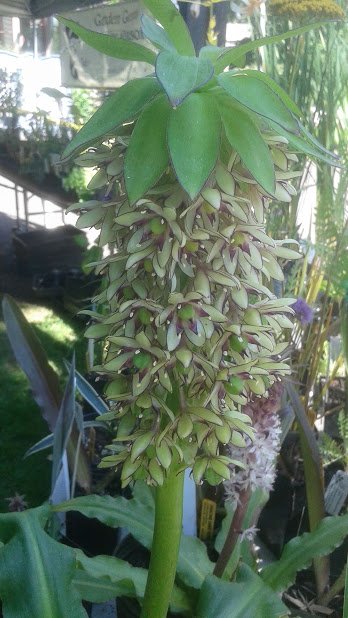 With really good prices and the added benefit of having the expert growers there to answer questions about all these plants they grew, it was really a breath of fresh air.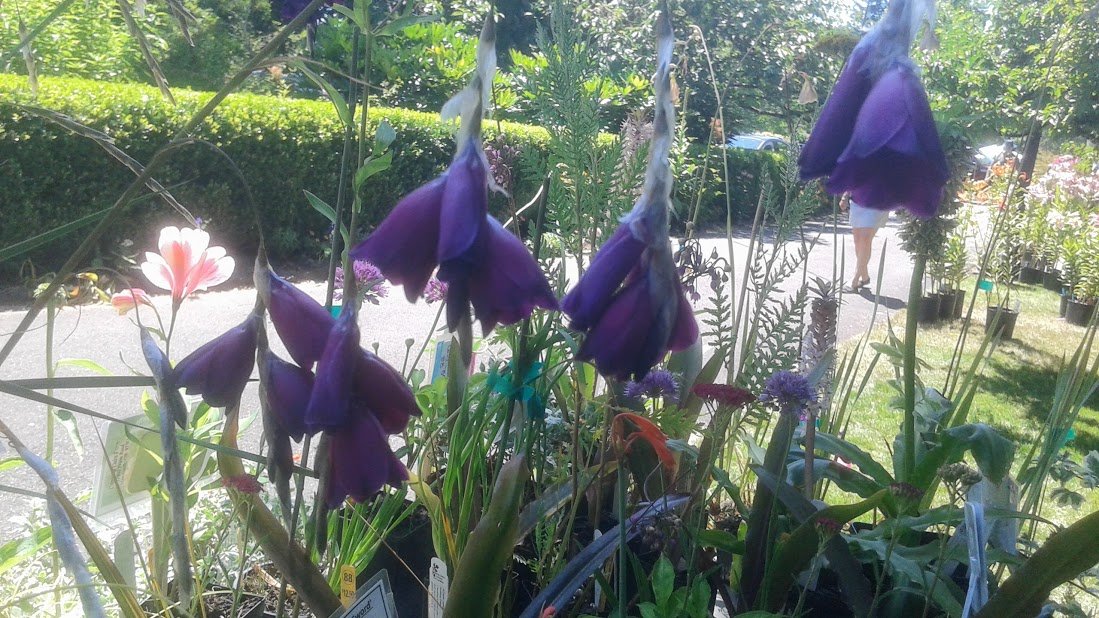 Many people who spent hours walking through the 90+ degree weather enduring the heat of the art fair were surprised to find this shady little piece of plant paradise.
Gardeners were constantly watering these plants on display to keep them hydrated. The misty water vapor was also pleasantly helping guests to stay cool too.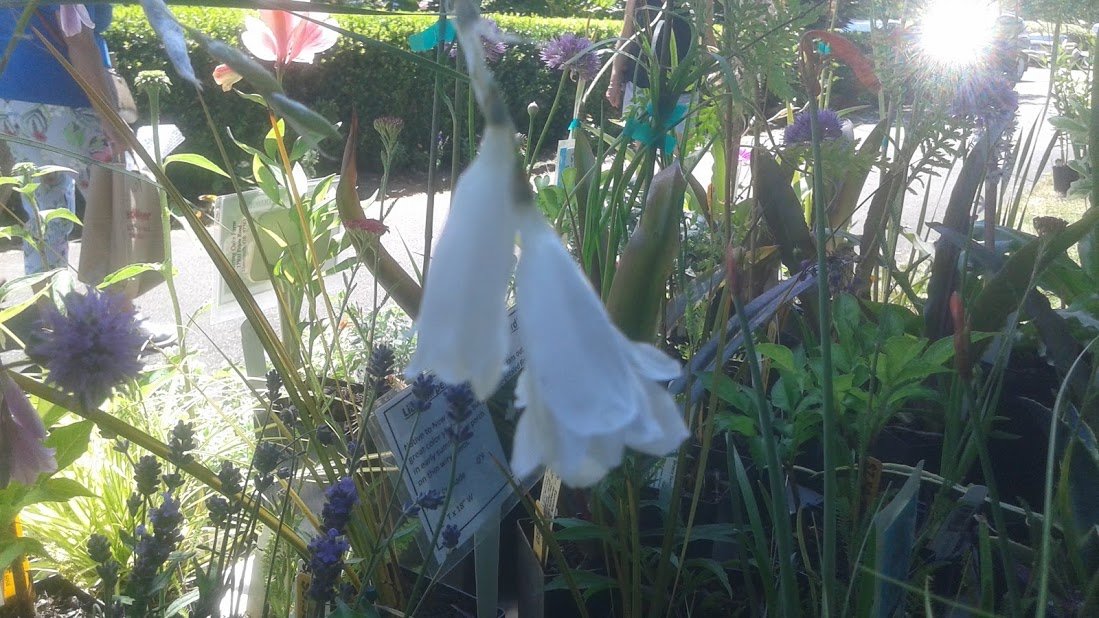 These hanging bells come in violet, and white!
Fragrance Gardening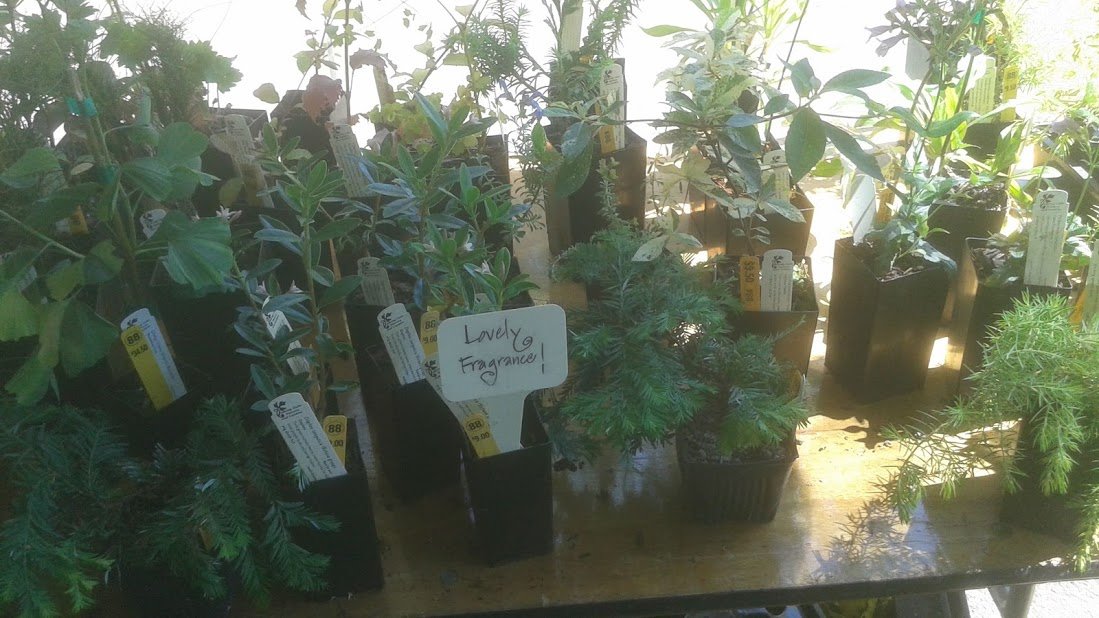 The fragrant herb and garden plants were one of our favorite areas to immerse ourselves in. Looking back, I'm sure I pressed my nose into the same foliage that hundreds of other people did (that can't be healthy with so many airborne diseases!), but nobody cared because they smelled so good.
There were over a dozen varieties of mints and lemon scented herbs.
They also had various varieties of all the edible plants with wonderful aromas for cooking such as onions, chives, turmeric, ginger, thyme, sage, cilantro, and parsley.
Edible Fruiting Plants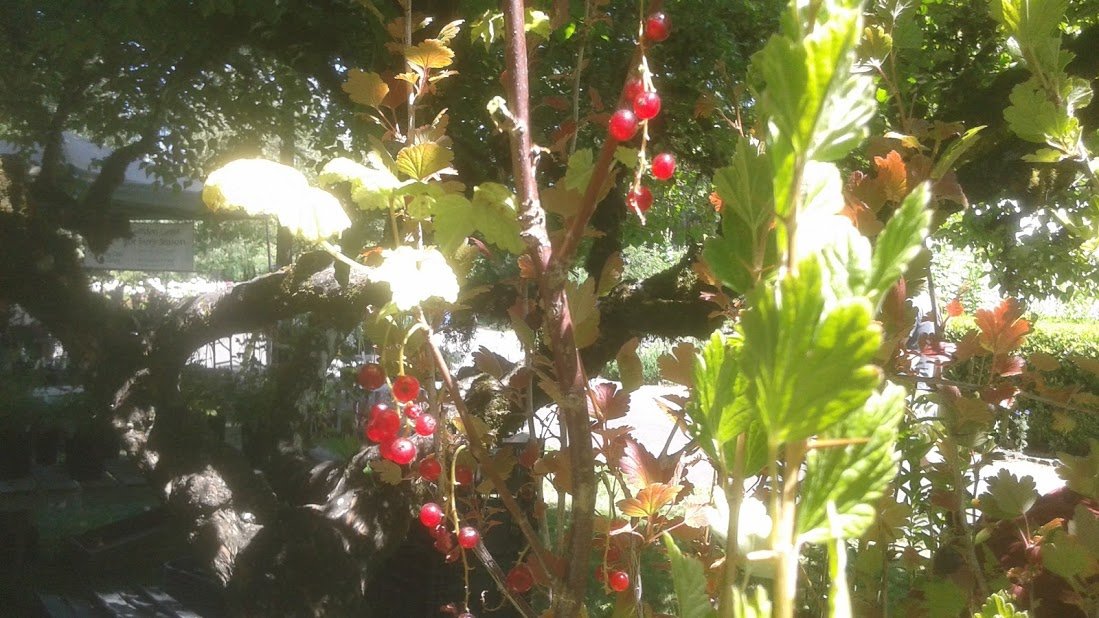 Juicy Red Currants. I was green with envy when I saw these on display. You can actually smell the sweetness of the berries just by looking at them when they are this ripe.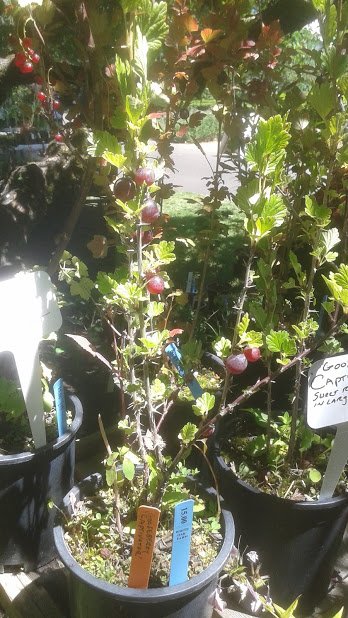 Also this gooseberry variety was so unique, with large red grape shaped berries. If there weren't so many customers walking around, I'm sure the birds would gobble up all these gummy berries up in moments.
Other fruiting plants on display were various types of strawberries and citrus trees. Lemon and lime trees are my favorite because rubbing the leaves leaves the same sweet zing scent as the fruit.
Omg! Yes, "leaves leaves" is actually grammatically correct in the sentence I made above. Noun followed by verb!
Tons of Flower Varieties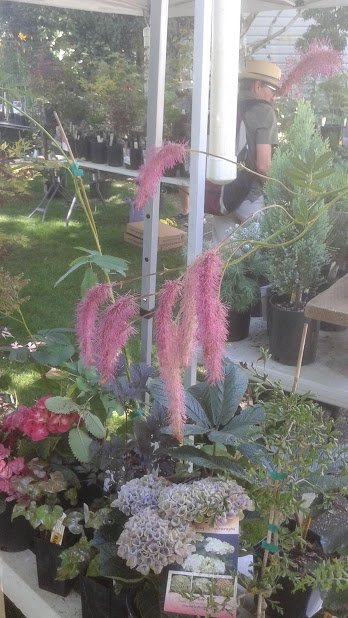 Pink Panther tails? Who wouldn't want this in a garden next to their pink flamingo ornament?
They also had a few dozen varieties of blooming Fuchsias on display, and I really regret not photographing them, because there were so many color varieties for this popular shade plants great for hanging baskets because of the dangling flowers.
Some of the plants I could not get any good photos of because it was either too shady, or there were too many people in the way.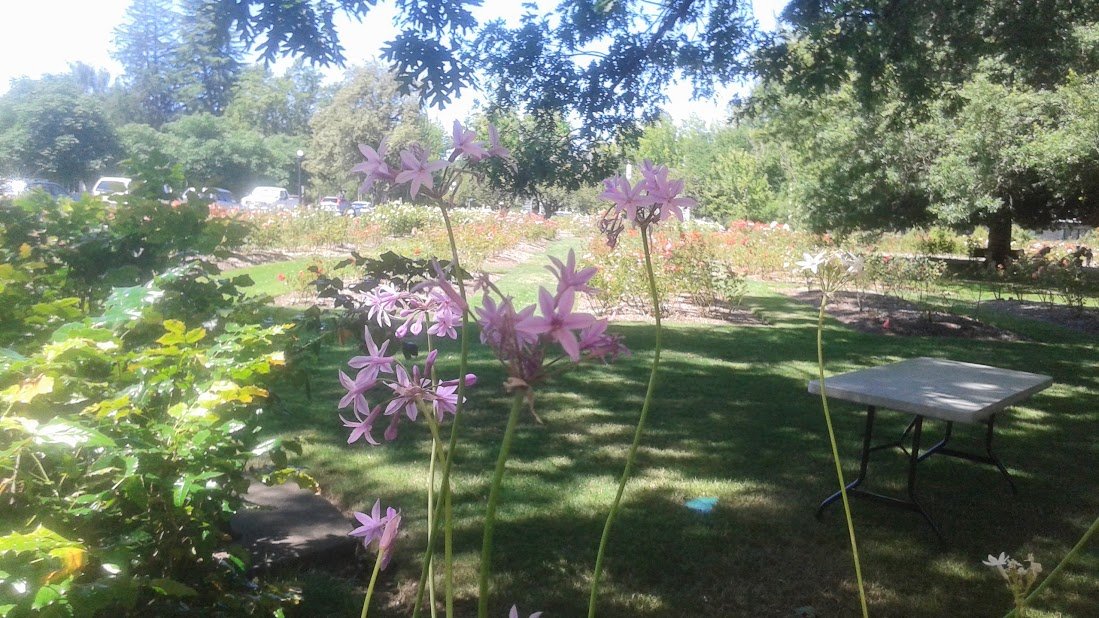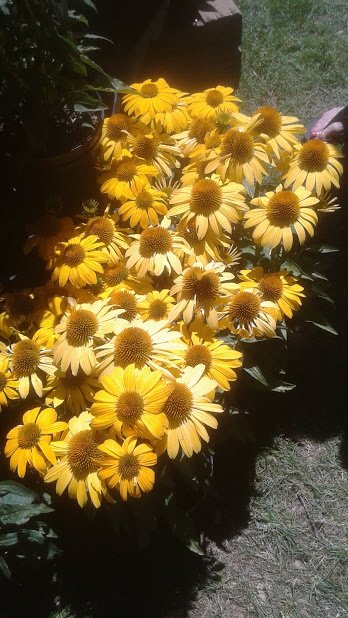 These voluminous flowering plants were the hot selling items at the sale. They were available in nearly every color combination imaginable.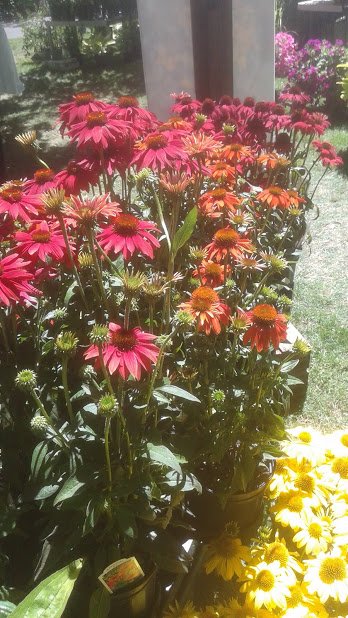 They are supposed to be long-lasting and able to withstand the Summer heat. The thick foliage and flowers on top probably helps the soil underneath to not dry out so quickly.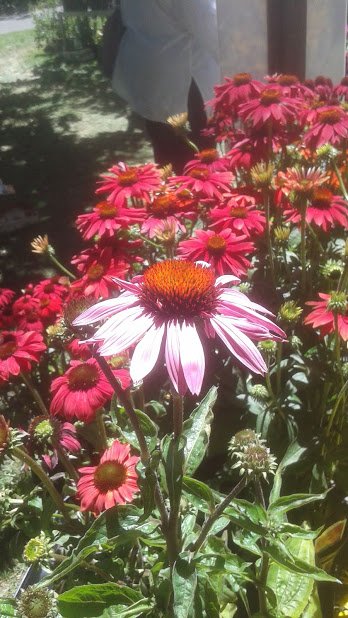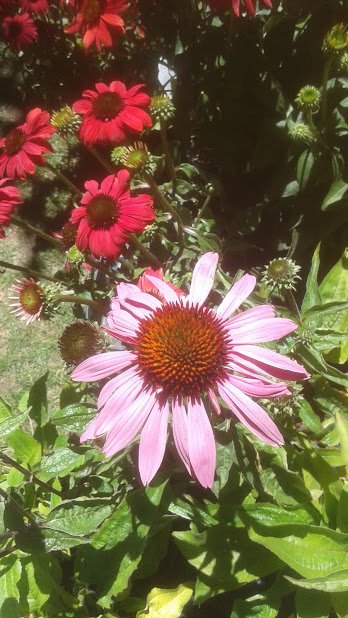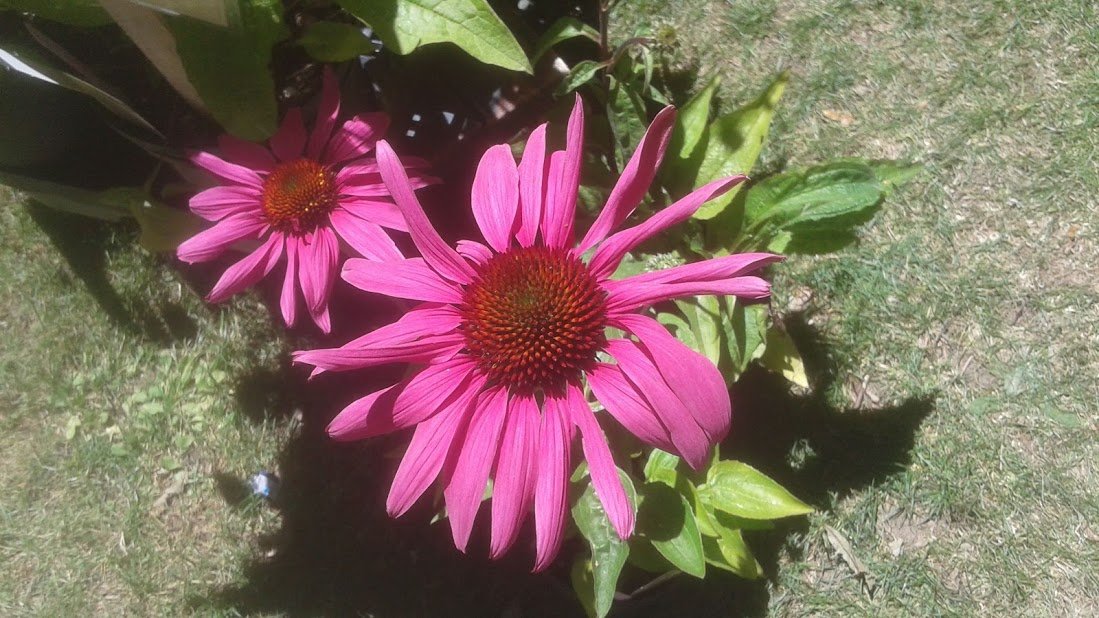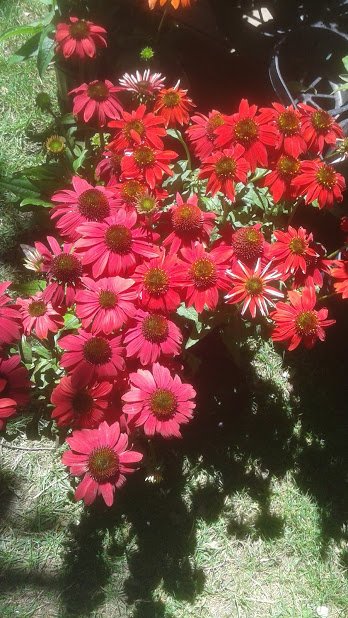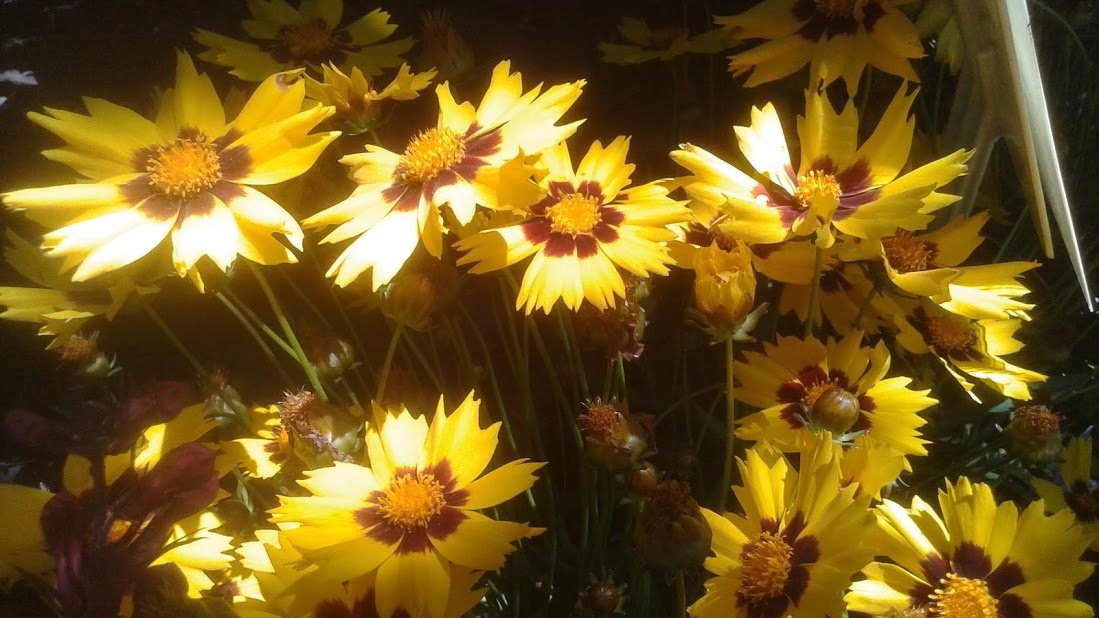 Coreopsis I always recognize easily. The bright yellow petals absorb more yellow sunshine than any other plant.
These have a purple/brown painted center and ruffle cut edges that makes them slightly more rare than the ordinary garden seed varieties.
In my garden, I grow the more common pure yellow variety, and I love that they grow back every year on their own without any maintenance.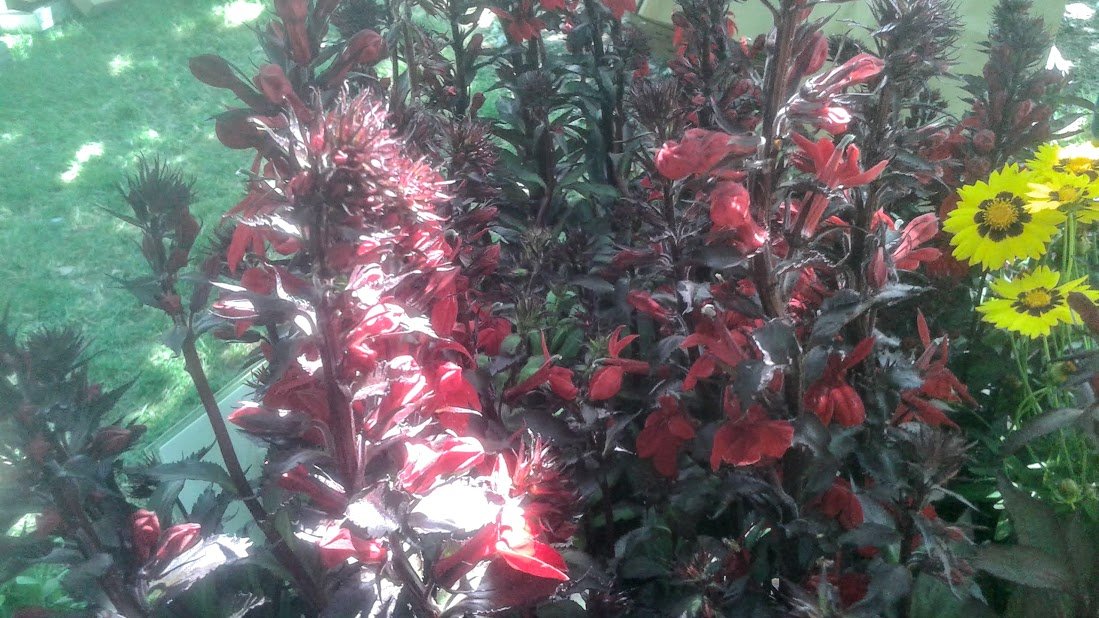 This plant I instantly fell in love with. The black licorice stems with blood red flowers.
I'm fairly certain this is flower that likes full sun, but I think it would look dazzling in a part of the garden that has a lot of evening shade. The deep red would really heat up the darkened nook like a red hot flame.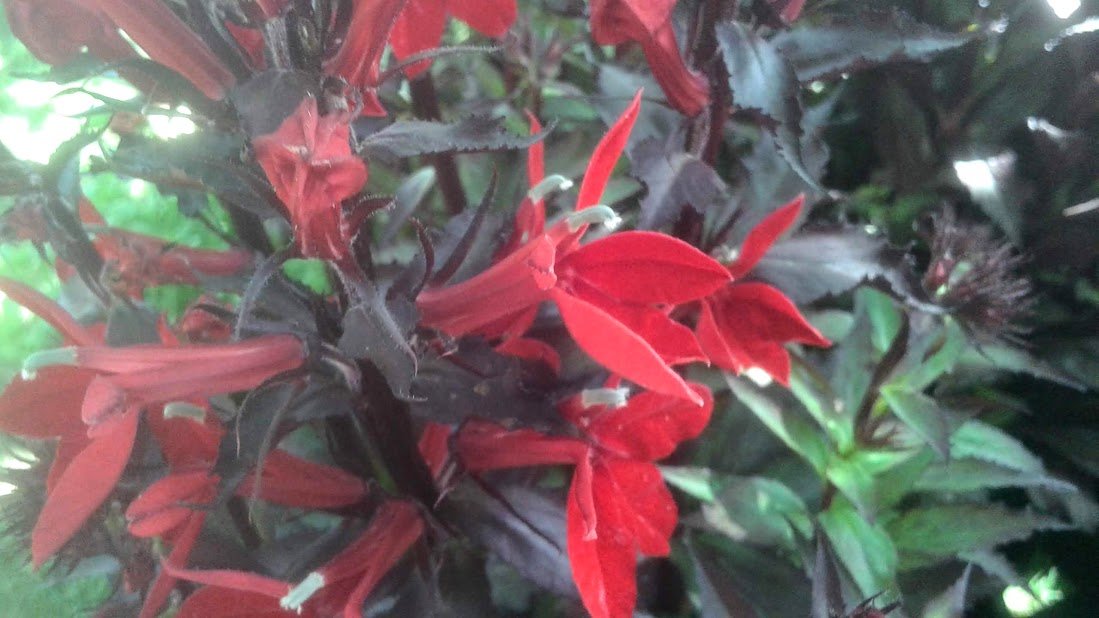 When flowers grow on a tall pluming stalk like this, they often last longer than ordinary flowers. Once the flowers on the bottom open up, as soon as they are spent the next set of flower pods above them start to open up. You can get fresh blooms for weeks.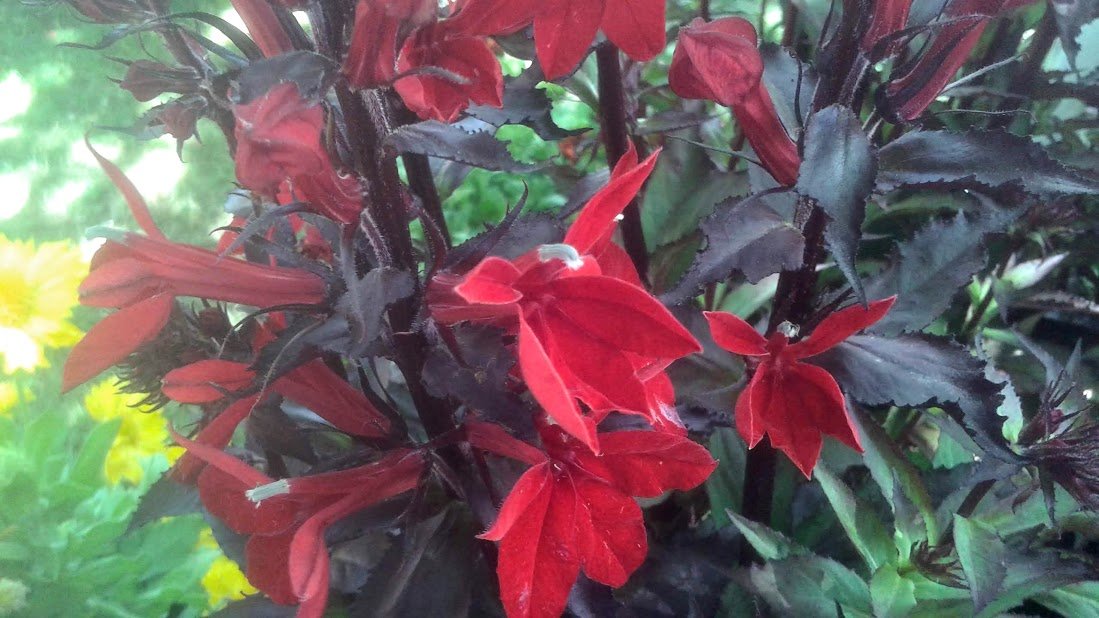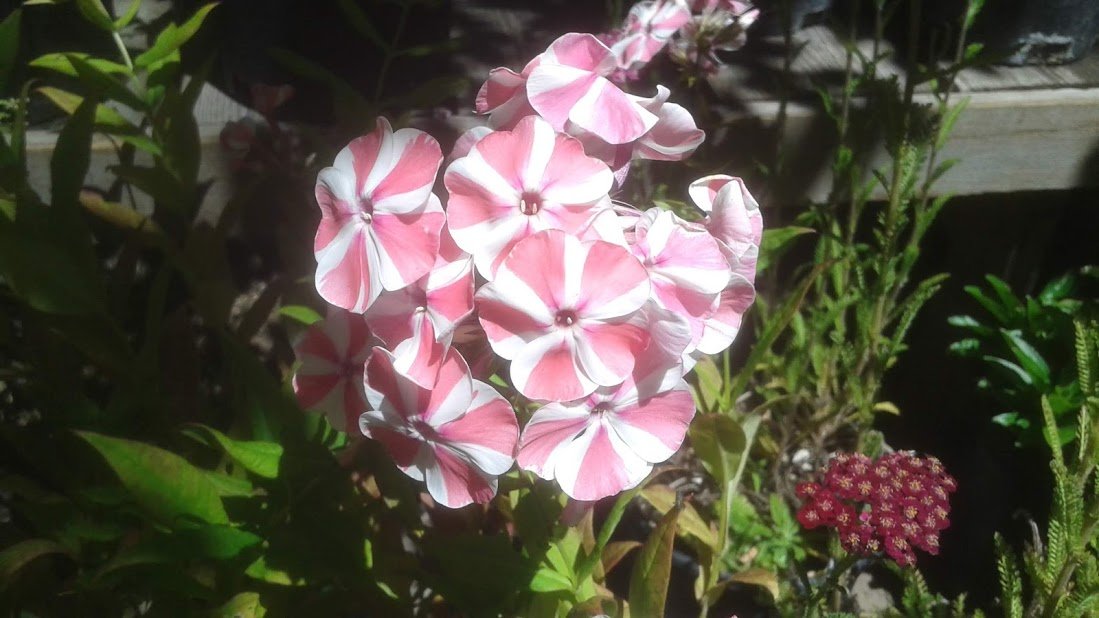 Candy twirlers.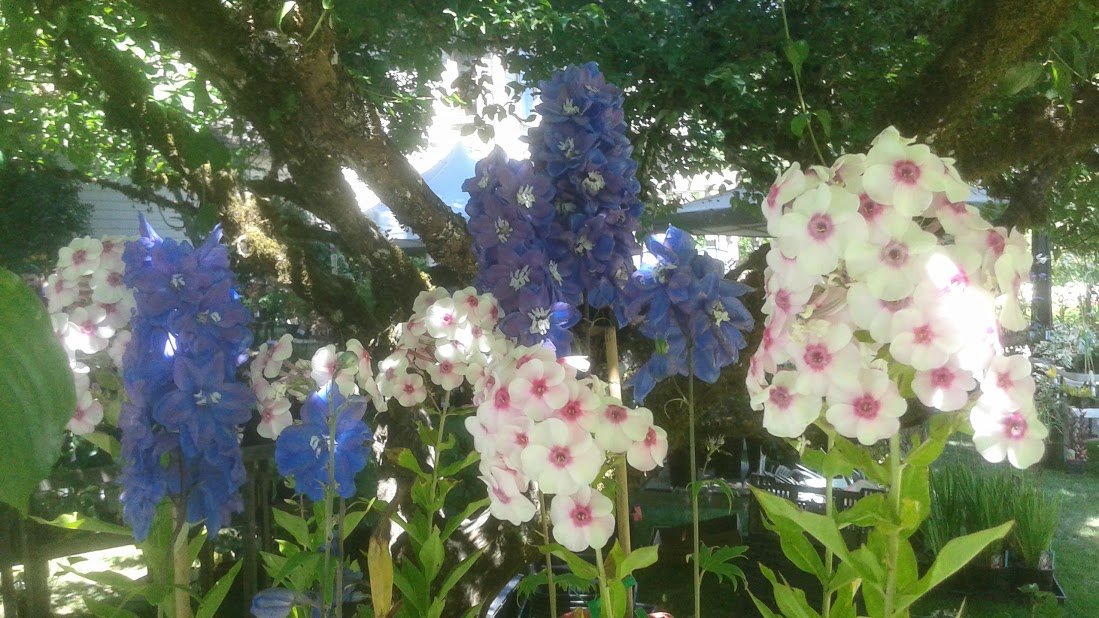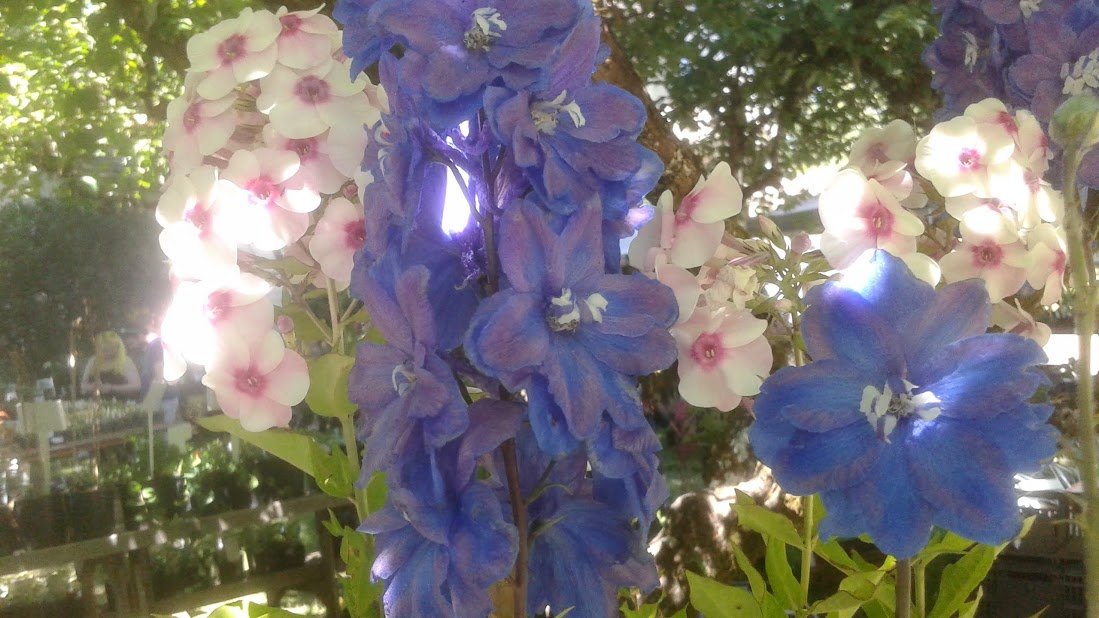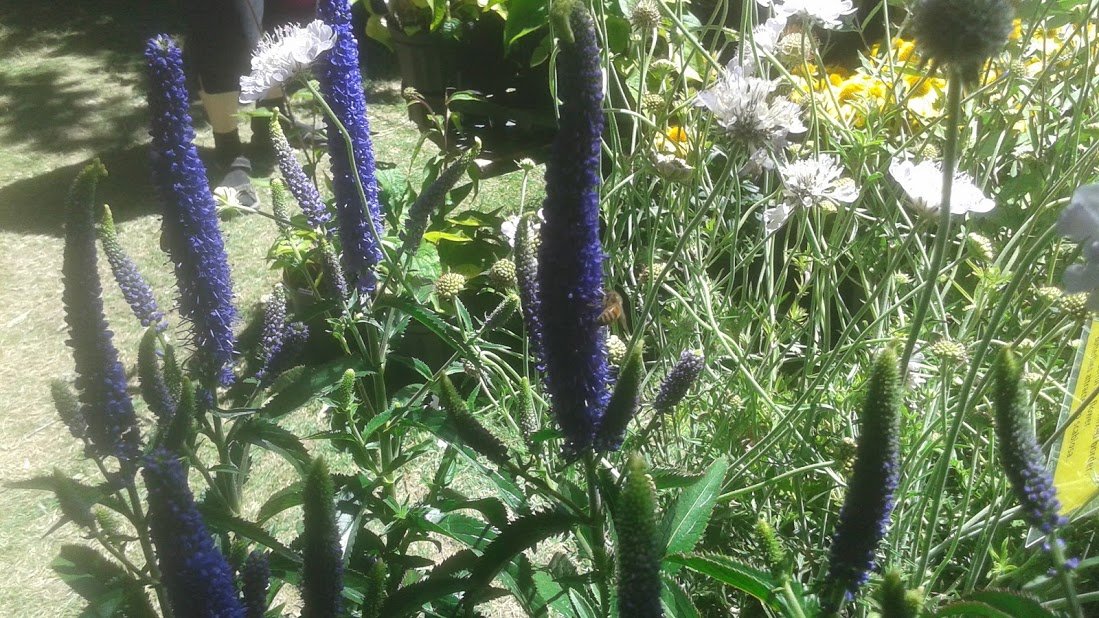 The bees were all over this blue stalk flower.
To me these flowers seem like something that would be wiggling around at the bottom of the ocean.
They are fun to watch in the wind as they sway and swing to the music of the soft breezy air.
The crawling bees also cause the flowers to bend and spring into motion.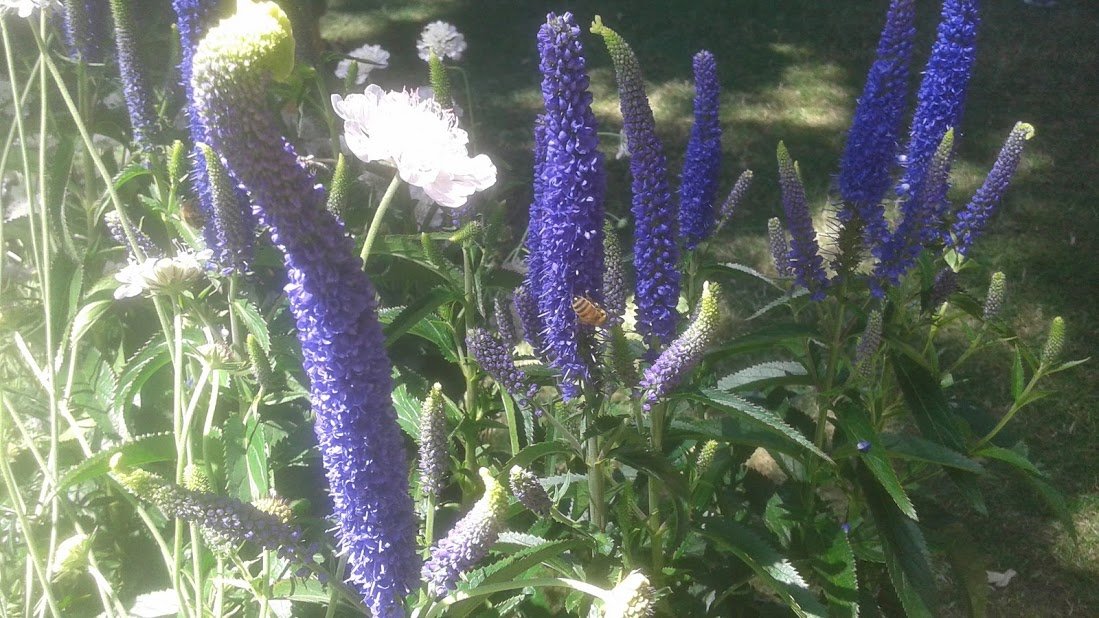 Beside it, I found this white puffy meadow flower.
Wish I knew what some of these flowers were called, but I have no idea about most of them. The sign label for this plant reads: Scabiosa.
On this flower I appreciate that the petals on the inside are more deeply clustered than the flat and wide ones framing the outside. The shadows of the inner petals adds some softer texture tones to the light.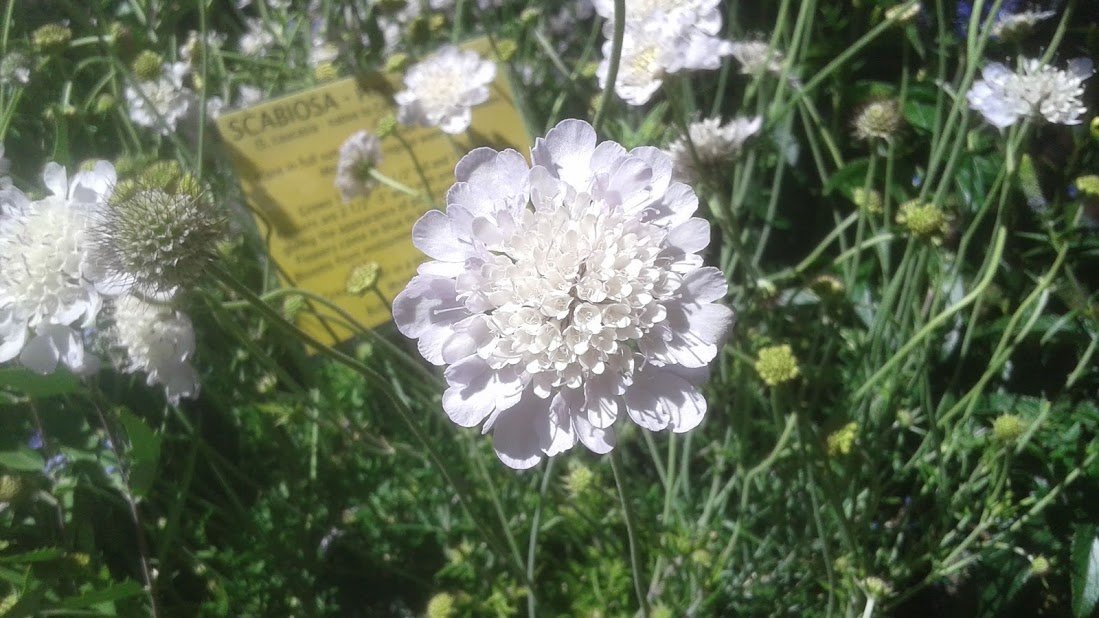 In this light the petals appear to be fringed in indigo blue. This is merely a light effect caused by the white reflecting any colors shinning against it. The nearby blue flowers and the blue sky likely causes the transparent edges to shimmer subtly the same color tones.
Imagine what these white flowers might look like under a ruby sunset.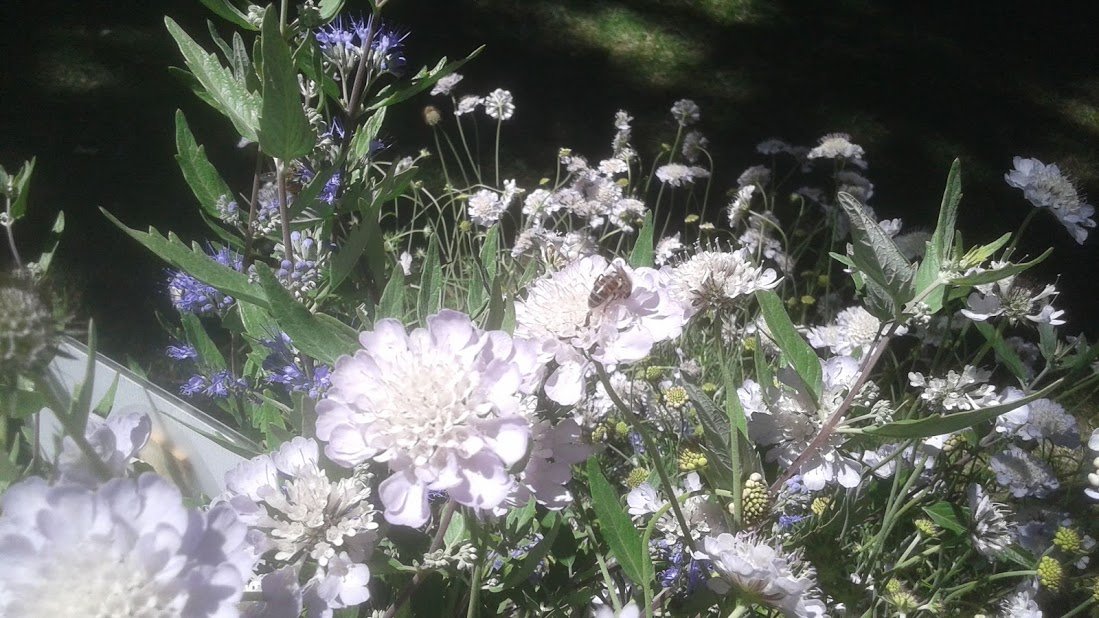 Park Gardens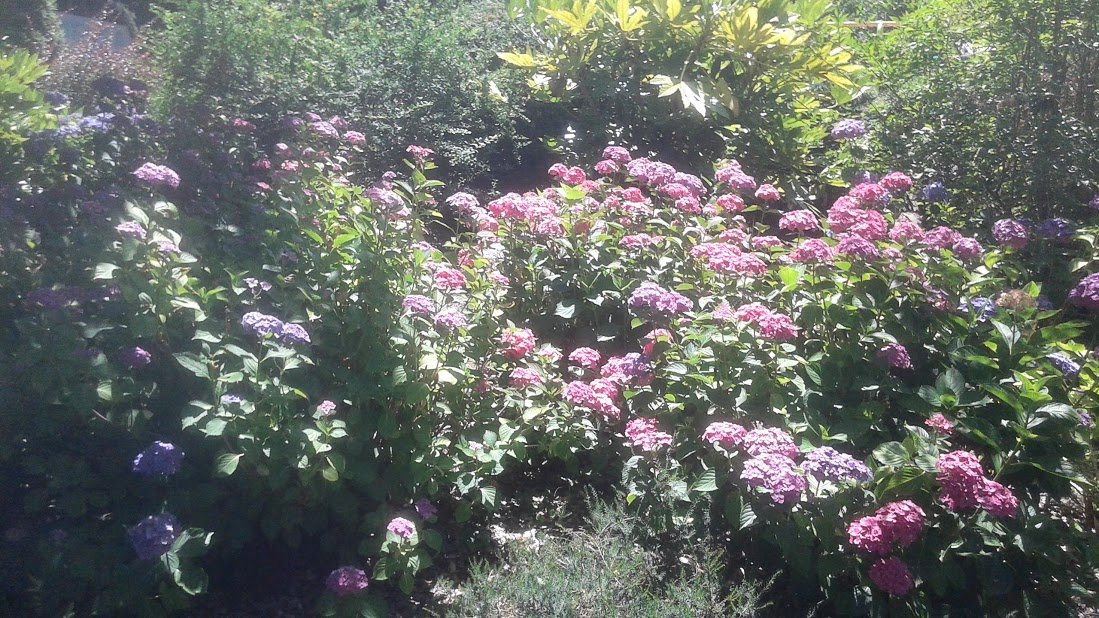 Bush Pasture Park also exhibits some well maintained flower gardens. Above we see various colors of hydrangeas. The snowball shaped clusters of flowers can fall into a variety of colors from magenta to violet and blue.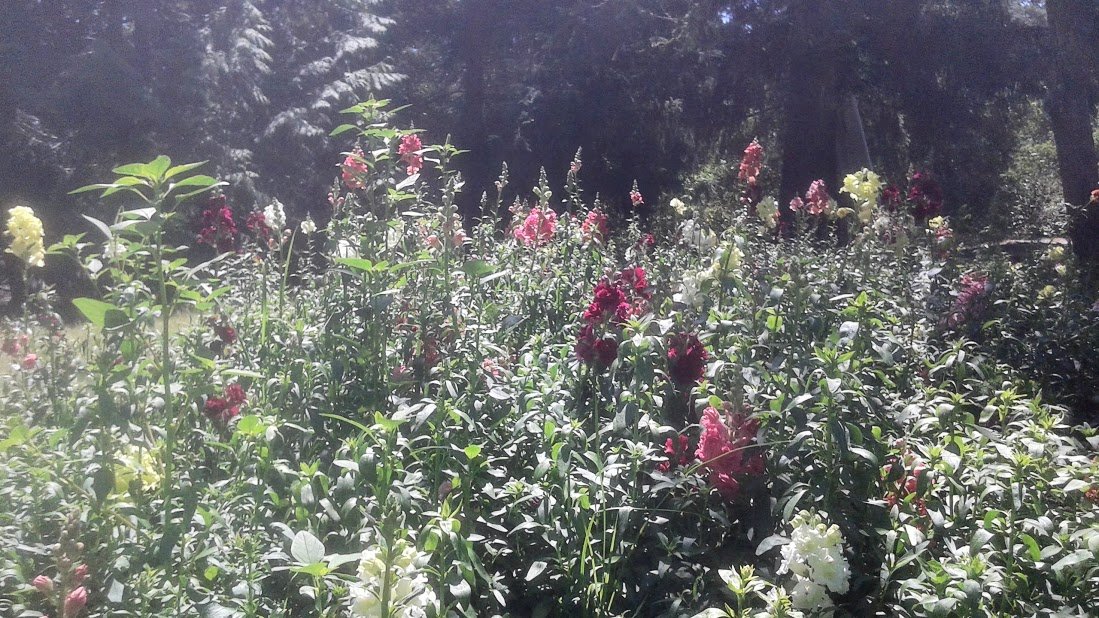 Various annual and perennial flowers clustered together. They attracts tons of wildlife and pollinators.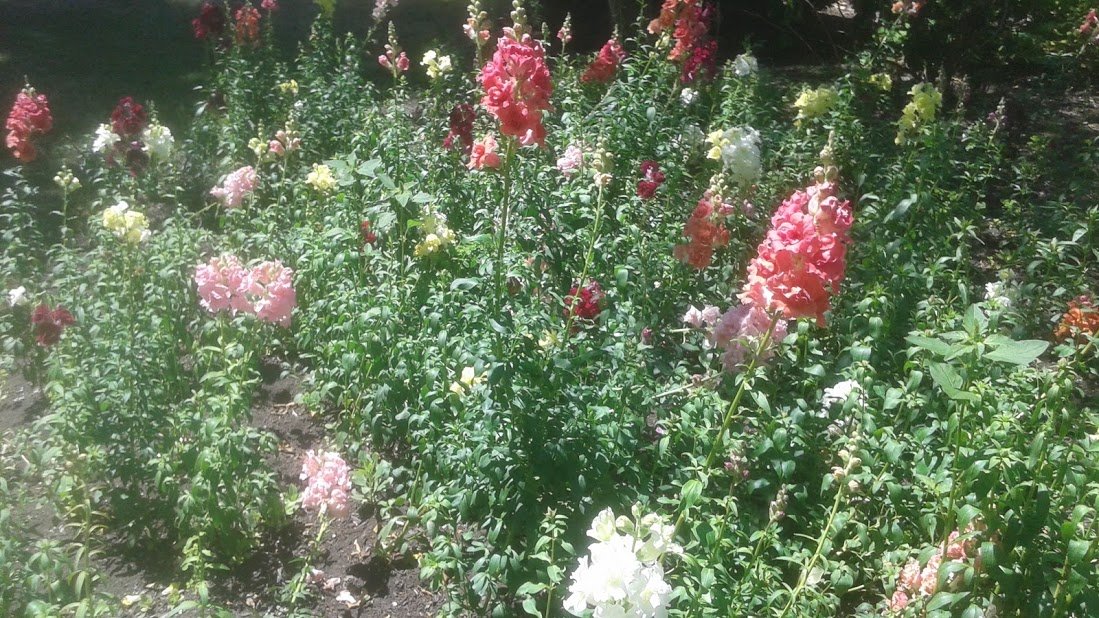 When planted in tight clusters like this, the flowers compete for height.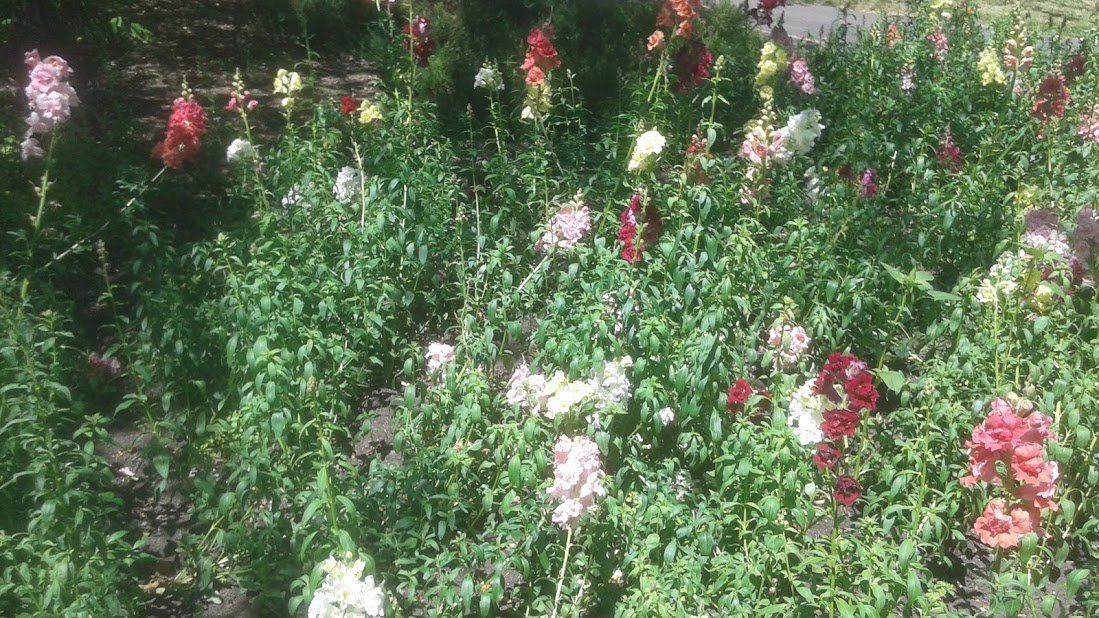 They also require less water because the foliage keeps the humidity high, and it also shades the soil.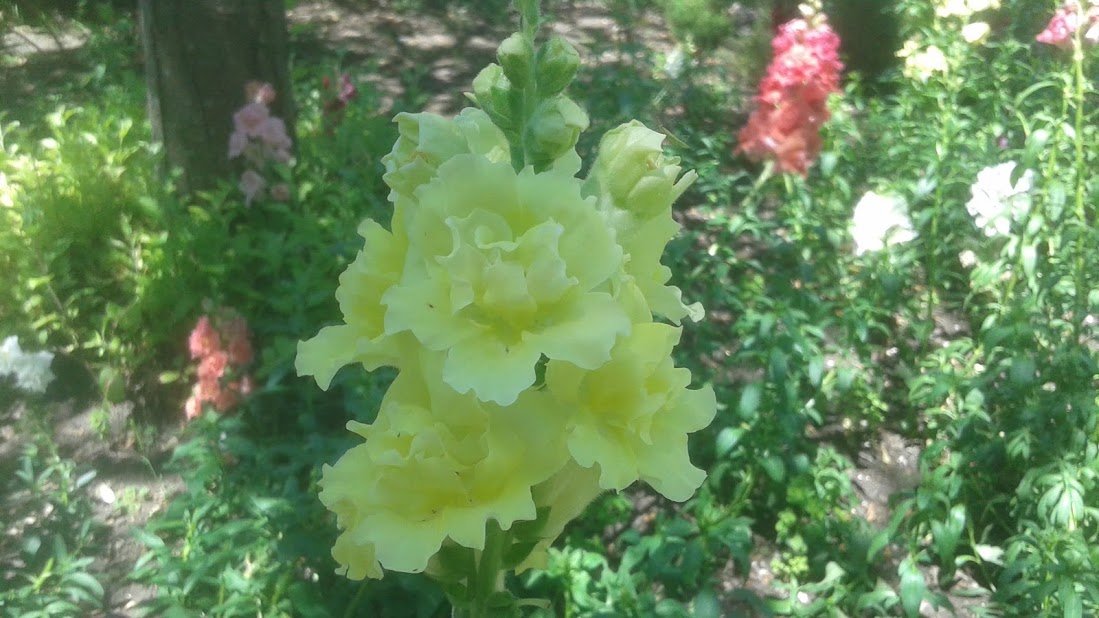 Thank goodness some of the flowers were planted close enough for me to steal a sniff here and there.
---
Be sure to follow and subscribe for more. I have one more set of photos from this event coming up featuring some of the fantastic bonsai trees and full-sized trees I discovered. Like I said, this plant sale event was incredible, and I have plenty more to share.
Resteem, upvote, and share if you would like to see this post better rewarded.
#coreopsis #colorful #color #colors #yellow #orange #pink #red #gold #magenta #blue #violet #black #mint #herbs #currant #gooseberry #hydrangea #flower #plants #stamen #flower-pistol #Scabiosa #meadow-flowers #meadow #butterfly-garden #bee #bees #pollinators #annuals #perennials #garden #plant