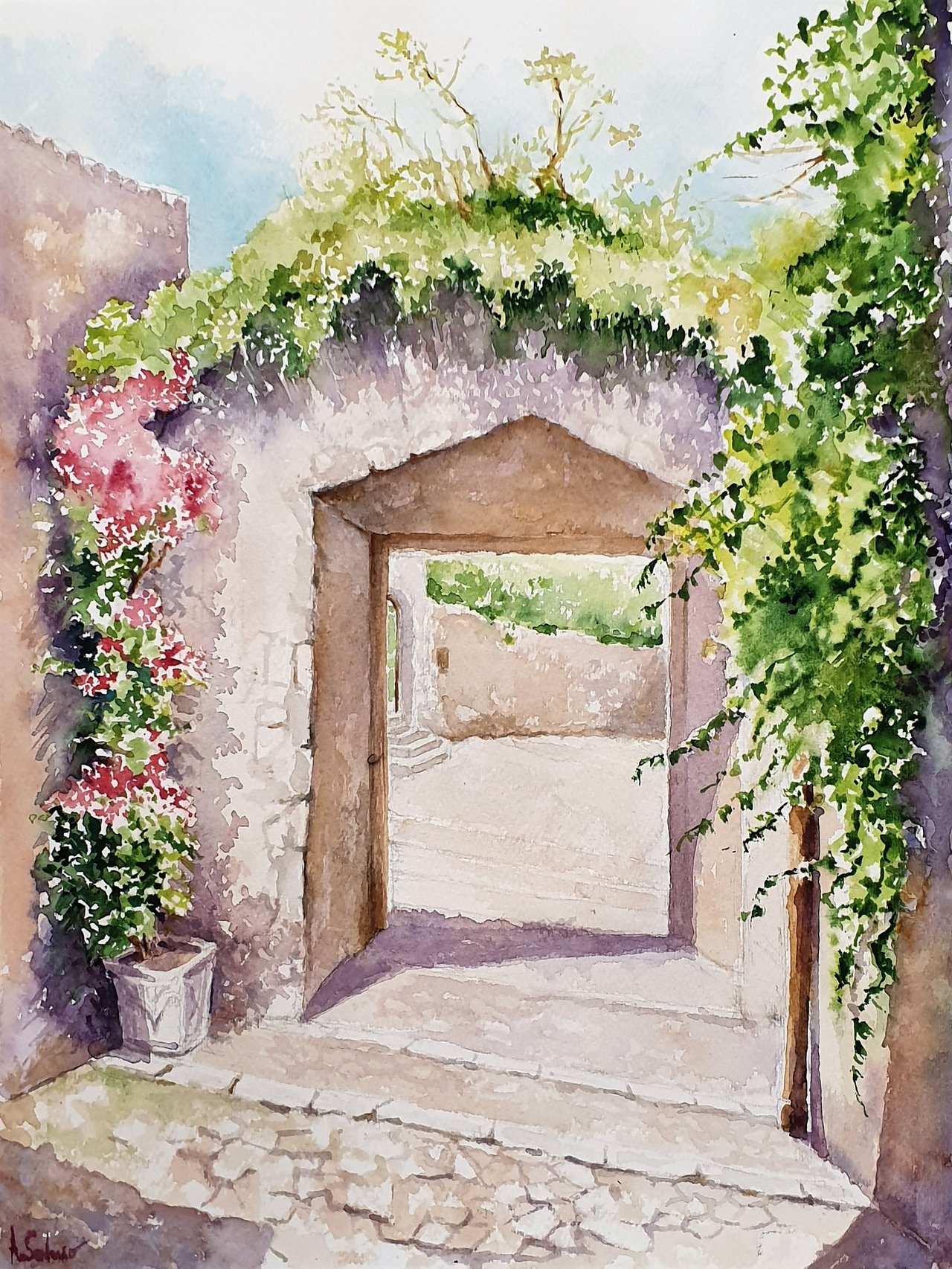 The staircase of the sun


2  0  2 0 
watercolor on paper
The staircase of the sun.
Hi everyone and I hope you are well and safe. Today was a wonderful sunny day here, and I took full advantage of the opportunity to go out and go for a nice walk in the historic and ancient part of my city.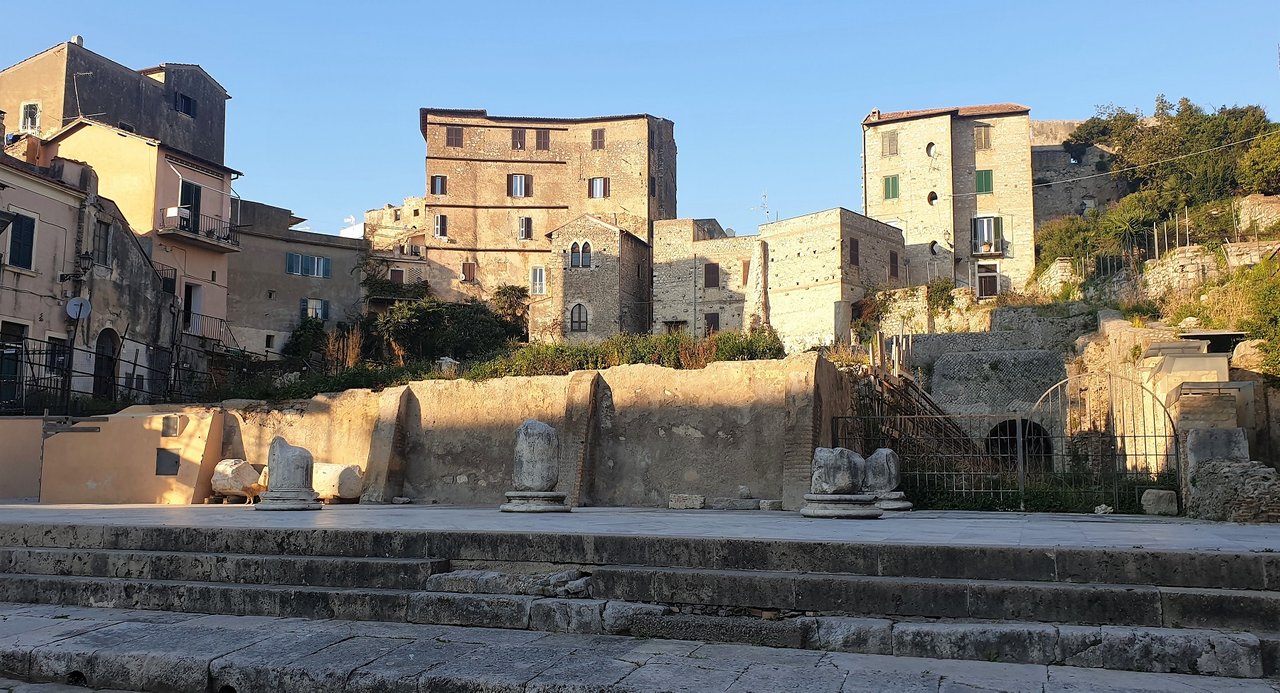 The sun played with its rays with the shadows of the alleys, illuminating arches and columns, creating purplish blue shadows and blinding light strokes on the limestone stones of ancient walls and 2000-year-old Roman roads.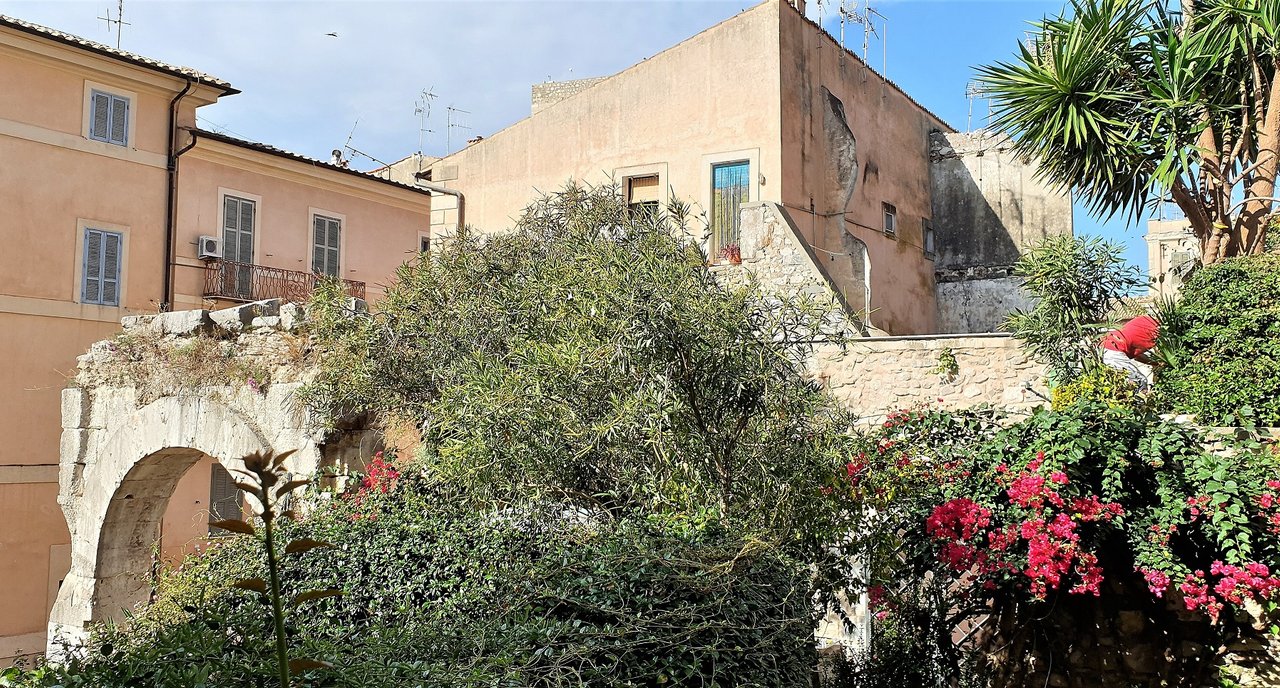 A spectacle for anyone, being able to admire such beauty heated by the warm May sun has put me in an excellent mood.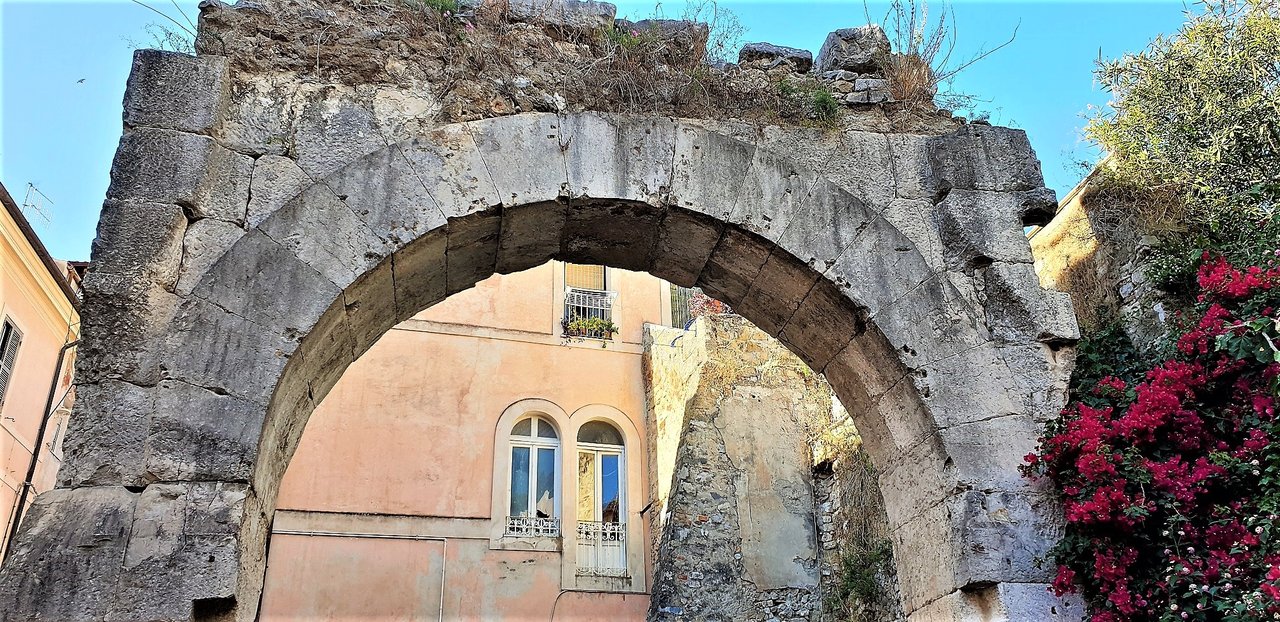 I made a survey in some ancient places where vegetation and stones joked with points of light and shadows.
I met a beautiful limestone staircase with an old flanking wall and ivy plants that alternated with bougainvillea.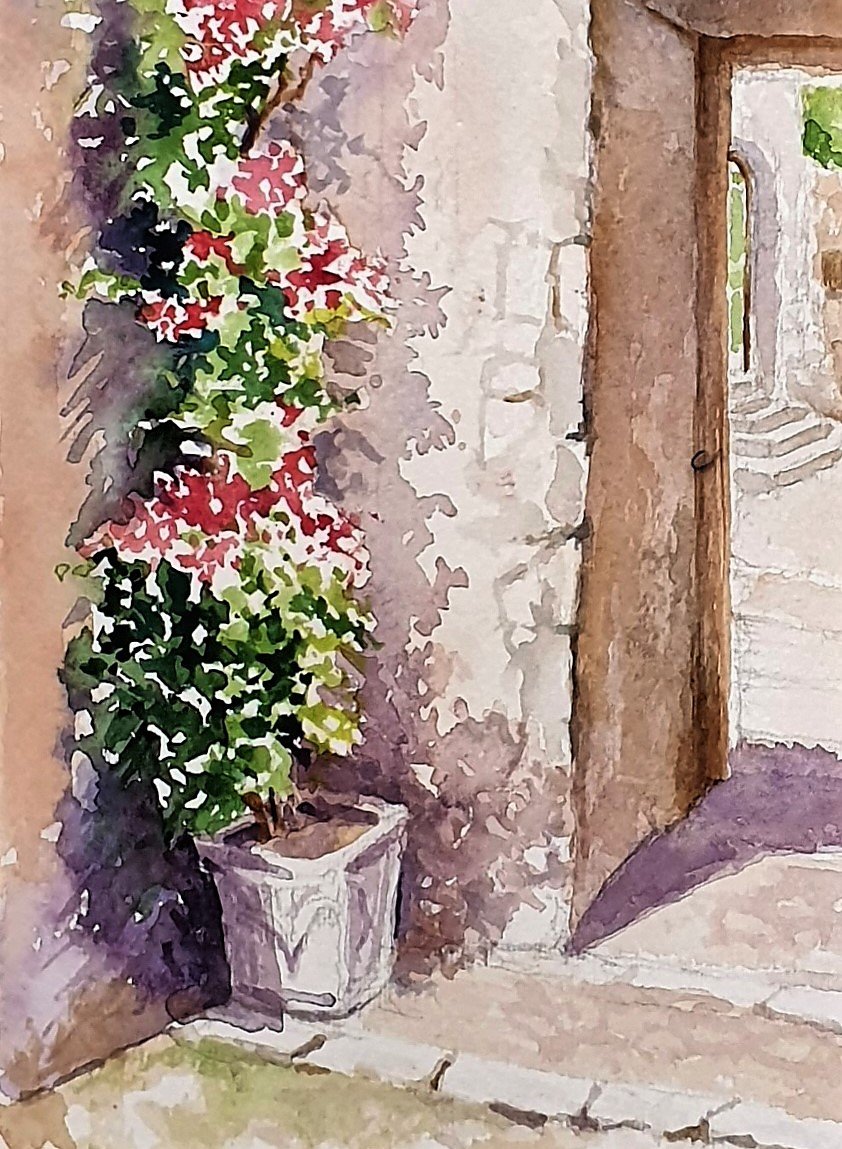 I will have seen it many times, but with the sun this morning, and the clear and clear sky like never before, it has enchanted me.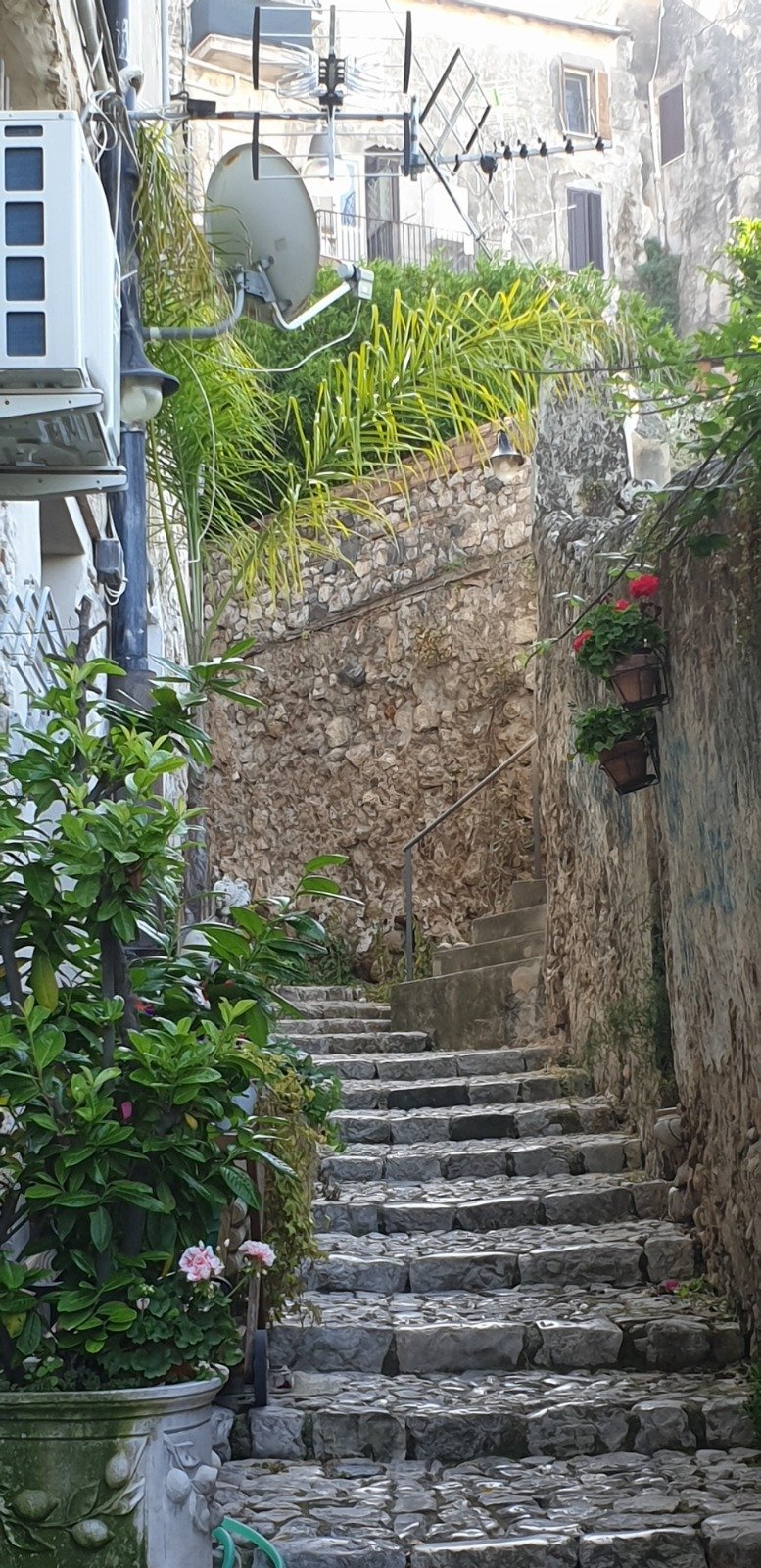 At the bottom of the staircase a passage with an oblique architrave that with its reddish brown and blue shadows immediately inspired me to create a watercolor.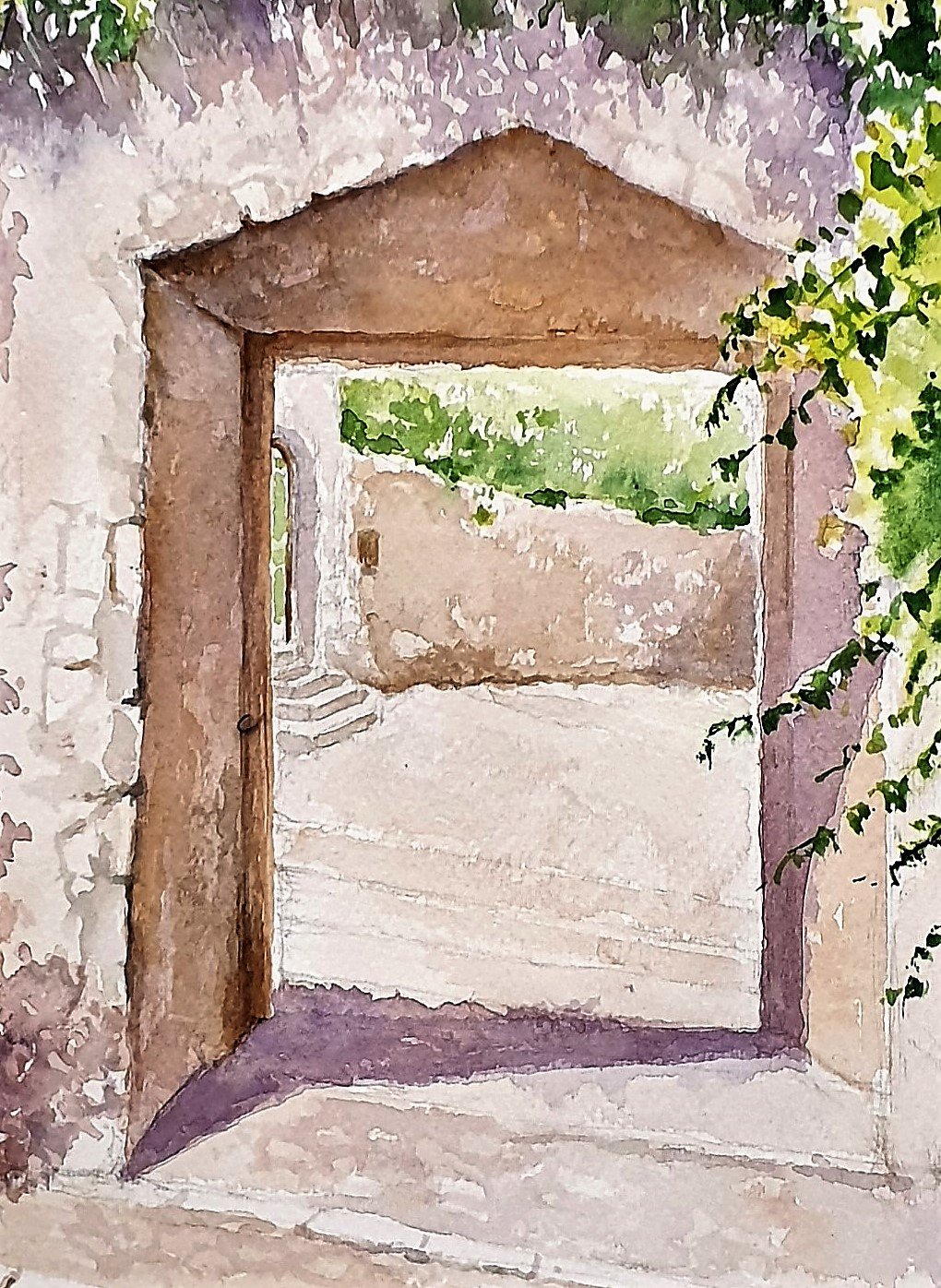 A multitude of colors, lights, shadows, bright spots, sharp or soft shadows, luxuriant ivy branches of different greens, light with lemon yellow, and dark with emerald green.
A scene that would have made an Impressionist painter go crazy with joy and excitement.
Well, I was not indifferent to this beauty and I took brushes and paper and I portrayed the subject in full sunlight.
The first steps I made them live, then I went back to my studio and I finished the painting with the help of a photograph that I took before leaving the staircase.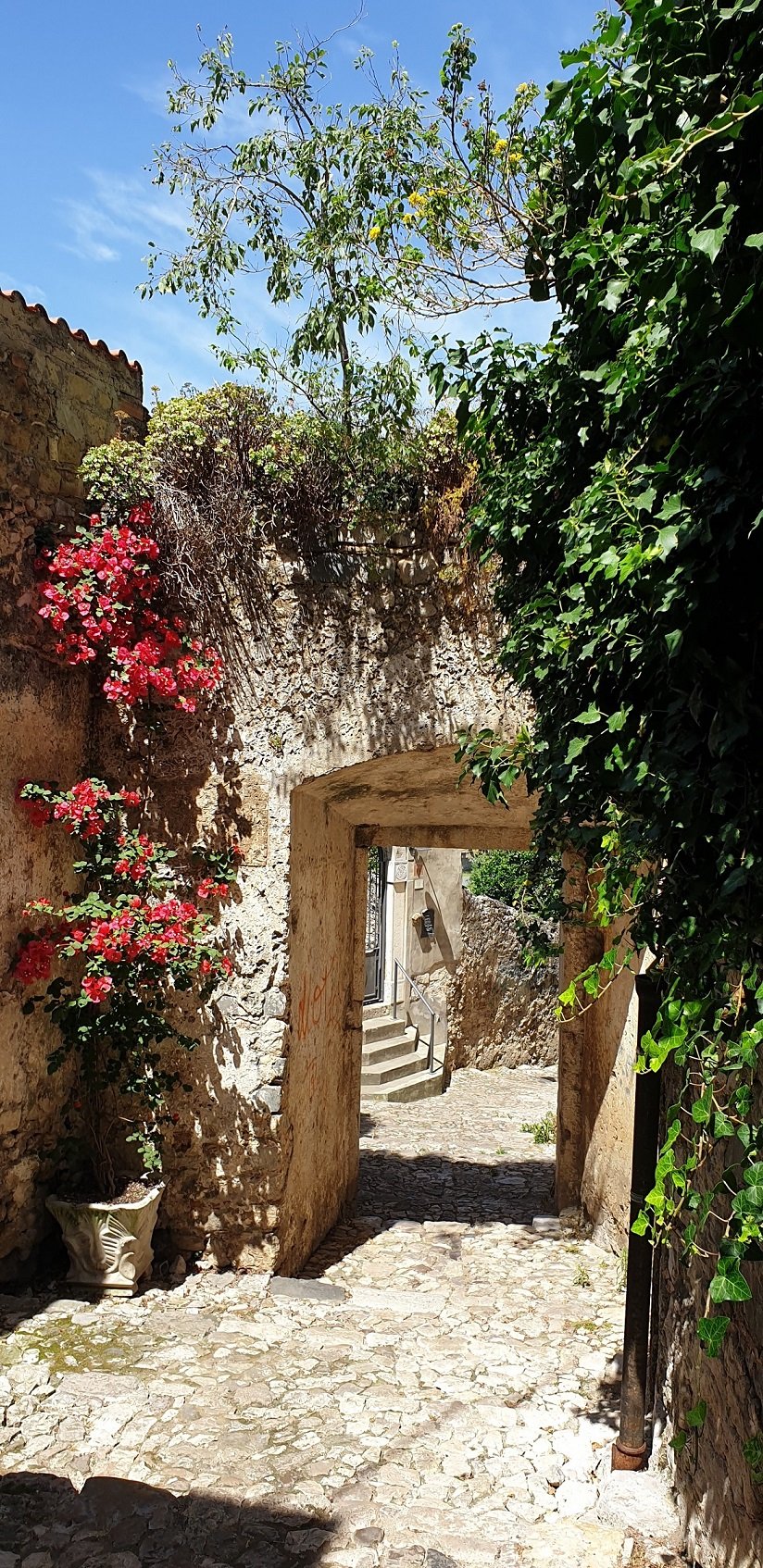 I would say it came just as I had seen it this morning, a blinding light in the whites and those spectacular purple and blue shadows.
The play of light with the greens in the foreground remove the rest of the landscape, and enrich the contrast of complementary colors, between greens and purple.
The white of the paper helped to illuminate everything else, like the sun on the staircase. I hope you enjoyed it and I leave you with the steps of the painting.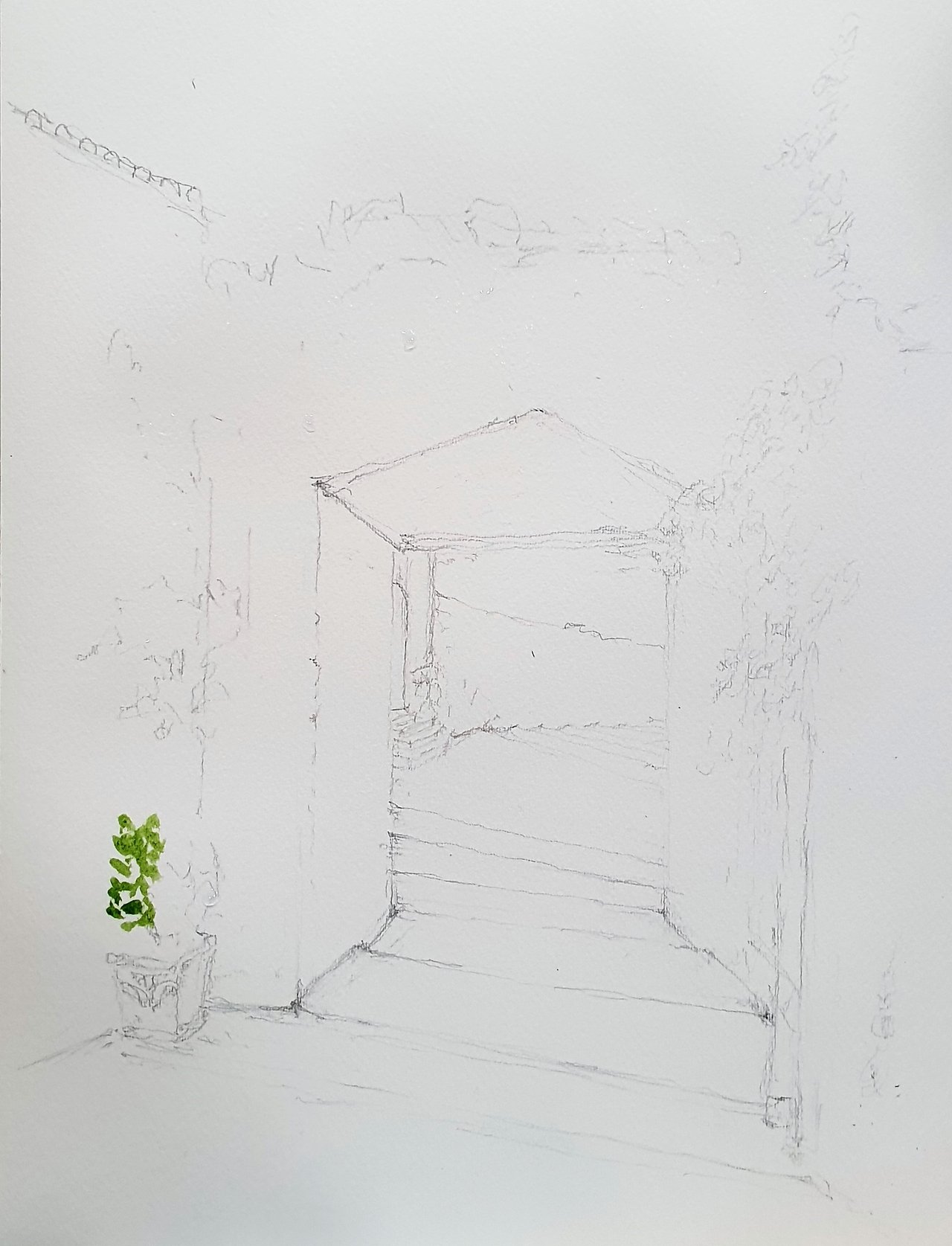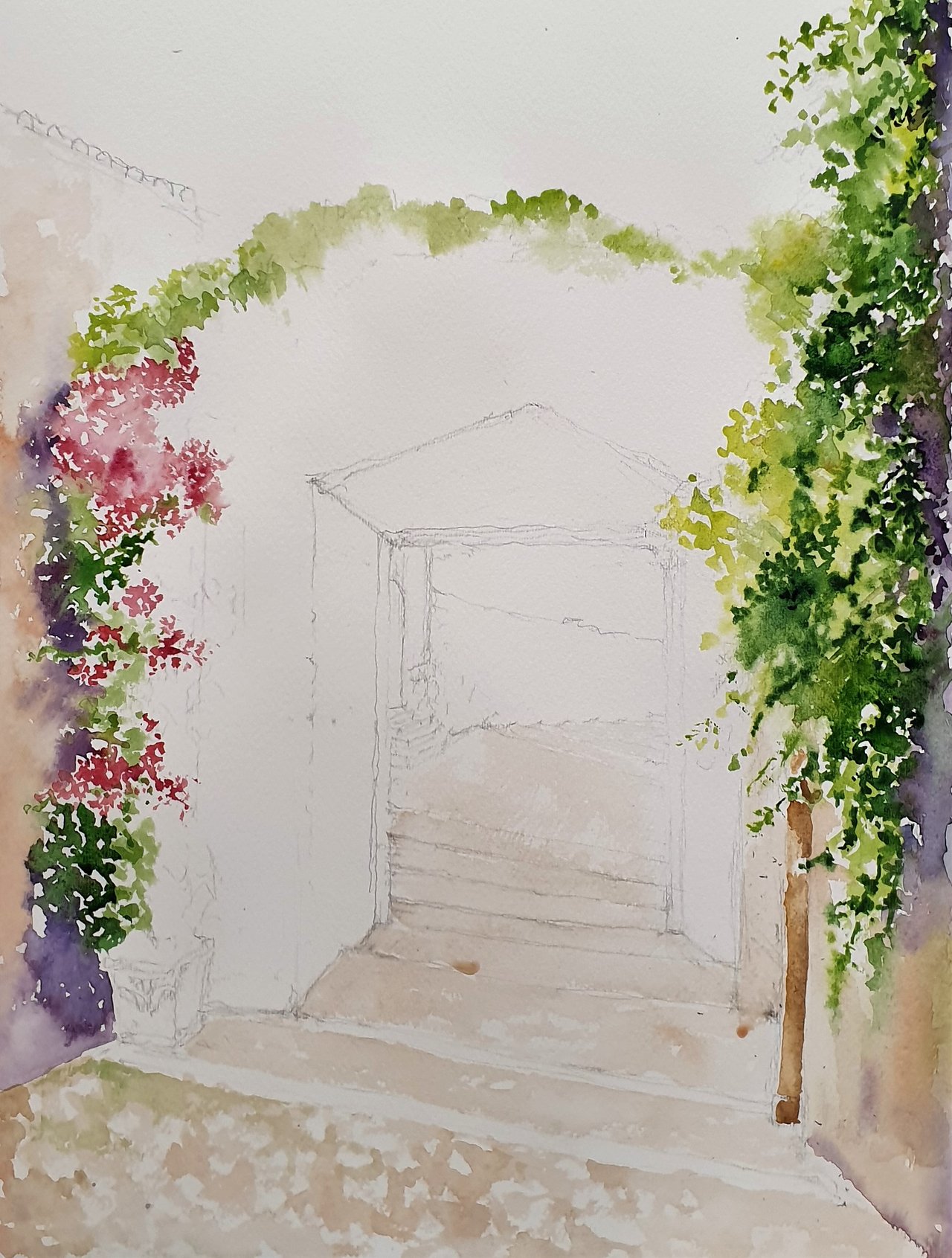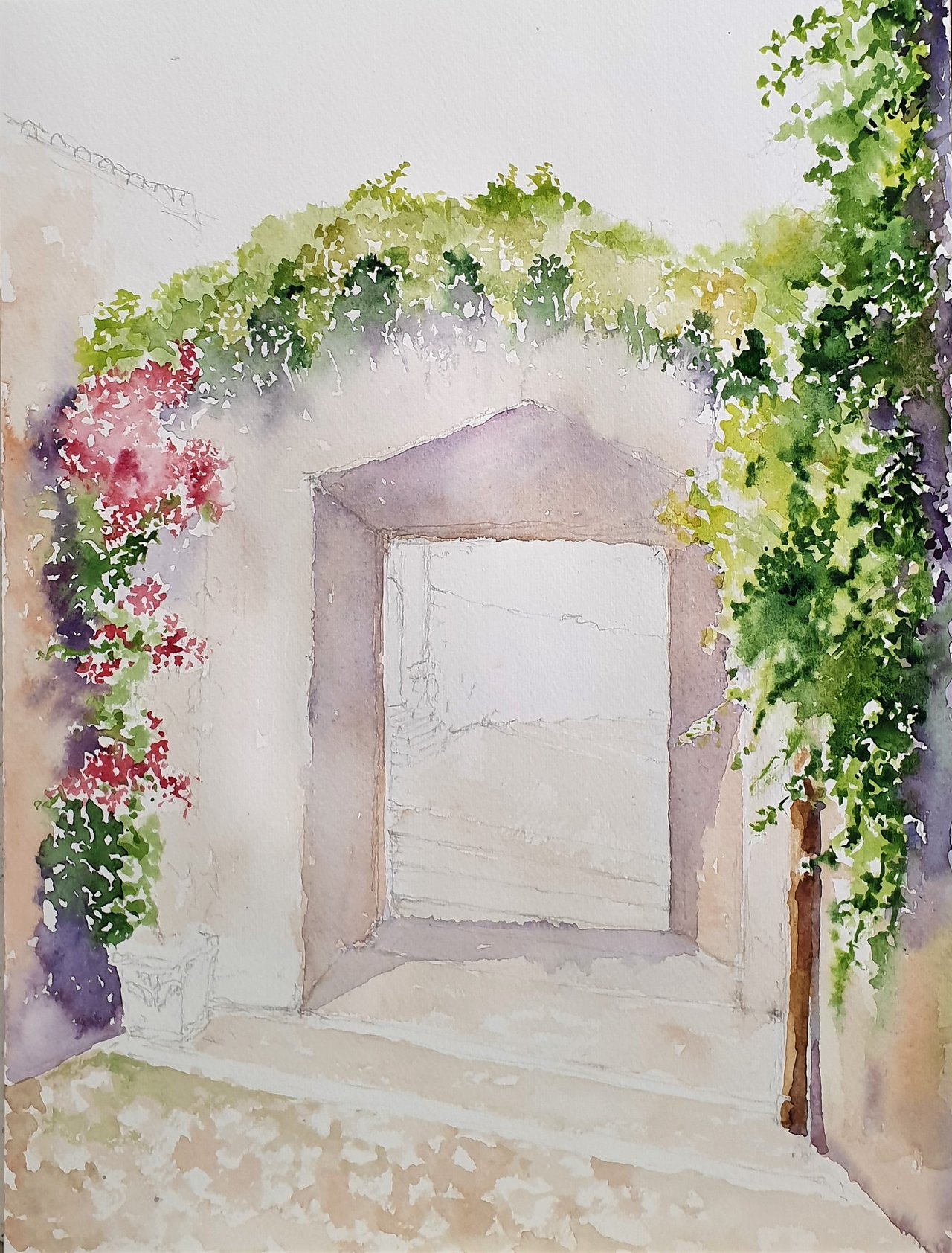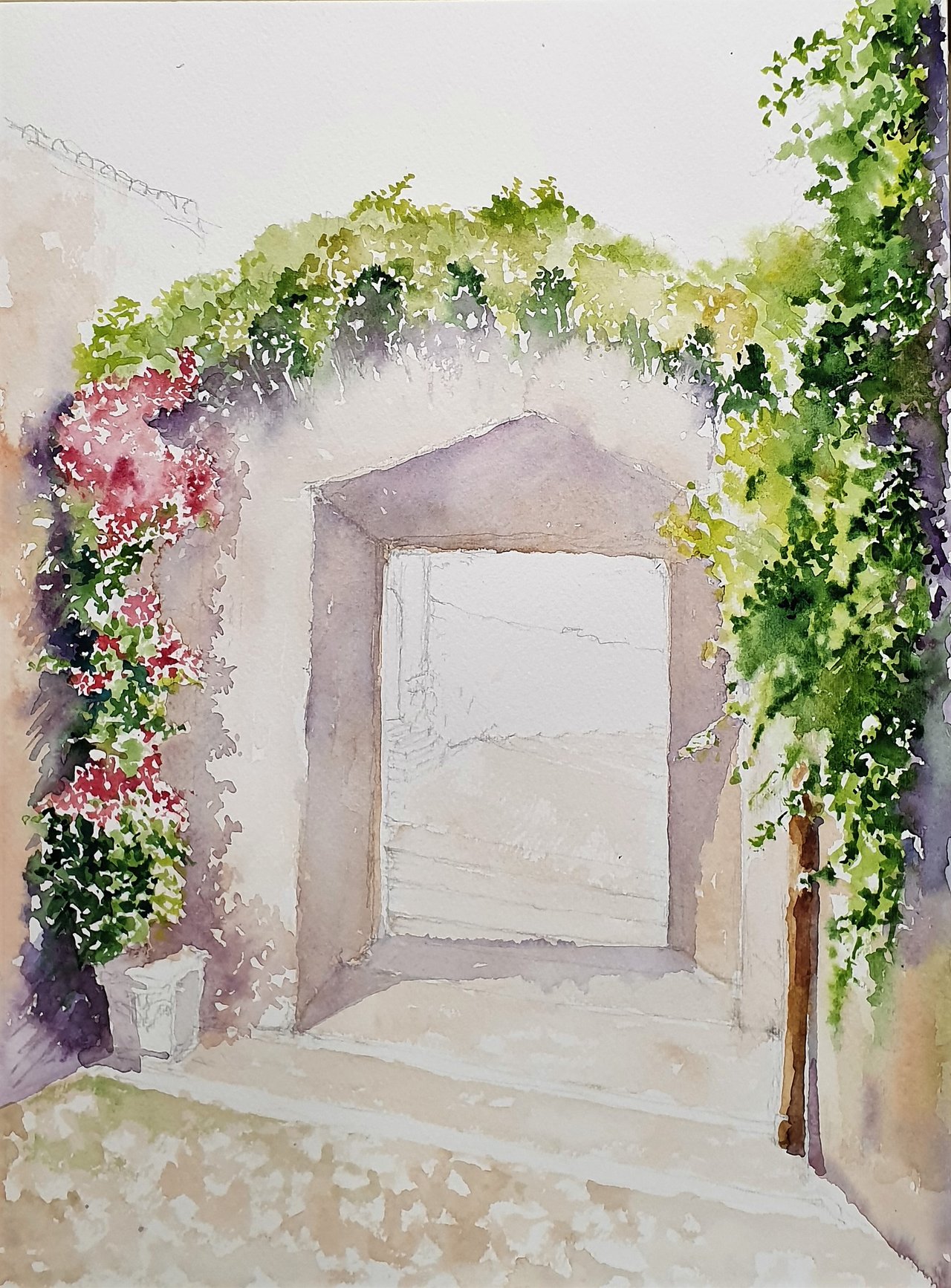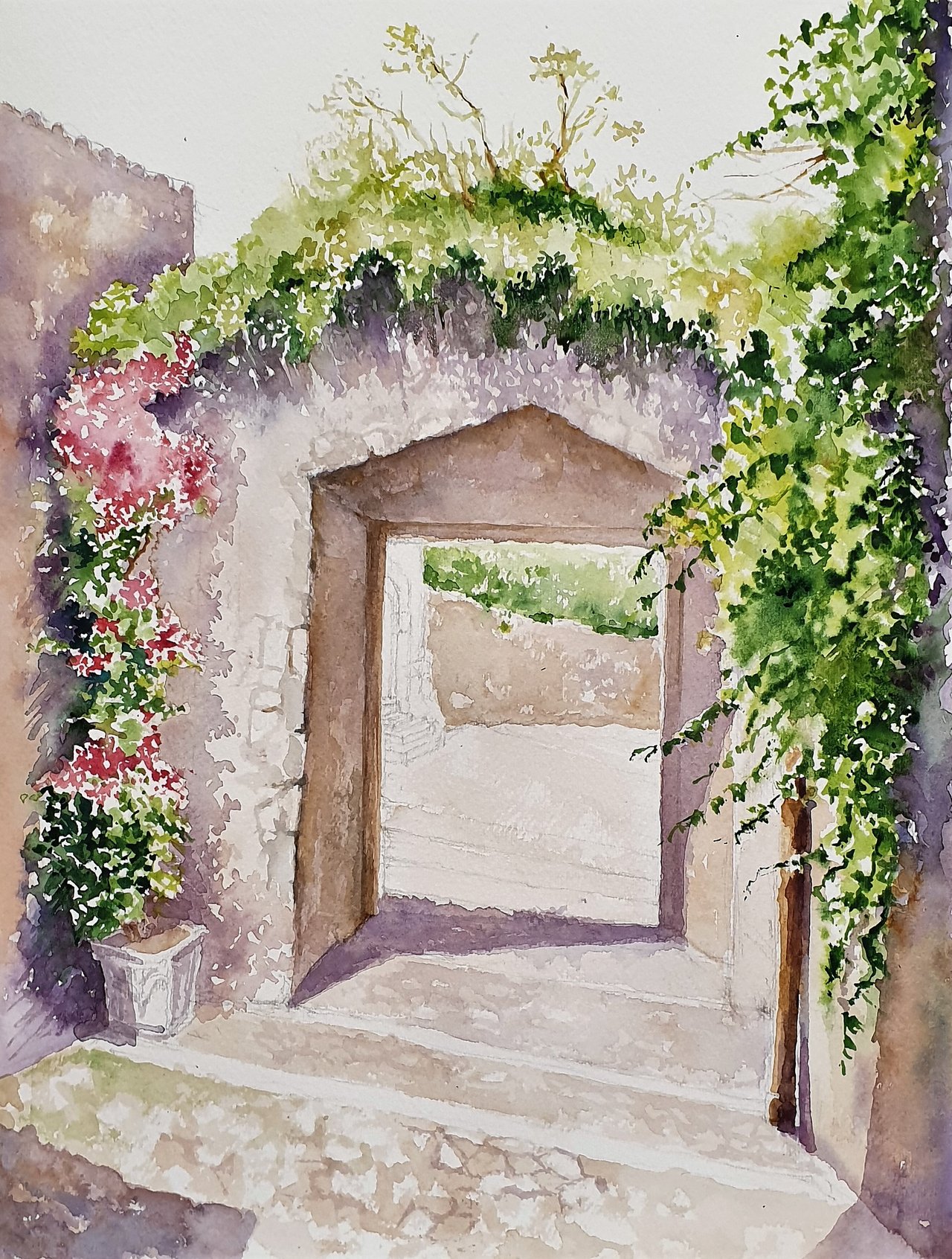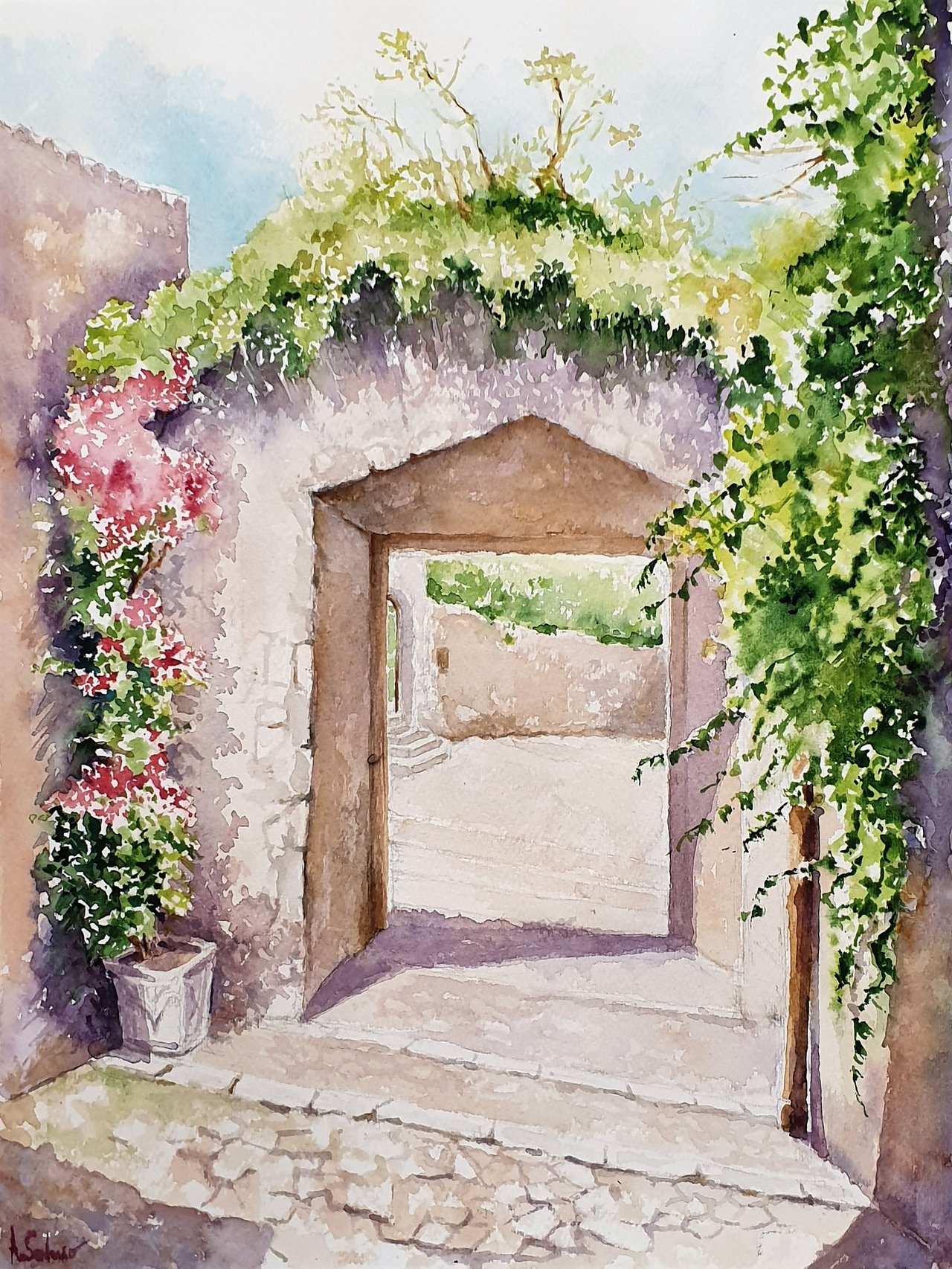 A sunny hug.
Armando.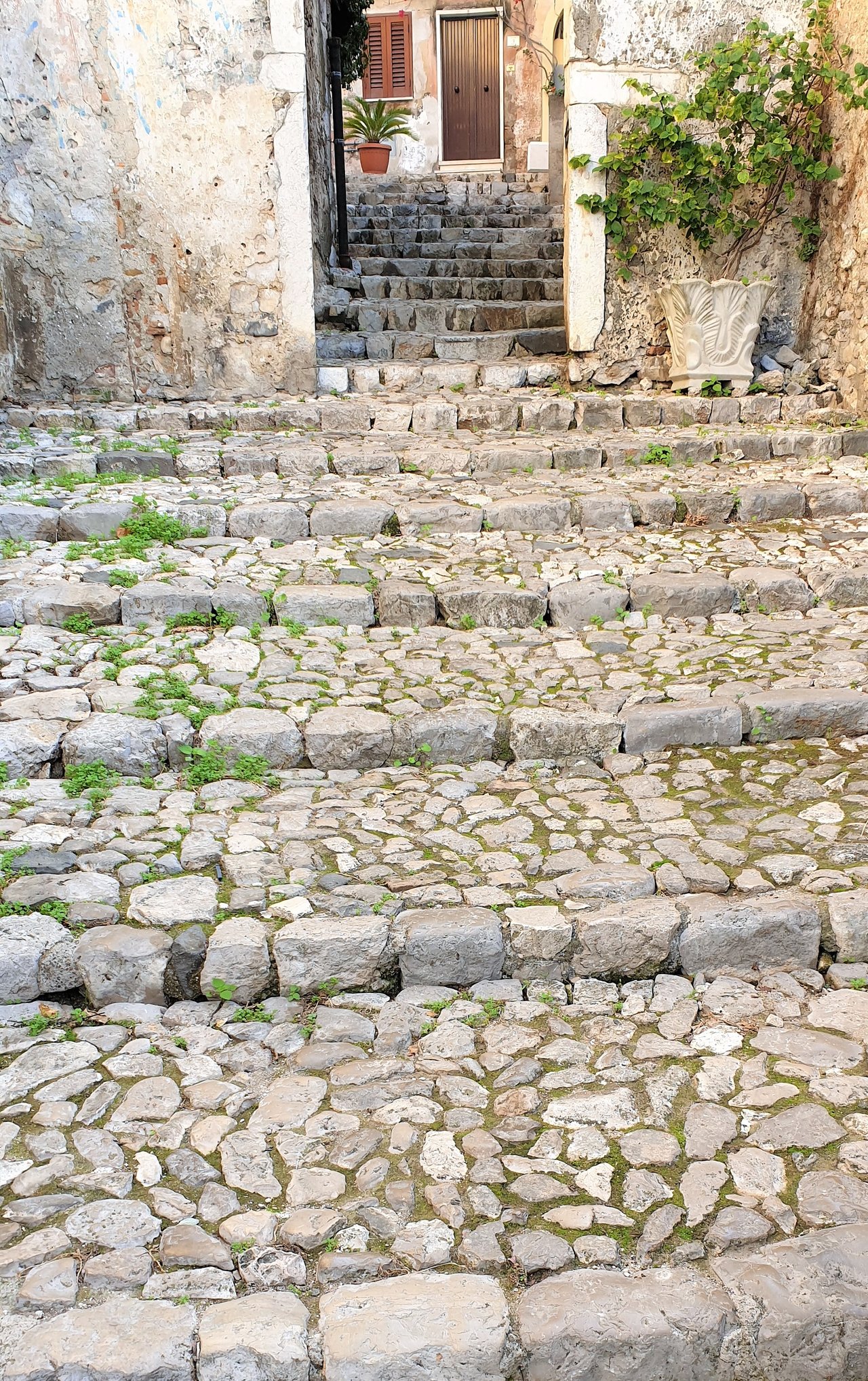 La scalinata del sole.
Ciao a tutti e spero che stiate bene e al sicuro. Oggi qui è una stata una splendida giornata di sole, ed ho sfruttato appieno la possibilità di uscire e andare a fare una bella passeggiata nella zona storica e antica della mia città. Il sole giocava con i suoi raggi con le ombre dei vicoli, illuminando archi e le colonne, creando ombre blu violacee e colpi di luce accecante sulle pietre calcaree dei muri antichi e delle strade romane di 2000 anni. Uno spettacolo per chiunque, poter ammirare tanta bellezza riscaldato dal caldo sole di maggio mi ha messo di ottimo umore.
Ho fatto una ricognizione in alcuni posti antichi dove la vegetazione e le pietre scherzavano con punti di luce e ombre.
Ho incontrato una stupenda scalinata in pietra calcarea con un vecchio muro fiancheggiante e delle piante di edera che si alternavano alle buganvillee. L'avrò vista tante volte, ma con il sole di stamattina, e il cielo terso e limpido come non mai, mi ha incantato. In fondo alla scalinata un passaggio ad architrave obbliquo che con le sue ombre color marrone rossastro e turchino, mi ha immediatamente ispirato a realizzare un acquarello.
Una moltitudine di colori, luci, ombre, punti luminosi, ombre nette oppure sfumate, rigogliosi rami di edera di differenti verdi, chiari con il giallo limone, e scuri con il verde smeraldo. Una scena che avrebbe fatto impazzire di gioia e di eccitazione un pittore Impressionista.
Beh, io non sono rimasto indifferente a tal bellezza e ho preso pennelli e carta ed ho ritratto il soggetto in piena luce solare.
I primi passaggi li ho realizzati dal vivo, poi sono tornato al mio studio e ho terminato il dipinto con l'aiuto di una fotografia che ho scattato prima di andare via dalla scalinata. Direi che è venuto proprio come lo avevo visto stamattina, un chiarore accecante nei bianchi e quelle ombre viola e blu spettacolari. Il gioco di luce con i verdi in primo piano allontanano il resto del paesaggio, e arricchiscono il contrasto dei colori complementari, tra i verdi e il viola. Il bianco della carta ha contribuito ad illuminare tutto il resto, come il sole sulla scalinata.
Spero che vi sia piaciuto e vi lascio con gli steps del dipinto.
Un abbraccio solare.
Armando.

my Facebook page: https://www.facebook.com/armando.sodano


Art teacher
Curator of cultural activities
Artistic director and President of the Cultural Association "I Colori della Vita"
https://www.icoloridellavita.life/
and "Fuori Controllo" Festival
https://www.facebook.com/fuoricontrollofestival/