It's Friday, it's Friday! It may as well be Monday or Wednesday since all of my days are the same. One thing that happens apparently is #foodfightfriday which I have participated once. I'm not good at keeping track of the days.
A few here have heard my redundant rants about my in laws kitchen, and how difficult it is to do anything in there. My mother in law is easily agitated by odors and aromas and things going on. I use many ingredients compared to her. She pretty much makes fried pork three times a day in different variations using only salt and pepper. When she gets wild she makes some soup with potatoes and can beans with nutmeg. I hate nutmeg unless it is combined with other spices appropriately. She puts the left overs in the dog's bowl every time and every time he doesn't eat it
Yesterday was supposed to be Costco day where they go shopping across town. It usually gives me an hour and a half to use the kitchen. We waited and waited but they didn't go. Then they both said they were going to the local pharmacy which I figured would take around half an hour.
I dared to start a project of making pot stickers. This would have to be done fast enough to have the main prep done by the time they got back.
As soon as they got out the door I ran to the fridge like they do on Iron Chef, and quickly got out a head of savoy cabbage, a carrot , a bunch of green onions and a brick of tofu for the filler. The cabbage and carrots would have to be steamed down and cooked in order to make a filling.
As the items were steaming I grated half a brick of tofu and chopped a bunch of green onions.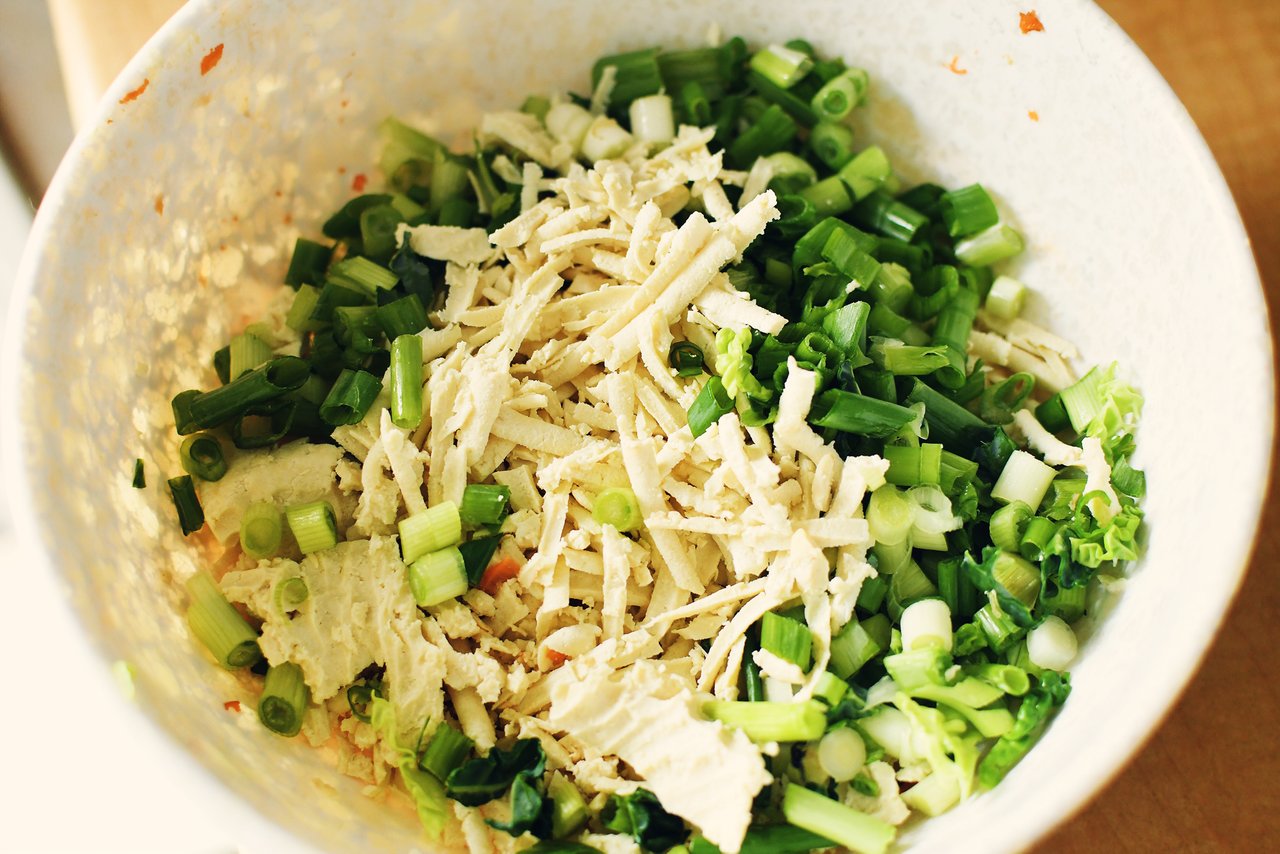 Because of my needing to hurry, I cut the steaming of the cabbage and carrots short. This would make it more challenging to fill the wrappers. It's much easier to do when things are softer. I strained them, rinsed them in cold water and mixed them in with the tofu.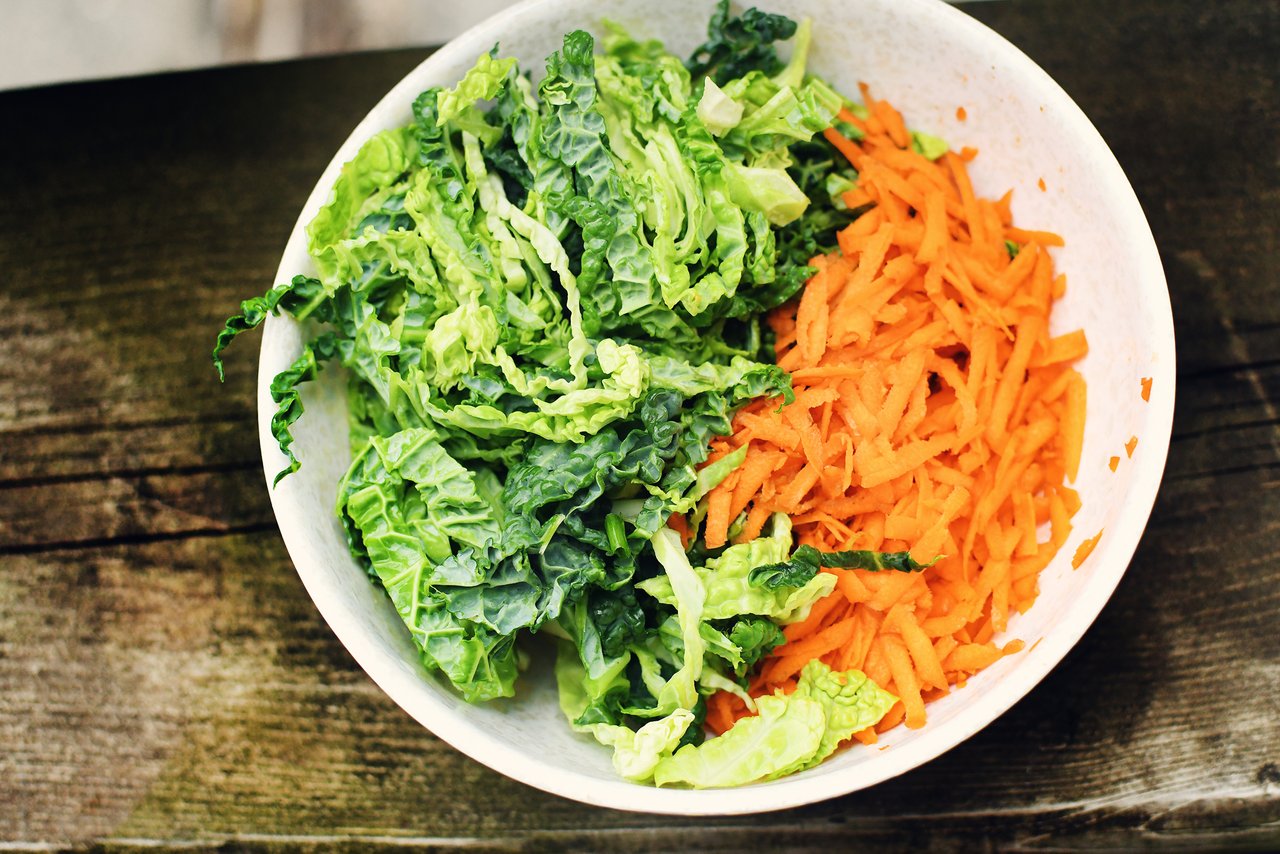 I only sprinkled salt on this.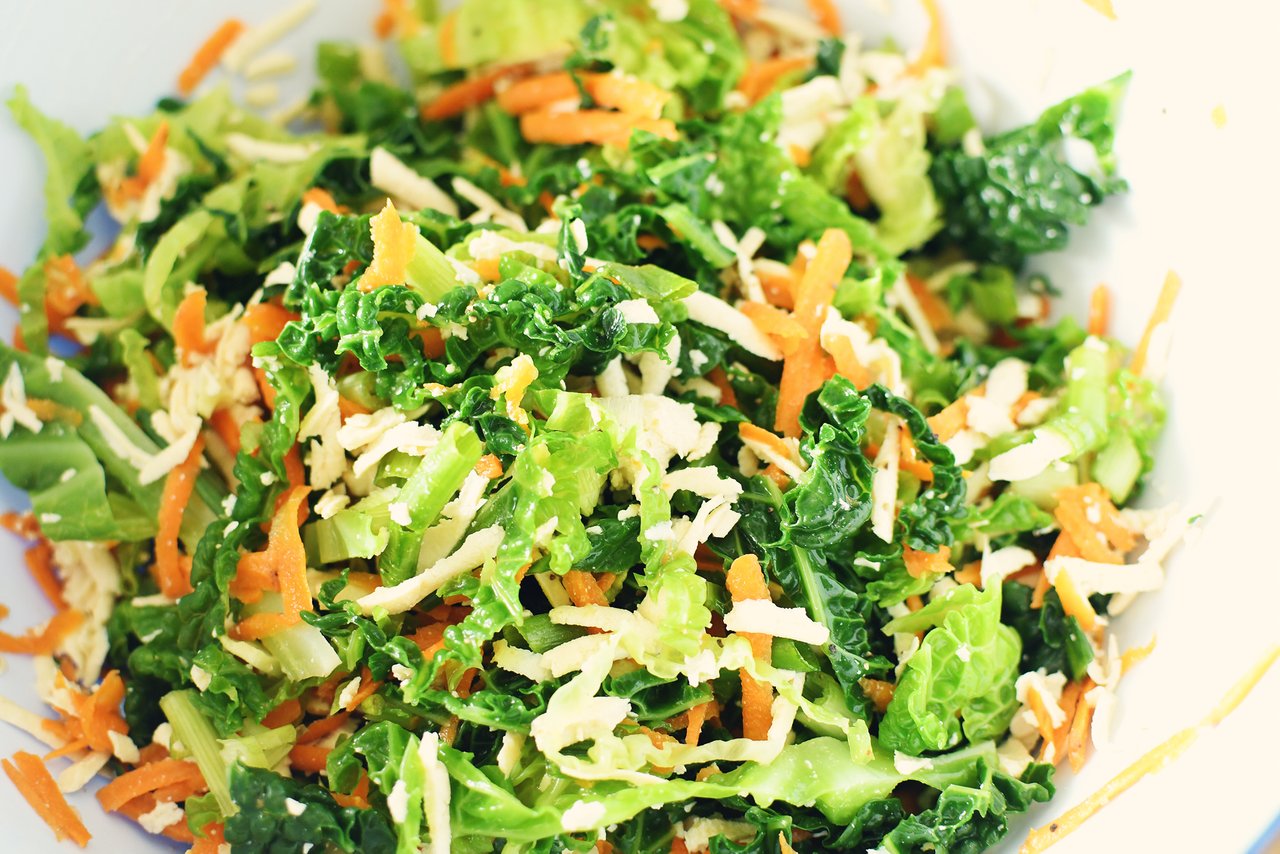 In the past I have often made my own wrappers from flour and water. It was surprising to me the first time I made it that it was easier than I thought. It's much more satisfying as well. This time I had to buy store bought ones due to the circumstances.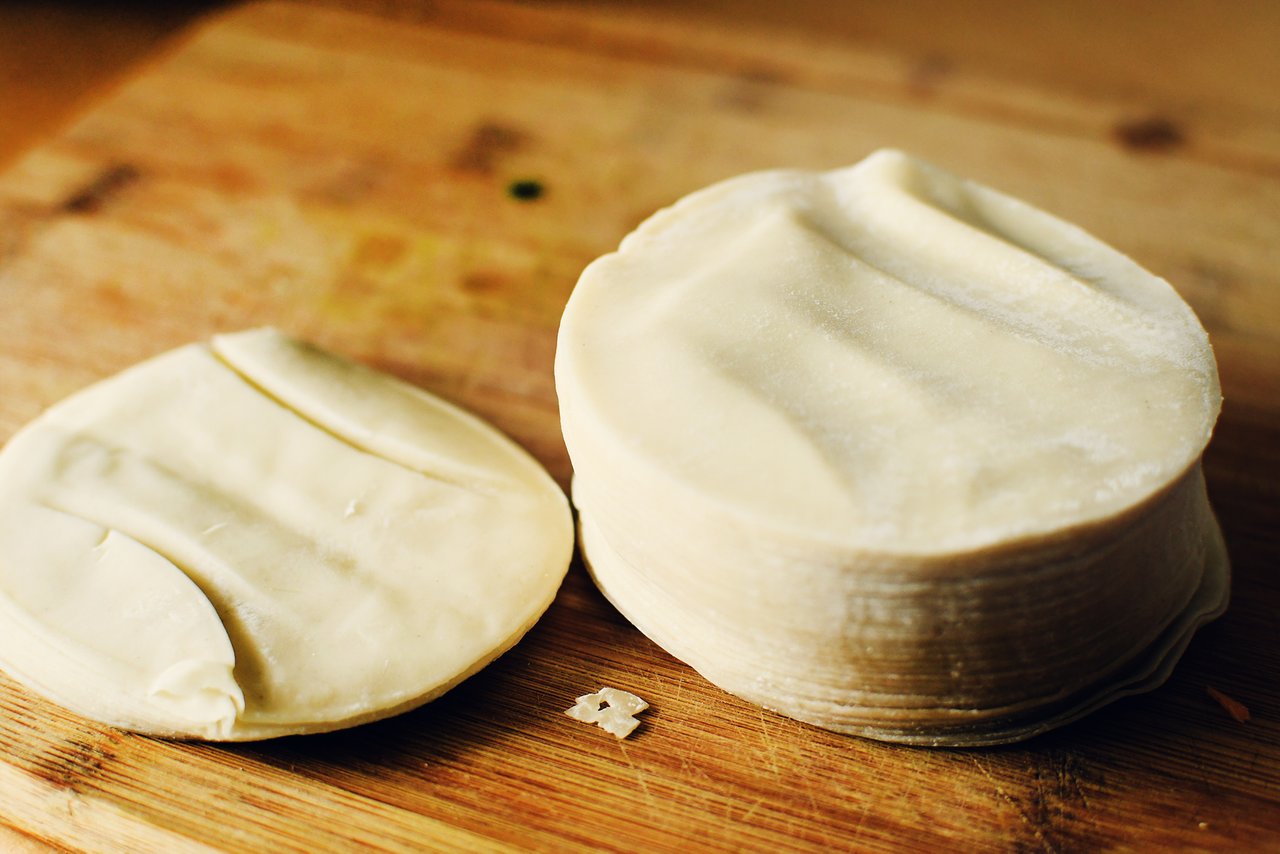 Because of the cabbage not being cooked down enough, I decided to use two wrappers to avoid the dumplings from breaking. In order to keep the two wrappers from sliding, I brushed water on each one to ensure they didn't slip apart.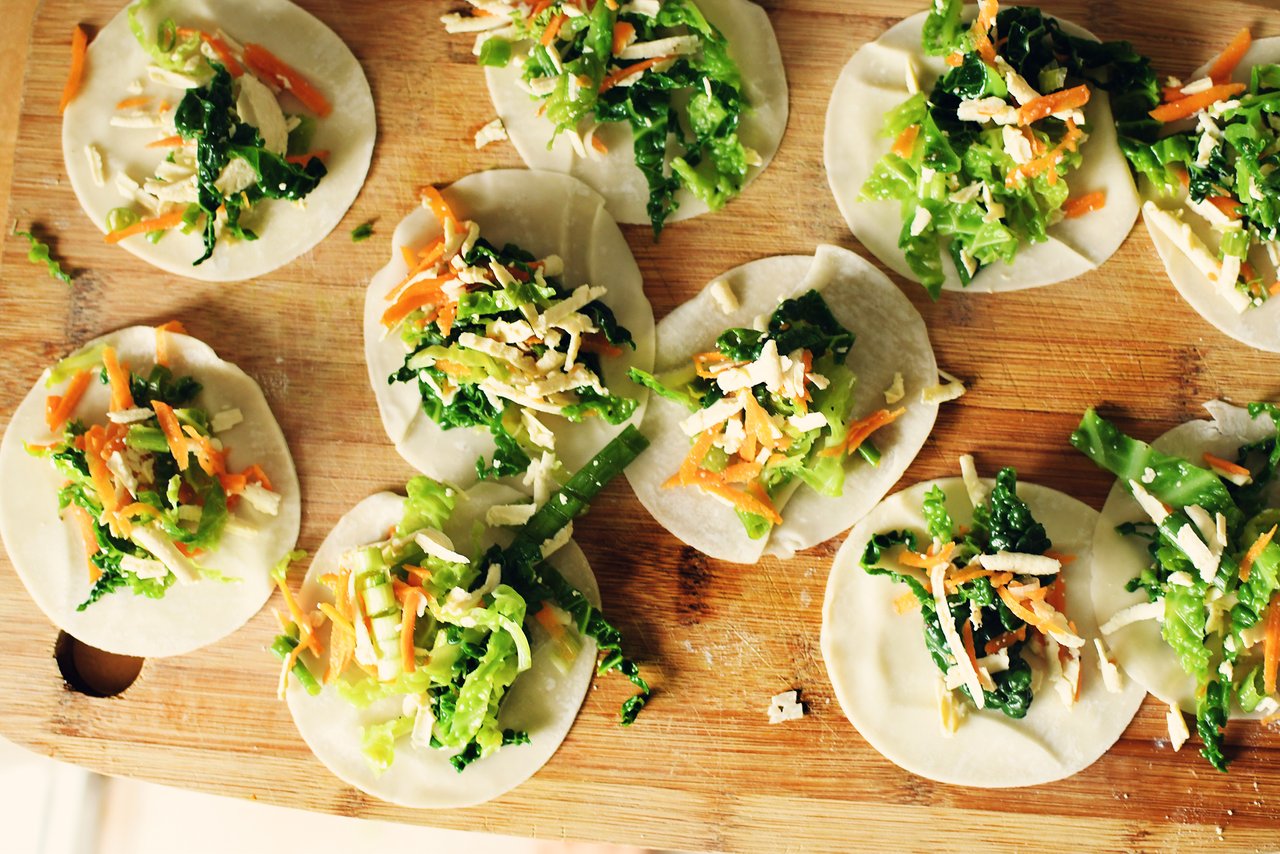 In the middle of filling the wrappers, I was in for a surprise. It had only been ten minutes and the folks were already home. Arggghhh!
I quickly cleaned up and took everything outside to the patio tables and continued.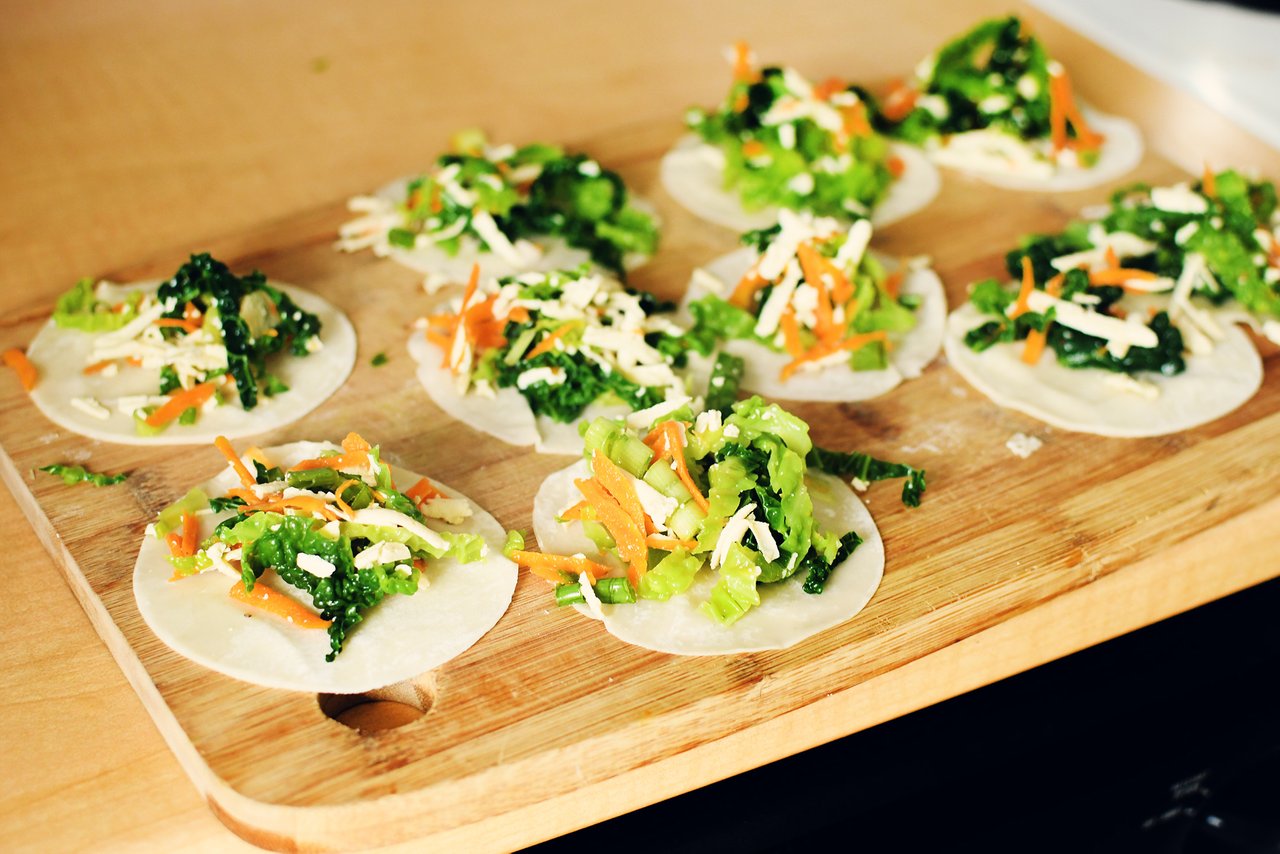 If you are doing this for the first time it can be tricky to close the wrappers without anything sticking outside. I am no expert at this but I just found a way that I like and that is to stretch gently the opposite edges and pinch each side closed first. A pro may do it differently but it works for me.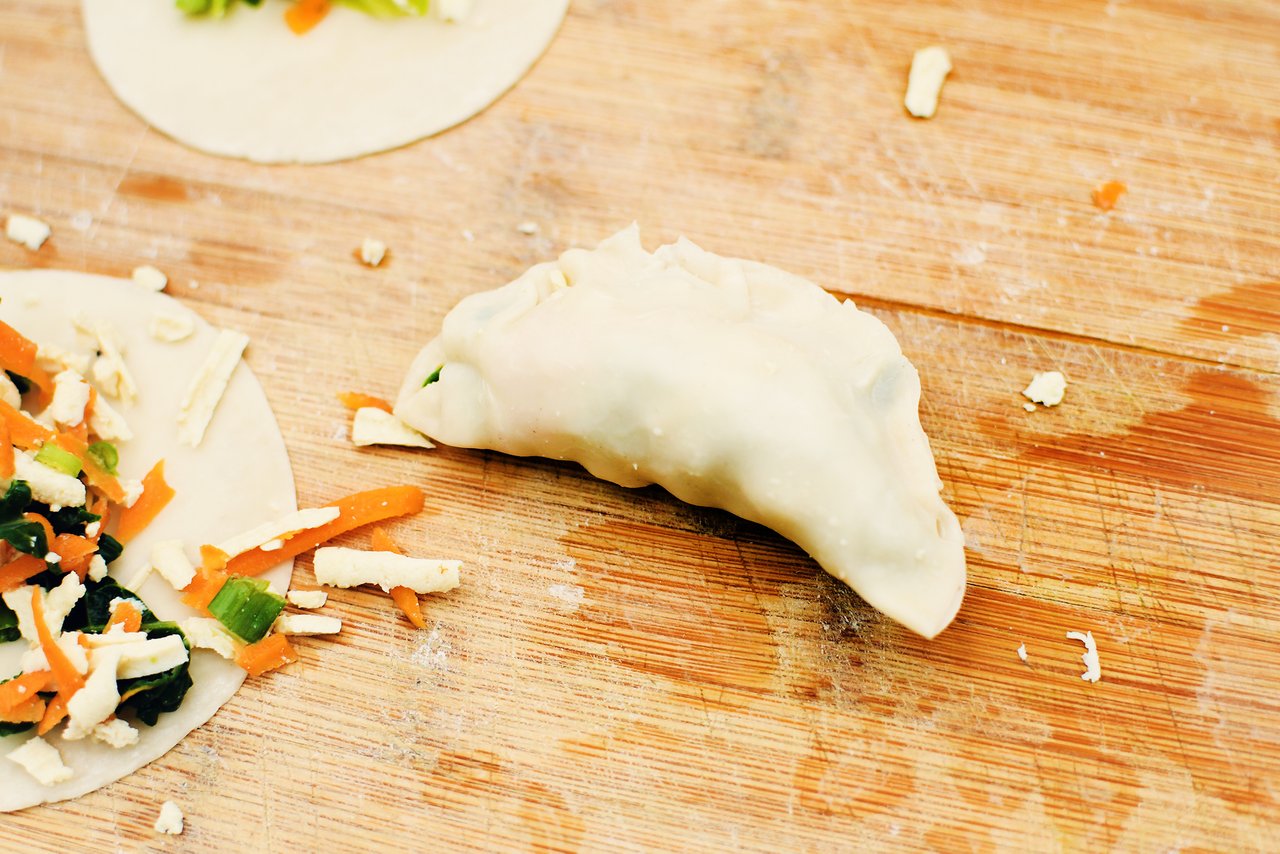 With doubling up on the wrappers I managed to use them all. Usually I have quite a few left.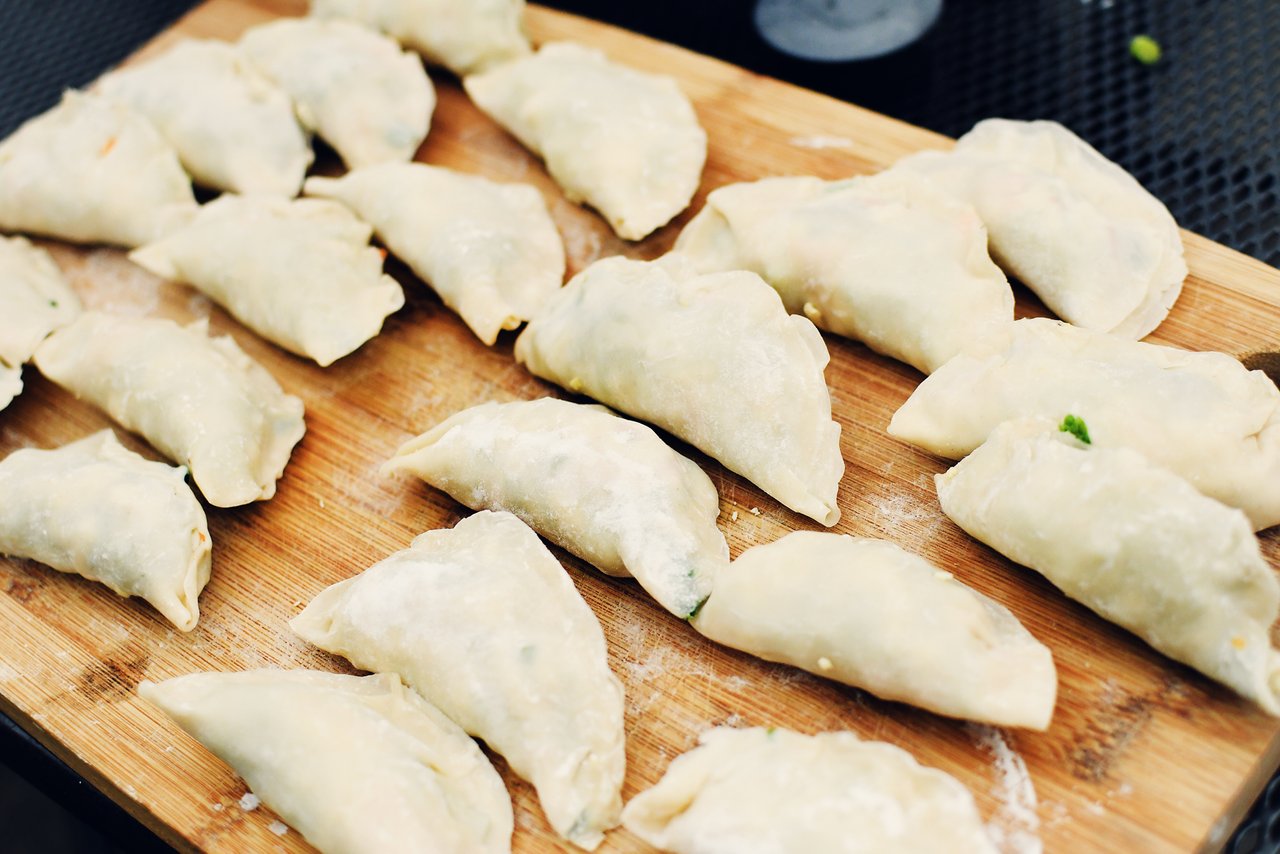 Thankfully we purchased a camping stove last year which we stored in the basement before we took our four month trip around Asia, mostly Thailand. We were able to finish the job outside.
I heated a pan lightly coated with oil and placed the pot stickers inside. When they were browned on each side I added water to cover the bottom of the pan and then covered the pan on lower heat. When the water was boiled out I turned them over and added more water then covered and cooked until the water was gone and the pan was fairly dry.
Fortunately we had some leftover peanut dressing that I had made for salad the other day. It was perfect for a dipping sauce.