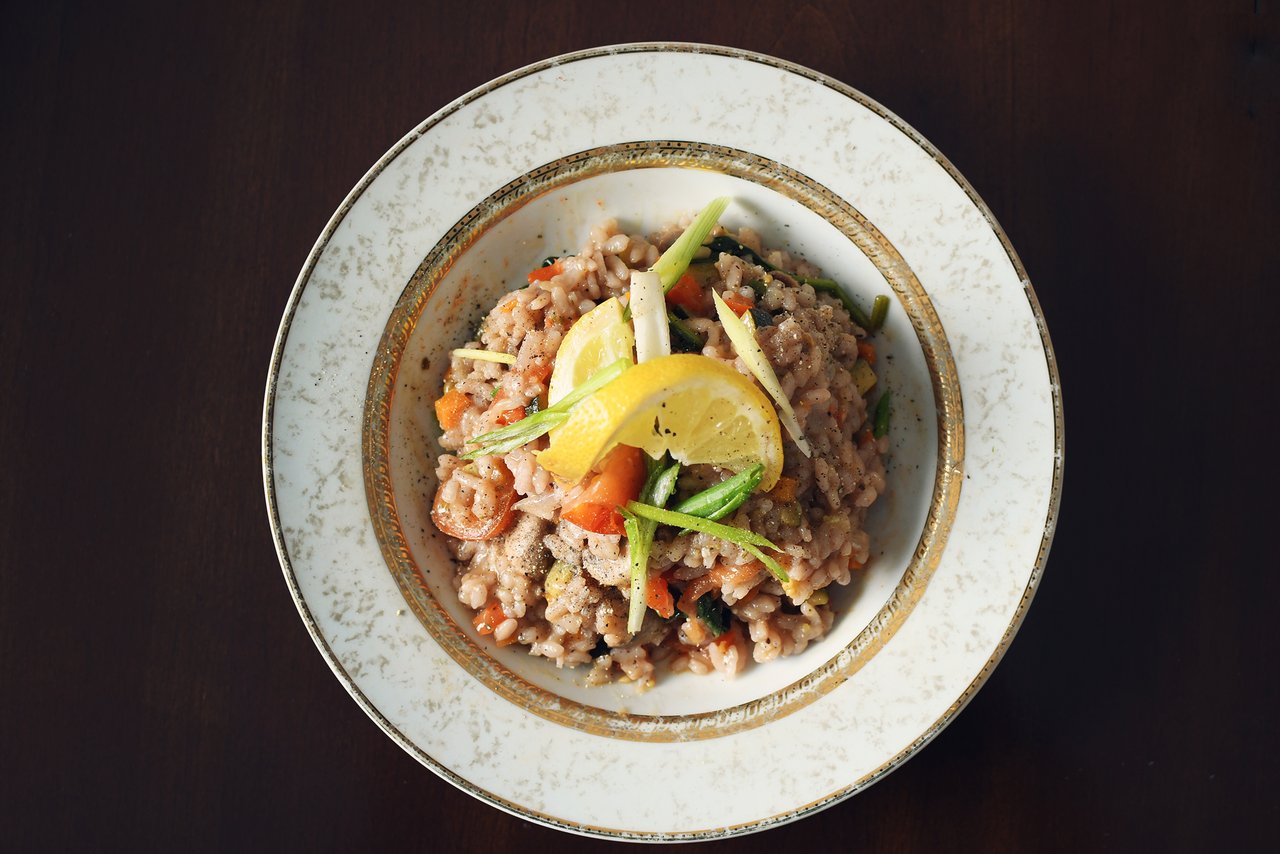 On my last post I had a question from @luca1777. I had made pasta with squash and he asked if I had ever had pumpkin risotto.
I realized that not only have I not had pumpkin risotto, but I have never in my life, tried to make risotto. Last year I had it for the second time and I don't remember the first time, or if there was a first time.
The crazy thing is, I should have had it plenty of times, since it's an Italian dish, apparently popular in North Italy, and I had practically joined the Italian community at one time way back.
I grew up in Hamilton Ontario with a large Italian community. One of my best friends growing up was Italian and I ate her mothers' cooking all the time. Never was there Risotto.
When I was younger and married to my ex husband, we had an older Italian couple living next door who would bring me their home cooked food with their garden grown items. They were so Italian that one of their best friends was a notorious Mob Boss who I saw visiting them once a week. Eventually their friend was gunned down. After all of that I still never heard of Risotto.
I joined an Italian wedding band as a singer when I was in my late teens and was in several Italian wedding bands for years. Part of our contract was that the meal was included and the drinks as well. The weddings were usually very big and expensive so the meals were almost always eight courses. I have probably sang at about hundred or more Italian weddings. Not once do I recall having had Risotto. In fact I don't think I had heard about it until recent years.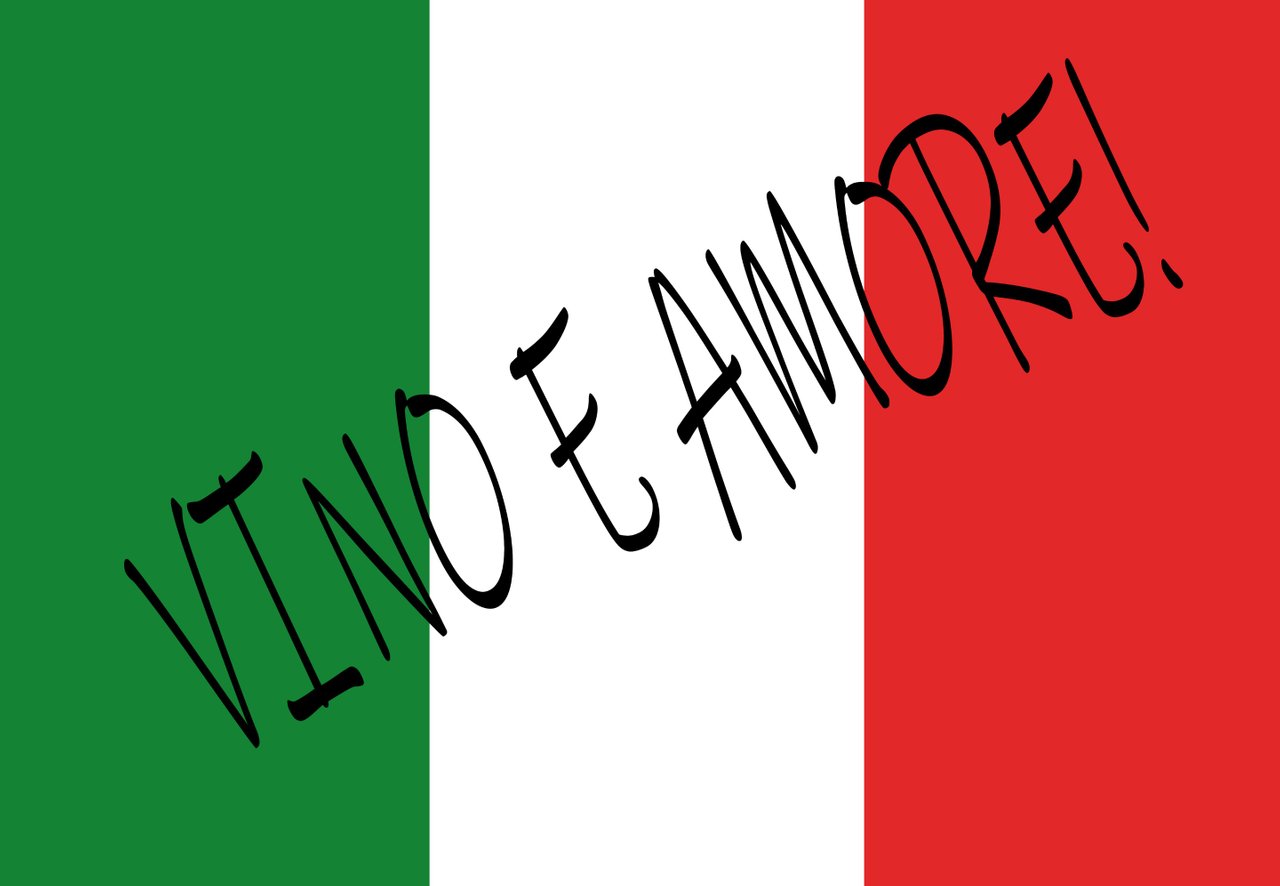 So needless to say upon hearing the question asked by @luca1777, I knew it was time to attempt Risotto.
I did a quick scan of how to make it and it seems that the arborio rice that is used, should be cooked al dente while the dish itself remains on the creamy side. I chose to add a few veggies and mushrooms to the dish.
Vegetable Risotto
2 cups arborio rice
6 cups vegetable broth
1 cup diced zucchini
4 cups sliced mushrooms
1 cup diced red pepper
1 cup diced carrot
1 cup diced red onion
1 cup halved cherry tomatoes
1 handful fresh baby spinach
1 tablespoon minced garlic
1 cup dry wine
1 teaspoon salt
1 teaspoon pepper
1 teaspoon oregano
Typically Risotto would have butter in it but since this was vegan, and I don't have vegan butter. I made a substitute which was perfect.

Vegan butter substitute
3 tablespoons vegan yogurt unsweetened
juice of half lemon
1 tablespoon olive
Saute the onion, garlic, adding the rest of the veggies except for the spinach, and also the rice. Mix together than add soup broth a cup at a time. Keep on medium low heat and mix periodically. Keep adding broth as the moisture cooks out. I added the wine half way through and left the butter substitute for the end along with the spinach.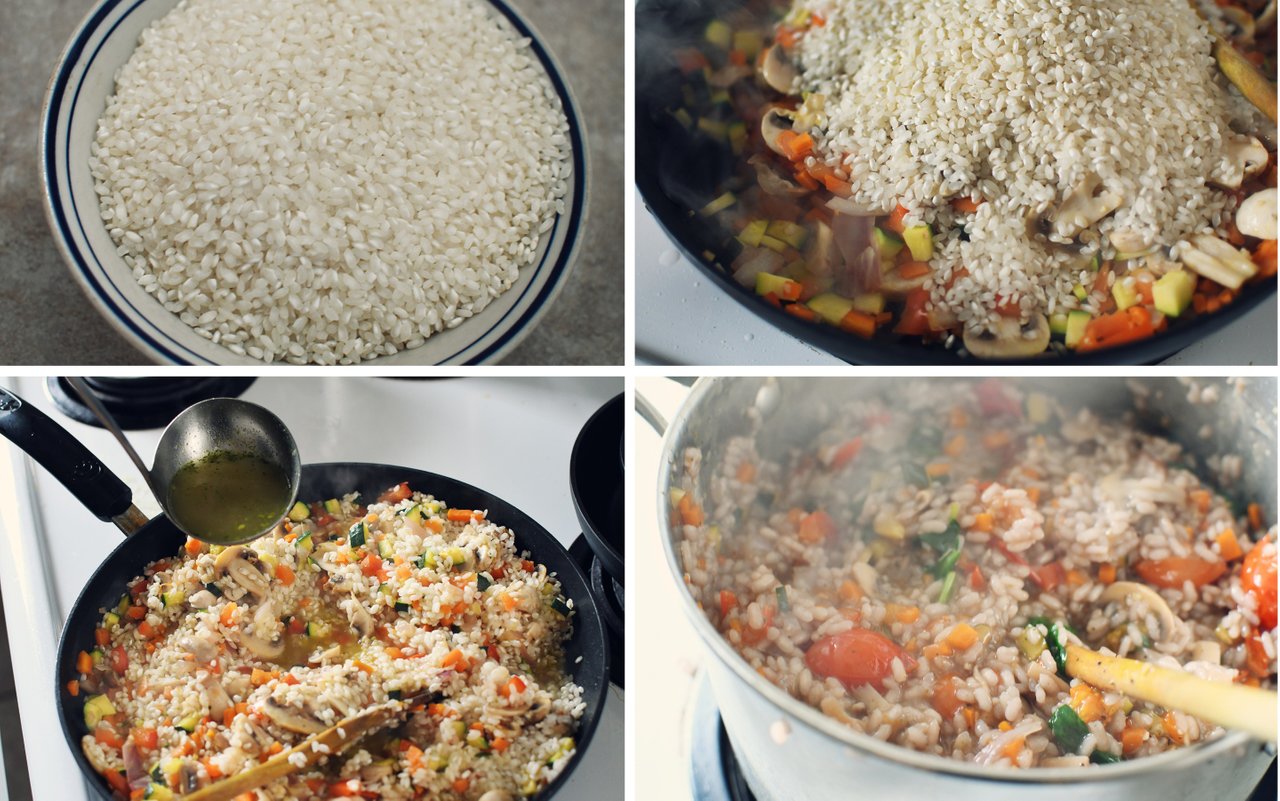 I found that a common ingredient was wine. White wine seemed to be the most popular, but I didn't have any white. I had red so red wine would have to do.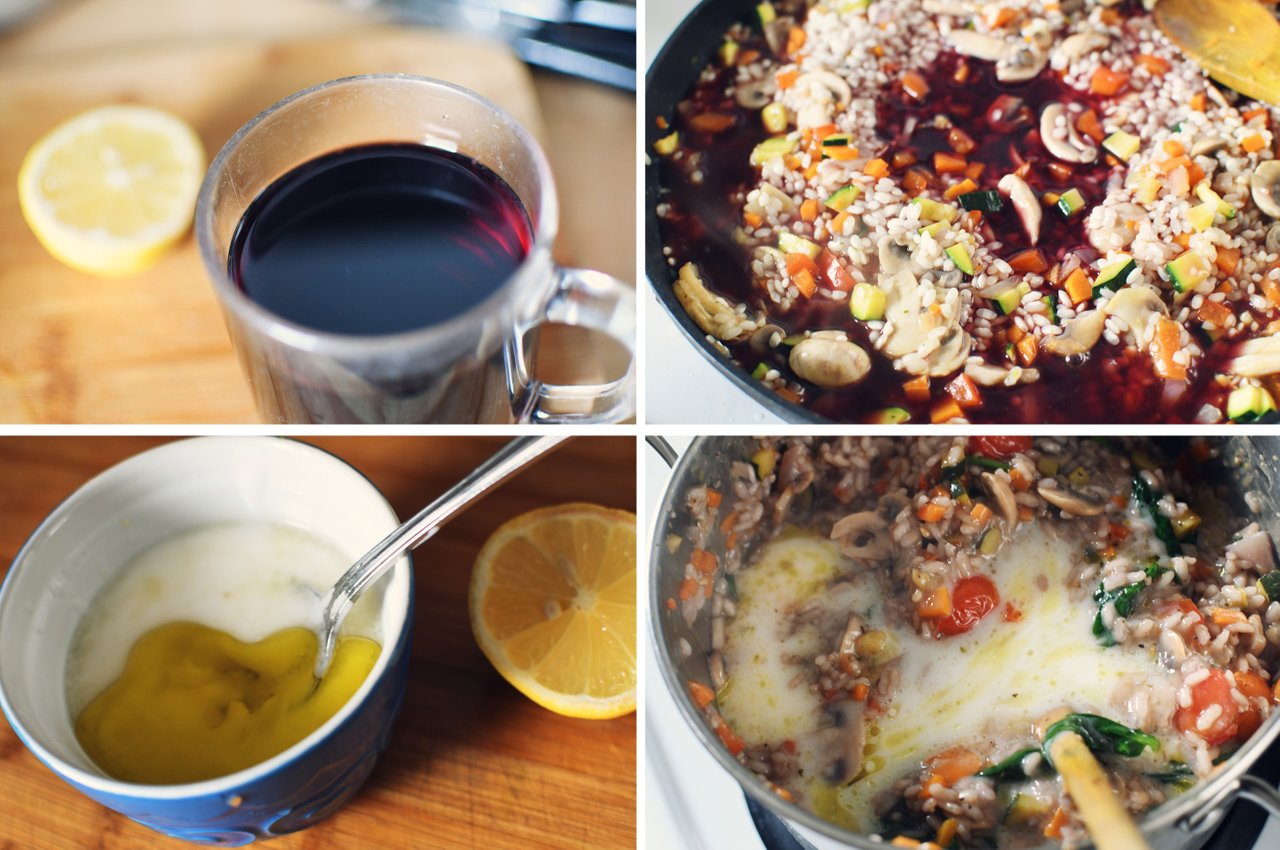 The key is to not add any more liquid once the rice gets to be al dente, which is cooked through but not too soft. It should be creamy which is partly produced by the vegan butter substitute. The rice type also adds some creaminess. I ended up adding all of the liquid and it was perfect.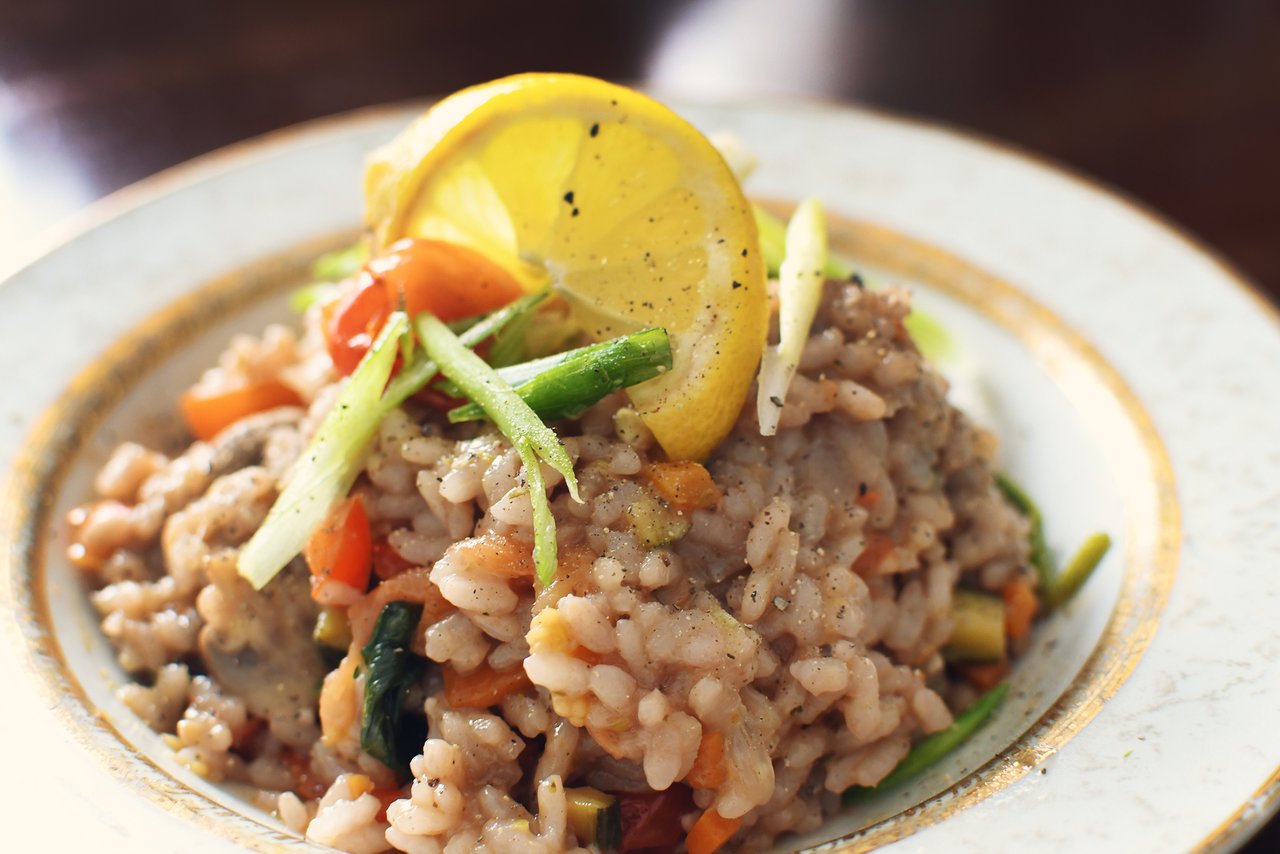 I see now that Risotto is something that needs to be understood and I have only scratched the surface.
![DSC_8221.jpg](https://files.steempeak.com/file/steempeak/carolynstahl/enCcio2Y-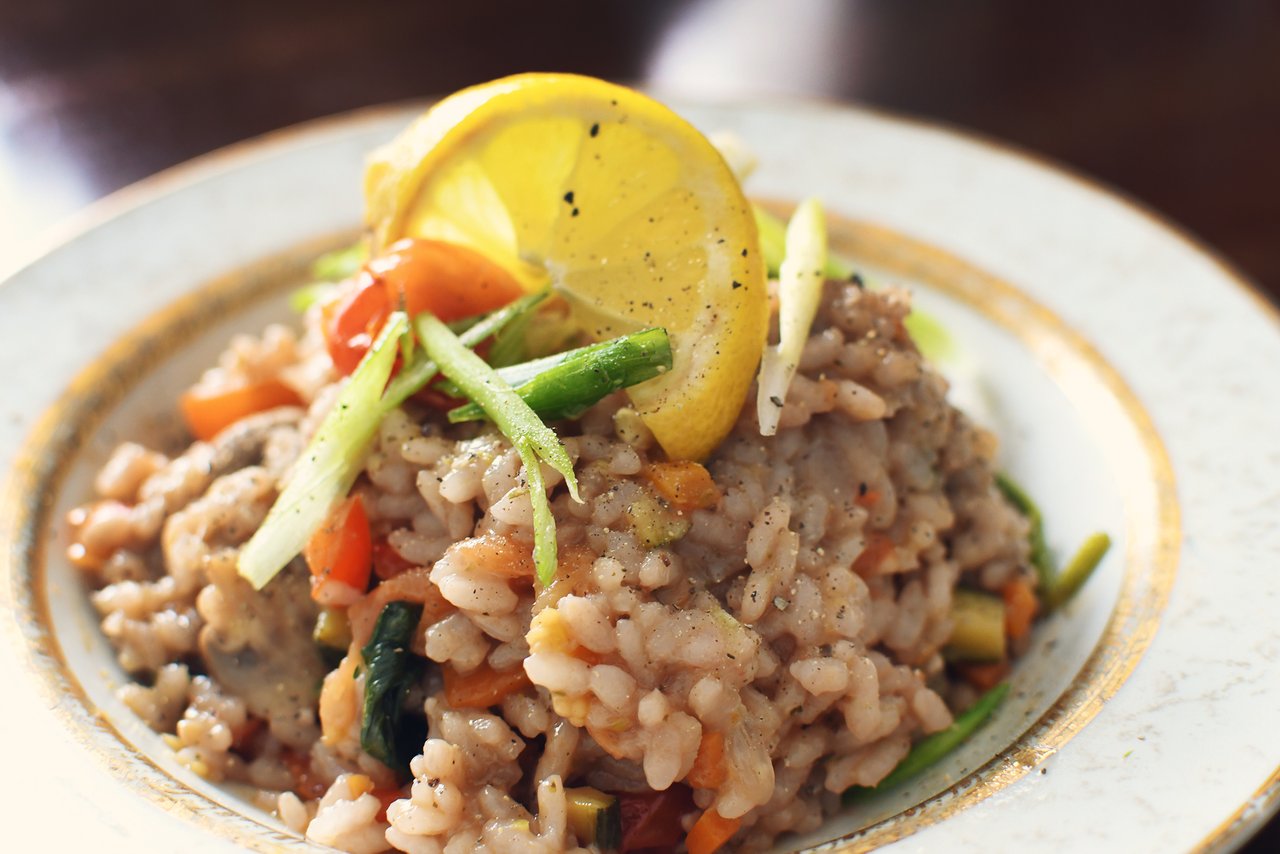 I realized that a large part of the success of this dish was about the wine.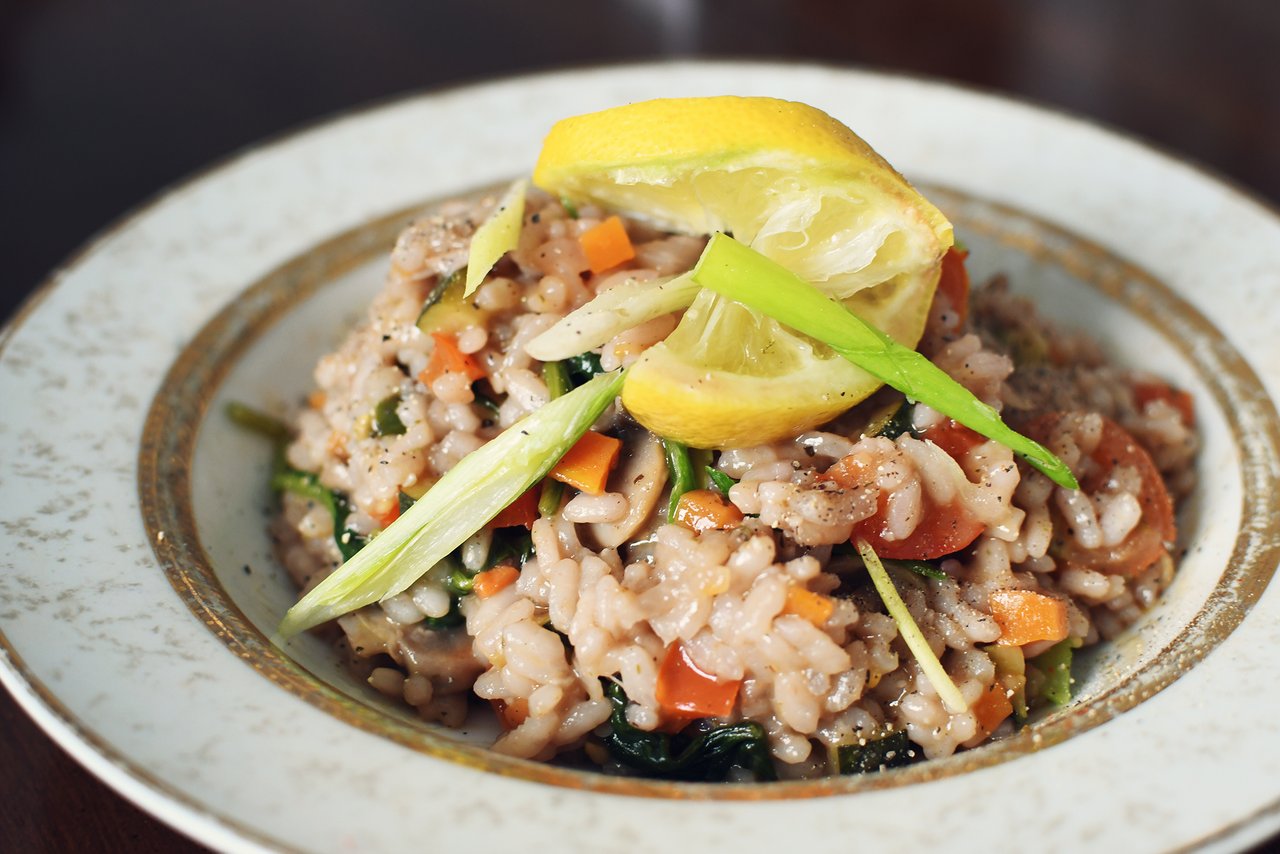 I have to say that it was very delicious!
Vino e Amore!