The mad scientist and her assistant consulted the notes; Another failure is not a result they're willing to accept...They had to get this one right, or admit that their endeavour to successfully re-animate a once-dead human had been an abject failure...They must succeed! It had been months since they first started digging up body parts at the cemetery, carting them back to the laboratory, piecing them together with ragged stitches and crudely inserted staples, poking and prodding with their tools and instruments. Surely tonight was the moment they would triumph.
It had been stroke of luck finding Dr. Frankenstein's diary in that dusty attic, and from that point the mad scientist had bent her will towards re-animating a human, bringing the dead back to life. She was close, but her failures had been...Awkward, off-putting, abominable even.
Now the latest subject lay on the work bench waiting re-animation, the poking and prodding, drilling and grinding. If only the mad scientist could make sense of the notes...
---
---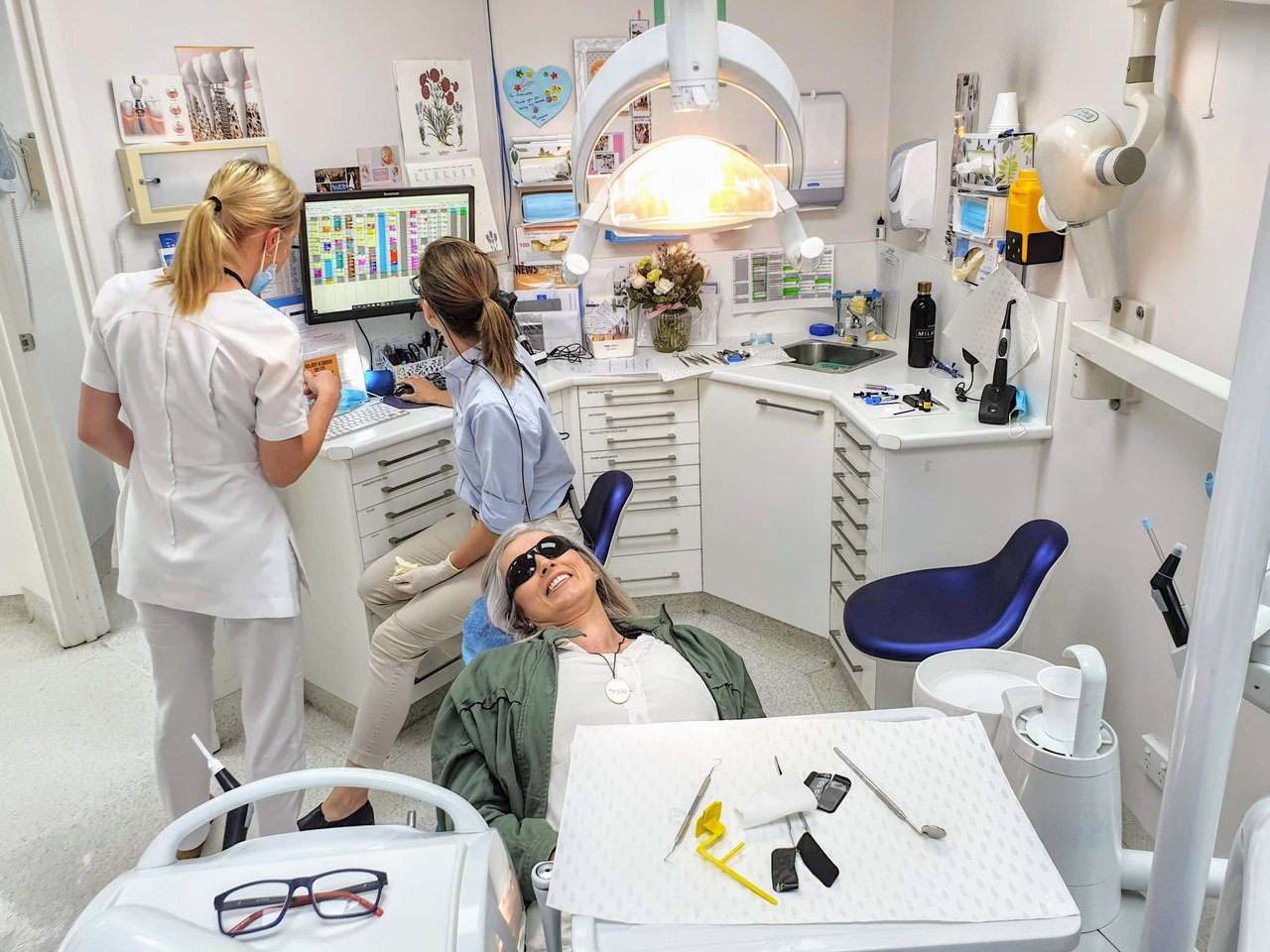 OK, so quite clearly that person you see in the chair isn't a cadaver or some pieced-together pile of mis-matched arms, legs, boobs and head...It's actually my wife Faith. She's in the dentists chair and grinning like an idiot...The mad scientist is our dentist in the light blue shirt...And not [quite] mad at all.
I imagine that most people don't grin like my wife is during a visit to the dentist. It usually it means poking, prodding, needles in gums, grinding, drilling and all manner of nasty and uncomfortable procedures. But not if you're my wife...No. She's grinning because once again her teeth have been given a clean bill of health with literally zero issues. None. It's Infuriating.
She was grinning at me when I took the photo, rubbing it in my face that her pearly whites were indeed white, cavity free and in perfect order.
You see, I was next in the chair to have a 25 year old amalgam filling removed and replaced with a white composite one. [Amalgam fillings contain mercury it seems...So the mad scientist dentist says anyway.]
I've been on a process over the last year or so to have all my amalgam fillings removed in preference for the safer composite versions. Apparently, in addition to the mercury-safety thing having the very hard substance in ones tooth can eventually shatter the tooth...I say apparently but it actually happened to me so yeah...Out they come to be replaced with the more friendly versions. The composite material is a more tooth-like substance and is much easier for the tooth to deal with as one ages.
I'm lucky to have health cover. [No luck really, I pay for it I guess.] I'm also very fortunate that my dentists rooms has listed my health provider as a priority provider and so my replacement fillings are only a third of the normal cost, about $50 each.
I've never been a big fan of going to the dentist, but my dentist, Gabrielle [name changed or not, you'll never know], makes my visits low-pain, easy and, to be honest, rather fun. It helps that they don't hurt the hip pocket too much either. She's a good chick. A keeper.
This appointment was the first Faith-wonder-tooth attended together and whist I didn't have much to observe with the wonder-toothed-one's check up, she spent my whole 45 minute appointment asking Gabrielle questions, making jokes at my expense and taking compromising photos of me...Which you'll never see. Trust me, you don't want to either. Gabrielle, Faith and the assistant had a great time at my expense.
Every time I walk into the dentist and see all those tools laid out I'm reminded of some mad scientist's workshop and in reality it wasn't that long ago when mad scientist was probably an apt description of a dentist, or a doctor for that matter. Sure, theses days the rooms are clinically clean, pristine and white but those tools...They look evil and many haven't changed in over a hundred years!
The worst experience I had was having my wisdom teeth out at 21 years old...I woke up half way through having them shattered and cut out of my gums...Not pleasant...A distant memory now, but one I'll not forget. My dentists visits are pretty smooth sailing now though...Except for that fucking needle in my gum at the start...
Tell me, have you had a horrific dentists appointment? I'm sure there's some horror stories out there, and I wanna hear them!
---
Tomorrow isn't promised - Design and create your ideal life, don't live it by default
An original post written by a human
Discord: galenkp#9209 🇦🇺