Hey y'all I hope your weekend has been great so far, or good...I'll accept OK as well of course, anything less is unacceptable and requires more effort on your part.
We've had a good one so far. I shot at the range on Saturday morning then in the evening hit a pub with Faith and another couple for dinner and to tell some lies. It was a good night and, unusually for me, I had more than one beer...Three Great Northern's bringing me as close to being tipsy as I ever want to be...Still, my wacky stories became wackier and it was a great night over all with a couple of great friends.
Sunday rolled out with a sleep in and then we headed over to the mall to catch a movie. We grabbed some tickets to see 1917 which is a First World War epic that won the Golden globe for best film apparently. I've been keen to see it since it hit the screens here a couple weeks ago. I'm a bit of a hobby-war-historian and so movies like this always capture my interest for many reasons.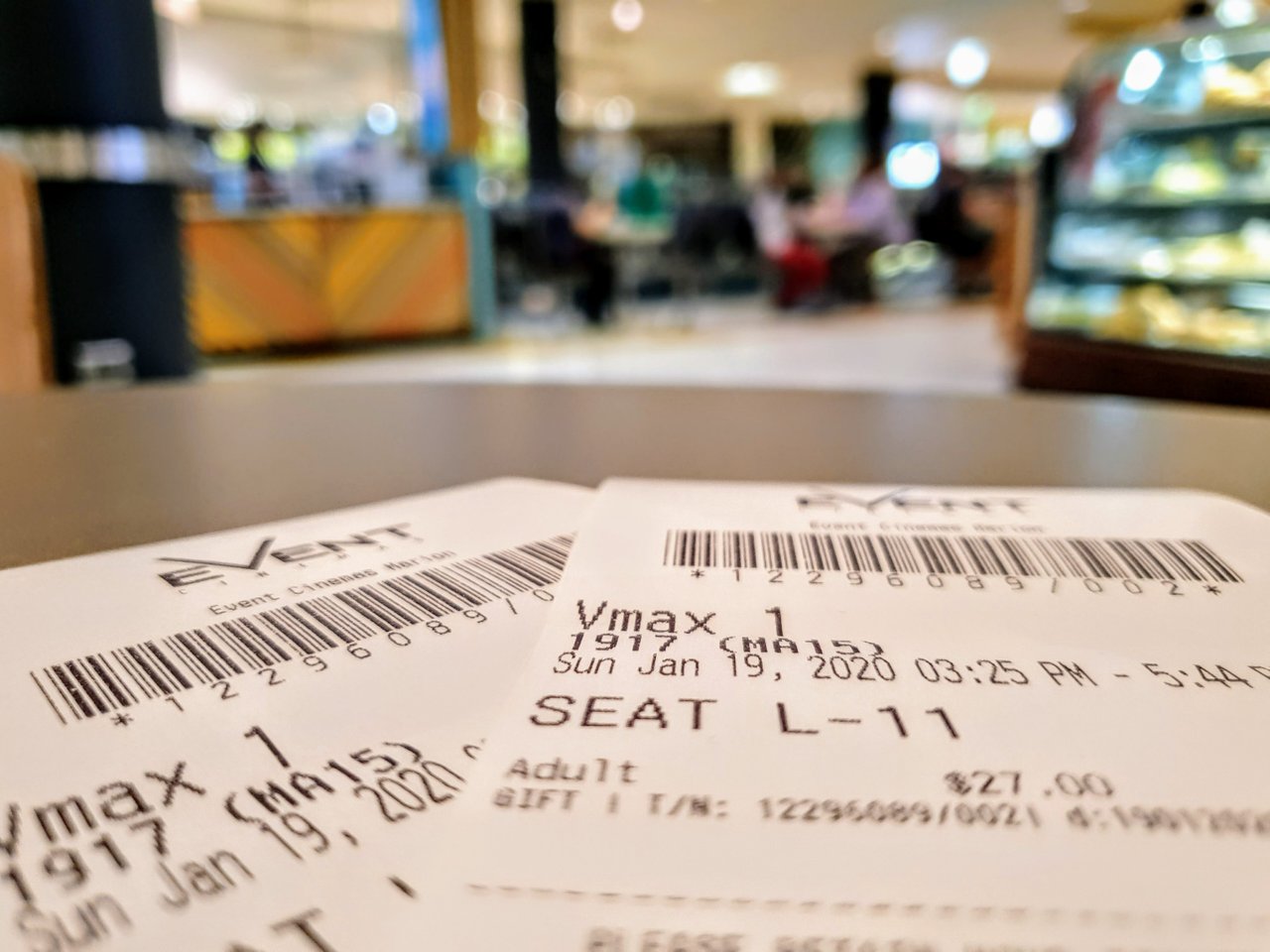 We don't get to the movies much as we can rarely justify the cost (note $27 per ticket in the image). Add in some lunch, a coffee and cake (cannoli pictured) and it makes for a fairly costly day out. I reckon we see about four to five movies at the cinema a year, only those we feel the larger screen and dynamic sound will enhance. Otherwise we just wait for it to come on our pay TV service.
We tend to be a couple that seek experiences more so than things and whilst the movie 1917 will probably be on TV in the coming months it's good to get out and have the cinematic experience in a VMAX cinema every now and then...It has to be now and then considering the cost and that we're saving up for our trip to Finland in July. We really love each other's company and so wandering the mall and sharing some chow and a movie is one of those experiences we value.
So, it's almost time to head into the dark room full of strangers to share a movie experience with them which is a bit odd really right? All those strangers, in the dark? I'll probably write a post about the movie at some stage so look out for that if you're interested.
Take care y'all...It's movie time.
---
Tomorrow isn't promised - Design and create your ideal life, don't live it by default
An original post written by a human
Discord: galenkp#9209 🇦🇺