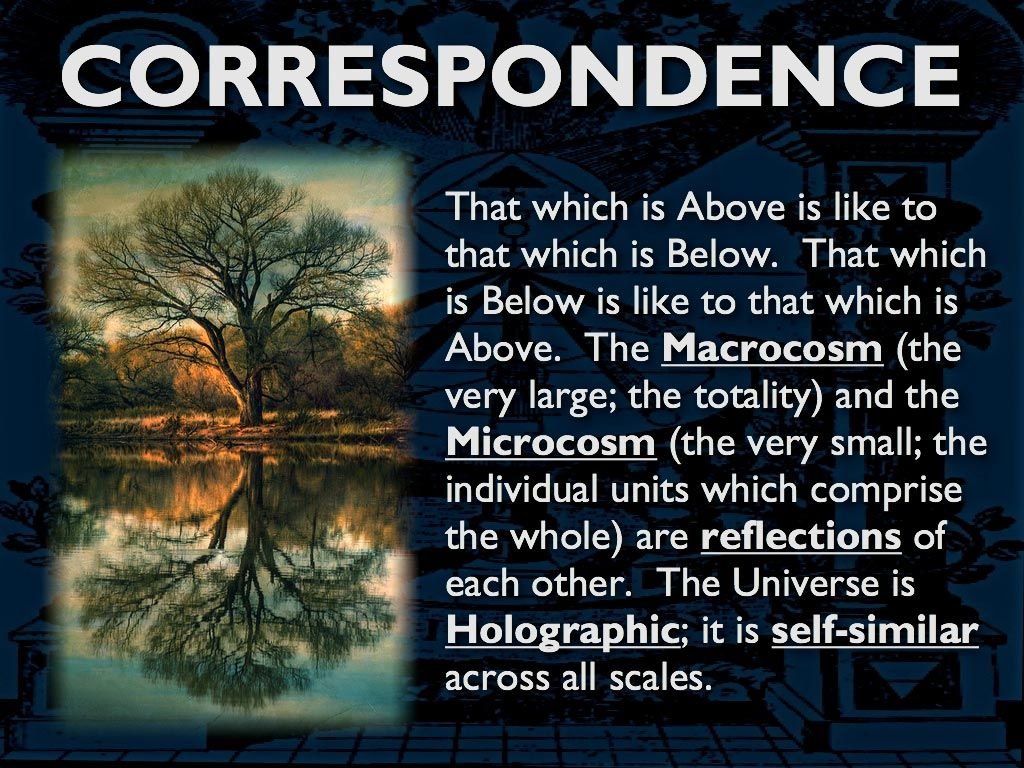 What is the law of correspondence?
The law of correspondence is an immutable law. Once again, this means that it is impossible to change. This law states that the quality of your life experience corresponds directly with the quality of your thoughts. In other words, it has to do with communication within the different parts of ourselves.
You are more of a spiritual being than a physical one, so each and every step you take in your physical life reflects your inner spiritual self, and that is why certain lessons in our lives are repeated over and over again until we actually learn our lesson.
This Universal Law states that the principles or laws of physics that explain the physical world – energy, Light, vibration, and motion – have their corresponding principles in the universe. "As above, so below."
How does the law of correspondence work in your daily life?
Have you ever heard the expression that our outer world is a direct reflection of our inner world? In other words, whatever is inside of us, shows on the outside. Do you have any inner fears that are reflecting on the outside? Everything that we feel or think is a direct response to our thoughts. Energy from our minds is rejected and returned to visit the same frequency until there is a perfect match.
Once again, if you keep on having negative thoughts, then this will reflect in our daily lives. We will be unhappy because the negative thoughts attract unhappiness. To become a happy person, we have to look within. Whatever you change on the inside, will reflect on the outside. You have to change the way you feel on the inside to see the effect on the outside.  
This is a great example of what is happening with us now during the lockdown.  We feel negative.  We are not allowed to go anywhere, so we don't put in much effort towards ourselves.  No make-up and surely no bra during this time, because who even cares.  We're not allowed to get our hair or our nails done, so we let ourselves go.  We don't care what we eat because who cares what you look like?  Food makes us feel better, so we eat constantly.  The fact that we are not allowed to drink or smoke, makes the eating habit even worse! 
Let us go do some self-examination!
In the law of mentalism, it states that we are a direct result of our thoughts. What we think is what we are, but these thoughts must have some origin.
Why do you think the way that you think?
Thoughts don't just fall out of the sky! There must be something specific that triggers your specific thoughts. Whatever your thoughts may be at any specific time, you need to dig a little deeper. I am not talking about silly things, but really deep thoughts that are buried inside of you. Perhaps something you have never really realized or told anyone before.
If you are not certain, and you want to change yourself, make a list of questions to ask yourself. Once you have the right question, then you will find the right answer. Your main aim is to find the reason why you are having these specific thoughts. Sometimes we have to go back in time and think of things that we haven't thought of in a very long time. Dig until you find it, make it a journey to get to know yourself better.
You will be surprised at what comes out if you actually answer the above-mentioned questions.
To get to know yourself and to realize who you are, means you are on the road to self-healing! When you change your thoughts, you might realize that you are on a different road to where you are supposed to be.
You can change yourself by applying just the opposite of the type of energy that you receive because all energy is always mirrored back to yourself. Thus, if you receive some negative energy react in a positive way to stop the negative energy to flow black. Just simply do the opposite of what was handed to you.
If someone hurts you, show some love to someone, and when you feel discouraged, it is good to encourage someone else. There are plenty more examples I can give, but you have to try this to make it work. During the lock down we need to be there for others. We need to be support and we need to encourage. Plenty of people are far worse off than you are.
When you understand the law of correspondence fully, it is the first step to being in control. This song from Michael Jackson sums this up perfectly.