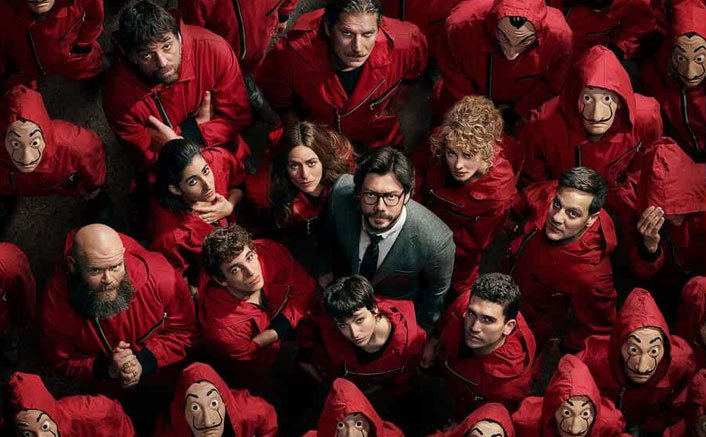 Image Source
Well, apart from being the most watched non English TV series, it has also won a lot of awards. And what's more? We are going to be seeing more of it. It has garnered a lot of anticipation ever since the trailer was revealed and a lot of people just can't wait for the release.
I started watching the series when season 2 was released. I had read so many review about it before I decided to join. I was glued from the very first episode. It didn't take me up to a week before I completed the whole of season 1 and 2. I immediately recommended it to some of my friends who came back to thank me. In Nigeria here, the series is quite popular. You'd just pass by a place and start hearing chants of the popular song...
"Bella ciao ciao ciao"
The last season ended on a cliff-hangar, the highly brainy professor was outsmarted by Alicia. She pushed them to act outside their moral standards and they became the real criminals they were trying so hard not to be. Although it was all a fallacy all along to make themselves feel better. Raquel was captured, the team were holed up in the bank, Nairobi shot, professor was left scratching his head.
This trailer was revealed some weeks ago and there were a few things I was able to pick out.
It seems as though Nairobi will survive. I had that intuition all along that she won't die because it will be inappropriate for her to die without getting to meet the son she so longed for. She was seen wheeled to an emergency surgery with blood dripping all over her, trying desperately to hang on to dear life. Then we see a bit disagreement which apparently was caused by apprehension and uncertainty about their current state.
We then see Raquel brought in to the encampment just outside the camp to get down with Alicia's mind games. Would she flip? I don't know and I really can't say. She knows the rules already, she was an uptight policewoman and now an accomplice to crime. She could get 30 years in jail for her role in the heist. Maybe she wouldn't though and season 5 will be about breaking her out of jail. Who knows?
Professor appeared to be back on the wheel, giving instructions but then an unknown variable disrupts the plan. The security chief of the bank of Spain breaks free and turns the whole thing
into disarray. He is quite skilled as he looked to capture Tokyo and strangle Helsinki. He shuts down the security cameras leaving the professor blind. I feel this season 4 will be centered around him as the big bad.
Berlin is just a part of the series. Even when dead, he still managed to feature in all the seasons so far. There's a very short flash back of him and I feel that they'd use a part of his plan to escape the bank. He has been instrumental from the beginning. Leading the first heist and planning the other. I'm quite enjoying the flashbacks though because the vibe Berlin gives is just surreal.
Monica, Denver's wife appears to be have integrated herself into the team real good. She looks tough from the trailer and could as well pass as a mini leader. She reminds the professor of his promise to get them out. I'm curious though to see how Arturo would fair as her hostage. Although his rebellious character can be unnerving, it still feels like the icing on the cake. I hope he does not get himself killed.
They'd escape the bank but at what cost? The last few scenes hinted chaos. We saw Rio and Denver have a grenade rolled up on them in an elevator and blow up, probably from Gandia. Will they get out unscathed? Probably not. They have thrown away the reputation they are so trying to protect by declaring a war. We will all find out next tomorrow.
✌️