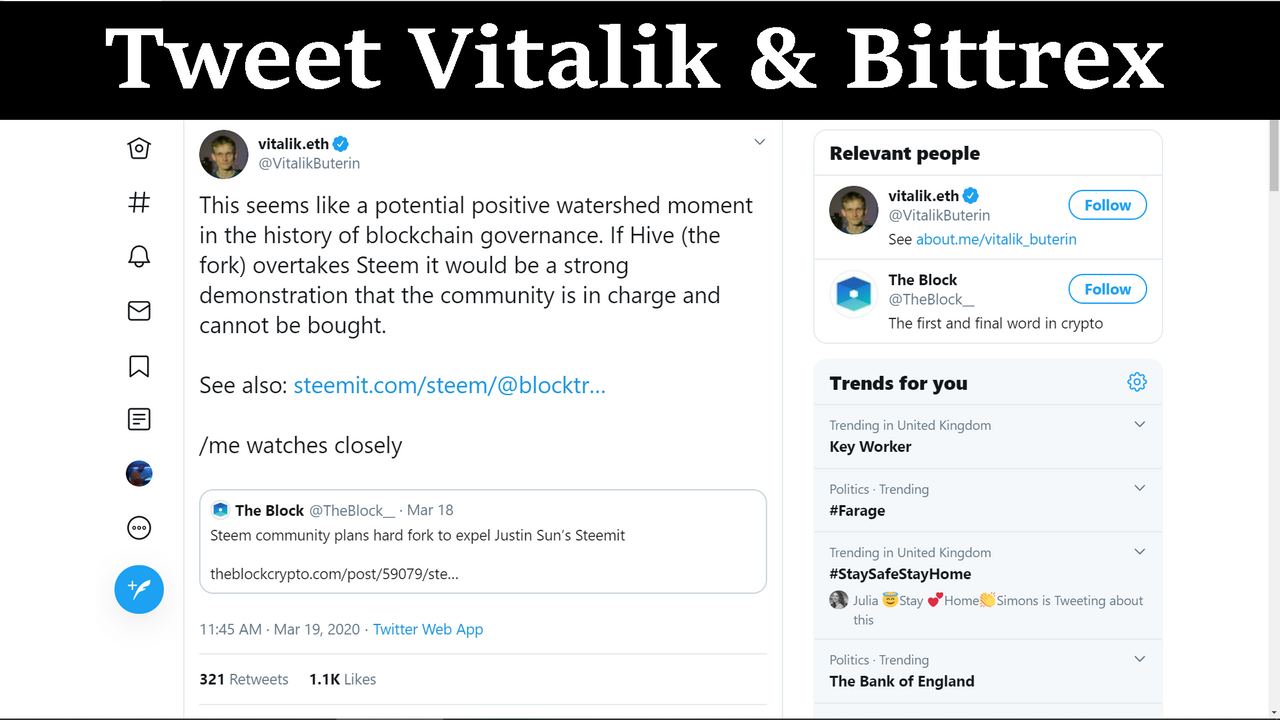 Exchanges, Tweeting Vitalik and Why this is Important
In the last couple of hours I've heard that there are three confirmed full listings with airdrops, and another 5 exchanges supporting airdrops only. The one thing I'm sure about is that hive is only fully confirmed as being listed on smaller exchanges so far; ionomy and probit being the two of which I'm 100% certain.
We need bigger, higher volume exchanges for hive to compete as the only true decentralized blockchain content based site. Bittrex has listed steem/BTC for a long time and has stayed neutral in all of this BS with Justin Sun and Tron.
Please please please jump on the thread highlighted below where I have tweeted Vitalik Buterin.
https://twitter.com/rowanj808/status/1240648512162988032?s=20
We need one major exchange to be taken seriously and to find a quick plateau of value for the hive token.
Community is our strength, I understand that it is our community that has beaten Justin Sun in his hostile actions, but we also need to be concerned with the hive token economics.
I don't want Justin Sun to win this on either front! He's lost on the community front, but I want to see Hive equal or overtake his version of steem ASAP.
This message comes from a place of passion, anyone who doesn't want to be involved with twitter… I completely understand! I was only lured back on Twitter 6 months ago to promote steem.
A Second Chance at a Potential Listing from Bittrex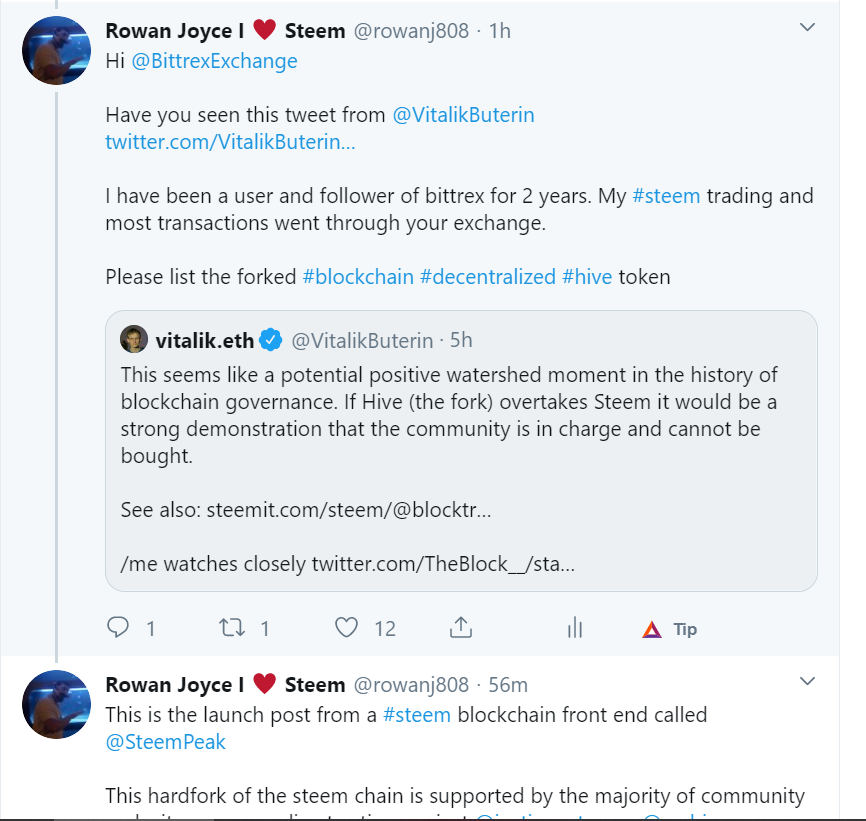 Whoever wants to jump on board - let's get hive and HBD listed on bittrex from time of launch! I know...
"You may say I'm a dreamer; but I`m not the only one."

You may say I'm a dreamer
But I'm not the only one
I hope some day you'll join us
And the world will be as one

John Lennon
Check out my tweet to Bittrex and write your own version.
https://twitter.com/rowanj808/status/1240667066602000385?s=20
Try to include links to the hive explanation post, even as an added comment replying to your own comment if you've run out of space, and - IMPORTANT - link the vitalik tweet I have shared above in your tweet to Bittrex. As a massive exchange Bittrex very likely don't care who you or me are, but they do know and care who Vitalik Buterin is and what he says.
Oh yeah, and remember to like each others tweets, and share the originals... or even retweet each others! The more noise we make the better.
I'm going to check into each of those tweets hourly for the next few days and like every single tweet I see that asks for support for Hive and a Bittrex listing.
Thanks for reading Hiveians 😉
Resources for making this twitter campaign easier for you:
Vitalik Tweet: https://twitter.com/VitalikButerin/status/1240605327122464768?s=20
Bittrex Tweet: https://twitter.com/BittrexExchange/status/1237037985574596612?s=20
Hive announcement post: https://steempeak.com/communityfork/@hiveio/announcing-the-launch-of-hive-blockchain

I would like to invite any lovers of poetry and short stories to visit the new hive community I started with
@stormlight24
called:
We now also have a curation trail set up so if you are a SteemAuto user search for 'theinkwell' (all one word) and it is available as a community trail to follow.
If you would like to delegate to
@theinkwell
and help support creative writing on steem you can do so by clicking on any of the following links for the amount you would like to delegate:
We would like to say a special thank you to those kind souls who have already delegated to help support The Ink Well and creative writing on steem.
@riverflows 500 Steem power delegation, thank you.
@trucklife-family 200 Steem power delegation, thank you.
@raj808 500 steem power delegation.

Click banner to visit our community page

Find us on twitter by clicking the banner above.