Today was meant to be a day of celebration for me, as we bought the house that we are going to spend the next few years making into our home and a place that @smallsteps will call her own. Instead, my other home has been hijacked and centralized. There is a lot of work to do on both.
Every little bit....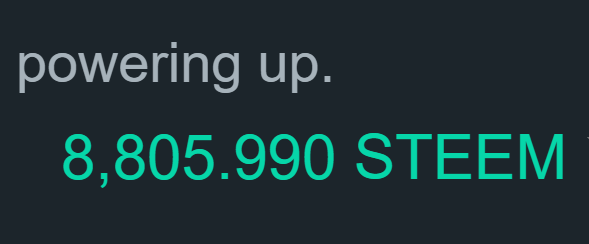 This was my single largest power up to date, makes 9000 for the last hour and has pushed me past the 90,000 mark. I once said I wouldn't likely hold more than 10K. For better or worse, this is where I stand.
This particular powerup will get powered down again at some point in the near future, but for now its value is here on Steem and in STEEM, where I think it can do at least some good. There is about 100M STEEM on the exchanges... I would consider taking it off and powering it up unless you are going to be selling soon. There is a cost top powering up - risk. This particular Steem was for my trading purposes as I was trying to diversify - so much for that at the moment.
Real Steem witnesses are now in the first 3 positions.

I have no idea at the moment if I should take the risk - but today I took a loan that if I manage to make it, won't be paid off until I am in my 70s. What kind of life is it if one doesn't take a risk or two?
Who knows... perhaps this is the turning point of the Steem blockchain, where in the week it was centralized, the community decentralized it again. I think that if it happens, the publicity from the crypto-community would have to be positive and that kind of publicity can't be bought.
People love a fightback story - This could be Steem's.
At the very least, I know that I have tried to do what I can for the blockchain. As I said to someone today,
People on the surface level like myself can only do what we do because someone has built the infrastructure below, and it is because of this I have to take responsibility to learn about and maintain the areas I can.
It always come back to the same point, doesn't it?
Responsibility.
People want all the benefits of a decentralized ecosystem, but fail time and time again to step up and take responsibility for their space here. Like spoiled children who refuse to clean their room. People have an opportunity now - some are taking it. Some are not. Some are actively working against the community.
Take note of who is who.
So many people say they are invested into Steem and they say you have to know what you are investing into. The value of Steem is the community.
Know them.
Support those you believe add value to your investment. Fuck all the rest.
The beauty of a decentralized community is that we can all strike our own path as we choose and there are many ways to add value to Steem. Don't ignore any of them. There is space to roam far and wide, but do not forget the core, the trunk of Steem that will carry the many branches yet to grow.
This place isn't easy at times, it can put strain on emotions that can affect behavior. I understand that. I really, really do. But, if I feel you aren't in it for the long-haul and actively pushing for a better Steem ecosystem, you are working against me and will not get my support. Complain all you want.
While Steem is much more than financial for me, the numbers I am playing with are large to some, highly insignificant to others - but my investment is important to me. Yes, I want to one day benefit from STEEM price too, but first and foremost - I have to be true to myself. I have heard far too many talk the talk, but fail to walk the walk. Put your money where your mouth is.
You wanted to be an investor into a startup with massive potential, didn't you?
Every little bit....
This is my house.
And yours.
Taraz
[ a Steem original ]
Four in.