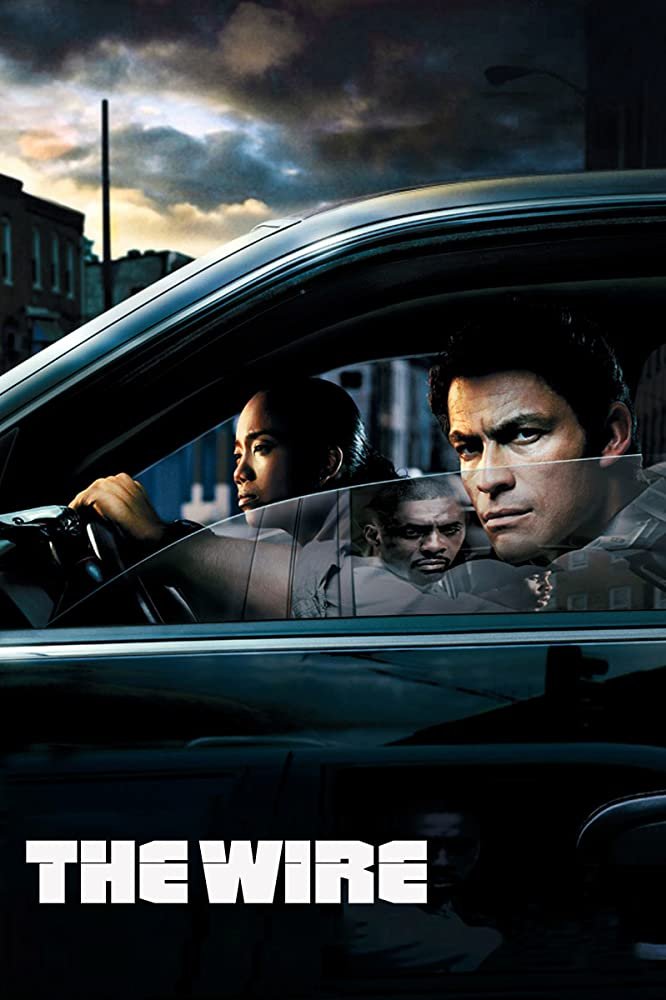 The Wire Poster
In the summer of 2002, the American cable network HBO premiered a police series.
For many, a series of detectives and police more, but for those who managed to get hooked on it after a couple of somewhat dense first chapters, it would be a key cultural product in the relationship of these viewers with television fiction.
En el verano de 2002 la cadena por cable norteamericana HBO estrenaba una serie policíaca.

Para muchos, una serie de detectives y policías más, pero para quienes lograron engancharse a ella tras un par de primeros capítulos un tanto densos, sería un producto cultural clave en la relación de estos espectadores con la ficción televisiva.
The Wire was set in the Baltimore of the time, which was (and is) a city with a high crime rate and slums.
David Simon portrayed with an almost surgical pulse the day to day in one of those neighborhoods, controlled by a smuggler and his relatives.
If the criminal plot seduced the viewer, Simon introduced a novelty with the series, which was to see the plot of the police preparations.
From how the group of investigators is formed - almost all dismissed or punished in other police departments - to the implementation of a device to spy on and capture criminals.
The Wire estaba ambientada en el Baltimore del momento, la cual era (y es) una ciudad con alto índice de criminalidad y barrios marginales.

David Simon retrataba con pulso casi quirúrgico el día a día en uno de esos barrios, controlado por un contrabandista y sus allegados.

Si la trama delictiva seducía al espectador, Simon introdujo una novedad con la serie, y era ver la trama del preparativo policial.

Desde cómo se forma el grupo de investigadores –casi todos desechados o castigados en otros departamentos policiales– hasta la puesta en marcha de un dispositivo para espiar y capturar a los delincuentes.
The creator set out to capture the reality of a different element of Baltimore life each season, with connections between them, but with completely new storylines from season to season.
Something that happens even with the song of the credit titles that start the series, Way Down in the Hole by Tom Waits that changes its version in the following seasons.
The realism in dealing with the most common situations of the worlds of corruption and crime and a perfectly elaborated script that did not allow the viewer a respite were applauded by both viewers and specialized critics.
El creador se propuso plasmar la realidad de un elemento distinto de la vida de Baltimore en cada temporada, con conexiones entre ellos, pero con tramas completamente nuevas de una temporada a otra.

Algo que sucede hasta con la canción de los títulos de crédito que dan comienzo a la serie, Way Down in the Hole de Tom Waits que va cambiando de versión en la siguientes temporadas.

El realismo a la hora de tratar las situaciones más comunes de los mundos de corrupción y delincuencia y un guión perfectamente elaborado que no permitía un respiro al espectador fueron objeto de aplauso tanto por televidentes como por la crítica especializada.
Although The Wire was not a social phenomenon like other series because its market niche is more explicit, it has been earning integers over the years as a cult series, being considered by many editions such as Time, The New York Times , The Guardian, Philadelphia Daily News, Entertainment Weekly, The Telegraph, San Francisco Chronicle, Complex, Vulture or Slate as the best series in television history.
Si bien The Wire no fue un fenómeno social como otras series porque su nicho de mercado es más explícito, sí ha ido ganando enteros con el transcurso de los años como serie de culto, considerándose por parte de muchas ediciones como Time, The New York Times,​ The Guardian, Philadelphia Daily News,​ Entertainment Weekly,​ The Telegraph,​ San Francisco Chronicle, Complex, Vulture o Slate como la mejor serie de la historia de la televisión.
Almost all the characters in the series (especially the policemen) remain throughout the five seasons.
Casi todos los personajes de la serie (sobre todo los policías) se mantienen durante las cinco temporadas.
The Wire Trailer (HBO)
Sensations after seeing The Wire. / Sensaciones después de haber visto The Wire.
The first is that you have not seen anything like it so far, nothing remotely close to the reality that the series transmits. They have not made up or sweetened it with anything; They have told you a story, harsh, cruel, sibylline, brutal ... they have told you about the world in which you live without smearing it with any kind of poting that gives it beauty.
So much so that everything seen until then, all the series, movies and books read to date, suddenly and with a thud seem less good, more false, they lose points.
The second feeling is emptiness. That emptiness that you experience when you have experienced something really good and you know that there will be no more, because in the same way that you are aware that you have not seen anything like it so far, you also understand that you will never see anything like it in the future, you will have to return to watch the series later. Deserves it. Thus, without further ado, The Wire is a masterpiece, round on all levels.
La primera es que no has visto nada igual hasta el momento, nada ni por asomo parecido a la realidadque transmite la serie. No te la han maquillado, ni endulcorado con nada; te han contado una historia, dura, cruel, sibilina, brutal... te han hablado del mundo en el que vives sin embadurnarlo con ningún tipo de potingue que le de belleza.

Tal es así que todo lo visto hasta entonces, todas las series, películas y libros leídos hasta la fecha, de golpe y porrazo te parecen menos buenos, más falsos, pierden puntos.

La segunda sensación es de vacío. Ese vacío que experimentas cuando has vivido algo realmente bueno y sabes que ya no habrá más, pues del mismo modo que eres consciente que no has visto nada igual hasta el momento, también comprendes no verás nada igual jamás en el futuro, tendrás que volver a ver la serie tiempo después. Lo merece. Es así, sin más, The Wire es una obra maestra, redonda en todos los planos.
The Cast / Los Personajes.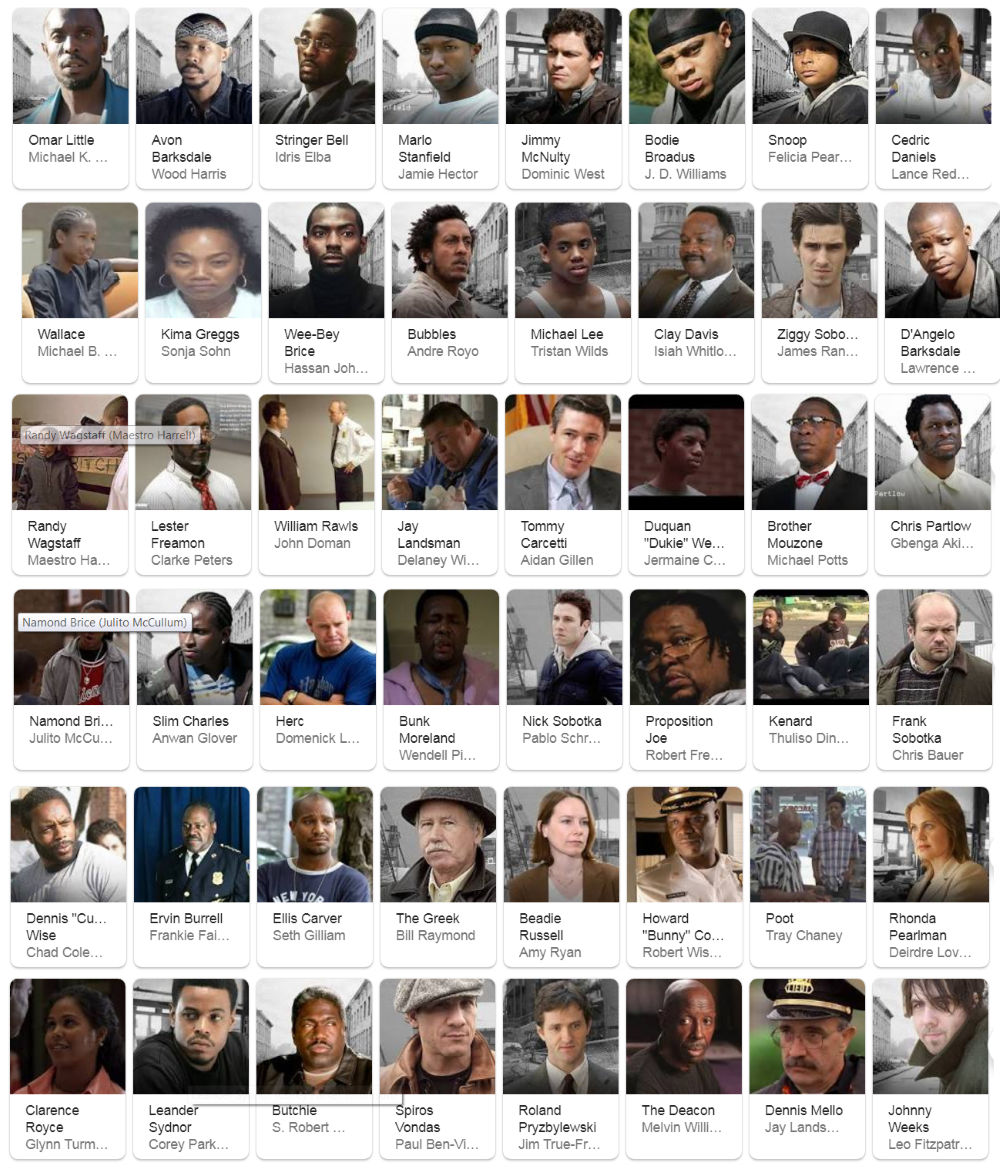 Source