Vandrezzer Football Club is privately owned by an Akwa Ibom business Mugol in Nigeria. Vandrezzer is currently playing in the Nigerian National League (NNL) and there are hopes that the club will grow. Vandrezzer's home is currently the Ikot Ekpene Township Stadium.
The Vandrezzer Football Club models to become a football club providing equal opportunity to all regardless of gender, ethnicity or age by demonstrating the values of inclusiveness and showcasing excellence in sports through their commitment, passion, sheer determination and mastery of football. So far, the football club is living it's vision.
The NNL team was established in September 11, 2019, with the believe that more can be done within the football space. Currently, the club is showing the pace in football management in Nigeria with extraordinary strides. They believe in and are supportive to their fans whom are seen as the integral players towards the success of the team's operations. The official Colors of the club are Orange, White and Blue.
On Infrastructure, Vandrezzer FC's never tired of adding to its current wealth of infrastructures. The home stadium which is currently under development has been massively transformed. Above are branded seats for supporters and fans in their home stadium.
Few weeks ago, Vandrezzer Football Club purchased 4 units of AI-powered VEO sports cameras which will assist in gathering scientific data for post-match/training analysis and improvement in players' performance.
The delivery of the equipment at the Club's home stadium in Ikot Ekpene, Southern Nigeria had been announced weeks ago. Within the football space, Vandrezzer FC has singled itself out as a dynamic football club and is regularly upgrading her previews to set a technological pace for club football in Nigeria.
Vandrezzer FC Drive and Motivation
Getting to discover Vandrezzer FC changed my narrative about Football club as they have added innovation to professionalism in sports. On daily basis, the club is holding a public and head-tall marketing strides within the social media space to thrill their fans even in the midst of this pandemic.
In every submission, they are poised to inspire and motivate the public towards excellence. Below are a few of the motivational shoots of the team that endears me to them.

Connect with Vandrezzer Football Club
More Details about Vandrezzer Football Club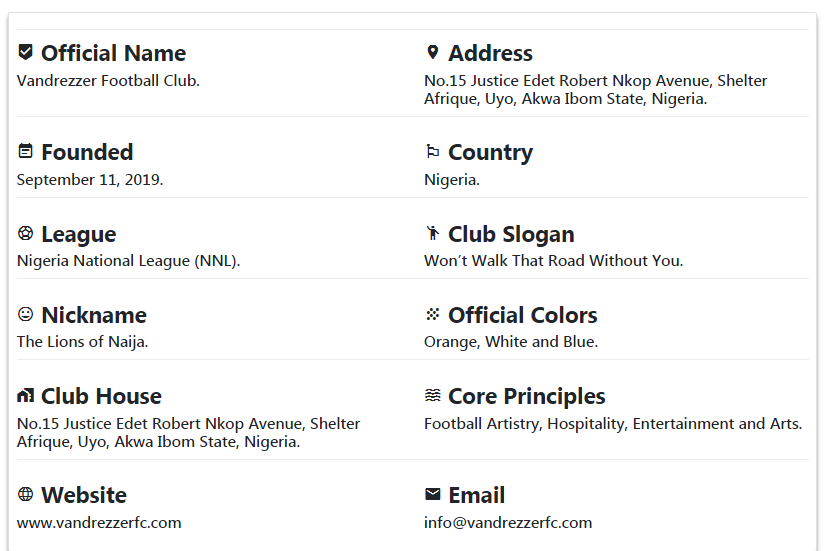 Let's push for Vandrezzer FC to Join Steem
In the past, I have made several attempts to promote the image of steem to Vandrezzer FC with the hoped that they will join. This would be a booster to the steem blockchain as they could contribute a lot to its marketing. Below are some of the blogs I created.