We're excited for all the developers that have brought awesome projects to that chain and for the many backend developers that have done and are planning to continue to code and push that chain forward.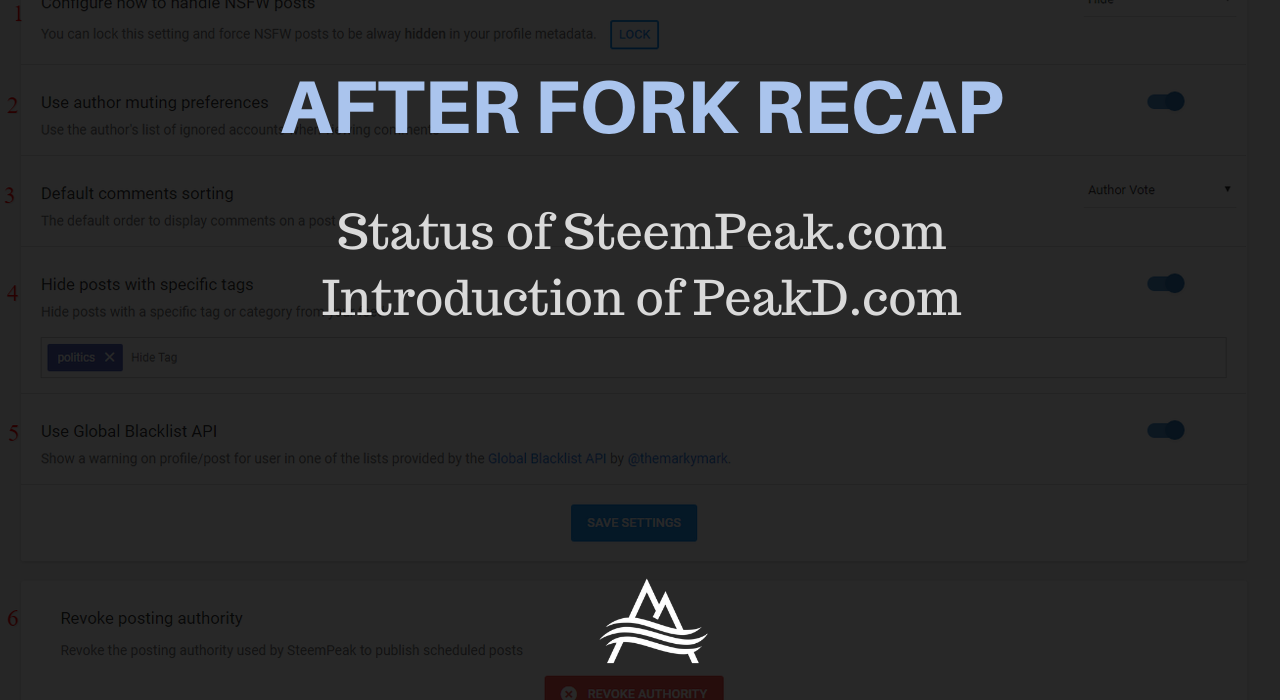 STATUS OF STEEMPEAK
Things are still working great with the hardfork steem continued on just fine. There were some temporary issues with the steemit api. We do not know if they're going to keep offering it. There is still one other one called minnowsupport ... so at least a little decentralization in that department.
BUG REPORTS
KNOWN ISSUES - Wallet Transaction history not working
(that project has moved to hive perhaps?)
We have a discord if you're wanting to report anything.
And our on chain community is still there for SteemPeak related posts including questions.
Seems that there is enough infrastructure around on STEEM to keep SteemPeak.com moving along.
We know many of you are dependent on it... we still have another project @peakmonsters that is also on STEEM together with @splinterlands ... where they go we go. And we still need SteemPeak tools to help operate on Steem if nothing else.
Analytics show there are also lots of users on SteemPeak... in time we'll see if it's just users transitioning to HIVE or how many of our users are here transacating and posting original content.
Steem-Engine and the tribes are still presently on STEEM just fyi ... they are not on Peakd.com
---
WHAT HAPPENED IN THE HARD FORK
A new chain was created that is now separate from steem
Your account and keys work on hive just the same as steem
You're able to change your keys on any platform (our new tools will help)
Rewards will now be different on both sites
You got an airdrop of tokens on a new blockchain. They equal the amount you had on the steem blockchain
Some users (about 300) have to appeal to the hive community if they want their tokens. It's now in the hands of a community vote if they want their tokens. The assumption is they would not be following over to HIVE because they were voting for TRON based witnesses. But they are welcomed to come over and ask for hive tokens and the community can vote
witness votes, proposals, communities and pretty much everything is separate on the two chains from now on
---
CENSORSHIP BY STEEMIT INC?
We are very disappointed at the censorship decisions of steemit inc who runs another interface 3rd party interface on steem called steemit.com.
We will not be following suit.
UPDATE: Also seems steemit.com is now blocking users and not just posts? And downvoting dissenting opinions with 65 million SP.
They also changed their terms of service today


https://steemit.com/tos.html
SteemPeak.com is a 3rd party service on Steem. Also many users being blocked actually used SteemPeak.com to write and post. So that is also concerning.
We ask @justinsunsteemit to help our users understand these actions and if possible tell us what decentralization means to him.
---
Meanwhile we have a 3rd great project that we'd like you to see...
WILL INFORM USERS ABOUT PEAKD.COM
We will start to inform users about the existence of https://peakd.com/ for the users that want to try it out. There are likely lots of users that don't even know something happened yesterday. Many users that don't know.
RE-EVALUATIONS FROM TIME TO TIME
We will keep re-evaluating the status of SteemPeak.com and letting you know how the infrastructre is going. We have seen that the complete control of governance rests now in the hand of one user @justinsunsteemit with his votes he has chosen all 20 top witnesses ... so it may not really up to the community anymore where Steem chain goes. Also @justinsunsteemit and tron have decided to halt all funding to proposals so that puts a damper on things.
Let us know how you feel about all of this.