We have been testing a a bunch of new features on a BETA site for over a month... now we're moving this huge set of updates to https://steempeak.com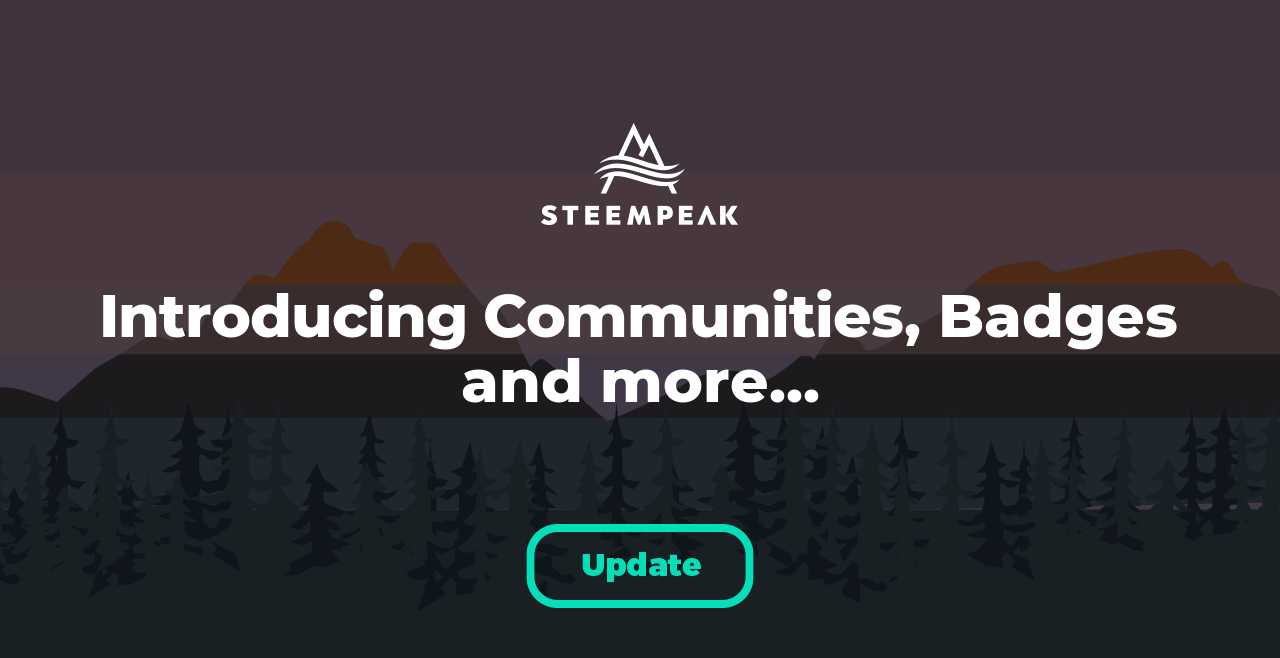 THANKS FOR HELPING US TEST
We have appreciated the help of so many users in particular @midlet and @gadrian and we know our work is not done yet... however we have a wonderful community that helps us and give feedback quickly.
We stand ready to hear your feedback and reports of bugs you may find. Our community can be found here: https://steempeak.com/c/hive-175001/
29 OR 57 UPDATES
This is either a list of 29 Upgrades ...or 56 updates if you count the important sub-updates
1. COMMUNITIES
Community Pages
Community Settings
Community Roles
Community Activities
Community Subscribers
Community Pins
Community Filter
Featured Communities
2. NEW COMMUNITY SETTINGS
Community profile image
Community banner image
A new photo view mode
Default community page
Default community view style
3. DISCORD PAGE ON COMMUNITY
Embed discord using 3rd party services
4. CROSS POSTING BETWEEN COMMUNITIES
Allow user to cross post in other communities
Don't show cross-post in feed if original author is cross-poster
5. TOP MENU
Improvements Feeds menu
Communities dropdown menu
List of subscribed communities
7. EXPLORE PAGE
Now has quick links to Topics, Badges, Steem News, Proposals, Feeds, Tribes, Curators, Search, Analytics, Witnesses and our Services page.
8. NEW NOTIFICATION SYSTEM
Mentions
Votes above .02
Community actions
Follows
Multi Account Notifications system
9. NOTIFICATIONS FILTER
Votes / Replies / Mentions / Followers / Errors
10. BADGES
Use public decentralized lists from badge-000000 accounts
Badge pages
Badge search/favorites page
Badge graphics on user profiles
11. ALL POSTS - USER MENU
Shows all posts including community posts
12. OTHERS - USER MENU
Connections link
Subscriptions page
Notifications page
Payouts page
Activities page
Wallet page
13. NEW ANALYTICS SOFTWARE
Starts brand new with no old data
Integrate open source software Matamo
Display page view counts for users in dashboard
---
OTHER SMALLER UPDATES
14. PICTURE SLIDER ENABLE ON GRID MODE
15. SPOTIFY FRAMES EMBEDDABLE
16. FIX BUGS WITH 3SPEAK VIDEOS NOT PLAYING
17. DEFAULT TO CHRONOLOGICAL WHEN REWARDS IS TOO FEW
18. ADD STEEM/SBD TO AIRDROP PAGE (premium product)
19. ADD MEMO FIELD TO AIRDROP PAGE (premium product)
20. CLAIM 5 ACCOUNT CREATION TOKENS AT ONCE (FOR ACCOUNTS WITH ENOUGH SP)
21. CREATE POST BUTTON WORKS WHILE IN ANOTHER DRAFT
22. NEW USER MENU ON MOBILE + other mobile fixes
23. Lots of small visual fixes on dark mode
24. Add guest account to sign up panel
25. Witness vote popup (show users voting for witness)
26. Auto Resize comment/reply editor
27. Max height to images in a comment
28. Show vote mana on mobile user menu
29. Copy post direct URL in share post area