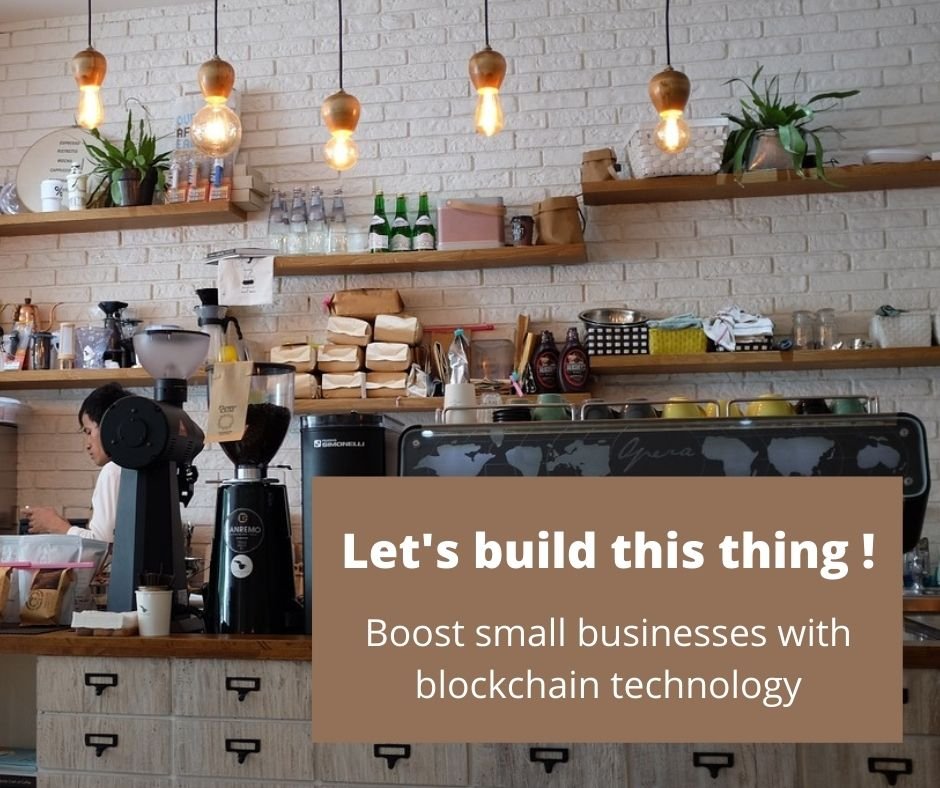 As an offline business owner, I always try to question my company and how I could improve it. It's often not about finding a big invention that would revolutionize the world, but small things that could make a difference for me or my customers.
I tried to imagine how blockchain technology could be used to boost offline businesses.
One big problem for small businesses is to get the attention of the customers?
We often struggle to earn a living because we are competing for the attention of our customers. The problem is that customers are bombarded with news, ads and offers. How to get their attention for our business? I believe in this respect blockchain technologies could be really helpful.
A small coffee shop that uses blockchain technology
Let's imagine we run a small coffee shop. When customers come to drink a coffee, they can show their phone when they pay and they would receive a Coffee token. The amount of the token would have to be defined according to the amount spent. This token would be sent directly over the blockchain as a second layer token to my customer. To send the token, I would only need to scan a qcode on his phone that would get the username of the customer. Free transactions and done in 3 seconds.
On the website of my coffee shop, I write what I would normally write on my social media channels. Since they have been blocking some of my content and since it's very difficult to reach some visibility, I post everything on the blockchain. Nobody can block my content or censor it. My website is nothing else than a front-end to the blockchain where only related posts are visible. People can log-in with their keys and interact with my posts, or write posts themselves.
Stake, trade or buy
The customer can now stake the Coffee token and upvote my posts and earn curation rewards. He can also write a review about my coffee shop and I would give him a powerful upvote. By curating and authoring, he can earn more Coffee tokens.
He has now the choice what he wants to do with these tokens. He can stake them and earn more and more tokens. He can sell the tokens on the exchange for other tokens or he can use these tokens to buy stuff in my coffee shop.
Why would this help the small business?
As shop owner, I would need to but aside a budget for the token that I would use for the free coffees that I would have to provide to the people that pay with my token. This would be kind of my marketing budget. Every token holder has the potential to become a loyal customer. Why would the customer go to another coffee shop where he doesn't get tokens with his coffe? He could even come every day to drink a coffee to collect as many tokens as possible, stake them and get a passive income from upvoting content related to my business. He would automatically be very often on my website to look for the newest offers.
My coffee shop becomes a tribe
People would write about their experience to earn some more tokens. I could build a small tribe of my customers around my website.
Imagine the impact it would have to communicate with my customers. Let's say I want to organise a little party tomorrow. I simply write a post on my website and all the coffee token holders could see it and in not time I have people reserving to take part.
Now I want to scale my business and I create an online shop on my website. People can shop and simply pay with my coffee tokens or with other tokens that I can define.
Network effect
Now there is the hairdresser next to my coffee shop that also uses the same strategy. People can use the same blockchain to get his tokens and mine. If they need a haircut, they can actually exchange my coffee tokens for haircut tokens on the market and get a free haircut.
It could start with some small businesses working together to create this network effect and it would generate a huge early adopter advantage compared to all the businesses that don't offer such a thing.
This would have an amazing onboarding effect on the blockchain if there were many little clusters of businesses in the world using this technology.
The great thing is... All the tools that I presented here already exist. We just need to make it easier to use and create better UI's so that everybody can understand them without a degree in computer science.
Let's build this thing!
---
Let's connect on Steemit, Lbry or on Publish0x
My free e-mail course: The 100'000 satoshis a week strategy