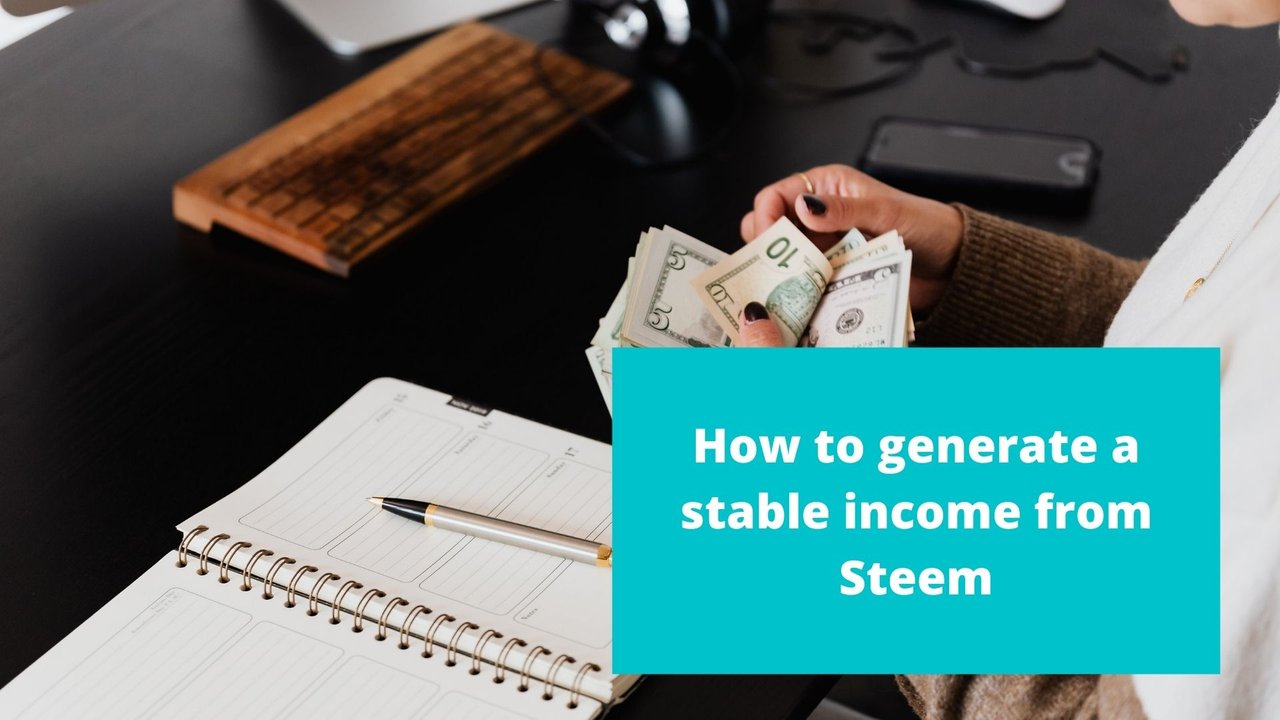 How to generate a stable income from steem
There are more and more people who use this platform as an additional income source for their everyday needs. By creating content, they generate an income that they can use directly.
Unfortunately it's quite difficult to predict how much we will earn with our posts and then there is the issue of not knowing what to write about. It's quite difficult to produce quality content on a regular basis.
It's also quite difficult to scale our income from content creation. Of course we can engage with others, build relationships and increase traffic to our content. There is however a maximum amount that a post can reach and therefore our income will always be limited by this value.
The shortest way is not always the best
Build a regular income thanks to the staking economy
If you want that one day the income from this blockchain becomes stable and growing, you will need the leverage that is made possible by the staking economy.
Step 1: Generate income
You don't change anything of what you have been doing so far. Instead of paying out your income from posts. You stake the tokens that you earn.
Whatever you earn from posts, you power it up 100%, you want your stake to grow as fast as possible.
Step 2: Get a return on your stake
As soon as you have collected at least 100 Stemm, you can start to earn a return on this stake. You can't predict how much you are going to earn from your posts, but you can predict the return on your stake.
Organic return on your stake
What a lot of people ignore is that when you stake steem, it automatically generates a return. Staked tokens grow without having to do anything.
Delegate your stake and earn
You can delegate your stake to generate a daily return on your money. You can use the platform dlease.io and get a return of about 20 - 30% APR. You will get daily payouts. At the same time you will earn Tron tokens from your posts if you have linked your steem wallet to tron. Tron can also be staked and you can kind of earn a double income.
Step 3: Use the return on your stake as a regular income
If you follow steps 1 and 2, you will get a regular payout from your delegation and your tron stake. This will be your regular income. At the beginning it might be a good idea to reinvest this income to make your stake grow faster.
The big advantage of this strategy is that you will know what kind of income you will generate and it will be a stable one. Even if you don't produce new content, thanks to the organic growth of your stake, your income will evolve.
Regular, stable income that grows over time
Of course in the short term you earn more if you cash out the income from your posts. However if you build for the long run, staking will allow you to gradually increase your income and there will come a time when you actually earn more with this strategy.
The best about it, is that you have built up a fortune that remains yours but this fortune works for you. There are no limits to your return. Your business has become scalable. The more stake you have, the more income you generate.
You can even stop to create content all together and you will have a 100% passive income from it for a as long as this platform exists.
---
Let's connect on Steemit, Lbry or on Publish0x
My free e-mail course: The 100'000 satoshis a week strategy