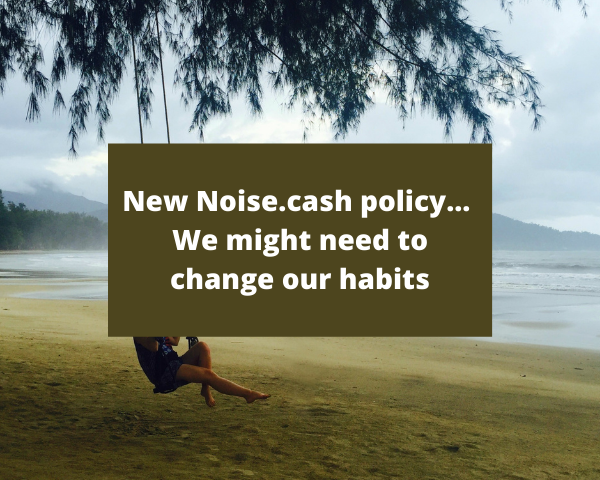 I've started out on the microblogging website noise.cash about two months ago and I had a lot of fun on it. There are around 450 accounts following my profile and this platform made me realize that I actually liked microblogging and interacting in this style.
A very nice asset of the platform is the free tips that you receive and you can give to other users. Each time you give some tips away, you can keep a part for yourself. This is a big motivation and it actually sums quite up over time. I think I made close to 100$ worth of BCH since I joined noise.cash!
The game is changing
Today however the admin of noise.cash announced a big change to the platform. The free tips will be reduced to people posting quality content. According to their post, 96% of the content on noise.cash is considered spam or low quality. This leaves not much margin for quality content...
I believe it's totally understandable that the distribution of free money is limited to people who actually post valuable content that brings something to the platform. The list of things that are not wanted is however quite long:
no giveaways
no annoying small comments (there are really plenty of them and we would all love to see them disappear)
no quotes
nothing copied from the internet
no food talk lol
nothing that I quote "doesn't require brain effort to be created" (I kind of like this description)
There will be some kind of ranking to define who gets tips and who doesn't
Each account will get a kind of rating that will show whether it will be eligible to get free tips or not.
No more support for Steem, blurt promotion
A lot of people were using the noise.cash platform to promote their posts. I actually did that a lot and got a lot of new readers to my posts. I will probably need to change this behavior.
There is one more thing that we will probably stop sponsoring in the future - that is promotion of competing sites (like Steem, etc...) and competing cryptocurrencies (i.e. anything except for Bitcoin Cash). Why? Well, our goal is Bitcoin Cash adoption and that's what we want to sponsor. We don't want to sponsor promotion of competing sites that promote their own cryptos or other cryptos. You are still free to talk about them, of course, we just don't see why we should sponsor it with FreeTips.
source: noise.cash
This is a major change for users on noise.cash. I believe that the engagement on noise.cash will drop drastically if we don't have tips to give away.
So should we risk loosing these tips or should we simply stop putting links to our posts on noise.cash?
What do you think?
---
Let's connect ! You can find me on these platforms: