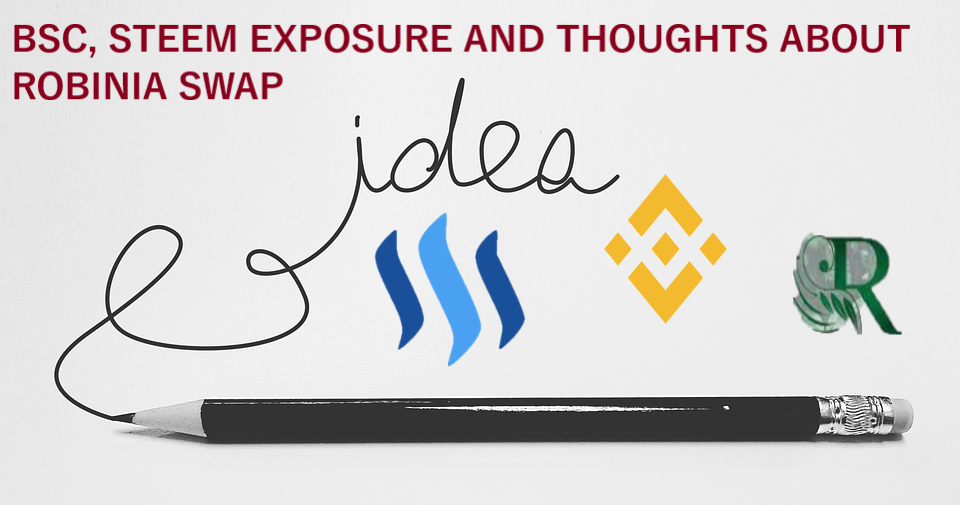 As the Binance Smart Chain continues to evolve and develop different applications that improve our lives, different developers have been looking out for ways to leverage its potential. One application that has emerged in the midst of the growth is Robiniaswap.
It's actually really nice to note that the developers of the platform are from around here, so they know the unique position in which the Steem blockchain finds itself. This is why the development of the platform and announcements posted on Steem make it very beneficial to the community at large.
The potential
Looking at it on the surface, it's easy to see why one could be excited by the growth of this project. First of all, its a project that's part of stem but most importantly, it's a project that's building a bridge between Steem and the wider Binance community.
The crypto industry is littered with projects and assets all vying for supremacy but at the same time, we'll be hurting ourselves if we treat it like it's a zero-sum game. In my opinion, there can never be too many bridges, and thanks to Robinaswap, we have one extra bridge for Steem.
I've been lurking in the shadows lately, just collating information about the project and I must say, it is rather exciting. However, I'd like to add that the project is seriously lacking in the marketing department.
Then again, a lot of crypto projects often suffer from a lack of coverage because of the suppression from mainstream media. With that said, if the project keeps pushing hard and continues to develop, then there's nothing stopping it.
Binance wrapped Steem
I think the most exciting part of this project, for me at least, is the fact that there will be a Steem bridge that enables one to use Steem on the Binance Smart chain. In summary, the process is referred to as "wrapping" and once it is done, it could be very beneficial to the Steem community.

Wrapping Steem in Binance basically means that you'll be able to trade and access Steem when using Binance smart chain applications.
When Steem is finally wrapped on Binance, we'll technically be increasing the number of people with Steem exposure. This increased distribution is generally good for the network effect and often reflects on the valuation of the asset.
How to use Binance Smart Chain
Binance smart chain is a fork of Ethereum, so most ethereum wallets will work for it. It is important to note that Binance central exchange isn't in control of the Binance Smart chain. In fact, it is safe to say they're separate entities, so should not be mistaken.
Binance smart chain works in pretty much the same way as Ethereum, so if you've ever used Ethereum chain, then you should have no difficulties in using BSC.
Unlike Ethereum though, you use Binance to pay gas fees, and also unlike Ethereum, the gas fees are much cheaper. This explainer is for someone with basic knowledge about individual chains.
If you have no idea how these chains work, this guide explains how to use Binance Chain wallet. Alternatively, you could also read this guide that explains how to connect your metamask extension to the Binance Smart chain.
In Summary
In my opinion, this is a very exciting project that just needs more coverage. Bridging Steem to BSC could open up a world of opportunities for people within the chain.
The first and obvious one is that you'll be able to reinvest your post earnings into other projects and then bring that value back to Steem. The other is the increased exposure that Steem will get to a larger audience.
On top of that, we have Robinia Swap, an exchange that will operate predominantly on BSC posting on Steem. This will invariably bring more masses to the platform and be a form of marketing. From every angle, I think this is a win for the community and deserves the support of the community.