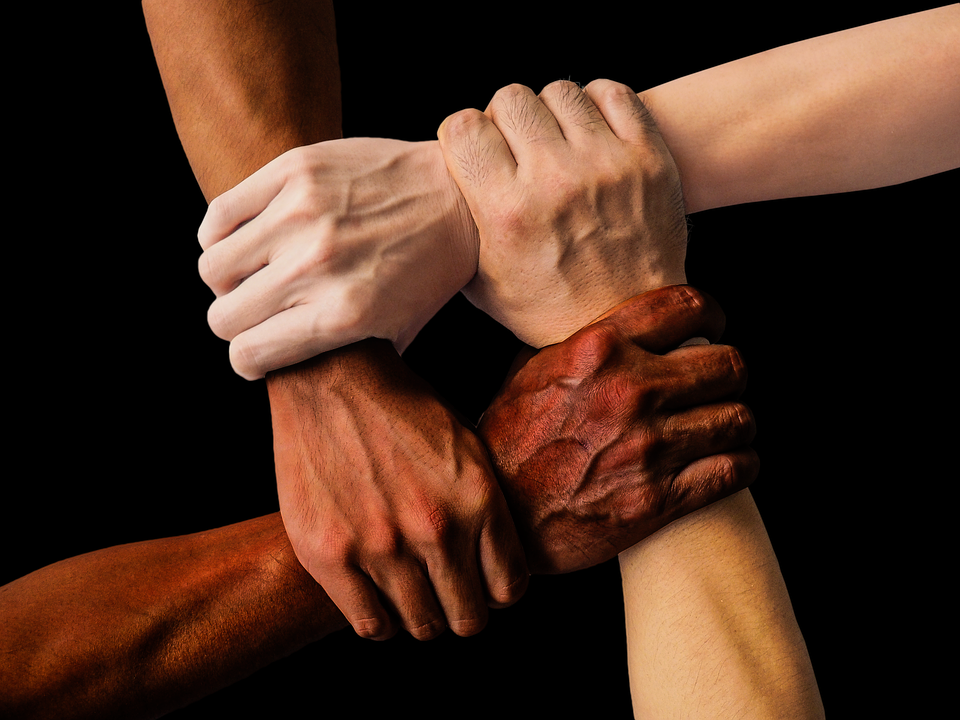 Ok... this is going to be very close to the lines of a low effort post but... in the midst of this turmoil I just gotta get this off of my chest!
Since March 2 nd. things became pretty wild one here!
I'm not going to bore you with all that happened before and after this date regarding the infamous actions of Justin and some that colluded with him (steemit, exchanges and so on) besides some snippets of what I tried to pitch in in the ongoing fight for our beloved #steem blockchain!
First of all, and don't stone me for that, in regards to witness votes and for full transparency I have delegated my voting rights to @theycallmedan!
I haven't got the insights and backgrounds to #steem as this man and therefore I've decided to give him these voting rights. I know they are in good hands with him.
I had some very interesting chat's with a bunch of twitter friends over the course of the last week mostly in private chat rooms regarding #steem and what had happened.
I guess the most valuable thing that came out of all this for me personally was that I had a chance to learn a lot about #steem, our witnesses, our communities, basic human nature, opportunists and so on.
Most impressive was how the fellow steemians got together on this and how they, for the most part, moved in the direction to do a lot to save our blockchain from centralization!
This had an ripple effect, (nah, not the coin!) in the crypto community as a whole I reckon! Many that had next to nothing to do with #steem got into the discourse of what was happening and some joined the fight for #steem even.
It was great to see what a group of people, scattered around the world, are able to accomplish together to fight this hostile acquisition with clear centralization motives!
I tried to support what was going on in my little neck of the woods... also on twitter.
Here just a few examples...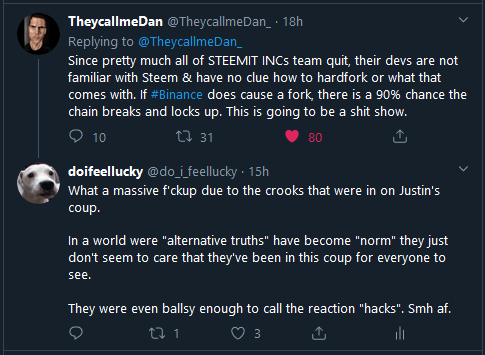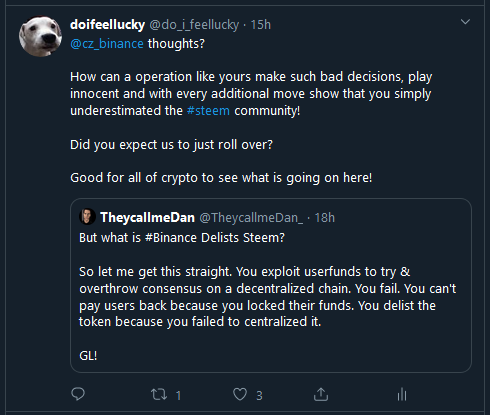 IMG SRC
I don't know where all this will lead here but for the foreseable future I'm not powering down a single sp and I will do what I can to support those who keep on fighting this unprecedented, blatant, hostile takeover!
To my fellow steemians STEEM ON and a big thanks to those who are on the forefront of this fight!
Cheers!
Lucky