In the Cryptocurrency exchange space, there are a few Cryptocurrency exchanges you cannot but mention when you are referring to users' choice and they are Binance, Huobi, Poloniex, Coinbase, Bitfinex and so on. While these exchanges are kings in different aspects, products and services, they still fight for being the best. So in this post, I will be doing a head to head post between Huobi and two other exchanges, Binance and Poloniex. In this post, i will try to be as unbiased as i can since it is a review on the exchanges and Huobi exchange as well as the other exchange could work on any point of concern.
Introduction
Huobi Global Founded in 2013 by Leon Li in China but moved its headquarters to Singapore. It has pride in itself as the Global Cryptocurrency leader since 2013 having offices in countries such as Argentina, Japan, Russia, Indonesia, Thailand, Gibraltar, US and 4 other countries.

Binance founded in 2017 by Changpeng Zhao in China but moved its headquarters to Malta due to regulatory issues on Cryptocurrency. Binance prides itself as the worlds' largest crypto exchange which can be said to be kind off true based on volume of trade daily.

Poloniex Founded in 2014 in the United State cam with the aim of being the first regulated crypto exchange in the US but as time went on, it started spreading its tentacle and soon the US regulations towards cryptocurrency became stiff and it led to so many problems around how the crypto exchange transacted and its listing of coins. In 2018, Justin Sun of Tron partnered with Poloniex and a lot of new changes have occurred with the exchange. First, the exchange got registered as Polo Digital Assets, Ltd in Seychelles. The exchange prides itself as the legendary crypto asset exchange

Daily Trade Volume
First there are a lot of things that can be used to compare two or more exchanges, and the first is trading volume. It is no doubt that this three exchanges trade large volume but for sure one will have more trade volume to the other.
Binance have a trade volume of $24,995,210,371 both in derivative and in spot, according to coinmarketcap

Huobi Global have a trading volume of $14,651,374,593 both in derivative and spot trading, according to coinmarketcap.

Poloniex have a trading volume of $128,162,081 both in derivative and spot trading and this is according to coinmarketcap.

In this round, it is visible that Binance has the largest number of volume so little wonder why it tops the coinmarketcap table as the number exchange based on trading volume.
Trading base coin and Pair
Every exchange has its trading base in which other coins can be traded against as well as trading pair market where traders can trade their coins/token easily. I will be checking out the three exchanges, looking at their trading base coins and trading pairs.
Binance first trades both cryptocurrency and fiat currencies and at such has quite a number of trading base coins ranging from BTC, BNB, Alts (ETH, TRX, XRP), and Fiats (USDT, NGN, GBP, BKRW, PAX, EUR, BUSD, TRY, AUD, RUB, DAI, BIDR, BRL, IDRT, ZAR, UAH). Binance also have a trading tab for Zones like innovation, DeFi, POS, POW, Storage and ETF. With also trading pairs up to 500 pairs on both spot and derivatives in which traders can pick from when trading.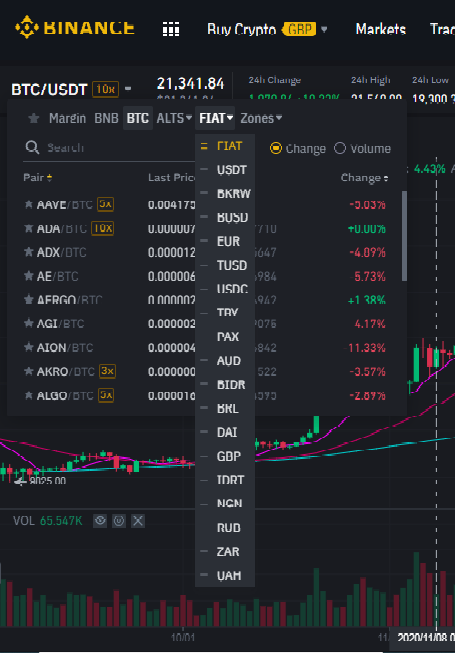 Huobi Global trades crypto assets as well as P2P trade of fiat currency. The exchange has 6 trade base coins in which several pairs exits. It trading base coins are BTC, ETH, USDT, HT, HUSD,and ALTs (TRX). with its little trading base coins, Huobi has over 800 trading pairs and up to 300 coins listed on its exchange. With the large number of trading pairs, there are definitely enough trading pairs for traders.

Poloniex trade cryptocurrency only and it has trading base coins such as BTC, TRX, Stable Coins (USDT, USDJ, BUSD, DAI, USDC and PAX), alt coins (ETH, BNB), and trading tab called innovations which includes Leverage, DeFi and Assessment. Poloniex have over 300 trading pairs.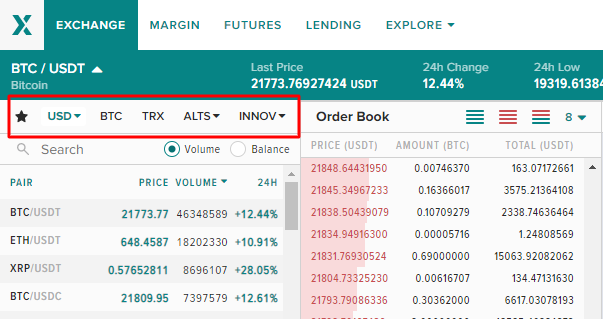 Trading Fees
This is one thing that set the major difference between exchanges as traders want to trade in a place where they are not ripped off their token by exchanges for transaction fee. I will do this in a tabular form
| Trading Fees | Binance | Huobi | Poloniex |
| --- | --- | --- | --- |
| Deposit fees | Zero | Zero | Zero |
| Trading fee | Maker/Taker | Maker/Taker | Maker/Taker |
| (VIP 0) | 0.1% / 0.1% | 0.2% / 0.2% | 0.125% / 0.125% |
| Withdrawal fees | Varies | Varies | Varies |
Trading fees can reduce drastically depending on the VIP level or on holding the exchange native coins, you can check out the trading fee for Binance here, Huobi here and Poloniex here
My Thoughts
The three exchanges are without any doubt kings in their respective areas and traders can use either of the three depending on what they want. For liqudity, i would go with Binance, for trading pairs and access to tokens, i would pick Huobi, and for fees, i would go with Poloniex because when paying with TRX, its trading fee can be the lowest.