A lot of commotion has been caused by the start of the DeFi RobiniaSwap Project that allows to mine the Robinia token even using Steem, yes, they have created a bridge that communicates the Steem Blockchain with the Binance Smart Chain Network. Now, all this seems to be the easiest thing in the world, however, I know that there are people who find this kind of process very complicated. That's why for several weeks now I've been sharing content that makes the process easier.
Today I want to make a compendium of some of the material that I have shared and I hope that with it you can guide you step by step to be able to Stake your tokens and put them to mine Robinia Token.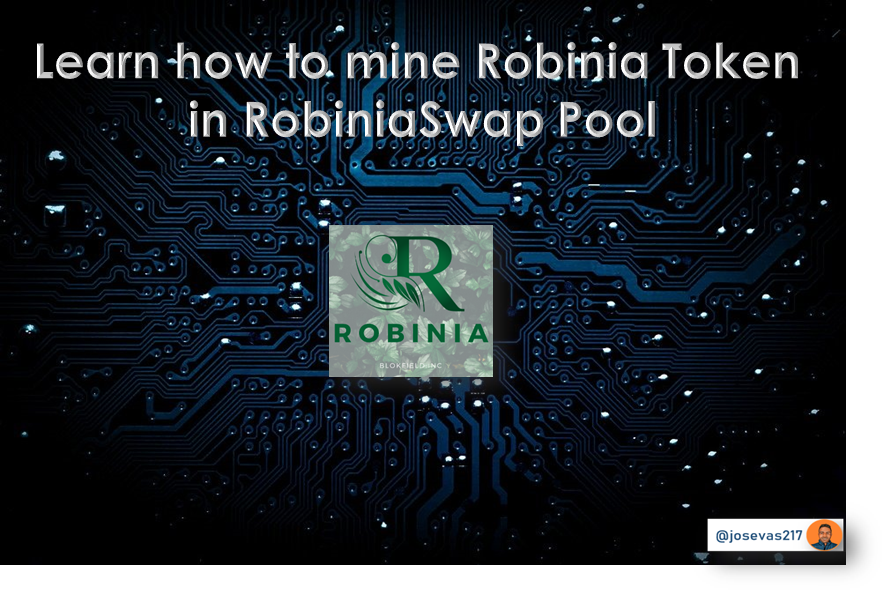 Source
Source
I will start with the following, to be able to work in the DeFi system in the Binance Smart Chain network you have to know how to use the Metamask Wallet, so I created a video in which I explain step by step how to download it, how to configure it, that is, how to add Tokens and how to add the Binance Smart Chain network to it, take the time to review this post and watch the video and I can assure you that you will manage to do it.
Here is the Steem token contract on the BSC network: 0x382d36e85178f2d3fd84e336d4e1d442fce78e8e
since in the Video I use as an example is the Cake Token contract.
Once the metamask Wallet is configured, we already added the BSC network and the Steem token, we must pass the Steem from our Wallet to Metamask. Very easily, I made a tutorial to explain step by step how to do it. I will leave it below:
Once we have the Steem Tokens in Metamask, which in this case are called BSteem, to mine we can opt for two ways, the first, will be the one I will show below, and the second way, I will present it in another post, as soon as possible. Let's start:
We must go to the following page, which is the Official RobiniaSwap, and we will see something like the following, in this case as we already have the Steem in the Metamask Wallet, we will click on Pool.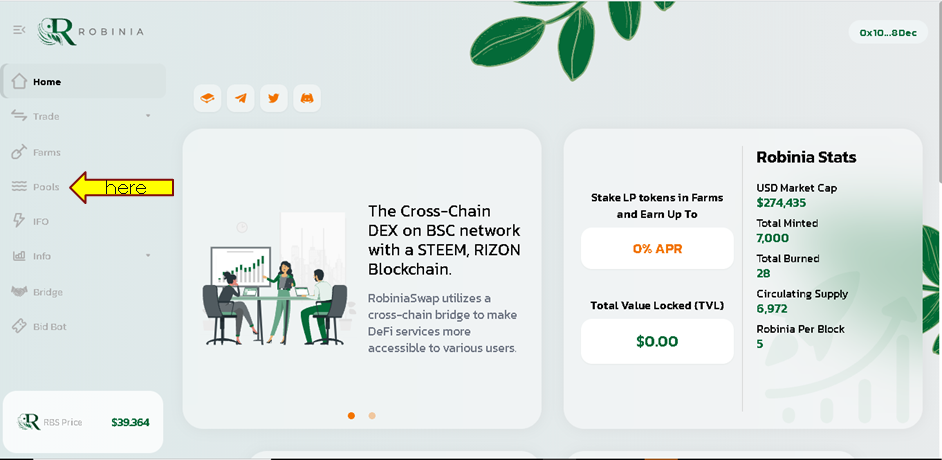 Source
Let's go to pool, just as you can see in the image below, you should look for Steem, or the token you want to put to Minar, in this example case it will be Steem. When you locate it you can see that it is a contract that is not enabled, you must do it very easily, click on approve contract, it will open a Metamask window in which you must confirm this transaction, it has a cost of 0.120$. Practically nothing.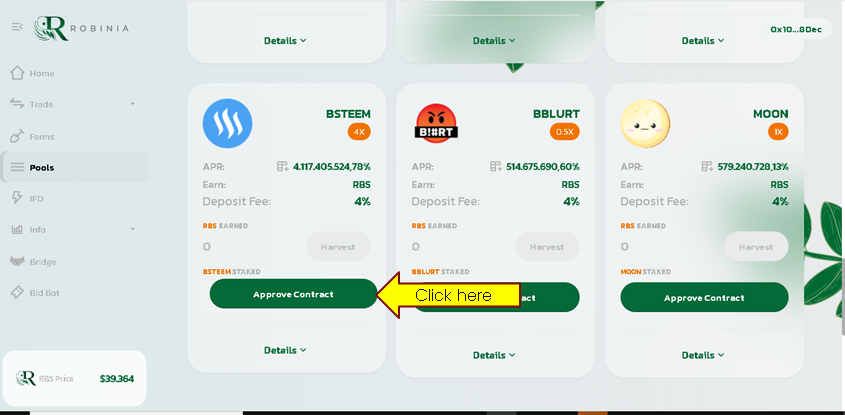 Source
After approving the contract we will see the option to make Stake of our Steem, yes, those that we have already passed previously. Click on Stake to give us the option to do it.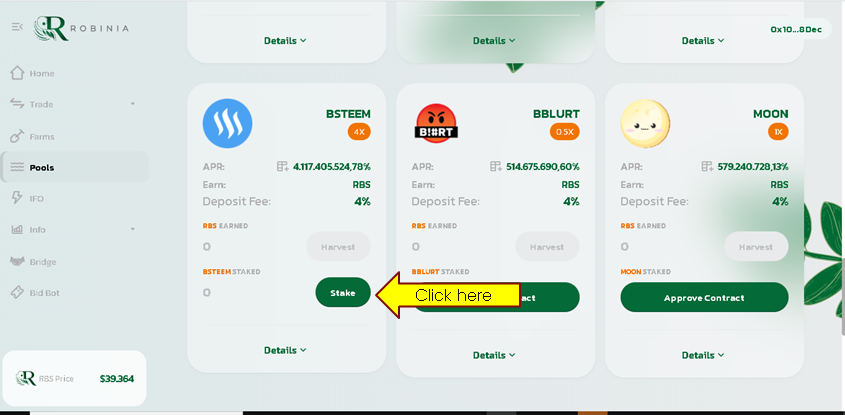 Source
The following image appears in which we must confirm.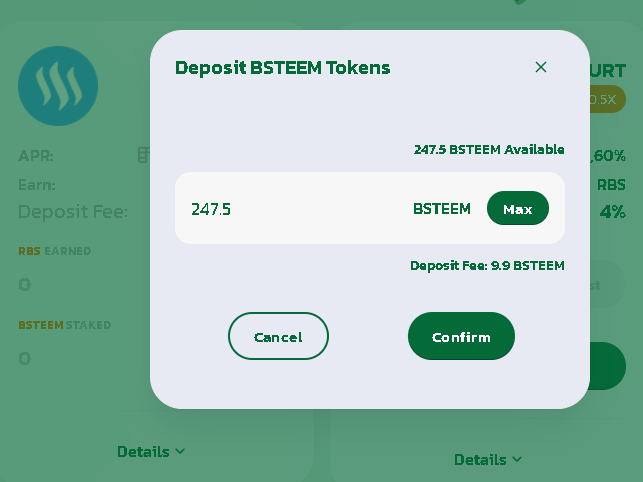 Source
A Metamask window will open again where we have to confirm again, you can see that there is a commission charge again, 0.120$. Click on Confirm and you are done.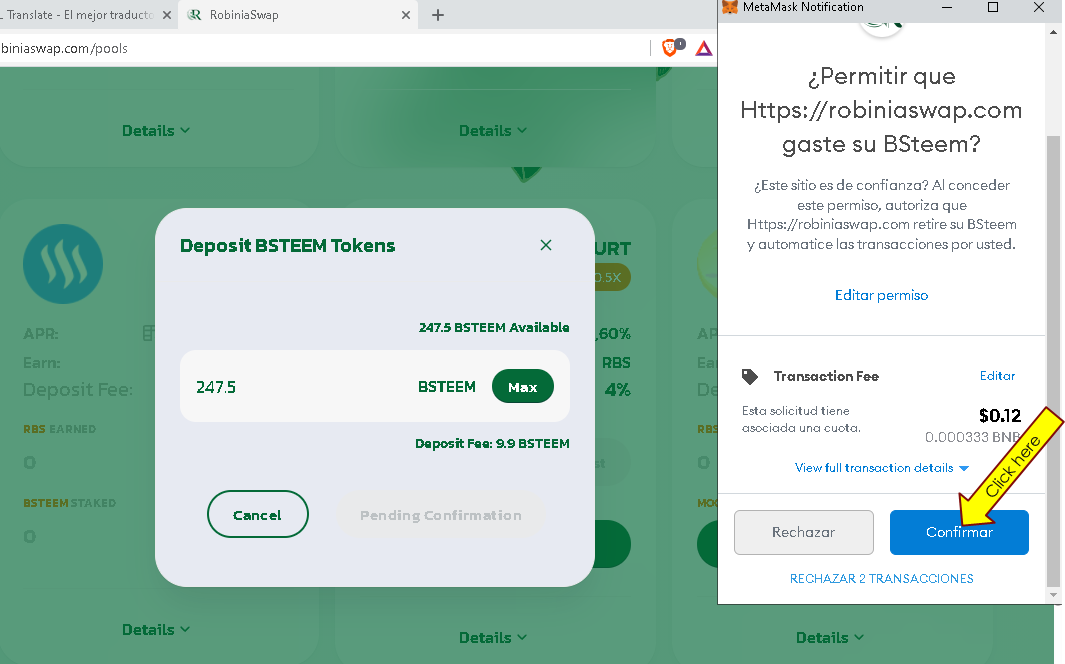 Source
As you can see in the image below our Steem in the form of BSteem in the Binance Smart Chain Network is ready to start mining and generating us profits in the form of Robinia Token.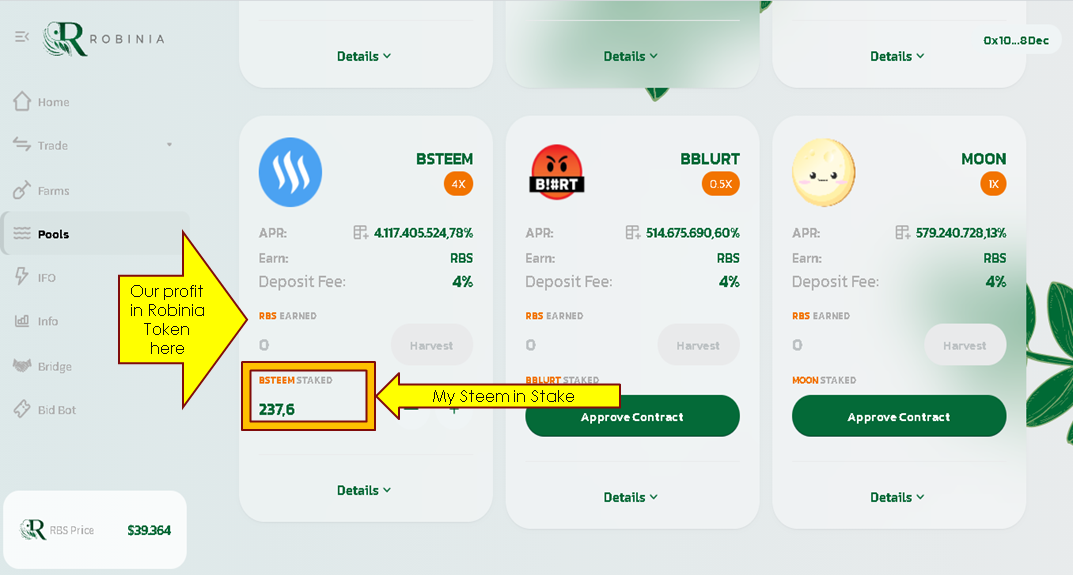 Source
It is important to take into account, as shown in the image, that to make Stake there is a 4% commission charge. For this reason, it is important to be aware of this detail before withdrawing the invested amount.
I know this was a bit of a long post, but I tried to be as specific as possible.
The other way to generate profits here is by adding Liquidity, which I will share in the next post.
All images were edited in Power Point.


I authorize the use of this banner to everyone who wants to do it.