A cordial greeting to all of us who make life in Project Hope Community, in this publication I would like to talk about commitment, yes, that word that is necessary in every organization and project to be able to really advance, don't you think so?.
Recently the Project Hope core team conducted an analysis of the movements of regular community users in various ways. This was possible thanks to the fact that in the Blockchain everything is registered, unalterable, and the information is easily accessible to everyone.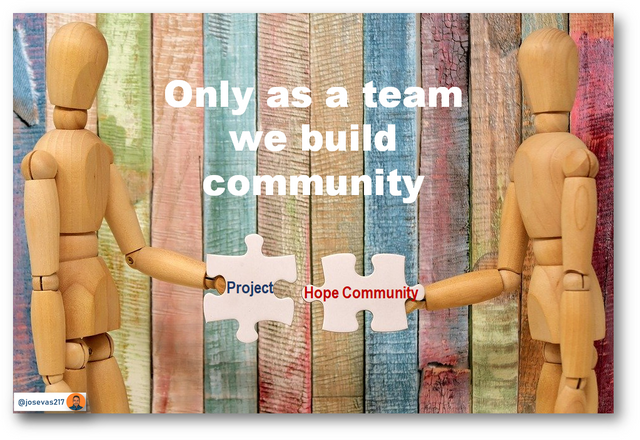 Source
Well, as a result of these analyses that we have been doing for more than a month, we have noticed that in good measure many users are participating in Project Hope Community just doing publications, and it is good that they do it, but the detail that we have noticed is that there is not much commitment in stopping a few minutes to read some publication and leave a comment, something that is important for all of us who write, or don't they like to see a good comment in their publication? I find it a little hard to believe that anyone would like a publication that they have made, after 7 days and not even a comment...
There are cases of users who even publish every day, but who have not made a single comment for more than two months. To give an example...
In view of this reality, we have been talking in the central team and see how we can encourage all those who are not very concerned about others, and see that their COMMITMENT LEVEL IN BUILDING COMMUNITY HIGHLY, we came up with something from the following sentence:
The level of support could be directly proportional to your level of commitment...
It is logical, don't you think?, to support more those users who are permanently supporting others and giving value to the publications, and in turn to the community.
Well, that's an important and necessary point, we do the curation manually, there are no automations, and this will really bring us more work, however, we believe it's worth the effort, it's difficult to achieve real progress if you don't apply an additional effort, but in a way that we are all really involved, then we are willing to continue growing, and that implies changes, within those who are giving more value to all those who are in the same tune of adding value.
In the same way, we will continue working on the reduction or elimination of all those publications that go hand in hand with every indication of plagiarism, it is also a separate work, but without a doubt it is never lacking -in any area of human development-, those who want to take advantage of what they have not done and take advantage of this...
For now I say goodbye, hoping that everyone understands the point we are making as a team, that what we are looking for is simply the growth and benefit of all, but that the most benefited are those who are equally committed and willing to contribute their grain of sand in the evolution of the community.
Before finishing it is good and necessary to recognize and APPRECIATE many, that obviously we know who they are, who dedicate their time to participate actively in the publications of many users, always leaving some comment that serves as FeedBack to the author, something that for me as a Blogger is important and pleasant, for sure it is for you too.
The invitation is to collaborate among all of us, leaving a comment implies a previous reading, and at the same time it is a learning process, a kind of gift that we are giving ourselves when we know something new, and we would be surprised how far we can go with new knowledge, so let's do it.
I say goodbye, waiting for your comments and impressions about it, and of course:
Your greatest collaboration in this regard.
Have a wonderful week everyone.



I authorize the use of this banner to everyone who wants to do it.