We, who are part of Project Hope Community, have as a requirement or policy, that our posts must be written in English.
My nationality is Venezuelan, and like many of you, English is not my native language.
This policy of writing in English is not accidental.
We demand this language so that our publications have a universal character. Not only to write here on Steem but on any other platform where we decide to make a living as bloggers or content creators. Even if you are going to opt for some online job as a freelancer, you must also send emails and interact by writing and/or speaking English.
The fact of facing a second language represents a requirement that we must add to our day to day, therefore we must do our best if we really want to stand out above the rest.
Online translators are an indispensable tool for us who are not fully fluent in English, but translators such as "Google Translator" for example, while working as spell checkers, do not allow us to correct or improve the "Grammar" in our texts.
Grammarly
"In linguistics, grammar (from Ancient Greek γραμματική) is the set of structural rules governing the composition of clauses, phrases, and words in a natural language. The term refers also to the study of such rules and this field includes phonology, morphology, and syntax, often complemented by phonetics, semantics, and pragmatics."
Source
This valuable tool, can be installed as an extension in our browser, application for iOS and Android can be downloaded to install in the Windows Operating system and also as an improvement for Microsoft Office.
Using artificial intelligence, itis able to check spelling, punctuation, grammar, sentence structure, and even English style with natural language processing. It also includes a plagiarism detector in its paid version (Premium).
I have been using it for about a month and I am satisfied with the results, since, in addition to being completely intuitive, it is able to give us the suggestions or corrections in real-time, allowing me to save time avoiding subsequent revisions.
---
Alerts
Grammarly handles 4 types of correction alerts:
Red Alert (Correctness): Improves spelling, grammar, and punctuation.


Blue Alert (Clarity): Helps make your writing easier to understand.


Green Alert (Engagement): Helps make your writing more interesting and effective.


Purple Alert (Delivery): Helps you make the right impression on your reader.

---
Tone Detector
One aspect that totally captured my attention was the tool to detect the "TONE" in which our texts are written, through the use of a series of emojis.
Tone is the key to effective writing.

Whether you want to sound friendly (but not informal) or concerned (but not angry), choosing your tone wisely is key to getting your message across effectively.
Source
It is not just what you say, but how you say it. Deliver your message the way you want.
By analyzing your choice of words, phrasing, punctuation, and even capitalization, the Grammarly Tone Checker can identify the tone of your message before pressing send.
Source
---
I hope you can try this valuable tool and also improve the finish of your texts with no substantial improvement in grammar.
Please do not forget to comment on your impressions in this regard.
---
---

Vive la experiencia BraveBrowser. Navegue rápido y seguro mientras gana tokens BAT.
Por favor descargue el navegador Brave usando mi Enlace de Referencia.
---

In Project Hope we are pleased because the published works are of the highest quality, which increases our commitment to you.
We are happy that you are part of our big and exclusive family.
We invite you to join this initiative of hope:


Hopefully by now you think that our efforts are worth your support and you'll consider delegating some SP to help us grow. We will be happy to have you on-board our project and in return we share 100% ROI (curation rewards) with all delegators.
We share those rewards on a weekly basis and currently 1000 SP delegated to @project.hope will result with a profit of average 2 STEEM / week (which is slightly more than pretty much all delegating bots are offering).
---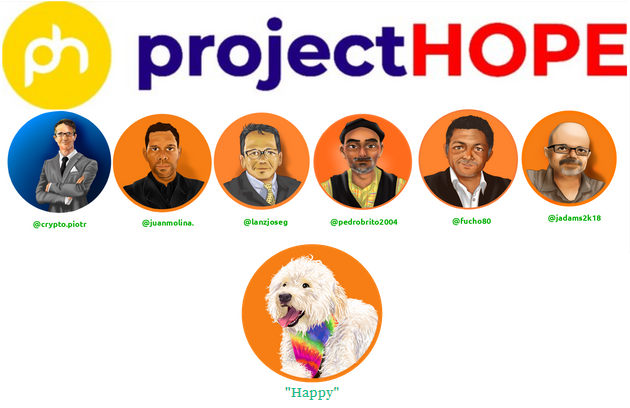 Web Site | Telegram | Discord | Instagram | Twitter | Facebook | Youtube