Recently we were able to find out about the new modality that Uphold offers its users, allowing them to purchase fractions of American shares with a minimum participation of 1 USD.
One aspect that really caught my attention was that this modality is only available for Latin America and in many other countries, except mainly in the United States, Europe, Japan, and China.
Why would the trading of American shares in the US not be available?
This news led me to wonder about the adoption and participation of American citizens in the stock market.
According to the Federal Reserve, of the 10 percent of families with the highest income, 92 percent owned stock as of 2020, just above where it had been in 2007. But ownership slipped for people in the bottom half of the income distribution, and to a lesser degree for people who were above the median but below the top 10 percent.
Source
Statistical studies from March 2020 reveal that more than half of American households have some investment in the stock market.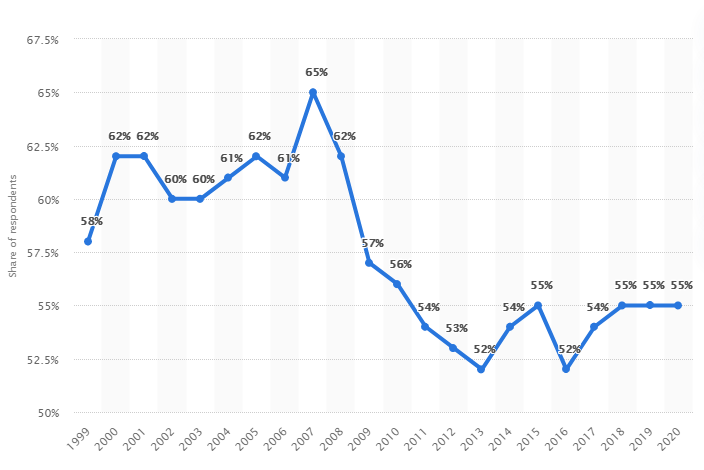 Share of adults investing money in the stock market in the United States from 1999 to 2020
People who participate in the market do so through stock brokers. In this way, the shares are kept in a brokerage account that manages the values and assets of a client under the name of a company.
"In the US, there are many brokerage companies that offer these services to citizens. But in Latin America the same does not happen".
For this reason Uphold International Equities Inc. was created which functions as an omnibus broker dealer in the USA. In this way, when you buy American shares in Uphold, you are really buying from this particular stockbroker.
Users who own American Shares will receive dividends paid by the issuing company in proportion to their ownership interest. They will be paid into your Uphold account in US dollars, unless you decide to reinvest them to buy more of the capital (Recapitalize).
---
---

Vive la experiencia BraveBrowser. Navegue rápido y seguro mientras gana tokens BAT.
Por favor descargue el navegador Brave usando mi Enlace de Referencia.
---

---
In Project Hope we are pleased because the published works are of the highest quality, which increases our commitment to you. We are happy that you are part of our big and exclusive family.
We invite you to join this initiative of hope:


Hopefully by now you think that our efforts are worth your support and you'll consider delegating some SP to help us grow. We will be happy to have you on-board our project and in return, we share 100% ROI (curation rewards) with all delegators.
We share those rewards weekly and currently 1000 SP delegated to @project.hope will result with a profit of average 2 STEEM / week (which is slightly more than pretty much all delegating bots are offering).
---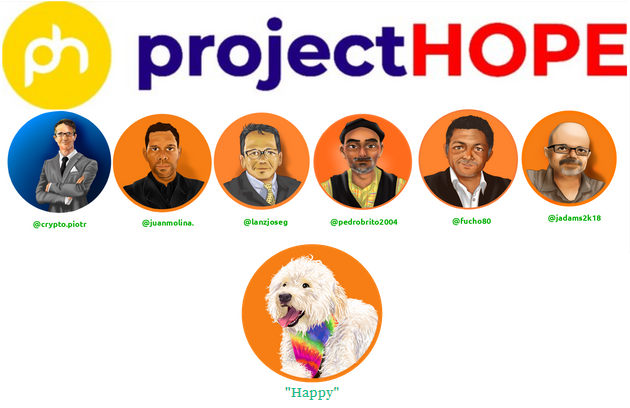 Web Site | Telegram | Discord | Instagram | Twitter | Facebook | Youtube