This entry of my/itt/e.book involves a contest. In case you weren't aware, @steemitblog is hosting a Steem Crypto Challenge Month. Below is my entry for Week #2, a fun and exciting exploration into the vastness that has become DeFi.
The explosion occurring in blockchain because of decentralized finance (DeFi) advances the perception of crypto in relentless fashion.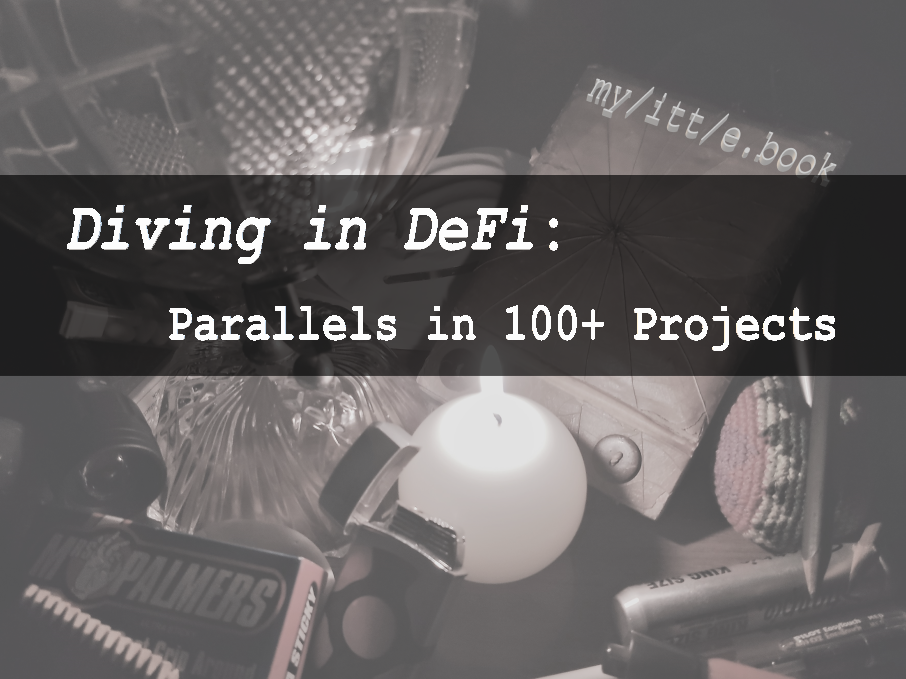 DeFi appears to be the final puzzle in connecting the world's financial transactions. It allows human beings across the world to operate within a network that resembles trading at ancient markets.
Virtual assets, and the benefits that can be derived from them, are secured on a blockchain directly by the parties involved. Devoid of intermediaries, this system can be compared to handing someone a freshly baked apple pie in one hand and accepting a small piece of gold with the other.

FINANCE
vs
Money, Assets and Banking

Money is that thing that we trade for real assets and store in banks. Finance is contrary to banks in that it is concerned with moving/liquid money. Banks secure/hold value. Finance puts money to work. The digital age has blurred these lines.
Oftentimes, a company with vast resources, such as a bank, will invest in a financial venture for which even it is ill prepared. Consider how long Paypal has been working with emails to move money tied to banks. Traditional financial institutions do not operate this seamlessly.
The main takeaway here is that digital finance can be light years more complex than writing a paper check or signing for a mortgage.

DEFI
vs
Blockchain, Cryptocurrencies and Tokens

Smart contracts are helping digital finance mature. Blockchain provides a way to tether a financial contract to various parties over periods of time all while automating aspects that cater to trusted networks.
Decentralized currencies. Cryptocurrencies are virtual assets. They are part of the operation of a blockchain. It's extremely hard to even argue that a ledger which does not employ cryptocurrencies for the sole ownership of users is a blockchain at all.
Leveraging tokenization. Tokens can leverage a blockchain and cryptocurrency markets. Though, there's a tradeoff when it comes to ownership control for the functionality of the tokens.
Case Study
Imagine owning a cryptocurrency that has direct power over the running of a blockchain. Ether as gas is an ideal example. Users will value latent/staked cryptocurrency. Owners can decide to create a token that automates an aspect of a primary coin's activity while retaining ownership. Those on the receiving end of tokenization can be unbeknownst to stakers and become part of a decentralized market competing for assets.
Win, win. Whether a token is designed for lending services, facilitating token swaps, or some other elaborate financial transactions, coins are retained by owners. Users gain value. This illustrates mutual financial gain by leveraging virtual assets

DeFi Resources

Fully examining the multitude of current and emerging defi projects is a rather intensive endeavor. To help grasp emerging events throughout the rapidly advancing DeFi space, I've compiled a brief list of sources and highlighted their usefulness.
Rankings by users across all major crypto dapp platforms
-> https://dappradar.com/rankings/category/defi
Ranking based on market cap
-> https://coinmarketcap.com/defi/
Comprehensive_List_#1 of successful defi projects categorized by
DAOs
Data and analytics
Derivatives
Developer and infrastructure toolings
Exchanges and liquidity
Identity
Insurance
Investment
Lending and borrowing
Marketplaces
Payments
Prediction markets
Stable coins
Comprehensive_List_#2 of successful defi projects categorized by
Analysis and commentary of top projects
-> https://defimedia.best/defi-article/reviews_and_longreads/list_of_the_best_defi_projects_2020.html
Top respected lending projects
-> https://www.publish0x.com/defi-box/full-list-of-defi-lending-projects-and-protocols-xdrmlvd

Precious treasure and oil are in a wise man's dwelling, but a foolish man devours it.



This is my twelfths post in my/itt/e.book series. I leave you with some inspiration from the initial post:
The landscape of blogging and social media is changing.
#ProjectHOPE
Spread the word and create exciting opportunities.
For more information about @project.hope, fly over to the main site here and view content by other #PH authors.