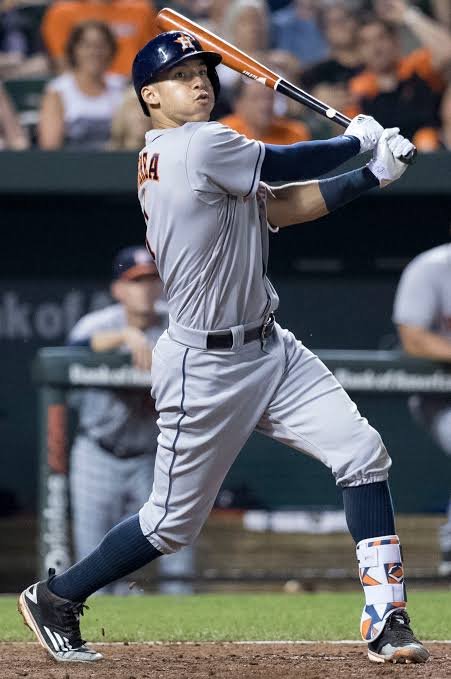 source
Carlos Correa is one of if not the best shortstop in all of baseball. He can hit. He can field and does both exceptionally well. Correa is also very big on analytics and although pretty much baseball's biggest villain is someone who probably every team in baseball wishes they had.
Derek Jeter hall of famer and New York Yankees legend was the opposite as far as how he was perceived by the public. Jeter was a great hitter. Won many gold glove awards and although he was a Yankee was someone pretty much everyone around baseball loved with his endearing personal. If you ask even most red sox fans, they would likely say that although as much as he hurt the red sox over the years, Derek Jeter has their respect.
As of right now the current star shortstop and retired hall of fame shortstop are at odds with each other. Call it captain America civil war. Call it Batman v Superman. Call it Spongebob vs Patrick. The point is that these are two widely known baseball stars currently in a conflict.
The backstory of this situation between the two started when Carlos Correa went on a spanish-speaking podcast. The conversation pivoted to Derek Jeter and how he won five gold gloves
This isn't a very controversial statement in fact it's not at all. It's the correct statement. Bill James a food factory security man turned boston red sox employee in saber metrics guru. Is someone who came up with a ton of the statistics that truly define how productive a player really is.
James realized the extreme flaws in how we look at players fielding. Fielding percentage is a stat that's been around forever. What it does is calculate the percentage of plays you made cleanly on the field but bill James saw the extreme flaw in that concept of a stat. James didn't believe fielding percentage was an accurate representation of how valuable you are as a defender and brought up the point that many players who have a high fielding percentage typically don't have good range to get to a ball hit in their vicinity. The things that people use nowadays to evaluate defense are stats like defensive run saved range factor and ultimate zone rating.
Defensive runs saved in ultimate zone rating for example factor in everything and how a player in particular comes to the average play made on that ball hit to them during a play. Instead of just claiming whether they made the play made an error or didn't make an error it really dives in on how difficult the play is and if it would have been made by the average player or not. Carlos Correa has a ton of range when it comes to his fielding, he's able to get to balls that a lot of players can't get to has a great arm and is overall one of the most valuable defenders in the game at any position.
He won a platinum glove in 2021 for a reason and will continue to compete for more of them. So, Correa is certainly a guy who can speak on how to be a good shortstop, Derek Jeter isn't. Derek Jeter was never a good defender. In fact since the defensive run stat was put to use in 2003, Jeter is the worst defensive player in baseball history but it's just really funny how the world works sometimes. When you think of highlight defensive plays, you don't think of anything Carlos Correa has really ever done you think of Derek Jeter. The jump throw, the flip throw to nail geombi at the plate the running catch while falling into the yankee stadium stands.
A signature throw has since been named after Jeter ever since the jump throw with kids yelling out Jeter every time they do it but in reality these plays were nothing special. In fact your typical day during a baseball regular season has plays far more impressive and talented than the Jeter plays ever were. I'm not here to say that derek jeter doesn't deserve any publicity because he certainly does. He earned the popularity he got but it's such a misconception to look at Jeter as an overall great player.