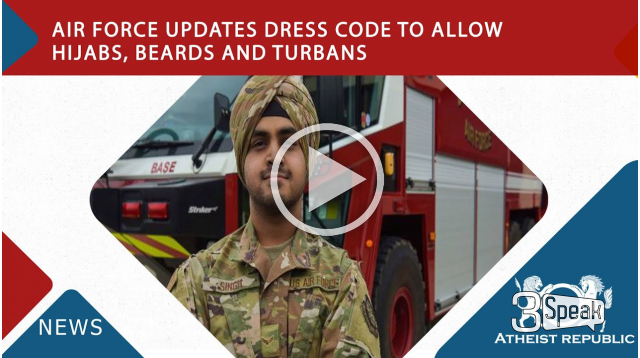 ---
The US Air Force has updated its dress code policy to outline a clear approval process for
Sikhs and Muslims who want to serve while wearing their articles of faith. Under the new
guidelines, Sikhs and Muslims can seek a religious accommodation to wear turbans, beards, unshorn hair and hijabs, and expect to be approved as long as their appearance is "neat and conservative" except under extremely limited circumstances. The final review for the accommodation must take place within 30 days for cases in the United States, and 60 days for all other cases, according to the guidelines.
📧 Online platforms are fighting against content they find too sensitive by reducing post reach, strikes, removal of controversial posts... We want to discuss topics many find too controversial. To get the content we produce subscribe to our newsletter: https://www.atheistrepublic.com/newsletter
🛡️ Atheist Republic is now a political movement. We are going to make it difficult for atheists to be ignored. Join us: http://www.atheistrepublicmembers.com
🤗 Atheist Republic wants to give atheists a louder voice. Let's show them that we're listening, no matter which language they speak. If we reach 500 patrons, we will be able to produce our shows in Arabic, Spanish, Persian, Portuguese, Malay, Bengali, Urdu, Hindi and other languages. Help us get there at https://www.patreon.com/atheistrepublic
🎁 For those of you who would rather support our work on places other than Patreon, we now have a SubscribeStar account for the Atheist Republic: https://www.subscribestar.com/atheist-republic
❤️ You can also support us on PayPal: http://bit.ly/2GxKv0P
📮To donate by check, please make your check payable to 'Atheist Republic' and send it to:
#476 - 1231 Pacific Blvd, Vancouver, BC, Canada V6Z 0E2
🎤 If you can't support us financially, consider leaving us a message of support here, and we'll play it on the Atheist Republic Voicemails podcast: http://www.atheistrepublic.com/podcast/
🔔 Don't forget to Subscribe to our YouTube channel: https://www.youtube.com/user/TheAtheistRepublic?sub_confirmation=1
🎧 Listen to this podcast on iTunes, Stitcher or your favourite podcast app: https://www.atheistrepublic.com/podcast/news
Check out Atheist Republic on
Source: Air Force updates its dress code policy to include turbans, beards and hijabs
https://www.facebook.com/130148817071986/posts/2996937117059794
Location: USA
---
▶️ 3Speak