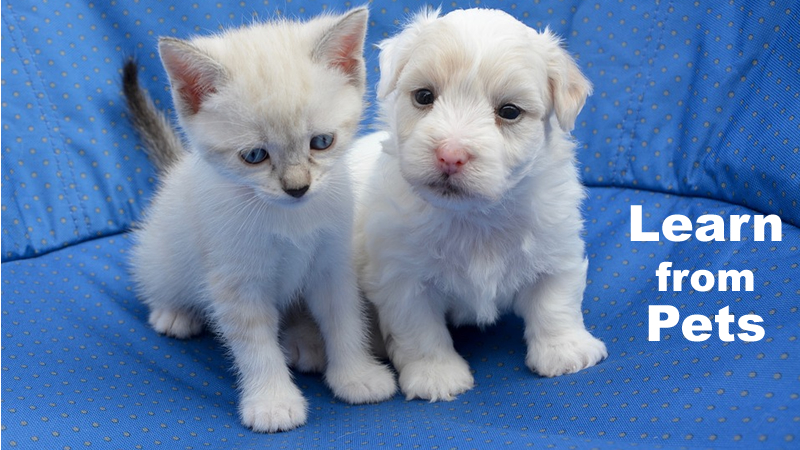 Introduction
Pets are there for companionship and pleasure, but these little creatures can teach us important life lessons. When we are hunble enough to learn from our pets, we can start to exhibit better qualities needed to succeed in human relationships, business and other areas of life.
Some pets are known to be loyal companions, while others are noted for there courage or boldness. So this contest is here to help us examine some known pets and see if we can learn any important life lessons from them. We invite all of you friends to participate in this contest.


How to Participate
Write a post with the topic: 3 Important Life lessons from a dog (or cat or any other pet. Your story must be original. You can discuss more than 3 life lessons if you wish. Make sure to use your own pictures or put the source of pictures downloaded online. Describe the life lessons in detail and explain how each lesson can help us improve an aspect of our live.
To make it more comprehensive, you can write in this format:
Lesson No 1: ..........
Application of Lesson:.....
In that order until you have discussed the whole lessons.

The rules
Submit the link of your entry to this post
Kindly Subscribe to fur-friends community (Not compulsory)
You must upvote and resteem this post to help create awareness
Your entry must be at least 300 characters. Be detailed.
Publish your post in Fur-friends community and use the first tag fur-friends

The Prize
The total prize for this contest is 35 Steem. We will reward the first 20 entries that participated according to the rules with 1.5 Steem each, plus votes from steemalive for the first 10 entries.
Additional bonus for exceptional entries = 0.5 steem (Given at our discretion)
This contest will end as soon as the contest post pays out (7 days from now)
Note: All pet Posts in the fur-friends community should include the tag fur-friends for easy identification
cc to our members:
@ngoenyi, @iamlynxie
@focusnow, @josepha
@izzyvi, @simonnwigwe
@leyxi209, @itssspearl
@rosanita, @samhh
@cryptocheta, @meymeyshops
@ceendy20, @ledcerv
@lusequera, @osongsteemit1987
@fluzzy, @johnkuzzy
@solar-start, @davchi
cc: @steemcurator01, @steemcurator02, @stephenkendal

Useful Links
1. About Fur-friends Community
2. Introduce your Pet to Fur-friends
Written by:
@focusnow
For:
@fur-friends



Subscribe:::Discord.
:::Whatsapp :::join trail