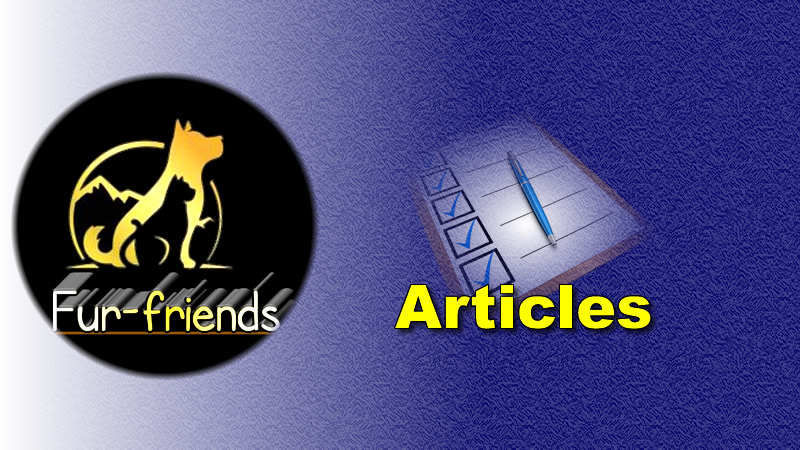 Introduction
Setting up a community and organizing activities for it is not the easiest of tasks. We made the introduction post for Fur-friends community and since then, we were brainstorming to put together some activities that will make the community come alive. We thank all our friends that have already introduced their pet to the community. We are sure that as we create more awareness for this community, others would be happy to come and join us. Right now, we want to show you the kind of publications that you can make for us in the community and how to do it.


7 types of publications for fur-friends
To make it easy and comrehensive, we are going to divide these publications into two. There would be publications made by members and the ones made by the community.
Publications by members
There are at least 4 categories or ideas of posts that fur-friends members can make. They are as follows:
1. My Pet (Pet name) in 48 hours: This is a post that pet lovers make to let us know how their pet is doing in the last two days. In this post they are free to talk about anything that happened in the last 48 hours. What they write in this post is up to them. It can include information about pet health, behavior, lifestyle, or other interesting activities of the pet. The pet owner would do well to keep these records (Pictures and data) so that they can have them ready so as to write about the pet in that 2-day period.
Frequency of Post: This post should be made at least once every 48 hours.
2. My pet (Pet name) in action. Watch it This is a post that will contain 1, 2 or 3 short videos (2 minutes or less each) of your pet in action. The video should preferably be hosted in Dtube, a video publishing platform built on the steem blockchain. It could be a video of your pet feeding, taking a walk, or playing. Each video should be short and accompanied with a description of the activity in the video. The description should be at least 350 character long.
Frequency of post This post can be made up to 3 times in a week.
3. Learn about Pets This is a post aimed at teaching the reader something about pets. They information shared in this post should be facts that are verifiable. It can include personal experiences from raising pets or knowledge gained from research. Topics may include how to raise pets, difficulties experienced with pets, topics in general about animals, etc. Like other posts, it should be original and plagiarism free.
Frequency of post: As many times as the author decides.
4. Keeping up with My pet (Pet Name): This post is an index to all the posts you have made about your pet. In this post, you will insert links of all the posts you made about your pet. A new publication of this post should be made each time you have made 5 new posts about you Pet. We will take a link to this post and add it to the Steem Pets Gallery updated every week.
Frequency of post: Updated each time you make a post. A new publication is made after 5 new posts.


There are at least 4 categories or ideas of posts that fur-friends will make each week. They are as follows:
1. Top 5 posts in fur-friends: This post is aimed at keeping fur-friends community uptodate with great content in the community. In this post, we willshare links to top 5 quality posts made by our members in any of the 4 categories described above.
Frequency of post: This post would be published once every 48 hours.
2. Pets Talking Point: This is a discussion post that all members are free to join. In this post, members of fur-friends community are free to join the discussion (through comments) about any topic suggested by the community or selected by fur-friends. Topics like How to get your pets to obey you, Pet health tips, Pet-raising Methods and ideas, Frequently asked questions, etc. This publication will handle one topic at a time. Everyone is welcome to join the discussion in the comment section of the post.
Frequency of post: Once a week.
3. Contests: We will run contest related to pets periodically. Every member is welcomed to participate in these contests.
Frequency of post: Once a week.
4. New pets/Steem Pets Gallery: This is an important post that would be made by the community. This post will contain all the pets that are officially introduced to fur-friends. We hope to build a gallery of 1000 pets by June 2021. The post will also contain post links of new pets introduced to the fur-friends community.
Frequency of post:Each time 3 new introduction posts are made in fur-friends**.

Conclusion
We are really confident that these publication ideas will give our valued pet lovers some direction on the type of content to publish in our community. It will also help us to interact in a more organized way and pursue our passion for pets. We thank you so much as we work together to take this community to a whole new level.
Note: All pets in the fur-friends community should include the tag fur-friends for easy identification
cc to our members:
@ngoenyi, @iamlynxie
@focusnow, @josepha
@izzyvi, @simonnwigwe
@leyxi209, @itssspearl
@rosanita, @samhh
@cryptocheta, @meymeyshops
@ceendy20, @ledcerv
@lusequera, @osongsteemit1987
@fluzzy, @johnkuzzy
@solar-start, @davchi
cc: @steemcurator01

Useful Links
1. About Fur-friends Community
2. Introduce your Pet to Fur-friends
Written by:
@focusnow
For:
@fur-friends



Subscribe:::Discord.
:::Whatsapp :::join trail