Assalam-o-Alaikum!
Greeting to all STEEMIT members. Hopefully, you all are great and enjoying a great and blessed life with the grace of GOD. We all know that you all are so talented. And I really appreciate your work. I want to say thanks to @siz-official for organizing this amazing contest. It's a wonderful idea to know about the current content creation Guidelines. In this, we will also know about the new rules or guidelines. And in this way, we have many fewer chances of wrong posting. Because we have done many mistakes with the confusion of post days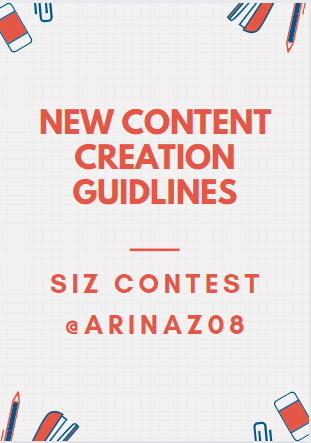 And we will also know about the tags and title using the method. In this way, we have a complete post of this in which we describe the complete routine of posting
CONTENT CATEGORIES:
SIZ Approved Courses & Tech Diary Game
First we all, we have different courses that is about information technology. And we have to share our post that is about different courses. But first, we have to approve by @siz-official. Then we can share 4-week courses.
SIZ Approved IT/Tech Courses
SIZ Approves Course|| Course Name || Lecture number|| Topic of Lecture
You can also share Tech Diary game on Monday

You can share Education Post that will about Information technology.
As already I told that we can share SIZ Education post. I have shared many Education Posts. And get good rewards also.
But we have to remember that Education post should be related to Information Technology
SIZ EDUCATION
SIZ Education|| Topic Name of Education Post
#sizeducation
#Club5050
#steemexclusive

In this day, you can share Promotion Post, Power Up Post. And you can also share Tech diary Game

In these days you can share your random weekly diary game
In this it is not compulsory that you must should have to share diary game that will be about Technology
Weekend Diaries
Weekend Diaries|| Date || Title of Your Diary
#sizweekend
#club5050
#steemexclusive

So we all should follow all these rules and should follow all day categories
I hope that you all will like my post and appreciate me more and more
Steem Infinity Zone Team:
@cryptokraze | @vvarishayy | @suboohi|@ashkhan | @faran-nabeel
Invite Friends:
@ramzanbaow
@uzma4882
@cryptokethor