Dear Fellows,
We have successfully completed 1st SIZ Talent Hunt Contest and it is giving us great feeling of joy to see entries of so many talented individuals. This is the idea behind SIZ Talent Hunt to find talented individuals so the community can benefit from their skills.
There were so many entries that deserve to be on the winners list and it was very hard for us to decide the winners. The skills and quality of posting were truly amazing.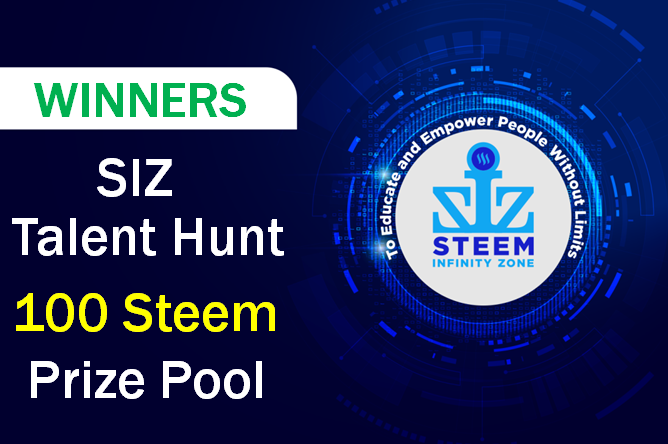 Winners Board
Let's not keep you waiting further and have a look at the Winners Board. Everyone has great talent but these 3 users have the talent to be among the Winners.
Prizes of Winners have been transferred to their Accounts


Motivation Prizes
There was always a chance of getting many great entries so we had set a budget to motivate maximum individuals having some great talents. There were 10 prizes of 5 Steem each to encourage the participants.
These 10 entries are getting the Prize and their posts also deserve winning.
Prizes of Winners have been transferred to their Accounts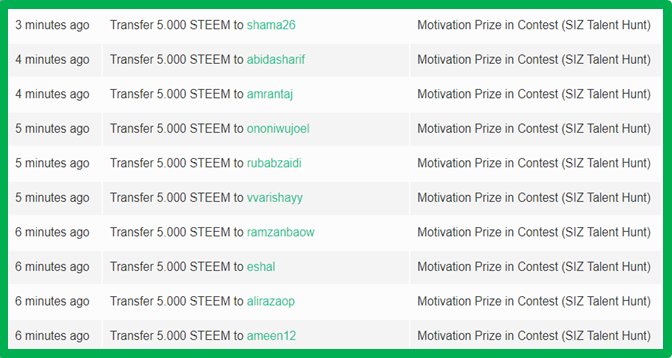 Congratulations to Winners
We would like to say thank you to all the participants and congratulate all the Winners. For those who could not make it to Winners Board, there is no need to worry because we will be hosting more Contests.

We would like to pay my regards to all the participants who showed interest in this contest.
We would like to pay special thanks to Steemcurator01 for appreciating and supporting this contest idea and we will continue to do good things in the coming days

In order to grow SIZ community official account, 50% of this Post Payout will go to @siz-official