Dear fellows,
This is @cryptokraze, Founder of the community Steem Infinity Zone with another episode of Steemit Education Series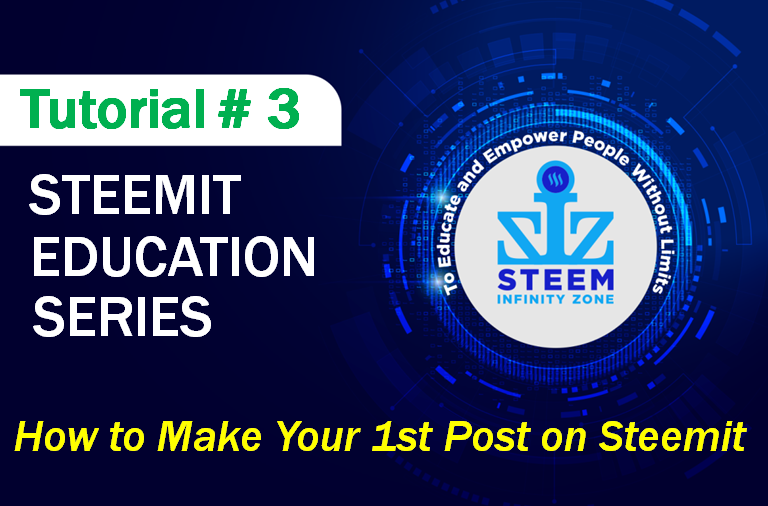 This is 3rd Tutorial of "Steemit Education Series" showing everyone step-by-step process on How to Make Your 1st Post on Steemit.
---
Tutorial Outcomes:
After reading and going through this tutorial, you will be able to understand and do the following;
1 – Steemit Post and its Parts
2 – What Should be Your 1st Post
3 – What is Achievement 1 : Verification Through Introduction
---
Let's Start
---
Now, it is time for you to make your 1st post on steemit but you should know about different parts of a post.
First, Click on the Pencil Icon at Top Right corner just beside your profile picture.

After you click the Pencil Icon, you will see this page shown below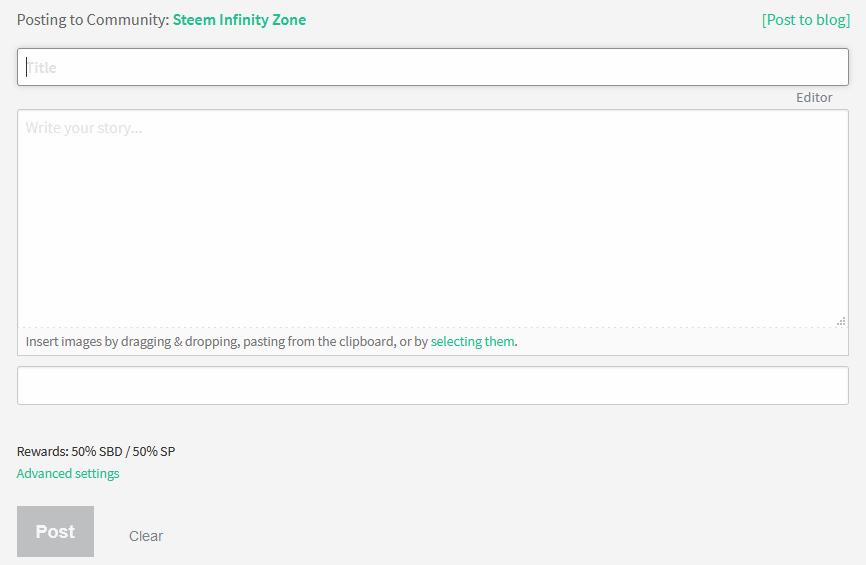 The Top Box represent Title, you should write the title of your post in top box

The Center Box Represents body or content area. You should write the details of your post in this box. You can do formatting of your content and you can find more about formatting with this guide by @cmp2020 on How to Properly Format your Steemit Post

There is option to insert pictures in body of your post. You can do that by drag and drop method or you can simply select them from your computer drive by clicking selecting them button

The Bottom Box Represents Tags that you can add to your posts. You can write key words about your posts. Write in Small letters and give space between different Tags. You can get more information in this post by @cryptokannon on How to Put Tags on Your Steemit Posts

At end of the post, you will see Rewards options. That is set at 50% SBD / 50% SP by default and we suggest to keep it as it is for now. We will make another tutorial on how to set different rewards for different posts.

All parts of a steemit posts are filled to show you an example in the below image. After filling all the parts of the post, you can click on Post Button

What Should be Your 1st Post ?
Now, you understand the parts of steemit post.
The questions in your mind must be about what to post ?
You should post an Introduction about yourself.
To make a great introduction post I would recommend you to follow Newcomer Achievement Program
This leads to a task you should do called Achievement 1 : Verification through Introduction. You can see the original post on this Achievement 1 task by Clicking Here
---
What is Achievement 1 : Verification Through Introduction
Cryptokannon has mentioned the objective of this task of verification though introduction
Newcomers Introduce and Verify themselves to Steem Community
Newcomers get to know other community within Steem Ecosystem
As we have provided the original post link above on how to post your introduction thought Achievement 1 Task where * Cryptokannon has explained in details on what should be included in your introduction posts.

We will make it even more easier for you to explain step by step process that you should do to make your introduction post.
Step 01
Open your Communities Page from your Profile page and select Newcomers Community OR Just Open the Community by Clicking Here
Step 02
Click on New Post Button on right side of the page as shown in below image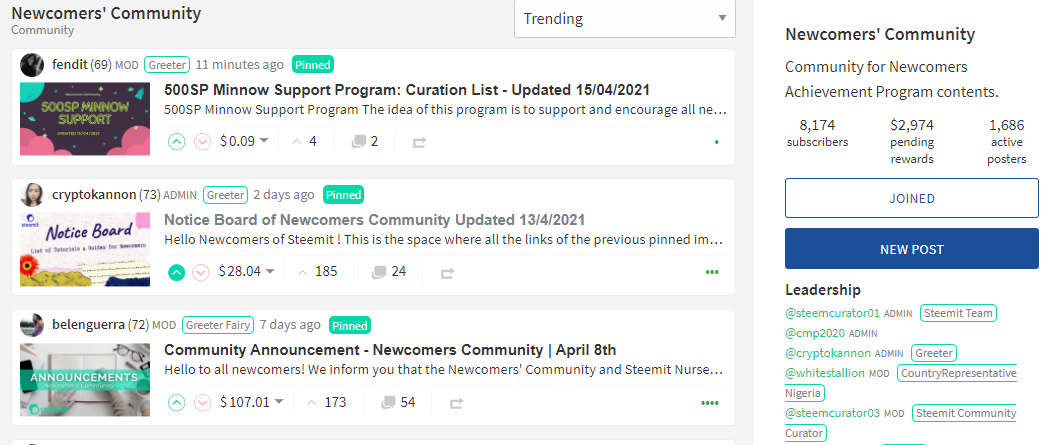 Step 03
Write Title of your post "Achievement 1 : Introduction through Verification"
Write your username in Post title as well
Step 04
Start writing your introduction post that should include following things mentioned by @cryptokannon
1 - Your name and age
2- A country where you reside now
3 - Your area of work or your study
4 - Your experience with crypto
5 - Your hobby and passion, dislike
6 - What sort of posts written by others are you looking for
7 - What sort of posts do you think you'll be creating (these can change, so don't feel locked in.)
8 - How you found Steemit and what you hope to accomplish here.
Include different photos of relevant things you mention in your post where possible.
You can also write something additional that is not mentioned in the above list.
Verification
You must post a picture of yourself holding a paper having steemit logo or you can simply write steemit, your username and current date.
Step 05
You must write the following tags in the bottom box of the post #achievement1 and your country name (for example #pakistan)
Step 06
After you have written all of you introduction post and put relevant tags as well, Click on Post
---
You can check some of the good introduction posts given below that will help you make your introduction post a great one.
https://steemit.com/hive-172186/@eddki/achievement-1-self-introduction-youngest-steemian
https://steemit.com/hive-172186/@larapambuan/reintroduction-post-i-am-back-after-quite-sometime
---
This comes to end of the 3rd Tutorial on Steemit Education Series, an initiative taken by Steem Infinity Zone. We hope this will help you understand different parts of steemit post and make your 1st post though Newcomers Achivement1 Task.
Have a look at other posts in Steemit Education Series
How to Sign Up on Steemit
How to Join Communities on Steemit
---
Join US at Steem Infinity Zone