Assalam o Alaikum! Stemians
I hope you are all doing well in this hot summer and hope so you are all fine and safe from COVID.😊
I am back with another tutorial of Amazon VA series. First of all I apologize for letting you wait for so long. I know some of you are really interested in learning Amazon, so lets start.😊
Today I am gonna talk about Hunting. We'll discuss what is hunting? How do we hunt some good products?
But we start from basics for those who are new. Let's start
Hunting
Hunting means
Amazon Product Research
. Hunting is basically finding a product that fulfills the market value and also in market demand with profitable margin.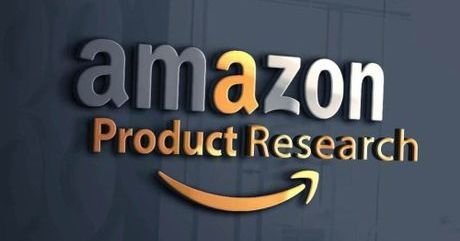 Source(https://www.pinterest.com/pin/588071663834946179/)
Hunter
A person who hunts a profitable product to sell on Amazon is known as Hunter. Hunter plays main role in Amazon business, if hunter could not find a good product then we have nothing to sell on Amazon. Similarly there is also great responsbility on him. If hunter hunts a wrong product that doesn't fulfill the criteria of Amazon model for which the product is being hunted then one will bear a big loss.

How to hunt a product?
There are some tactics to find a winning product.
➣ Hunters should know the market trend.
➣ There must be less competition on that product.
➣ The product must be easy to rank.
➣ High profit margin.
Note: Hunting methods are same for every model but the rules and criteria is different. We'll start with hunting basic methodology then we learn hunting for dropshipping.


Basic Hunting Method
Step 1: Finds the market trend on Amazon
You can search on internet to see what people buys the most.
According to Jungle Scout's 2021 State of the Amazon Seller Report, these are the top categories**, including percentage of sellers who have products listed in them.
Top 10 categories
Home & Kitchen 40%
Sports & Outdoors 21%
Toys & Games 19%
Beauty & Personal Care 19%
Health, Household & Baby Care 18%
Kitchen & Dining 16%
Office Products 15%
Garden & Outdoor 14%
Tools & Home Improvement 14%
Pet Supplies 13%
Remaining categories in order of popularity
Clothing, Shoes & Jewelry 13%
Books 12%
Grocery & Gourmet Food 12%
Arts, Crafts & Sewing 12%
Electronics 12%
Baby 12%
Jungle Scout is a paid tool used for hunting we'll discuss it in detail later .
Hunter should know what are the things that people must buy online. As you know in COVID days everyone buys online and this increase the sales of Amazon.


Let's find a product on Amazon that people buys often I'll choose the category of grocery because people are willingly purchase grocery online because of COVID and there is another reason of choosing grocery category and that is: less returns. When people buy grocery items they open it if the package has any fault then they would not be able to return it as it was already opened. Well there is a lot of scenarios like this we'll talk about them later.
Step 2: Find the Product
To find the product go on amazon.com and change your delivery location set the location where you want to sell the product. For Example: I want to sell the product in USA then I set the zip code of any state of USA.


After clicking on Deliver to a pop up appears on screen. Write the zip code there then click on Apply then done and after this again a popup appears then select Continue.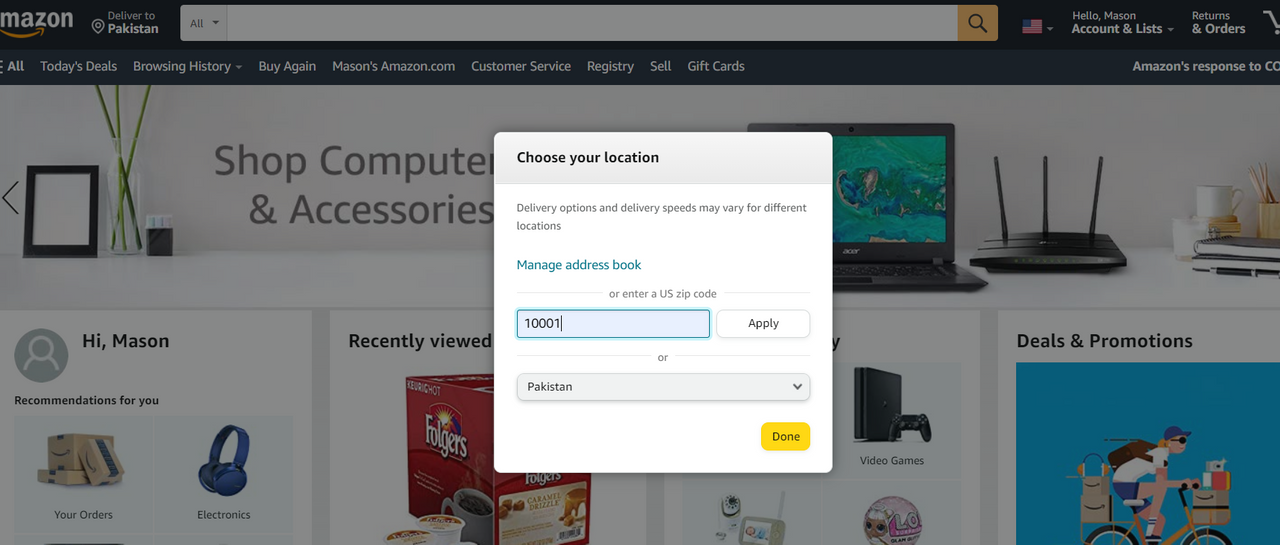 Step 3: Choose Category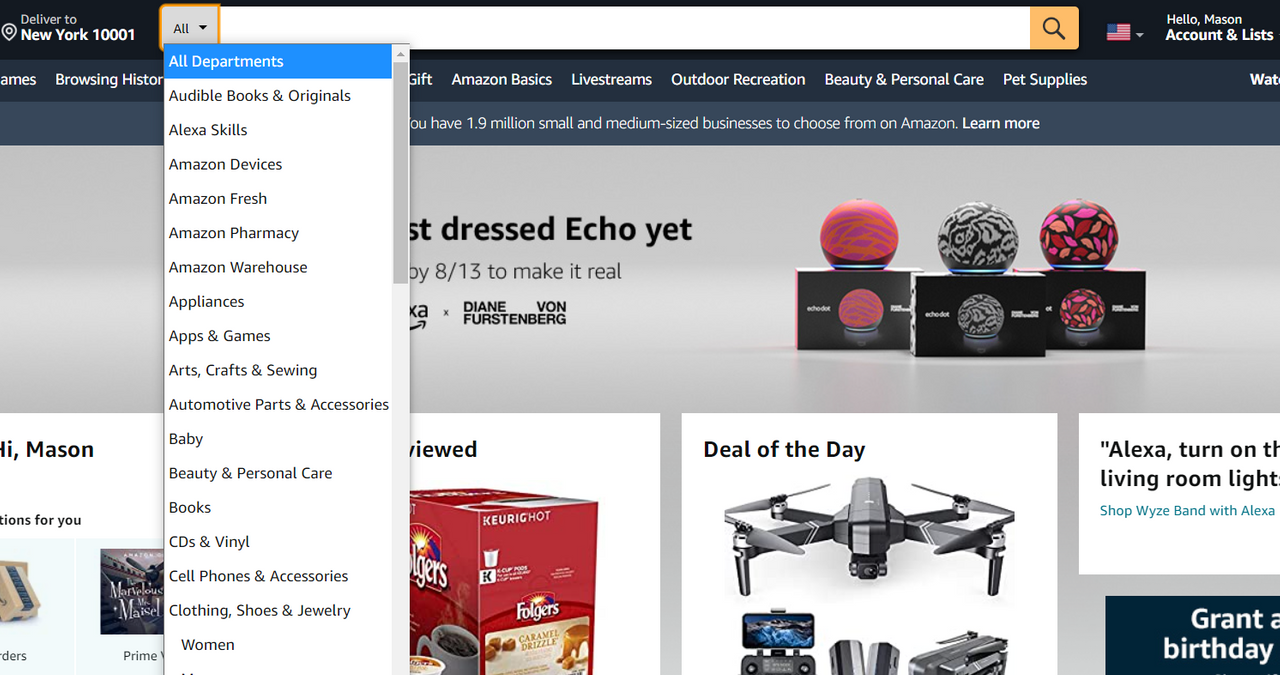 Here you can see all the categories choose one and click on search icon. List of products appear on screen. For more categorized you can write item names also.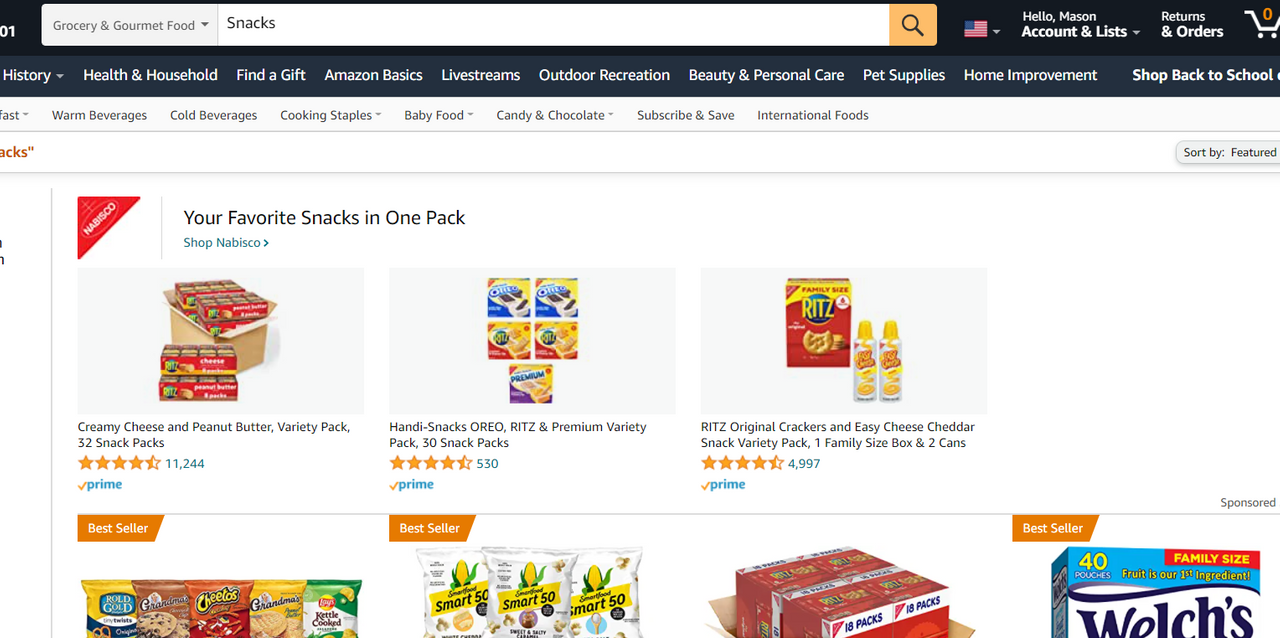 Like this.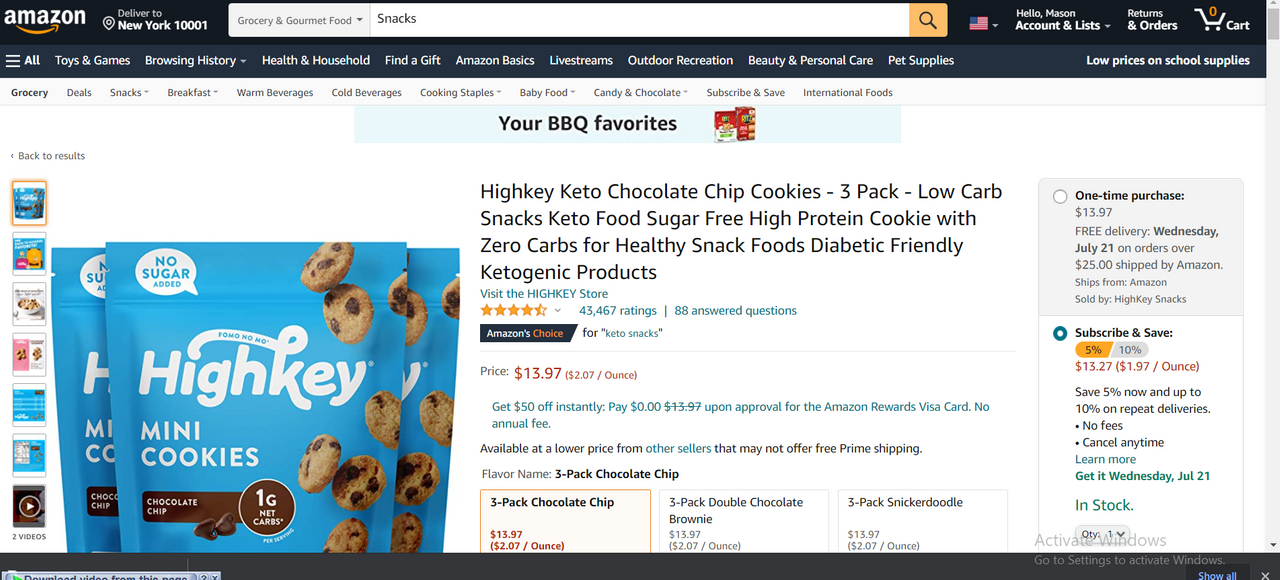 I open a random product our next step is to find a supplier.


Step 4: Find a Supplier
The simple easiest way to find suppliers is to search on google. I'll show you how we can do this.
➣ Copy the product name and pate it on google search bar.
➣ The websites that sell that product appears.
➣ The product must be match completely.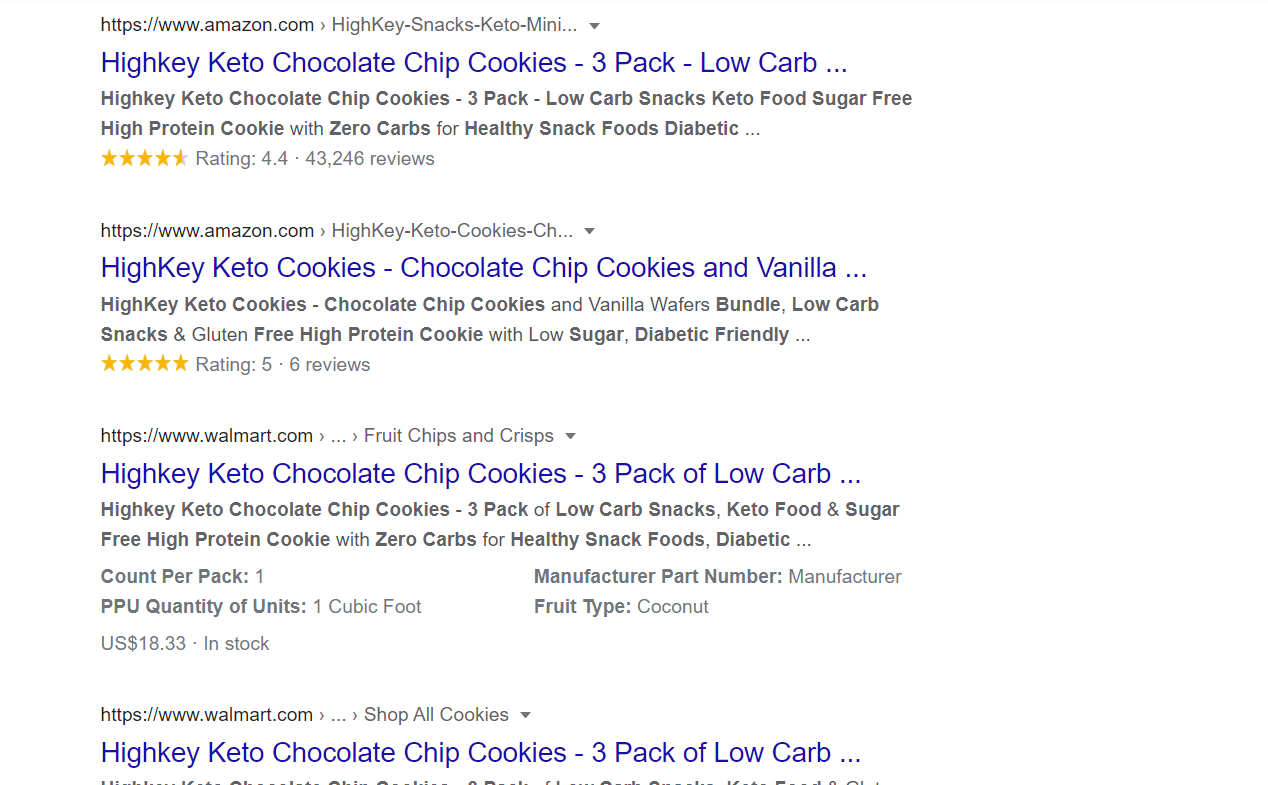 Step 5: Match the product
Every single details of product should be matched other criteria's will apply step by step for now you must know how to match the product.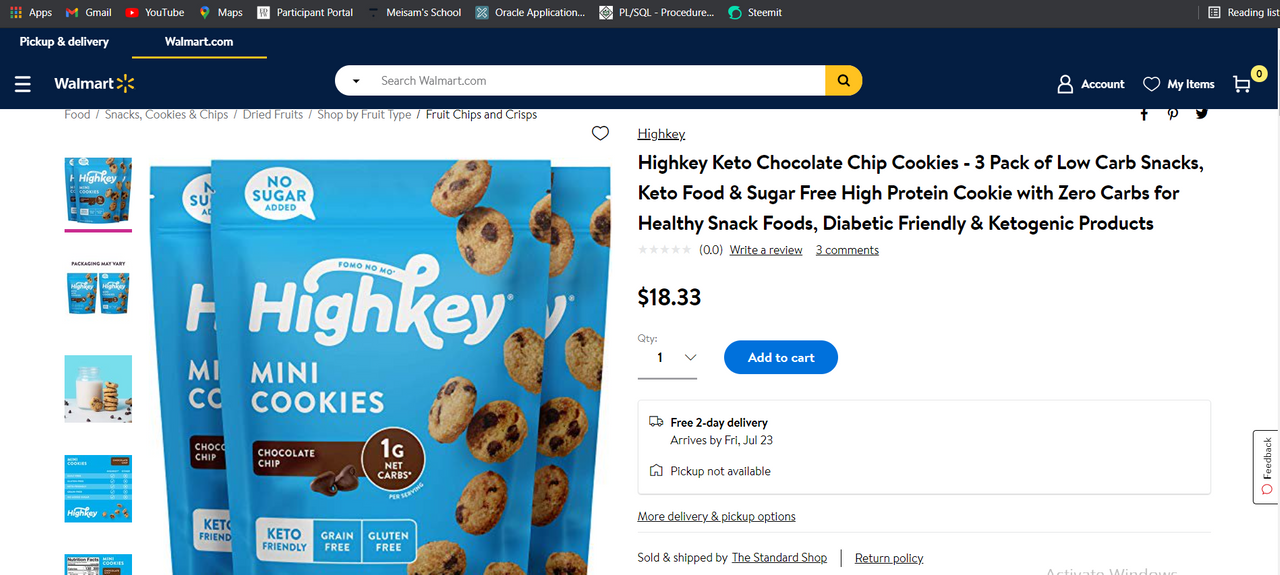 I open the same product on Walmart
What things should be matched?
➣ Images
➣ Description
➣ Quantity
➣ Weight
➣ Brand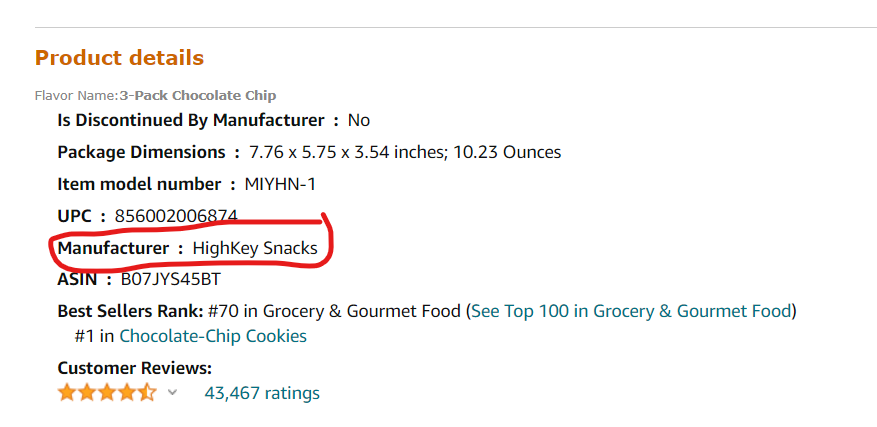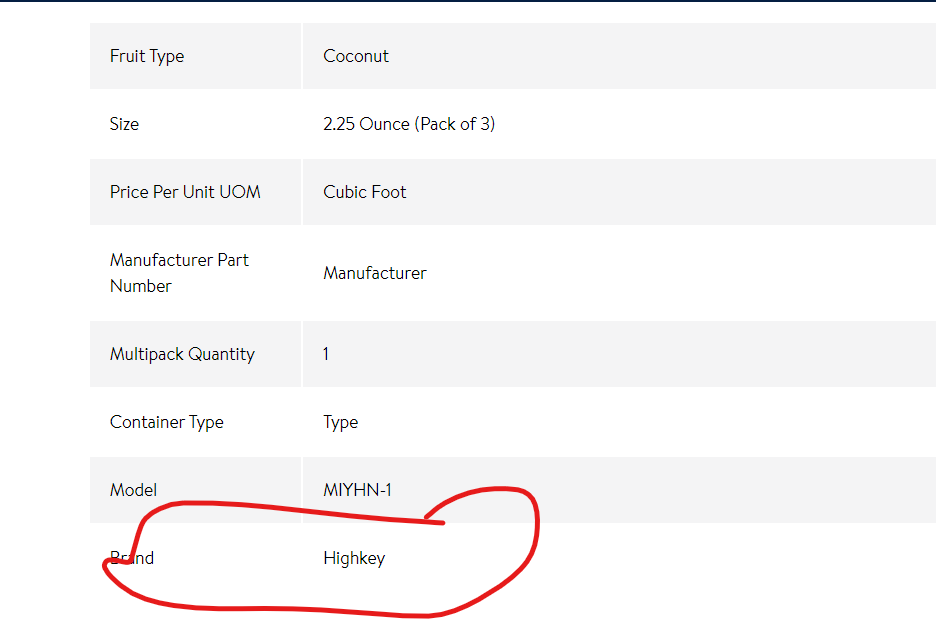 Like this brand is same on both amazon and walmart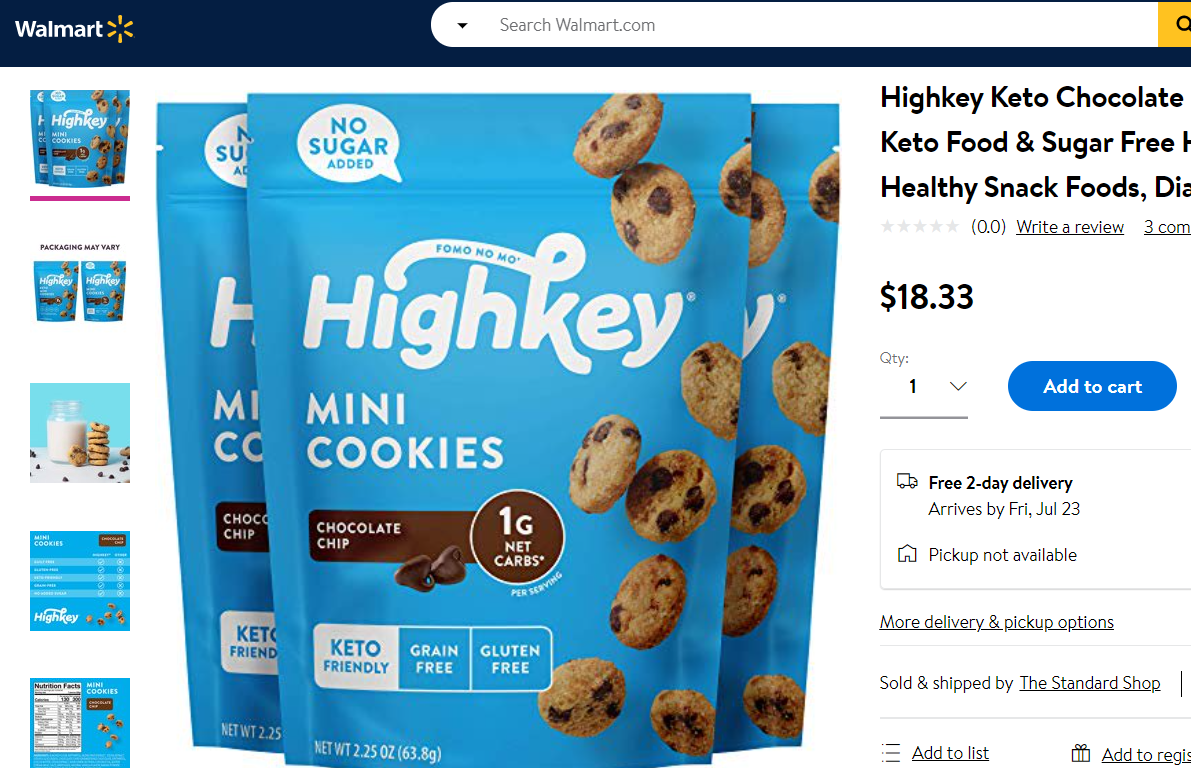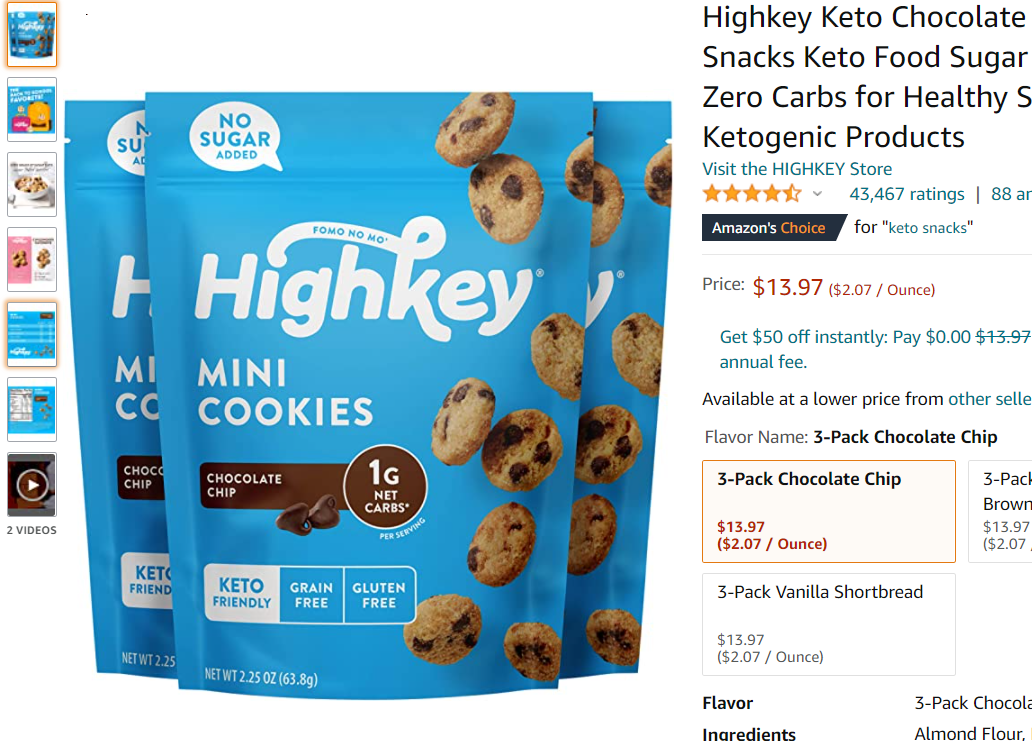 Images are same on both websites.
Quantity is also same it means our product is matched.
Your Task
The task is for those who are interested in Amazon. You task is simple you just have to find some suppliers and tell me the names of them in comments.
I hope you will learn something from steemit today . Best of luck😊 Have a great day.😊


Steem Infinity Zone Team
@cryptokraze | @arie.steem | @qasimwaqar | @vvarishayy