Currently I am trying to post a bit more about myself and my life as I feel the community is a little overrun with articles about cryptocurrency and the Hive/steemit war, while for some this is interesting reading I have to say although a important subject it leaves me a bit cold. Many of us are looking for more variety, we came here for the people and sense of community, sometimes the crypto gobbledygook just leaves us baffled.
Yesterday i posted a piece about the wife and motocross if you missed it i will leave a link below for you to have a look if interested. So with this piece in mind I thought I would continue with the bike theme for another day.
HOW IT ALL STARTED.
Ever since I was a child motorcycles were a large part of my life, my Grandfather was a avid biker and some of my early memories were sitting on his BSA Goldstar revving the throttle while dreaming of the day I was old and big enough to ride one of these beasts. It was also my grandfather who introduced me to motocross and the Thorpe family, they had become great fiends after he had a horrible bike accident outside their family home trying to avoid running over a cat and they were the first on scene to help. For many years I would travel with the Thorpe's to motocross events watching David rise up through the ranks with the help of his father Keith who mentored Dave along with being his chief mechanic. It didn't take long before the big boys noticed his talent Kawasaki gave him a contract and a few titles came his way but when Honda signed him to their HRC racing team things progressed quickly. Within a few years he had won two world titles 1985 and 1986 back to back champion. Due to injury injury the following couple of years 5th and 3rd was where he finished and then in 1989 he took his third world title. In later years he also won the veteran world title giving him forth and final world champ to his name. The link under the photo will tell you the whole story, well worth a read.
David thorpe 4 times world champion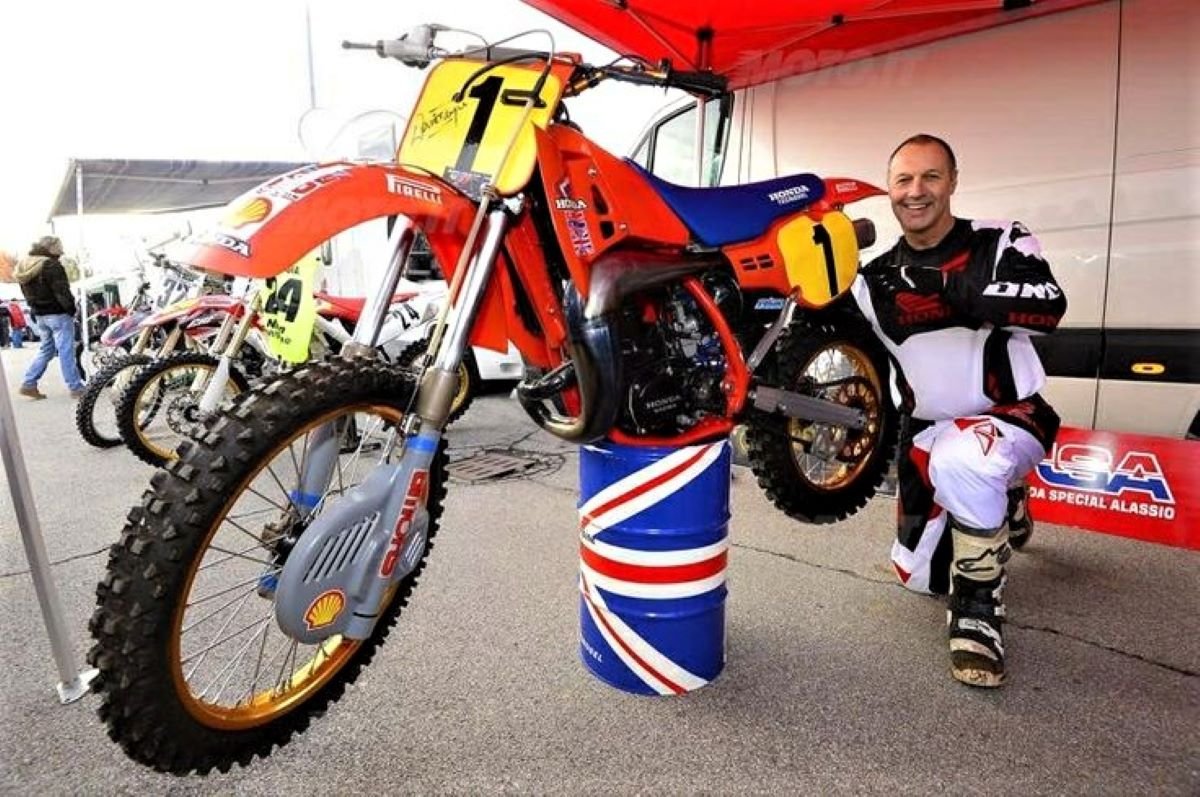 https://issuu.com/mxgpmag/docs/mxgp__9/52
So back to me, with this sort of inspiration of course I became a motocross rider and still am. Ive seen so many changes in bikes and equipment over the years and to a degree most for the better. Certainly what we wear has come along in leaps and bounds. Helmets armour even knee braces all keep us a lot safer, the big change in bikes was the development of four stroke machines. These gave a massive jump in power and traction which together made the bikes much more rideable. The old 500cc two strokes of the 80's and 90's were like out of control rockets. The leading names of manufactures changed also, the Japanese lost their way a little and European companies like Husqvarna and KTM came to the forefront, these days KTM have become world leader in off road racing, not bad for a Austrian brand. This is my favorite off roader ever, looking way too clean in our warehouse.
KTM 450 sx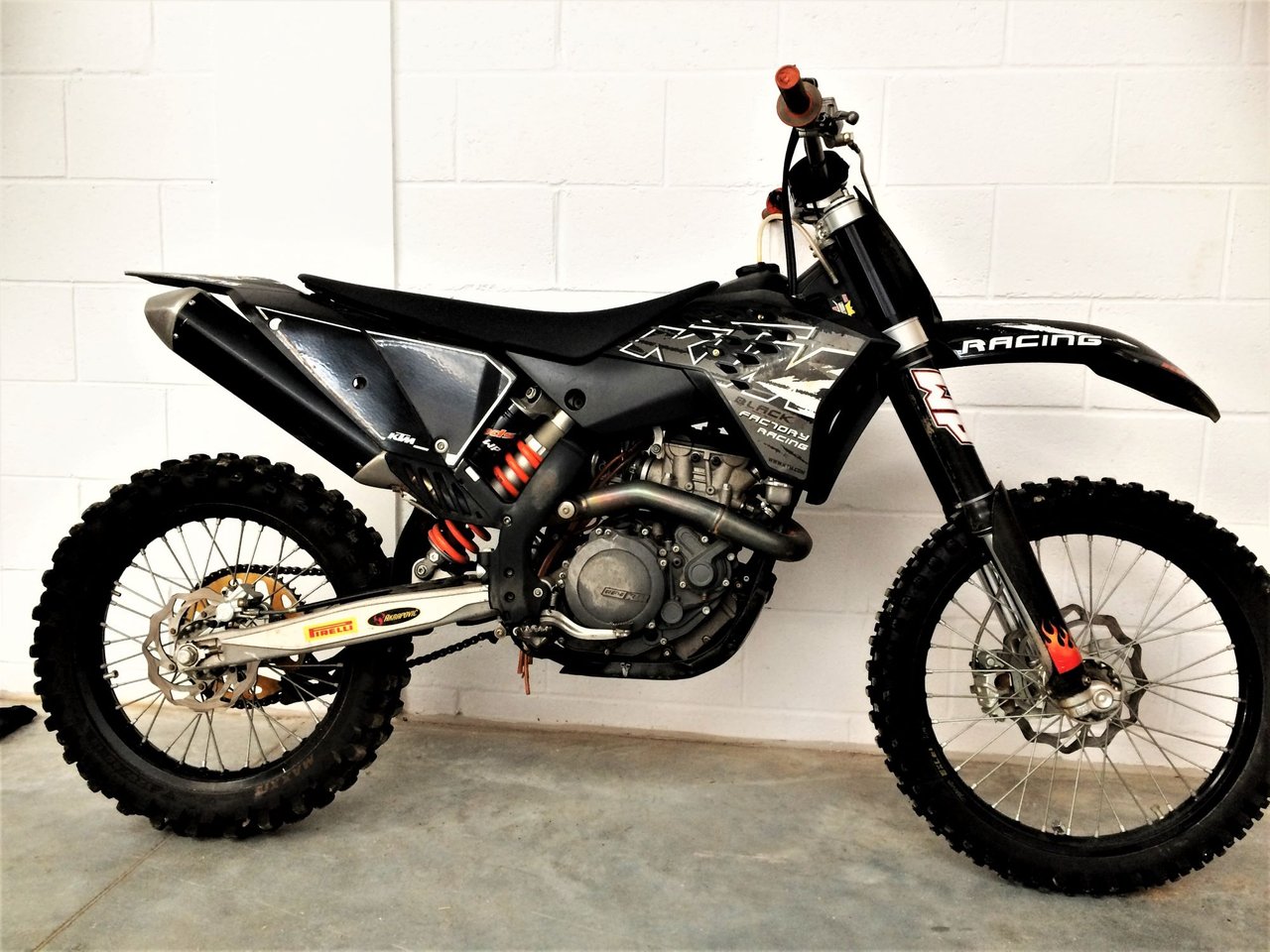 Not everything two wheels means mud to me, I have always along side motocross been a keen road rider and collector of bikes I along with the wife have too many bikes to mention and couldn't possibly recall how many I have had in my 53 years on the planet. Vintage or modern they all do it for me i'm never happier than when i'm out riding or tinkering on a bike in the shed. My favorite bike for day to day riding when i'm in the UK is my Yamaha triple, Its what I would call the perfect middle weight ride, superbikes are just too much for the open roads so for me this one is the perfect blend of fun and power, it's a proper wheelie machine.
YAMAHA MT09 850cc TRIPLE.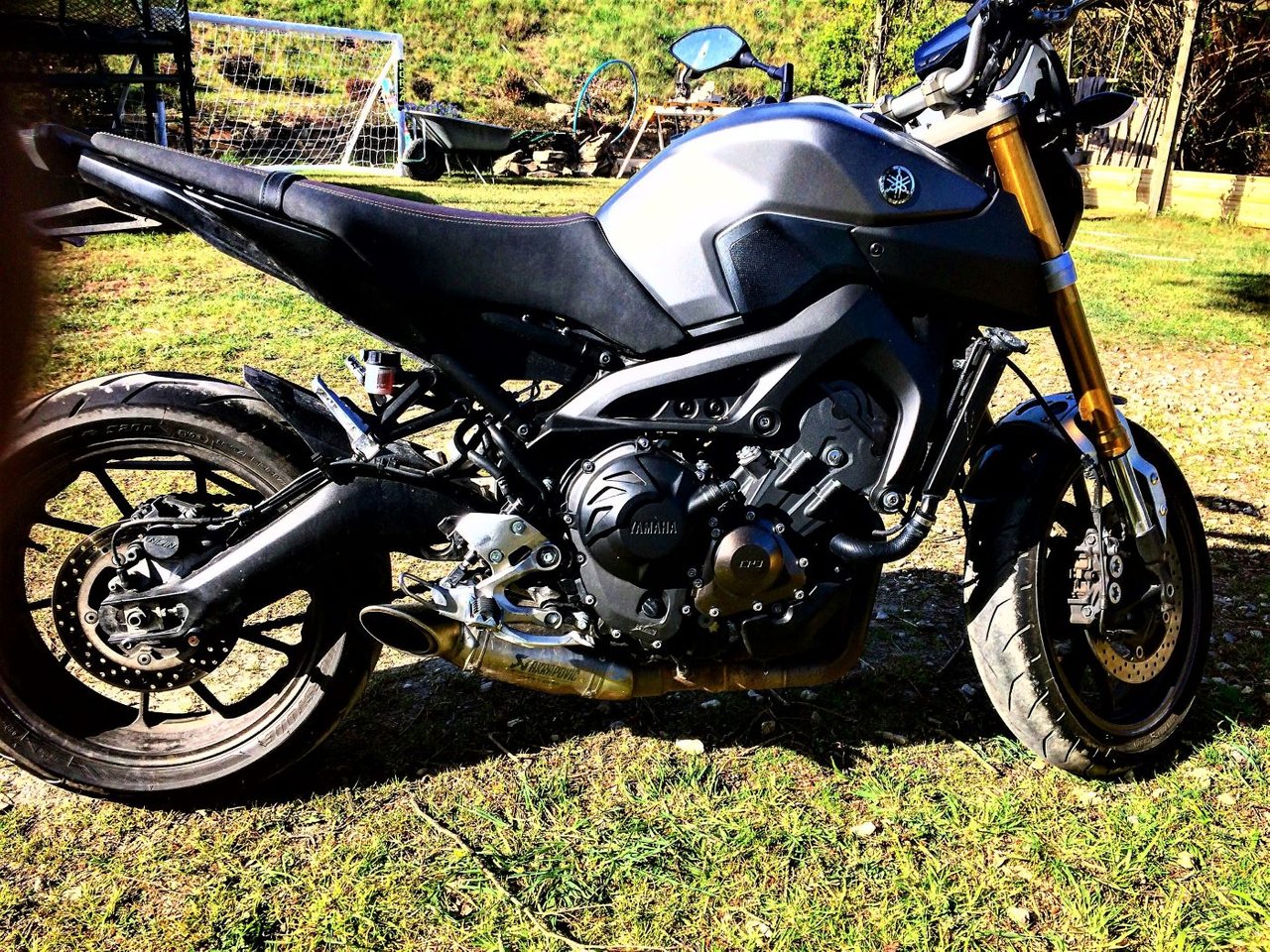 Every now and then I go out for a spin on my Kawasaki muscle bike, so called as they were in there day the most scary, big and powerful bikes you could by in 1980 the GPz 1100 would clock over 140mph and held the record for fastest production bike at that time. This is one of two I own, one is totally factory original but this one is a bit of many things, wheels from a modern Yamaha R1 superbike, Suzuki rear suspension, Yoshimura race pipe and engine upgrades that now take it up to nearly 160mph. When I was 15 years old riding around on mopeds this is the bike I dreamed of, virtually a drag bike their handling was never great and you needed some balls to ride it full revs, I love them.
KAWASAKI GPz 1100 LAST OF THE MUSCLE BIKES.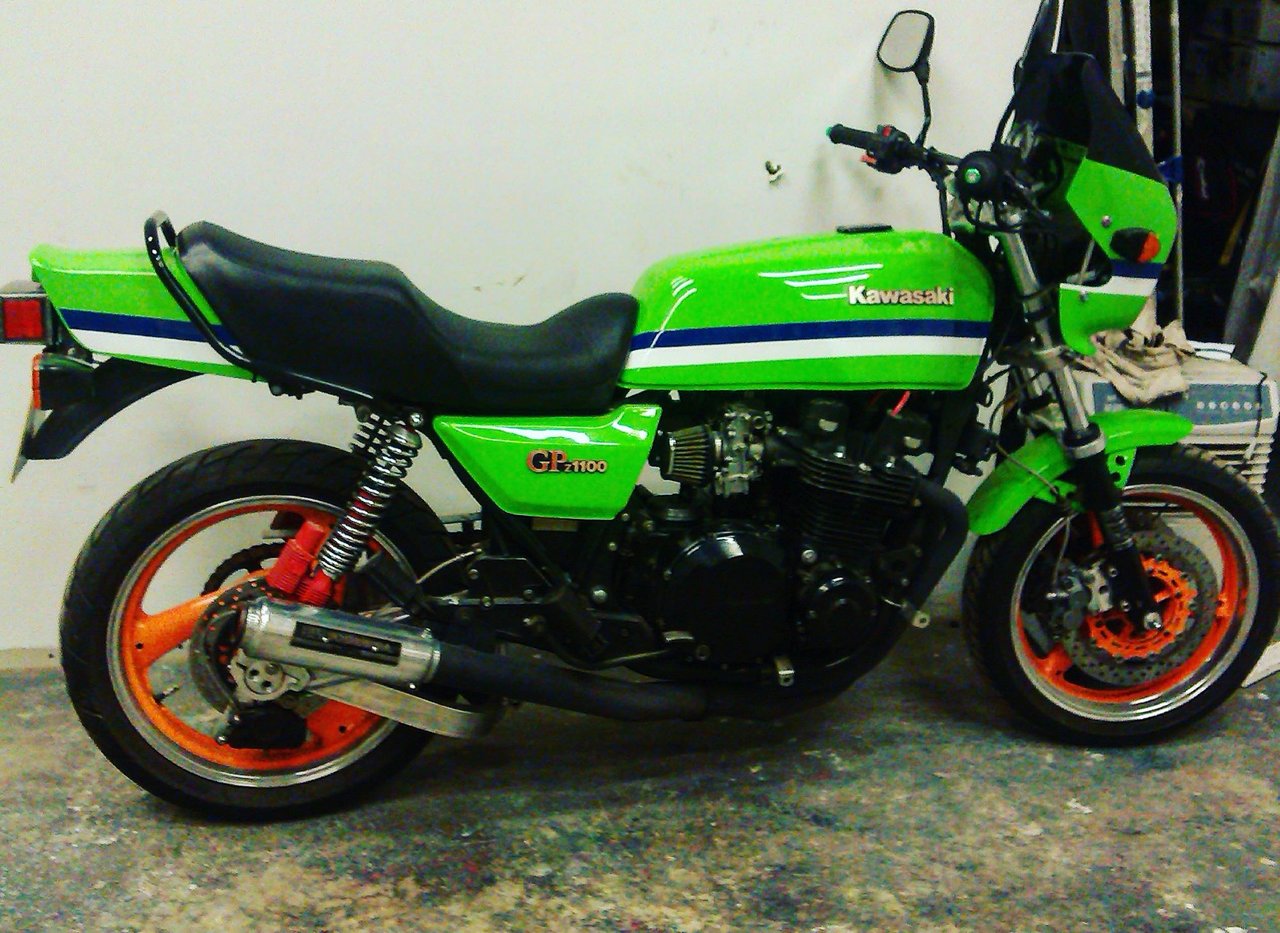 At this moment in time I am living in the Philippines out in the provinces, here every other road is a dirt or gravel track so it made sense to buy a bike good for both road and track so I went for the well rated Honda 250 trail bike, it's been a gem of a bike reliable cheap to run and sturdy. This was tested last year by one of the biggest hazards on our roads here stray dogs. Riding into the dive centre one morning at a fairly low speed a dog ran out into my front wheel, it all happened so quick I had no way of avoiding it and before I knew where I was I found myself sliding down the road with the bike on top of me, had I not been wearing a crash helmet something most people here don't feel the need for the outcome could have been a lot worse. This accident somewhat reminded me of the earlier mentioned crash of my Grandfather, another domestic animal and our fear of harming them leading to pain for us, look away now if you don't like a bit of blood.
OUCH!!!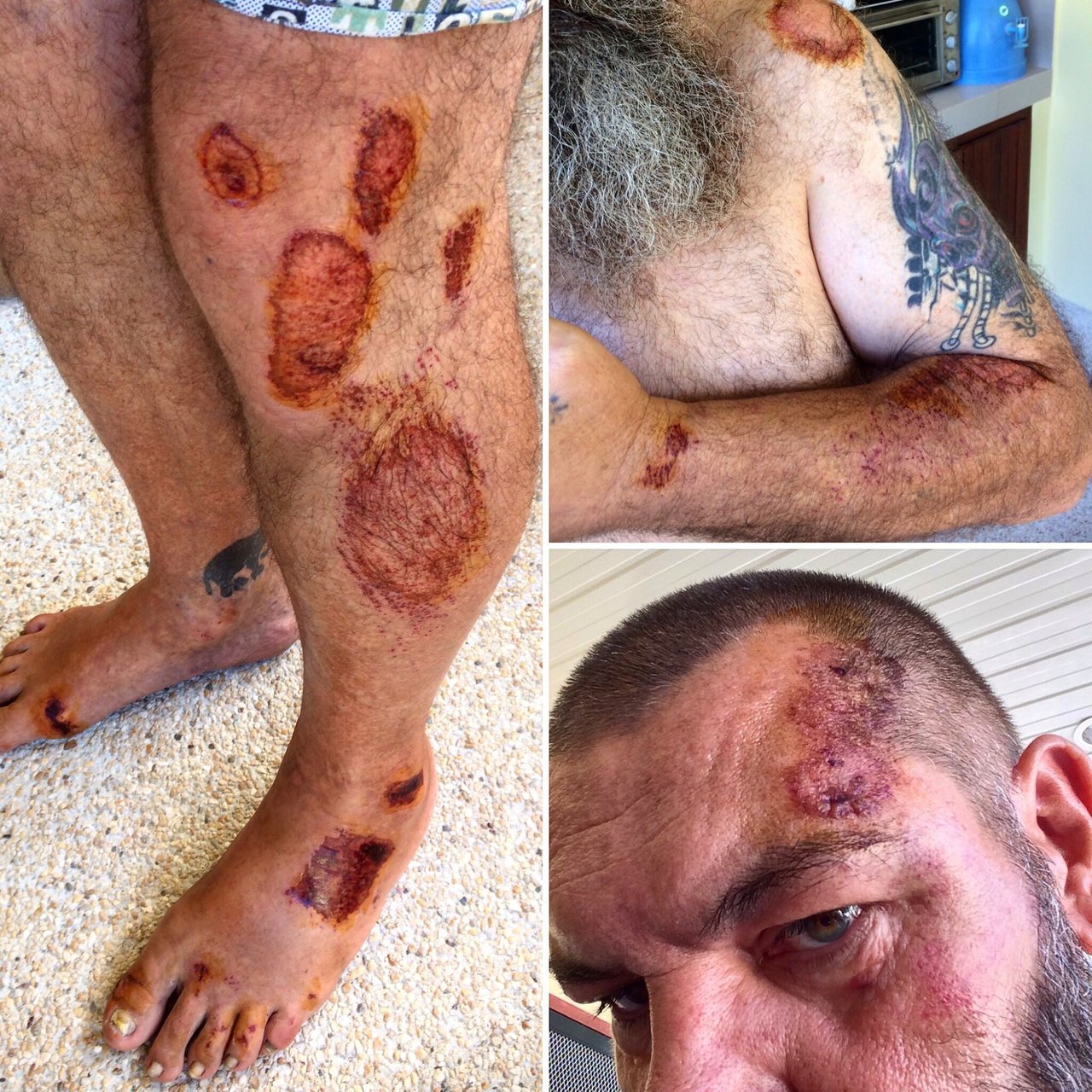 A cracked bone in my foot and lots of lost skin, as I say it could have been worse. I healed up pretty quickly but the foot was a little slow taking three months before I could walk properly on it. The dog? well that ran off seemingly no worse for wear and most importantly the bike was fine, having been on top of me as we slid down the road, bar a couple of scratches it came off much better than me.
HONDA CRF 250l.