Read this post on TravelFeed.io for the best experience
---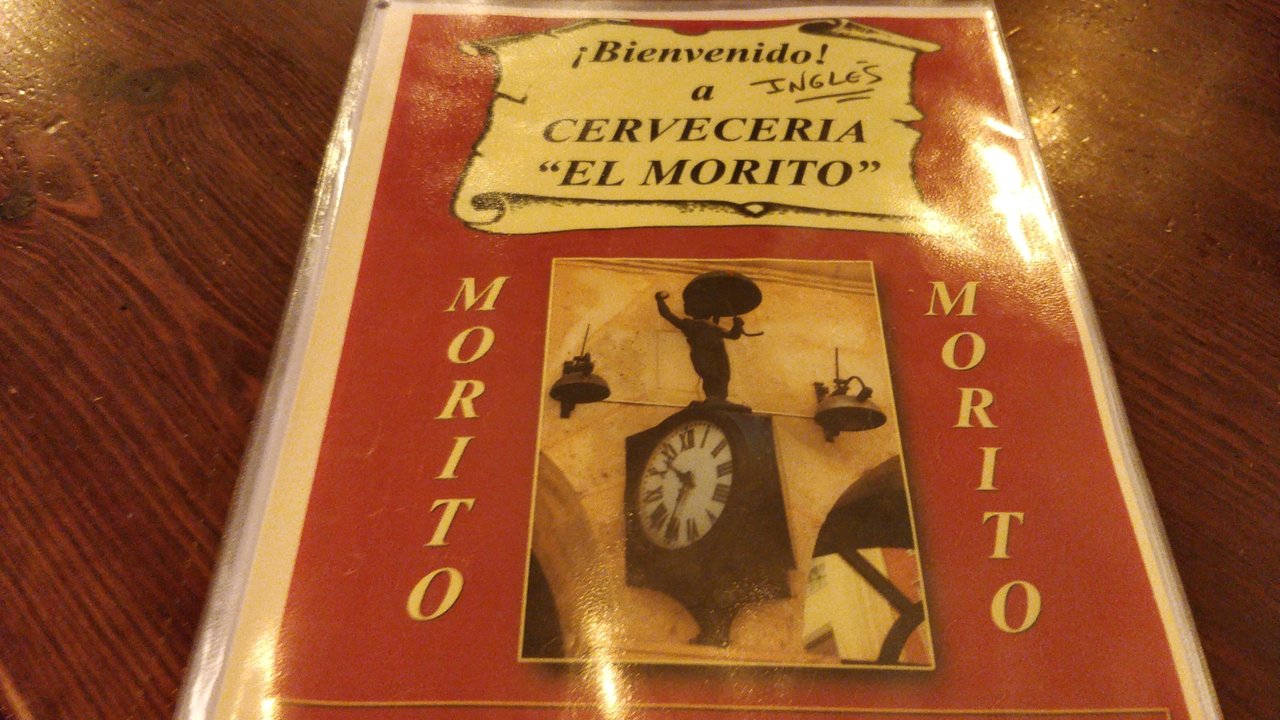 Whether you are on tour and working or just travelling for fun, it is always a great chance to find some of the local food to give some "flavour" to your trip! Of course, you could always go to the usual tourist haunts, where you will be given pale imitations of the local cuisine whilst being overcharged like crazy... or you could wander around and hopefully stumble upon a place that is popular with the locals.
On this particular trip to Burgos in Spain, we had about an hour an a bit between the stage rehearsal and our concert beginning. This sort of timing tends to be pretty usual for this particular orchestra, so my friend and I have gotten in the habit of scouting out eating places on the travel towards the town... settling on one, and then screaming out of the rehearsal to get something to eat as fast as possible!
Of course, we are limited in what we can choose... no fancy restaurants with white cloth table service... partly because we don't have the time... and mostly because our travel stipend wouldn't cover it!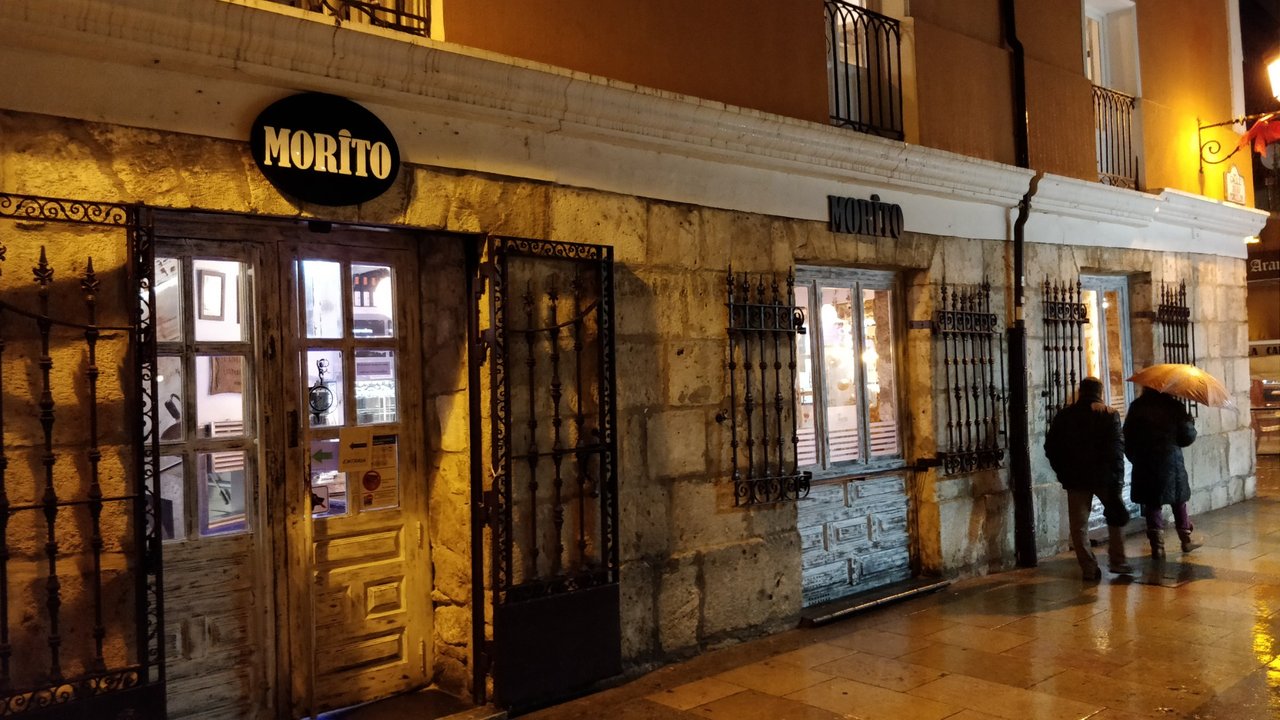 Morito is a little tapas bar and restaurant that we found that that was near our concert venue in the town of Burgos in Spain. It was situated in a little section of alleyways a little bit off the main street and wasn't too difficult to find. There was ample space in the bottom area, but I think there was also an upstairs area as well.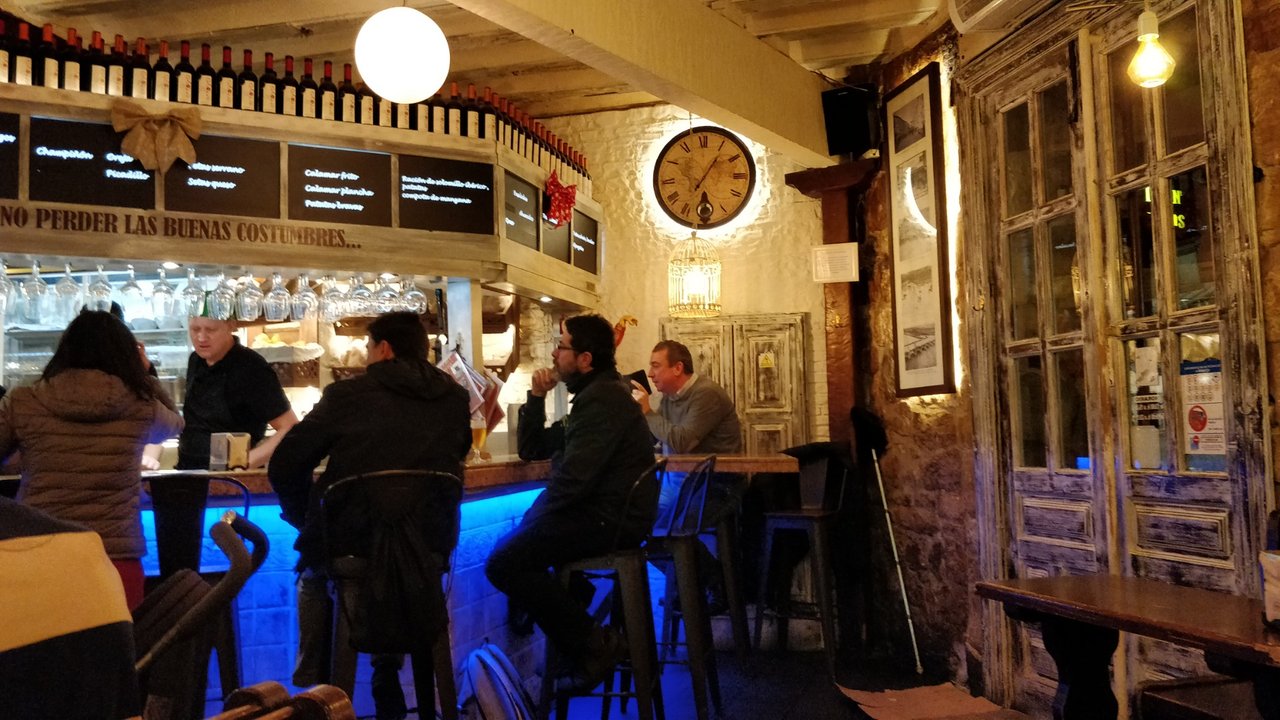 The decor was a weird mix of bright and colourful lights combined with a subdued and old style of the building. Strange and a little bit disconcerting... I preferred the old style of the building, rather than the slightly plastic feeling of the newer decor.
Of course, when we arrived.. most of the people were there for drinks and tapas. It was a little bit strange to be asking for dinner menus at around 7 in the evening! However, I think they were used to some tourists dropping in... so our strange eating habits weren't too foreign!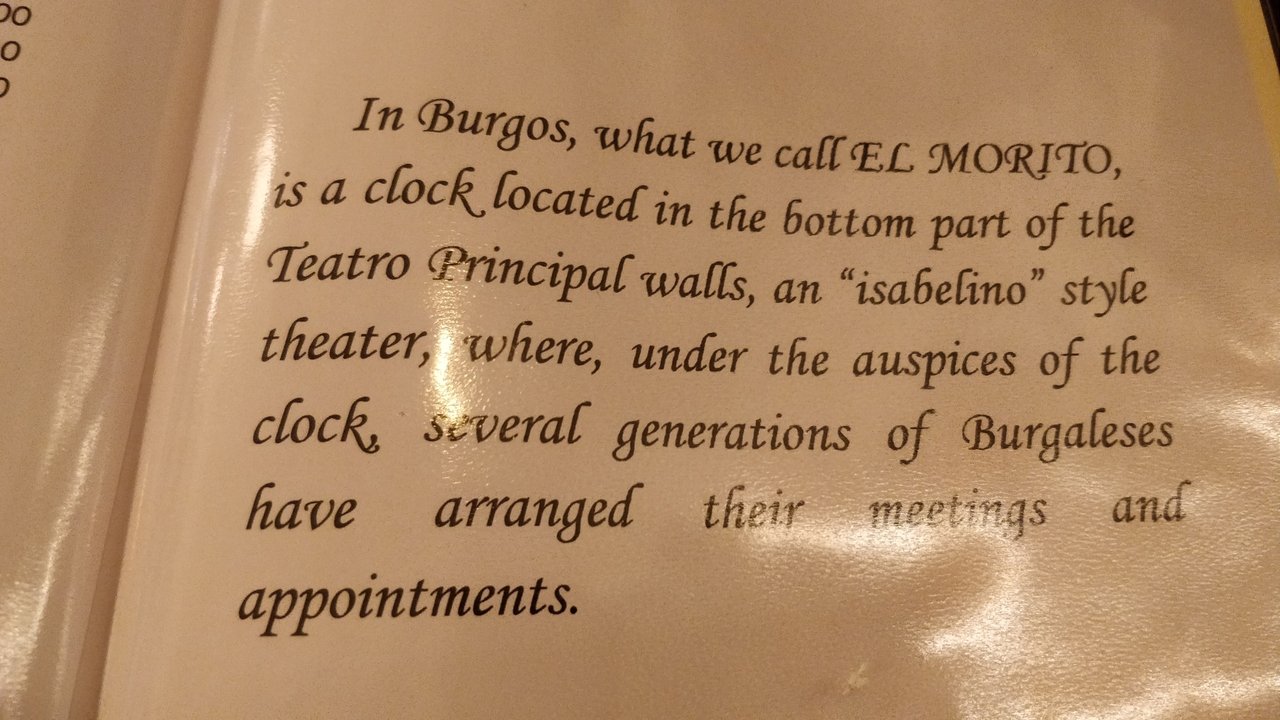 Most restaurants (and everything else...) these days need a good "origin" story to help with the marketing or something like that. It is a bit of a sad malaise that has taken over the world, where appearance beats substance. There used to be a time when restaurants were known for good food and service... and they didn't need to tell a story about how their forefathers escaped the Martians and set up shop to grow native and organic foodstuffs under the unsuspecting eyes of the lizard monsters whilst cooking and serving up to the imprisoned population food that was both tasty and made with love (ripped out of the heart of a mewling baby...).
Still... I guess you need to do what you need to do! This is one of the most hilariously short and bland "origin" stories I've seen!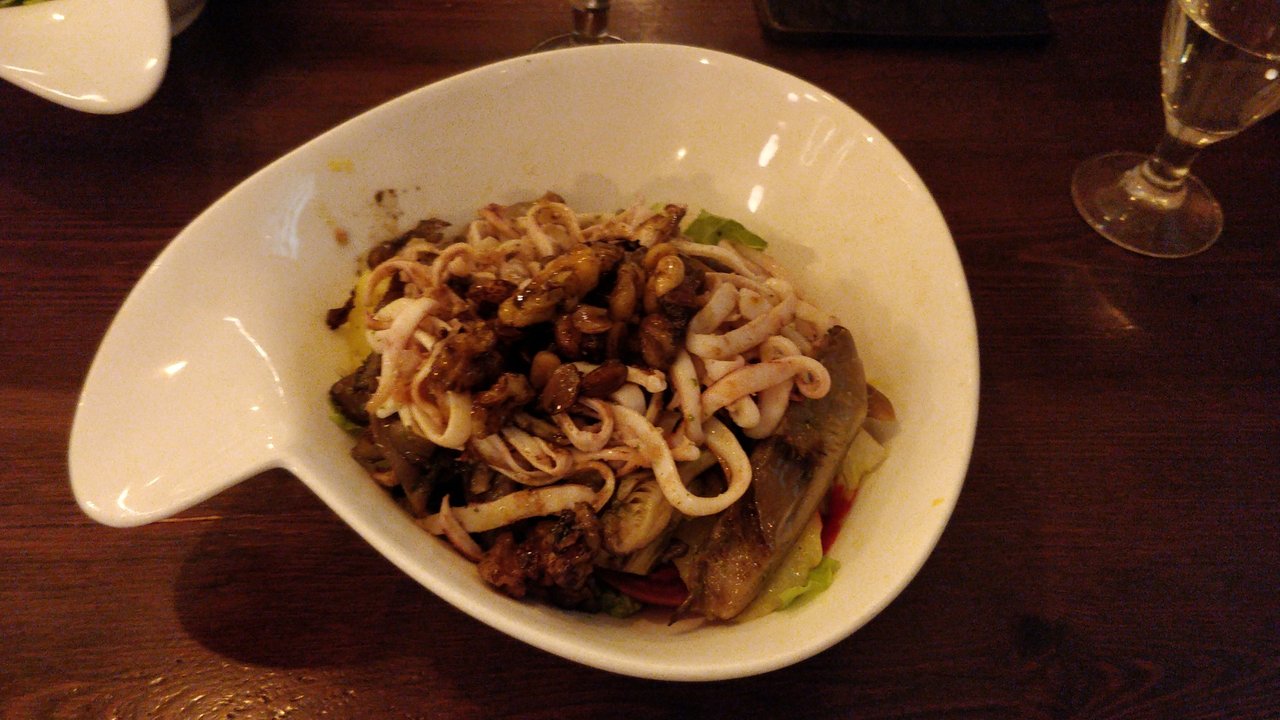 So, the food! The food is cooked up just behind the bar counter... and it is relatively quick and very very delicious! Presentation is a bit on the ordinary side of things... but it was one pretty amazing feed for a pretty cheap price!
This was the Warm Squid and Mushroom salad, the first item on the menu. I had visited this place last year... and I had promised myself that I would learn to make something similar! I had forgotten about it... but now that I'm writing this review, well... I'm tempted to learn to make something similar again!
Simple ingredients, good flavours and just easily warmed and tossed together! I was really quite impressed... sadly, there wasn't enough time for dessert... or a drink...
I would definitely recommend Moritos if you are in the area of Burgos (SPAIN) and looking for a quick and inexpensive dinner after a long day of looking at the castle and cathedral!
The Menu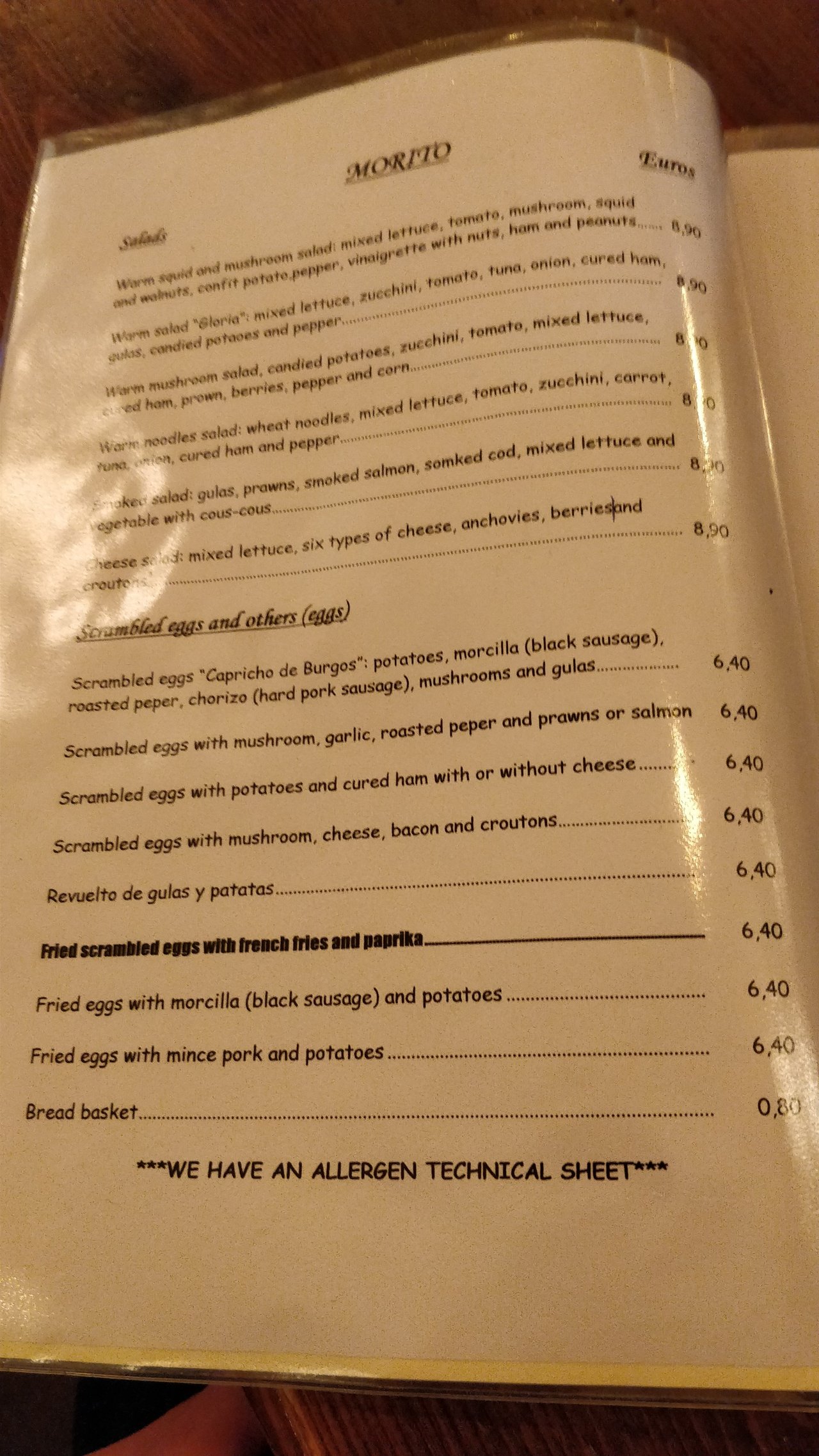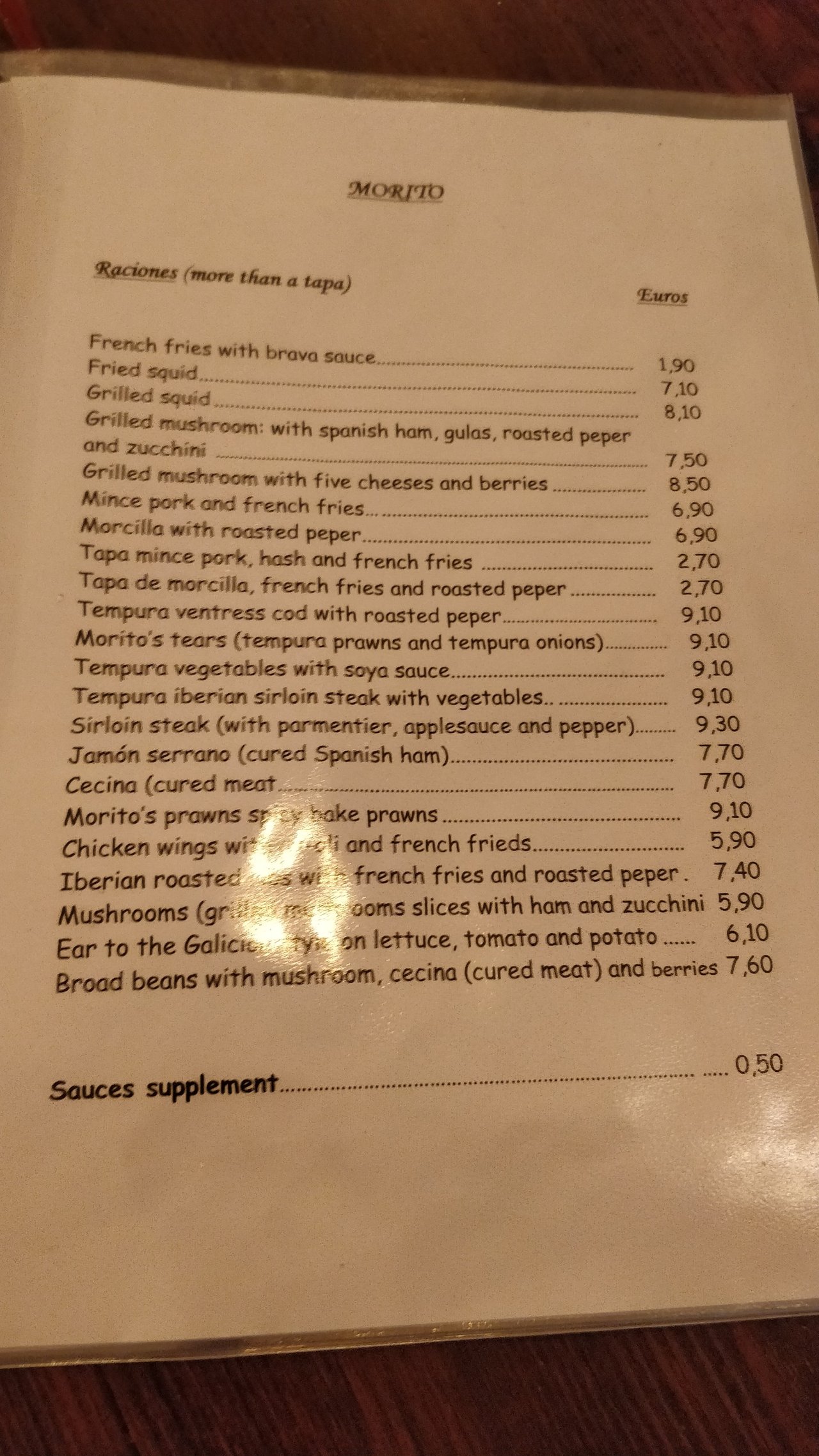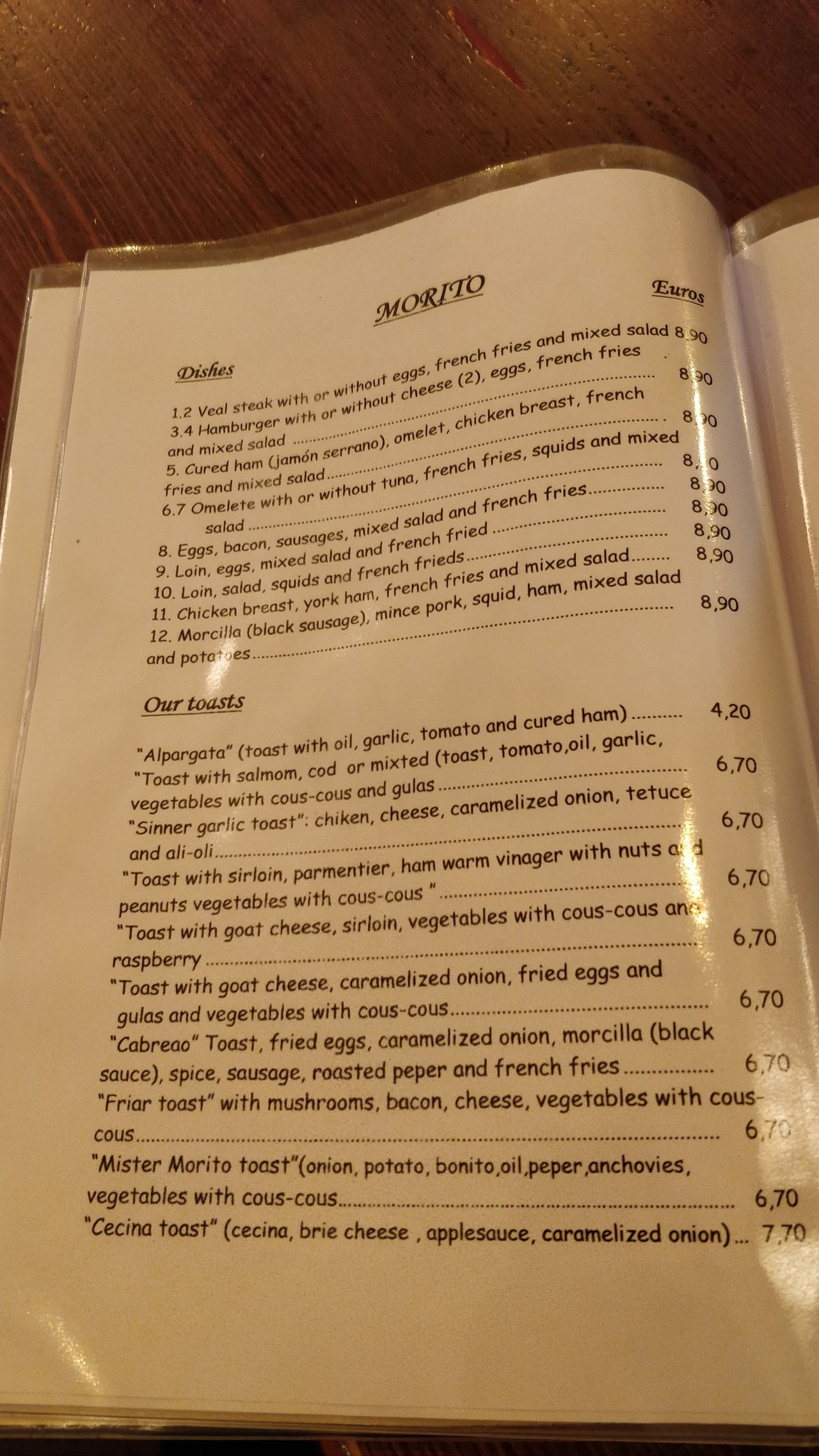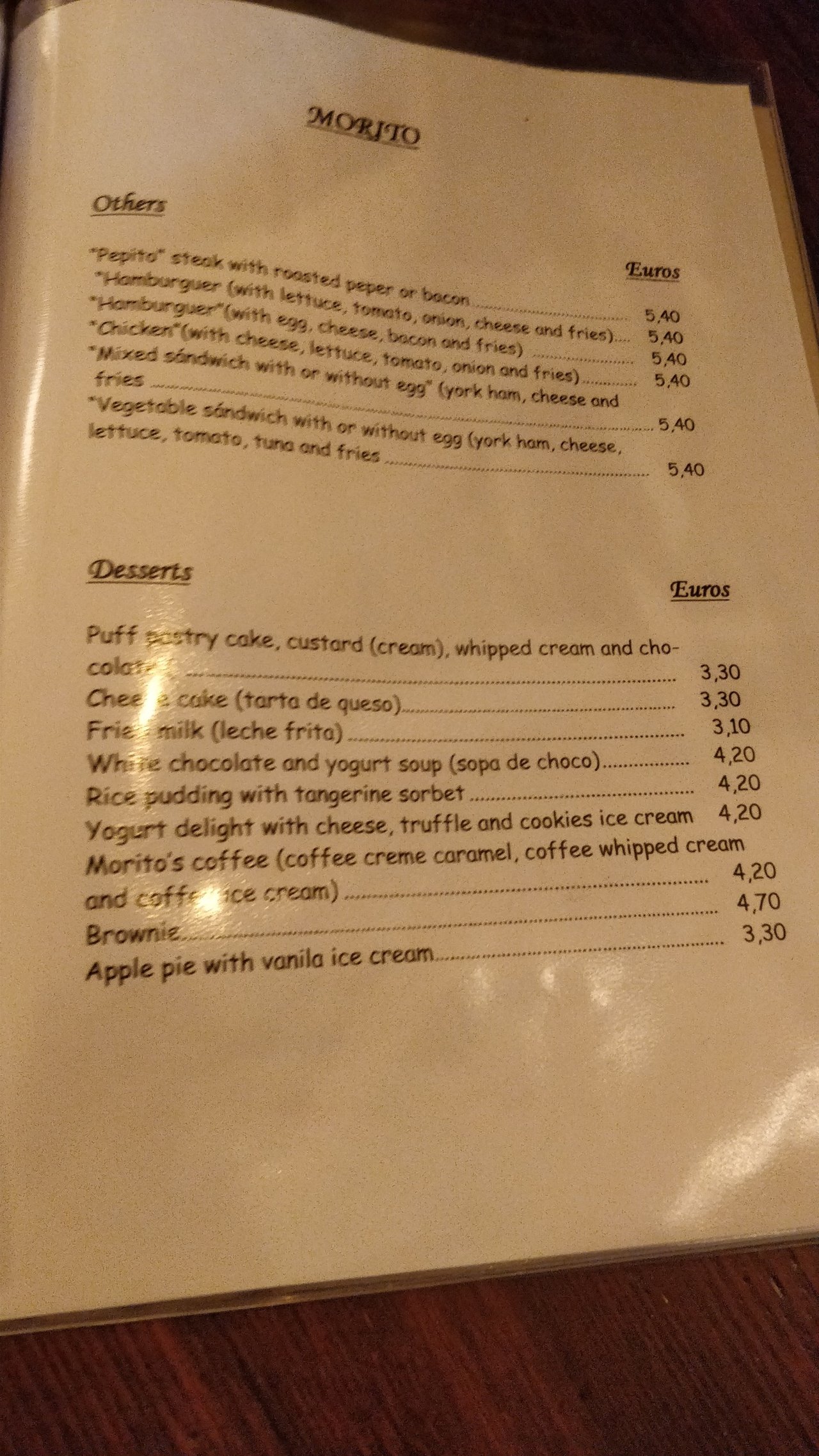 Restaurant Details
Address: Calle Diego Porcelos, 1, 09003 Burgos, Spain
Phone: +34 947 26 75 55
Opening Times:
Mon 1–3:30pm, 7–11:30pm
Tues 1–3:30pm, 7–11:30pm
Wed 1–3:30pm, 7–11:30pm
Thurs 1–3:30pm, 7–11:30pm
Fri 1–3:30pm, 7–11:30pm
Sat 1–3:30pm, 7–11:30pm
Sun 1–3:30pm, 7–11:30pm
---
View this post on TravelFeed for the best experience.