Read this post on TravelFeed.io for the best experience
---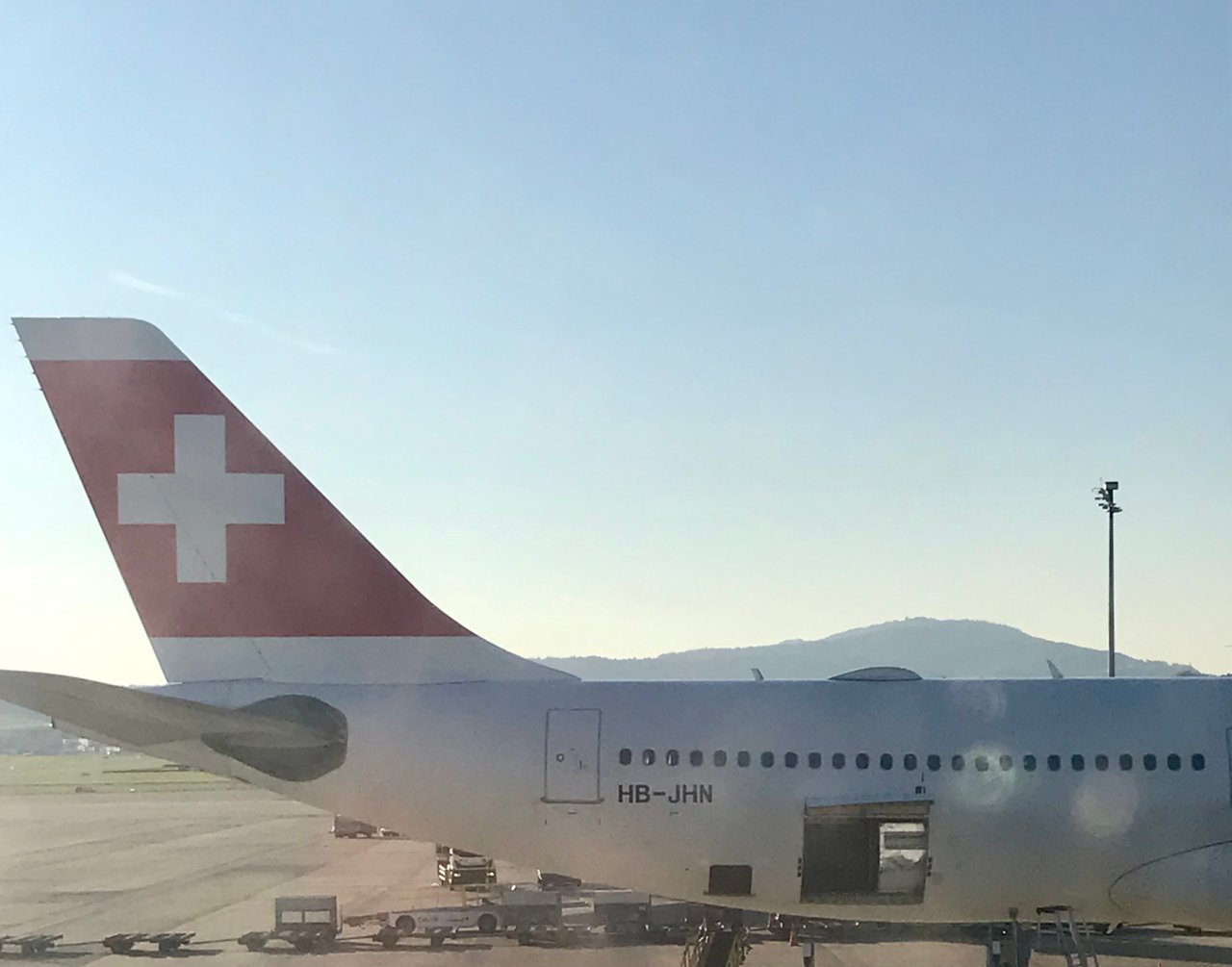 ---
I arrived in Zurich with a several preconceived notions about what I would see in this small neutral nation.  And despite my short stay in Switzerland, truth be told, those notions were spot-on.  Having no time in Switzerland, a sweet zip through Zurich still might be possible...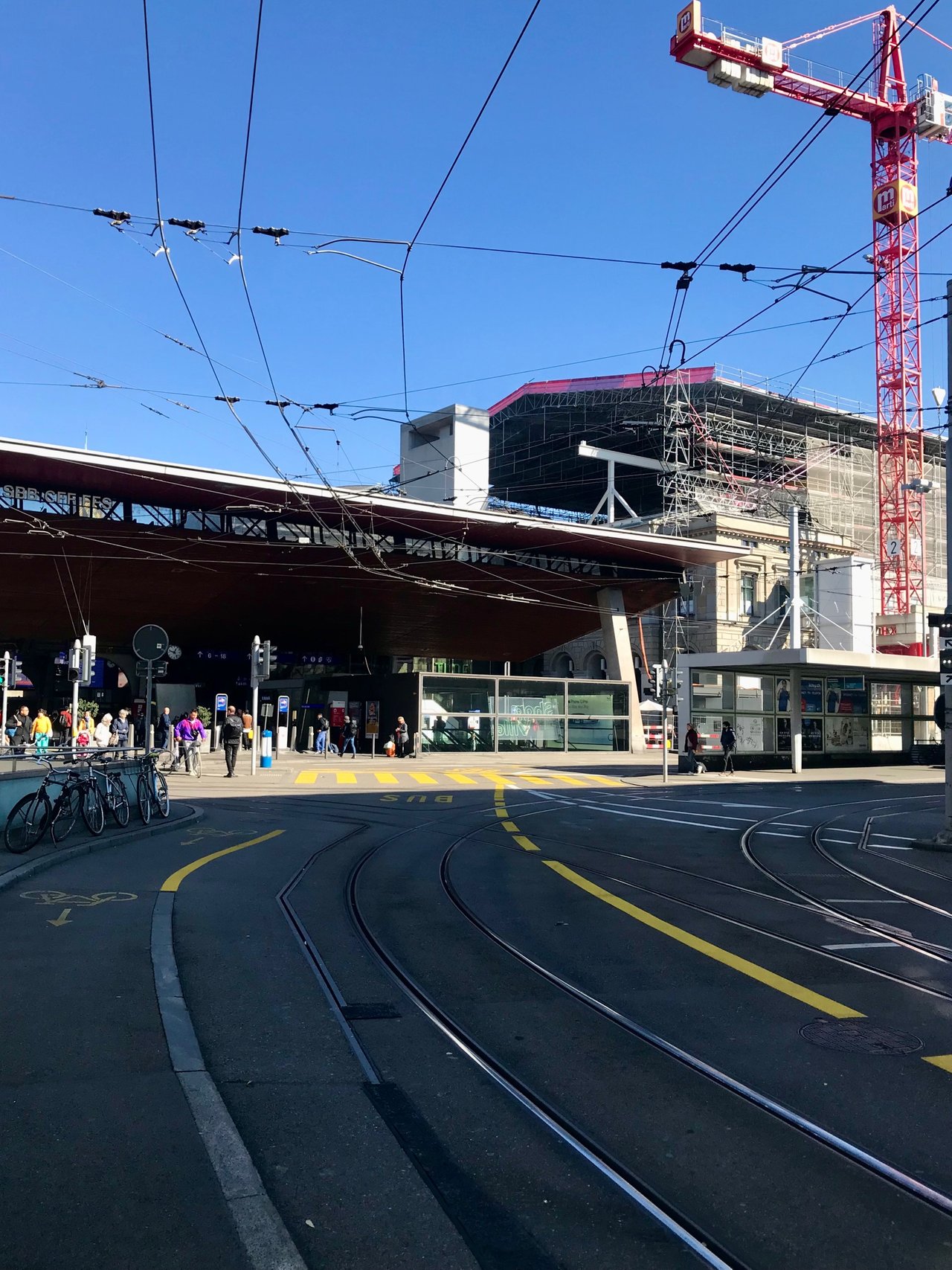 I arrived at Hauptbahnhof (Zurich HB), the central train station in downtown Zurich. Picking up the line underneath the airport's Terminal B, getting into the city was a breeze. 
The train depot is a vast complex that runs nearly 3000 trains every day. The sandstone front, featuring large open arches, stretches along Bahnhofplatz Street, obscuring the Limmat River running behind it.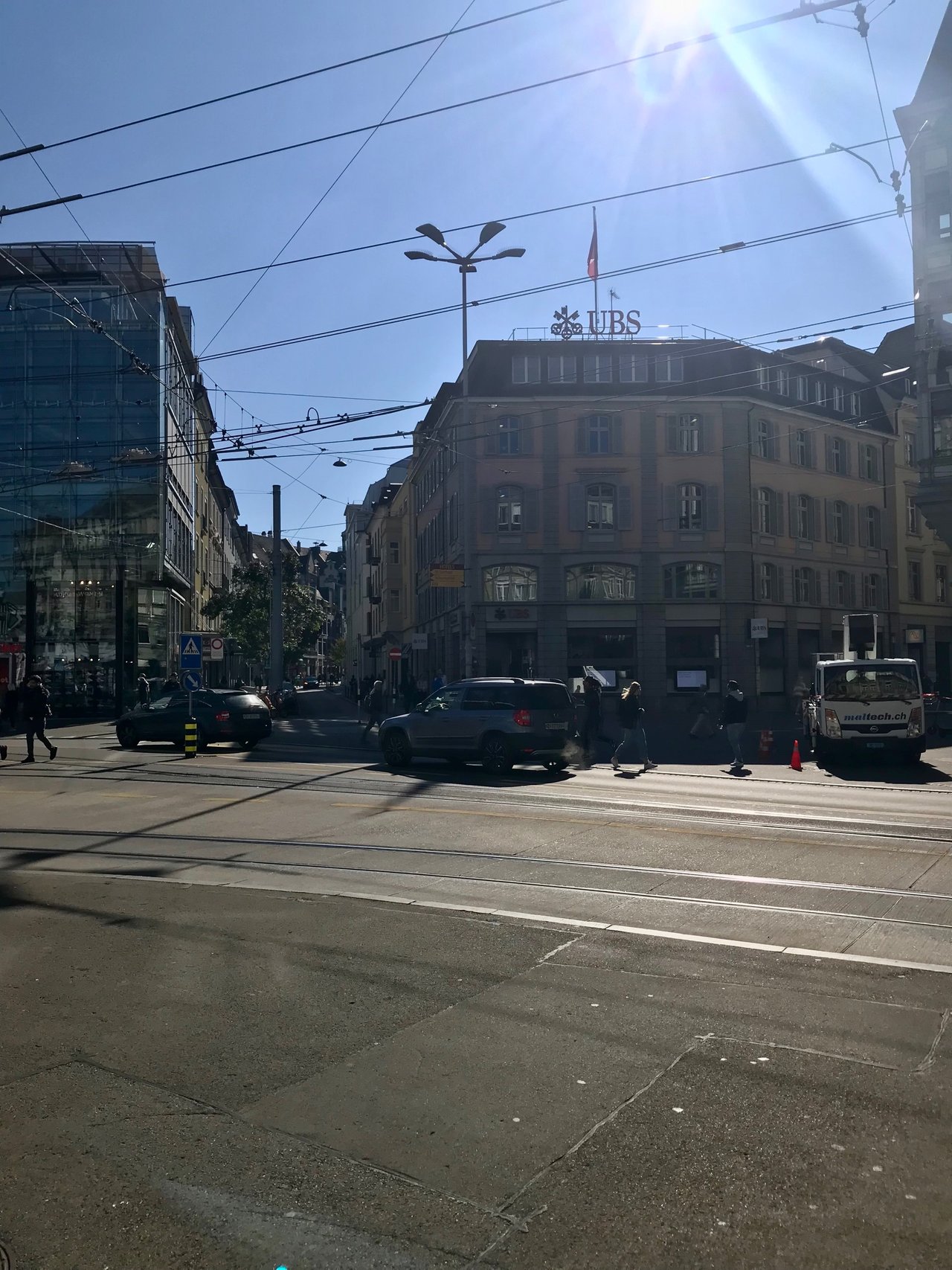 Popping out of this colossal station, I found myself in a hip, urban area full of restaurants, shops, and, yes, plenty of banks!
Not knowing the area, and with no itinerary to speak of, I started my exploration by walking down the Löwenstrasse. A busy tangle of wires overhead power and guide the trams that crisscross the city.
Determined not to get lost during this brief sprint around Zurich, I moved counterclockwise around the city. My two goals were to see as much as I could and find someplace rather authentic to have a meal. I knew Old Town and the Limmat River were in the vicinity, and there I would likely accomplish both goals. So, using GPS, I attempted to navigate my way there.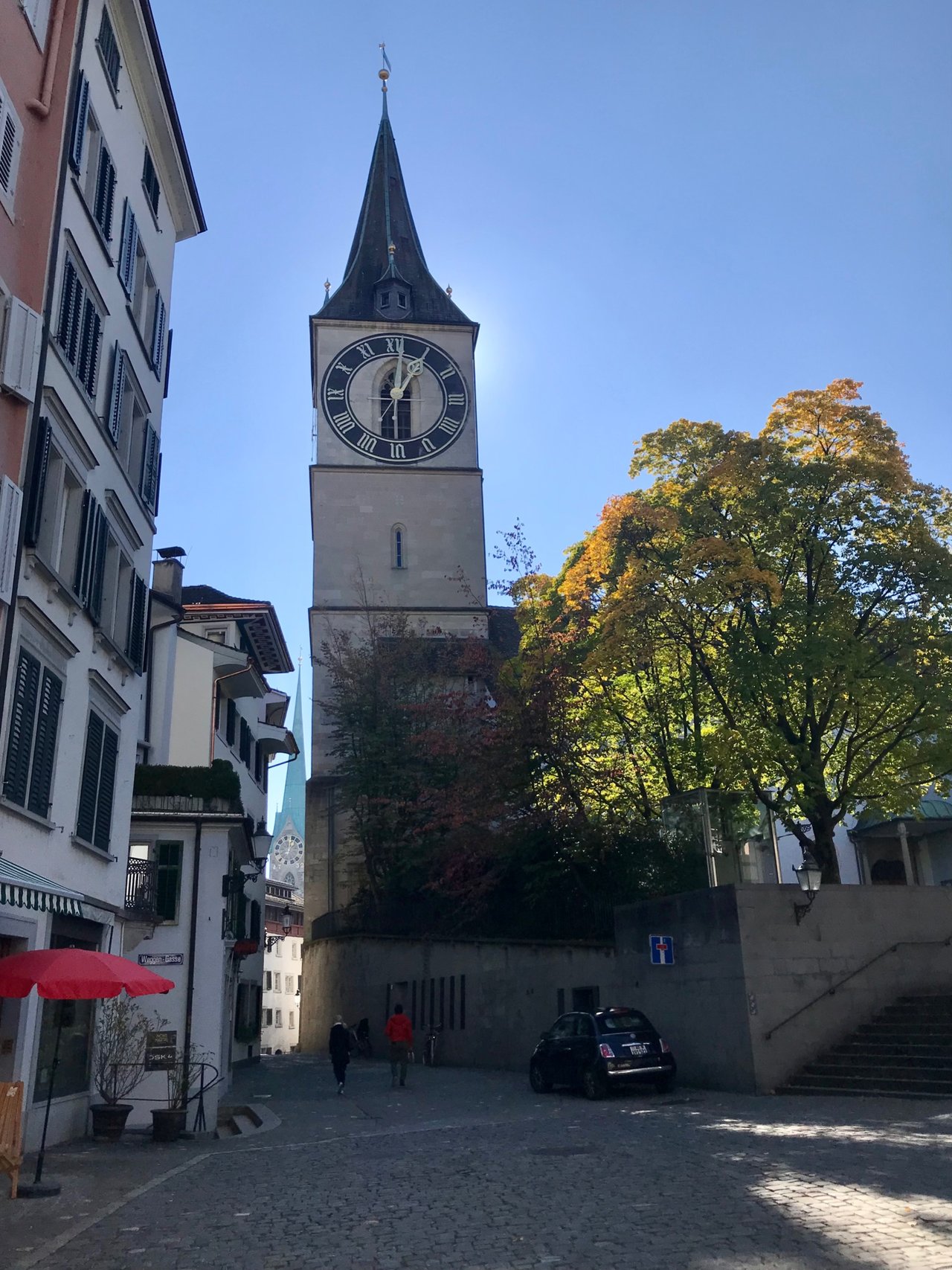 I made my way to the historic St. Peter's Church. Its clockface, the largest in Europe, declared the time as it has for centuries. While I wanted to go in, time just wouldn't allow for it. Whirlwind tours definitely have their downsides.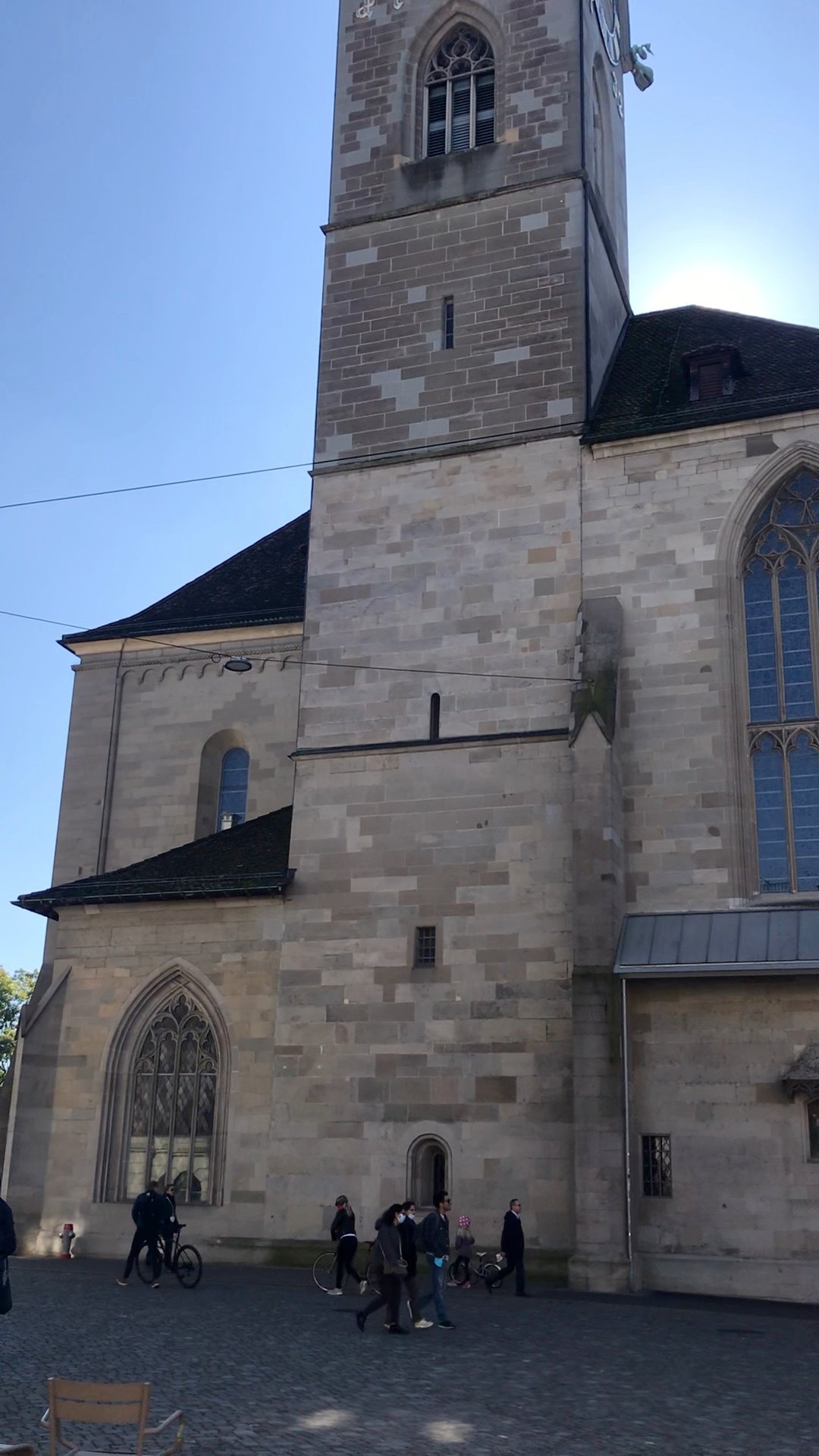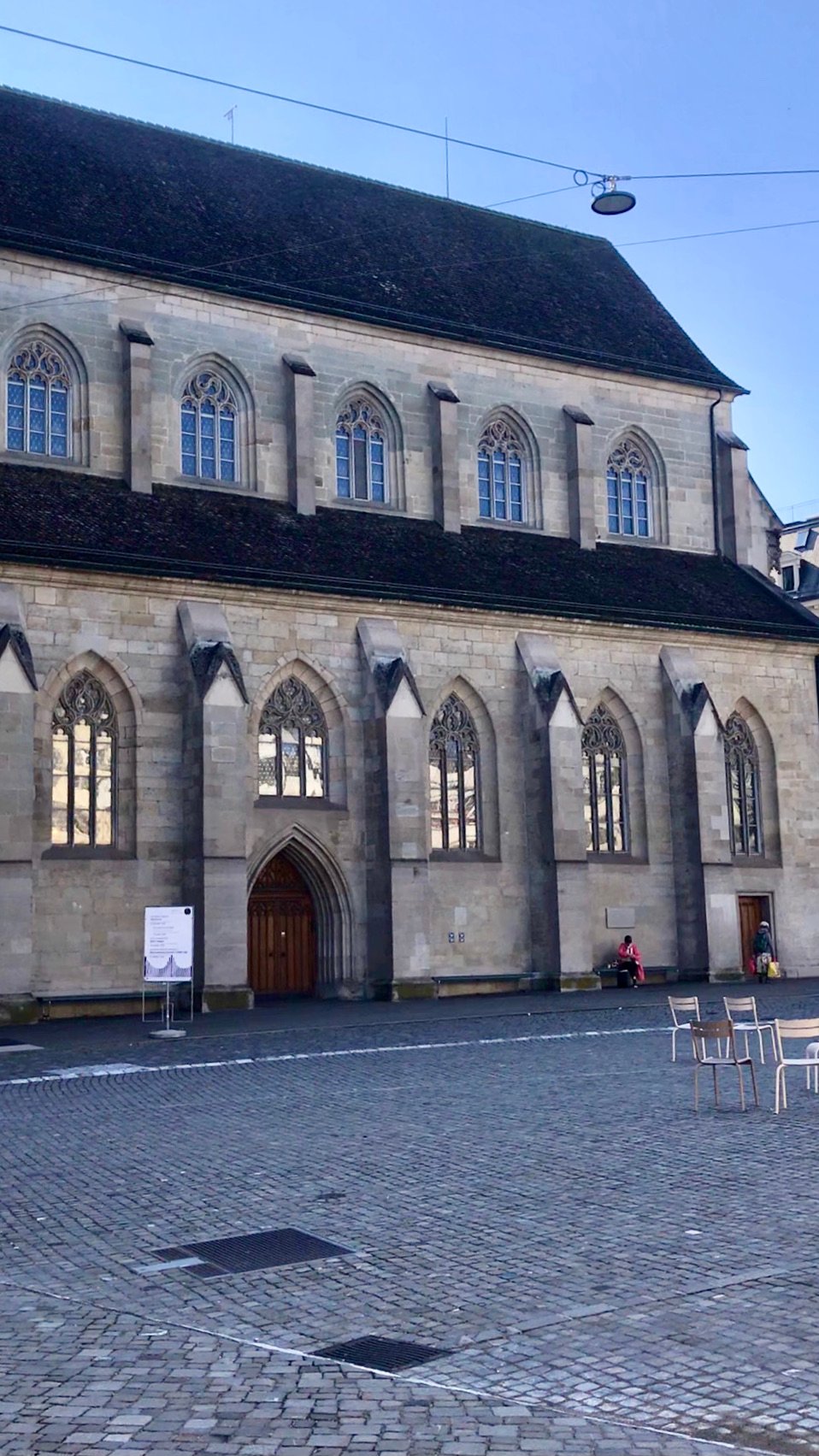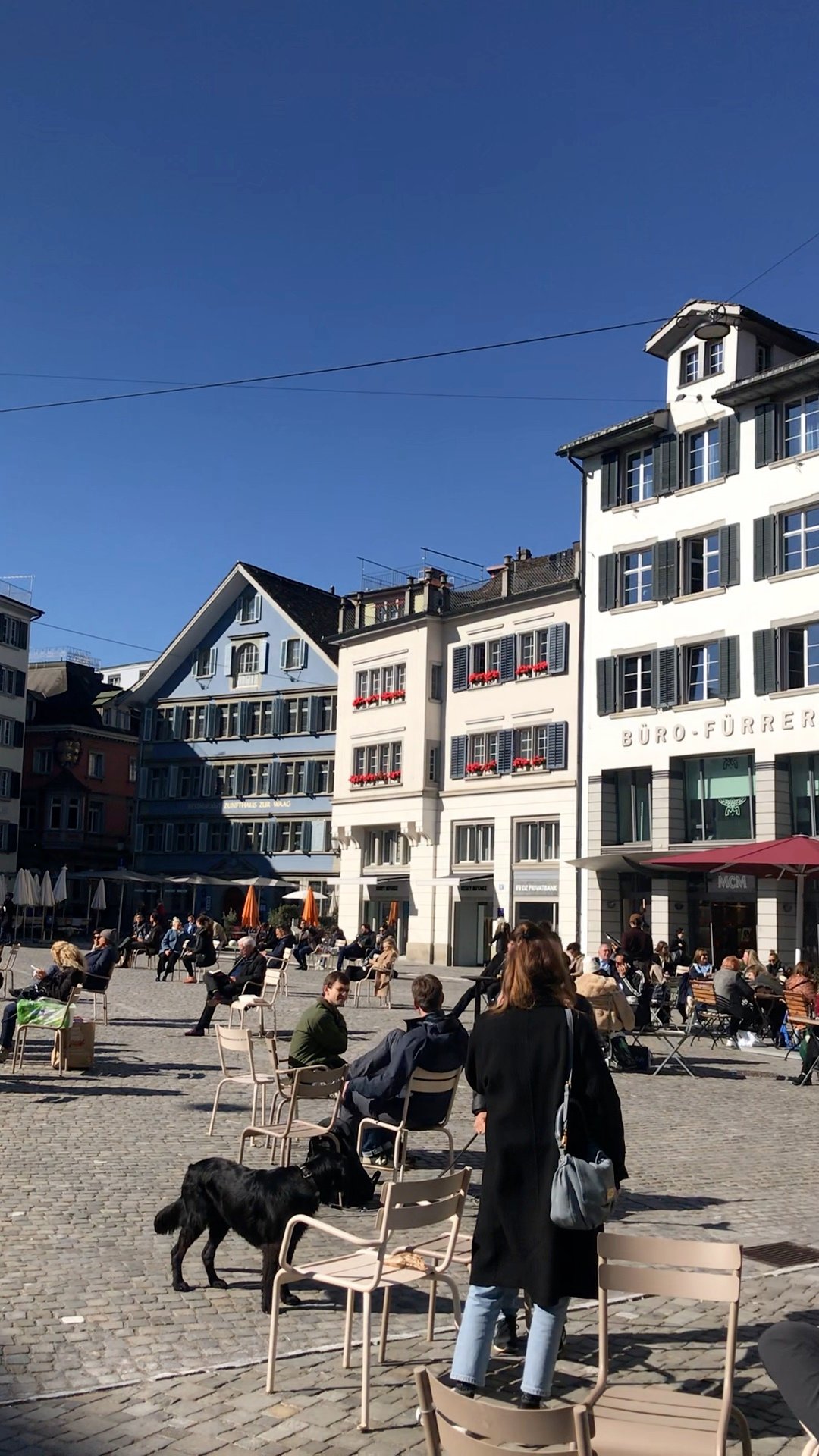 From here, I headed towards Münsterhofplatz. Another famous Zurich church anchors this large, open plaza: the Fraumünster. Reaching back to the 9th century, the Fraumünster's thin, green, needled spire is an easy point of reference for anyone looking skyward.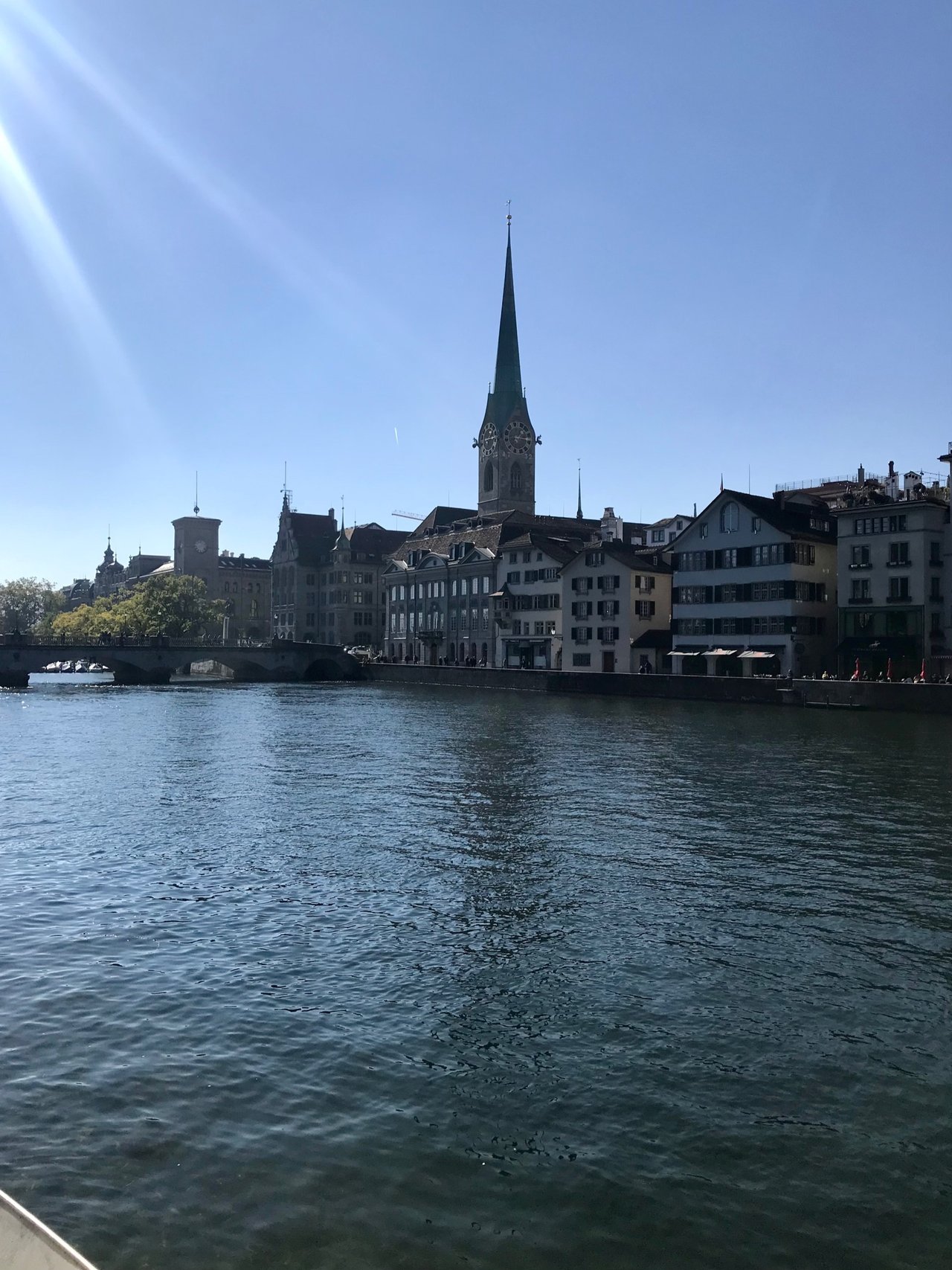 The Münsterbrücke bridge crosses the Limmat just in front of the Fraumünster. A low-rise bridge marks the center of Old Town, which stretches over both banks of the river. If you're in a hurry to see Zurich, this is undoubtedly the area you want to see.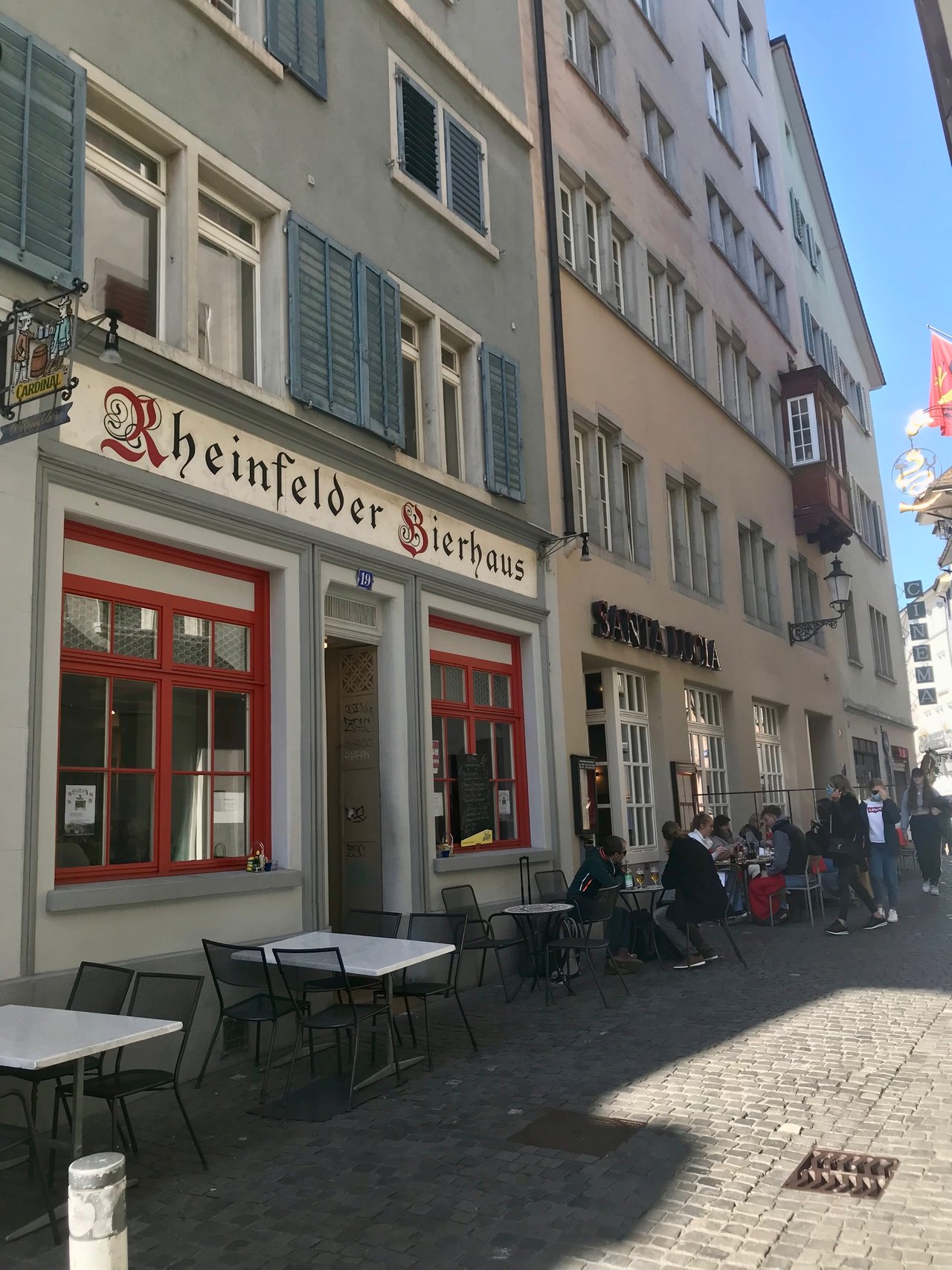 Medieval buildings hosting modern restaurants and shops abound. But in Zurich, old doesn't equate to crumbling. These buildings could pass for modern construction given their pristine condition. Their three and four-story fronts are impeccably displayed, and the surrounding grounds are as neat and clean as any city I've ever seen.
Taking the Münsterbrücke bridge across the Limmat, I made my way down the other side of the river, looking for food. I found myself in a web of tangled streets, not unlike other ancient centers of European cities. This city is so clean, though!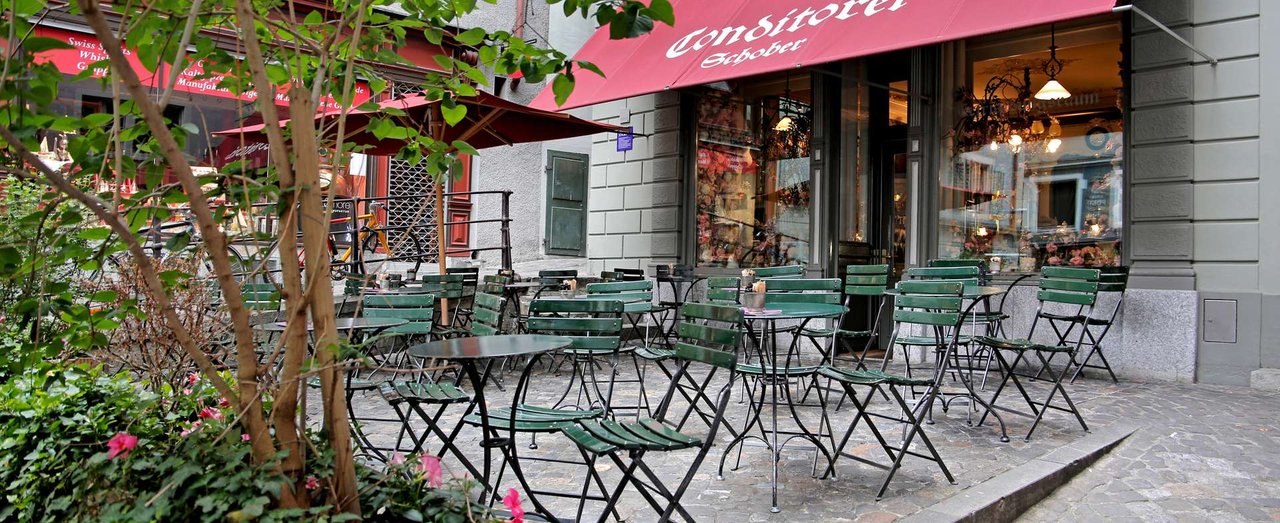 Image credit: cafe1842.ch
Eventually, I found myself standing in front of a small cafe sitting up on a small rise. Before it, a small patio filled with tables jutted out like the bow of a ship. The diners there were sunning themselves under the Swiss blue sky, and the smell of hot food wafted down to the street, calling me up. So, I answered.
Cafe 1842 is a charming restaurant featuring Swiss cuisine, pastries, and other delicious treats. Established as a bakery in the mid-1800s, it maintains the tradition of a tiny, family-owned eatery held by a modest Swiss company with six other locations.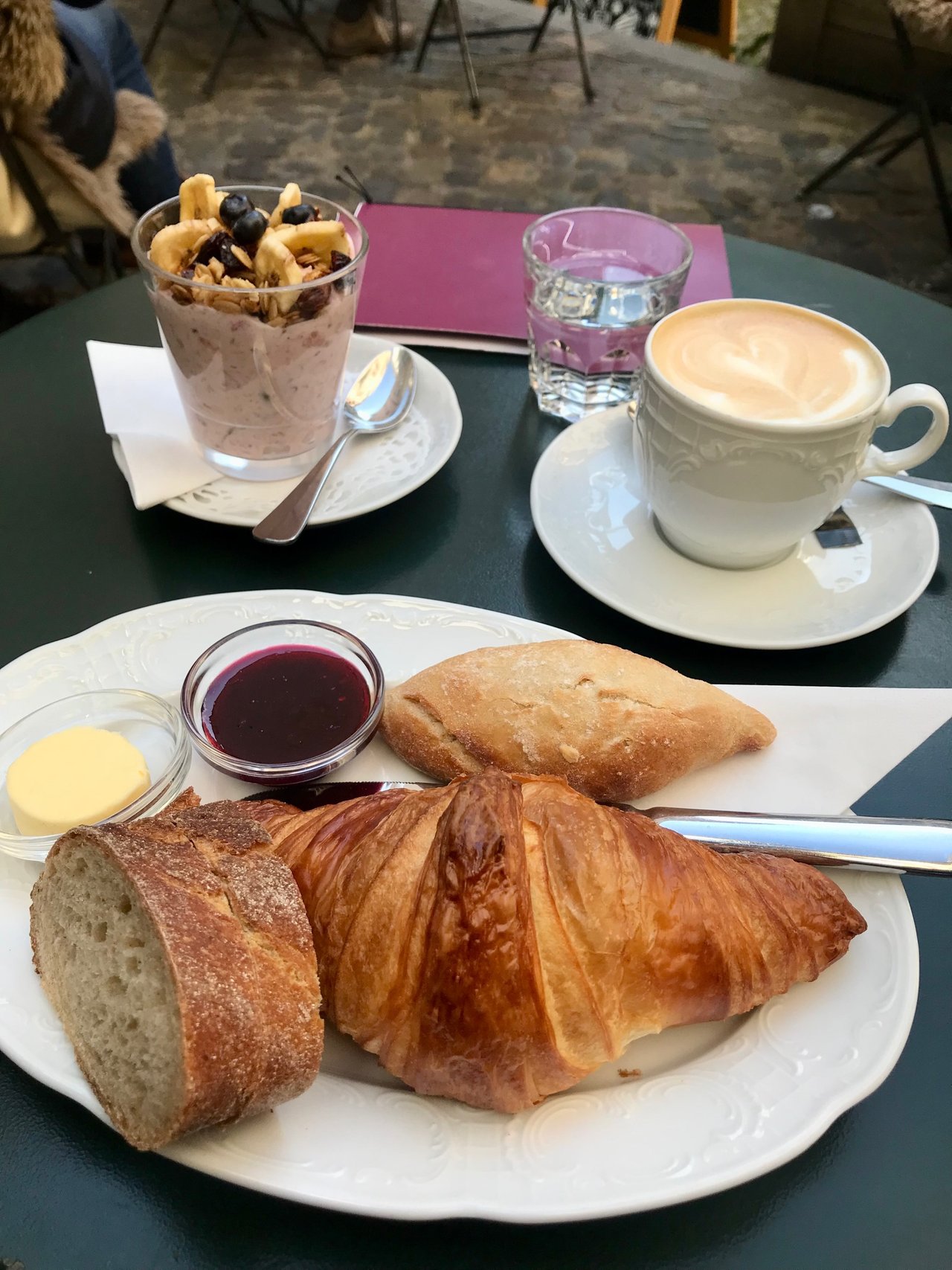 Swiss Complet - Cafe 1842
I could not resist ordering the Swiss Complet: a traditional Swiss breakfast full of delicious carbs. A croissant, bread, butter, jam, Birchermüesli (swiss oatmeal), and a coffee are all part of this large plate.
I was most interested in the Birchermüesli. While I am not an Overnight Oats eater, I instantly recognized it. Oats, apples, nuts, cream, and honey were the main ingredients. It was sweet and savory, thick and rich from the hearty cream used in this recipe.
Although my time in Zurich was running out, I lounged over my breakfast, feeling quite Complet! The sun was warm, the sky clear blue, and the scene around me suggested that I could be 100 years in the past. This was the meal I was looking for: a tiny nibble of Switzerland on this brief sojourn from the airport into the city.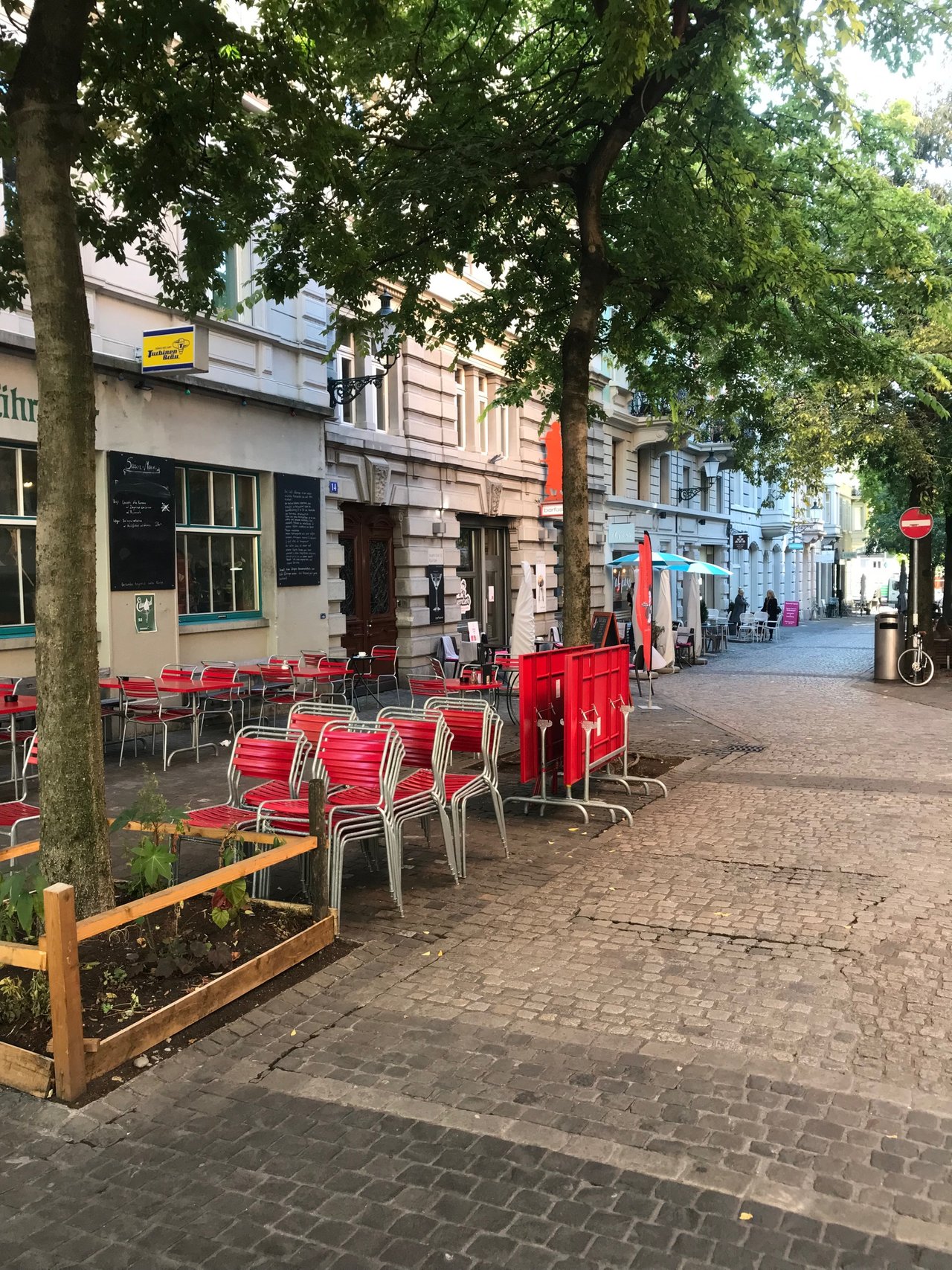 Finally, after lingering as long as I dared, I started back towards Zurich HB to catch my train back to the airport. More narrow streets. More cafes and restaurants. It's apparent to me that the Swiss spend their days banking and dining in style.
I crossed the Limmat over the Rudolf-Brun-Brücke bridge and hooked a right down the Bahnhofplatz. However, I had one more stop to make to find a gift for my daughter, who was picking me up at the airport back home.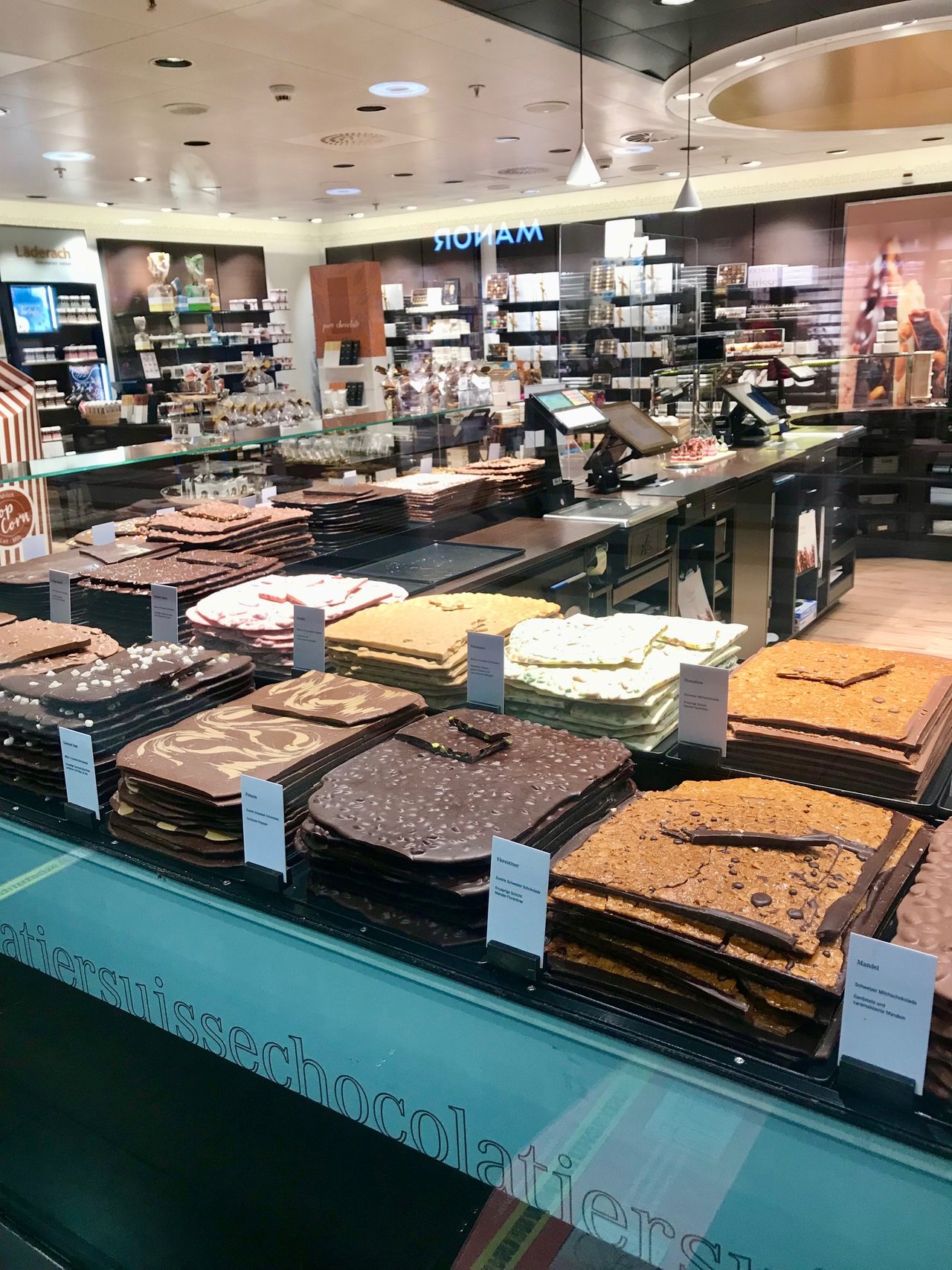 Walking along the Habsurgstrasse, I spied a chocolatier displaying bricks of chocolate in their wide storefront window and felt inspired. Inside, the shop is open and airy. And everywhere, chocolate!
Läderach Chocolatier Suisse was established in 1962. Fun fact: founder Rudolf Läderach Jr. created and patented the production of thin, hollow chocolate balls that are quickly filled with truffles. These days, his son, Jürg Läderach, runs the firm and has expanded across Europe and the USA.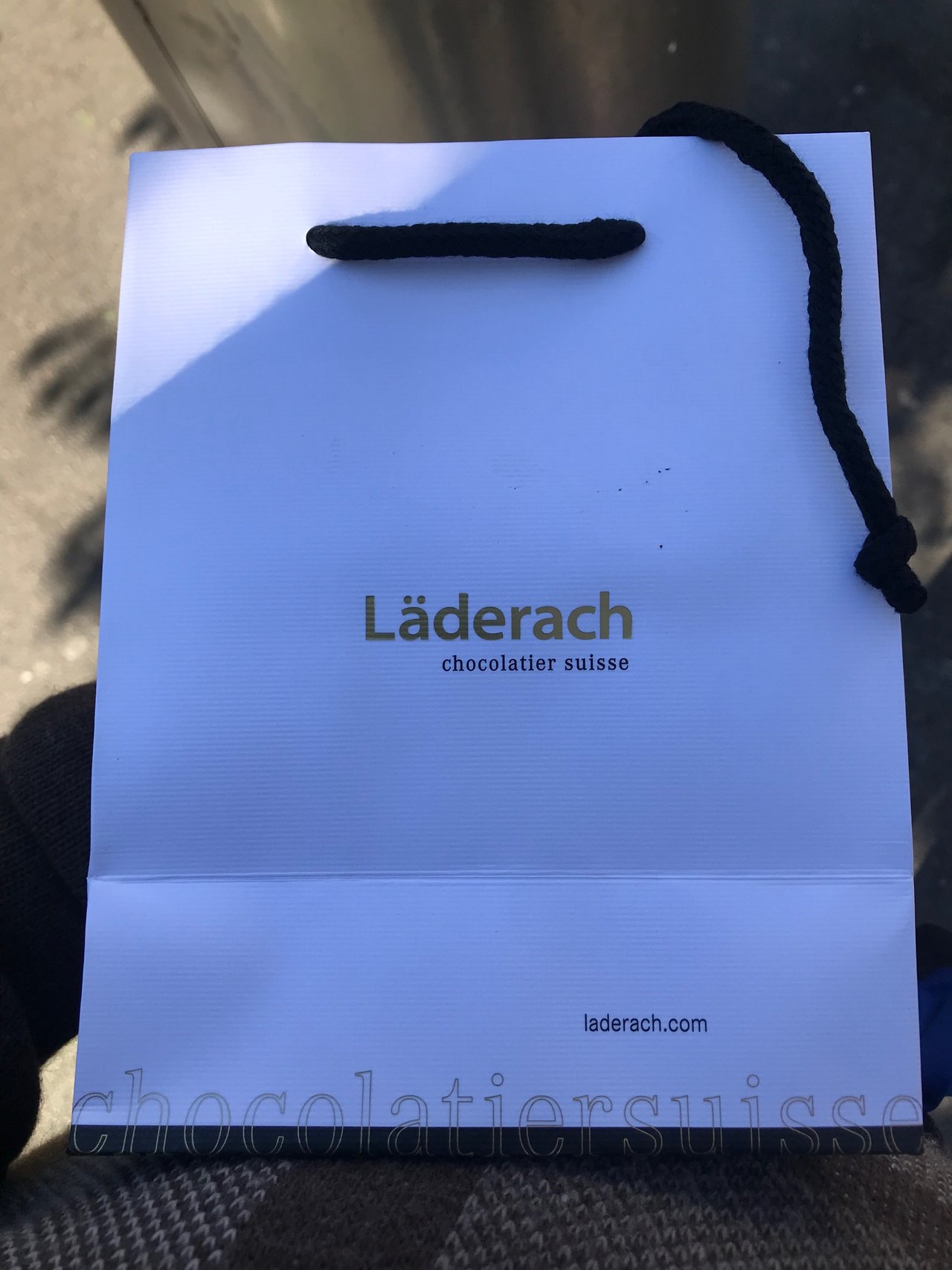 I purchased a sampler collection of flavored chocolate bricks, and with a fancy bag in hand, darted out of the shop and made my way back to Zurich HB. Mission accomplished!
On the short ride back to the airport, I reflected on my whirlwind tour of Zurich. There was so much that I did not see; I knew a more extended, more purposeful trip was in order.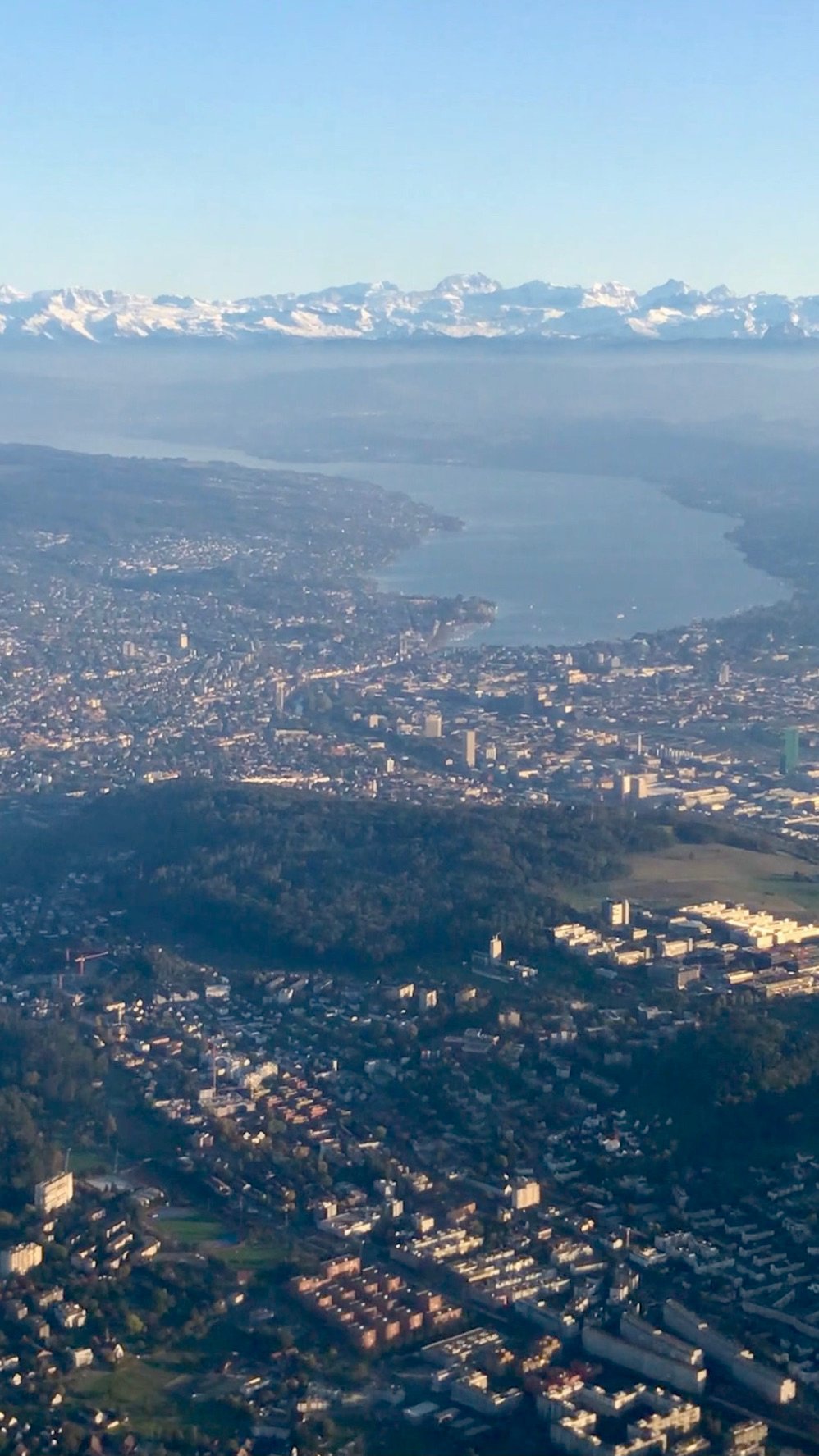 I had not cast eyes on Lake Zurich. I had not entered any of the four historic, significant churches in town. And I had not seen anything outside of the Old Town district. As a result, coming back to Switzerland has become a higher priority on my Travel List. A list that is crowded with desired destinations and challenged both by financial and time-based constraints.
If you find yourself with no time in Switzerland: a sweet zip through Zurich may still be possible thanks to their magnificent mass transit, and relatively small, compact and easily navigable Old Town area.
I highly recommend visiting Zurich and would love to hear about your experiences there in the comments below.
Cheers!
All images taken by the author using iPhone 7 unless otherwise noted.
Links & Sources:
Cafe 1842: cafe1842.ch
us.laderach.com
wikipedia.com
---
View this post on TravelFeed for the best experience.