Read this post on TravelFeed.io for the best experience
---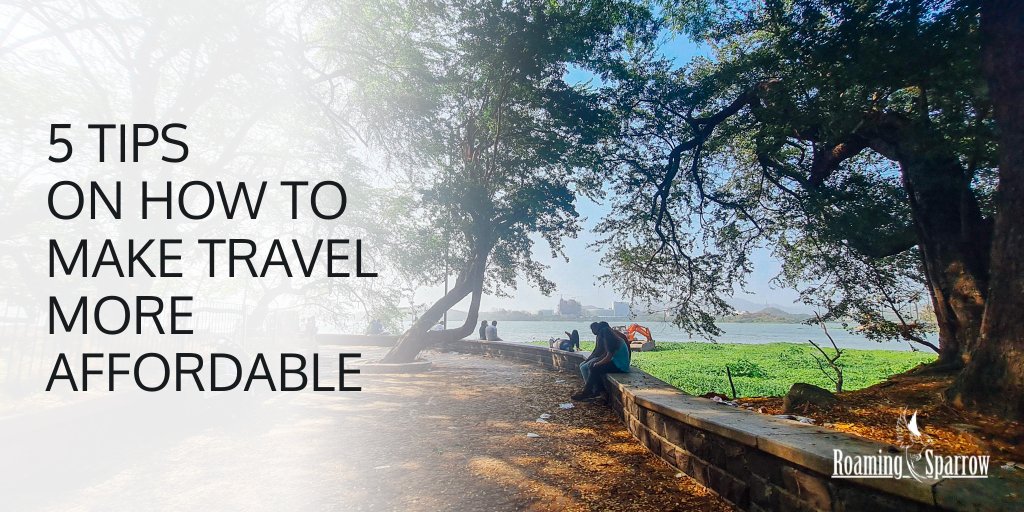 ---
---
5 Tips on How to Make Travel More Affordable
Hello Friends,
Hope you are traveling and enjoying life today.
When it comes to saving money, many people hate to think about it. After all, it's hard to swallow the fact that you're not always going to be able to fit everything you want to do into one trip. Fortunately, there are a lot of ways to make the most of your travels without spending a ton of money. Here are some of the best practices for making your travels more affordable.
---
Plan your trip
It might sound silly, but planning your trip can make a huge difference when it comes to saving money. For example, if you know that you want to take a trip to Europe in the fall, you can probably get a good deal on plane tickets. By planning ahead, you can save on international flights and hotel prices are usually the same no matter when you go.
I like to use the https://www.rome2rio.com/ app for how to get from one location to the next.
Also, sites like https://wanderlog.com/ that will let you plan your whole trip are also great to make use of!
---
Eat street food
Eating street food is a great way to save money when you travel. More and more, backpackers are discovering the benefits of street food, which is excellent news for those who don't have a lot of money to spend. Food carts are usually much cheaper than restaurants, and they're almost always more authentic. Plus, with a little planning, you can have some delicious meals for very little money.
A way like to save a bit of money and still see something new is booking a food tour with https://www.viator.com
---
Stay in hostels
Hostels are a great way to meet other travelers, stay somewhere cheap, and save money on accommodation. When you stay in hostels, you're sharing a room with other people, so the cost per night can be much less than staying in a hotel. Plus, hostel kitchens are equipped with a lot of basic supplies that are much cheaper than buying them individually. This can make eating in hostels a lot more affordable.
I like to use https://www.hostelworld.com/ to find places in various cities. They provide good photos, and you can get an idea of what the location looks like.
---
Don't stay at the most expensive hotel
Hotels can be a great way to save money on your travels, but they shouldn't be your only option. In many cases, paying more for a nicer hotel will end up costing you more money in the long run. To get the most out of your money, look for a deal on the cheapest hotel you can find. In many cases, you can get better value for your money at budget hotels than at luxury hotels.
I make use of https://www.booking.com/ to find good deals, and in a part of the city I want to stay in. Also, they have a deal program where you can 'Unlock' more discounts, the more you use them. So, I found their rates ok.
Pro tip : book for only a night or 2 then talk to the front desk about expending your trip, this way you can bet a better rate as booking.com won't take a commission.
---
Limit your drinking
Drinking can get expensive when you're traveling. Fortunately, there are some ways you can save on this expense. For example, look for happy hours, which are usually cheaper drinks offered between 3-5 pm. Also, be sure to look up the cost of drinks before ordering and keep an eye on the amount you're actually drinking. Most places offer free water and soda with most meals, so you can save money without even realizing it.
---
Use an app to find the cheapest flights
Finding the cheapest flights is an important part of making travel more affordable. When you find the cheapest flights, you avoid paying extra taxes and fees, which can add up quickly. To save money on flights, you can use a flight search engine or app. A flight search engine will show you the cheapest flights, while an app can help you track your flight and plan your trip to avoid flight delays.
I like to use https://www.momondo.com/ for looking for cheep flights, however, if you see e-dream as the booking partner, dont use them, they have been the WORST experence for me!
---
Bottom line
Traveling is usually cheaper when you plan your trip carefully, eat street food and stay in hostels rather than the most expensive hotel. These tips can help you make your travels more affordable. However, even with these tips, you might still find it hard to travel for free. If this is the case, and you don't think you can make your travel budget, that's okay. You can still visit your favorite destinations without breaking the bank.
What are you traveling hacks to save a few bucks when traveling?
---
---
Services I Use and Recommend:
---
Help Support Ongoing Content
| | |
| --- | --- |
| Bitcoin (BTC) | 18zopjg9Y2VA1ouCqCZapN3UzdpK3UnMdm |
| Ethereum (ETH) | 0x34F6e26d9730b934Af026A7de727fb8fC08204Dd |
| Binance Smart Chain (BSC) | 0x34F6e26d9730b934Af026A7de727fb8fC08204Dd |
Thanks for reading my post, you inspire me to keep posting!
Thank you for your support!
---
View this post on TravelFeed for the best experience.