Read this post on TravelFeed.io for the best experience
---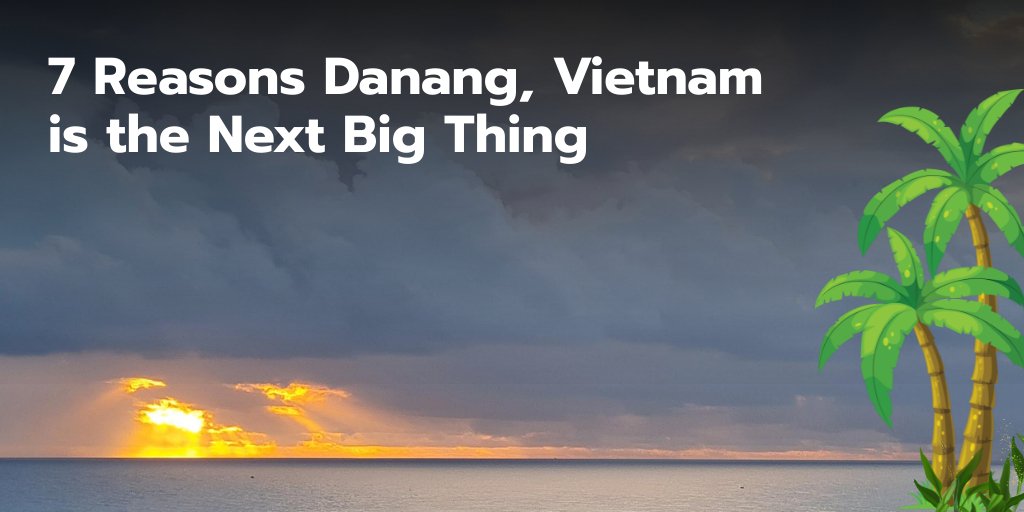 ---
# 7 Reasons Danang, Vietnam is the Next Big Thing
---
Hello Friends,
With its sandy beaches and stunning natural beauty, Vietnam is a bucket list destination for many travelers. It's known for its diverse culture and friendly people.
Dating back tens of thousands of years, there's a lot of history in Vietnam. It's one of the East Asian countries that has been the most impacted by Western colonization. Despite its long history, Vietnam is still in the process of reinventing itself.
Danang is the capital of this reinvention. It's a perfect blend of old and new, with a cosmopolitan vibe and plenty of natural beauty. If you're looking for a cultural vacation, here are 7 reasons why Danang is the next big thing for travelers.
---
It's a Destination for Cultural Vultures
One of the best things about traveling to Vietnam is the abundance of culture. From the ancient to the modern, Vietnam has a lot to offer those into the arts and those who are looking for a cultural experience. Its rich history is reflected in the architecture of every city you explore.
You'll find colonial cities, stunning beach towns, and fascinating ancient cities. Danang is no exception. It's a city that has developed a lot over in terms of architecture and design. There are beautiful old buildings in the city center and stunning beaches just minutes away.
---
It's a Browsing Destination
Hanoi is the most popular city in Vietnam, but you shouldn't miss out on the other amazing cities in the country. Danang is no exception when it comes to choosing a destination. Another thing that makes it so popular among travelers is the fact that it's not as touristy as Hanoi. If you're looking for a city that's full of locals, try this beautiful city. It's a great alternative to Hanoi for those who want to experience a different Vietnamese city. You can also browse the local markets and shop for authentic souvenirs.
---
It's a Foodie's Paradise
Hands down, Vietnam is one of the best foodie destinations in Asia. It has a lot of amazing street food and a wide variety of ethnic dishes. Take a tour of the cities, and you'll see food carts everywhere. Try the local spring rolls or a bowl of Pho for the best food in Vietnam is certainly the streets of the major cities.
You can also explore the local markets and try local dishes that you'll find nowhere else in the world. If you're looking for an authentic cultural experience, eating like a local is an amazing way to do it.
---
It's a Scooter Paradise
One of the best things about traveling to Vietnam is being able to explore on your own pace. You can walk into town and explore the local markets, or get lost on the beaches. Whatever you like, you're free to do so.
For those who enjoy getting around on two wheels, you'll love the abundance of scooters in the country. They're affordable, easy to use, and are an amazing way to travel around the country.
Do take note, however, driving in Vietnam is a bit different from in other countries. For starters, you need a license to drive anything over 50 cc. The roads are also much more crowded, so you have to be more careful when driving.
---
There Are Some Amazing Hotels in Danang
Vietnam has a lot to offer travelers when it comes to hotels. From great value hotels to boutique hotels, Vietnam has something for everyone.
One of the best things about staying in Danang is the variety of options. This is a beach town, so expect a lot of beautiful hotels on the beach. You can find everything from all-inclusive resorts to small homestays.
There are great options for families and solo travelers. You'll also find great service, great rooms and a nice ambiance.
---
Conclusion
If you want to experience a different culture, meet friendly people, and experience one of the most beautiful countries in the world, then you must visit Vietnam. It has everything that you could possibly want in a country: beaches, mountains, culture, and great food.
Despite its long history, it's still in the process of reinventing itself. The cities are still being built up, and while they're not yet finished, they're certainly becoming more modern.
I hope you enjoyed this article today and perhaps will add Dnang on to your travel bucket list soon!
Cheers
---
---
Services I Use and Recommend:
---
Help Support Ongoing Content
| | |
| --- | --- |
| Bitcoin (BTC) | 18zopjg9Y2VA1ouCqCZapN3UzdpK3UnMdm |
| Ethereum (ETH) | 0x34F6e26d9730b934Af026A7de727fb8fC08204Dd |
| Binance Smart Chain (BSC) | 0x34F6e26d9730b934Af026A7de727fb8fC08204Dd |
Thanks for reading my post, you inspire me to keep posting!
Thank you for your support!
---
View this post on TravelFeed for the best experience.