Read this post on TravelFeed.io for the best experience
---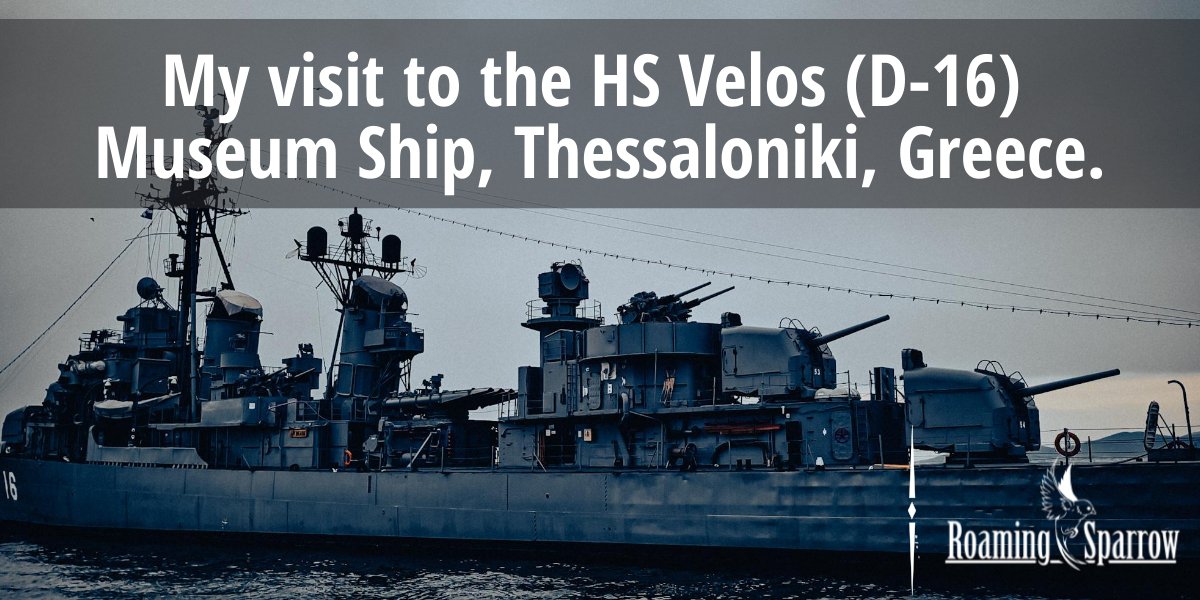 ---
My visit to the HS Velos (D-16) Museum Ship, Thessaloniki, Greece.
---
Hello Friends.
Here in Thessaloniki, the weather is still cold... like bitter cold. What better thing to do in the cold than go for an epic 1 hr walk to see a decommissioned battleship? If you have any ideas, do let me know. Being without any better ideas, that is just what I did yesterday. I went for a walk along the waterfront to see this old ship.
The history of many old battleships are rich and long. They have been used in many wars and have served their countries well. Now, they are being used as museums or memorials and people can go and see these old ships. The same is true of the HS Velos (D-16).
For the longest time, it was docked in Athens, Greece, but it was relocated by tugboat to Thessaloniki, Greece, where it stays today as a museum you can visit.
I had seen the lights of the bow at night for a few days already and yesterday, after my work was done, I had time to make the 1 hr walk from my apartment to see the ship. Come with me and let us explore a bit of history together!
---
HS Velos (D-16) Museum Ship
Location : Unnamed Road, Thessaloniki 546 45
Google map link : https://g.page/ATVELOS?share
[//]:# (!pinmapple 40.600930 lat 22.948837 long My visit to the HS Velos (D-16) Museum Ship, Thessaloniki, Greece. d3scr)
---
Taking a walk along the water front in Thessaloniki, Greece, is a great way to spend an afternoon. The view of the blue waters of the Aegean Sea is stunning, and the breeze is refreshing. There are plenty of restaurants and bars along the waterfront, so you can stop and enjoy a meal or a drink while taking in the view.
At the end of the dock is where you will find the ship.
The HS Velos (D-16) is known as a Fletcher-class destroyer. It does look like a US ship, and for good reason, It was made in the USA and was called USS Charrette (DD-581) when it was commissioned around May 1943.
Battleships! Giant floating steal. Huge, awe-inspiring and dangerous. What could be more exciting than a day out on the high seas, dodging cannon fire and watching the enemy ship go down in a ball of flames? Well, I can think of a few things... but these ships, wow, to think of the stories they have been part of.
The cost to board the ship was 2 Euros. For that price, you can wander around on the ship and take photos, but as the guard told me, no videos... Why??? I am not sure. But okay!
The first thing that hit me was the cold steal of the ship. It is massive and all welded, all steal. When the ship is packed, it comes in at 3050 tons and 2100 tons when it is outfitted with regular gear.
A feature of ships that pulls my eye a lot, is the ropes. The fibers upon fibers, are all braded together, lashed and tied. By themselves, the strands will break, but together they can hold huge wights.
The time I went, I was the only person on the ship... it was a bit strange, but also nice. Walking to the bow of the ship, the thought of this bow, breaking waves, crashing into the sea for days on end painted pictures in my mind of what it must have been like.
I also got to wander into the captains deck. There are many small windows and chairs. Just think about sitting here for days on end, no games to play on your cell phone… .just you and the ocean waves.
A little better of a place to sit, but still, so tight and cramped.
You can almost hear the whistle calling crew members to their stations. Before being given to the Greek Navy, this ship received 13 battle stars, and was created with sinking a sub, capturing a Japanese hospital ship that was transporting fighters to battle, and more.
On June 16, 1959, the ship was transferred to the Greek Navy where it served. But, the big bit of history is that on May 25, 1973, the captain, Commander Nikolaos Pappas, stood up against the dictator of Greece. In a mutiny, the ship set course for Rome.
The crew and Nikolaos stayed in Rome as political refugees. The ship was sent back (*As the families of the crew were being threatened).
To take a break from the story for a moment, this is a view looking back at the port here in Thessaloniki, Greece. Wow, so nice to see it from the sea
Anyway, democracy was restored back in Greece a year or so later. Nikolaos and the crew were able to return home and to their posts. Nikolaos, well... he became an Admiral. Wow!
The ship eventually was decommissioned on February 26, 1991, then, in 1994, recommissioned as the "Museum of the Struggle Against the Dictatorship". A ship as a Museum against Dictatorship... I am sure there are some plays on words in that place...
Venturing into the belly of the beast, many rooms were cramped and tight. Working in these quarters every day... phew.
Dim lights overhead, cold steal around you. Perhaps after a year or so serving on this, you will want to find a nice place in the mountains to live?
Below decks there was a great little museum as well, with newspaper clippings of the story. They were all in Greek, so I could not read that many, but it still looked pleasant.
Also, there were a lot of other display cases highlighting the gear that was used.
And even smaller hatches that lead further down. I have to wonder about how many sailors hit their heads on these things and or tumbled down those staircases.
Seeing the mess hall as well, perhaps one of the less "bleak" looking places on the ship. The crew, sitting here playing chess and joking.
The bunks were also a sight to see... staked up 3 high. Look at your wrist, and look at your elbow. That is how much room you have from the top of the mattress to the mattress above you.
Having snaked my way around the guts of the ship, I headed up the stairs and back to the outside world.
Waving in the wind, the Greek flag.
My visit to the HS Velos (D-16) Museum Ship, Thessaloniki, Greece. It's a good ship and for €2, not a bad price to walk about on something neat like this.
Thanks for joining me today on this exploration. If you make it to Thessaloniki, Greece and have an hour to kill, I say go explore this ship. If you are a history buff, you will love it. If you like insta photos, you may get a few good pictures. If you don't like history, photos, or paying money, you may want to skip it.
See you all tomorrow, Cheers~
---
---
Services I Use and Recommend:
---
Help Support Ongoing Content
| | |
| --- | --- |
| Bitcoin (BTC) | 18zopjg9Y2VA1ouCqCZapN3UzdpK3UnMdm |
| Ethereum (ETH) | 0x34F6e26d9730b934Af026A7de727fb8fC08204Dd |
| Binance Smart Chain (BSC) | 0x34F6e26d9730b934Af026A7de727fb8fC08204Dd |
Thanks for reading my post, you inspire me to keep posting!
Thank you for your support!
---
View this post on TravelFeed for the best experience.