Read this post on TravelFeed.io for the best experience
---
Hello everyone,
Do you like cycling tours?
Japan is the one of the most convenient and safe countries in the world. There are many choices for traveling around Japan such as group tours, car rentals, and train passes. In this post, I'd like to share the itinerary of the cycling tour in Osaka, where I'm living.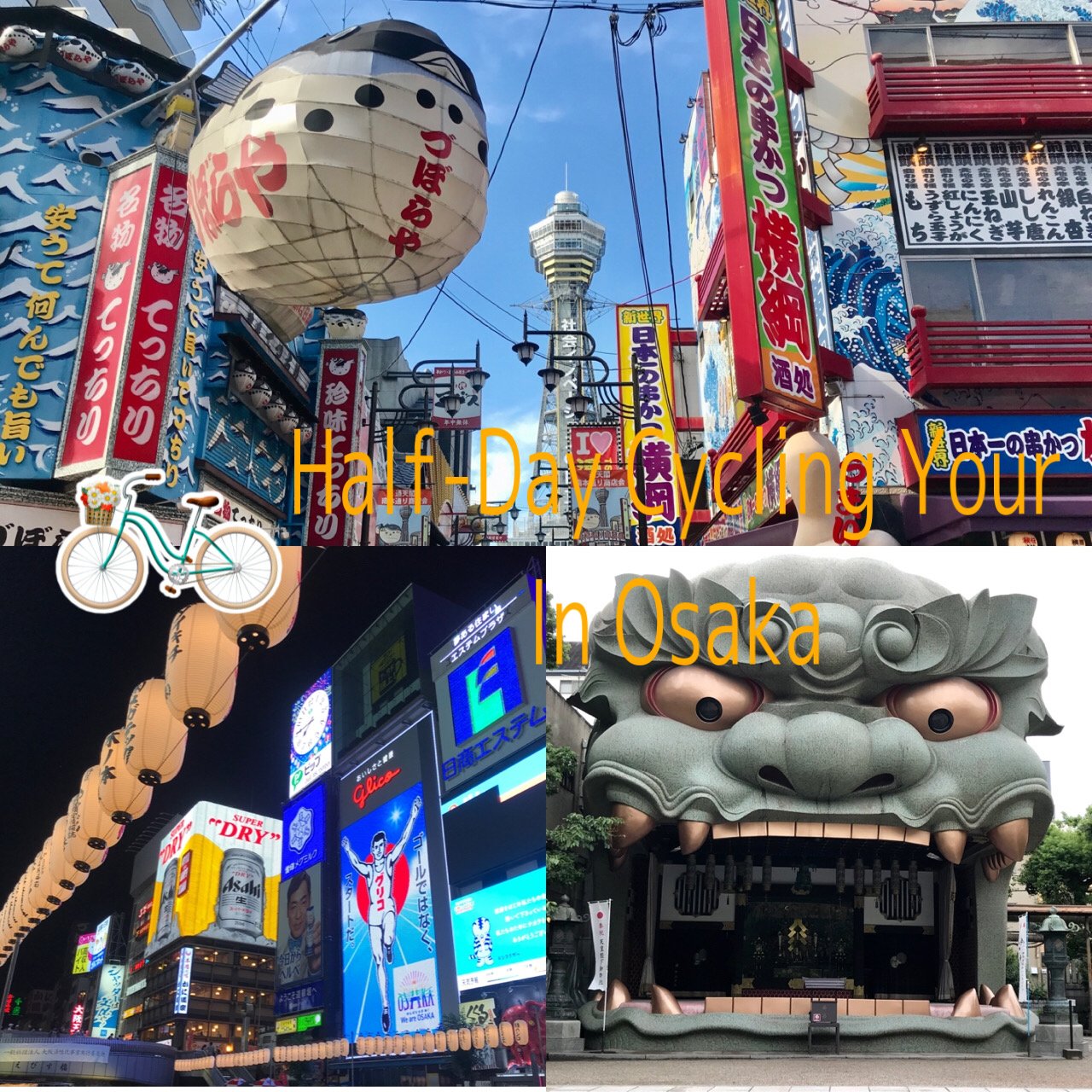 My half-day cycling tour itinerary includes Namba Yasaka Shrine, Tsutenkaku in Shinsekai, and Namba-Shinsaibashi shopping street. The total distance is about 4 Kilometers. You can see the route below.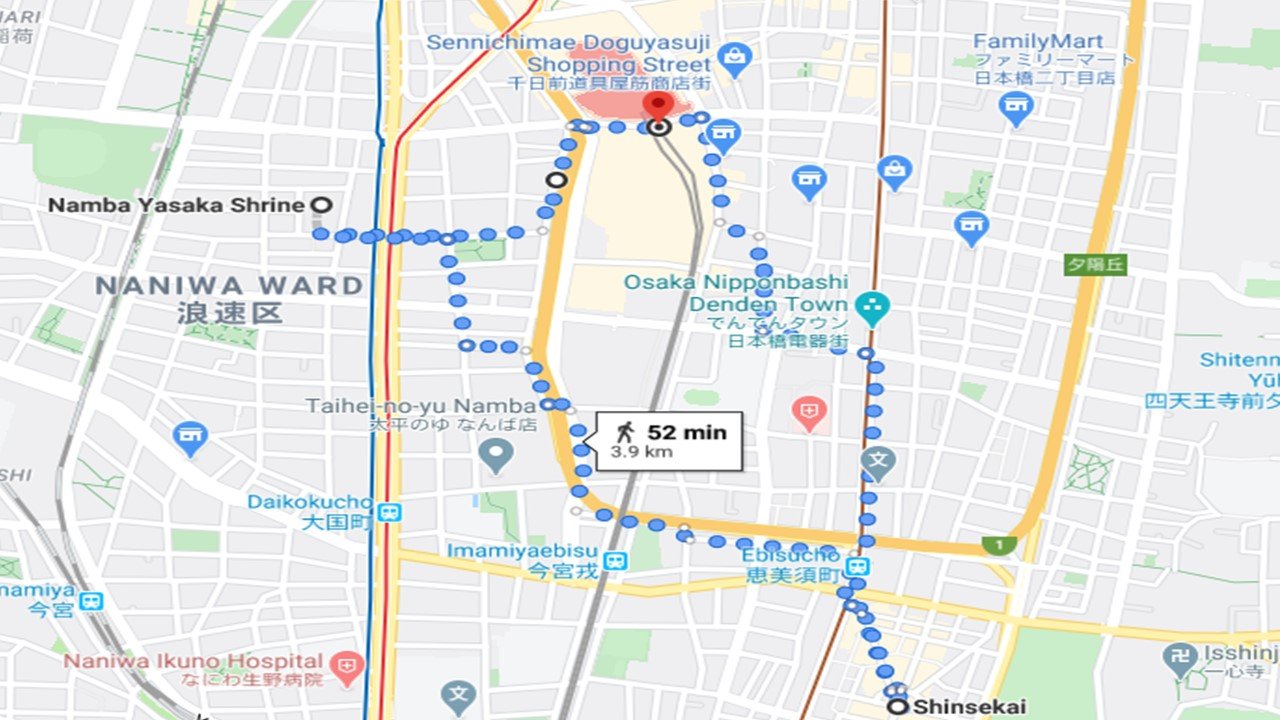 How To Rent A Bicycle?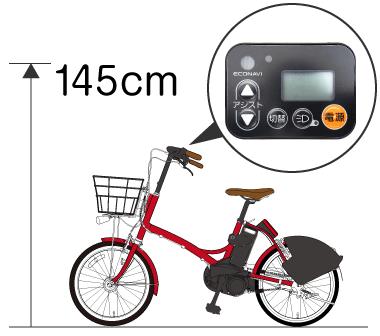 Electrical bicycle
source [](https://www.d-bikeshare.com/onedaypass-web-e)
I recommend using a bike-share service because there are more than 1,000 cycle ports in Japan with 10,800 bicycles for rent. You can easily apply for this service through the internet in 5 minutes. The rental fee is from 1,048 to 1,650 yen, and you can ride all day.
Please see more detail at https://www.d-bikeshare.com/onedaypass-web-e
Let's go!
I started from my place near Namba Station and headed to Namba Yasaka Shrine first.
Namba Yasaka Shrine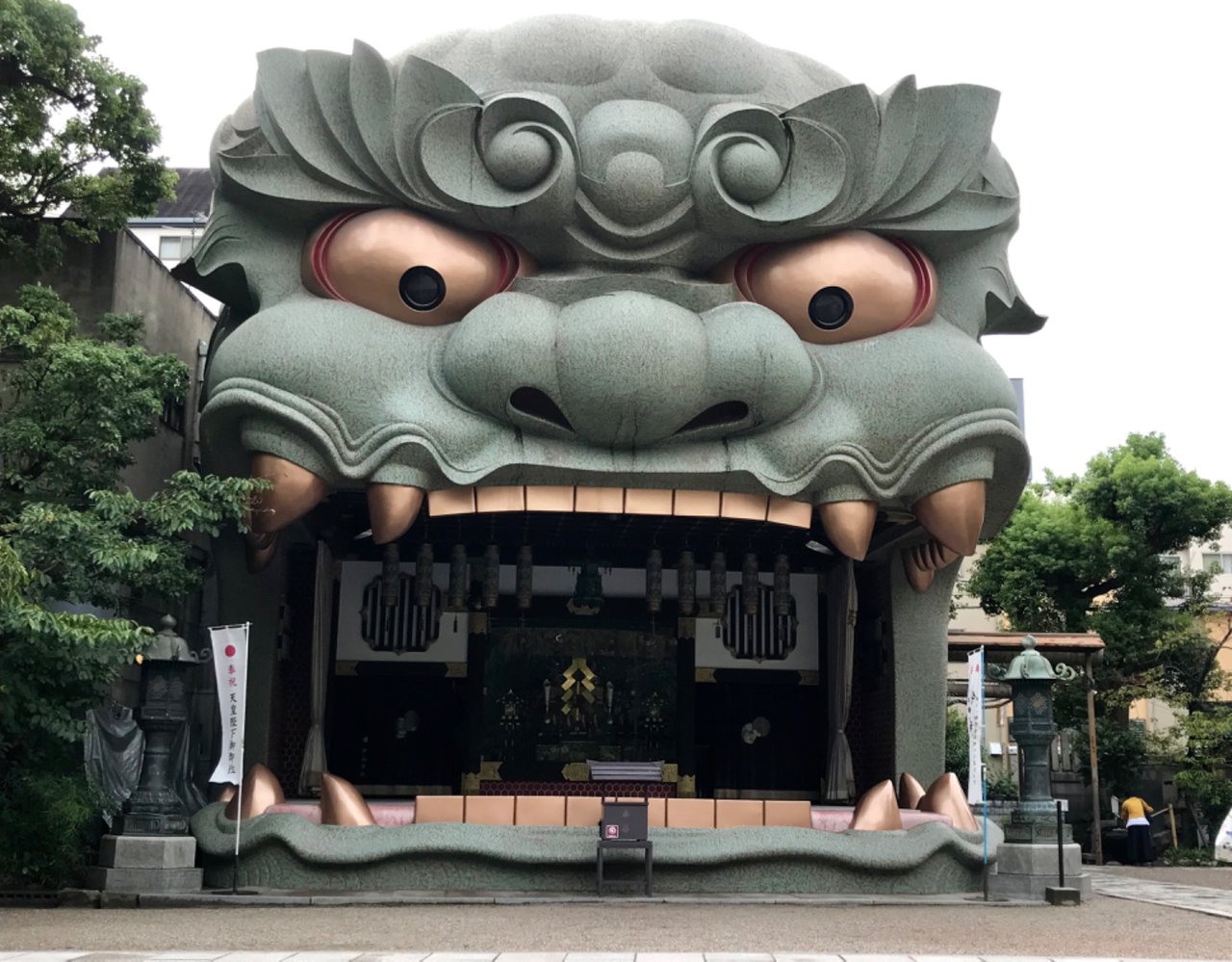 Namba Yasaka shrine
Namba Yasaka Shrine is located about 5 minutes by foot from Namba Station. This shrine has a famous, enormous lion head shaped stage and it was built in 1975. Why did is the stage shaped like a lion's head? Because it is believed that the huge open mouth of the lion will swallow evil spirits and bring good luck for succeeding in business or school.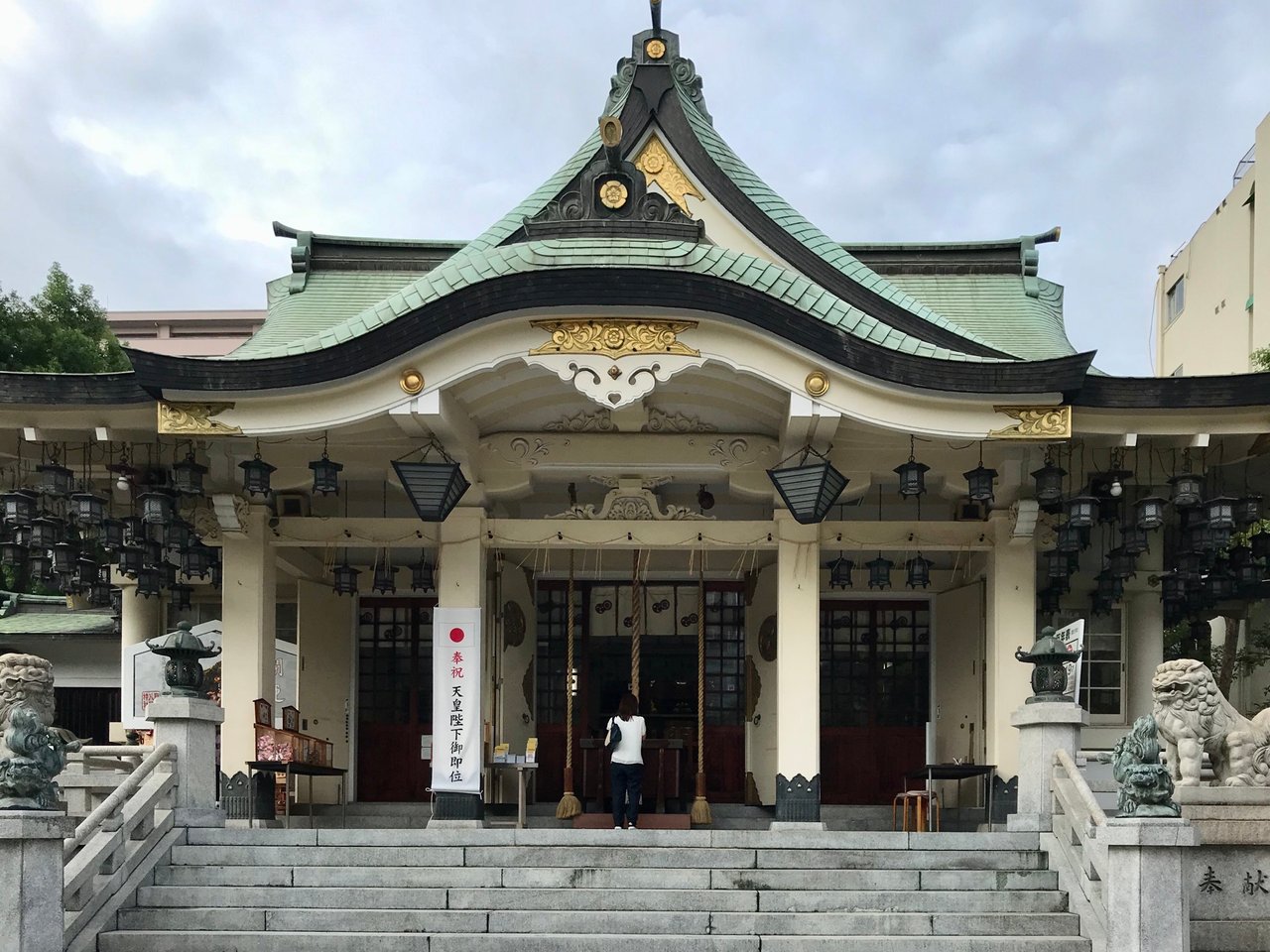 Have you ever seen a wooden board at a shrine? The wooden board is called Ema. It is a wooden wish board on which you can write any wish that you want.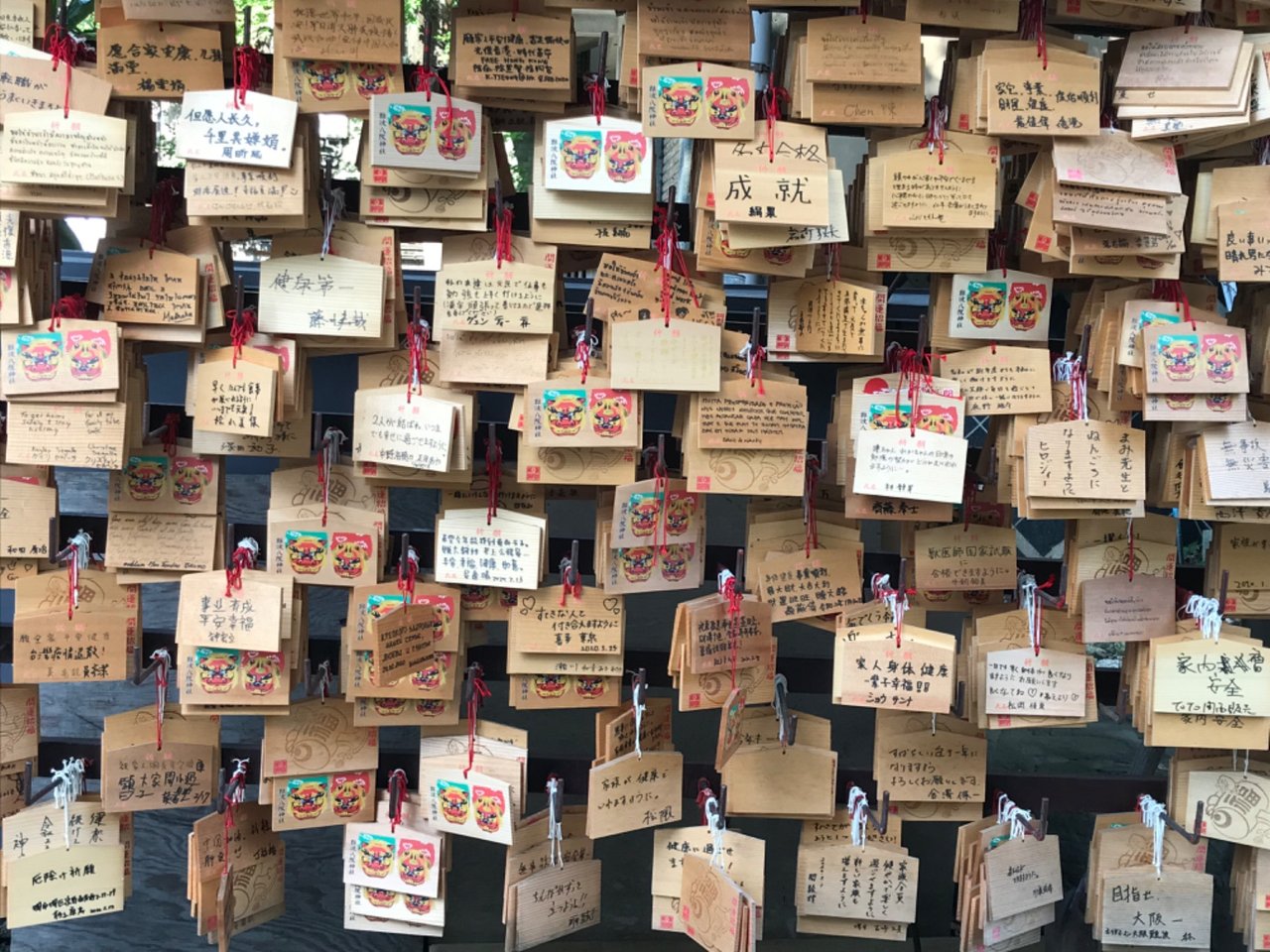 Wooden wish board
Shinsekai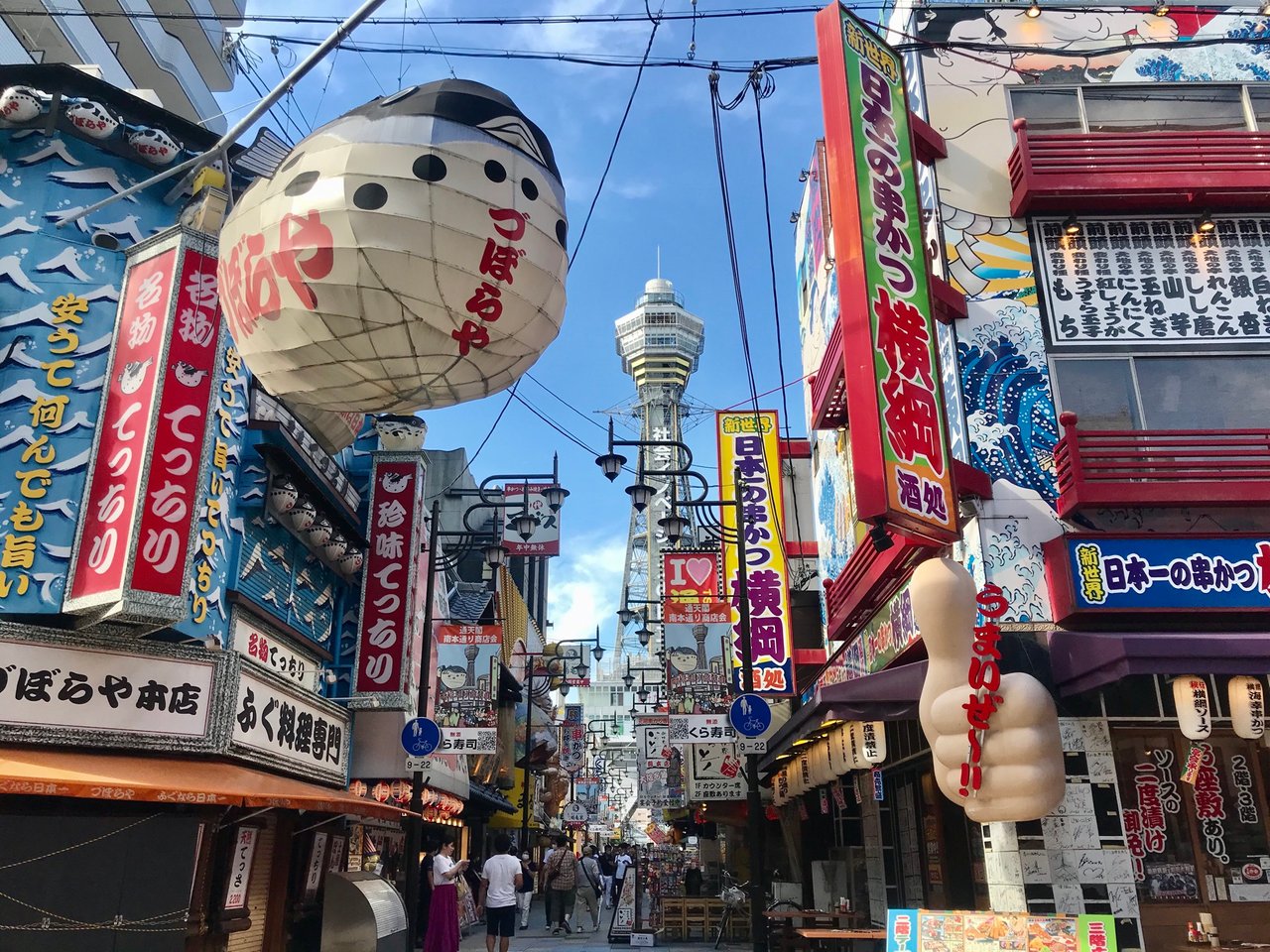 Shinsekai means "New World," and is located next to the Den Den Town area. The Tsutenkaku Tower is a landmark of Osaka. Now it is used to show the number of COVID-19 infections in Osaka. Tsutenkaku Tower was built to resemble the Eiffel Tower in Paris. There are many shops and restaurants. You should try kushikatsu - deep-fried meat and vegetables on skewers. Kushikatsu is a famous food in Osaka, and is sold at most of the restaurants in Shinsekai. You shouldn't miss stopping by and taking some photos with the huge puffer balloon. Behind Shinseikai connects to spa world where there are hot springs in the city center.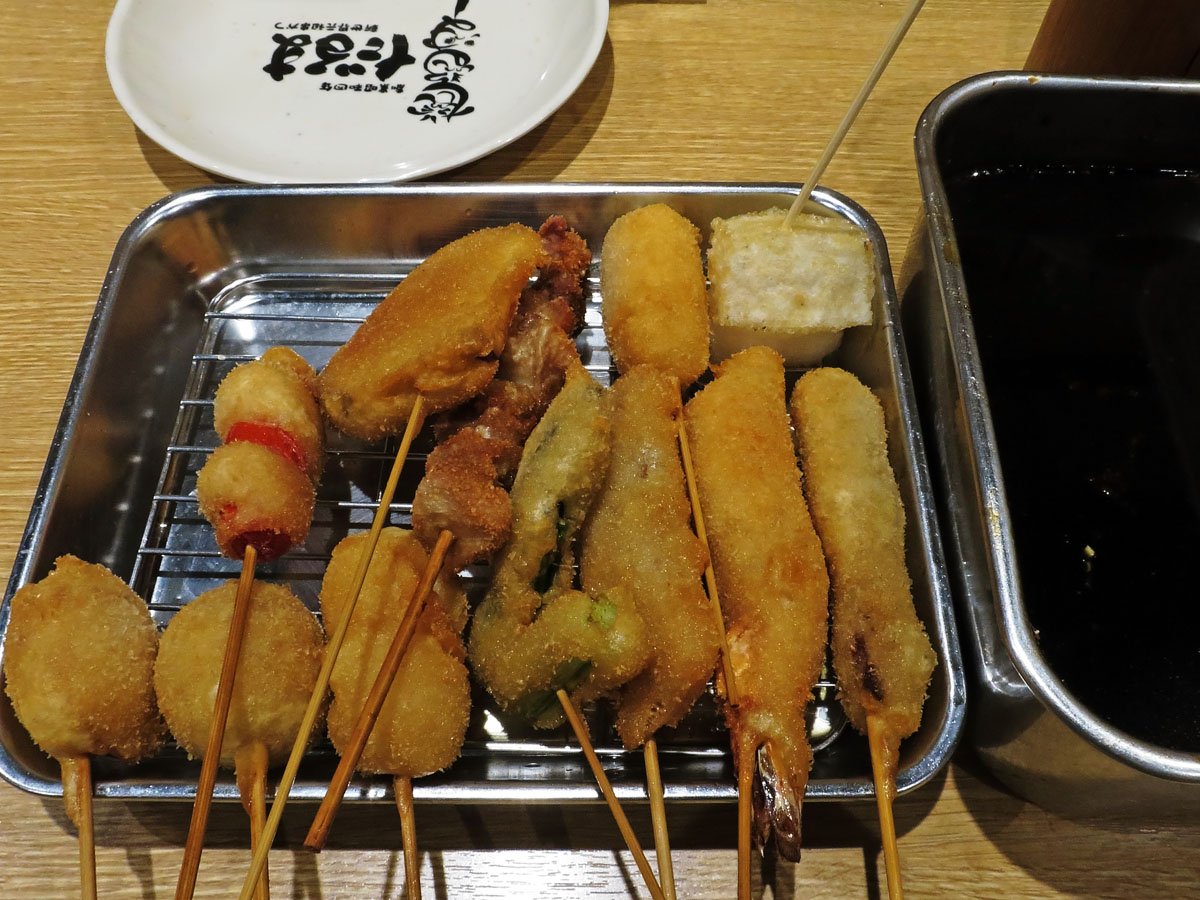 Kushikatsu
source [](https://en.wikipedia.org/wiki/Kushikatsu)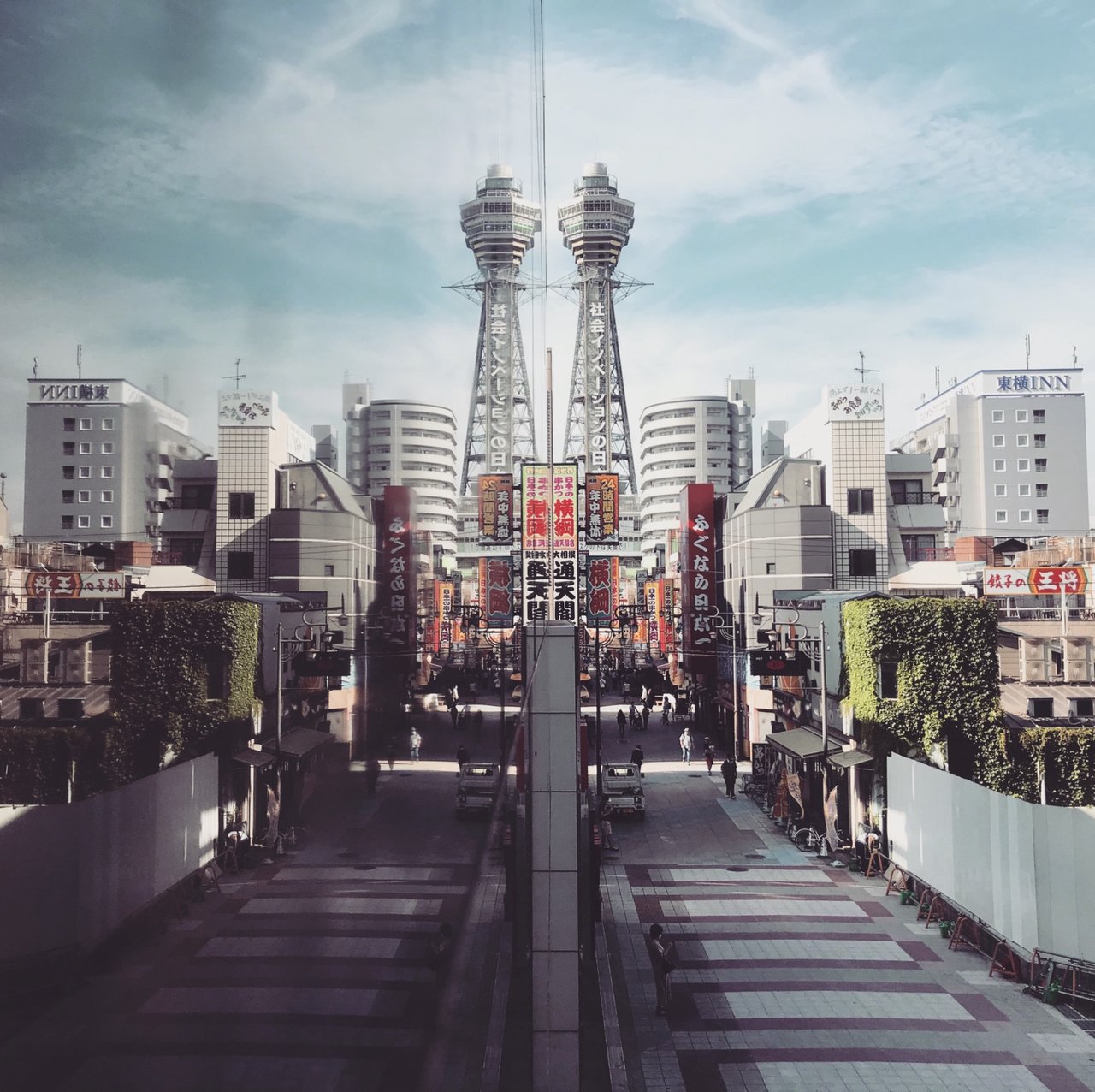 Namba-Shinsaibashi Shopping Street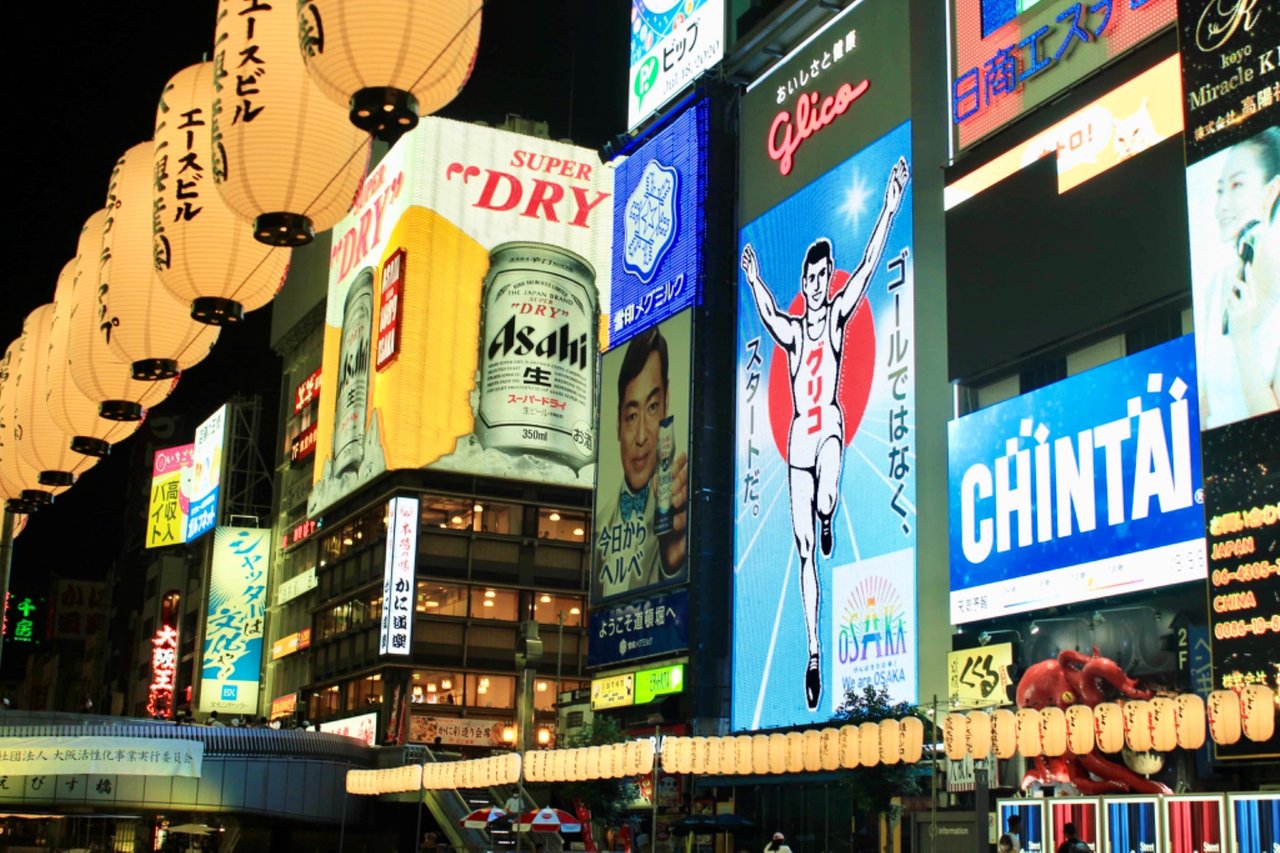 Glico illuminated signboard
Most of you may know Namba-Shinsaibashi shopping street. This shopping street is the longest in Osaka and has various shops, cafes, and restaurants. Most of the shops are cosmetics shops and drugstores. After COVID-19 happened a lot of shops and restaurants closed.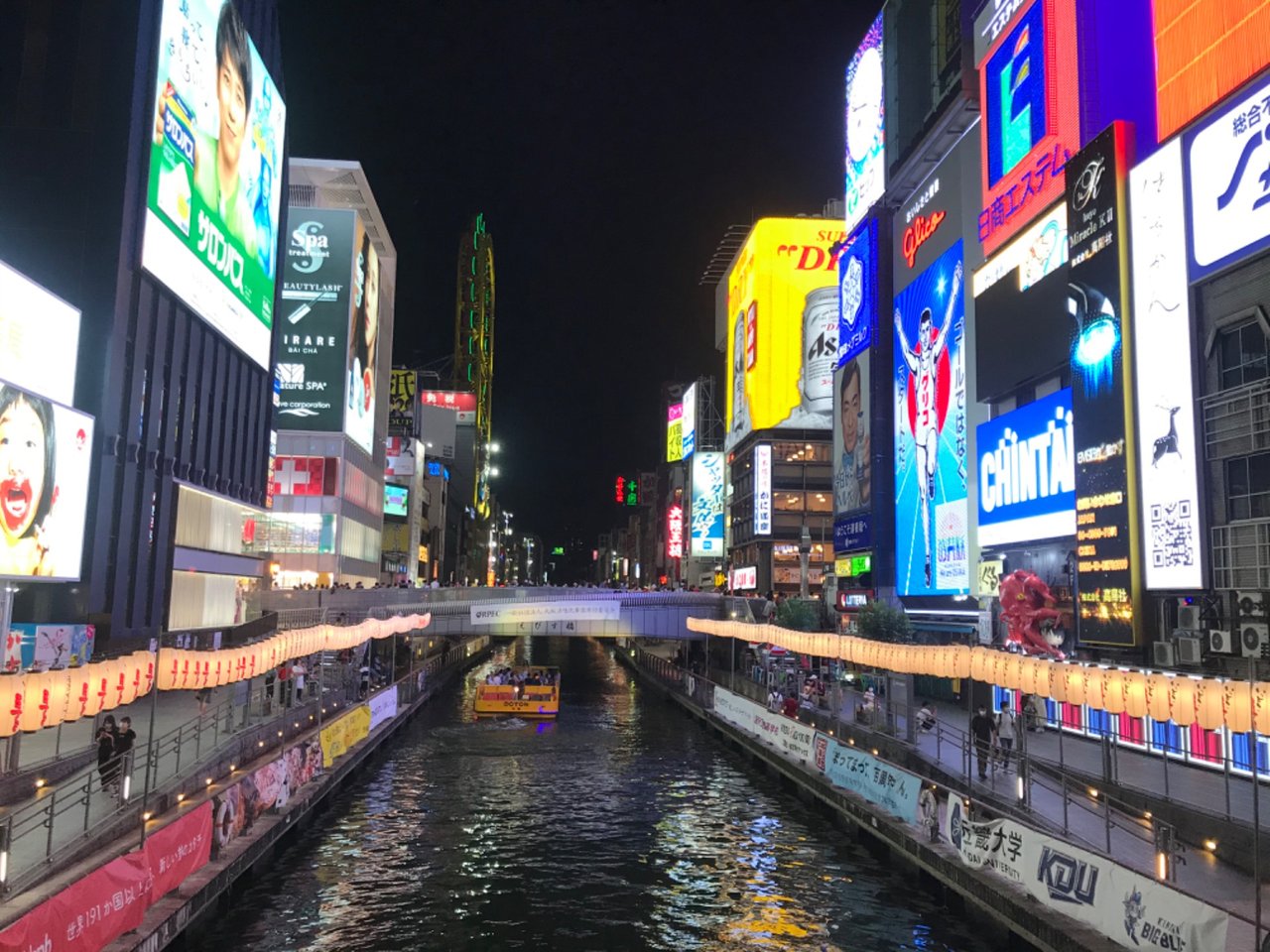 Dotombori canal
Namba and Shinsaibashi are separated by the Dotombori Bridge. Beside the canal is a Glico illuminated signboard, which seems to be a landmark of this area. Don't forget to take some photos with it.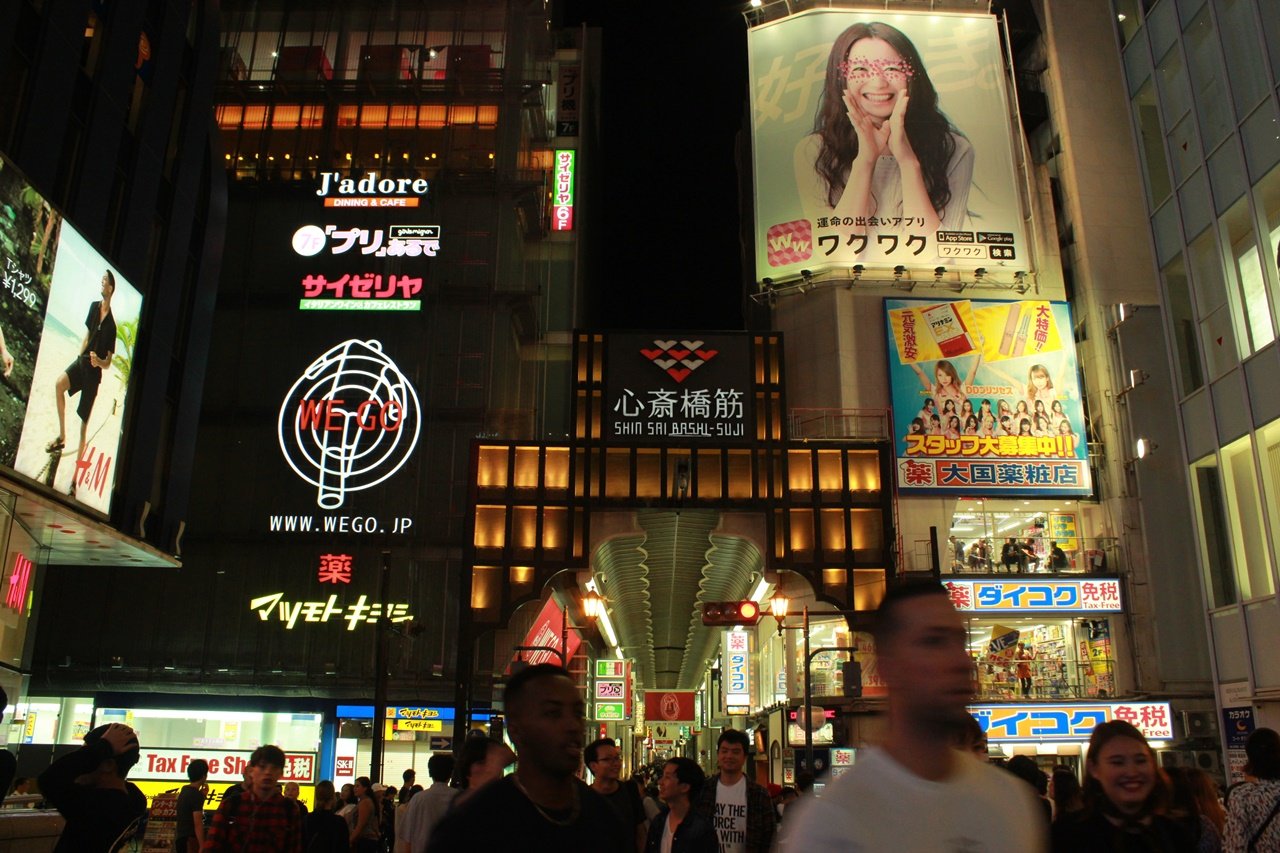 If you like shopping, I'm sure you might spend a lot of time here. You can also adapt this itinerary for a walking tour, since it is not such a long distance.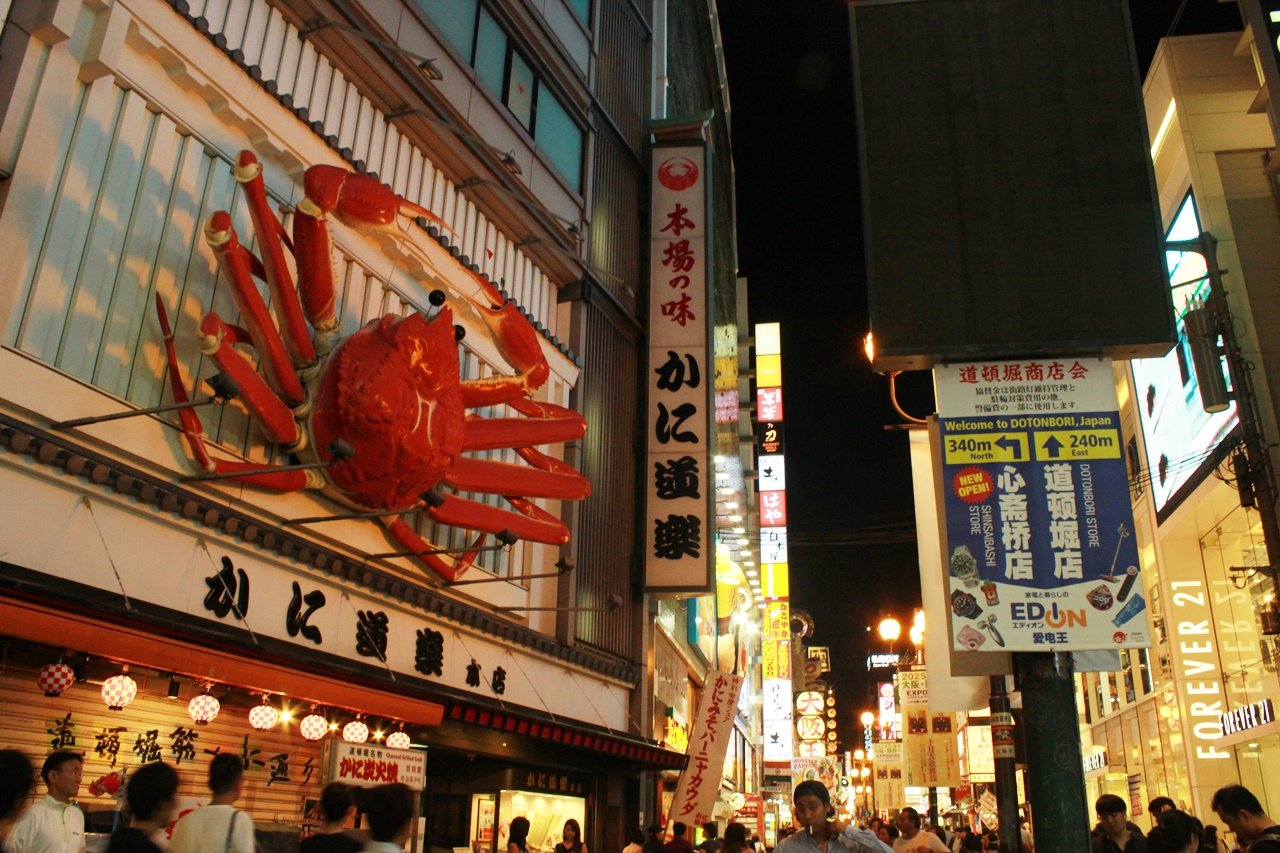 Thank you for stopping by my post. If you enjoyed reading it, please upvote & follow me for more posts and photos about life in Japan and Thailand.
---
View this post on TravelFeed for the best experience.