Read this post on TravelFeed.io for the best experience
---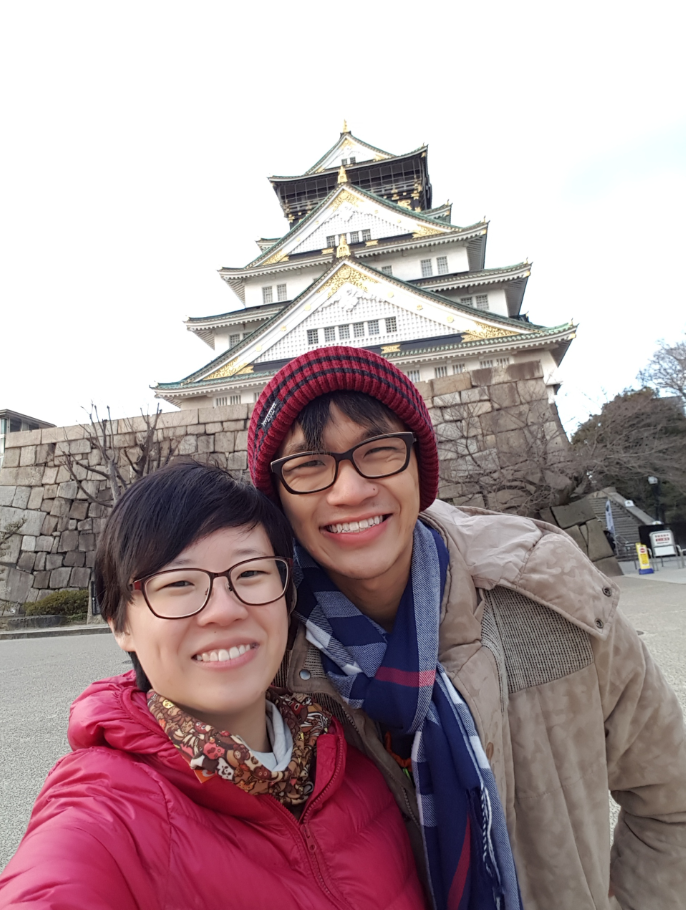 ---
Hey Hive/Steemit!
Happy 2021!! Hope everyone had a fun (but safe) new year weekend! I bet everyone is relieved that 2020 is over. And although we probably won't get to travel anytime soon still, I think better things are definitely on the way. Anyway, let's get back to it!
So if you didn't catch the last couple of posts, we're currently on a brand new journey in Osaka! It was quite a spontaneous trip since there was a super promotion on Philippine Airlines and we decided to just go for it during our mid-semester break back in Feb 2017! This was also the first Valentines' trip we took together!
Last week, we had a chill day exploring the Pokemon Centre in Umeda! And we finally managed to try the famous Rikuro Ojisan (aka Uncle Rikuro's) Cheesecake, which was really yummy!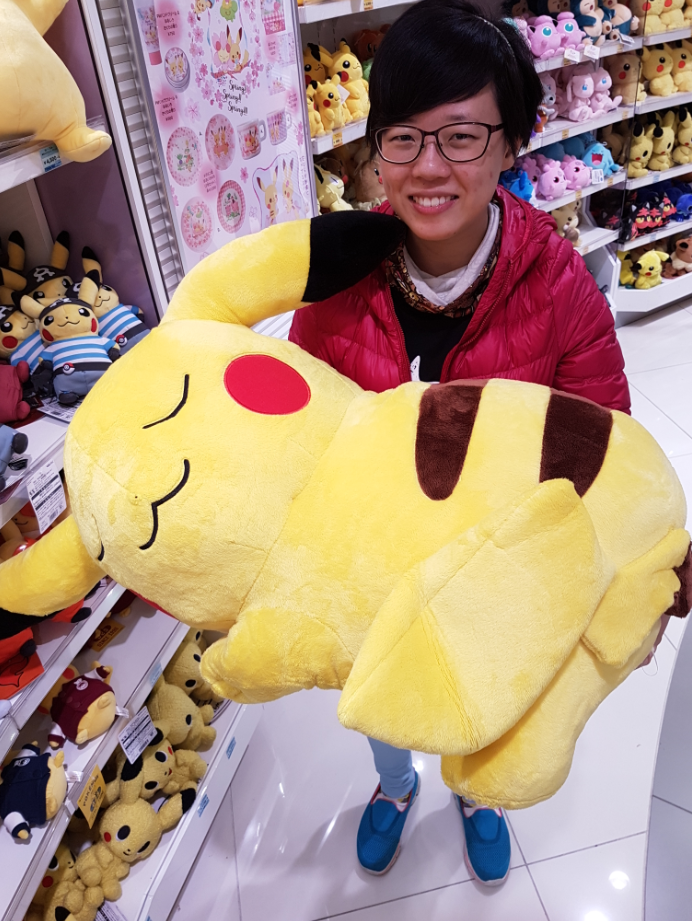 But anyway, onto our fourth day! Let's go!
21 Feb 2017. Sunday.
As always, we started our day in the afternoon and went to Dotonbori to have lunch!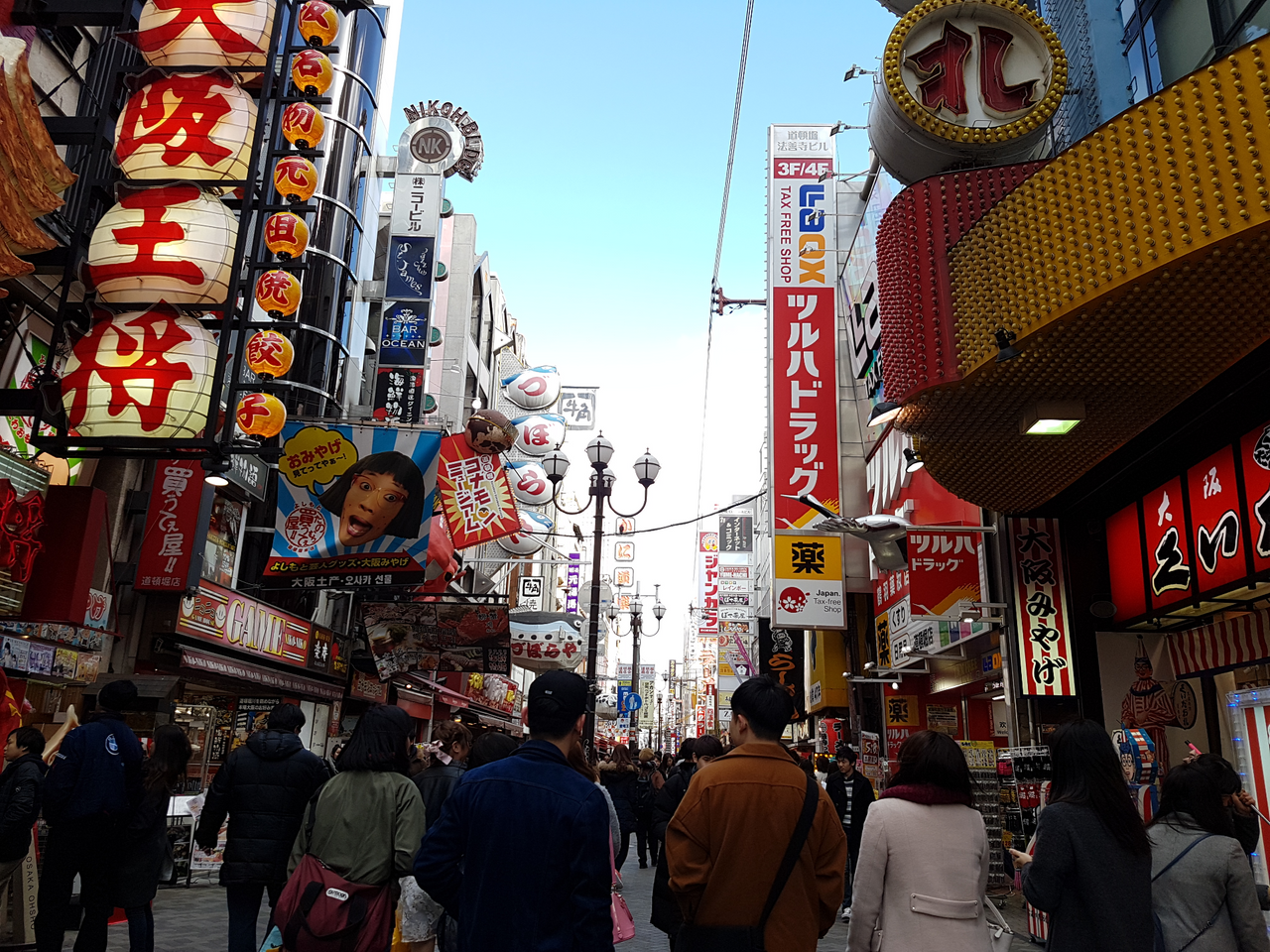 We couldn't really decide what to eat, and decided to check out the new Sushi Zanmai outlet that opened here!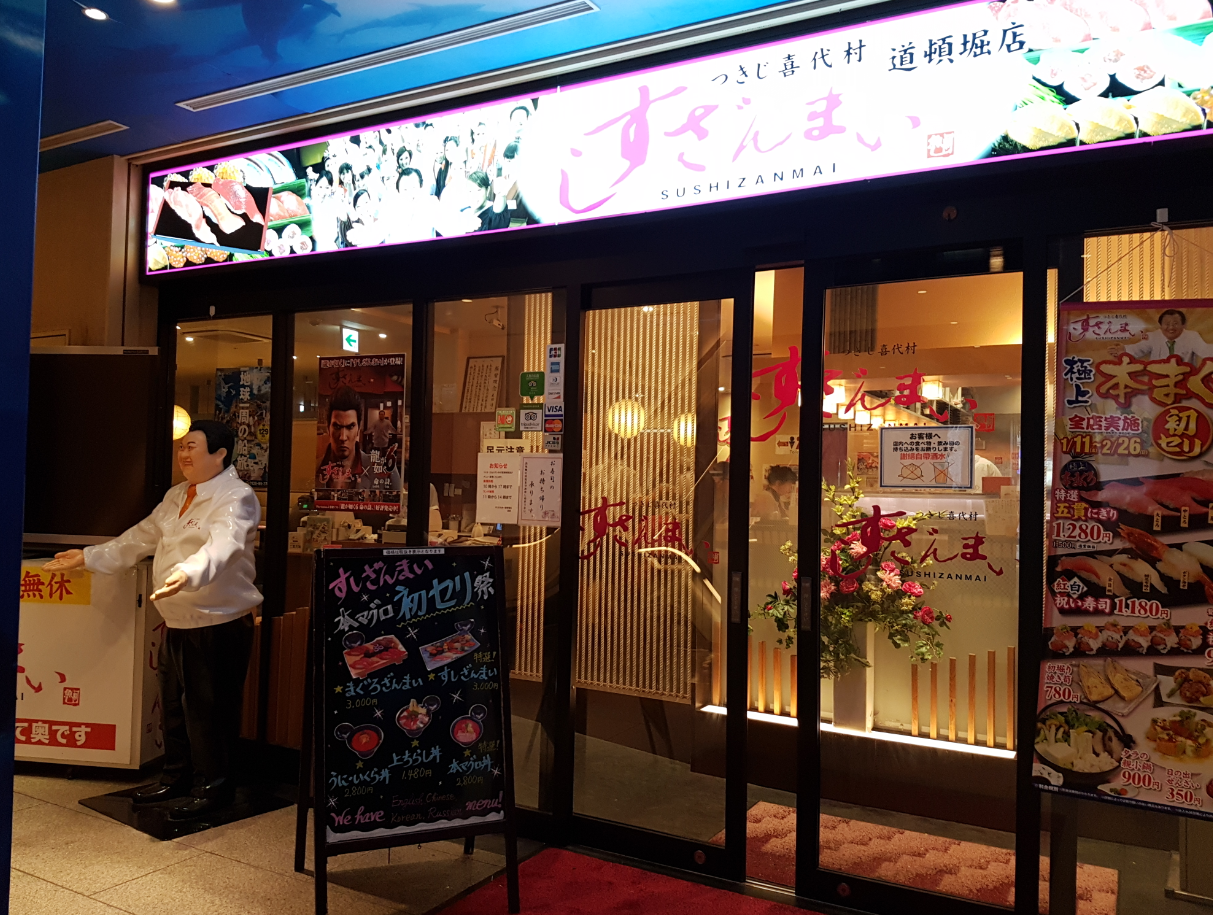 Sushi Zanmai is definitely one of my go-to places for sushi in Japan. It's fresh, affordable and accessible since there are many outlets in Tokyo and Osaka. We've eaten at many of their outlets in Tokyo, but I think this is the first time we've tried it in Osaka.
Sidenote, but I actually wrote about Sushi Zanmai for a tasteem contest quite a while back if you're interested!

Here's the standard ala carte menu of nigiri sushi: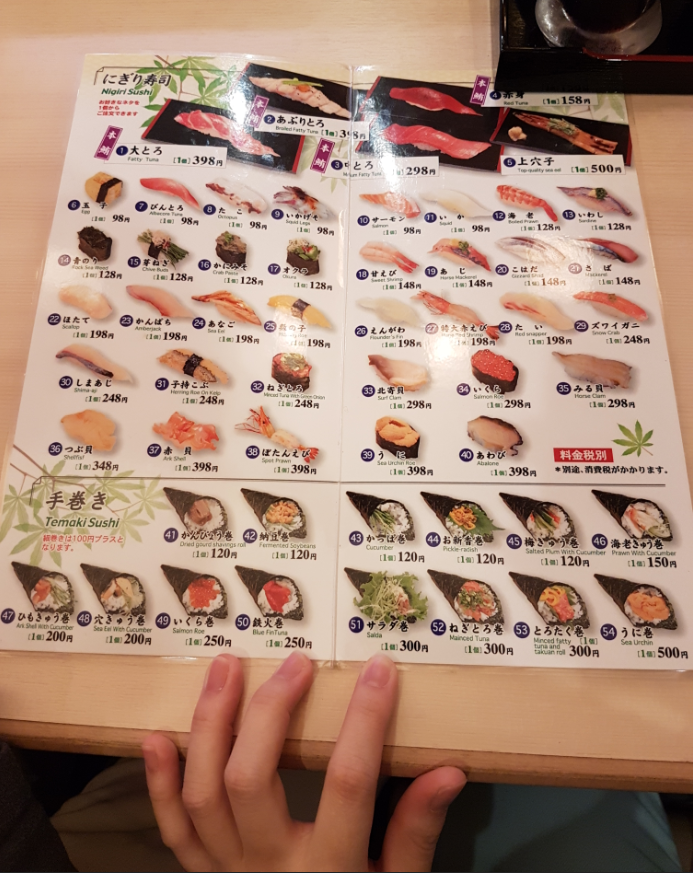 Thankfully it wasn't crowded since it was around 2:40pm when we sat down. I guess that's considered late lunch by then.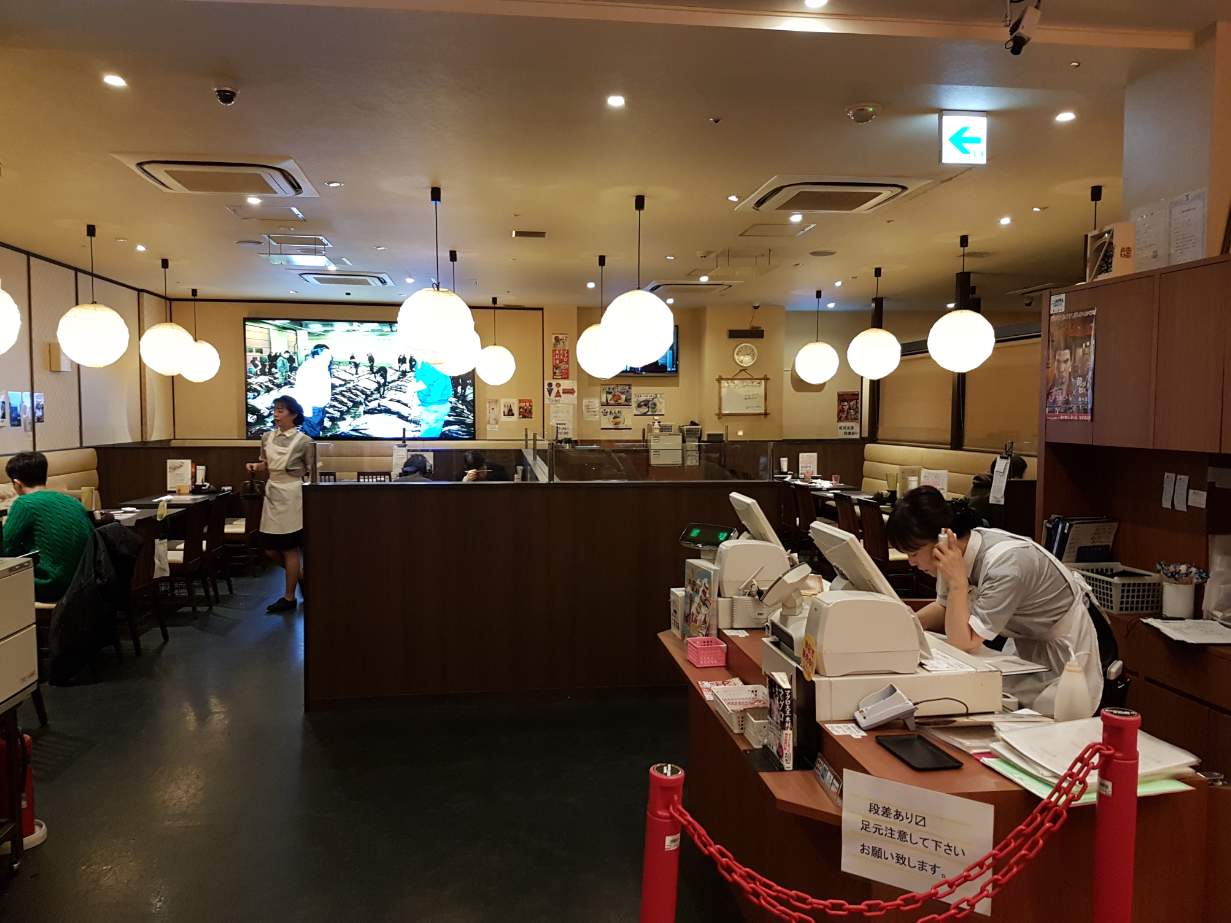 We decided to sit at the counter so we could watch the chef make our sushi right in front of us.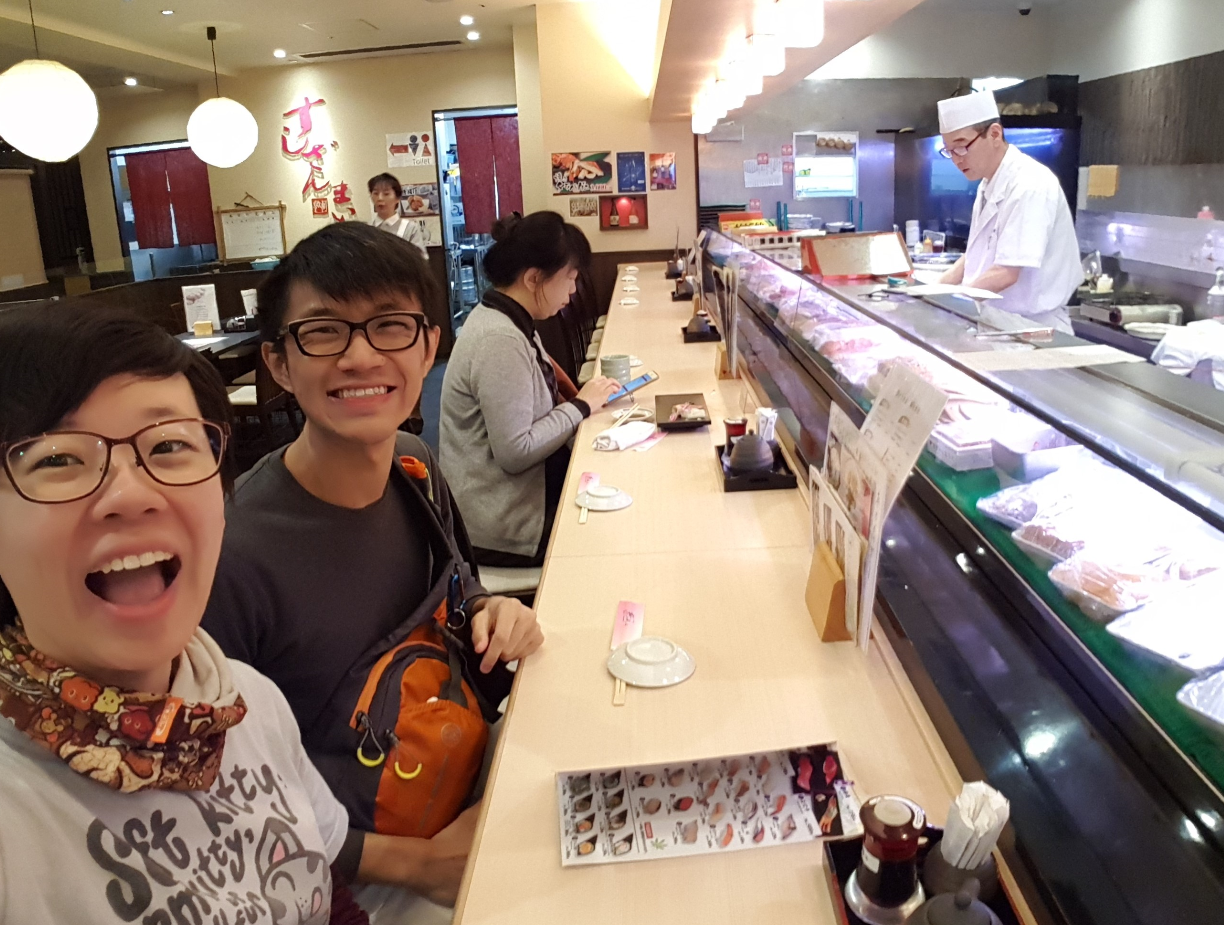 I wasn't super hungry for sushi so we just ordered a couple pieces. This was 3 salmon, 1 squid and 2 anago eel nigiri sushi: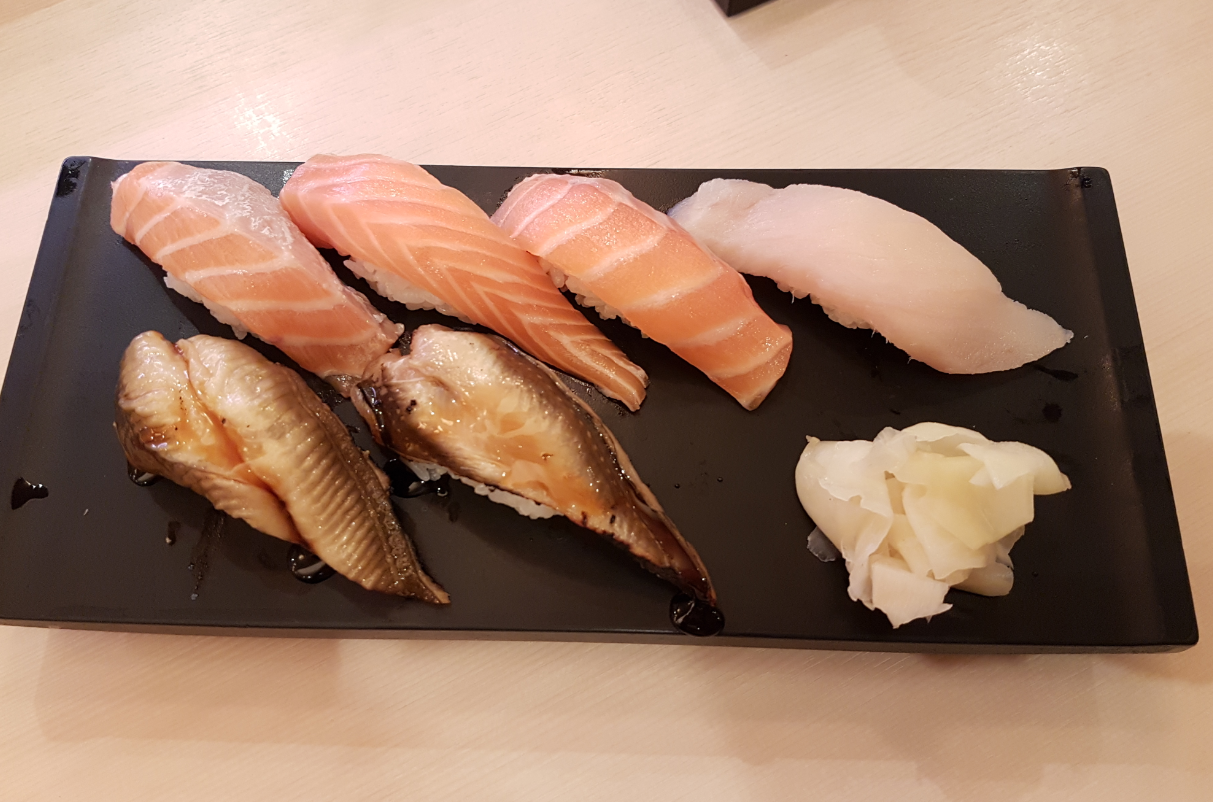 More salmon and eel, 1 sweet shrimp and 1 albacore tuna (iirc):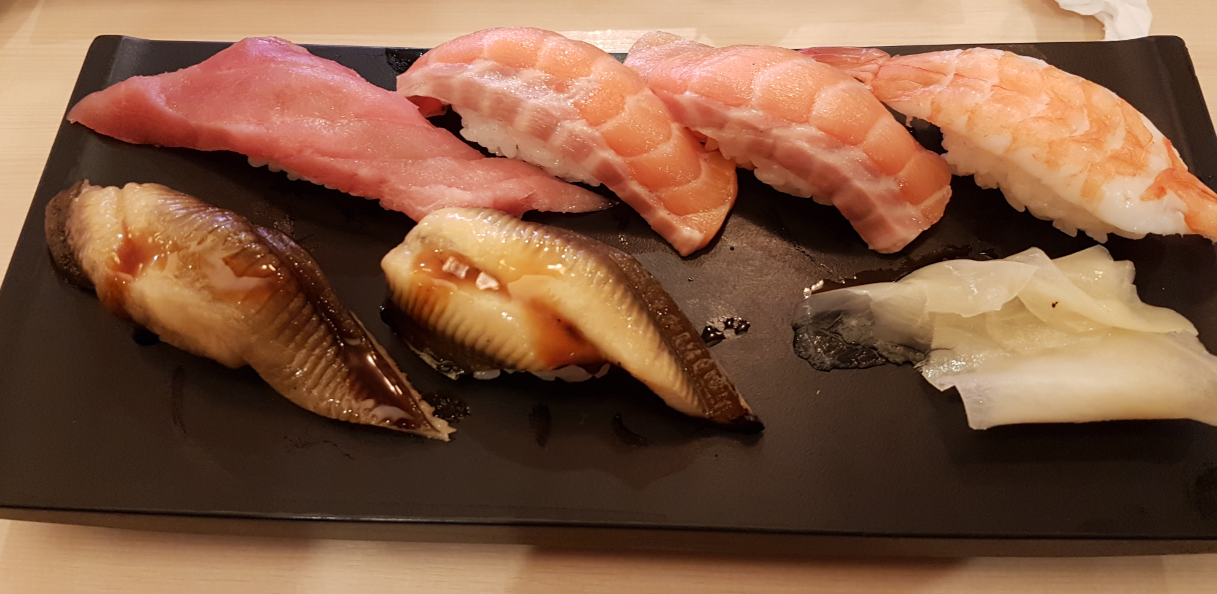 And lastly, more salmon and eel!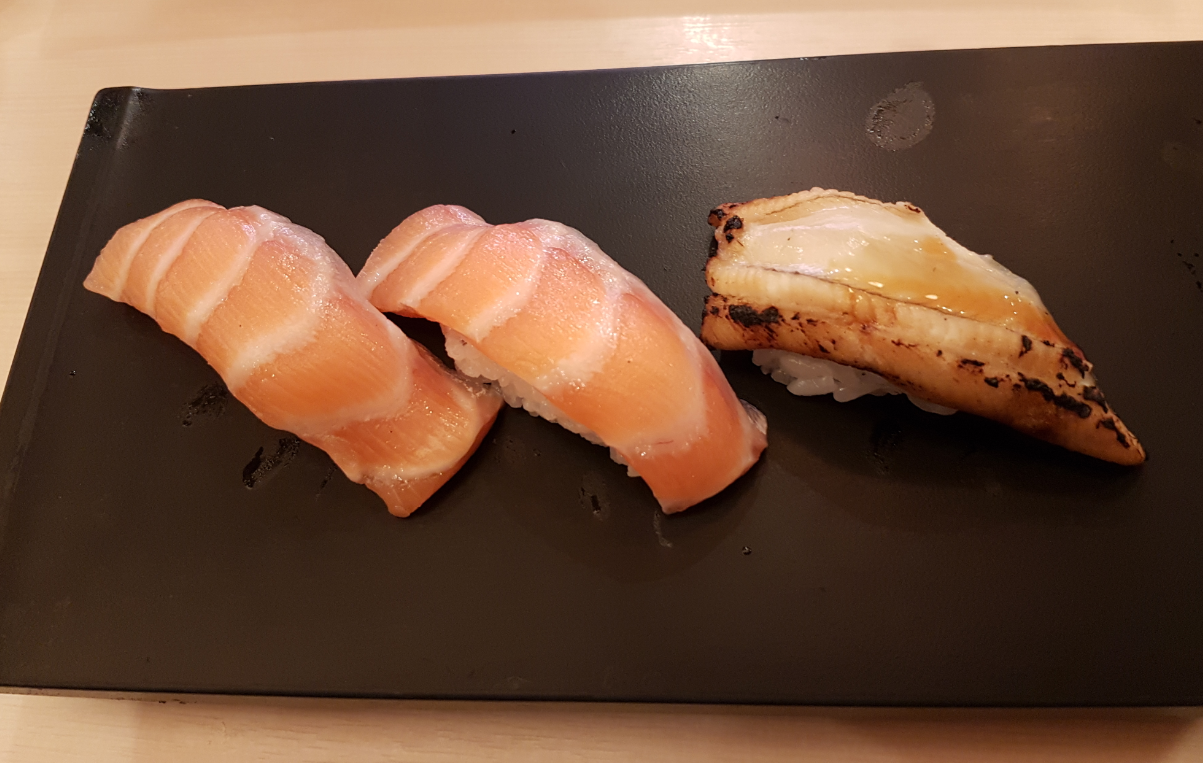 I'm sure you can tell which ones are our favourites. The sushi was so fresh and smooth, I just wanted more and more!
But we left after that since Sean had enough (he's not a big fan of seafood).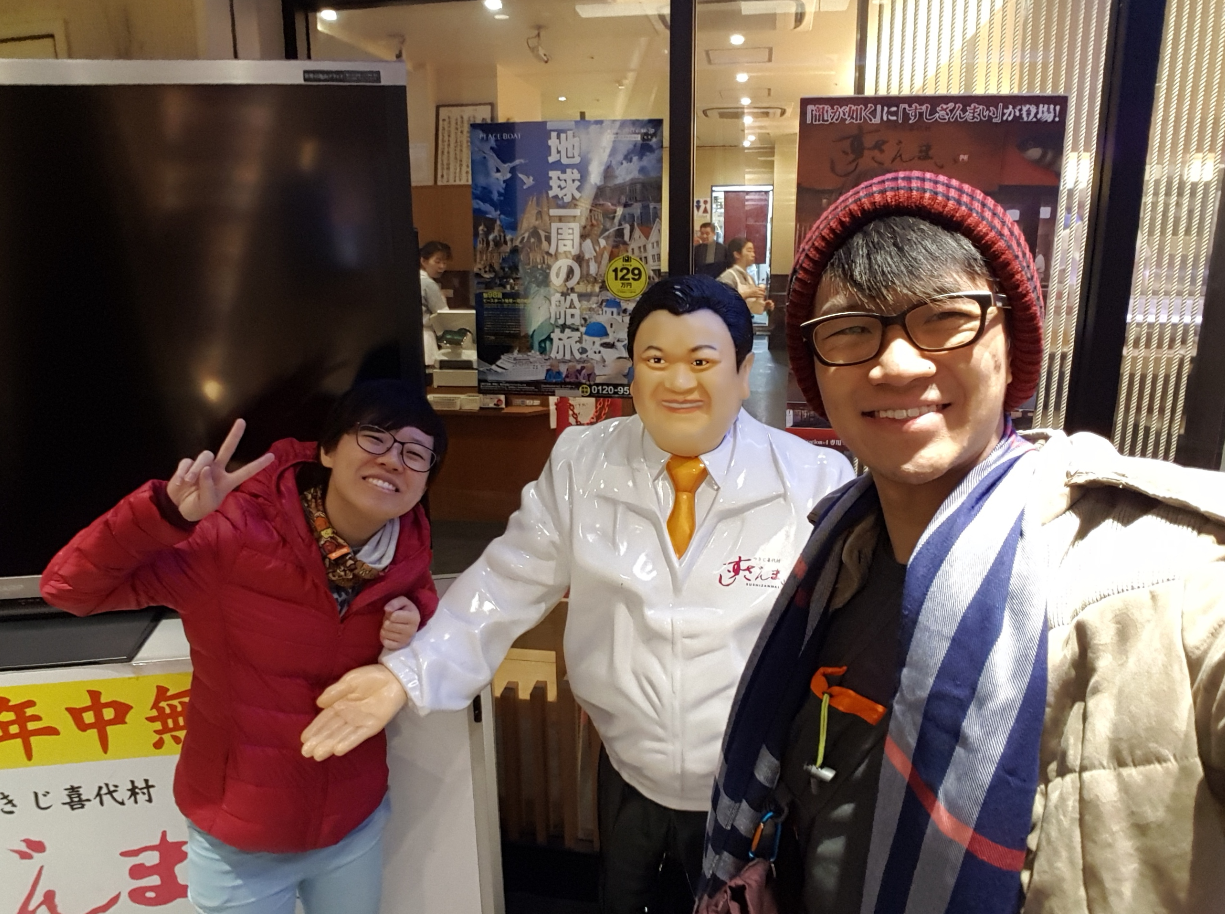 It was thankfully much less crowded in Dotonbori compared to the last time we were here in Dec 2015. So we managed to get a shot of just us on the big screen!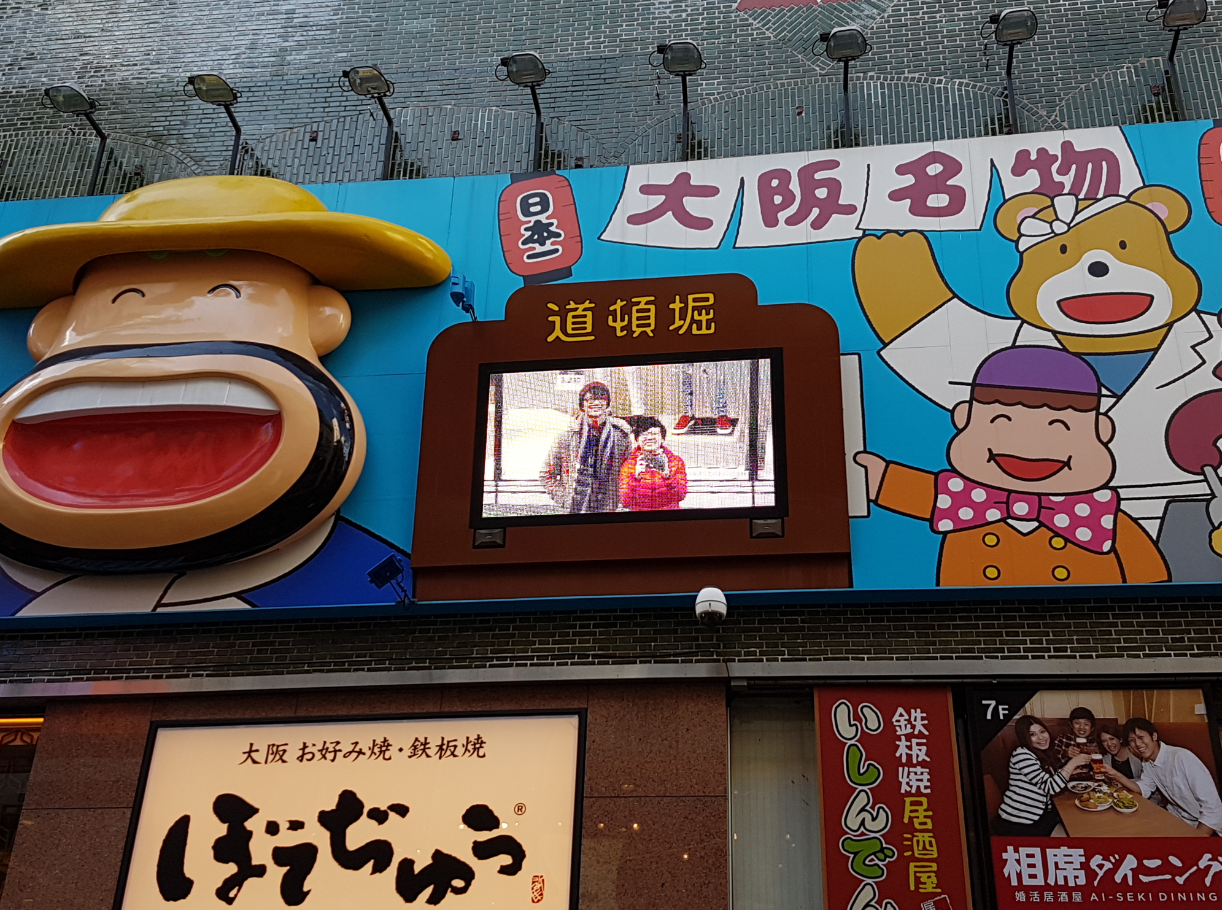 Sean said he was still hungry so we decided to go to our favourite burger joint - Lotteria! There's quite a prominent Lotteria right in the heart of Dotonbori but I think this is the first time we've eaten there. Here's the menu: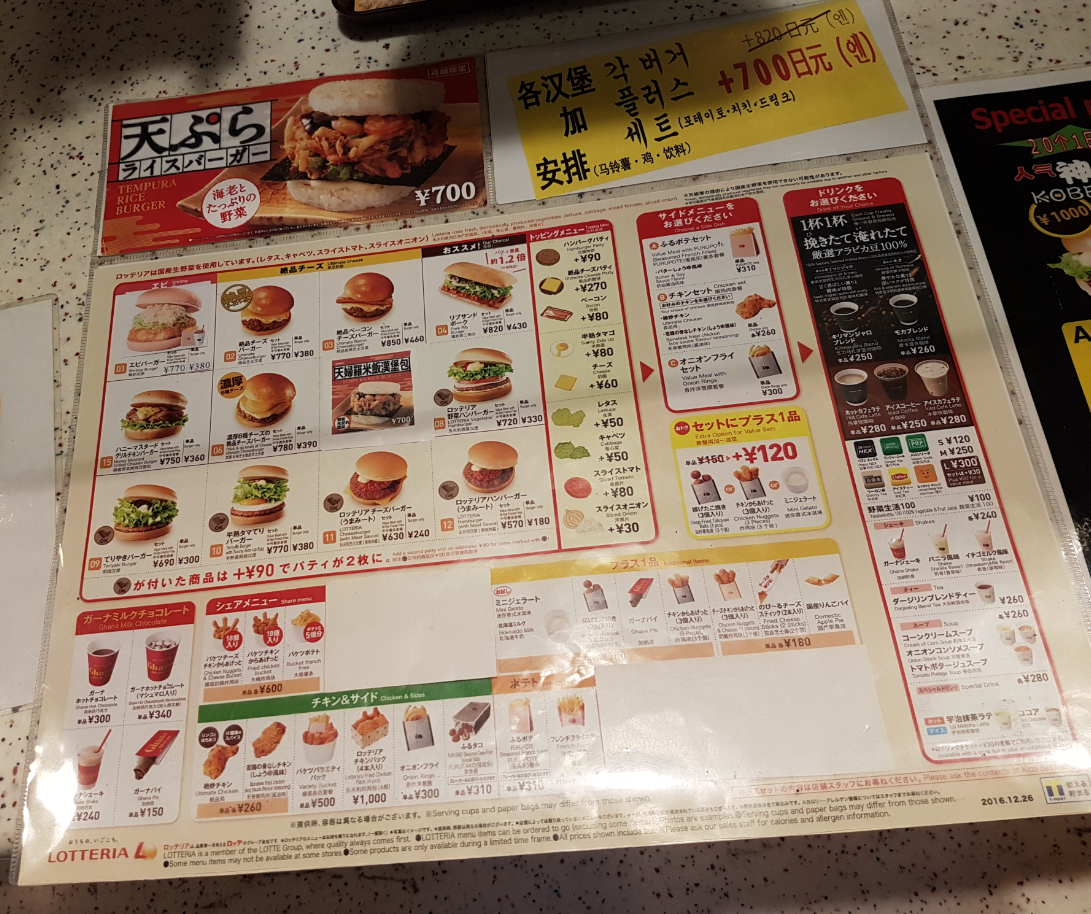 We decided to go for our usual favourite - the Ultimate Bacon Cheeseburger! We made it a set with onion rings and an iced lemon tea. And we also added a side of mozzarella sticks because they're sooo good!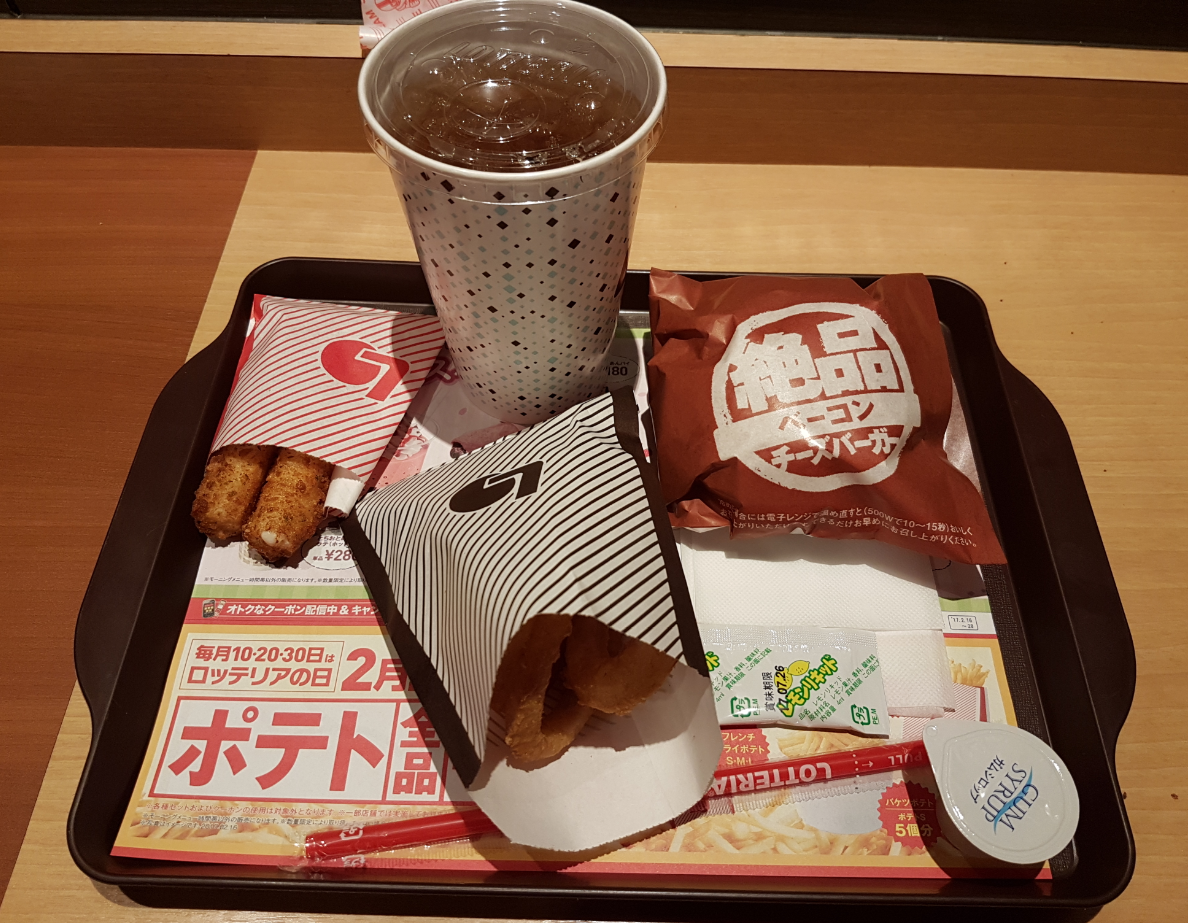 They're probably the stringiest cheese sticks I've ever eaten!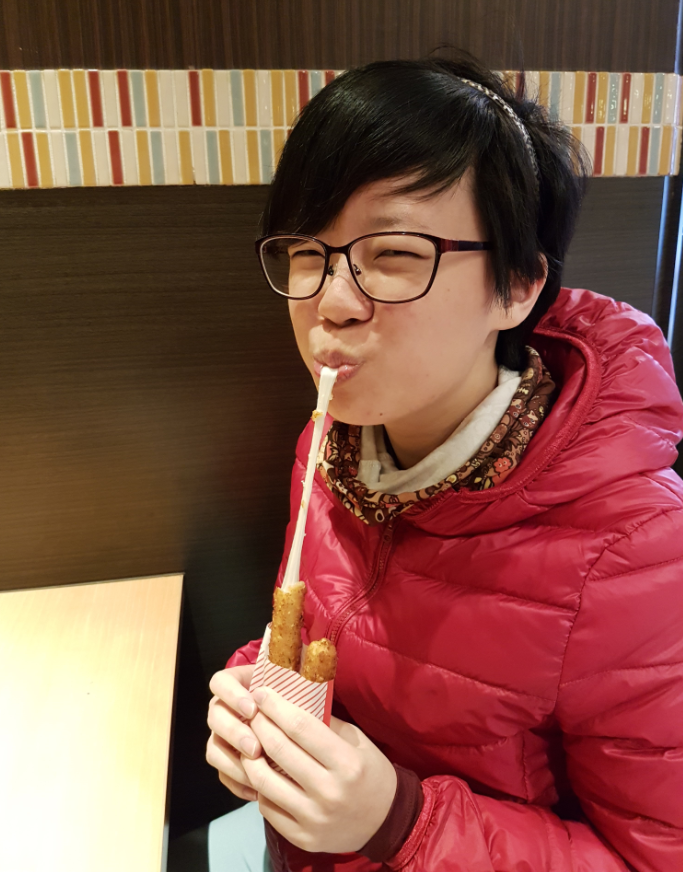 Here's a look at the bacon cheeseburger! The bacon itself isn't all that crispy, but the mix of bacon, cheese and their special beef patty in the middle of their soft buns is such a good combination that you wouldn't mind. On the contrary, it's so delicious! 😋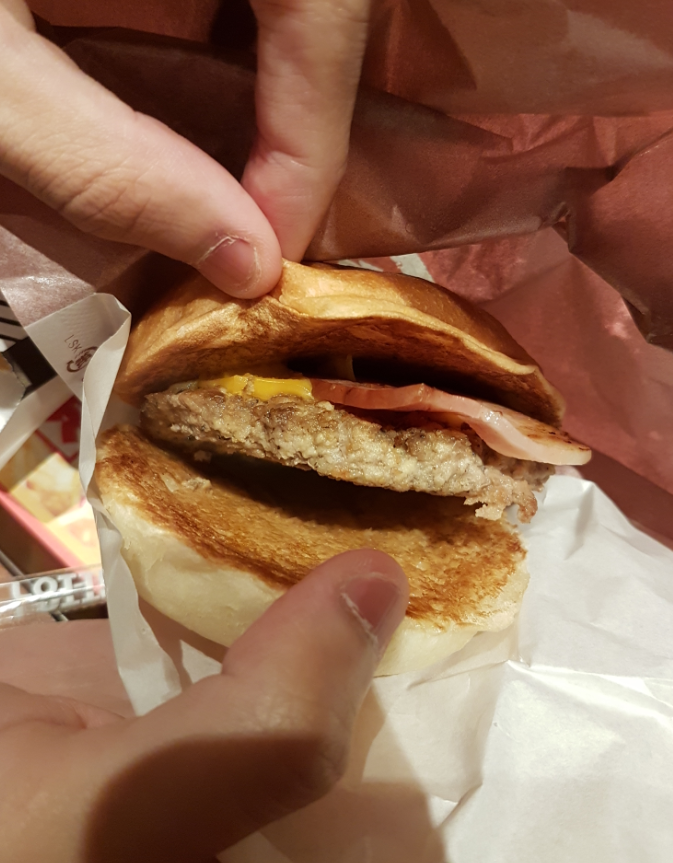 Anyway, after a hearty meal, Sean took me to see the famous Osaka Castle! Well, we first took the train to Tanimachiyonchome station and then it was quite a walk until we finally reached Osaka Castle park!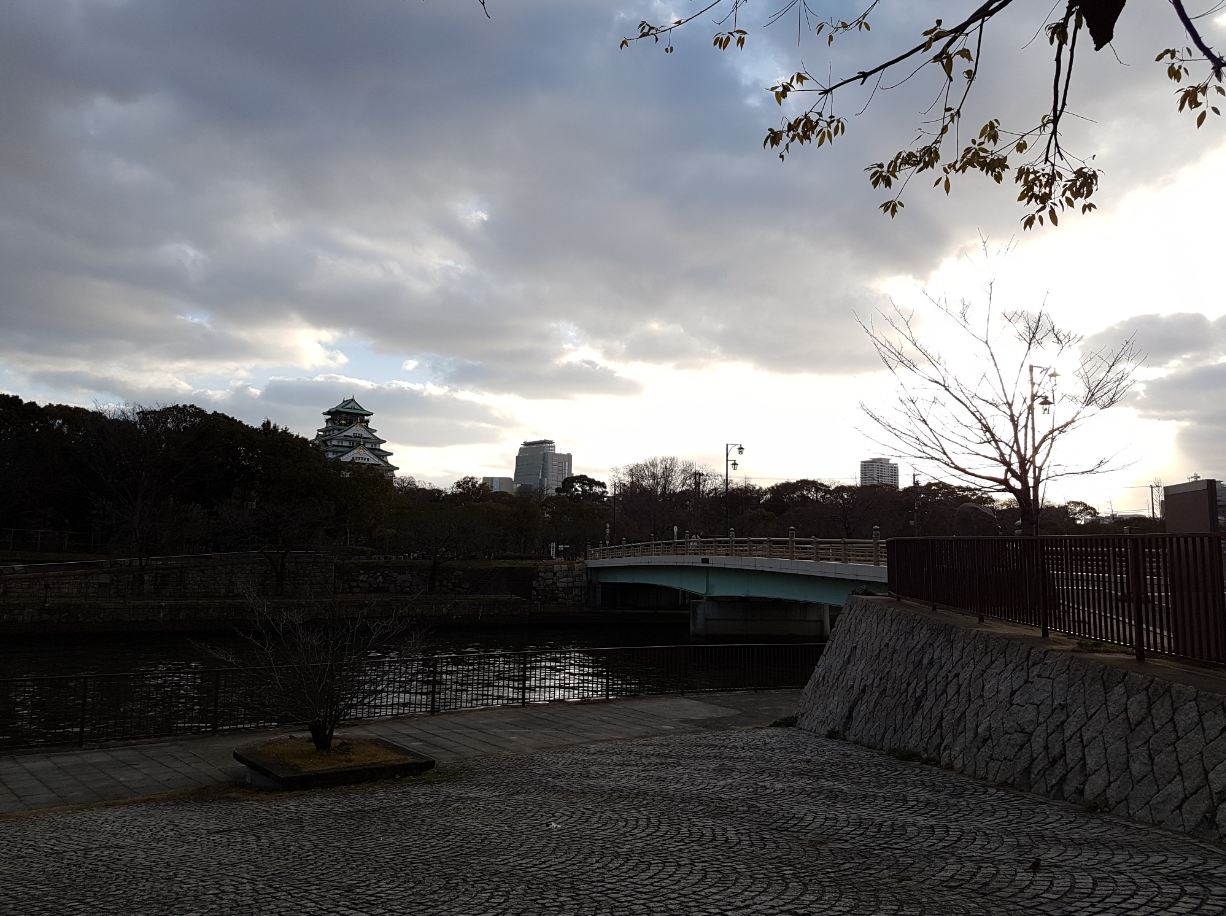 It was around late evening when we arrived. And there was surprisingly few people around.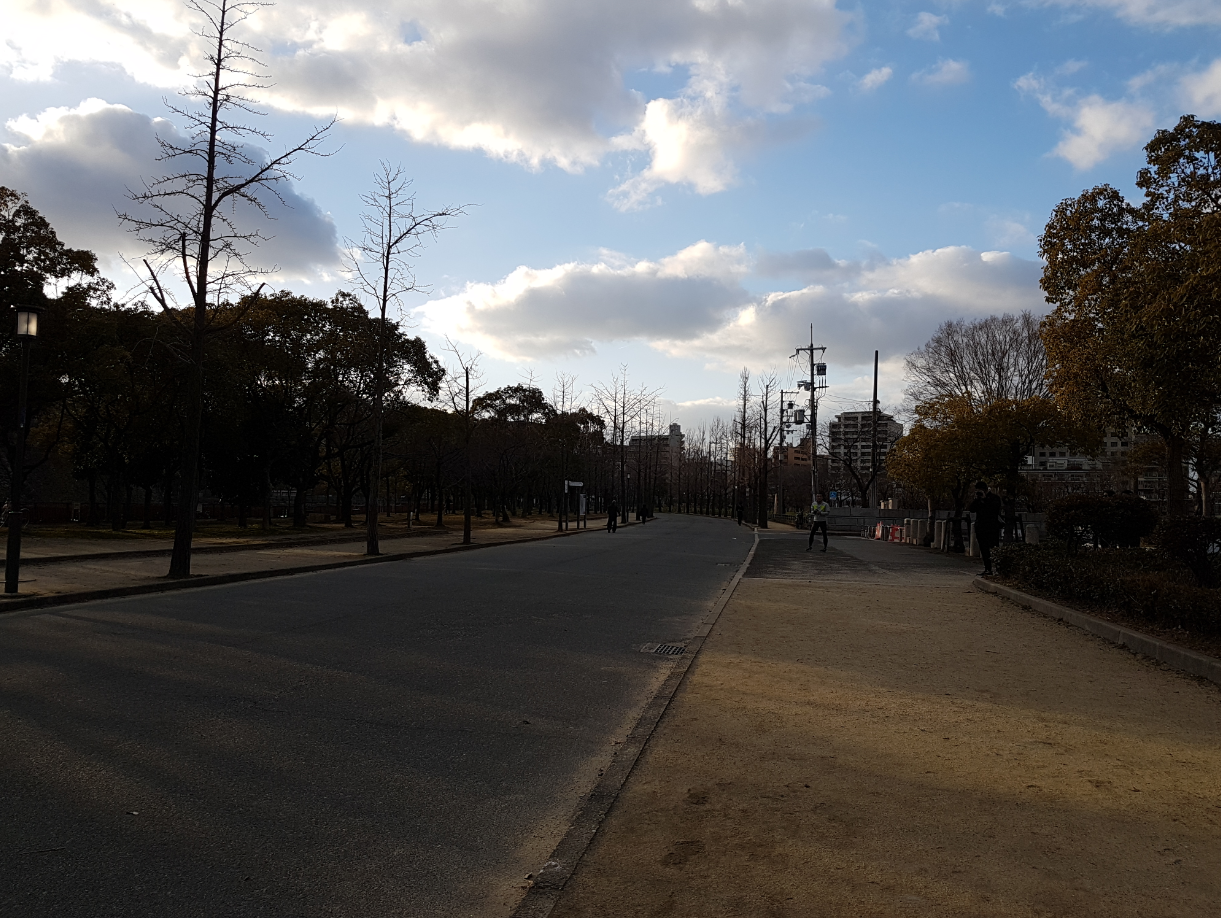 But we did see a train of tourists chugging along.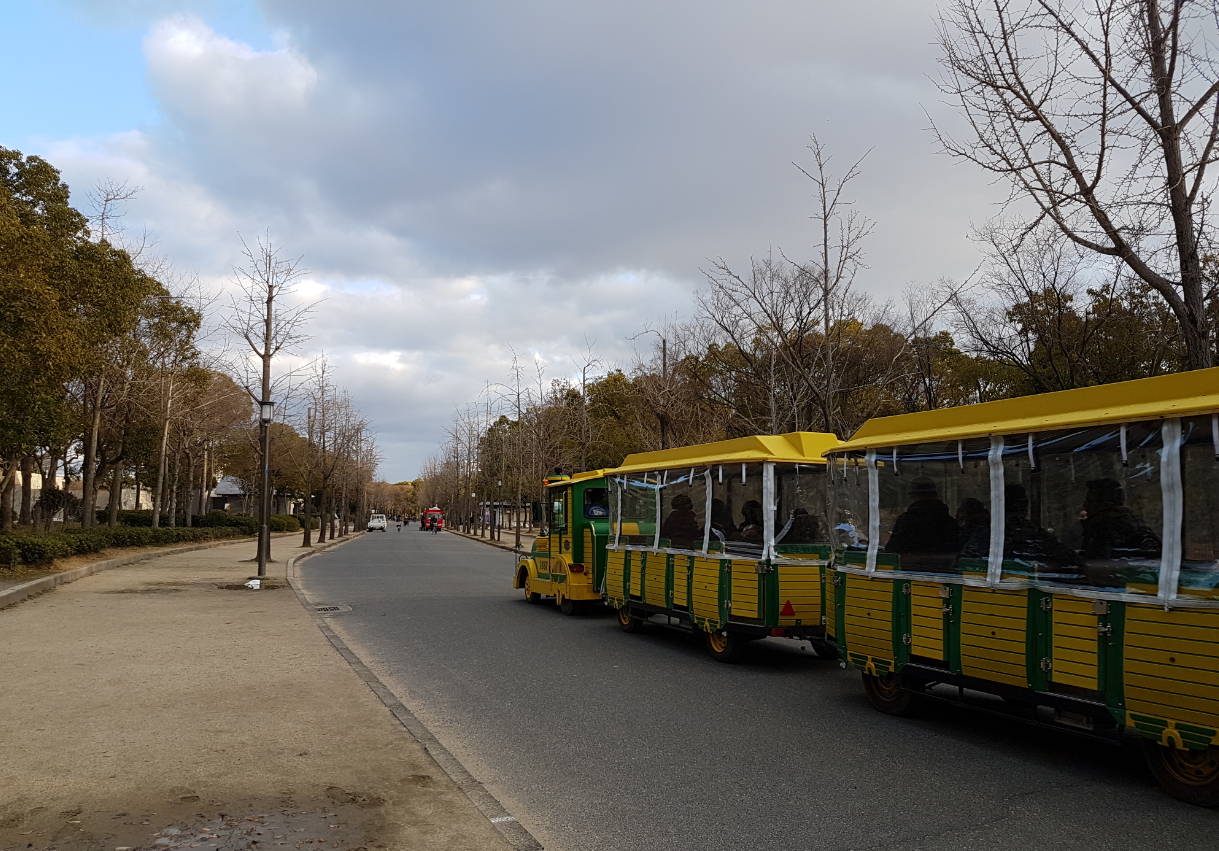 But the weather was cooling, and we enjoyed a nice leisurely stroll while the sun was slowly setting.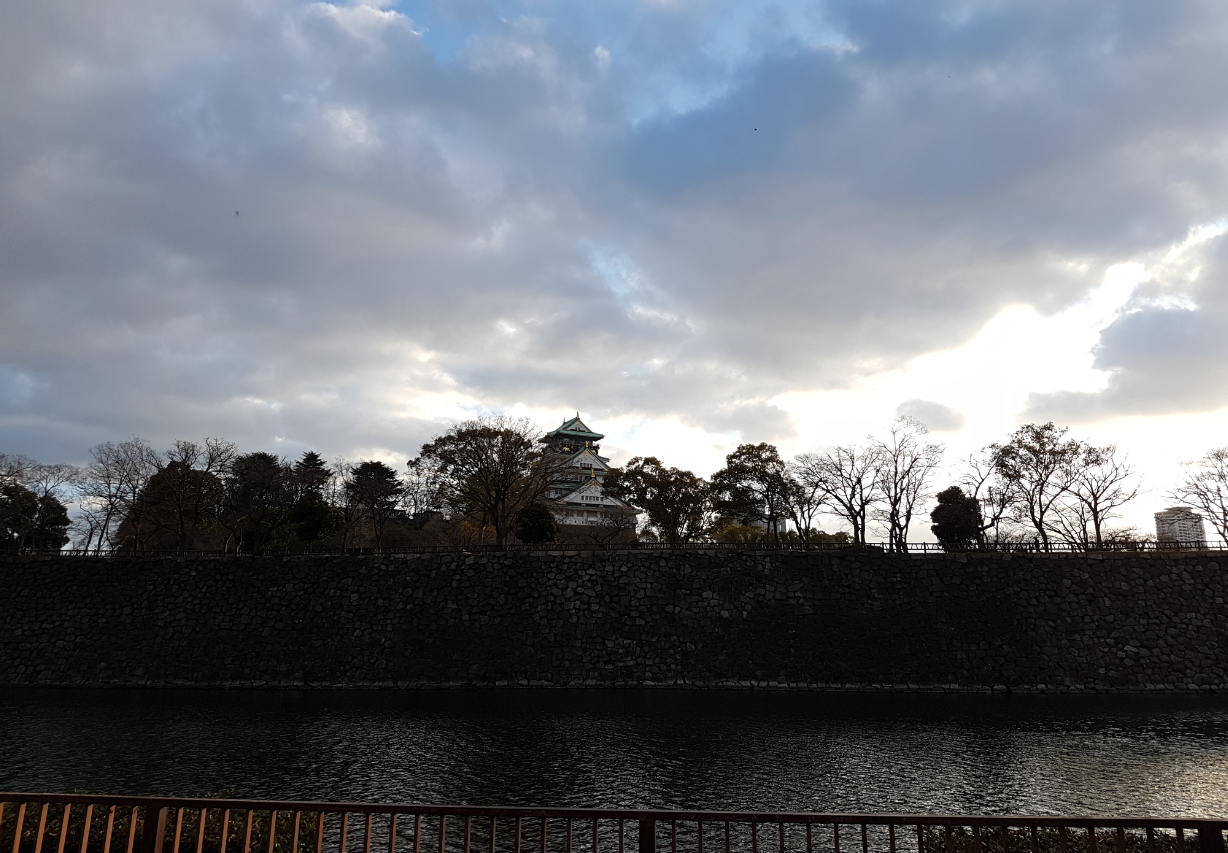 The view was just lovely.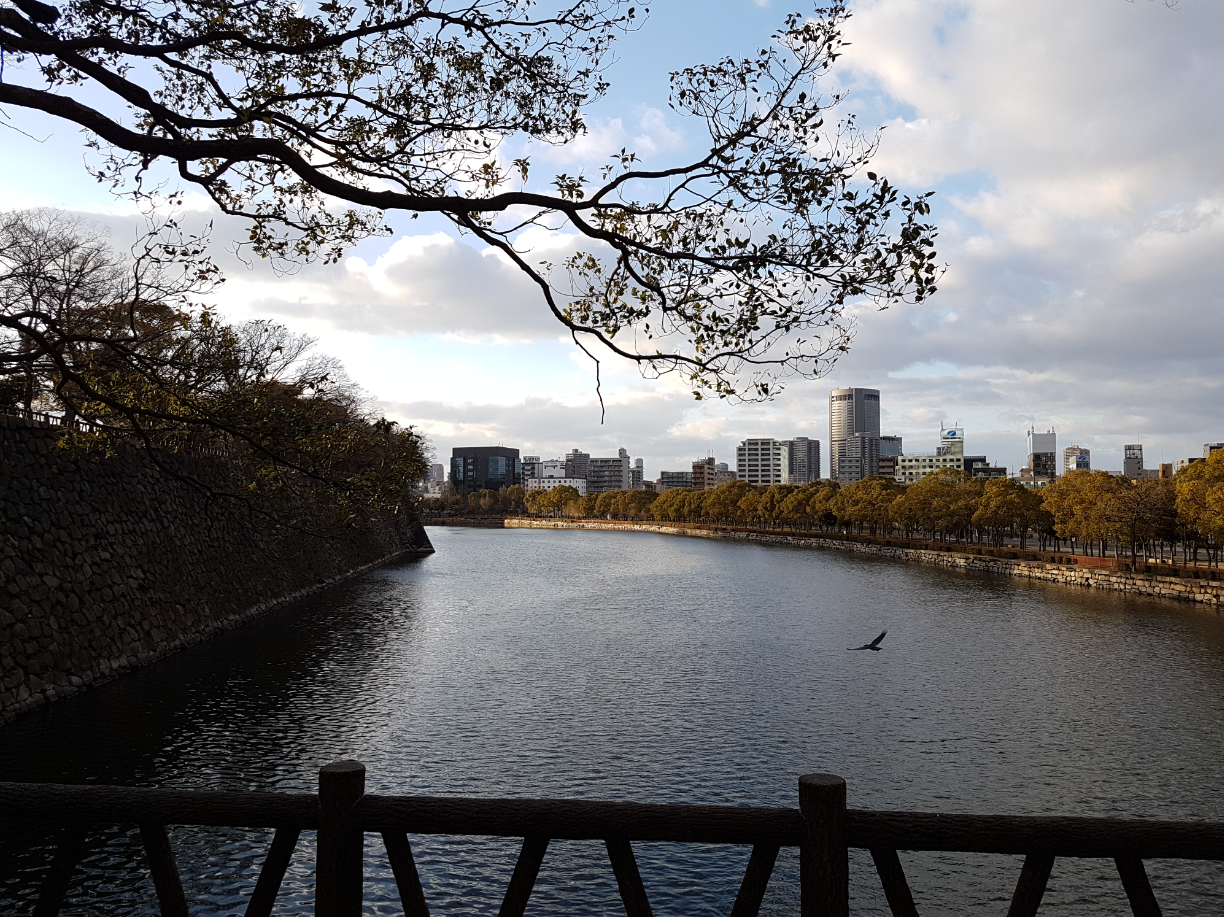 Crossing this bridge that led up to the castle felt like I was walking through a portal to a different time.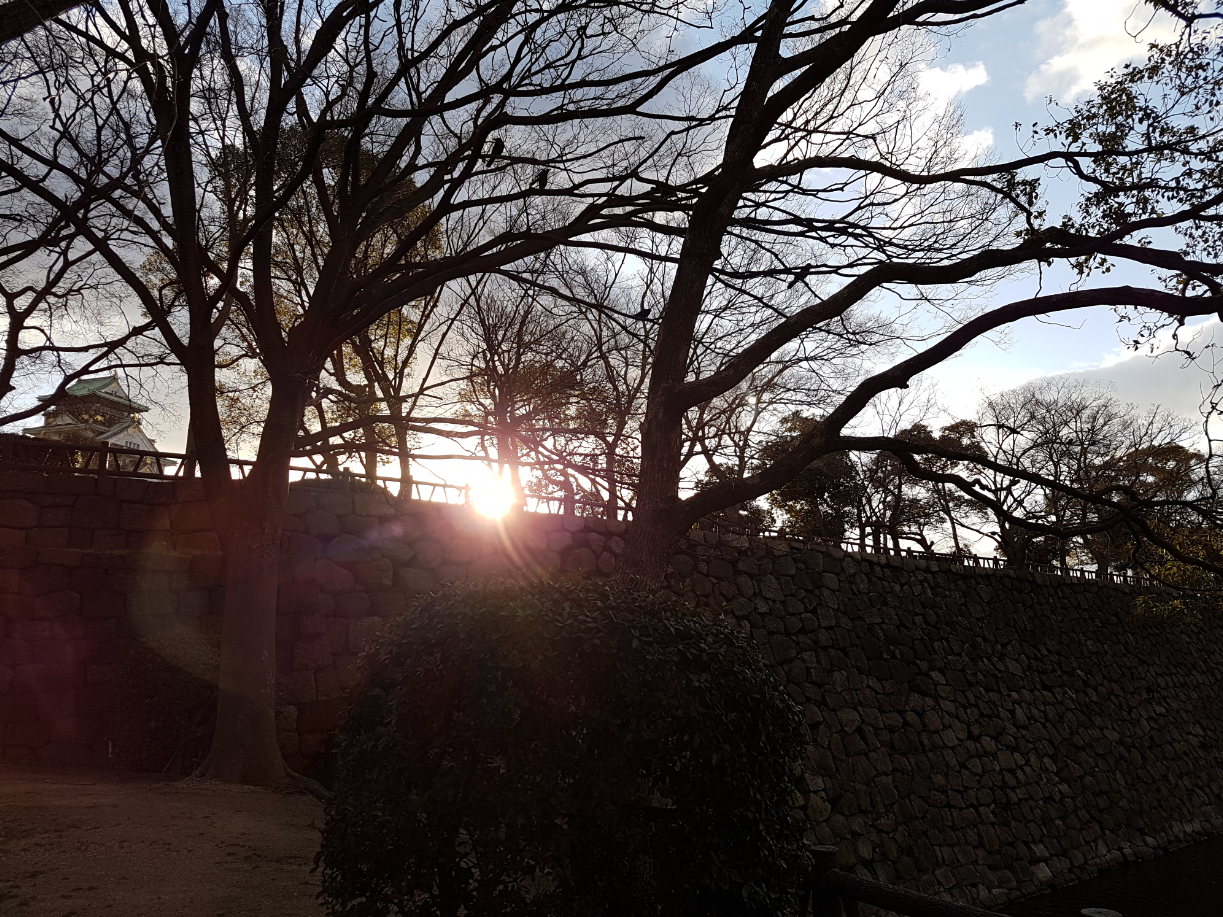 This was the very first gate that you'll go through to enter the castle. It reminded me of all the Japanese history I studied the previous term, where we learned of all the different warlords and daimyo who took over/raided and destroyed the castle.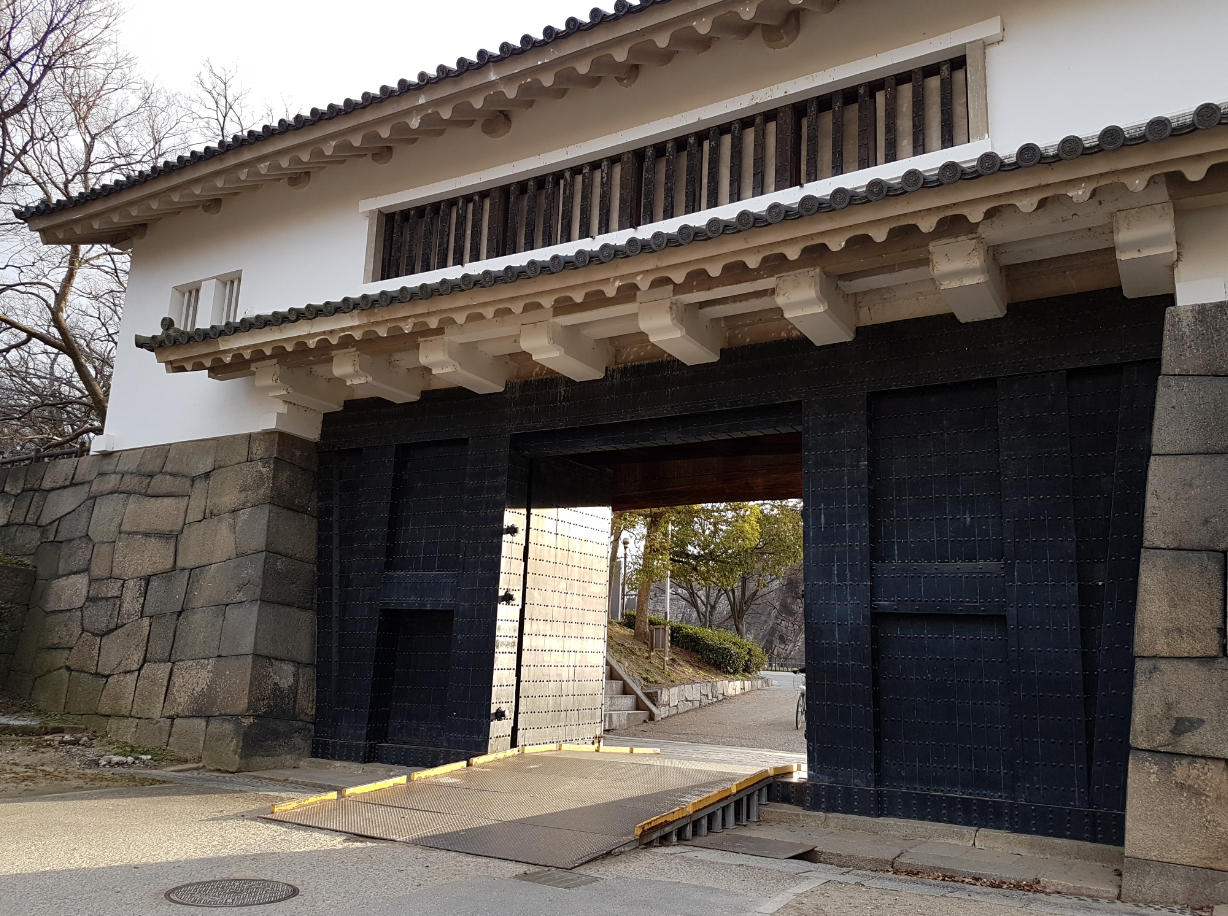 In fact, this castle was actually destroyed multiple times since it was completed in 1597. It was initially ordered by Toyotomi Hideyoshi, one of the shoguns in the late Sengoku period. And I guess he was salty because he wanted to mirror the Azuchi Castle (the HQ of this other shogun named Oda Nobunaga) but surpass it in every way.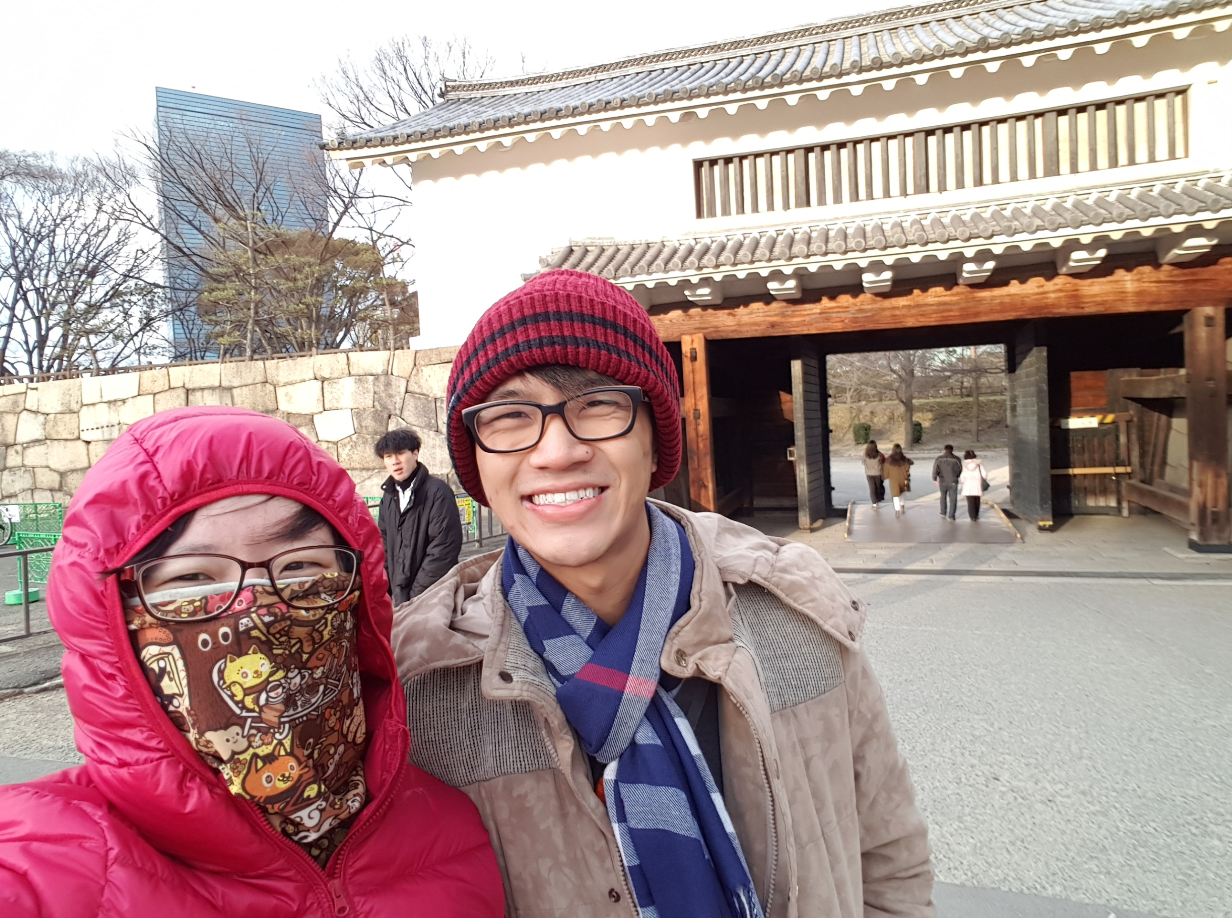 I don't really remember much about the history since there's just so much, but I think the castle got renovated and modernised in 1997 into what it is today!
Along the way, we came across some plum trees that were just starting to flower. They were really small, but the flowers were nice.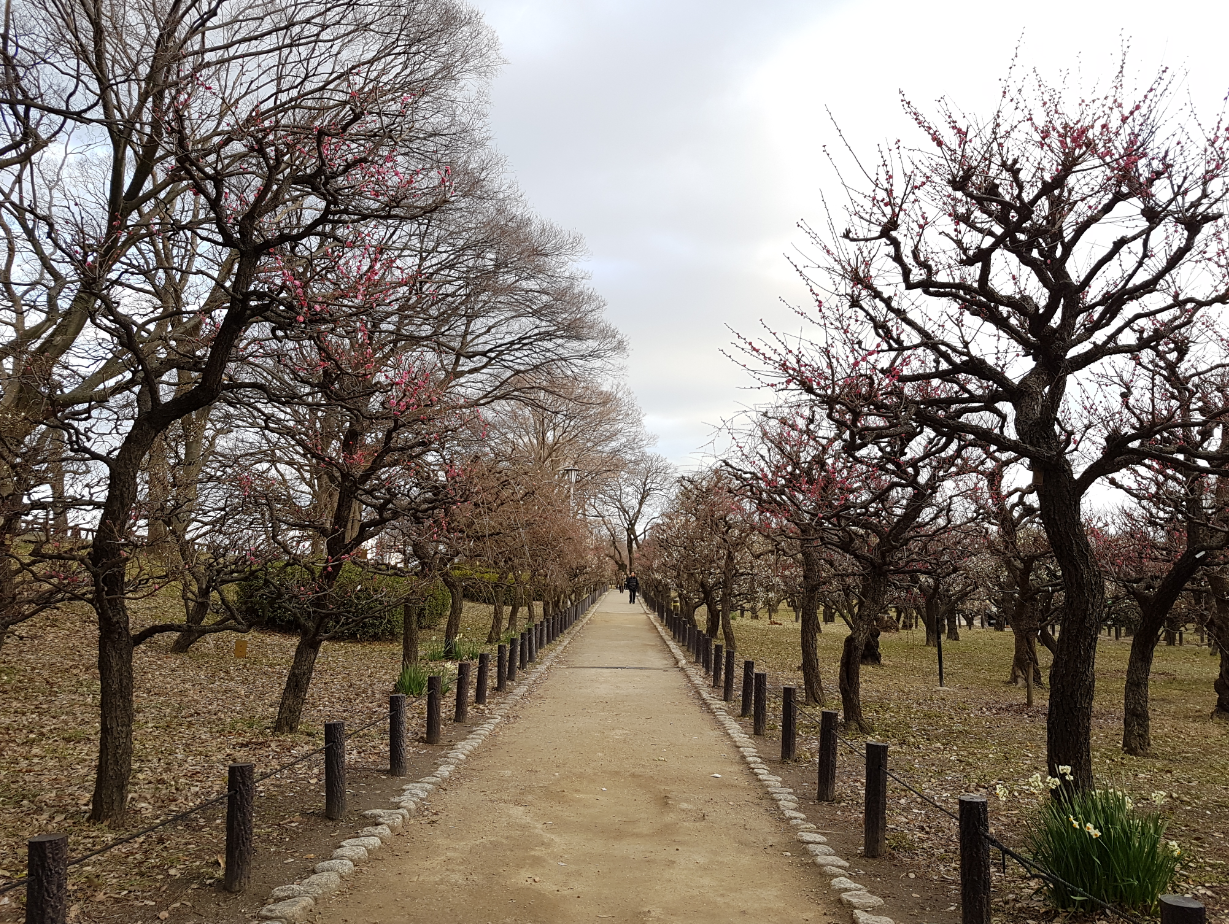 Here's a close up: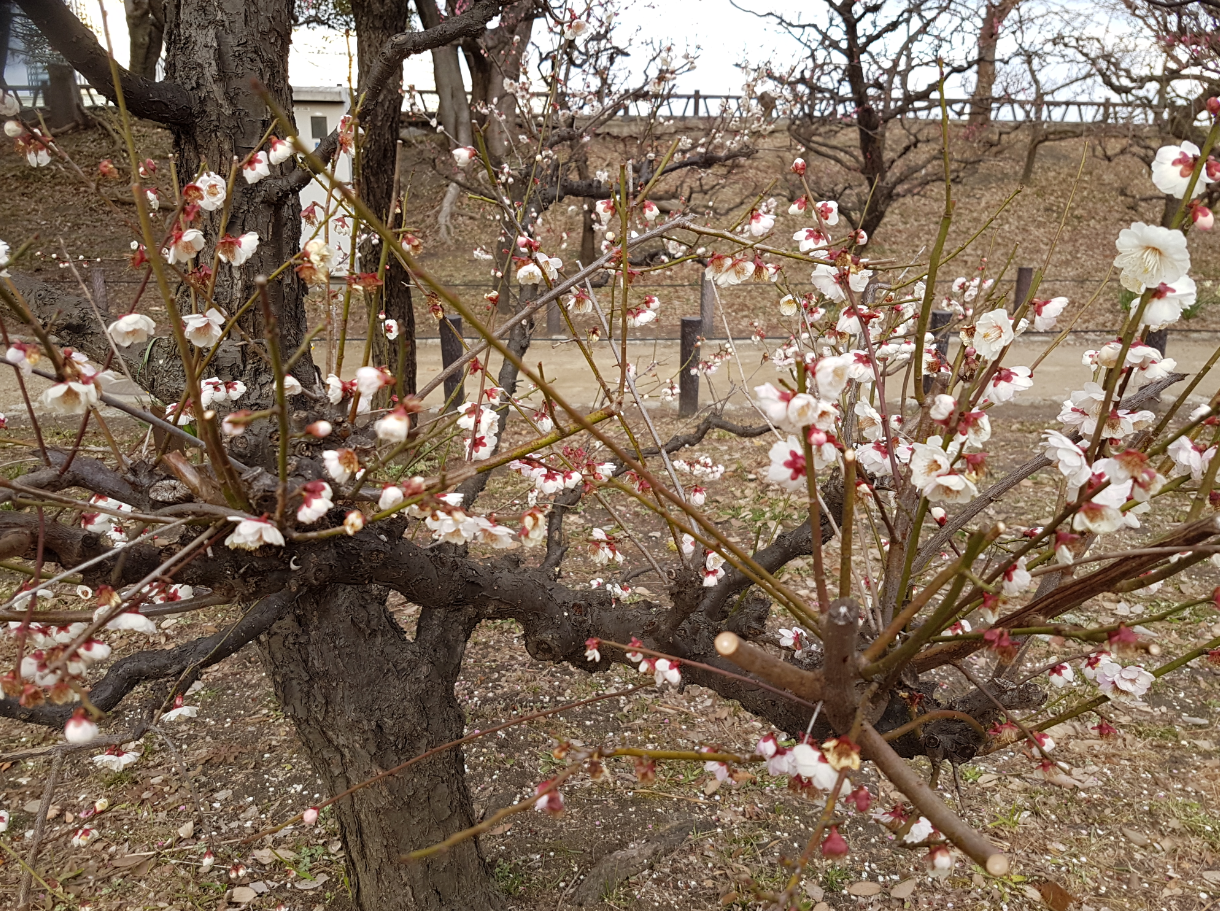 I bet this place would look amazing when all the flowers are in full bloom. But it would also be really crowded.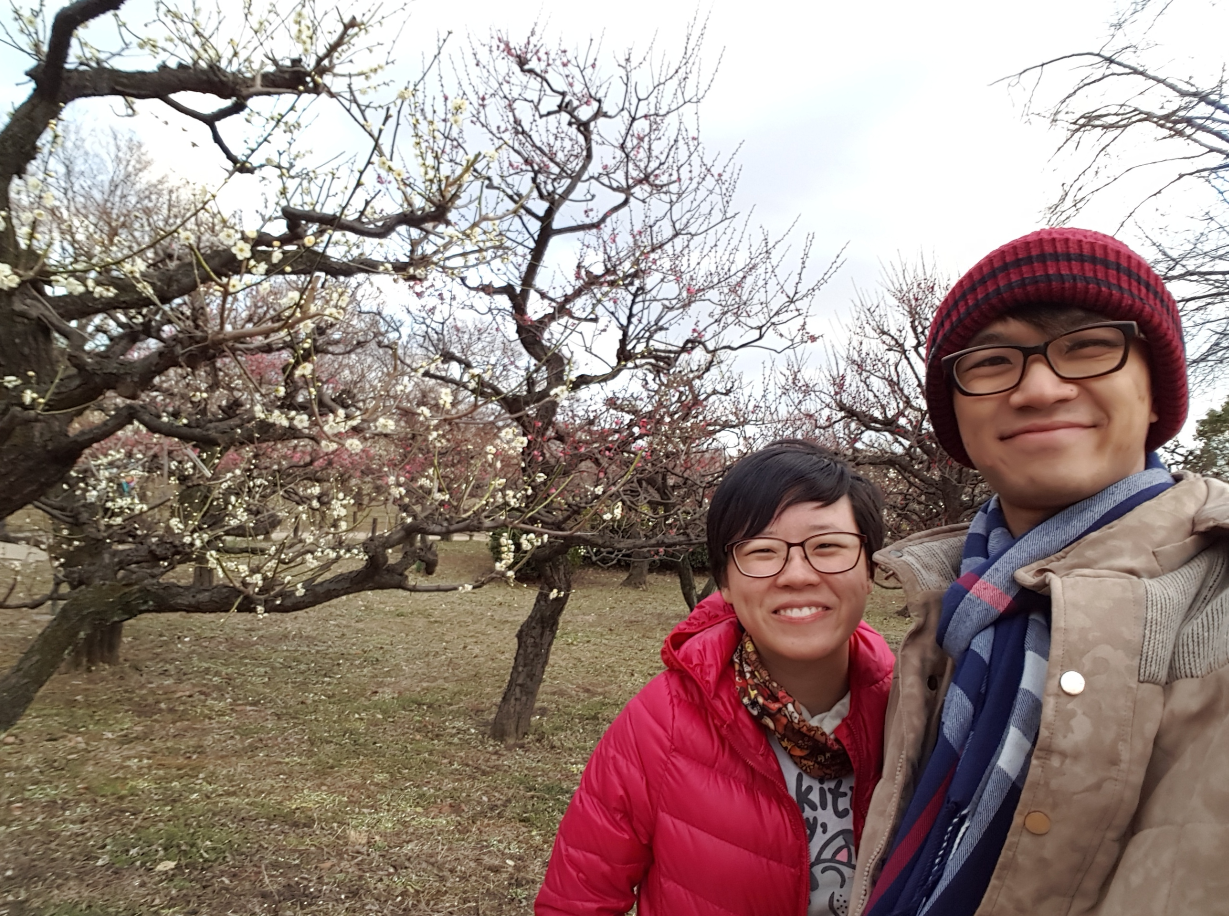 We started making our way toward the castle since we wanted to see it before it got dark.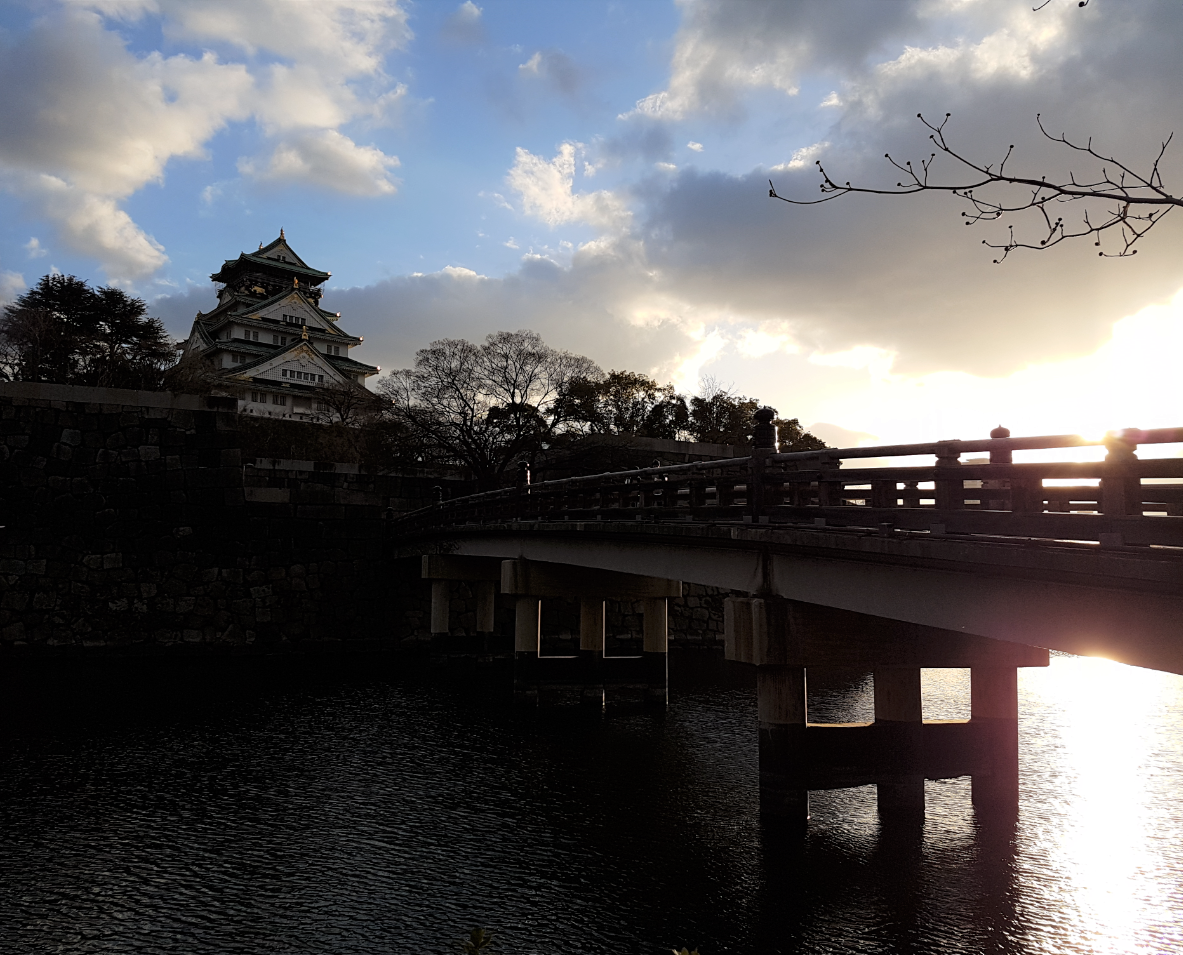 The sun was setting pretty quick, but I'm glad we got to enjoy it as well.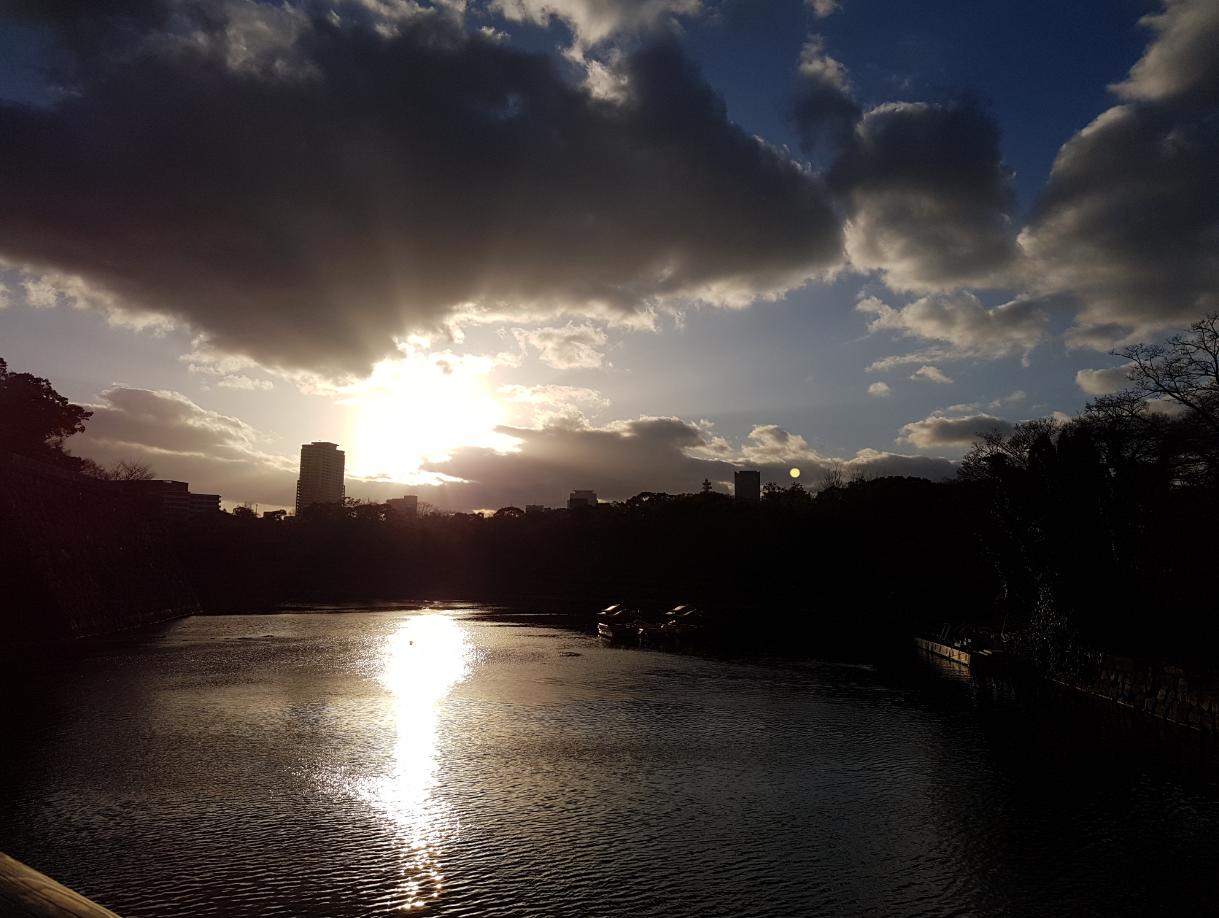 The castle looked pretty majestic from here.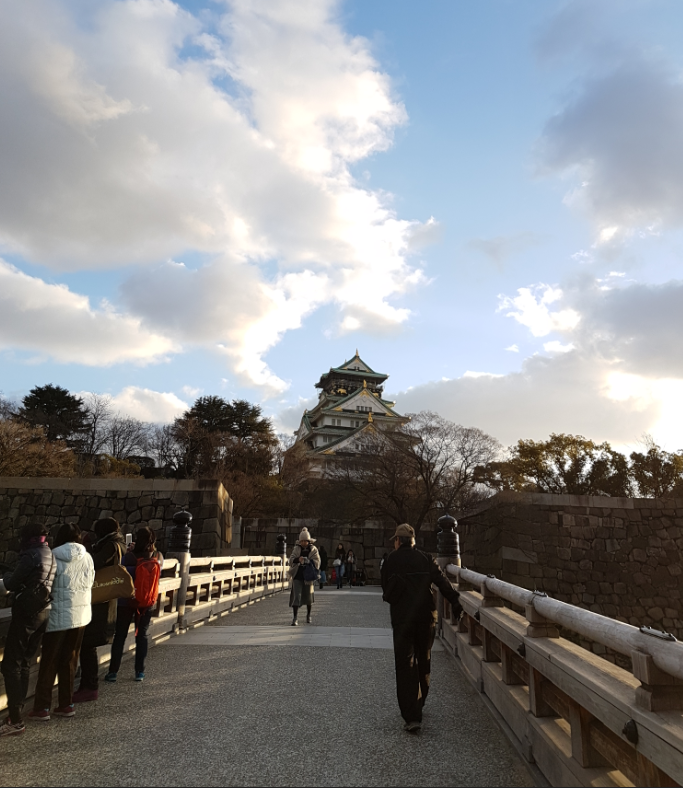 We started making our way up to the castle. And some parts of the path were actually pretty steep.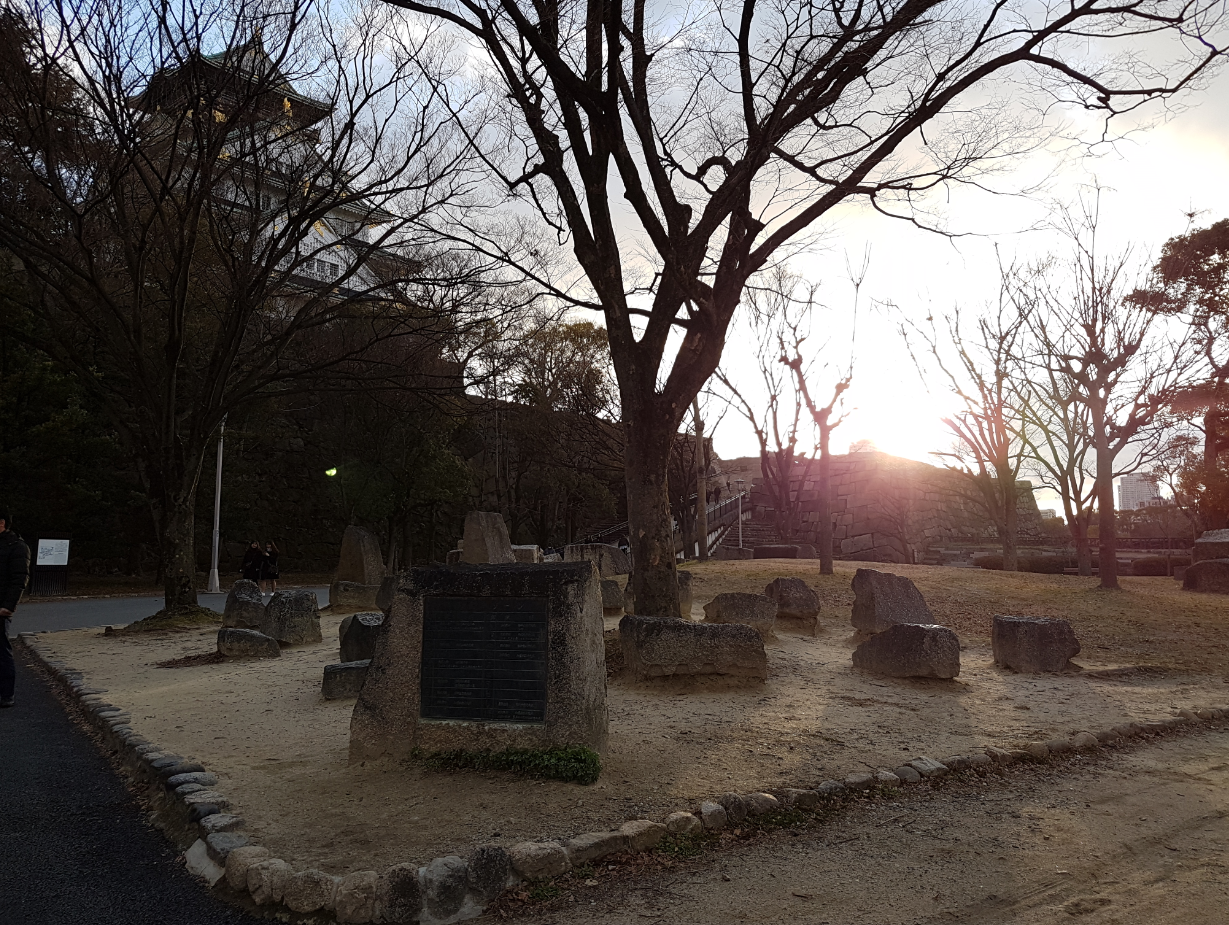 The view was truly amazing though.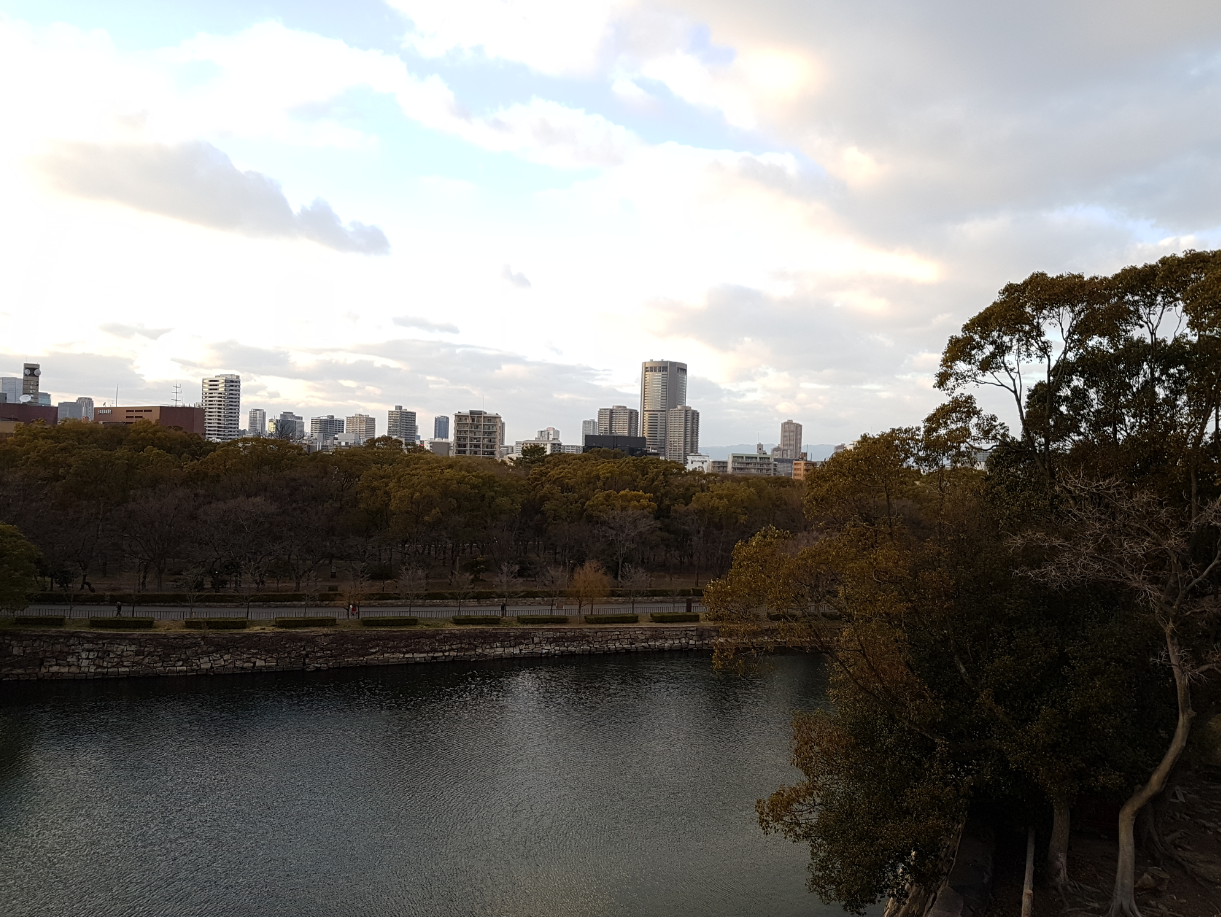 There was this lookout point that gave a nice view of the side of the castle.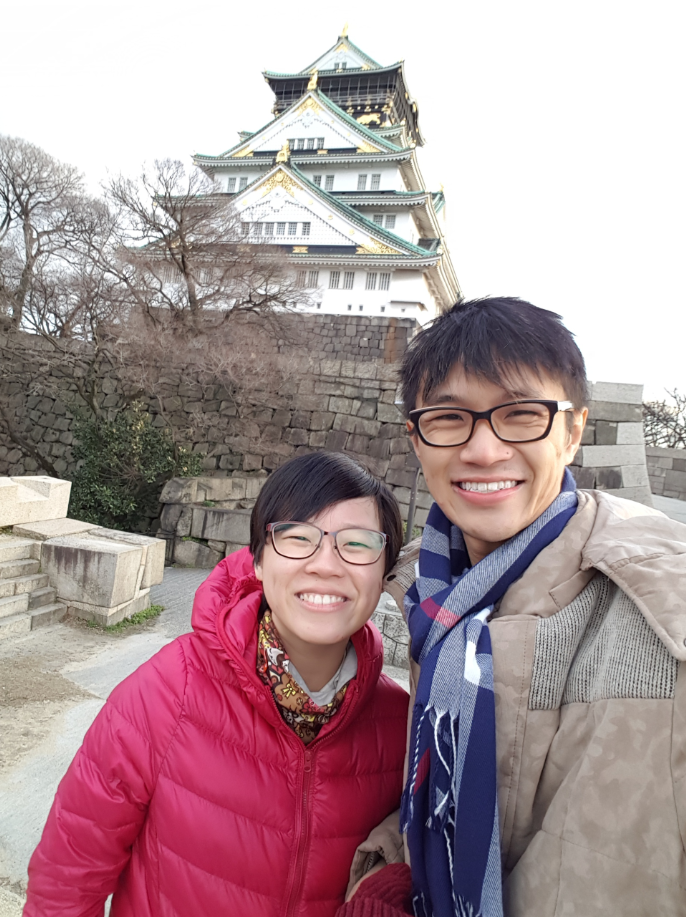 Here's a trippy-looking shot: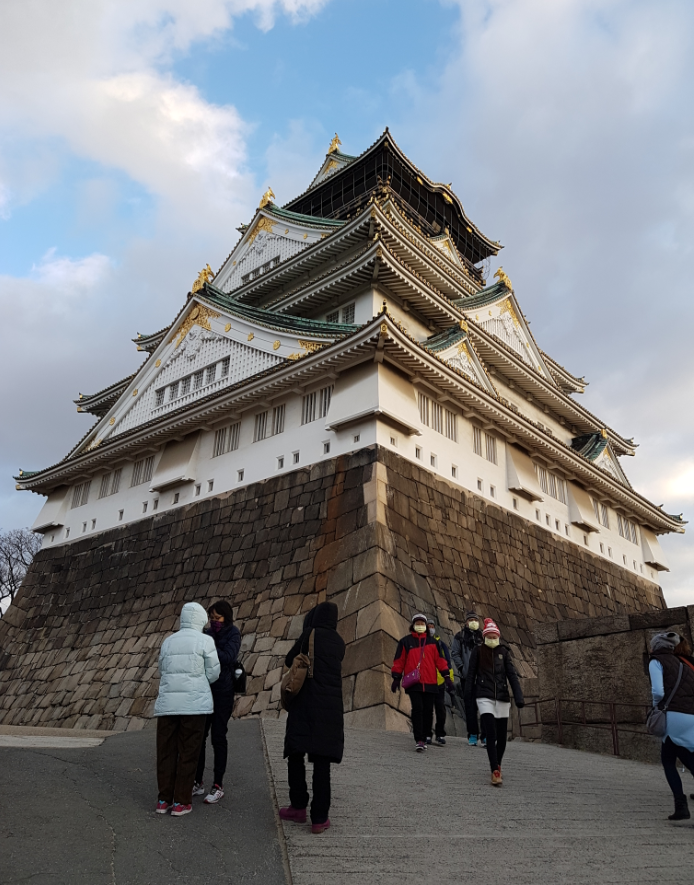 I think the reason for the slanted walls was so that nobody could secretly climb up the walls of the castle and go in to assassinate the shogun inside, iirc.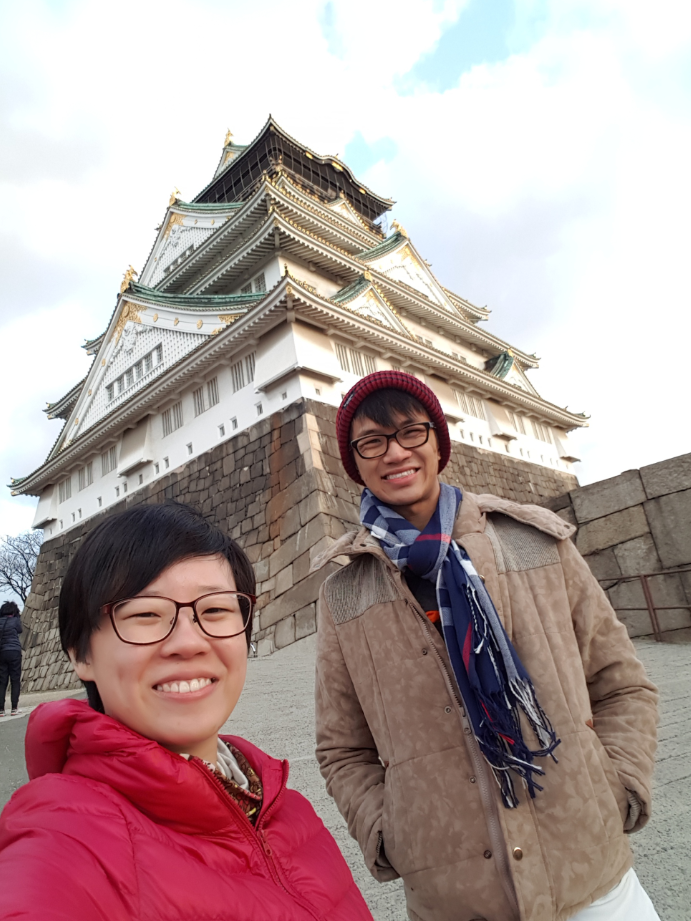 Walking a bit further along, we managed to get a shot of the front.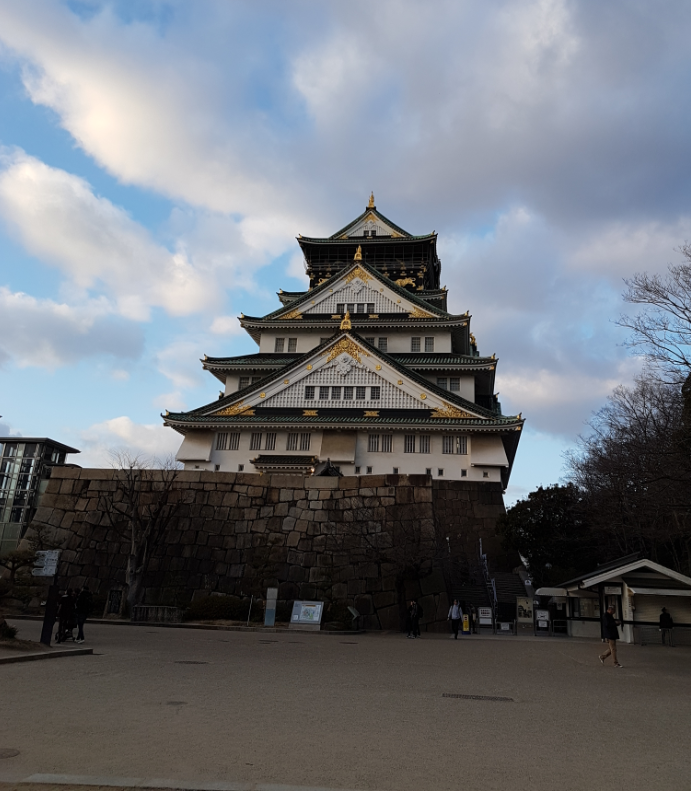 I think the castle might've been closed by then though so we couldn't actually go inside. But it's alright; Sean told me there's actually not much to see inside anyway. I did find the elevator at the side a little funny though; since it looked so modern compared to the ancient Japanese architecture.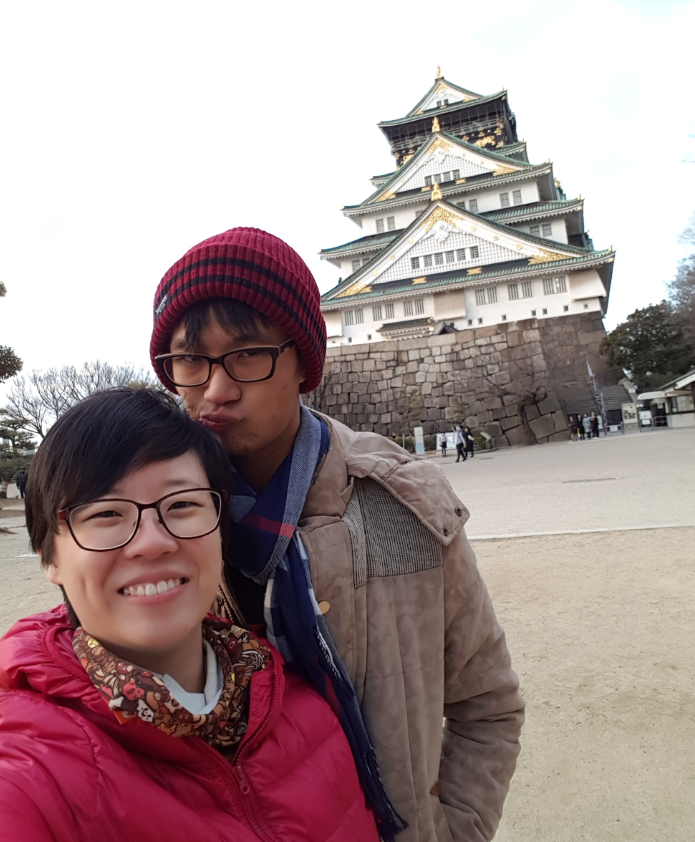 There was this cool-looking building that was being renovated as well just near the castle. I don't really know what it's for; but it looks like a council hall building or something.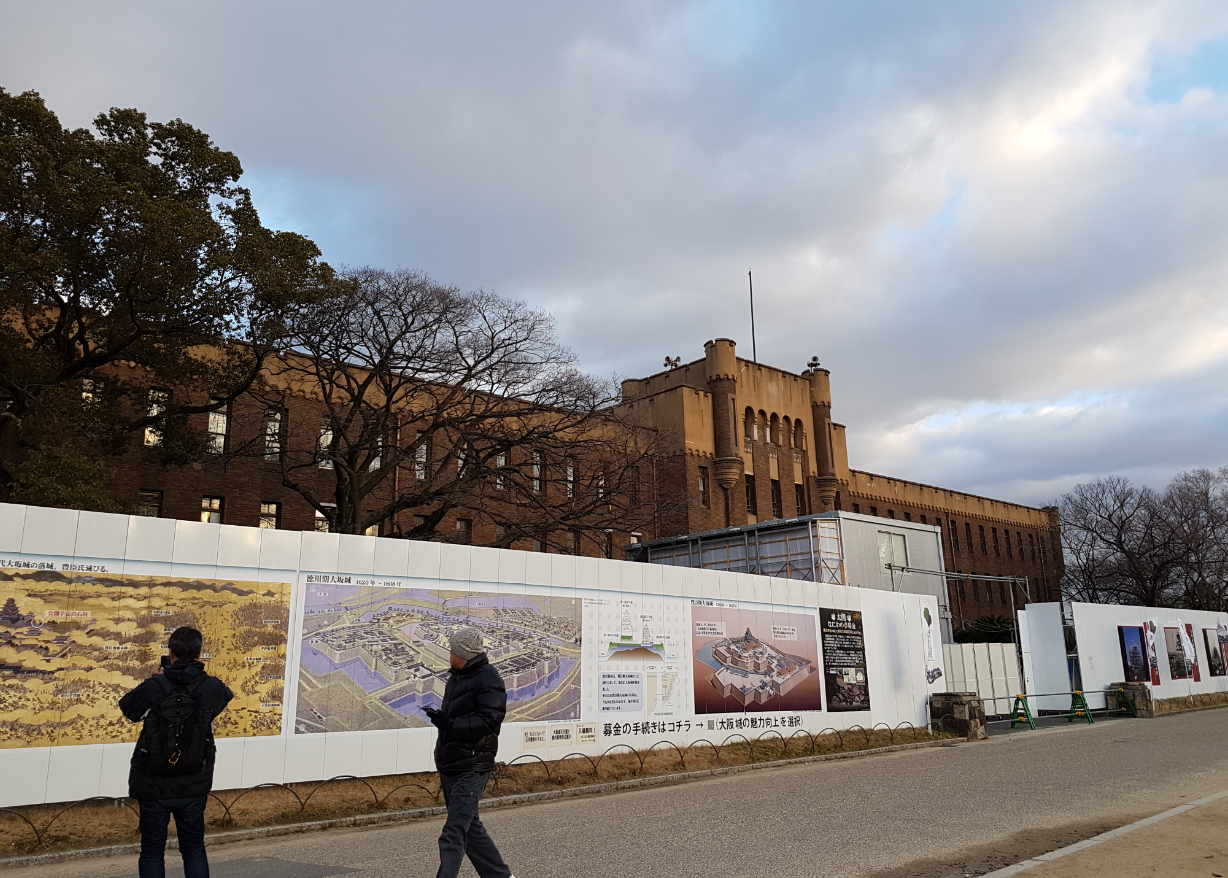 Just in front of the castle was a time capsule that was apparently buried in 1970! There were reportedly 2,098 items placed inside this huge cylinder that showed how people lived at the time. It was first unearthed in 2000, and among the items buried were a portable radio, a household account book, food for astronauts, and various seeds. The capsule was then sealed again and will remain underground for another 100 years until 2100! (Cr: Web-japan.org)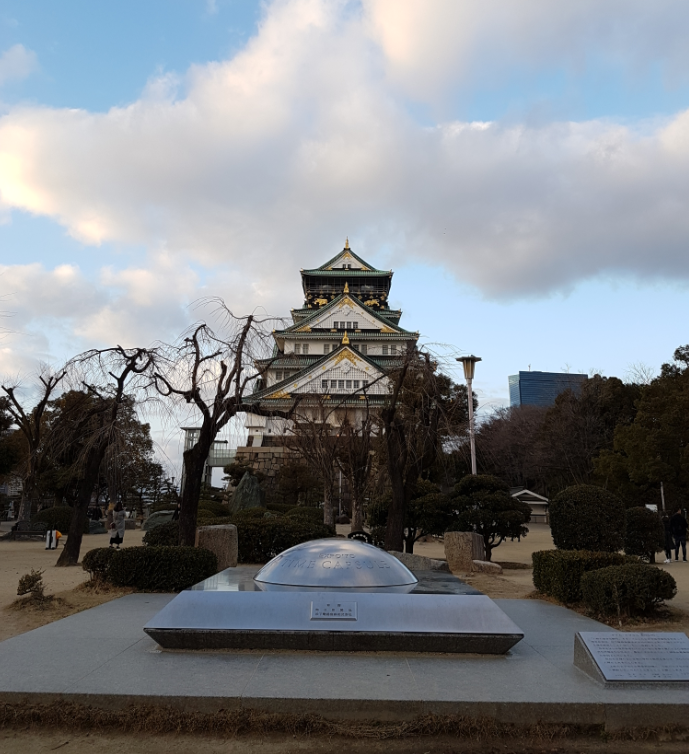 Unfortunately, I was too young to know of this at 2000 and I won't be alive in 2100 to see it get unearthed. But it was so cool to see an actual time capsule!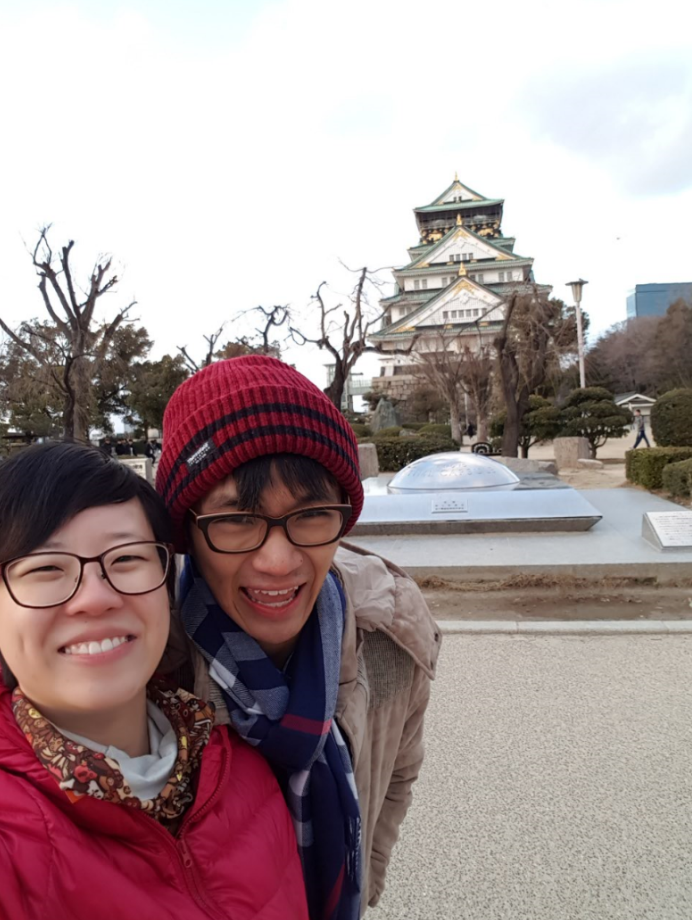 Anyway, I think that's all for now! Tune in next week for the exciting conclusion! Thanks so much for reading!

To find out more about me, check out my intro post here!
---
Check out my previous post in this series!
TacoCat's Travels #90 (Japan 3.0): Visiting Pokemon Pals! 😺
---
View this post on TravelFeed for the best experience.