Read this post on TravelFeed.io for the best experience
---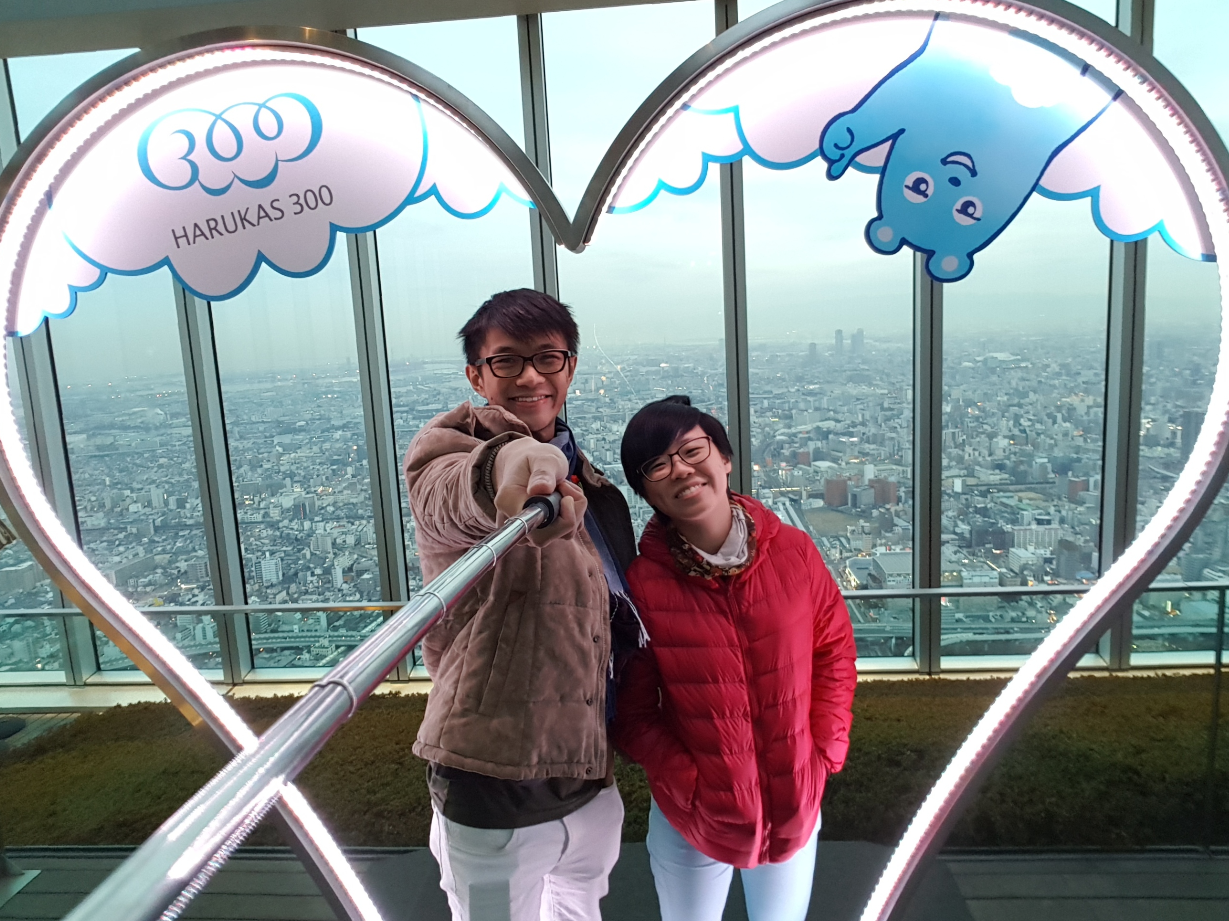 ---
Hey Hive/Steemit!
So if you didn't catch the last couple of posts, we're currently on a brand new journey in Osaka! It was quite a spontaneous trip since there was a super promotion on Philippine Airlines and we decided to just go for it during our mid-semester break back in Feb 2017! This was also the first Valentines' trip we took together!
Last week, we finished up exploring Osaka Castle Park, where we visited the souvenir shop!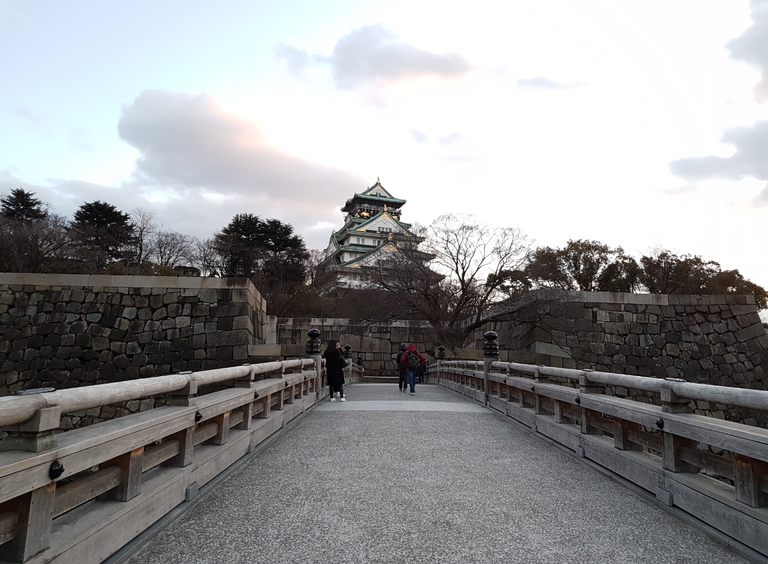 On the way back, we also went to see the Peanuts Carnival again and I even tried my hand at one of the carnival games!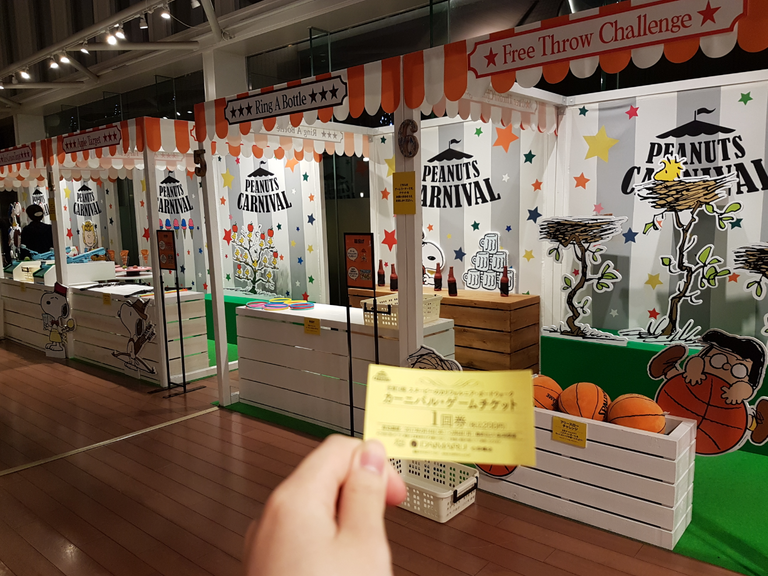 I shared a little teaser at the end of the last post, but I think it was pretty difficult to guess where it was from. So let's find out!
22 Feb 2017. Monday.
Today was our last full day in Osaka! But we were pretty tired from all that walking around the castle yesterday so we had a late start to the day.
We had a late lunch at somewhere I really can't remember. But it was a Chinese-Japanese place because they had ramen but also dimsum for some reason. I've never tried dimsum in Japan before so I was curious.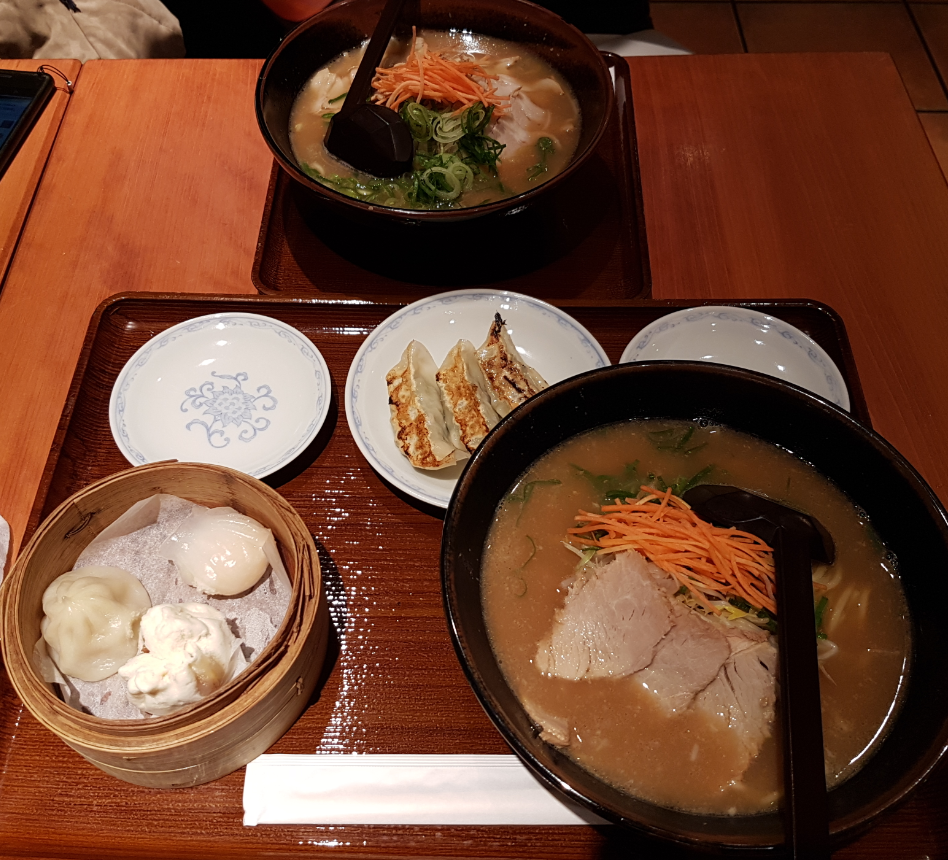 We got a bowl of ramen each and some gyoza and dimsum to share. The dimsum wasn't in a set of 3 like it usually is, so we got to choose 3 different ones. We went with our usual har gow (steamed crystal shrimp dumpling), xiao long bao (soup dumpling), and a char siew bao (steamed pork bun).
We tried to recreate Sean's iconic ramen pose yet again, since this would be the last chance this trip: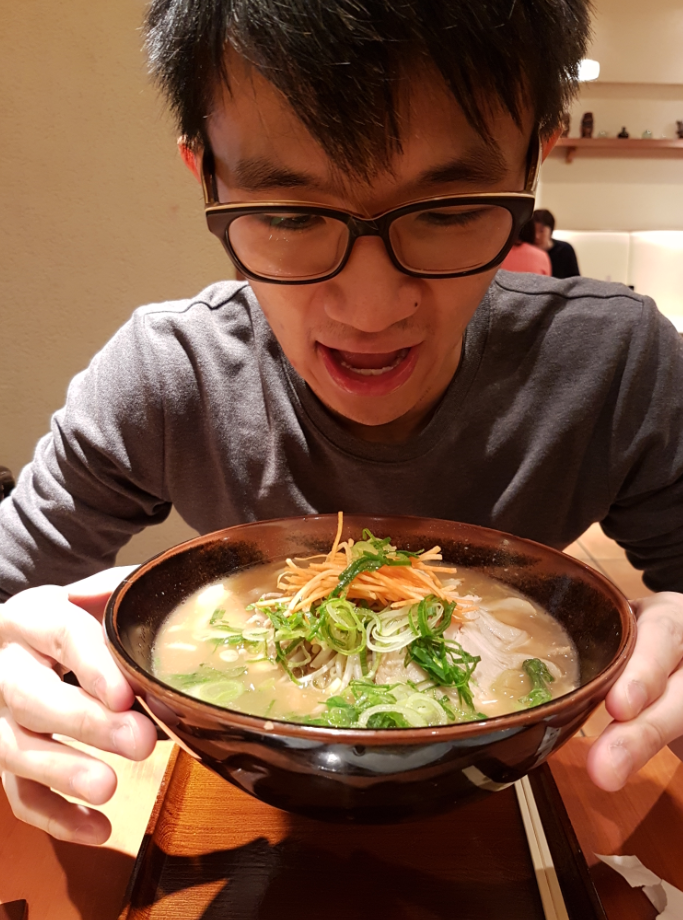 I think the meal was pretty meh since I don't remember much about it. It was probably okay or average. Nothing to complain about, but nothing to write home about either.
Anyway, the special place we would be visiting today is called Abeno Harukas!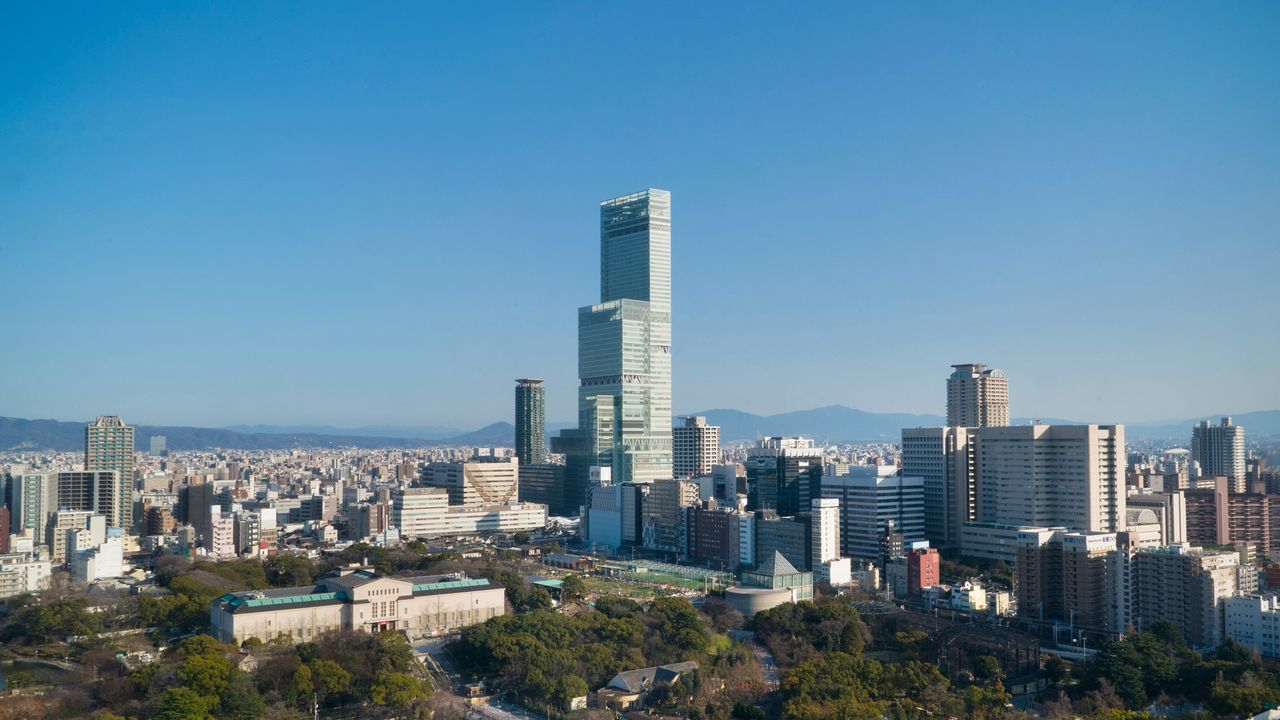 Source: Nippon.com
Standing at 300 meters tall, Abeno Harukas in Osaka is the tallest skyscraper in Japan! The building stands on top of the Kintetsu Osaka Abenobashi Station and is conveniently located across from JR Tennoji Station. It houses a department store, an art museum, a hotel and an observation deck.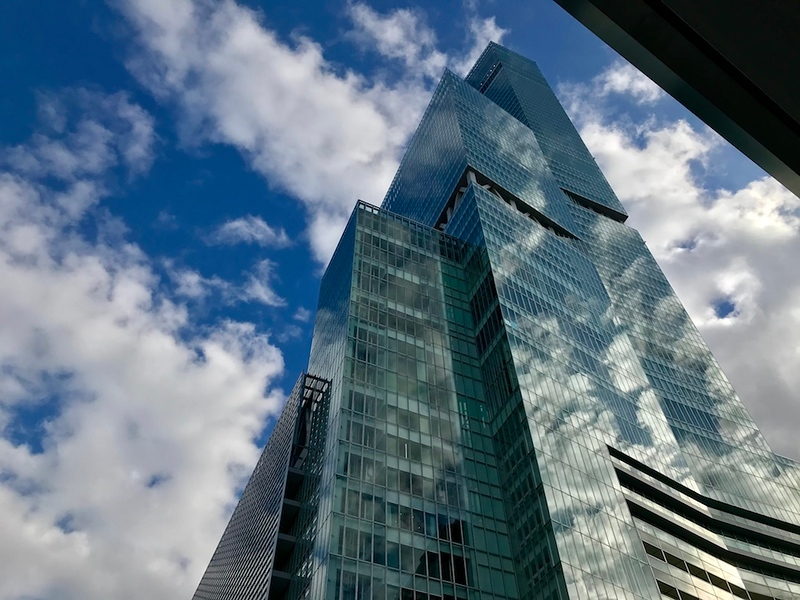 Source: Inside Osaka

The observation deck is called "Harukas 300" and occupies the building's top three floors (floors 58 to 60). The observation deck is accessed by elevators from the 16th floor. With large floor-to-ceiling glass panels all around, the 60th floor offers 360 degree views of Osaka, while the 58th floor features an attractively designed inner court with a wooden deck and cafe. A souvenir shop and restrooms with views are also available. (Cr: Japan-guide)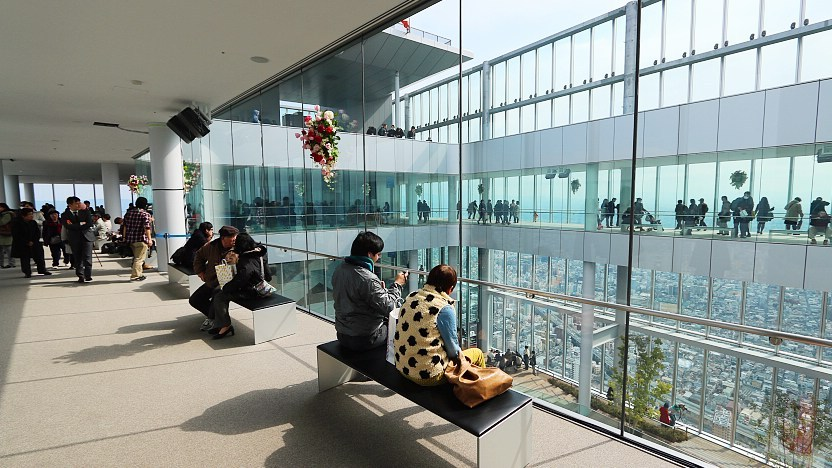 Source: Japan Guide
You might be confused since the Tokyo Skytree is taller than this building, and it is actually in fact the tallest structure in Japan, but I guess that's different from skyscraper. According to Wiki, a skyscraper is a building with continuously occupiable floors and since the Skytree is functionally a broadcasting tower it's not an actual building. So yea I guess that's the difference.
Btw we also went up the Tokyo Skytree if you're interested! Since then we've kinda made it a point to visit a tall structure every time we travel!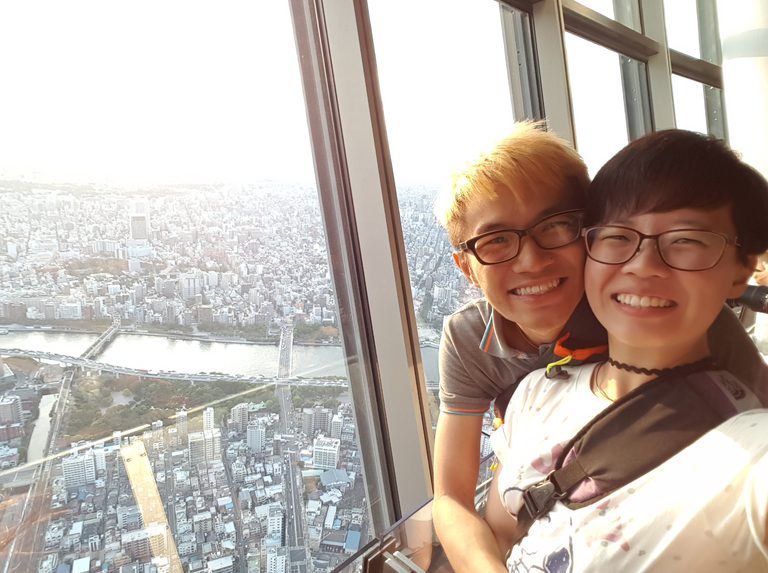 Anyway, we didn't have much time left in the day so we thought we'd go up to the observation deck and enjoy one last magnificent view from the highest place in the city.
But first, we had to go through the 16 floor department store (B2 to 14F) to get to the 16th floor of the building!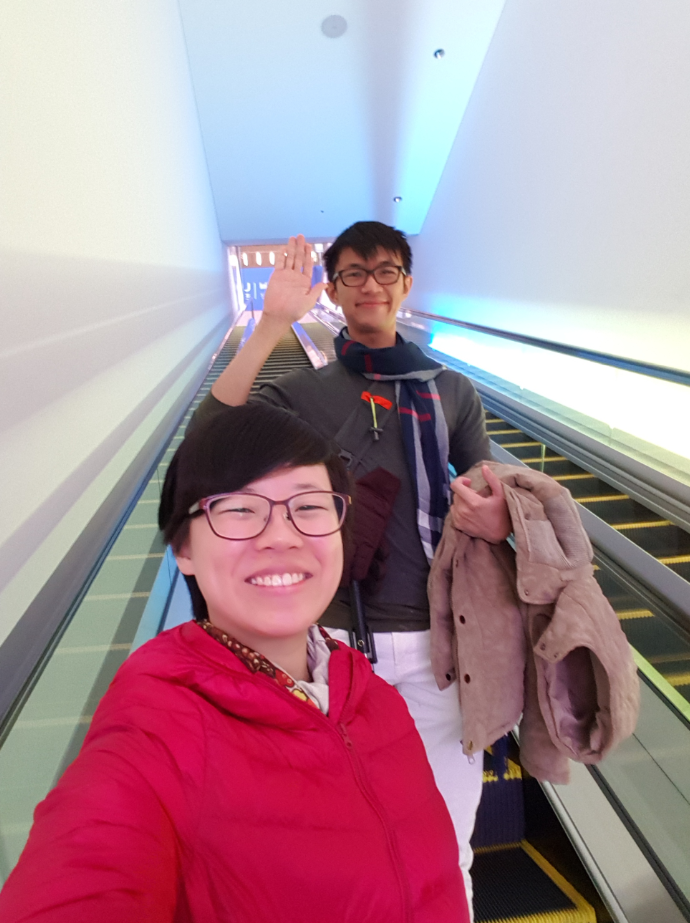 We were relieved and quite surprised that there wasn't a queue or actually anybody at all at the lift area.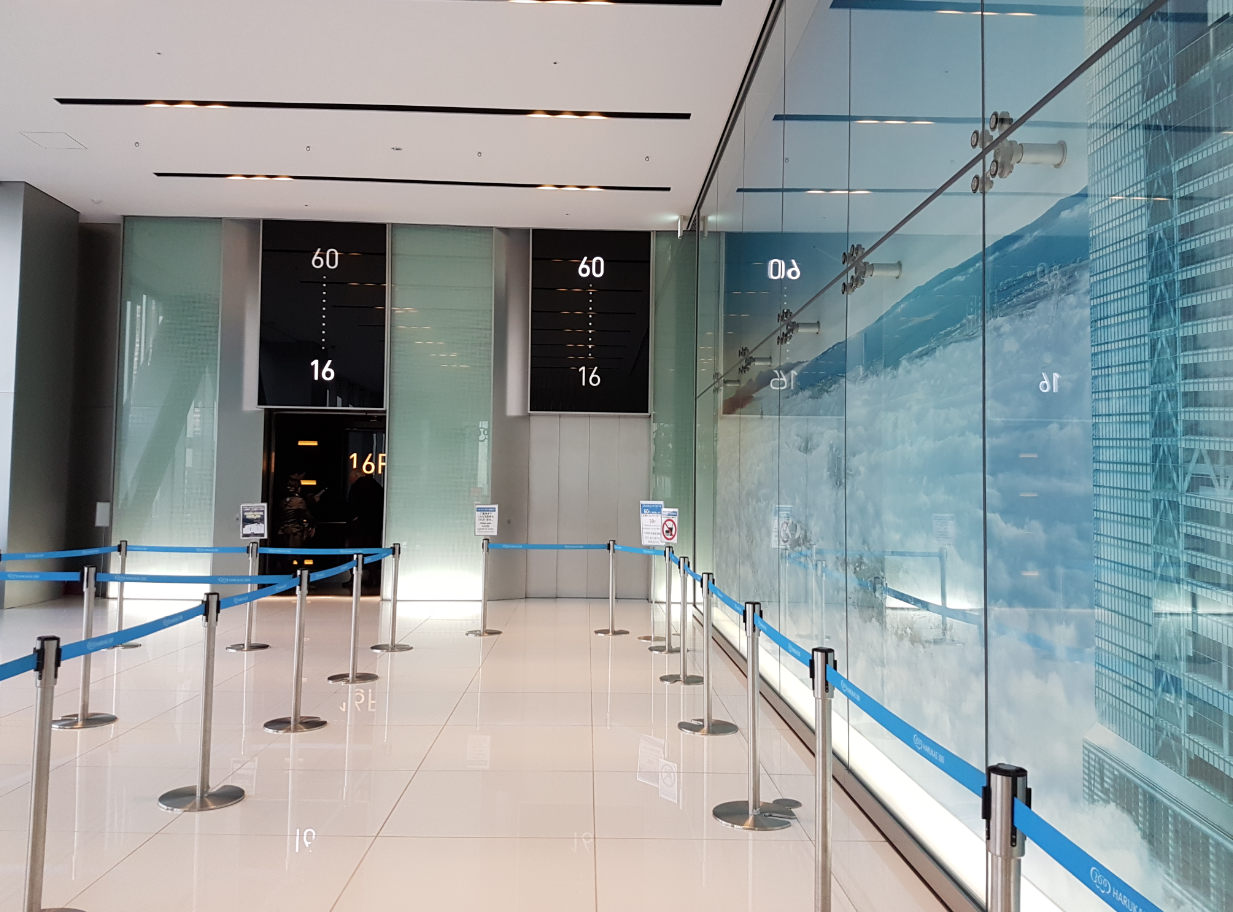 But we didn't actually get a lift to ourselves, unfortunately.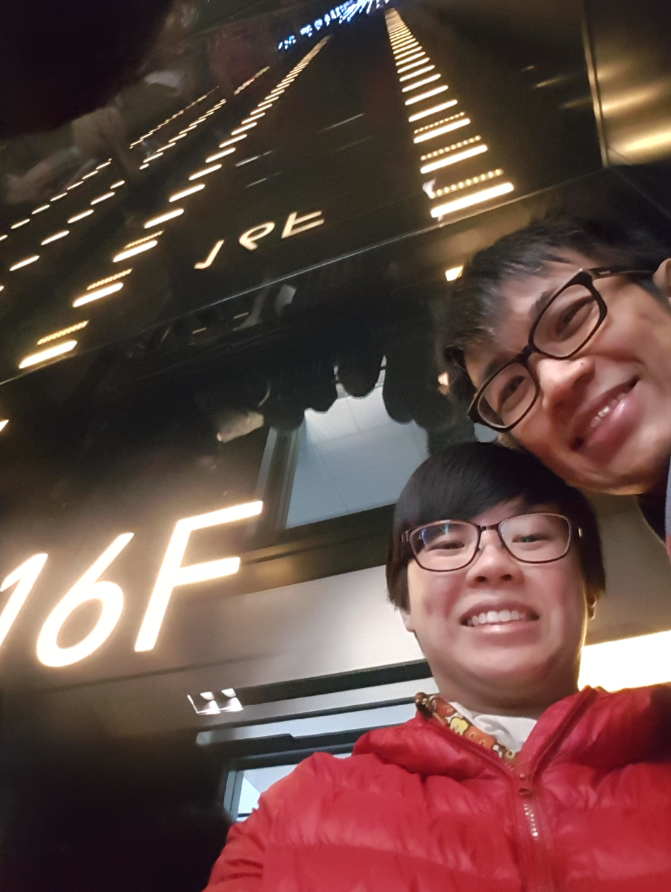 The lift up was swift and smooth as expected, and the lighting effects were cool! The lift itself was totally transparent so the lights were actually in the elevator shaft!
It actually reminded me of Charlie and the Great Glass Elevator by Roald Dahl! But thankfully it was not as crazy as that.
The ride itself was really quick; we arrived on the 60th floor about 40 seconds later to a magnificent view! Unfortunately the weather wasn't too great that day but regardless.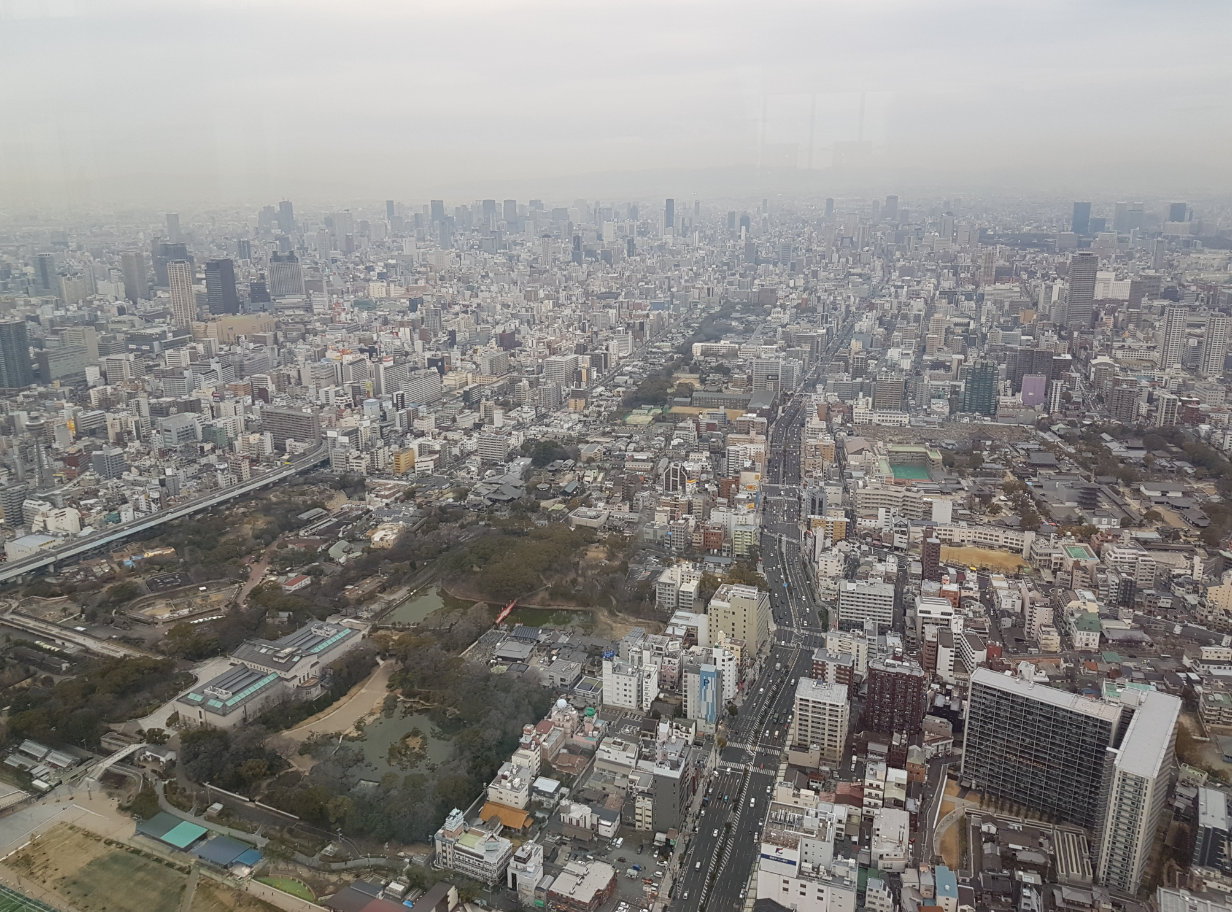 It was still cool to see the whole city from up top.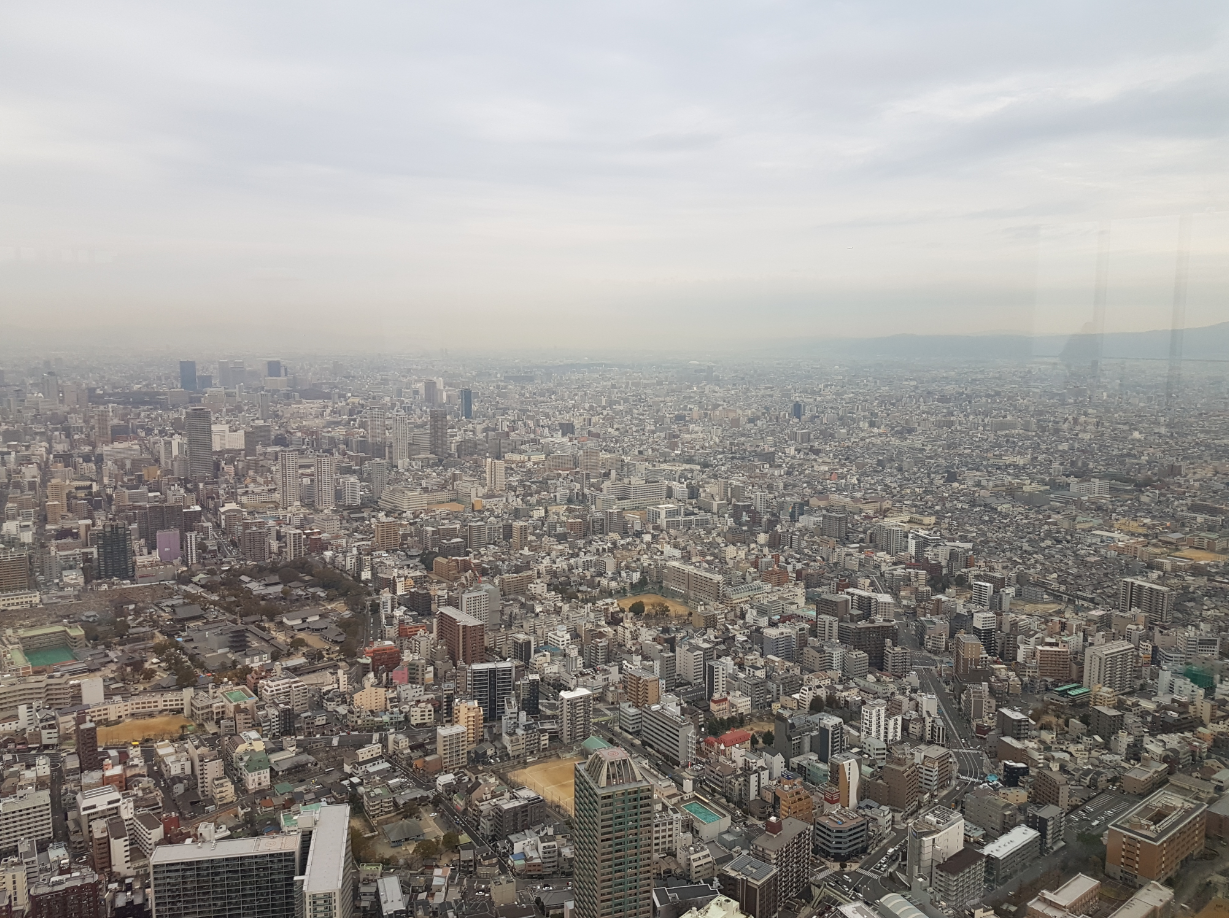 And it gave us a chance to use our selfie stick: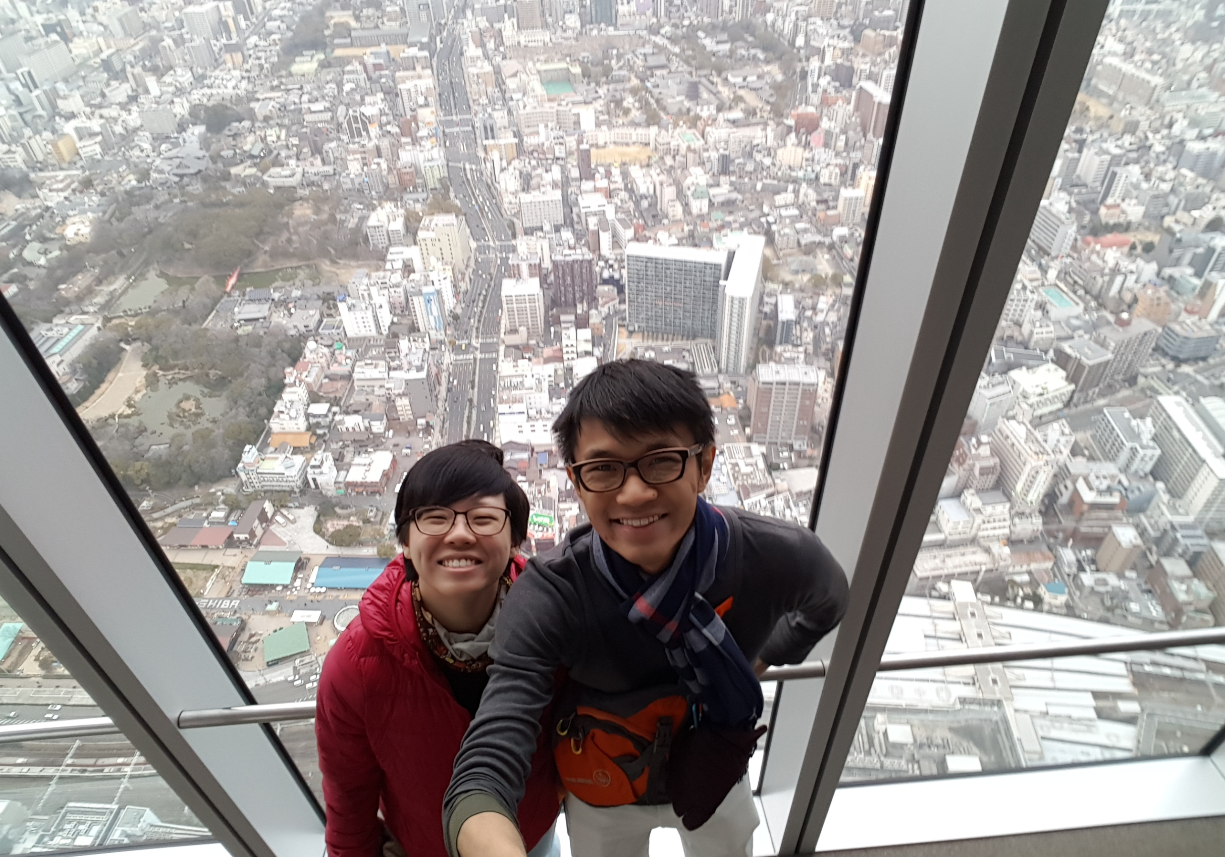 The observatory spans 3 floors and we arrived at the top one. I guess the 58th floor was an open area where the cafe was as well.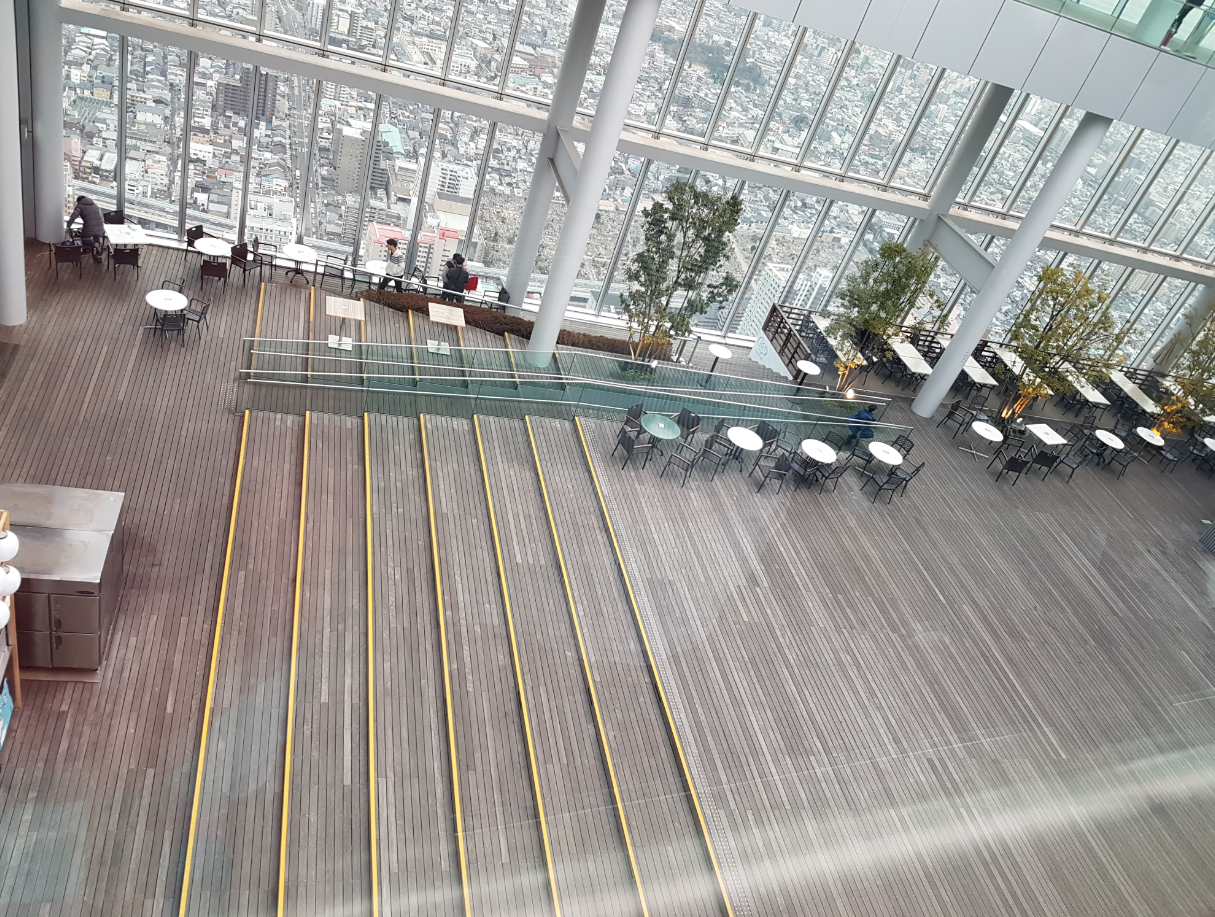 It doesn't really snow in Osaka but man, I bet it would be so cool to see this view if was snowing.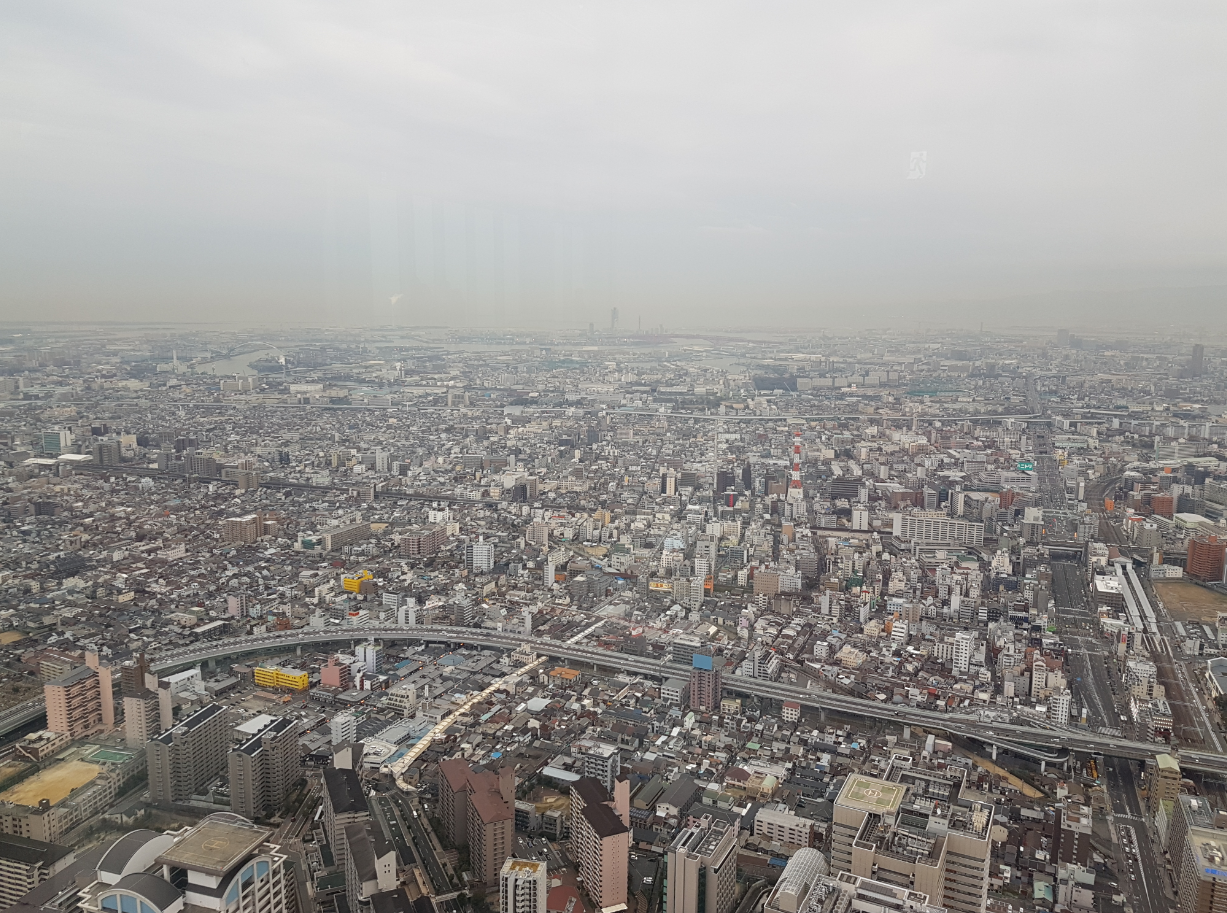 It kinda looks dull and dreary especially in late winter when the trees are still brown.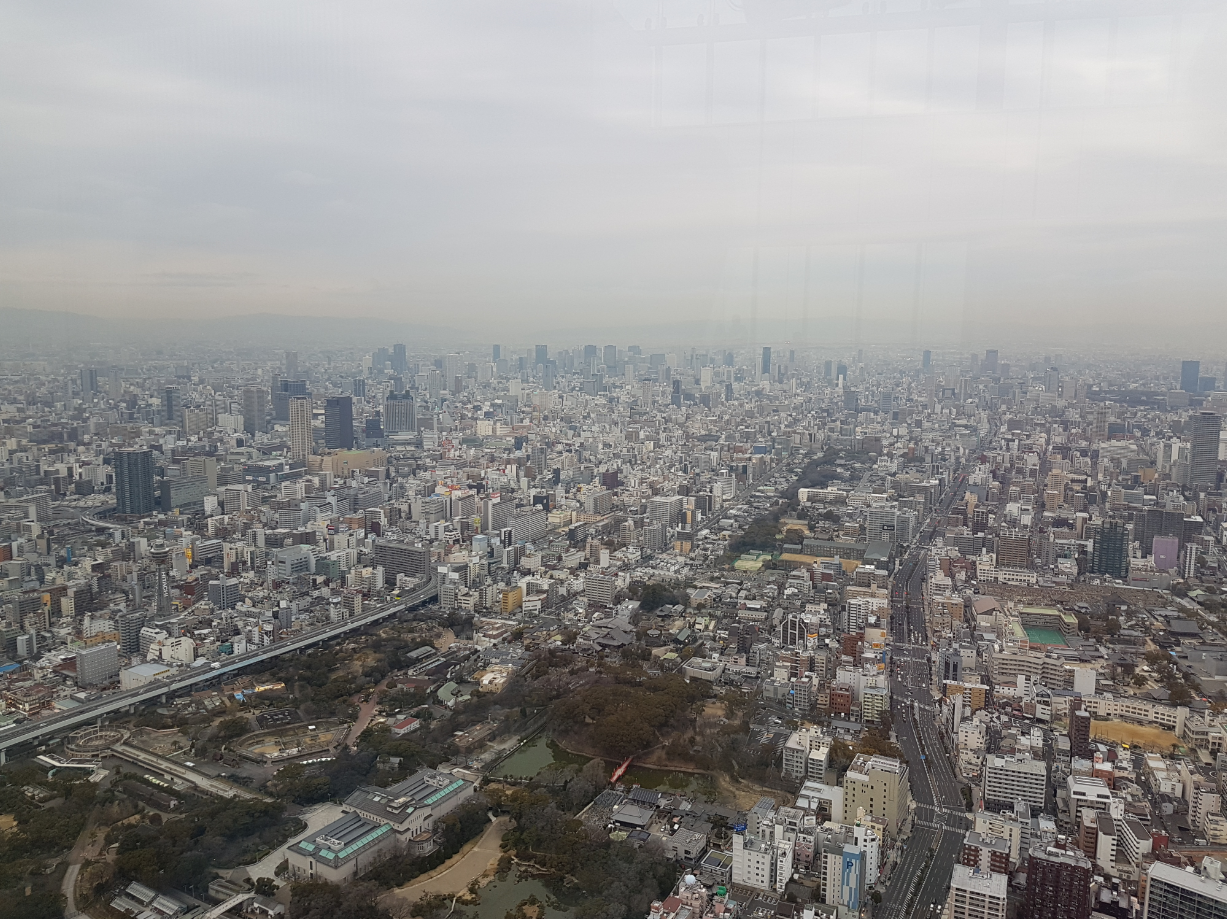 I thought this shot was kinda nice at least, with the mountains in the distance.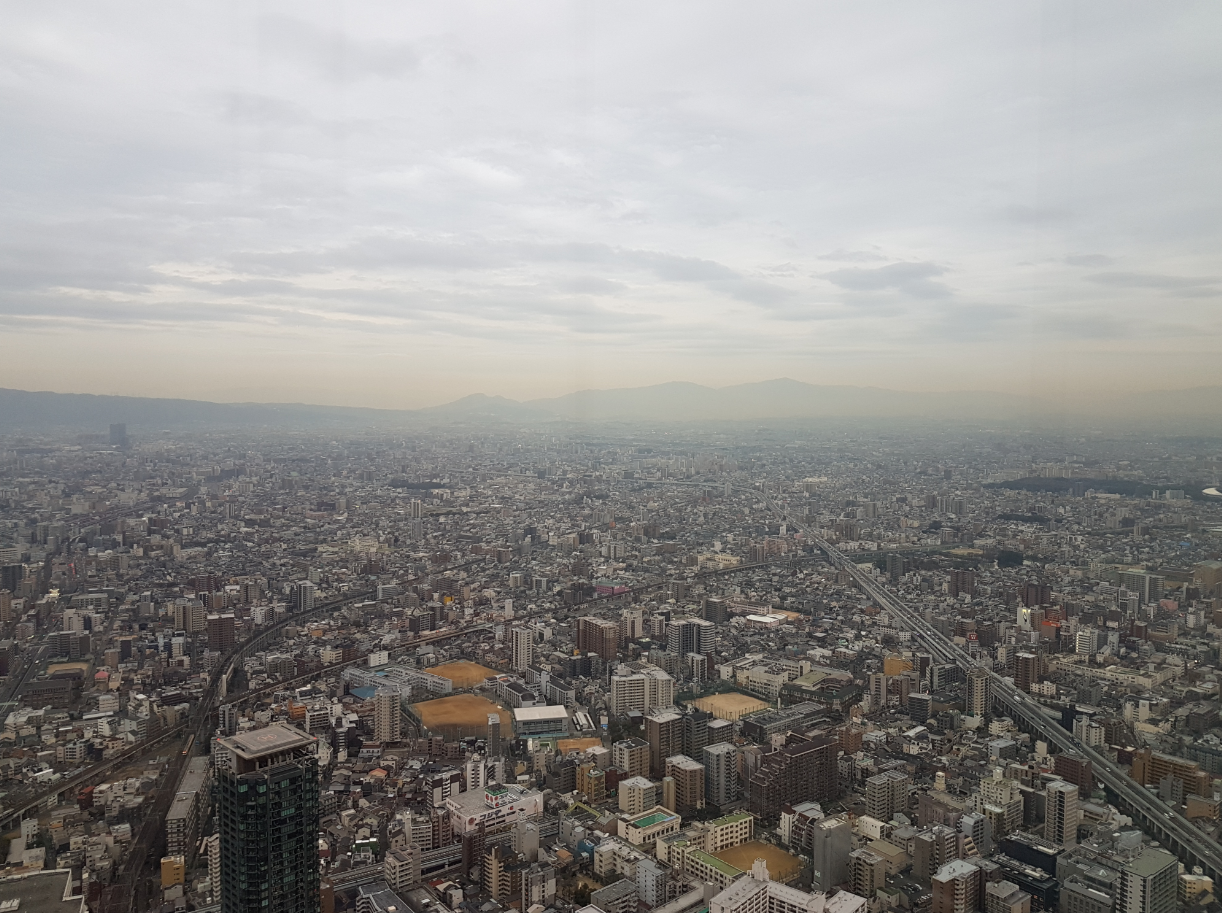 We were actually quite surprised to see that there were quite a few people around here.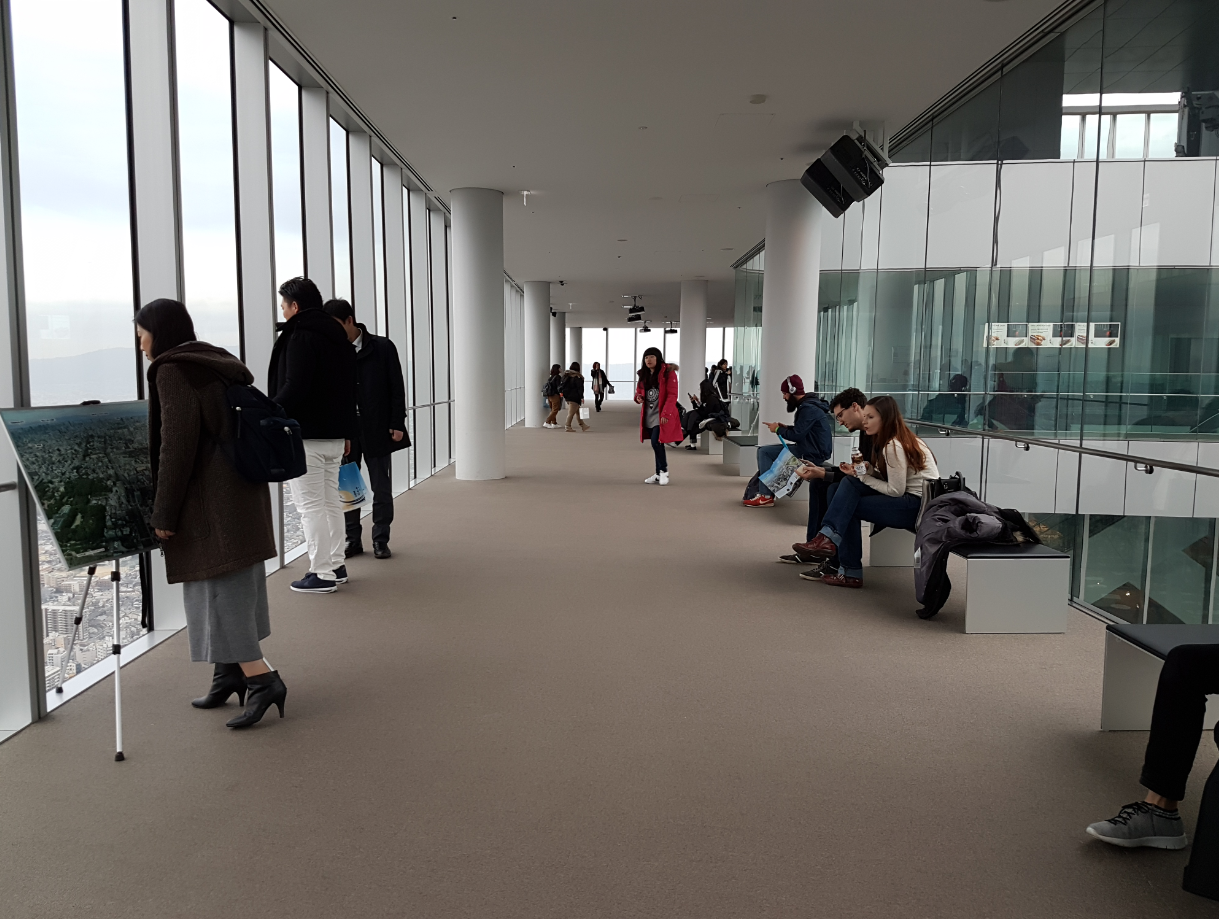 I guess this is the Harukas mascot.? Apparently his name is Abeno Bear, and he's a carefree sky-patterned bear who walks on rainbows and eats clouds!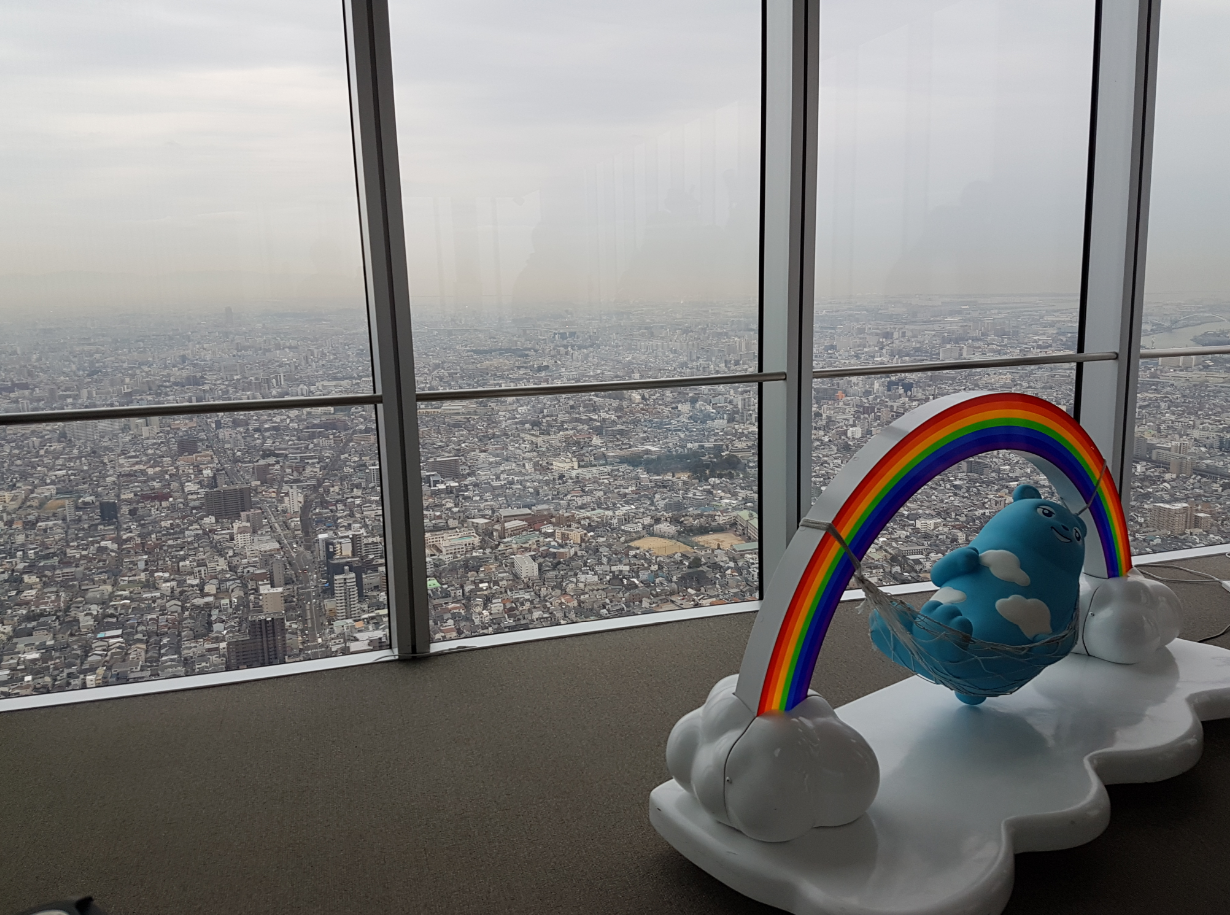 Here's another view of the observatory! We were lucky it was at least not raining or we wouldn't be able to check out the open area.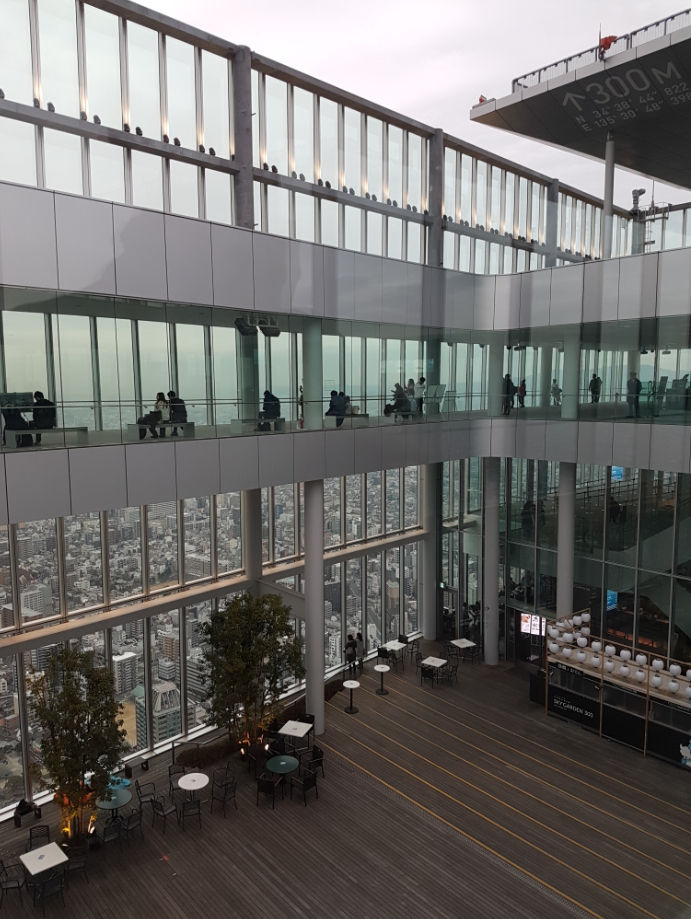 There were some kiosks around selling the standard souvenirs and merch.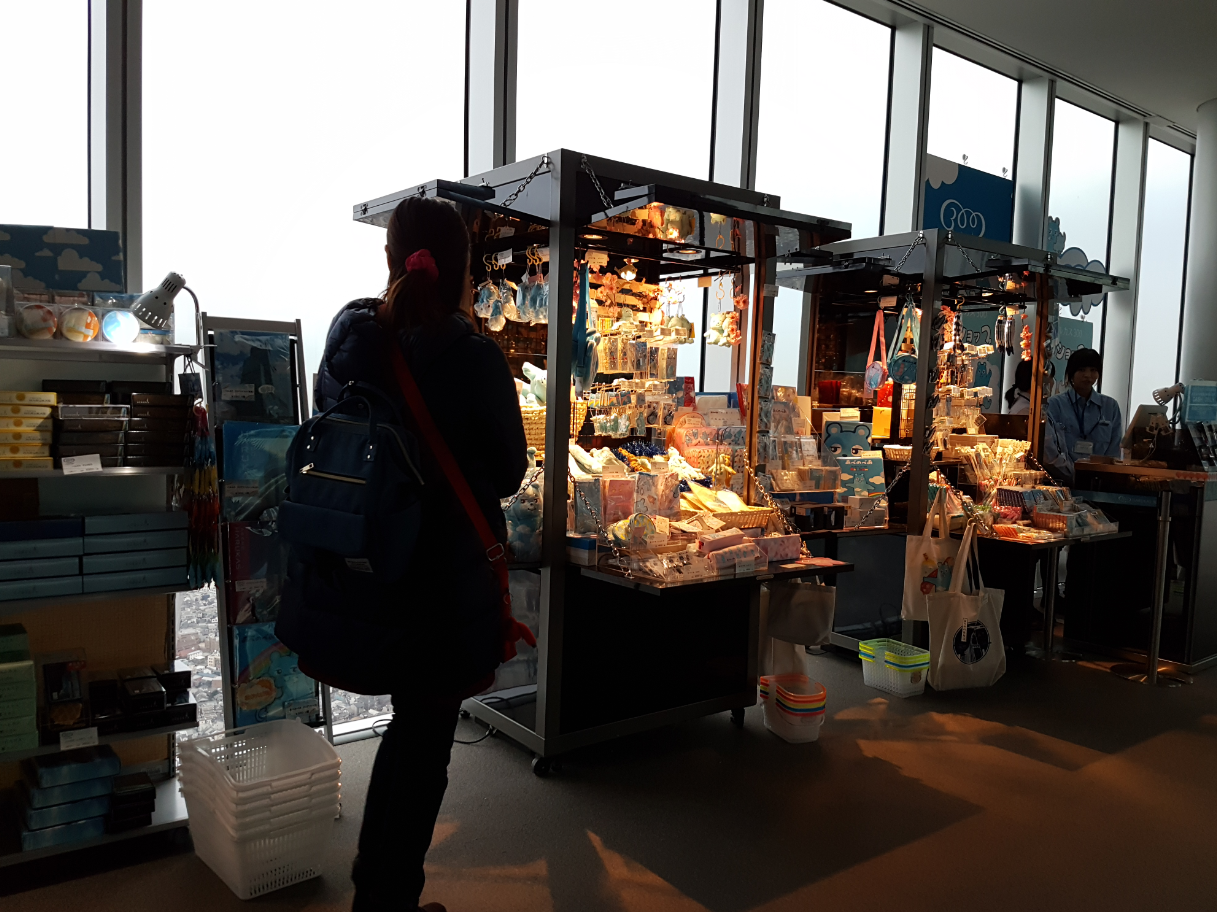 But there was also the full fledged shop as well.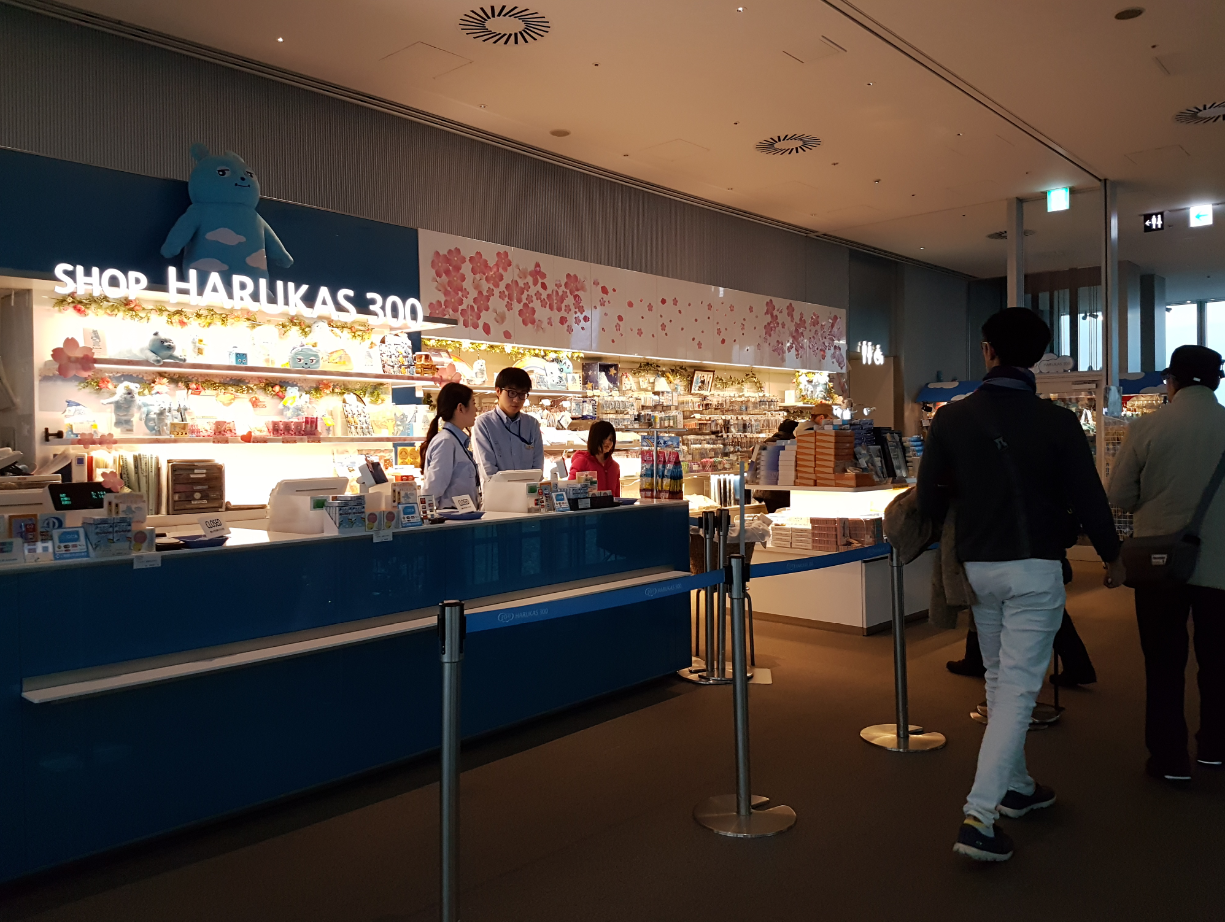 They even had a photobooth corner with purikura machines! And because I'm semi-addicted to them, we tried one out for fun.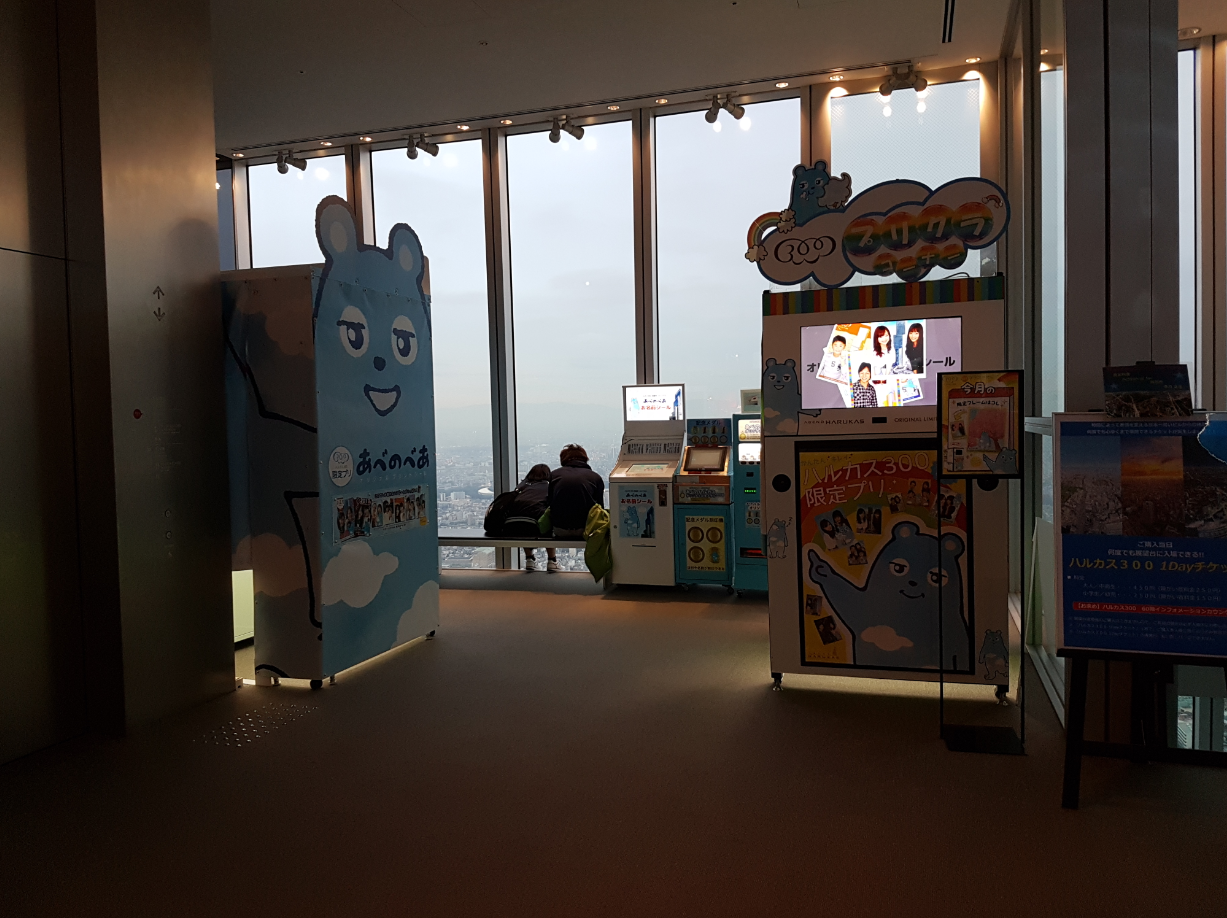 After walking around for a while, we soon found ourselves in the open cafe area.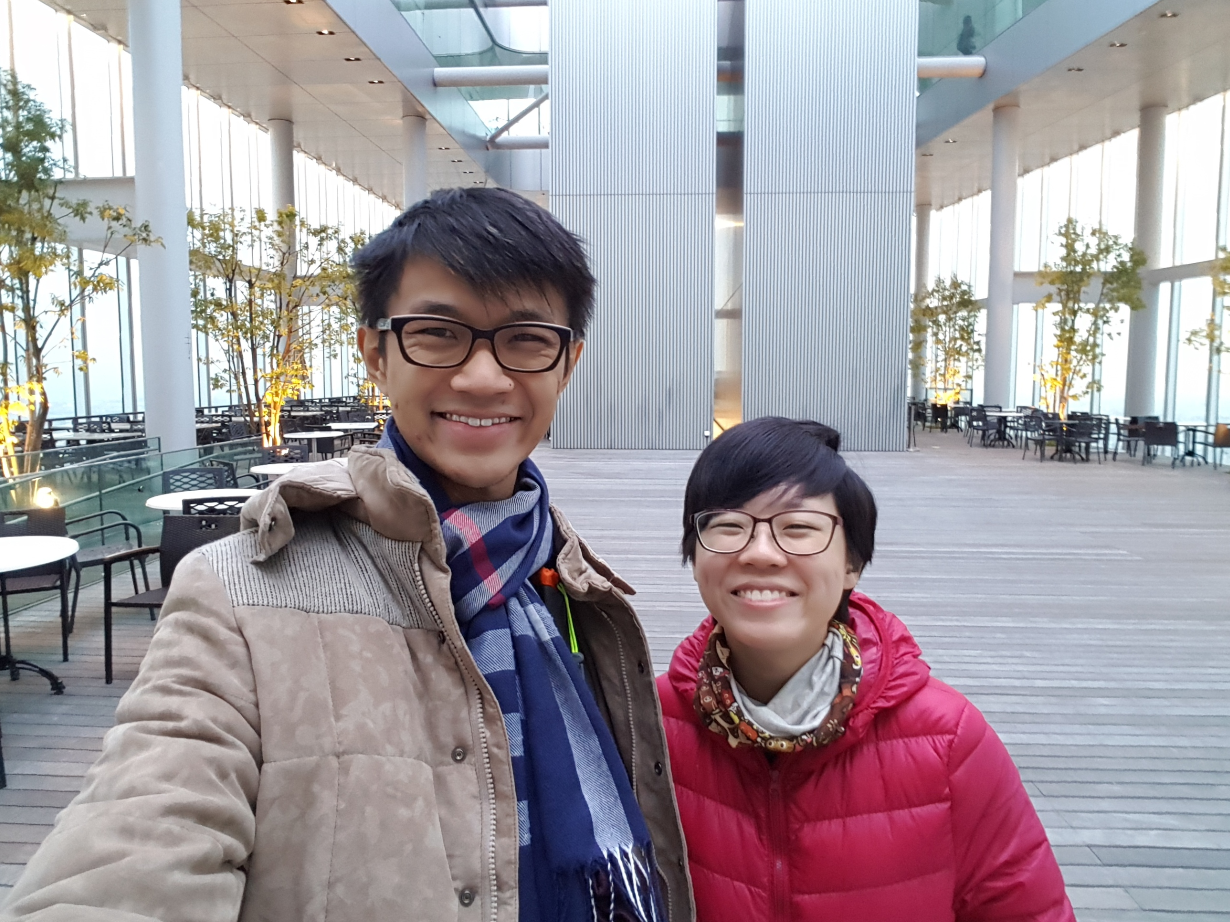 And the structure behind offered some cool-looking shots!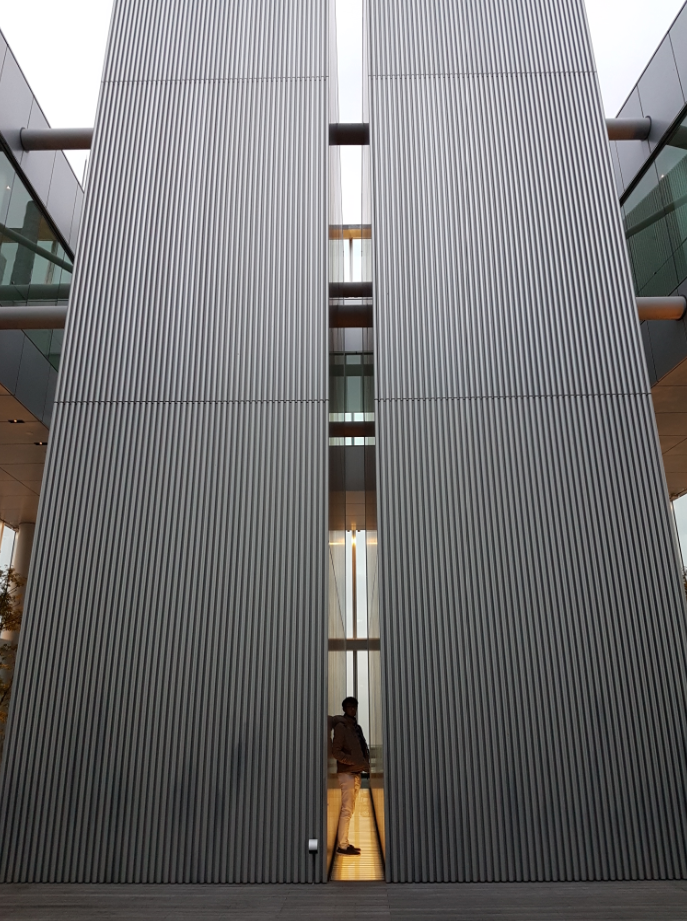 I have no idea what it's for, but they even lighted the path in between those huge pillars so it must be intentional for aesthetics or something.
But this was where the teaser pic came from!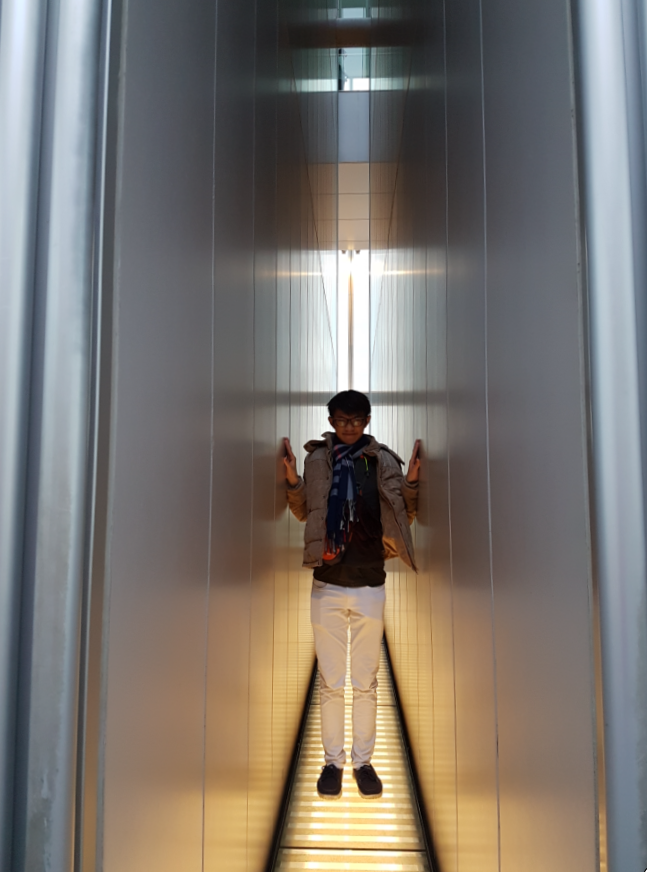 We thought it looked pretty cool at least. But I can totally see parents scolding their kids for playing in such a narrow space.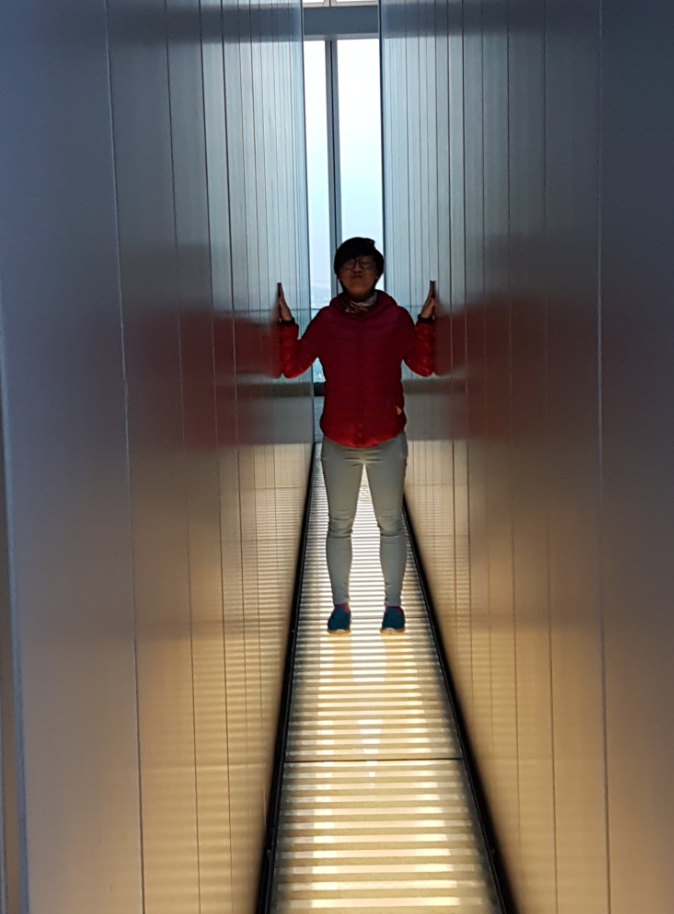 In one of the corners of the cafe was a pretty heart-shaped standee! I wondered if they put this up because it was Valentines' Day. Maybe it'll be up until White Day.?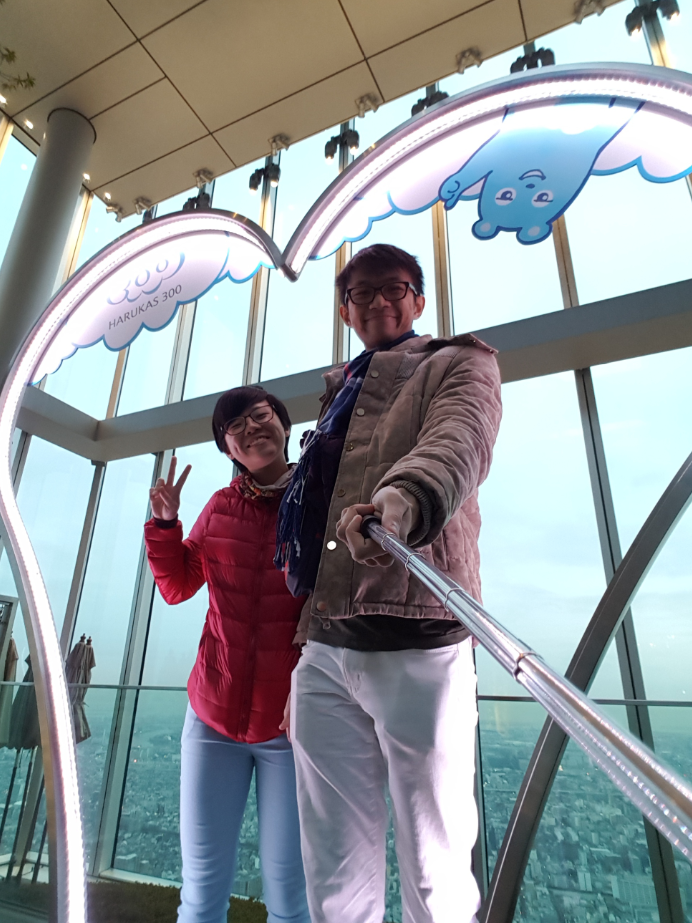 If you didn't know, White Day (Mar 14) is a holiday in Japan that falls a month after Valentines' Day (Feb 14), and it's when people give reciprocal gifts to those who gave them gifts received on Valentine's Day. Tbh I think it's just another way for department stores to earn money. But you know, it's not compulsory to buy chocolates on either day; it's just to show appreciation to those you love!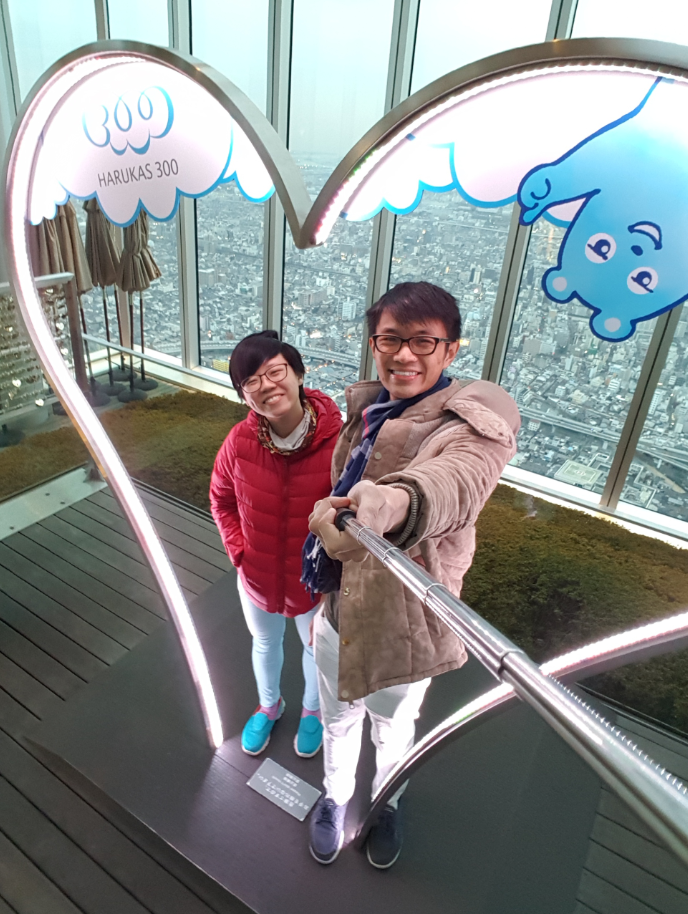 Just beside the heart standee was this small wall of love locks!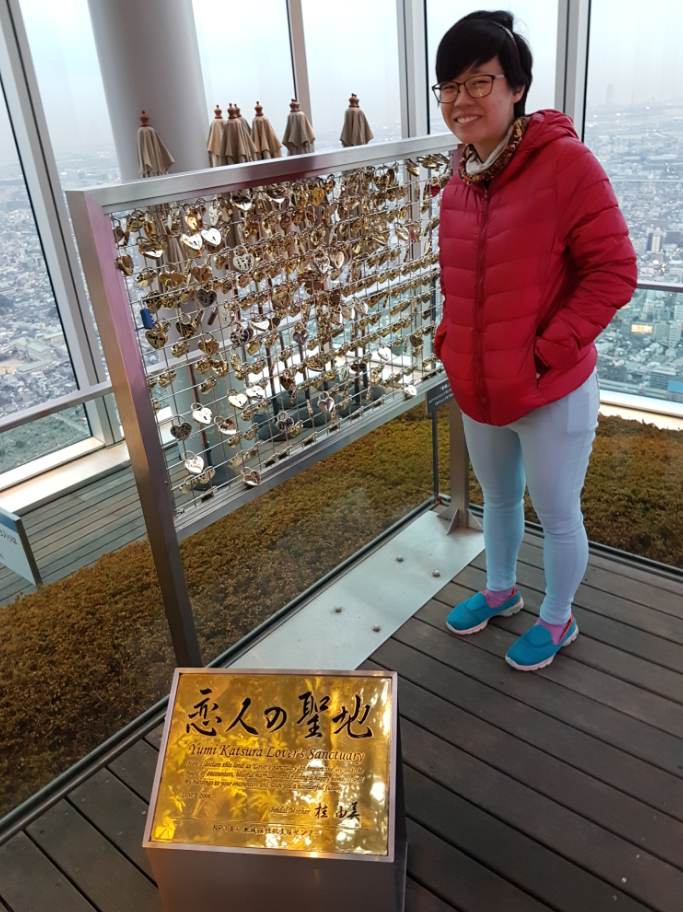 The golden plaque reads:
Yumi Katsura Lover's Sanctuary - Here I declare this land as "Lover's Sanctuary" to impart the joy and the magic of encounters, blissful marriages, and raising a happy home. I send my blessings to your encounters and wish you a wonderful future.
Since 2006. Signed, Bridal Mother
I have no idea who the bridal mother is, but Yumi Katsura is a Japanese stylist who designs wedding dresses. So I guess it makes sense.

We saw a lot of these love locks on the bridges of Paris, but I think they've since been removed due to the weight of all the locks bringing the bridges down.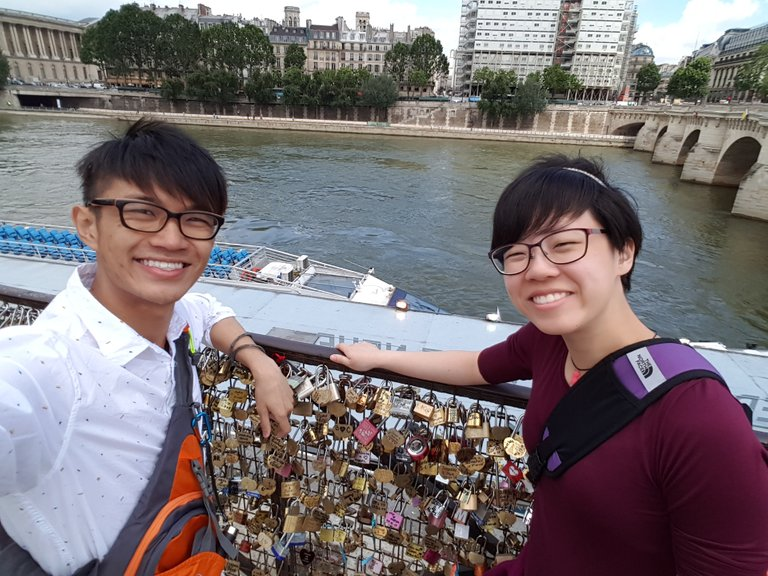 Here's what the standee actually looks like.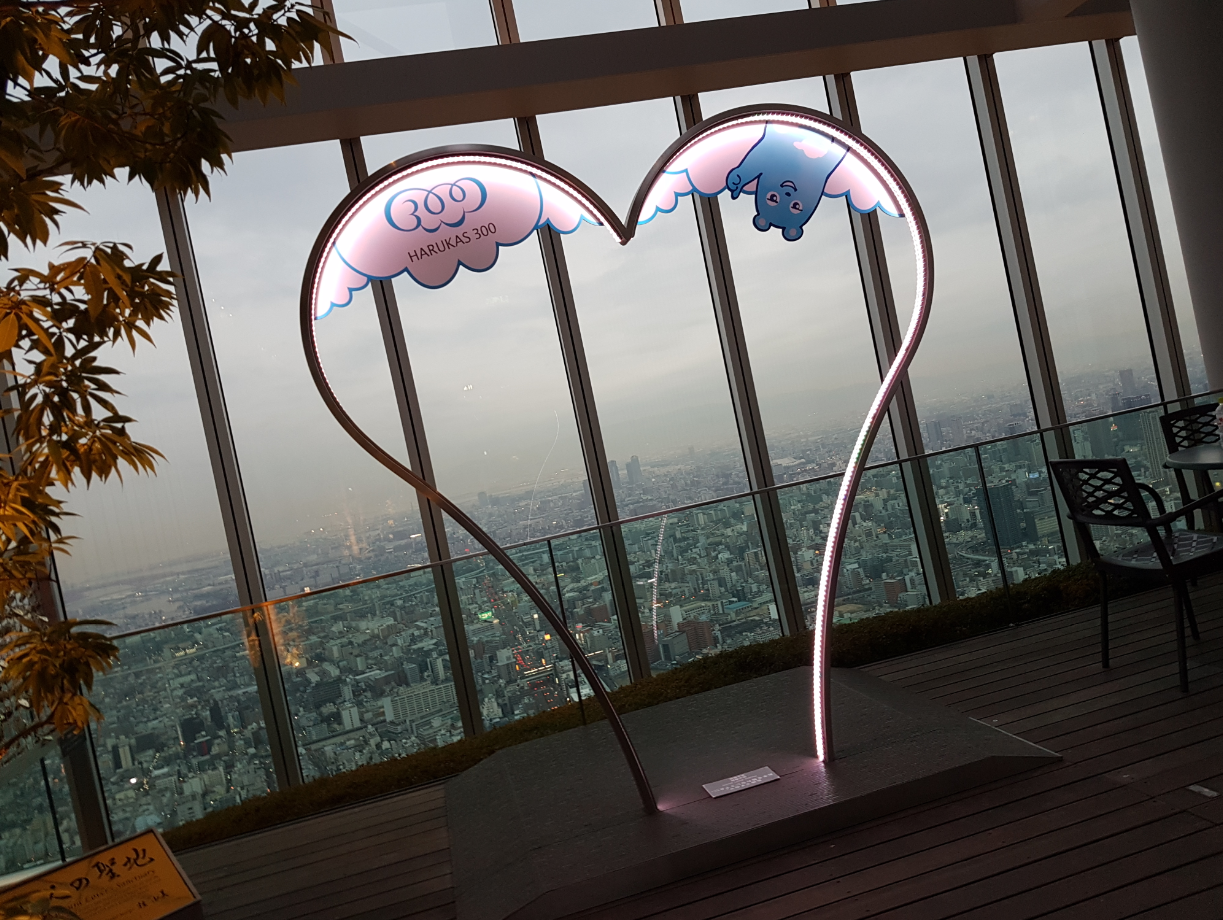 The cafe itself was actually quite nice and comfortable. It's been a while since we've actually sat in an al fresco cafe. And there are definitely not many with a view like this.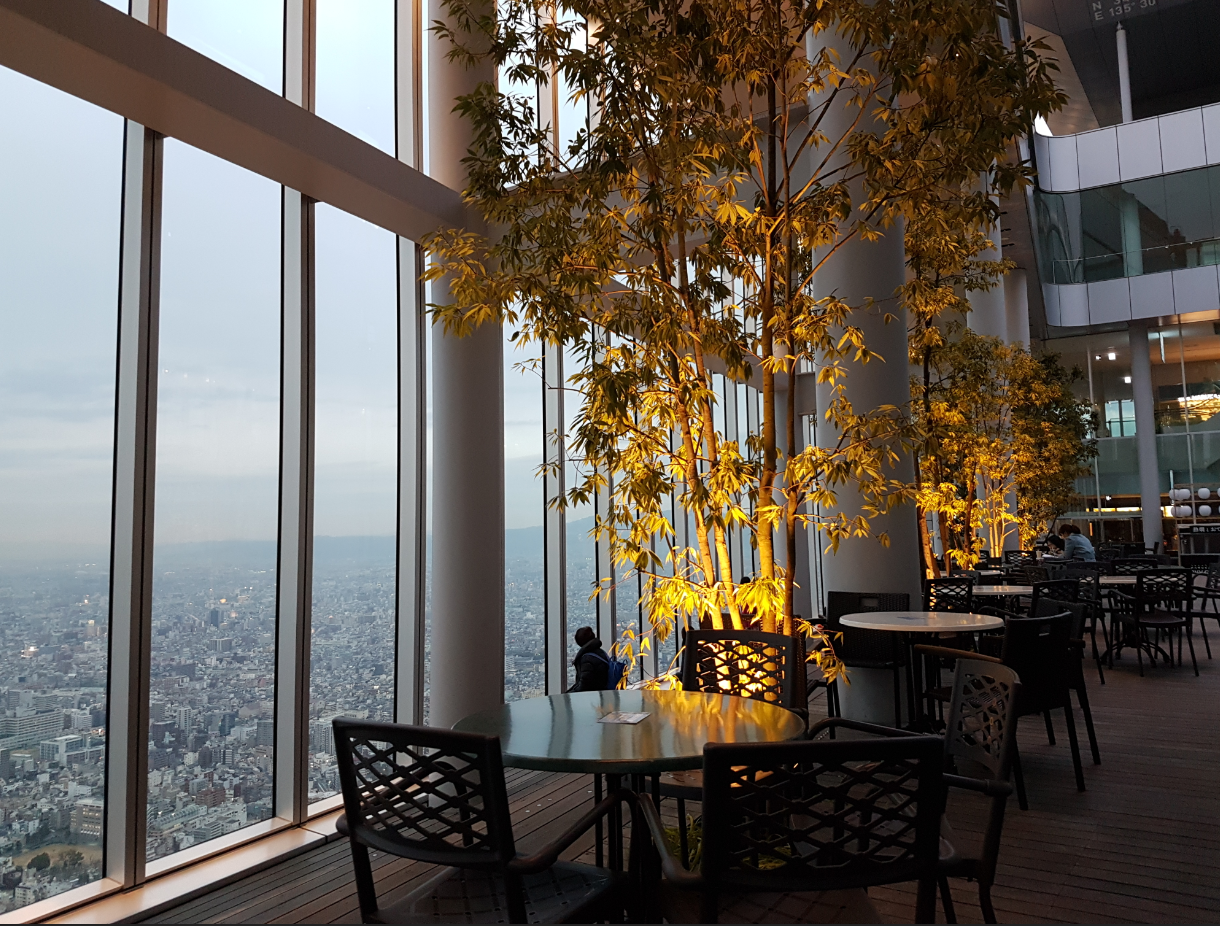 It would've been cool to enjoy a nice hot chocolate in the open with this weather I'm sure.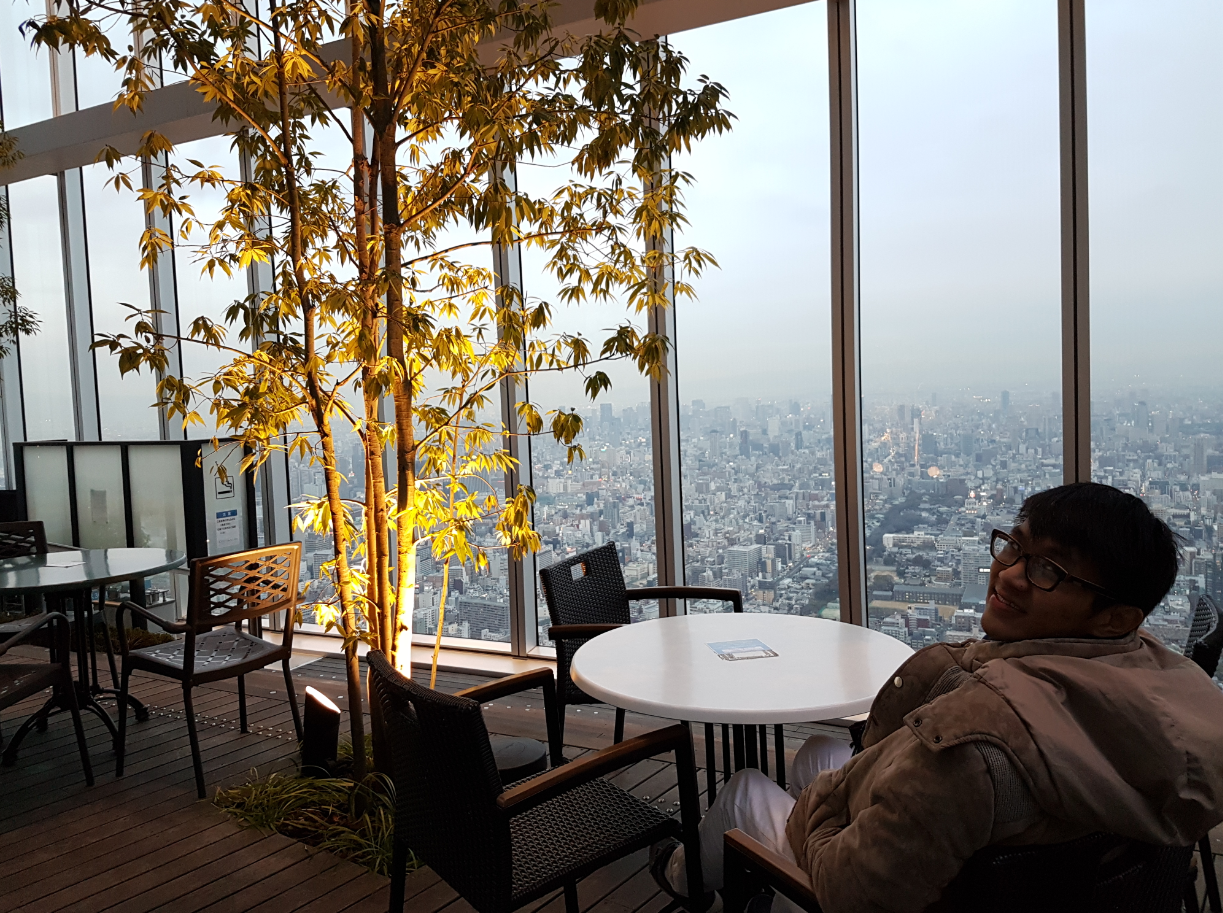 There were even bean bags you could sit on and enjoy the view up close.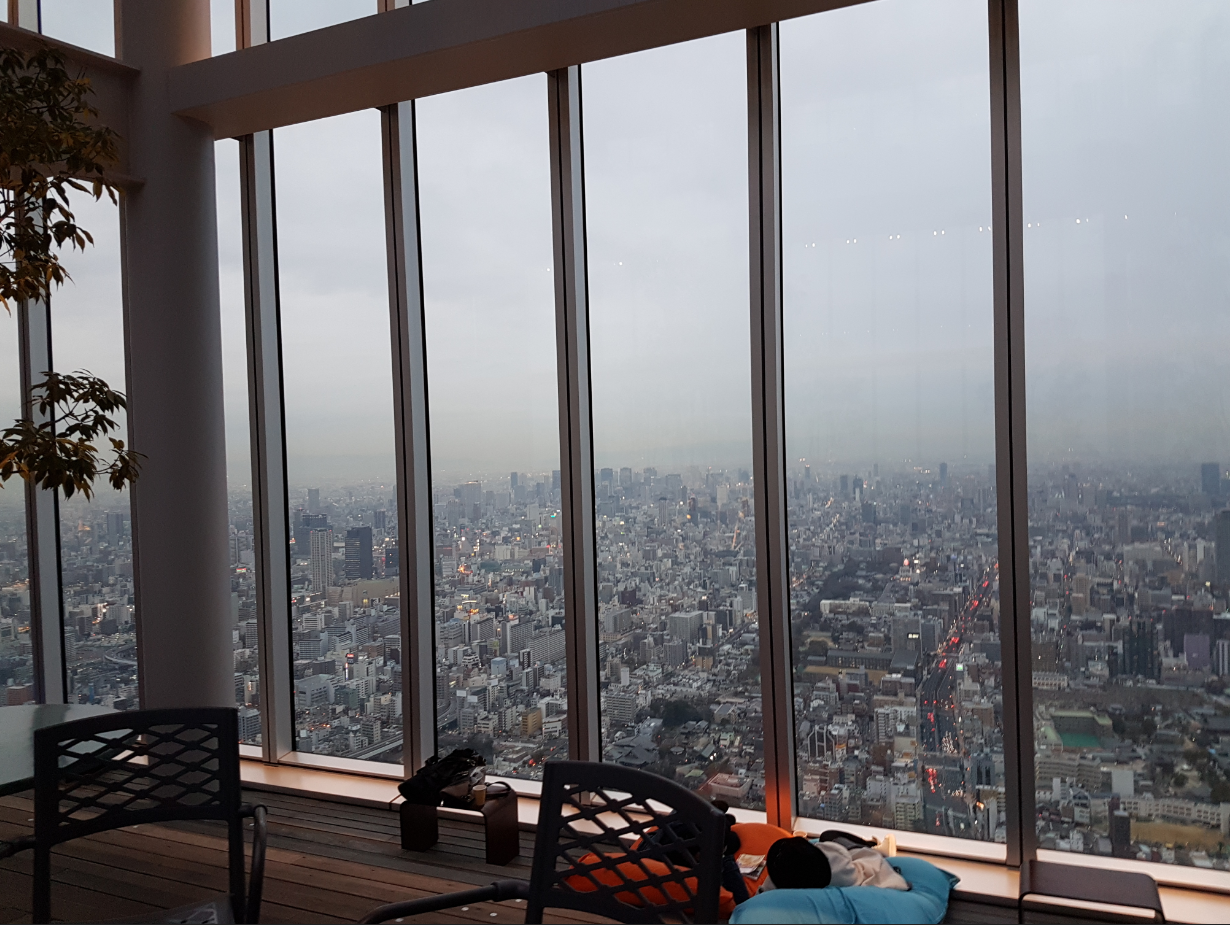 Turns out the restaurant was actually open! The Sky Garden 300 has a diverse menu featuring arrangements of local food ingredients and styles as well as snacks, sweets, local beer, wine and more.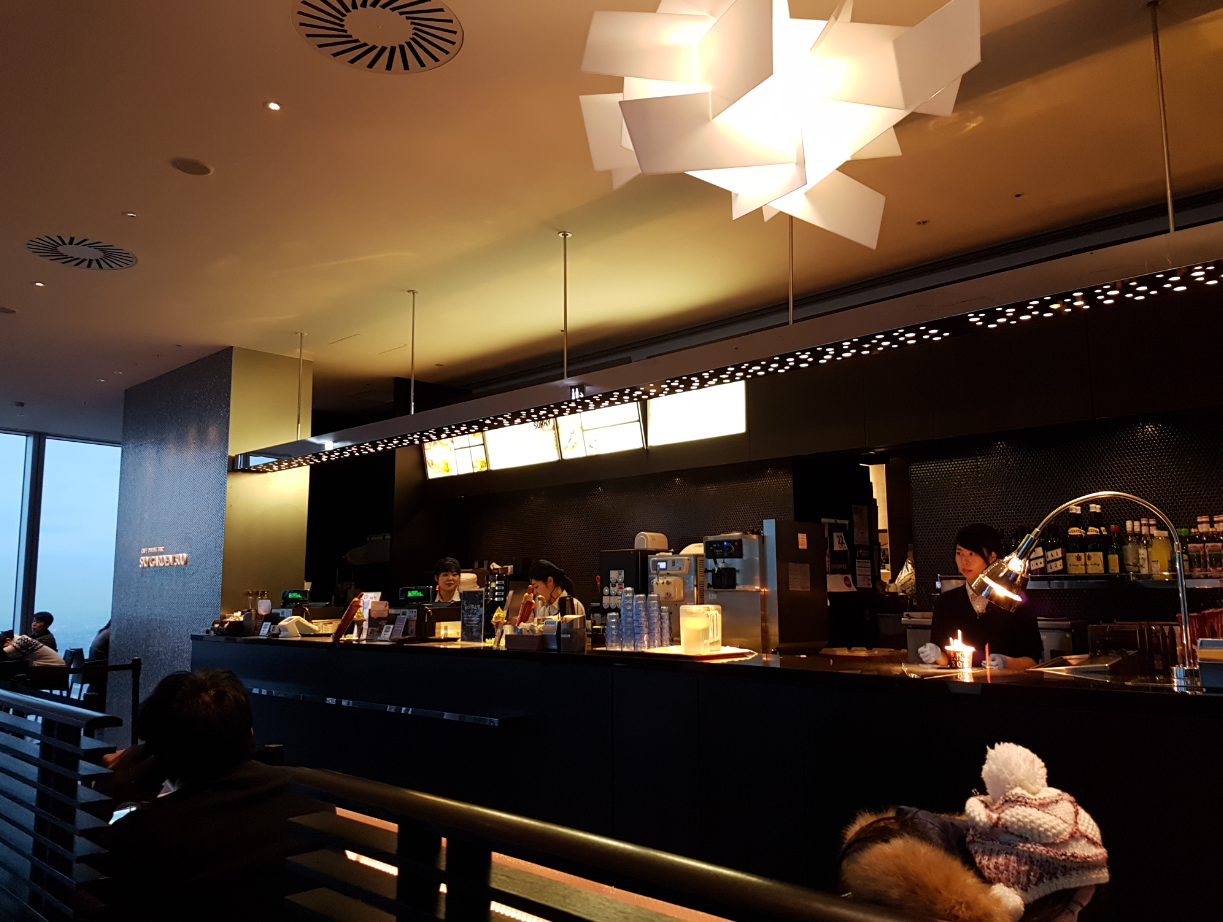 But of course, everything is really overpriced here so we didn't buy anything this time. We were also still quite stuffed from lunch.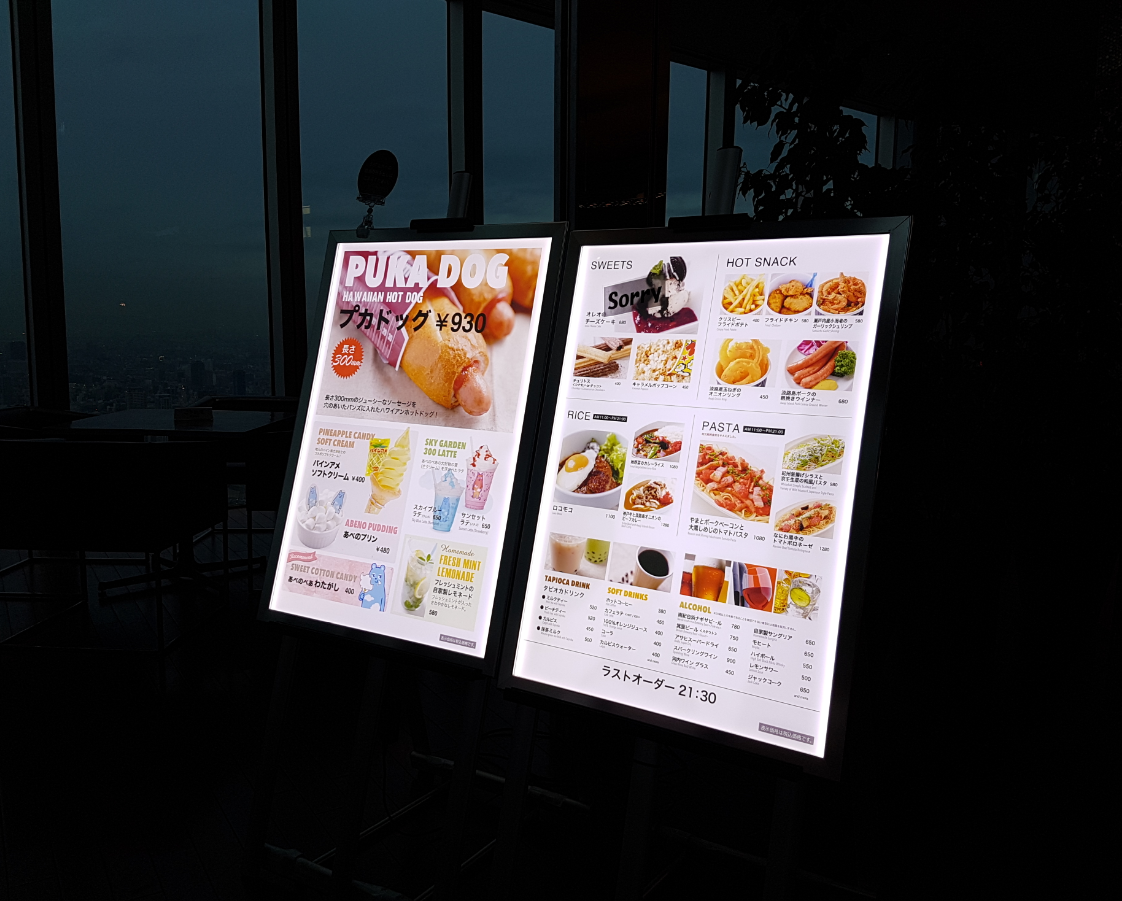 And with that, I think we'll end it off here for now. Sorry for the abrupt ending but this is getting pretty long.
Thanks so much for reading! And tune in next week for the exciting conclusion of this trip!
---
Check out my previous post in this series!
TacoCat's Travels #92 (Japan 3.0): Snoopin' Around Osaka Castle! 🏯
---
View this post on TravelFeed for the best experience.