Read this post on TravelFeed.io for the best experience
---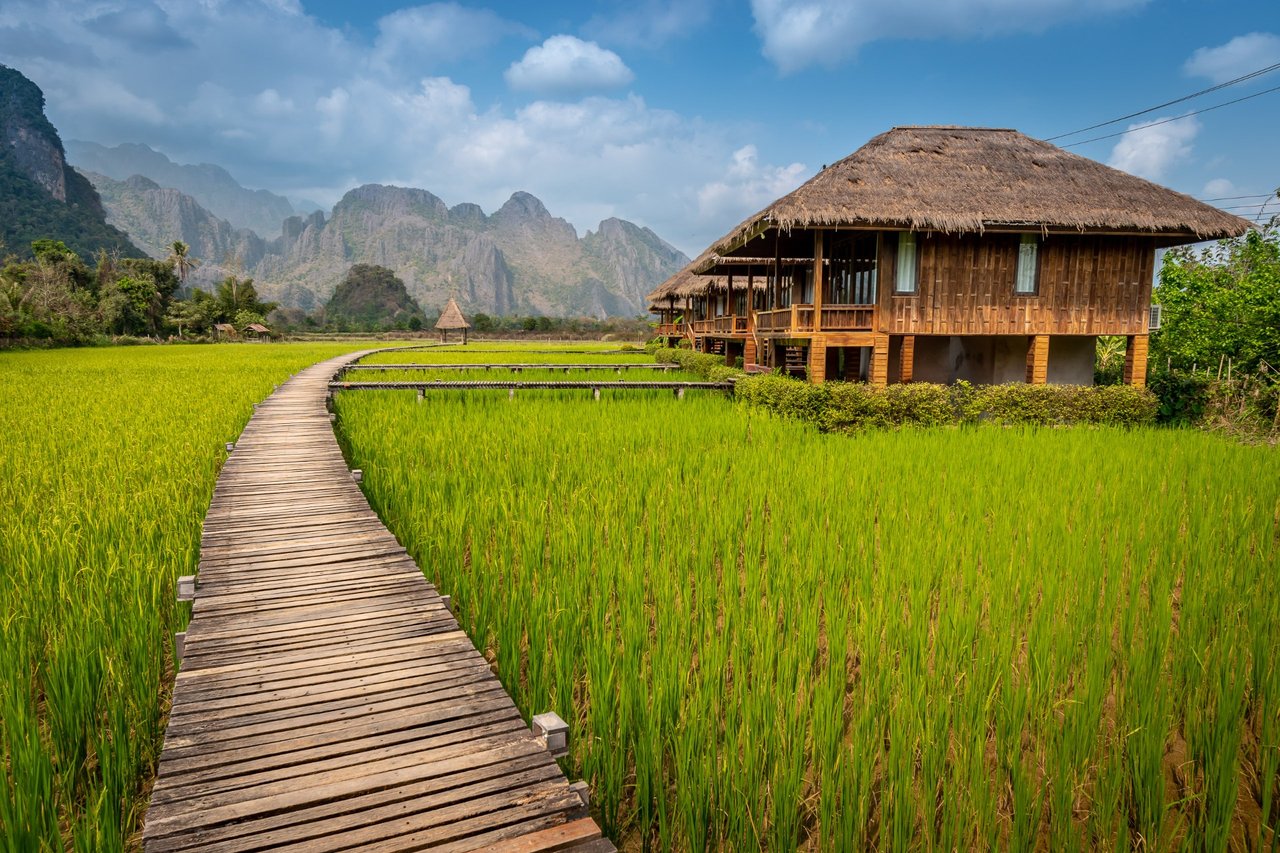 ---
July has been a busy month for us, and we launched many new features and improvements on TravelFeed. We have created several landing pages explaining the concept of TravelFeed and have since seen a surge in sign ups. While moving from a first-layer to a second-layer blockchain integration in April has posed many challenges to us, we have migrated most of our previous features and now you have full control when posting to Hive. That includes being able to customise beneficiaries and communities. We have also given TravelFeed a general overhaul and are now focussing on developing our upcoming SaaS product that you can already preview and if you are a developer even use yourself, taking advantage of our new free, public API.
Read on to find out what have we achieved in July:
---
New Front Page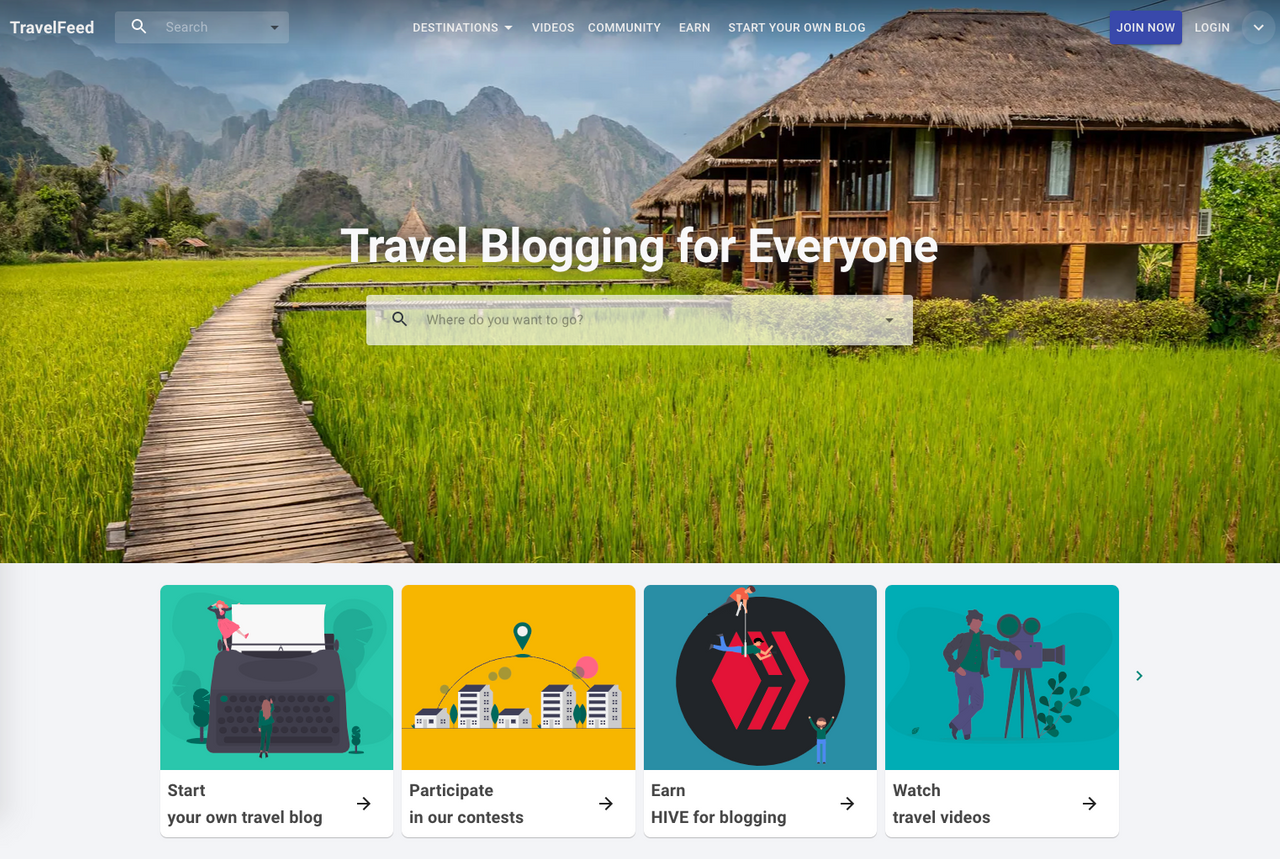 When you visit the new TravelFeed and are not logged in, you will instantly see the difference: When we launched TravelFeed we started out with a MVP where every user would see the feed of recently featured posts. This is not the best for conversion of users who visit TravelFeed for the first time. We now have a dedicated front page for logged-out users to let them know what TravelFeed is all about and let them discover the highlights.
---
Tab-based navigation
When you are logged in, you will notice that the header is much more functional and clean: When we started with TravelFeed, the Dashboard (where you manage your blog) and the Feed (where you discover travel content) were separate entities, which could be a bit confusing. We have now moved to a much more intuitive system featuring a tab navigation and have also added our popular video and community features as separate tabs, making it easier than ever to access them from any page.
---
SEO Tool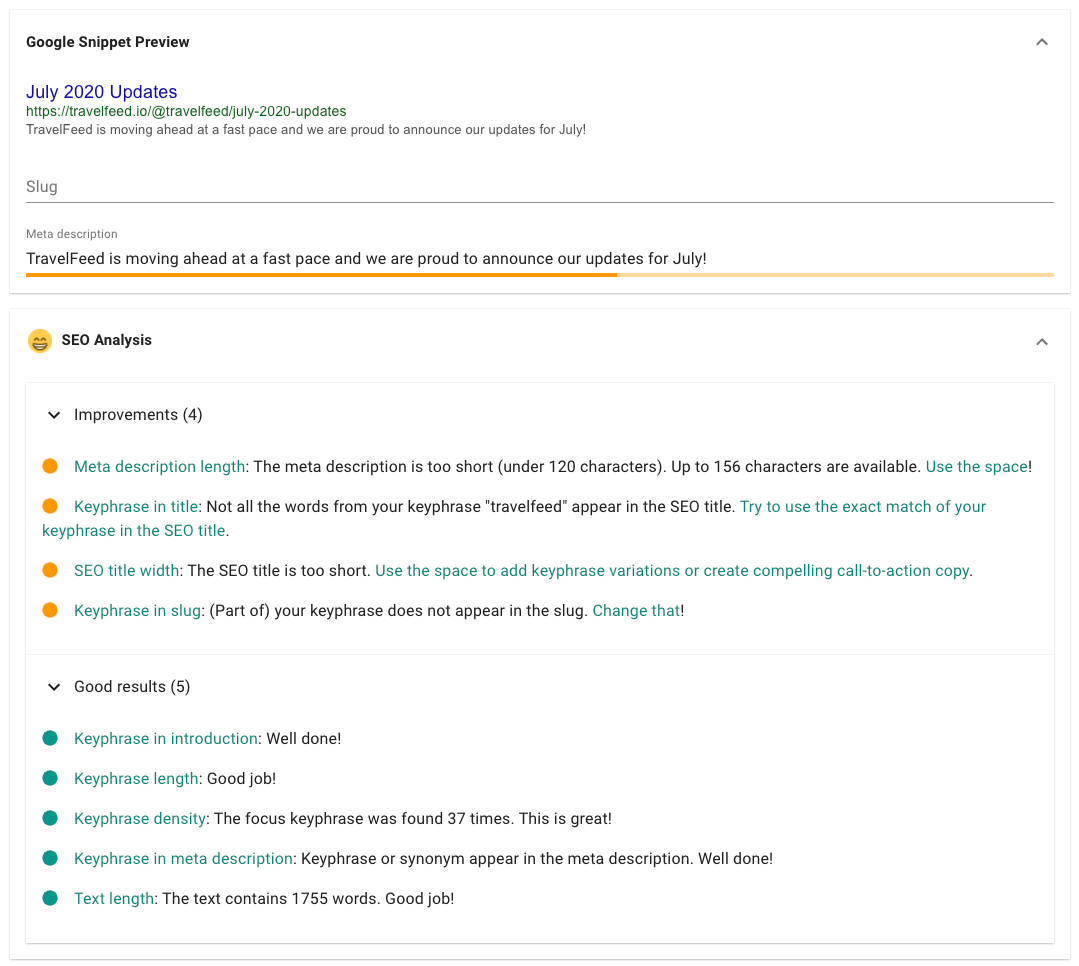 If you want to build a travel blog for the long term, you need to learn SEO. At TravelFeed, we already do all the technical tweaks for you, but you still need to optimise your posts. With our new SEO tool, this becomes as easy as never before: We are using the technology behind the popular Wordpress plugin Yoast SEO to give you detailed feedback on your post.
The SEO tool also gives you some new options, such as setting a custom canonical URL and fine-tuning how your post will look like on social media.
---
Hive Posting Options: Customize Beneficiaries, Communities and more!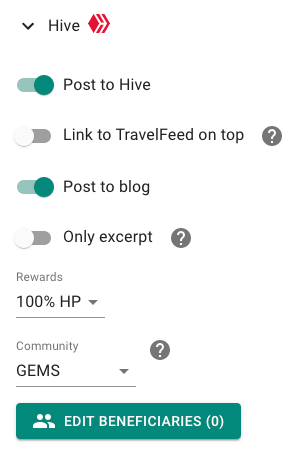 If you are using our popular Hive integration, you will love our new advanced Hive settings that you can find in the SEO tool in the social media tab. You can now customize all aspects of your Hive post, such as beneficiaries, community rewards and whether to post to your blog. We especially want to highlight the fact that we no longer charge a mandatory beneficiary fee - while the default beneficiary helps us to fund our contest prize pools, you are free to edit and remove beneficiaries to your liking. Also, you can now post to any Hive community and are no longer limited to those that have opted for a direct integration with TravelFeed.
We have also optimised the compatibility of TravelFeed posts with other Hive frontends to make features such as image captions and the table of contents work. If you are travel blogging on Hive, there is little reason why you wouldn't be using TravelFeed!
---
200$ in Contest Prizes distributed in July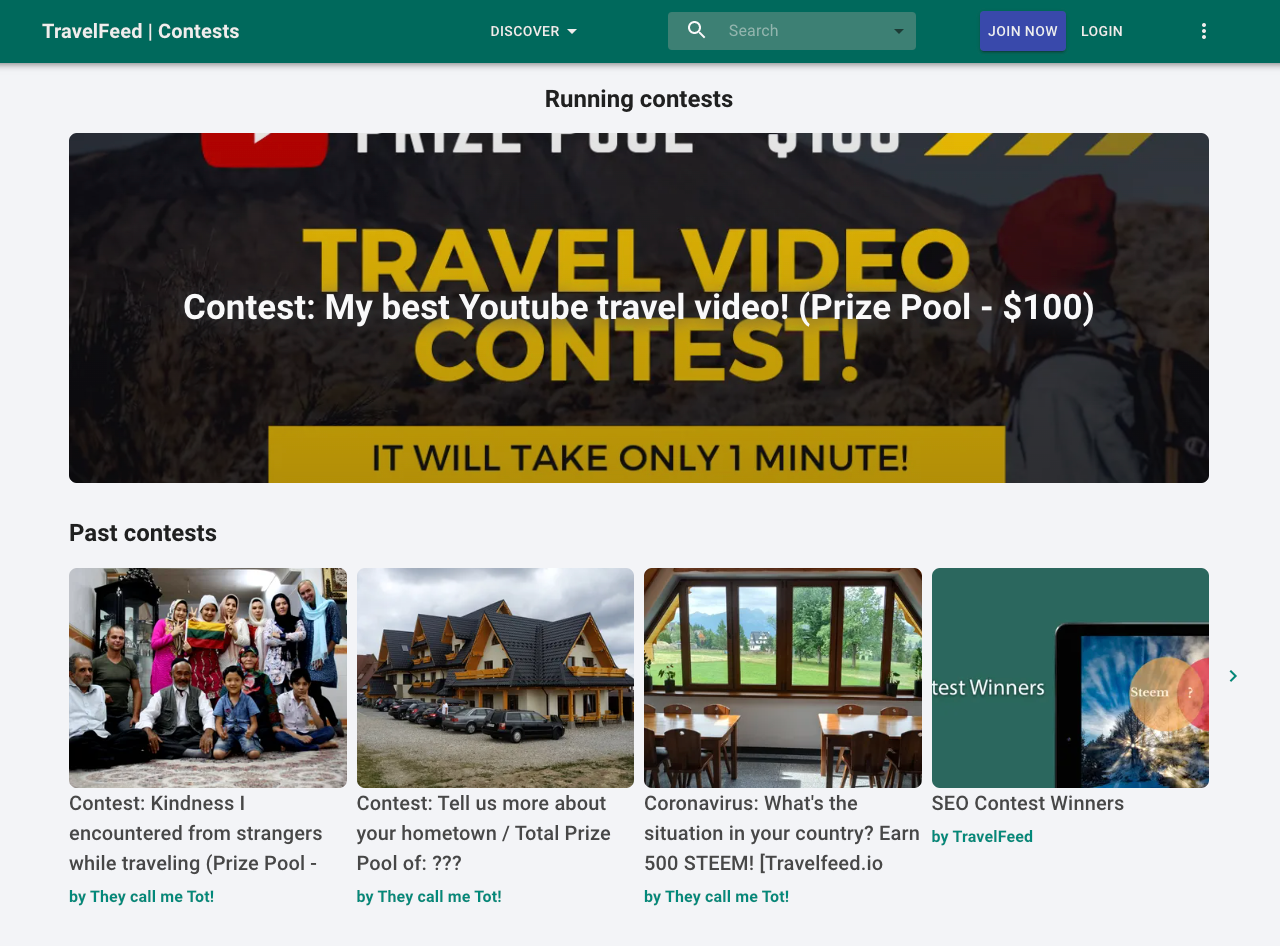 In July, the two TravelFeed contests hosted by @travelfeed and by @invisusmundi drew a large number of participants. We are on a short summer break, but excited to announce the winners and send out the prize pool of 200 HBD for our July contests soon. Don't miss our August contest that we will announce soon!
See our contests page for details
---
New Blockchain Landing Page
On centralised blogging platforms like Medium, your content is at the mercy of the platform. If for some reason Medium decides to remove your blog or shut down their platform completely, your blogs would be gone forever. With TravelFeed's blockchain integration, you can automatically record your content on the blockchain permanently and even view your posts from other frontends, making sure that problems such as centralisation and vendor lock-in that you usually face on blogging platforms are not an issue on TravelFeed.
On top of that, our Hive integration enables you to get your posts seen by an even larger community as well as to earn rewards for your content.
While we have seen a huge rise in registrations since we allow users to start using TravelFeed without a blockchain account, we encourage all TravelFeed users to enable the Hive integration and sign up for a free account through Hiveonboard.
Learn more about our Blockchain integration
---
Explore our Integrations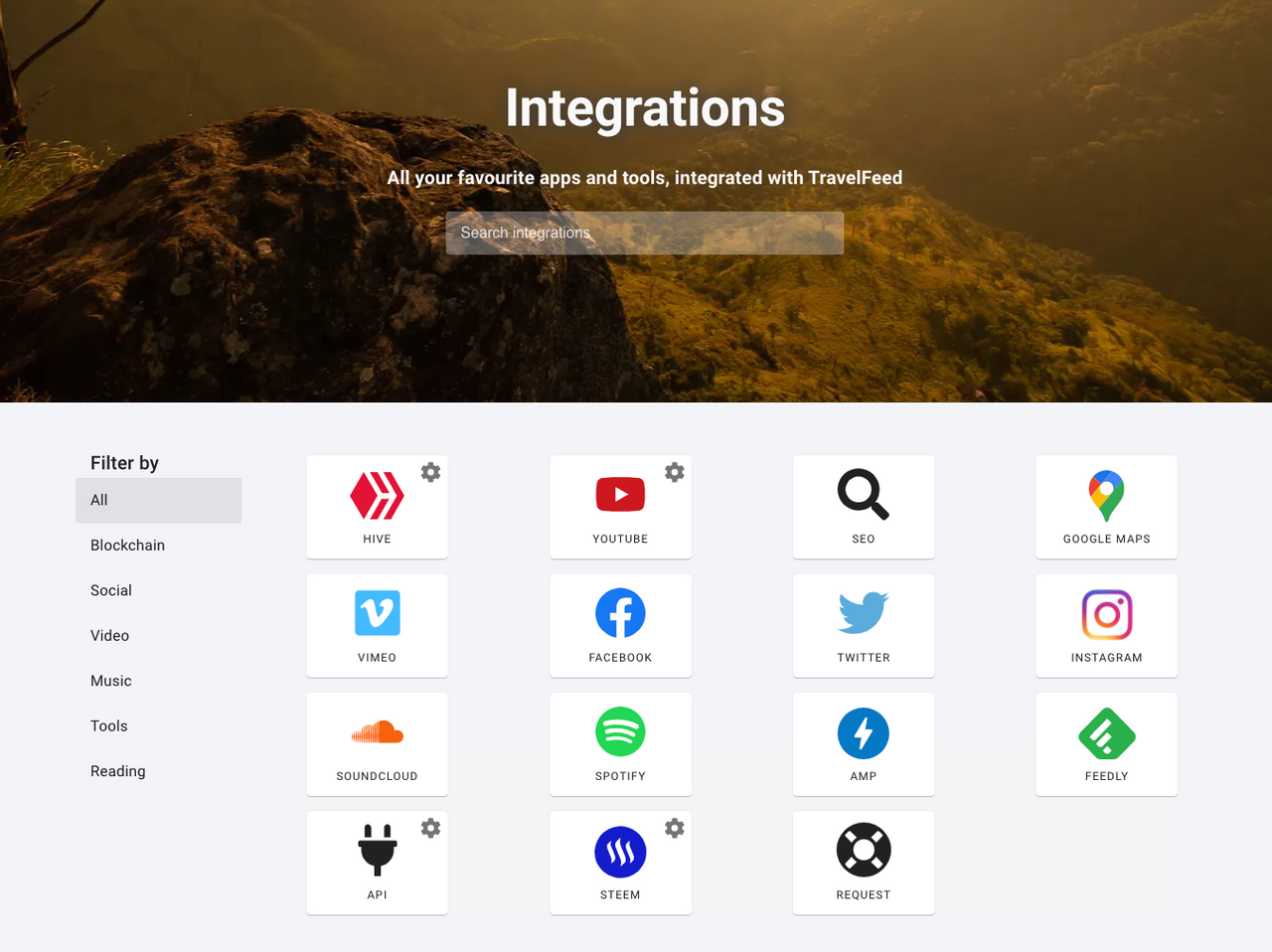 TravelFeed integrates not only with Hive, but with a large number of services. Did you know that you can read TravelFeed posts from Feedly or embed Instagram posts into your blogs? Our new integrations page provides an easy overview of the steadily growing number of services that integrate with TravelFeed.
---
Discover Travel Videos
We have fine-tuned our new video feature and now have a page dedicated to discovering the best travel videos
---
An introduction to EasyEditor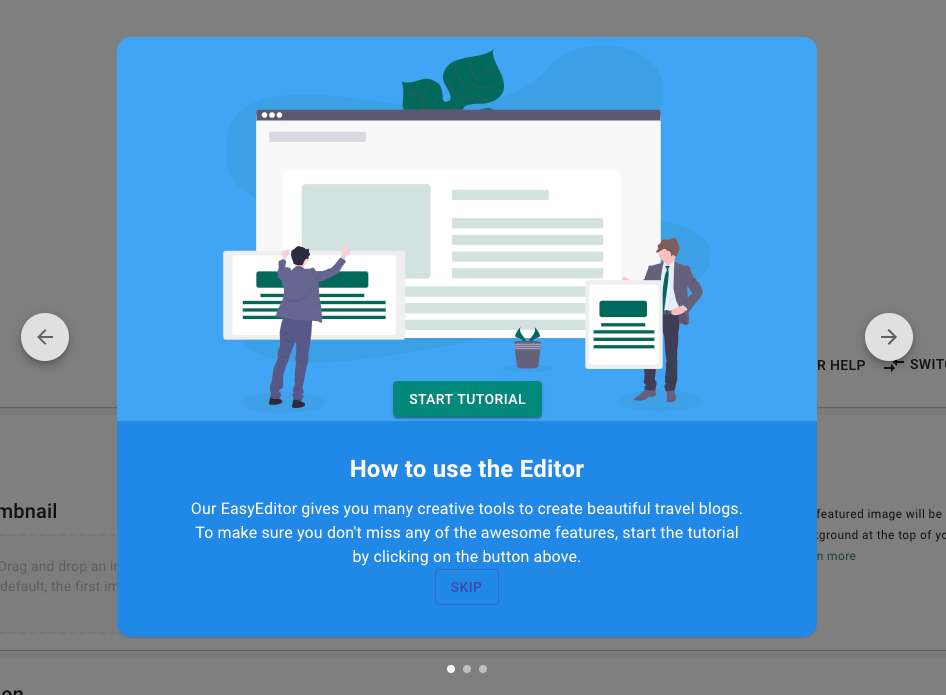 Our EasyEditor is comparable to block-based editors of Medium or Wordpress. We like to think that it is much easier to use than html/markdown-based editors, but if you are only used to the latter, an introduction to EasyEditor can be helpful. This is why we are now displaying a helpful dialog when visiting the editor for the first time.
---
New community page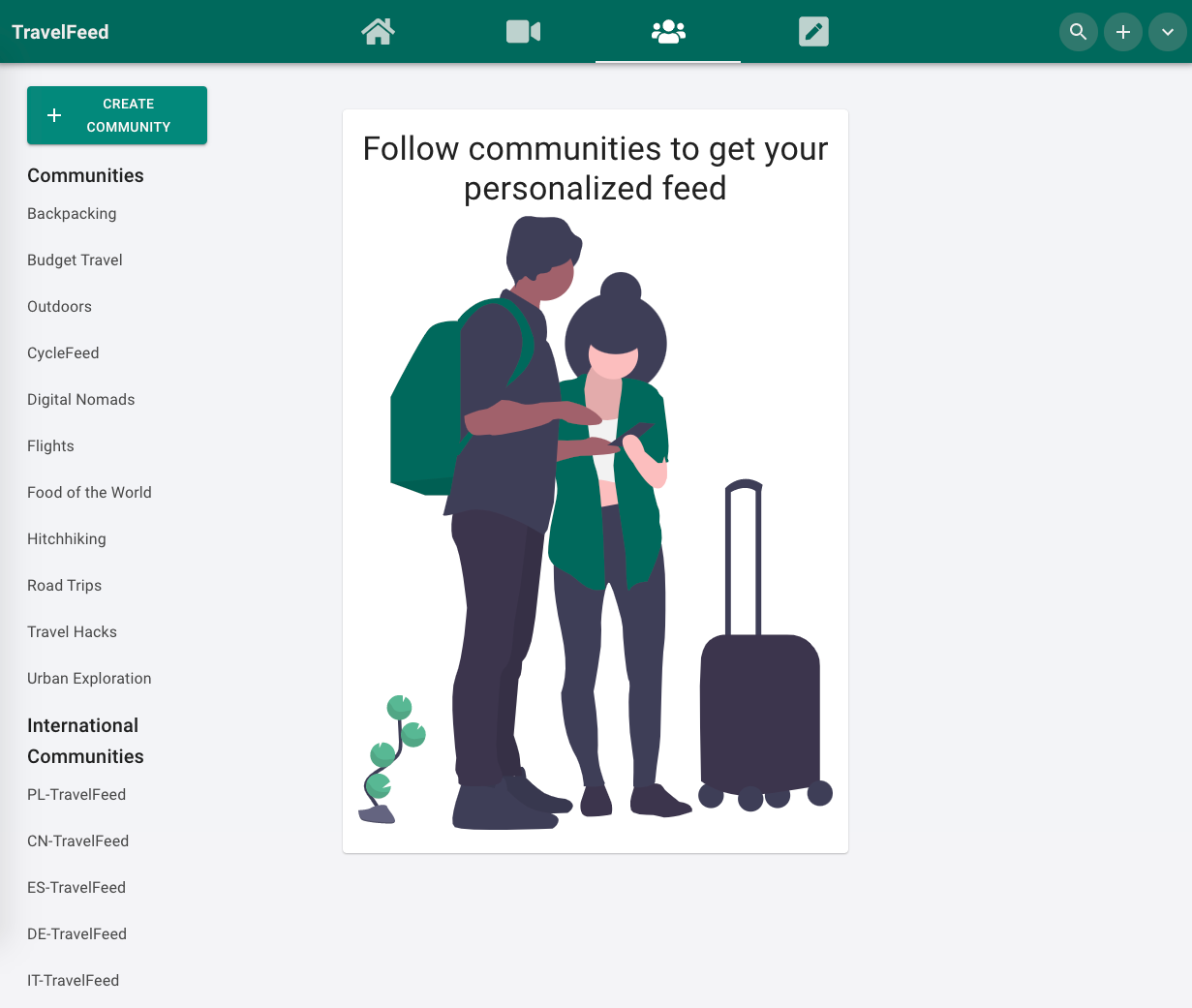 Did you know that we have several travel-oriented niche communities? On our new community page, discovering and interacting with your communities is easier than ever. You also have a feed of the communities you follow and the feed of your followed authors is back as well.
---
App updates & landing page
We made some updates to our Android app and are now featuring it on a dedicated landing page. For iOS users, you can have almost the same experience by using our mobile web app in Safari. We are working on getting our iOS app into the app store later this year.
---
A sustainable business model
Travel bloggers have long struggled with slow and complicated blogging software: Most travel bloggers use Wordpress on a shared hosting service, which is terrible for performance and hard to set up. While Wordpress offers you the flexibility to turn your blog into an Online Shop or even a Crypto Exchange through plugins, just getting the features you want in your travel blog such as a map of your posts can be challenging and requires the coordination of at least a dozen plugins - even more, if you are trying to achieve a good performance.
We are working on a new service where you will be able to have your own, hassle-free and extremely fast blog on your own domain, hosted by TravelFeed. We are aiming to be as simple to use as Squarespace or Wix, while giving you the benefits of features dedicated to travel bloggers, the instant connection with a community and the ownership of your content through decentralisation as well as easy monetisation options through affiliates. While all current features of TravelFeed will remain free, our hosting products will be available for a monthly subscription fee. You can learn more about our exciting plans on our new join page.
We are also working out the details on how to integrate our premium services with our upcoming token. We are planning on giving away our premium services for free as staking benefit as an alternative to paying a monthly fee, making our token an attractive investment if you are planning on using our service.
---
Public API for Developers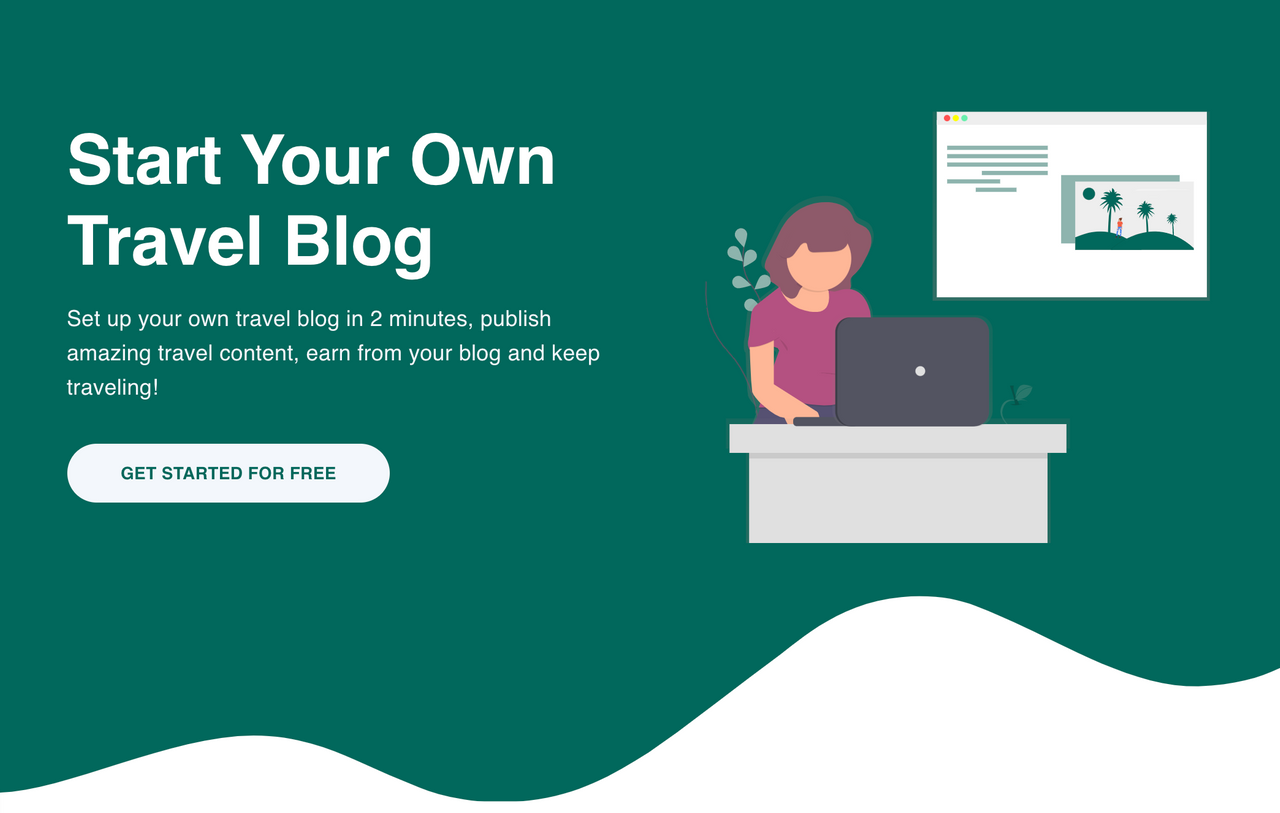 Can't wait to have your own travel blog? If you are a developer, you can already make your own blog from TravelFeed! For that, we are introducing a public API that you can use as headless API in your blog project. The best thing: Our public API is completely free to use! Just find the API settings on our integrations page, get your API key and start using our content API.
We also provide an open-source example project on our Github. It is a very basic example, but enough to showcase the performance and possibilities of our upcoming product. We deployed our open-source example project with @for91days Ghana blogs, try it below!
---
Join TravelFeed!
Are you not on TravelFeed yet? We invite you to check out TravelFeed.io and to join over 1000 travelers on our Discord community. We're also looking for one more curator to join our team.
We're in Beta and continuously improve TravelFeed, meaning that there are still some bugs. If you notice anything or have feedback for us, please don't hesitate to contact us on Discord, leave a comment or open a bug report on Github!
Consider Delegating To Us
Once we launch our token, there will be a generous airdrop to delegators. Your delegation does not only supports the growth of this incredible project, but also helps the entire travel community. Our voting power is fully used for curation of the best TravelFeed posts. Feel free to use the following links according to the amount you would like to delegate to @travelfeed, or head to our Support Us page to delegate a custom amount with the click of a button.
Delegate Hive Power
100 HP | 250 HP | 500 HP | 1000 HP
2500 HP | 5000 HP | 10000 HP
15000 HP | 25000 HP
50000 HP
---
View this post on TravelFeed for the best experience.